Penn State Nittany Lions:

Kerry Collins
May, 23, 2014
5/23/14
4:00
PM ET
Wishing you a fun and safe Memorial Day weekend. Barring
breaking news
-- fingers crossed -- we'll be back with you bright and early Tuesday.
Follow the Twitter brick road
.
Mail call ...
Rajiv from Tallahassee, Fla., writes:
Do you think that there are any programs in the B1G that would automatically get or deserve a spot in the playoff if they ran the table in any given year? Secondly, suppose a team like Northwestern or Minnesota ran the table and then beat a 12-0 Michigan State team in the BIG Championship. Should one of those teams get an automatic bid? Don't think that situation would happen, but certainly an undefeated Ohio State would garner more recognition than Northwestern.
Adam Rittenberg:
Rajiv, it's my belief that any major-conference team that runs the table and wins a league title game to go 13-0 would make the field of four. Why else would you expand the field from two to four? Most Big Ten teams are playing at least one marquee non-league opponent, so even if their league schedule is a little soft like Iowa's or Wisconsin's this year, a perfect mark would be enough to get them in, regardless of their reputation. It would be incredibly disappointing if the committee functions like poll voters and gives preferences to historically strong teams. There would have to be odd circumstances -- two or more undefeated teams from major conferences -- for a 13-0 Big Ten team to be left out.
---
Jason from Tampa writes:
What are your thoughts around Penn State and its stance on the Paterno lawsuit? On one hand, Penn State is a defendant in the lawsuit, has made great strides, and a majority of the severe sanctions are behind them. On the other hand, Penn State might get temporary or full relief of all sanctions. Do you believe their stance is a calculated move to avoid bad publicity and not disrupt the relationship with the NCAA in regards to further sanction reductions?
Adam Rittenberg:
Jason, I think your first point about Penn State making strides and moving past some of the more severe sanctions is a motivator for the school's position. There's no full relief from the sanctions, since Penn State has had two bowl-eligible teams stay home and continues to operate with reduced scholarships. But the school clearly feels that cooperation with the NCAA is the best route. Penn State also has aligned itself with the Freeh Report, which the Paterno family claims isn't credible. Ultimately, PSU seems too far down the road in lockstep with the NCAA to dramatically change its position.
---
Paul from Lincoln, Neb., writes:
I heard Ed Cunningham say on "College Football Live" that from what he observed in the Big Ten last year that the QB play is very poor compared to other conferences. My question(s) to you is: 1) Do you really believe the QB play is that bad in the conference? 2) Who are the QBs in the BIG that could go and start for other major college football programs in other conferences? (You can pull names from last year as well).
Adam Rittenberg:
Paul, quarterback play in the Big Ten has been down for some time. The league hasn't had a quarterback selected in the first round of the NFL draft since Penn State's Kerry Collins in 1995. That's stunning. Although quarterbacks such as
Drew Brees
(Purdue),
Tom Brady
(Michigan) and
Russell Wilson
(Wisconsin) have gone on to win Super Bowls, the league isn't mass-producing elite signal-callers. Something needs to shift, and it could be the quality of quarterback coaches in the Big Ten. Besides Indiana's Kevin Wilson, are there any true QB gurus in the B1G?
Your second question is a bit tricky because there are some major-conference teams elsewhere with dire QB situations. But
Braxton Miller
,
Connor Cook
and
Christian Hackenberg
could start for any FBS squad.
---
Moss from Ann Arbor, Mich., writes:
The Big Ten is starting to resemble a very wealthy yet dysfunctional family. Consumed by more wealth and shiny toys but not paying attention to their children (teams) as they grossly underperform. Is the BIG more interested in the brand than the actual product? The conference has all the advantages but can't seem to get its proverbial act together.
Adam Rittenberg:
Moss,
it just doesn't seem to add up
. A league should be able to build its brand, generate revenue for its schools and win championships on the field. What do you mean by not paying attention? What do you want the Big Ten to do for its underperforming teams? That's the hard part. Commissioner Jim Delany gets criticized a lot, but he has significantly increased the resources for Big Ten programs, which can pay coaches more and invest in their facilities. Ultimately, the Big Ten can move its campuses to the south and west, where more of the elite players are. But I don't agree the league is neglecting its programs by trying to expand its brand.
---
@roberthendricks via Twitter writes:
Do you think OSU has a long-term solution going forward in
J.T. Barrett
,
Cardale Jones
or
Stephen Collier
? I know taking a hot QB in this class is essential, but what if they don't? Post-Braxton fear is setting in.
Adam Rittenberg:
That fear is real, Robert, as Ohio State's quarterback situation beyond 2014 seems cloudy. Miller's injury this spring allowed Jones and Barrett both to get some significant work in practice. While both struggled in the spring game, Jones enters the summer as Miller's primary backup. Ohio State would be wise to get at least one, if not both, into games this season, even in mop-up time. Collier seems like more of a project, and all three men need some time to develop. I don't think it's realistic to expect Ohio State's next quarterback to match Miller's big-play ability.
February, 20, 2014
2/20/14
9:00
AM ET
STATE COLLEGE, Pa. -- We're nearing the end of this week's countdown, which involves ranking Penn State's most impactful recruiting classes of the past decade.
Up next is a class you should be very familiar with ...
No. 2 most impactful class:
Class of 2013
[+] Enlarge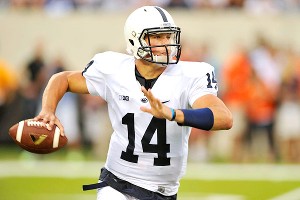 Nabil K. Mark/Centre Daily Times/Getty ImagesChristian Hackenberg's commitment ensured there would be little drop-off in PSU recruiting despite the heavy sanctions.
Top prospects:
QB
Christian Hackenberg
, TE
Adam Breneman
, OG
Brendan Mahon
, OT
Andrew Nelson
, WR
DaeSean Hamilton
, DE
Garrett Sickels
, WR
Richy Anderson
, LB
Brandon Bell
Biggest surprise:
Bell. He made a lot of strides as a freshman and even made a start toward the end of the season. Bill O'Brien plugged him in for nine games in 2013, and Bell played a lot in the last three. He made 15 tackles in his final three contests -- 24 total on the year -- and even forced a fumble against Nebraska. He should end up starting the next three seasons.
Impact player:
Hackenberg. Does this choice really need to be explained? He was the Big Ten Freshman of the Year, one of the better quarterbacks in the conference, and he took off running after enrolling over the summer. Penn State doesn't often start true freshmen in season openers, but Hackenberg surpassed
Tyler Ferguson
pretty quickly with a calm demeanor and a penchant for learning a lot in a short time. Hackenberg could end up being Penn State's best quarterback since Kerry Collins.
Why this class is important:
This countdown isn't just a list of the classes with the best prospects; it's the most impactful. And when sanctions hit and the nation wondered whether Penn State would suffer a fate worse than death, top prospects such as Hackenberg and Breneman took center stage and showed that the university still could reel in the best of the best -- instead of simply settling for MAC-level recruits, as some predicted.
This class might not produce as many All-Big Ten players as the 2006 group. It might not even end up with an All-American. But this class is so important, and impactful, because of what it symbolized at the time. Happy Valley was still a destination, in part, because of the big names in this class. They offered fans hope. And they helped keep Penn State together while having a profound, ancillary effect in other areas.
You think Penn State reels in arguably the best 2014 class of receivers without Hackenberg? No chance. You can measure impact different ways, and this recruiting class is undoubtedly one of the most important in Penn State history.
More impactful recruiting classes:
No. 5:
Class of 2011
No. 4:
Class of 2004
No. 3:
Class of 2006
October, 29, 2013
10/29/13
2:00
PM ET
Former Ohio State OG LeShun Daniels reclined on his oversized couch, next to two of his sons, while they sipped lemonade Saturday night and stared at the Penn State-Ohio State game on the big-screen TV.
[+] Enlarge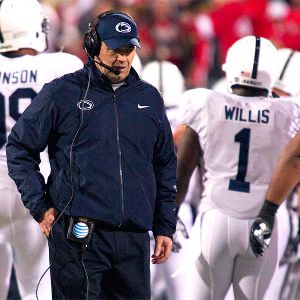 Trevor Ruszkowksi/USA TODAY SportsBill O'Brien and Penn State will need their leadership to help them get over the lopsided loss to Ohio State.
They'd laugh and joke during the game, and Daniels would flip on other channels to peek at the Oregon and Missouri contests when -- and only when -- a commercial break interrupted the action. His youngest, 5 years old, conked out around halftime when the score glued on the bottom of the screen read, "PENN ST 7 OHIO ST 42."
But Daniels, who started for the Buckeyes from 1994 to 1996, couldn't take his eyes off the TV. These were his Buckeyes after all, a team still close to his native Ohioan heart. And he smiled to himself before midnight when that final score stuck. It was all too familiar.
Ohio State won, 63-14, Saturday night -- the identical score from Oct. 29, 1994, when he played Penn State. But, this time, the numbers were reversed. Daniels had stood on the Beaver Stadium grass -- and still remembers listening to the Lion roar over the loudspeaker -- when his beloved Buckeyes dropped a 63-14 contest to PSU. Now, the Buckeyes were celebrating at The Shoe as the 63-14 victors.
"It just clicked, watching the game the other night," Daniels said with a laugh. "The Bucks did play a good game, so it was good to see that. But also seeing that score, even 19 years later, that was really good to see. I remember hearing about that game like 1,000 times while we were playing Penn State. So it was good."
Four former Ohio State players from that game still remember it vividly, nearly 20 years later. A loss like that never really leaves you, they said. For most of the roster, it was the worst beatdown they received from Pee Wees to the pros. Nothing felt -- or ever would feel -- quite like that.
"It sticks with you, kind of even today," former defensive end Matt Finkes said. "People will still bring that up; even before this week there were people talking about that loss. They'll be like, 'Oh it was 56-7.' And I'll be like, 'No, it's 63-14.' It's etched in my memory. That's something you don't forget."
Bill O'Brien's squad of 61 scholarship players probably hopes to forget about the scarlet and gray this week -- but they could learn a lesson from those 1994 Buckeyes and that 63-14 landslide. After suffering its worst loss in nearly a half-century, the 1994 Ohio State squad rebounded with three straight wins, including a 24-3 victory over a good Wisconsin team the very next weekend.
Former OSU linebacker Lorenzo Styles remembers the Penn State game all too well. He can still remember watching one completion after another from Kerry Collins -- who went 19-of-23 for 265 yards and two TDs -- and chasing down a speedy Ki-Jana Carter (19 carries, 137 yards, four TDs). But, more than anything, he remembers the frustration his defense felt lining against PSU's mammoth offensive line.
The Buckeyes were young and inexperienced that year -- not unlike PSU this season -- and what would usually end up as stops in the backfield routinely turned into at least 2- and 3-yard gains. Finkes moped on the sideline late in the third quarter and just wanted the game to be over; a sense of relief washed over the team once the refs finally blew the whistle.
"You don't forget about it, but you understand you have to come out ready with what you're supposed to do the next week," Styles said. "We knew we had the rest of the season left."
Added Finkes: "The coaching staff just sat us down and said we still have a lot of goals to accomplish -- and let's not lose this whole season just because of one game. And then that's the year we beat Michigan."
Intensity at practices turned up a few notches the week after the '94 team's 63-14 loss. Those three interviewed Buckeyes -- along with DT Matt Bonhaus -- all used the term "embarrassed." They were upset and beside themselves -- but they were also angry. And they were out to prove that historical loss wasn't the norm; it was just a bad footnote to a good season.
They had played terribly and lost to the far-superior team, one that finished the season undefeated and boasted five offensive All-Americans. They wouldn't see another team like that one and, they vowed, they wouldn't perform like that again either. They won that next week -- and beat PSU the very next season.
"You get another win under your belt," Bonhaus said, "and that feeling, that loss, goes away."
The Nittany Lions are a 10-point favorite against Illinois on Saturday. Whether they insist they've moved on or not, that loss to Ohio State will still be on their minds. It was on the 1994 Ohio State team's.
But the OSU quartet's advice for PSU was simple: Focus on the new opponent, don't lower expectations and don't dwell. Be resilient, and put more time in the film room to correct mistakes.
"They're resilient," Styles said of Penn State, explaining how the team stuck together through the sanctions. "The leadership on this team is like the leadership we had; they'll move forward."
But they won't forget. The Buckeyes rolled into that 1994 game with black socks, a secret move engineered by tailback Eddie George in which the coaches were unaware. (Finkes recalls one assistant yelling expletives because of the move.) The Buckeyes never before entered a game with black socks. Afterward, some players never touched black socks again. Even a decade later.
To this day, Bonhaus owns no black socks outside of some dress pairs. Finkes takes it even one step further -- he intentionally has no pairs of blacks. He'll wear gray dress socks if the occasion calls for it.
"I'm happy we went out and played that good game Saturday night," Finkes said. "But nothing's going to make that 1994 game go away -- even if we would've beaten them 100-7. No matter what, it was still me losing 63-14 back in 1994."
August, 29, 2013
8/29/13
9:00
AM ET
As part of an ongoing series, NittanyNation will preview a different position leading up to the season opener against Syracuse on Saturday. Today is the last installment: Quarterback.
Projected starter:
Christian Hackenberg
(2012 HS stats: 156-of-291 for 2,144 yards; 24 touchdowns, nine interceptions)
Key losses:
Matt McGloin (2012 stats: 270-of-446 for 3,266 yards; 24 touchdowns, five interceptions)
Next in line:
No, Bill O'Brien still hasn't publicly announced a starter -- but that appears to be Hackenberg, with juco signal-caller
Tyler Ferguson
as the backup. Ferguson will still see time at points this year, so last year's McGloin-
Steven Bench
split shouldn't be repeated.
D.J. Crook
is listed as the third-string quarterback, while
Austin Whipple
is likely No. 4. Freshman walk-on
Jack Seymour
, who turned down MAC scholarship offers, is No. 5.
What to expect:
Let's start off with what NOT to expect -- and that's a repeat of last season's 24:5 TD-to-INT ratio. Hackenberg is one of those players, his high school coach said, who comes along once or twice in a career. But that doesn't necessarily equate to immediate success.
Even NFL quarterback Matt Stafford, whom ESPN rated the No. 1 QB back in his class, threw nearly twice as many picks as touchdowns in his first season. So there's no easy way to place expectations on Hackenberg here. For every Stafford, there's a Chad Henne -- somebody who breaks out as a true freshman and ties some school passing records.
Hackenberg boasts all the tools for success -- throwing power, accuracy, mobility, size -- but he needs to improve upon reading defenses. All freshmen do. This year may be a wild card, but the future is bright for Hackenberg. Penn State's just hoping that future comes sooner rather than later.
Recruiting trail:
ESPN 300 quarterback
Michael O'Connor
(Bradenton, Fla./IMG Academy) will enroll early, and he'll bring some much-needed depth to the position. He's a quality player who, if needed, could contribute right away.
O'Brien likes to go after the best players available, and that was O'Connor. He wasn't a "need" pick. O'Brien offered him a scholarship before Bench even transferred, a few weeks after he wowed assistant coach Charlie Fisher by calling out Penn State plays he saw on film. O'Connor is a quick study and, if everything goes as planned, could become a two-year starter following Hackenberg.
Best-case scenario:
Hackenberg fares well in his first few starts during the nonconference season. There are some bumps but, overall, he keeps Penn State in games and earns the respect of fans and his teammates with his play. The Lions' offense breaks out with more big plays than ever thanks to Hackenberg's arm, and he earns a spot on the freshman All-American team. He peaks near the end of the season, guides PSU to an improved record and has fans clamoring about a title run in 2016.
Worst-case scenario:
The true freshman's adjustment to the college game is a slow one, as he makes poor decisions that consistently lead to turnovers. O'Brien is forced to use Ferguson a bit more than anticipated, and a controversy looms. Hackenberg shows flashes of potential, giving fans hope, but he also shows he's just not yet ready to be a full-time starter. Penn State wins fewer than eight games as a result.
Top position question: Just how good can Hackenberg be?
Well, he's bound for the NFL. That's … not something you usually say about an 18-year-old kid who's never taken a college snap. But every one of ESPN's top-rated quarterback recruits made it to the NFL upon graduation, and only one of the three younger quarterbacks still playing doesn't appear to have an NFL future. (Sorry, Phillip Sims.)
Russell Wilson played in the same high school league as Hackenberg, and most coaches there said Wilson is the better QB. Still, it's close. Expectations are big enough here that Hackenberg would be a disappointment if he didn't make it to the NFL.
How good can he be? He could be the best since Kerry Collins. But that's all a game of "what ifs" right now. Obviously, his potential is high -- but we should get a glimpse Saturday of just what he's capable of.
July, 10, 2013
7/10/13
1:00
PM ET
So, what teams had the best and worst
all-time PSU fantasy drafts
on Tuesday?
There's a lot of opinion out there, but NittanyNation tried to find two knowledgable judges to offer their takes on each team's draft. Both Steve Jones and Mike Poorman agreed to grade each team and include a brief analysis.
Jones is the play-by-play voice of Penn State football and hosts a daily radio show that can be heard on ESPN 1450 in State College. Poorman is a columnist and senior lecturer at Penn State who taught the class, "Joe Paterno, Communications & The Media." Both are PSU graduates.
Here's what they had to say:
Team Lou Prato
(Top five picks: RB Lenny Moore, LB Jack Ham, DT Mike Reid, DE Courtney Brown, C Glenn Ressler)
Jones says:
A. Outstanding defense, especially at linebacker, and a solid kicking game. Offensively, Moore could do it all, and people forget Chuck Fusina was a Heisman trophy runner-up who actually had more first-place votes than Billy Sims.
Poorman says:
A. I graded the No. 1 pick at each position, and Lou was tops with eight such selections. His LB combo of Jack Ham and Shane Conlan, PSU's best two ever, and secondary pair of Harry Wilson and Michael Zordich exemplified a depth of knowledge -- and, hence, roster -- that was unmatched, top to bottom. Memo to Bob McClellan: 25 years after you had him in class, Lou is still cantankerous.
Team Bob McClellan
(Top five picks: CB Brian Miller, RB Curt Warner, OT Keith Dorney, OG Mike Munchak, DE Michael Haynes)
Jones says:
A-. Great running game and offensive line, along with the best rushers. This group has underrated receivers and an underrated quarterback who was Big Ten player of the year.
Poorman says:
A-. Seven of Bob's picks were best at their position. His OL spanned four decades and was the strongest group by far. All-time pick leader Neal Smith and punter Ralph Giacamarro showed McClellan's surprising and seasoned savvy against a field of Penn Staters. Flex selection Lydell Mitchell was inspired.
Team Stephon Morris
(Top five picks: LB Sean Lee, LB LaVar Arrington, WR Bobby Engram, DT Matt Millen, RB John Cappelletti)
Jones says:
A-. He mixes the school's only Heisman winner in Cappy with the quarterback who won the first national title. Defensively, the athletes at linebacker are impressive, and Millen is outstanding up front
Poorman says:
Pass. No way I could fail Stephon. A likeable and gutsy player, he was a media favorite with his candor. With his draft picks, he displayed confidence -- he picked Stephon Morris at CB -- and smarts, by snagging four of the giants of Penn State football: John Cappelletti, LaVar Arrington, Matt Millen and Todd Blackledge. But his O-line was of the "oh, my goodness" variety, and his biggest downfall.
Team Josh Moyer
(Top five picks: QB Kerry Collins, S Mark Robinson, OT Levi Brown, OG Sean Farrell, TE Ted Kwalick)
Jones says:
A-. Get ready for the ball to fly. Great quarterback and receivers. Everyone has quality tight ends, but Kwalick was special. Strong secondary behind that defensive line.
Poorman says:
B+. Josh has the best pitch-and-catch triad of Kerry Collins, Kenny Jackson and Ted Kwalick, with Stefen Wisniewski snapping the ball. That's four of his five position-best picks. He showed a healthy respect for -- and use of -- the past (W.T. Dunn, Joe Bedenk) that gets high marks, but his pair of kickers and one corner selection ranked a Z.
Team O.J. McDuffie
(Top five picks: RB Ki-Jana Carter, RB Larry Johnson, OG Steve Wisniewski, OG Jeff Hartings, S Darren Perry)
Jones says:
B+. Great running game along with speed at wide receiver. The defense is solid across the board.
Poorman says:
C. O.J. was in trouble as soon as did not pick O.J. McDuffie. His one old-school pick, Matt Bahr, was the best kicker selected. But O.J. relied almost totally on Nittany Lions from the past three decades and regrettably didn't include one player from the first 88 years of Penn State football. Not OK, O.J.
July, 10, 2013
7/10/13
11:00
AM ET
STATE COLLEGE, Pa. -- The
all-time Penn State fantasy draft
might be over, but the controversy has only just begun.
NittanyNation thought it'd take an extra day to reflect on the process, offer some analysis, give some opinions and then move on from a memorable three-hour, 24-round draft.
Steve Jones and Mike Poorman will grade each team later today, but NittanyNation wanted to give its own rundown of the draft and offer a behind-the-scenes look at a few picks.
The best PSU player?
In a casual Twitter poll Monday night, linebacker Jack Ham received the most mentions for best overall Penn State player. Team Prato took him in the second round, with everyone except the softspoken McDuffie playfully calling Lou Prato a jerk. (Everyone wanted Ham.)
It was an interesting, nonscientific poll because it took about a dozen votes for a single name to be repeated. LaVar Arrington and John Cappelletti also received multiple mentions.
Prato voted for Lenny Moore by drafting him with his No. 1 overall pick.
[+] Enlarge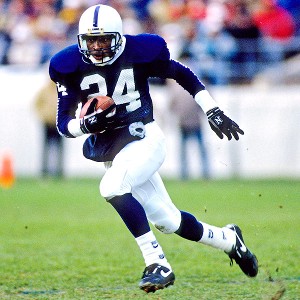 USA TODAY SportsO.J. McDuffie wasn't happy when Team Moyer drafted him -- immediately before McDuffie planned to draft himself.
Most memorable part of the draft:
Definitely the end of the seventh round. Only one receiver had been drafted until that point (Bobby Engram), and Team Moyer needed a wideout.
So, right before Team McDuffie had back-to-back picks, Team Moyer selected O.J. McDuffie for his own fantasy team.
Team Moyer: "Sorry to do this to you, OJ, but I got to. I'm taking O.J. McDuffie. Need Collins to throw to someone."
Team McDuffie: "Damn, Josh. I was just about take myself."
That's when four receivers -- McDuffie, Bryant Johnson, Deon Butler, Kenny Jackson -- were taken consecutively and caused headaches for the other three participants. That was a key part to the draft. And, five days later, O.J. still wasn't happy about the move.
"I still can't believe you did that," McDuffie said, laughing. "Right before me."
Biggest head-scratchers:
Cornerback Brian Miller as the No. 2 overall pick? C'mon, Team McClellan. Cornerback was the slimmest position in the draft, so corners had added value -- that was McClellan's reasoning for taking him so high -- but one could've held off on Miller until at least the fourth or fifth round.
Team McClellan passed up Ki-Jana Carter and Kerry Collins for Miller. Team Morris also received some ribbing for making Sean Lee the No. 1 LB, but Stephon Morris wanted to draft someone in the first round with whom he had played. So that was understandable.
But when Morris took kicker Chris Bahr in the 10th round? Definite head-scratcher -- although he did
explain that move here
. McDuffie also surprised just about everyone when he drafted Larry Johnson over the likes of Curt Warner and Cappelletti.
Best undrafted players:
Where to even begin? There were plenty; you could make up a great team on just left-overs from the draft.
QB Tony Sacca, FB Franco Harris, RB Blair Thomas, WR Derek Moye, OT Chris Conlin, and C Matt Stankiewitch are among the best remaining picks on offense. As far as the defense: DT Jimmy Kennedy, DE Bruce Bannon, LB Michael Mauti, CB Derek Bochna and S Harry Hamilton were also undrafted.
Best sleepers (or best-value picks):
OK, we'll throw Team McClellan a bone here. Grabbing two-time All-American and College Football Hall-of-Famer Dennis Onkotz in the 16th round was probably the steal of the draft.
That greatly boosted Team McClellan's LB corps. And he grabbed another great-value pick with Lydell Mitchell in the 20th round. Team Morris definitely got great value in QB Todd Blackledge in the 19th round, and Team Moyer's best-value picks appeared to be LB Greg Buttle in the 18th round and Kenny Jackson in the eighth.
Morris means business:
A lot of participants hit the books before the draft, but Morris' preparation was a little different. As a player, he had a bit of a leg up, because he didn't just stop at reading up on all the players -- he went straight to the source.
Morris called up several former players -- including Lee, Chafie Fields, NaVorro Bowman, Derrick Williams and Arrington -- to talk about whom they thought deserved to be drafted.
"Once you told me about it, I had contacts with guys who I played with and guys like Chafie Fields, who I was thinking about signing with, so I just did my research," Morris said Tuesday night. "I asked them about some guys, who I should choose and pretty much went from there."
Morris' research seemed to pay off. Prato was pleasantly surprised at Morris' Penn State knowledge, and his defense is among the best.
Can we get a mulligan?
When you're picking players without a fancy draft board and you're racing against the clock, sometimes panic and confusion set in -- and it basically happened to all of us.
Prato regretted not taking Gregg Garrity; Morris likely would've taken Brandon Noble over Devon Still if he had another chance; McDuffie would've drafted himself sooner. And Team Moyer? Why, oh why, couldn't Lydell Mitchell hold out for one more round? Michael Mauti also likely would've replaced Ed O'Neil upon closer inspection.
Looking back on the draft:
The most difficult part wasn't necessarily creating your own "cheat sheet" and ranking the best players at each position. It was trying to weigh whether someone like Michael Robinson had more value than someone like Engram.
There was no blueprint to this, since it had never really been done before. We all knew what players we wanted -- but we weren't so sure just who we could wait for and who we needed to grab right away.
Morris agreed that you kind of had to adopt a reactive strategy with the draft. With no mock drafts, it was definitely unique. But, looking ahead, at least future drafters will have some idea of what to expect.
It was definitely a lot of fun. The NittanyNation staff will probably continue trash-talking about this throughout the season. And McDuffie, Morris and Prato were all great sports.
"If I'd know the level of participation McDuffie and Morris would have I'd have picked them 1 and 2," McClellan said. "Great guys and tremendously patient during the whole process, too."
January, 31, 2013
1/31/13
8:00
AM ET
When college coaches gazed across the field at Bethlehem (Pa.) Catholic's quarterback, they saw visions of Joe Montana and Joe Namath.
When the ball rolled off high schooler Dan Kendra's fingertips, fans thought of Dan Marino. When he circled his team in the huddle, he seemed like Jim Kelly. In 1994, Pennsylvania's favorite son was just 18 years old -- but he was already counted on to be the next great signal-caller. A surefire Hall of Famer whose father joked that even Joe Paterno wouldn't be tempted to turn this stout athlete into a linebacker.
Before the digital age, back in the era of pogs and Saturday morning cartoons, Kendra might have been the most recognizable high school player in the world. He was USA Today's Offensive Player of the Year, ESPN's Player of the Year, Parade's Player of the Year and SuperPrep's Player of the Year. He was everybody's player of the year.
[+] Enlarge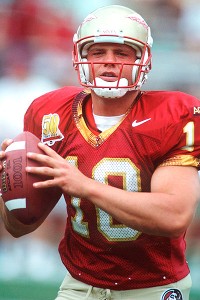 Scott Halleran/Getty ImagesDan Kendra was a physical specimen who eventually ended up playing fullback at Florida State.
He was Tom Lemming and Max Emfinger's No. 1-rated quarterback. And National Recruiting Advisor also ranked the square-chinned kid -- who threw for 1,988 yards and 21 TDs and rushed for another 718 yards as a senior -- as the top QB in the country.
And, in December 1994, he was all Penn State's.
November, 17, 2012
11/17/12
6:08
PM ET
STATE COLLEGE, Pa. -- Offensive guard
John Urschel
rubbed his chin and just smiled at the questions Saturday afternoon.
How could Penn State lose 10 offensive starters in one offseason and somehow average 10 points more every game? How could Penn State set several offensive records Saturday with so many new starters?
Urschel, a man who often responds to news conference questions with, "Let me ponder that for a moment," didn't hesitate. He just smiled and said two words after the Nittany Lions toppled Indiana 45-22.
"Bill O'Brien."
He didn't need to say anymore. He didn't elaborate, didn't shrug. There was no more to add. O'Brien's been the coach this Penn State team has needed -- not just to bring the team together after the Jerry Sandusky scandal or past the sanctions. But to update an inefficient offense that seemed about as cutting-edge as a disco ball.
Penn State's just always been an old, throwback run-first team. Since the very beginning of its 126-year history.
Seven years before the topic of a forward pass was even broached -- before Penn State was known as the Nittany Lions -- Penn State ran. They ran when football first appeared live on fuzzy televisions. And they even ran the last time they had a first-round NFL quarterback in
Kerry Collins
.
They ran and ran until now. Until the Bill O'Brien era and the era of weekly changes.
[+] Enlarge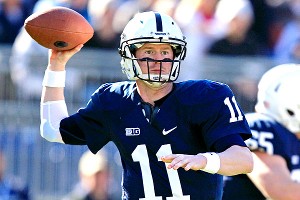 AP Photo/Gene J. PuskarMatt McGloin had his fourth 300-plus yard passing game Saturday against Indiana.
O'Brien's taken
Allen Robinson
, an offensive afterthought who finished with three catches last season, into the record books with the most catches by a PSU player in a single season. He's taken last year's third-string fullback,
Zach Zwinak
, and helped him become a player who could finish the season with more rushing yards than USC transfer
Silas Redd
.
And he's coached up
Matt McGloin
, who spent more time fuming on the sideline last season than behind center. McGloin also sent the record books back to the printing press by passing for more yards in a season (3,066) and the most career touchdowns (45) than any other Penn State quarterback.
"[O'Brien] and Coach [Charlie] Fisher have done a great job of teaching me how to play quarterback the correct way," McGloin said. "They've been doing such a good job of it. They have so much experience that it can't help but rub off on you."
Read between the lines there. McGloin never ever said the same of Jay Paterno, whose legacy of PSU quarterbacks seems to be that a majority regressed (See:
Bolden, Robert
and
Morelli, Anthony
). Jay Paterno knew McGloin for four seasons before he was dismissed from his coaching post -- but he never saw enough of the signal-caller to name him the indisputable starter.
O'Brien needed one spring.
The dimple-chinned coach smiled Saturday when he recalled the first time he knew McGloin was something special. He asked McGloin to draw up a play -- the read, the coverage, the protections. Everything.
McGloin strolled up to the white board and, O'Brien said, completed everything in about three seconds.
"It was Gun Trips Right 64 Special H-Sneak, I'll never forget that," O'Brien said. "And it was
bang
-- and I just knew at that point we had a kid who was working out, who wanted to be the starting quarterback."
The outspoken McGloin thought Robinson didn't get a fair shake last season. And it's clear -- by the benching of
Bill Belton
-- that O'Brien doesn't mind re-evaluating talent on a weekly basis. He's taken last year's scraps and turned them into star performers, coveted by every Big Ten team.
McGloin passed for 395 yards against Indiana, and Robinson caught 10 passes for 197 yards. With the old staff, those two could still be riding the bench right now. At best, those stats might be spread over two or three games. But O'Brien has taken a group of unwanteds -- a group with a strong bond fighting to rebuild the university's reputation -- and turned them into something drawing praise and respect from every corner of the country.
Urschel wasn't asked what Penn State's recipe to future success might be. But his past answer would fit just fine right here.
"Bill O'Brien."
September, 2, 2012
9/02/12
9:48
AM ET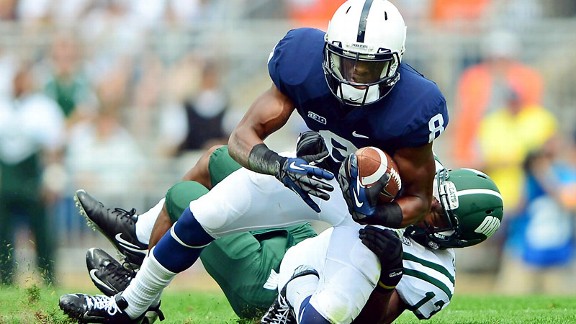 Andrew Weber/US PresswireAllen Robinson had nine receptions on Saturday, a bright spot for the offense.
If Saturday showed anything, it's that this is a completely different Penn State team.
Penn State's multiple-personnel looks and complicated offensive playbook stood in stark contrast to its past old-school, run-up-the-gut philosophy. And its aggressive defense resembled little of the 2011 squad that finished No. 20 nationally in yards allowed.
The Nittany Lions flashed some potential in Saturday's first half, but the
24-14 loss to Ohio
raised more questions than answers about what the future might hold. NittanyNation takes a closer look at what's in store:
To continue reading this article you must be an Insider
BIG TEN SCOREBOARD
Thursday, 9/3
Friday, 9/4
Saturday, 9/5
Sunday, 9/6
Monday, 9/7