Penn State Nittany Lions:

Wendy Laurent
May, 16, 2014
5/16/14
9:00
AM ET
The NCAA penalties
some described
as
worse than death
were supposed to cripple Penn State for years to come, but the Nittany Lions, so far, have survived and, at times, thrived.
Good coaching and good players have buoyed the program in rough waters, and the
bountiful recruiting start to the James Franklin era
could prevent the drop-off many believed to be inevitable.
But there are spots on the roster where Penn State is struggling with the numbers game. None is more glaring than the offensive line.
[+] Enlarge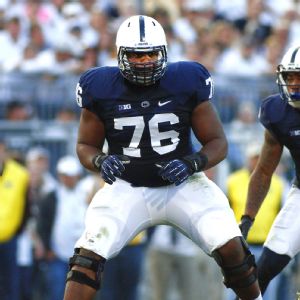 Justin K. Aller/Getty ImagesDonovan Smith should be a rock at tackle for Penn State, but the rest of the Nittany Lions' OL is in a state of flux.
Arguably no position group in the Big Ten has fewer guarantees than the Lions' line. Three starters are gone from last season's squad. One of the two returnees,
Miles Dieffenbach
, reportedly suffered a serious knee injury this spring. Two days before spring practice began, the coaches moved defensive tackles
Brian Gaia
and
Derek Dowrey
to guard. Both immediately entered the starting rotation. Penn State exited the spring with just two healthy players -- tackle
Donovan Smith
and guard/center
Angelo Mangiro
-- who had lettered as offensive linemen in 2013.
"We have some talented guys," Penn State offensive line coach Herb Hand told ESPN.com. "We just don't have a wealth of them."
The good news: Hand has been here before. When Hand arrived at Vanderbilt in August 2010 --
Bobby Johnson
had retired in July, and interim coach Robbie Caldwell made Hand his first hire -- he inherited 12 offensive linemen, five of whom were true freshmen.
He had just weeks to prepare them for the season. So he went to work.
"That's a challenge, but as those guys grow together, they're like balls of clay," Hand said. "They're guys you can mold and you can form and you can develop into exactly what you want them to be."
Exactly what Hand wanted back then at Vanderbilt, and now at Penn State, are linemen who aren't limited to one position. Centers that can play guard. Swing tackles. Guards who can move outside if need be. Tackles who can line up on either side.
Wesley Johnson started four seasons for Hand at Vanderbilt, finishing his career with the most starts (51) in team history and the longest active streak in the SEC at the time. He earned several awards, including SEC All-Freshman in 2010 and first-team All-SEC in 2013.
But perhaps his biggest achievement was playing all five line positions during his career. Although he started at left tackle throughout his final season, he was also the first option if Vanderbilt needed another center.
Hand needs the same flexibility from Penn State's linemen this season.
"We've always had to develop our depth through guys playing multiple positions," he said. "It's almost like a basketball team. You've got your starting five and then you've got your sixth man, you've got your seventh man, and so on. That's the way we approach developing our offensive line. Let's get to where we have six guys, seven guys, eight guys who we can count on.
"That way, we can always get our top five on the field at any given time."
Mangiro played four positions during the Blue-White spring game.
Brendan Mahon
began the spring at left guard and finished it at right tackle.
Wendy Laurent
took reps at both guard spots and center.
Hand describes Dieffenbach as a "guy who could play all five spots."
"Typically, you'd like to have [6-foot-6] at tackle and 6-3 at guard and 6-3 at center," Franklin said. "Well, we might have 6-3 at tackle and 6-3 at center. It is what it is."
The only lineman likely to be left alone, namely because he protects quarterback
Christian Hackenberg
's blind side, is Smith. The 6-foot-5, 322-pound junior enters his third season as the starter and, according to Hand, has "got to be our bell cow."
Hand saw Smith improve his communication and work ethic throughout the spring as he learned a new system. Smith enjoys Hand's "Lions of scrimmage" mantra for the group, and the aggressive style the new coaches have brought to the offense.
"Being an older guy, being here for some years, it's definitely a lot of responsibility," Smith said. "It's going to make me better. You get older, people graduate and it's the next guy up. It's the way college football works."
Despite their inexperience on offense, Dowrey and Gaia also welcome the opportunity to be relied upon. Hand saw few players on either side of the ball improve more from the start of the spring until the end.
"I can't even tell that they played defense just last season," Smith said. "Their spring has been amazing. They probably had a better spring that I had in previous springs. I trust them playing next to me.
"If we had to play a game tomorrow, I'd be very comfortable with our offensive line."
Like many of Franklin's assistants, Hand has put an emphasis on building bonds among his group. The chemistry appears strong. The next step is to further absorb the system after the linemen "hit the ground walking" this spring, Hand said.
Hand is still waiting to coach a group with 10 game-ready offensive linemen. He usually has eight. That might be wishful thinking this season at Penn State.
"That's the one spot on the team we need to grow as fast as we can as far as depth," offensive coordinator John Donovan said.
It won't be easy, but if the Lions can win the numbers game on the offensive line, they'll be in better shape to win the ones on the scoreboard.
April, 14, 2014
4/14/14
2:00
PM ET
STATE COLLEGE, Pa. --
James Franklin
smiled one last time as he trotted beneath the tunnel, waving goodbye and shouting, "Thanks for coming" to the lingering fans who leaned over the railing.
There's been a lot of reasons for Franklin to smile lately. At the start of the fourth quarter, the PA announcer boomed that a little more than 72,000 fans attended the spring game, which featured fan favorite
Christian Hackenberg
for just three short series. So far, no scrimmage has garnered a higher attendance. And, before the game, ESPN 300 defensive lineman
Adam McLean
committed to Penn State
-- and half of the scouting services move the Nittany Lions' 2015 class to No. 1 in the nation.
Franklin, the
"Pennsylvania boy with the Penn State heart,"
arrived in Happy Valley just three months ago. And, as the past weekend showed, he hasn't wasted much time in making an impact.
[+] Enlarge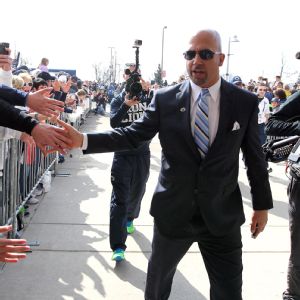 Matthew O'Haren/USA TODAY SportsAn announced crowd of 72,000 came out to see James Franklin and Penn State's 2014 team.
"I don't think there's any doubt that we're special," Franklin said, referring to Penn State, "and one of the big reasons that we're special is because of the support we get from the community. ... I couldn't be more excited."
Fans fired up their grills and began tailgating as early as five hours before the 1:30 p.m. kickoff. Some opted to stay in the parking lot during game time; about half the crowd left by halftime, once the skill players traded in their helmets for a spot on the bench. Hackenberg ended up appearing for about eight minutes, the top three running backs combined for five carries and the starting offense never once took on the defensive starters. The first team suited up in Blue and, unsurprisingly, beat the White team of backups 37-0.
But the sense of excitement surrounding Franklin and this program was unmistakable. Hundreds of fans,
maybe a dozen deep
, lined up for the arrival of Penn State's blue buses while several recruits pressed their noses close to the glass from the comfort of the lounge overlooking the scene. "No vacancy" signs dotted the hotels in the surrounding area. And fans literally took off in a sprint to greet players during a 45-minute autograph session; with a
crowd of about 5,000
, the line more closely resembled a mosh pit.
It was the biggest crowd for the Blue-White Game since 2009, when the Nittany Lions were just three months removed from a Rose Bowl appearance. Because of the current sanctions, Penn State still can't appear in the postseason for another two years -- which really made the excitement surrounding Saturday all the more surprising.
"I can only imagine what a regular season game is like," defensive coordinator Bob Shoop said. And a minute later: "We're trying to take this program to the next level and compete for Big Ten and national championships."
That last line is likely a big reason for the optimism in Happy Valley. Franklin took the dais on Day 1 and vowed a return to national prominence, in addition to
dominating the state and region in recruiting
. The staff has reminded the media and fans so much of those intentions that Franklin doesn't even need to finish his sentences once he broaches the topic.
Once Penn State's first-year coach talked Saturday about hitting the recruiting trail hard, he stopped abruptly. "We are going to ...," he said, pausing. "Dominate the state," recruits mumbled from the balcony above press row.
"Exactly right," Franklin said.
Franklin's first game at Beaver Stadium almost seemed secondary to the atmosphere surrounding it. There was some "Wildcat," a formation Vanderbilt loved last season but former Penn State coach Bill O'Brien loathed, and a 56-yard double-reverse pass that wideout
Geno Lewis
swore wasn't rehearsed in practice.
Conversely, some concerns only became magnified. The offensive line -- seemingly the weakest unit on the team -- surrendered nine sacks and the offense failed to find much rhythm. But the thin-rostered line also lost center
Wendy Laurent
and
Brian Gaia
to injury in the first half. Counting that pair, the Lions were missing four OL starters in the final two quarters.
But, as is usual with these scrimmages, the game wasn't as much an indicator of the future as it was a show for the fans. And, with Franklin as its ringleader, the game generated as much hype as offseasons filled with BCS aspirations.
"Great crowd, unbelievable support from this community," Franklin said in his opening statement. "I'm not surprised one bit."
April, 12, 2014
4/12/14
7:15
PM ET
STATE COLLEGE, Pa. – James Franklin kept many of his skill players off the field for most of Penn State's
annual scrimmage
, but there were certainly still other aspects to glean from the game.
Christian Hackenberg
played in just three series, and
Michael O'Connor
took over for the rest of the game for the Blue team. Blue, which consisted mostly of starters, ended up with the 37-0 victory -- some players even tugged the victory bell -- as we learned a few more things about the Nittany Lions:
[+] Enlarge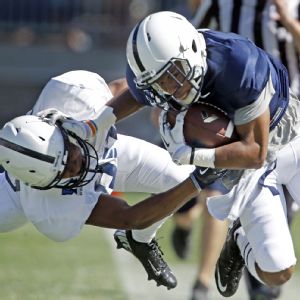 AP Photo/Keith SrakocicPenn State freshman De'Andre Thompkins caught one pass and had a 22-yard rush in the spring game.
1. This is an offense that's willing to do different things.
Bill O'Brien hated the Wildcat. Absolutely loathed it. But fans were treated to quite a bit of it Saturday afternoon. The direct snaps to the tailback actually seemed the most effective, as the longest run in the first quarter -- a 19-yard run by
Cole Chiappialle
-- came from that formation. Franklin was asked whether he had a new, catchy name for the formation. "Yeah, I think we're going to go with," he said, pausing slightly for dramatic effect, "Wildcat."
In the game's longest play, wideout
Geno Lewis
took a reverse and threw a ball to a wide-open
Matt Zanellato
, who sprinted in untouched for a 56-yard touchdown. Lewis said they didn't run the play once in practice. But Franklin didn't mind calling Lewis' name out of the blue -- and Lewis didn't mind much, either.
2. The offensive line could really be in trouble.
Penn State implemented a running clock from the second quarter on, but the gray-jerseyed offensive line gave up nine sacks. The running game also had trouble taking off in the beginning, as both the Blue and White teams combined for 21 yards on their first 16 carries. At one point, Penn State had 12 completions to 10 punts. And it was 0-for-12 on the first dozen third-down attempts. They fared better in the second half, but there was obviously still cause for concern.
Center
Wendy Laurent
went down with an injury in the second quarter and did not re-enter the game. The severity of Laurent's injury is unknown and, with Franklin's policy to not discuss injuries, clarity probably won't be lended to the situation anytime soon. Offensive guard
Anthony Alosi
, who is
facing criminal charges
, is also "suspended indefinitely," according to Franklin.
3. Penn State could utilize more nickel this season.
Minutes after the game, Franklin said the Nittany Lions could often operate under a "star" defense, which is similar to the nickel. Basically, he wants to use two true linebackers and a "big safety." It's something Franklin said he and the staff are going to evaluate over the offseason -- and that might be a reason why
Von Walker
moved to linebacker this spring. Walker could earn a role there, possibly as a backup, and he made a nice play in the third quarter by tipping a pass and then making a critical block once it was intercepted.
Defensive line coach Sean Spencer previously said the defense could use some four-DE looks this season, so fans could see some unique things on this unit. Overall, the defense appears to be in good shape. Franklin praised the defensive line several times this spring, and he said Saturday that it's certainly a little ahead of the offense right now.
4. Kicking game still needs some work.
Sam Ficken
missed an extra point and
Chris Gulla
averaged just 39.2 yards a punt on a dozen punts. Assistant Charles Huff said the return game has shown a lot of improvement since the spring, but that was one area that wasn't showcased Saturday. During punts, for example, the entire return team consisted of just one player making a fair catch. Penn State's special teams should still be improved from last season, as there's nowhere to really go but up. Huff wasn't sure what happened on the missed extra point. Regardless, the kicking game obviously needs to show consistency.
March, 12, 2014
3/12/14
9:00
AM ET
STATE COLLEGE, Pa. -- We've reached the middle of this week's countdown, which involves five predictions for the spring.
Up Wednesday is an issue that has been talked about a lot but is even more serious than it seems ...
OL struggles surpass secondary as biggest concern
Forget about the offensive line's three new starters for a moment. Forget about the fact Penn State will likely start two redshirt freshmen,
Andrew Nelson
and
Brendan Mahon
, who have never played in a college game. And forget about the fact they'll all be learning new schemes from a new assistant coach.
That's all been
talked about before
. But take a closer look at this lack of depth; just look at the second-string offensive line. This should be the most this unit struggles since at least the "dark years" of the early 2000s.
[+] Enlarge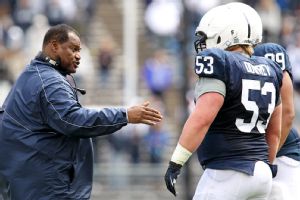 Matthew O'Haren/USA TODAY SportsFormer Penn State assistant Larry Johnson talks with Derek Dowrey during the 2013 spring game. Dowrey might be moving to the offensive line, where there's a big need for players.
Backups
Wendy Laurent
and
Anthony Alosi
have had very limited playing time, playing in 16 combined contests but receiving even less experience than that number suggests. And that's the
strong
part of this backup offensive line. The other three spots this spring will be taken up by an early enrollee (
Chasz Wright
) and two walk-on underclassmen. The defensive line should dominate in the Blue-White Game.
That's not to say the weakness with this unit is just depth; inexperience is the biggest issue among the starters. But that's been pretty well documented. The mess behind them hasn't been.
More position switches are bound to happen -- defensive tackle
Derek Dowrey
has already
been linked to a move to the offensive line
, contrary to the updated published roster -- and the big problem with this line is that it's one injury away from disaster. It's akin to the linebacker issue last season except this might be even worse. Safety
Stephen Obeng-Agyapong
was able to briefly make up for his size at linebacker with his speed, but there's no hiding a weak link on the offensive line.
If Mahon or Nelson falters, this line falters. If one of the five starters suffers an injury, this line falters. With
Bill Belton
and
Zach Zwinak
returning, this is the best stable of running backs that Penn State has fielded in at least three seasons, and
Christian Hackenberg
has one of the strongest arms in Penn State history. But that won't mean much if this line can't jell by August. And while this staff tries to figure it all out this spring, it's not going to be pretty.
More help will come over the summer in the form of three more signees, but this line will undoubtedly struggle even then. Still, it won't get any worse than it will this spring.
More predictions:
No. 5:
A more public, eager-to-please coach
No. 4:
Blue-White attendance more than doubles from 2013
March, 6, 2014
3/06/14
9:00
AM ET
STATE COLLEGE, Pa. -- We're inching closer to the top spot of this week's countdown involving the top spring position battles at Penn State.
Up today is a spot that will be forced to plug in a new starter ...
No. 2 position battle:
Offensive guard/center

Departures:
Ty Howle
(12 starts),
John Urschel
(12 starts),
Tanner Hartman
(one game; transferring at end of semester)
Returning players:
Miles Dieffenbach
(12 starts),
Angelo Mangiro
(11 games played),
Wendy Laurent
(five games played),
Brendan Mahon
(redshirted)
Breaking it down:
There are a few other players who could also compete inside such as
Anthony Alosi
, but this position battle should really come down to two names: Mahon and Laurent.
Dieffenbach is the only returning starter on the interior, so he'll reclaim his spot at left guard with ease. Mangiro, a strong sub the past two seasons, is also nearly a lock to start. But where he plays -- guard or center -- will be dependent upon Mahon and Laurent. If Laurent excels, then he'll start at center, Mangiro will move to right guard, and Mahon will be a sub. But if Laurent falters, then Mangiro will likely move to center and Mahon will start at right guard.
Those are the two most likely scenarios right now. The chemistry of the line will be greatly increased if one of those two players can quickly separate himself. The incoming freshmen are all projected to be tackles since there are only two returning players on scholarship there, so this position battle could really be decided in the next two months.
Pre-camp edge:
Laurent. He's a redshirt sophomore who gained just six pounds, from 278 to 284, between the 2012 and 2013 seasons. He has experience, so he has the slight edge on Mahon right now -- but there's no doubt that 305-pound Mahon has the higher ceiling. As a result, this is somewhat akin to the
Brandon Felder
-
Geno Lewis
dilemma at receiver last season. Mahon appears to be the long-term answer, but it's not yet certain if he's ready. If he's not, Laurent will take over -- it's his job to lose.
More position battles to watch:
No. 5:
Kicker
No. 4:
Tight end
No. 3:
Defensive tackle
February, 13, 2014
2/13/14
9:00
AM ET
STATE COLLEGE, Pa. -- We've arrived at the top two in our
countdown of the positions with the biggest question marks
for Penn State.
The top pick will be unveiled Friday. But up today is a group that wouldn't be a bad choice for No. 1 either ...
No. 2:
Offensive line
[+] Enlarge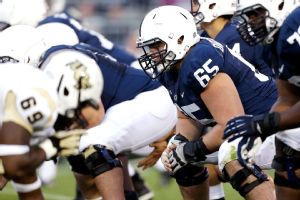 AP Photo/Gene J. PuskarMiles Dieffenbach (65) is one of Penn State's veterans along the O-line.
The players:
Donovan Smith
(10 starts),
Miles Dieffenbach
(11 starts),
Angelo Mangiro
(11 games played),
Andrew Nelson
(redshirted),
Brendan Mahon
(redshirted),
Wendy Laurent
(five games played),
Anthony Alosi
(six games played),
Tanner Hartman
(one game played),
Chasz Wright
(early enrollee),
Noah Beh
(incoming freshman),
Brendan Brosnan
(incoming freshman),
Chance Sorrell
(incoming freshman)
Last season:
This group started off slow and struggled picking up the heavy blitz, but it really improved as the season wore on. Tailbacks
Zach Zwinak
and
Bill Belton
combined for just two 100-yard rushing performances in the first seven games but finished the last five games with five -- and Penn State even outplayed Wisconsin's mammoth line in the finale.
John Urschel
was a first-team All-Big Ten selection, while three substitutes --
Garry Gilliam
,
Eric Shrive
and Mangiro -- saw considerable time.
What's missing:
Experience and depth. Eight players saw a lot of time last season and five are now gone. PSU has just one returning offensive tackle on scholarship with any kind of game experience, and new coach James Franklin will be forced to plug in two rookies on the starting line. Health is obviously paramount here.
Moving forward:
Former coach Bill O'Brien raved about Nelson, who redshirted last season as a freshman, and Nelson will almost certainly take over the starting right tackle position. There's really no one else to consider, outside of incoming freshmen and walk-ons. But the big question comes from the interior. At guard and/or center, Dieffenbach and Mangiro will be a part of some kind of combination, but there's no telling who else fits into Franklin's plans. Laurent could be the center. Or Mangiro could take over that position and Franklin could slide in Mahon at one of the guard positions. Or maybe Franklin decides to move a defensive tackle to the offensive side of the ball. There are a lot of moving pieces right now, and a lot has to go right for this group to start off smoothly. The question marks surrounding this position likely won't be answered by Week 1.
December, 24, 2013
12/24/13
1:00
PM ET
It's never too late -- or too early -- to see what we learned from this season and also look ahead to next season. So, we've started breaking down each position on the Nittany Lions.
Up today: Offensive line.
REWIND
Expectations entering the 2013 season:
OL coach Mac McWhorter's group was expected to start fast, as it returned three primary starters and several other players who saw significant time in 2012.
[+] Enlarge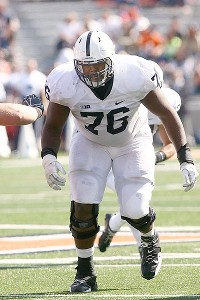 AP Photo/Kevin TanakaOffensive tackle Donovan Smith was expected to be a breakout star, but he didn't quite live up to his potential this season.
LT
Donovan Smith
was a favorite on projected breakout lists, and
John Urschel
often said that center
Ty Howle
was the most underrated lineman on the team. The real question mark surrounded right tackle, and whether
Adam Gress
or
Garry Gilliam
could step up. With an extra year under McWhorter and strength coach Craig Fitzgerald, many believed this line would be as good -- or better -- than 2012.
How they fared:
They didn't quite get off to the start they wanted -- even Urschel admitted that. Consistency was difficult to come by early in the season, and Smith certainly didn't live up to his potential. Bill O'Brien didn't start him for a game -- and that certainly appeared to send a message -- but this line played its best football at the end of the year.
Zach Zwinak
rushed for 563 yards in the last four games. And, overall, PSU allowed 22 sacks on the season -- which isn't too bad considering a rookie was standing in the pocket and sometimes taking too long to throw the ball. This line played as expected in the second half of the season, but it was a different story in the first half.
What we learned:
This line is pretty versatile. Left tackle and right tackle were relatively interchangeable,
Angelo Mangiro
could play anywhere along the interior and
Eric Shrive
could play anywhere outside of center. We saw this in 2012, but 2013 just reinforced it. When some players found themselves injured or in slumps, this line showed it was pretty flexible and able to adjust.
Grade:
B. This a little tricky because the grade in the first six games would've been markedly different than the last six games. Overall, though, this line played above-average. Urschel was an All-Big Ten player who was selected as a third-team All-American by the AP. Gilliam was a pleasant surprise, Smith a disappointment, and everyone else played close to as expected.
FAST FORWARD
Key losses:
OG Urschel, C Howle, OT Gress. Gilliam still hasn't made up his mind on whether to stay. First, he was staying, then leaving ... and then he wasn't sure. His decision will have quite an impact on this group, however. If he leaves, PSU has to plug three openings on the line -- and right tackle will be the biggest concern of all since three of PSU's top four tackles would then graduate.
Position stock watch:
Trending downward. Even if Gilliam stays, the offensive line is going to have a lot of question marks to overcome. Mangiro will be able to fill one spot along the interior, but who else will start?
Wendy Laurent
, who played in five games? And just think about that hole at right tackle if Gilliam does leave. It seems as if freshman
Andrew Nelson
might have to take over out of necessity. Depth is a thing of the past for this group.
Key to next season:
Finding key contributors to add depth. For the last two seasons, PSU hasn't had to search long to find players who could give the starters a quick breather. But it's going to be a bit more difficult this offseason. Laurent,
Anthony Alosi
and
Tanner Hartman
have to add weight to their frames before they become viable options. (No lineman under 290 pounds saw significant time last season, and those three are all under 290.) And players who look the part -- such as 6-foot-4, 305-pound OG
Brendan Mahon
or 6-5, 297-pound OT Nelson -- haven't yet played a single snap. PSU is likely going to have to play some linemen who aren't quite ready, so they're ability to overcome the obvious learning curve will be paramount.
August, 27, 2013
8/27/13
9:00
AM ET
As part of an ongoing series, NittanyNation will preview a different position leading up to the season opener against Syracuse on Saturday. Up today: Offensive linemen.
Projected starters:
Adam Gress
(6-foot-6, 320 pounds),
John Urschel
(6-3, 301),
Ty Howle
(6-0, 293),
Miles Dieffenbach
(6-3, 295) and
Donovan Smith
(6-5, 322)
Key losses:
RT Mike Farrell and C Matt Stankiewitch
Next in line:
The Nittany Lions will use a rotation again this season, with
Angelo Mangiro
as the next man up when it comes to the interior. At tackle,
Eric Shrive
and
Garry Gilliam
will compete for time. (Shrive is also versatile enough to play inside.)
Those three should see the most time besides the starters. Others who could contribute include
Anthony Alosi
,
Wendy Laurent
and true freshman
Andrew Nelson
.
What to expect:
With another season under OL coach Mac McWhorter and strength coach Craig Fitzgerald, this line should take another step forward. Sure, the loss of Stankiewitch and Farrell hurt -- but Howle isn't that much of a downgrade and Smith is healthy for a change.
If the right tackle (Gress or Gilliam) can get off to a good start, this line will be better than last season. Smith could be the next great lineman at Penn State, and the interior is very strong. As a result,
Zach Zwinak
should see plenty of holes inside and the running game should improve.
This group isn't entirely bigger weight-wise -- Gress, Howle and Dieffenbach lost weight from last season -- but don't let that fool you. This group is stronger, literally, from last season and should push around opposing defensive linemen a bit more.
Recruiting trail:
In-state product
Noah Beh
(Scranton, Pa./Scranton Prep) is the lone offensive lineman of the 2014 class right now, and he won't make an instant impact at Penn State. He's no more than 260 pounds, so he'll need some time to fill out.
On the plus side, he can also play on the defensive line. And he has a lot of upside. Next season, however, could be the "Year of the Offensive Lineman" for Penn State.
PSU could take about three prospects there, and it's already extended offers to more than a half-dozen players -- including the likes of ESPN Junior 300 prospects
Sterling Jenkins
(Pittsburgh, Pa./Baldwin),
Tristen Hoge
(Pocatello, Idaho/Highland),
Ryan Bates
(Warminster, Pa./Archbishop Wood) and
Richie Petitbon
(Washington, D.C./Gonzaga).
Best-case scenario:
At least three linemen earn All-Big Ten honors, as Smith breaks out and earns a reputation as
Levi Brown
's heir apparent. The line takes great strides, further increasing the legend of the crazy-in-a-good-way strength coach. (He wears shorts in 20-degree temperatures, does the worm before some games and once licked the gym floor to fire up his players.) Fans can breathe easy in future years knowing the linemen are in the hands of Fitzgerald and McWhorter.
Worst-case scenario:
The right tackle is a big letdown and creates havoc along the line, while Smith shows himself to be injury prone. The interior is still good, but the tackles struggle without Smith and don't give the quarterback much time to throw.
Top position question: How does Donovan Smith compare to Levi Brown?
Well, the last staff sure thought they were similar -- because that was one of the Nittany Lions' big recruiting pitches.
Former PSU coach Bill Kenney playfully pulled aside Smith's seat during a recruiting trip in 2010, telling him it was Brown's seat. The two were both initially recruited to play the defensive line, and Kenney showed Smith some clips of the 2007 first-round NFL draft pick.
Brown, 29, is currently listed at 6-6 and 324 pounds. Smith is 6-5, 322. And Urschel previously hinted that Smith held more potential than second-round pick Stefen Wisniewski. So Smith certainly has the potential to follow in Brown's footsteps.
May, 10, 2013
5/10/13
9:00
AM ET
Welcome to NittanyNation's mailbag! We asked you to tweet or email your questions, and we've selected three to answer in-depth this week.
Jim Murphy (@JimMurphy13) writes:
Jabrill Peppers
could have left PSU off his list and only made a top three. That leads me to believe we have a real shot with him. I know Michigan is the front-runner but, with a visit coming up and a decision soon, don't you think PSU can land him?
Josh Moyer:
I don't. He's kind of like the reverse of
Daquan Worley
. Worley was a heavy PSU lean, had PSU and RU as his top two, but figured he might as well check out Georgia Tech since his decision was approaching. The Yellow Jackets had a chance to really impress him but still didn't make an impact in the end, just two weeks before his commitment.
March, 18, 2013
3/18/13
7:37
PM ET
STATE COLLEGE, Pa. -- While Bill O'Brien's voice carried over the field Monday afternoon, quarterbacks coach Charlie Fisher directed his players in a calmer manner.
[+] Enlarge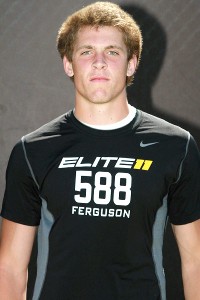 Tom Hauck for ESPNTyler Ferguson showed off his big arm at practice Monday.
During position drills at Penn State's first spring practice, Fisher stood about five yards in front of his four quarterbacks as they took turns taking three- and five-step drops. The quartet of red jerseys would look at Fisher, quickly scan the field and then throw to a stationary receiver.
"Eyes here," Fisher told sophomore
Steven Bench
in a conversational tone, pointing to his his right. "Work through it, work through it."
Bench or
Tyler Ferguson
could wind up as the starting quarterback come Aug. 31, and Monday offered a glimpse of the two signal-callers. Media were invited to attend 20 minutes of open practice, and O'Brien began by calling together a competition: A defensive back would line up against a wideout or tight end in press coverage, while Bench and Ferguson would alternate snaps.
The first team -- offense or defense -- to win three battles would be declared the winner. The losers would be forced to perform five hit-its. It was more for honor than anything and only four passes were thrown while the quarterbacks tried to shake off the rust.
Bench began by just overthrowing
Allen Robinson
on a roughly 35-yard pass, and Ferguson then hit
Jesse James
in stride downfield on an over-the-shoulder grab. Bench followed that up by throwing behind his target on cross route, and Ferguson barely overthrew
Matt Lehman
for two straight incompletions.
The offense, along with Ferguson and Bench, then hit the turf for their hit-its while the defense cheered.
"They're both athletic, they both can throw the football," O'Brien said during a Monday news conference. "Now it's going to depend on how well they make decisions and how accurately they throw the ball.
"They sit in the front row, they pay attention, they take a lot of notes. It's a fun group to be around."
September, 11, 2012
9/11/12
11:00
AM ET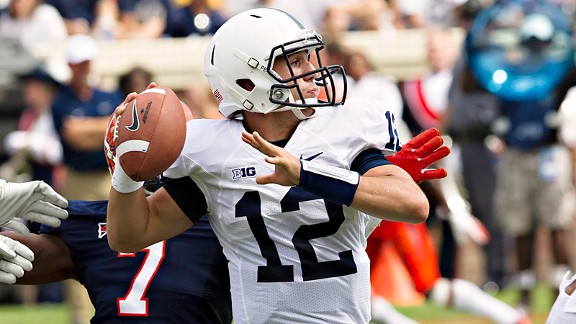 Lee Coleman/Icon SMITrue freshman quarterback Steven Bench subbed in for a banged-up Matt McGloin against Virginia and looks to have assumed the backup quarterback position for the Nittany Lions.
The season is only two weeks old, but the redshirt picture is already becoming a little clearer.
Four true freshmen are listed on the depth chart but haven't seen any time on the field. Six freshmen have already burned their redshirts. And three are still in limbo.
NittanyNation takes a closer look at the impact the true freshmen have had so far and what to expect going forward:
To continue reading this article you must be an Insider
August, 28, 2012
8/28/12
7:23
PM ET
STATE COLLEGE, Pa. --
Matt McGloin
dropped back and rehearsed some draws early Tuesday evening while quarterbacks coach Charlie Fisher barked some encouragement.
"Bam!" Fisher yelled when the football hit
Bill Belton
's stomach. "C'mon! Good!"
Bill O'Brien asked the media to leave soon after those positional drills, but NittanyNation still found some highlights to the short-lived open practice:
To continue reading this article you must be an Insider
August, 15, 2012
8/15/12
12:00
PM ET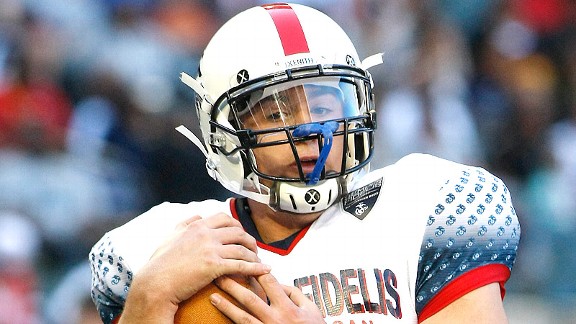 Rick Scuteri/AP ImagesOne of the top 2012 recruits in the Penn State class, Jesse James has quickly developed and could be an impact player for Penn State this fall.
Penn State's 2012 recruiting class
didn't make ESPN's top 25 class rankings -- nor were any recruits ranked in the ESPN 150 -- but this class could graduate as one of the most memorable for other reasons. No offensive prospect (and only one defensive recruit) left in the face of unprecedented NCAA sanctions, and this year's incoming class offers Penn State some hope for the future.
The offense is primarily filled with three-star guys, and four-star wideout Eugene Lewis is slated to be the star of the class. This group is expected to see more immediate playing time than most due to the NCAA sanctions, so NittanyNation takes a closer look at each incoming offensive recruit and breaks down what ESPN's scouts had to say before each player donned the Blue and White.
Steven Bench
Position:
QB
To continue reading this article you must be an Insider
BIG TEN SCOREBOARD
Thursday, 9/3
Friday, 9/4
Saturday, 9/5
Sunday, 9/6
Monday, 9/7