Penn State Nittany Lions:

Von Walker
October, 11, 2014
10/11/14
10:00
AM ET
The "hype" -- if you can call it that -- surrounding this game isn't exactly where most people thought it would be during the preseason. But like last year's matchup, this still has the potential to be pretty entertaining.
Here's a look at some of the specific things you should keep an eye on:
1. Michigan pass-rush vs. Penn State offensive line:
This is the game's key matchup. If
Christian Hackenberg
has time to throw, like Rutgers'
Gary Nova
did last week, then chalk up another win for the Nittany Lions. But Greg Mattison dared Rutgers to beat him through the air ... and Mattison isn't so foolish as to try that same game plan against a talent like Hackenberg. This is an aggressive defense that, for the most part, has played well this season. (U-M ranks No. 19 nationally in yards allowed.) If it pressures Hackenberg enough, there's a good chance U-M either picks up its first conference win or that this game comes down to the wire. Northwestern, Rutgers and Central Florida all sent plenty of blitzers after Hackenberg, and all of those games were tight heading into the last quarter.
2. Can Devin Gardner build off last week's performance?
Only three teams have turned the ball over more than Michigan, and a big reason for that is Gardner's penchant for fumbles and interceptions. Still, he turned the ball over just once last week and played relatively well. He rushed for 40 yards and two TDs and turned in a QBR of 65.6. If Gardner plays more like that -- and less like his performances against Notre Dame and Utah -- then the Wolverines might actually be able to move the ball against maybe the toughest defense they've played all season. This is a turning point for Gardner.
3. Impact of Derrick Green's absence:
Green is out for the season, so U-M will have to find another way to run against the nation's second-best rush defense.
De'Veon Smith
should take on most of the workload, but Brady Hoke also plans to use a rotation involving both
Justice Hayes
and
Drake Johnson
. Smith's running style is more similar to Green's, but Smith has never before carried the ball more than 10 times in a game. He might Saturday.
4. Penn State linebacker health/rotation:
Without OLB
Nyeem Wartman
two weeks ago, the defense clearly took a step back. Wartman is expected to play Saturday night, but he's not yet at 100 percent so it's unknown just how effective he'll be. Penn State is thin at the position, and the
Jason Cabinda
-
Von Walker
experiment didn't go so well in his absence. Wartman is a big part of this defense, and there's a big dropoff between him and his backups. A healthy Wartman means a healthy Penn State defense. An unhealthy Wartman, on the other hand ...
5. Crowd at the Big House:
Calls for a boycott have been
dialed back
, but it'll be interesting to see just how lively the Big House is Saturday night. Fans haven't had much good football to watch and, after the Michigan State fiasco, more eyes than usual will be on whether the student section stays until the end. Hoke had to address the
home crowd booing him
a few weeks ago, and the boo birds could come out in full force if Michigan starts off slow. Just how intimidating will Michigan Stadium be?
September, 7, 2014
9/07/14
9:00
AM ET
STATE COLLEGE, Pa. -- What we learned from Week 2 in Penn State's 21-3 nonconference win against Akron:
1. The new, aggressive defense is a winner:
This wasn't a terrible Akron offense, and the defense came up big time and time again. First quarter? Held the Zips to a (missed) field-goal attempt after Akron reached the 7-yard line. Second quarter? Made the Zips punt after they reached the PSU 34. Third quarter? Well, you get the idea. Whether it was a huge stop on fourth-down (
Brandon Bell
) or a touchdown-saving tackle (
Ryan Keiser
), this defense was the epitome of bend-don't-break. And it barely bent at all in the second half. At this point, it seems safe to say: This Bob Shoop defense is a big upgrade over John Butler's.
2. Christian Hackenberg is forcing the ball, in part, because the running game is non-existent:
There is a lot of pressure on Hackenberg in this offense. If he struggles, the entire offense struggles because the offensive line simply can't open up holes for the backs. Through three quarters Saturday, Penn State averaged just 2.3 yards per carry. Hackenberg has to get smarter on some of his throws -- several were truly head-scratchers -- but, if he can't get the job done, it seems like no one else on this offense can. This is Penn State's top concern going forward. Hackenberg has to play smarter, but this offensive line also has to jell quicker.
3. The Wildcat isn't going anywhere:
This is what coach James Franklin said after the game: "I know people seem to hate the Wildcat. I love it." The WildZach didn't make an appearance this week -- thankfully -- but
Bill Belton
and
Akeel Lynch
both saw some time in the formation. It especially makes sense for Belton since he played quarterback in high school. He is versatile and can really open up the playbook when taking the direct snap. PSU needs this running game to work somehow, and it found quite a bit of success with the Wildcat on Saturday. Expect to see more of it going forward.
4. DaeSean Hamilton-Geno Lewis might be the top receiving tandem in the B1G:
There, I said it. It's difficult to find a team with two other solid options. Maybe Nebraska's
Kenny Bell
and
Jordan Westerkamp
? Or Maryland's
Stefon Diggs
and
Deon Long
? But PSU certainly belongs in the conversation. Lewis has the ability to catch the deep ball, and Hamilton has a knack for turning those short passes into longer gains. Both guys complement each other well, and it's a unique development compared to last season's "Just throw the ball to A-Rob" offense. Fearless prediction: Lewis makes at least two "SportsCenter top 10" plays this season. He might not have the team's best hands, but he's one heck of an athlete.
5. Special teams have definitely improved:
Sam Ficken
was a perfect 4-of-4 last week, and punter
Chris Gulla
broke a freshman record Saturday with an average of 48.8 yards per punt. Gulla was incredibly consistent; he punted five times and kicked three within the 20. There weren't many complaints about the kick coverage teams, either, and
Von Walker
had a nice return. So you can definitely see the extra practice hours paying off here. Then again, after last season's awful special teams, there was really no place to go but up.
April, 12, 2014
4/12/14
7:15
PM ET
STATE COLLEGE, Pa. – James Franklin kept many of his skill players off the field for most of Penn State's
annual scrimmage
, but there were certainly still other aspects to glean from the game.
Christian Hackenberg
played in just three series, and
Michael O'Connor
took over for the rest of the game for the Blue team. Blue, which consisted mostly of starters, ended up with the 37-0 victory -- some players even tugged the victory bell -- as we learned a few more things about the Nittany Lions:
[+] Enlarge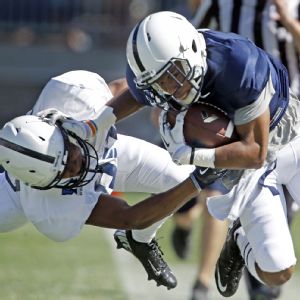 AP Photo/Keith SrakocicPenn State freshman De'Andre Thompkins caught one pass and had a 22-yard rush in the spring game.
1. This is an offense that's willing to do different things.
Bill O'Brien hated the Wildcat. Absolutely loathed it. But fans were treated to quite a bit of it Saturday afternoon. The direct snaps to the tailback actually seemed the most effective, as the longest run in the first quarter -- a 19-yard run by
Cole Chiappialle
-- came from that formation. Franklin was asked whether he had a new, catchy name for the formation. "Yeah, I think we're going to go with," he said, pausing slightly for dramatic effect, "Wildcat."
In the game's longest play, wideout
Geno Lewis
took a reverse and threw a ball to a wide-open
Matt Zanellato
, who sprinted in untouched for a 56-yard touchdown. Lewis said they didn't run the play once in practice. But Franklin didn't mind calling Lewis' name out of the blue -- and Lewis didn't mind much, either.
2. The offensive line could really be in trouble.
Penn State implemented a running clock from the second quarter on, but the gray-jerseyed offensive line gave up nine sacks. The running game also had trouble taking off in the beginning, as both the Blue and White teams combined for 21 yards on their first 16 carries. At one point, Penn State had 12 completions to 10 punts. And it was 0-for-12 on the first dozen third-down attempts. They fared better in the second half, but there was obviously still cause for concern.
Center
Wendy Laurent
went down with an injury in the second quarter and did not re-enter the game. The severity of Laurent's injury is unknown and, with Franklin's policy to not discuss injuries, clarity probably won't be lended to the situation anytime soon. Offensive guard
Anthony Alosi
, who is
facing criminal charges
, is also "suspended indefinitely," according to Franklin.
3. Penn State could utilize more nickel this season.
Minutes after the game, Franklin said the Nittany Lions could often operate under a "star" defense, which is similar to the nickel. Basically, he wants to use two true linebackers and a "big safety." It's something Franklin said he and the staff are going to evaluate over the offseason -- and that might be a reason why
Von Walker
moved to linebacker this spring. Walker could earn a role there, possibly as a backup, and he made a nice play in the third quarter by tipping a pass and then making a critical block once it was intercepted.
Defensive line coach Sean Spencer previously said the defense could use some four-DE looks this season, so fans could see some unique things on this unit. Overall, the defense appears to be in good shape. Franklin praised the defensive line several times this spring, and he said Saturday that it's certainly a little ahead of the offense right now.
4. Kicking game still needs some work.
Sam Ficken
missed an extra point and
Chris Gulla
averaged just 39.2 yards a punt on a dozen punts. Assistant Charles Huff said the return game has shown a lot of improvement since the spring, but that was one area that wasn't showcased Saturday. During punts, for example, the entire return team consisted of just one player making a fair catch. Penn State's special teams should still be improved from last season, as there's nowhere to really go but up. Huff wasn't sure what happened on the missed extra point. Regardless, the kicking game obviously needs to show consistency.
September, 15, 2013
9/15/13
10:00
AM ET
Every Sunday around this time, we'll recap five lessons from the week that was Penn State football.
And away we go:
[+] Enlarge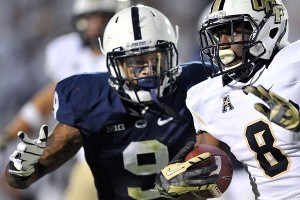 Abby Drey/Centre Daily Times/Getty ImagesJordan Lucas and the Penn State secondary had a difficult night against UCF.
1. The first-year starting cornerbacks still have a lot of learning to do.
Trevor Williams
and
Jordan Lucas
did not have good games. That much is obvious. Defensive coordinator John Butler was forced to bench Williams and slide
Adrian Amos
over to cornerback at one point. And Lucas committed a huge pass-interference penalty on a third-and-9 play that prevented a PSU comeback. UCF's
Blake Bortles
completed nearly 75 percent of his passes, and PSU's corners led the team in tackles. Those aren't numbers you want to see. Those two will see other tough passing attacks, and there's no telling if Amos will be able to stay at safety as a result. This now seems to be the biggest issue on the team.
2. Zach Zwinak's fumble concerns are still not behind him.
He's big, he's strong, and he wears defenses down. But -- and this is a big 'but' -- he still has problems holding onto the pigskin. That was the main knock on the 240-pound back last season, and it would appear he's still not over those issues. Zwinak committed a costly fumble in the fourth quarter that also killed PSU's comeback hopes. He fumbled five times last season and still hasn't lived down that reputation.
3. The sanctions are catching up with Penn State.
Butler conceded as much, and he's right. The defensive coordinator explained that PSU has been forced to limit tackling in practice out of the fear of injuries. And, if you limit tackling, missed tackles are going to happen. It's a product of that depth. Fewer scholarships mean fewer options on defense. The bad news for Penn State? Injuries tend to progress along with the season -- so it's only going to get worse.
4. Mike Hull is not at 100 percent.
He just didn't seem like the same linebacker against Central Florida, and his participation was limited. Bill O'Brien was asked about where Hull was, injury-wise, after the game and the head coach responded, "He's a tough kid, and I think he is giving us everything he's got." He didn't elaborate but said he'd watch the tape and offer more information Tuesday. Safety-turned-linebacker
Stephen Obeng-Agyapong
replaced Hull when he couldn't go, and linebacker is obviously a huge concern for PSU moving forward. Hull is important to this defense, and it greatly impacts this defense when he's not 100 percent. And he clearly was not 100 percent.
5. True freshmen are really stepping up.
It's not just the obvious here in
Christian Hackenberg
, who has exceeded very lofty expectations already. It's a lot of other true freshmen. Tight end
Adam Breneman
finished second in catches Saturday with four (for 22 yards), and
Richy Anderson
finished third in catches with two (for 21 yards). Anderson seems to have supplanted redshirt junior
Alex Kenney
as the slot receiver. And run-on
Von Walker
has also seen a lot of time as a returner and on other special teams. This is a special class and should offer fans hope for the future.
August, 26, 2013
8/26/13
12:30
PM ET
Penn State's
depth chart was released
on Monday and, much to no one's surprise, a starting quarterback was not named. An "OR" appears next to the names of
Tyler Ferguson
and
Christian Hackenberg
.
Still, there were a few notable changes on the depth chart and in the game notes:
Adam Gress was nursing an injury last week, and he was not listed as the definite starter at right tackle. He's still battling with TE-turned-OT Garry Gilliam. Bill O'Brien will likely update Gress' progress on Tuesday.
Von Walker, a run-on whom O'Brien complimented last week, is listed as competing for the No. 2 kickoff return spot with Akeel Lynch. Walker is an athlete whom PSU hopes to utilize as a slotback. This might be the biggest surprise on the depth chart. You can read more about Walker here.
D.J. Crook is listed as the third-string quarterback. He was competing with Austin Whipple and Jack Seymour for the No. 3 spot. He was listed as the third-stringer on the post-spring depth chart as well.
Bill Belton is still listed as the No. 2 tailback, ahead of Lynch ... but that likely doesn't mean much. Both will see carries.
There's an "OR" listed next to Malcolm Willis' name, signifying he's still competing with Ryan Keiser at safety. Willis is obviously expected to be the starter -- barring injury. O'Brien will undoubtedly be asked about that on Tuesday.
Middle linebacker Glenn Carson is still listed as the snapper at punter, despite picking up a run-on whose specialty is snapping and having Howle snapping on field goals.
February, 27, 2013
2/27/13
9:00
AM ET
Every weekday, as part of an ongoing series, NittanyNation will take a closer look at a Penn State walk-on.
Vitals:
Slotback
Von Walker
, Mill Hall (Pa.) Central Mountain, 6-foot, 195 pounds.
February, 11, 2013
2/11/13
12:30
PM ET
Here's a list -- complete with film and notes -- on Penn State's offensive run-ons.
To continue reading this article you must be an Insider
February, 3, 2013
2/03/13
3:08
PM ET
With the Super Bowl just a few hours away, NittanyNation decided to poll some of Penn State's committed run-ons to get their take on the game. We asked for them to give the winner, the score -- and their reasoning.
Overwhelmingly, it appears as if Penn State's preferred walk-ons believe the San Francisco 49ers will win the Super Bowl. And the consensus is by a field goal:
WR Gregg Garrity Jr., Wexford (Pa.) North Allegheny: 49ers, 27-17. No answer for Kaepernick and not enough weapons for Baltimore. San Fran will shut down Ray Rice, forcing them to pass. Flacco will have a long day.
QB Jack Seymour, Indianapolis (Ind.) Park Tudor: Ravens, 31-24. I think Flacco is a much better overall quarterback with a really efficient offense that played really well in the past playoff games. He's really stepped up and shown himself to be an elite quarterback. I also picked them because Ray Lewis will carry their defense and is their source of motivation. And he will stop at nothing to win. Ravens all the way! This will be San Francisco's first-ever loss in a Super Bowl!
WR Chris Geiss, Malvern (Pa.) Great Valley: 49ers, 27-24. I don't think the Ravens' D can stop the option.
OG Evan Galimberti, State College (Pa.): 49ers, 27-13. I just think the defense of the 'Niners is too good and Kaepernick could outrun the Ravens.
LS Sean Corcoran, Kankakee (Ill.) Bishop McNamara: 49ers, 27-24. I think their pistol offense is extremely dangerous, and I think their defense will be able to stop Ray Rice to make the Ravens too reliant on the pass game. But I'm still rooting for Corey Graham and Brendon Ayanbadejo on the Ravens because they're former Bears!
LB Kyle Searfoss, Lewisberry (Pa.) Red Land: 49ers, 24-17. Their defense is too good, and Colin Kaepernick is too good.
S Tom Pancoast, Kennett Square (Pa.) Unionville: 49ers, 24-21. Colin Kaepernick has a big game and wins Super Bowl MVP.
K Chris Gulla, Toms River (N.J.) Toms River North: Ravens, 24-21. I'm thinking a little game-winner from Justin Tucker.
RB Brian Tomasetti, Scranton (Pa.) Old Forge: Ravens, 24-20. Their defense is too good. Kaepernick is going to get shut down, and I believe Joe Flacco will have the game of his life. Position-by-position, I feel the Ravens are better -- especially at running back with Ray Rice. Also, Ray Lewis will not lose his last game.
RB Cole Chiappialle, Beaver Falls (Pa.) Blackhawk: 49ers, 27-24. As a diehard Steelers fan, I will be rooting for the 49ers. No way I will cheer for the Ravens!
SB Von Walker, Mill Hall (Pa.) Central Mountain: 49ers, 24-17. Ravens can't stop Gore running or the Kaepernick passing attack.
OT Austin Fiedler, Turbotville (Pa.) Warrior Run: No idea. I think the score for each team will be in the high 20s, and it will be very close -- within six points. OK, I don't really know who will win. Both teams have a lot going for them. The Ravens have the bigger fan base, and that will give somewhat of a homefield advantage. But, on the other hand, I think the 49ers are overall a more solid team. I can't wait to watch the game actually, even though I'm not a big NFL fan.
January, 30, 2013
1/30/13
11:00
AM ET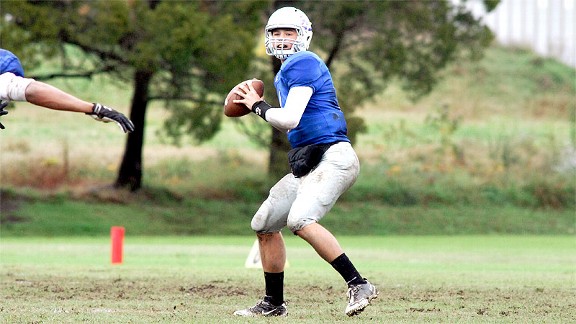 Courtesy of Charles Thomas/Fork UnionWith size and arm ability, Christian Hackenberg will be groomed as Penn State's QB of the future.
Two months ago, Penn State had just one committed quarterback -- and that seemed like a pressing issue that might take a while to resolve. With just one QB officially on the roster in
Steven Bench
, depth was obviously a concern.
Well, it certainly isn't anymore. Bill O'Brien garnered commitments from five players who'll compete at quarterback. And he also convinced four other players -- who were the starting quarterbacks on their respective teams -- to play at other positions at Penn State.
NittanyNation takes a closer look at all these signal-callers:
QUARTERBACKS WHO WILL STAY QBs
Christian Hackenberg, Fork Union (Va.) Military Academy
Stats:
Passing -- 156-of-291; 2,144 yards, 24 TDs, 9 INTs. Rushing -- 89 carries, 436 yards, 3 TDs.
Status:
Committed (scholarship)
Synopsis:
He's the top-rated high school quarterback in the nation. He can make all the throws, has a great arm, and his potential is endless. He just needs to familiarize himself with the playbook and better learn to read defenses. Opposing coaches said he had difficulty picking up disguised coverages and blitzes. He's obviously Penn State's quarterback of the future.
To continue reading this article you must be an Insider
January, 22, 2013
1/22/13
3:00
PM ET
Von Walker
(Mill Hall, Pa./Central Mountain) accepted a preferred walk-on offer from Penn State about a month ago, and he recently spoke with NittanyNation at length about his future with the Nittany Lions.
To continue reading this article you must be an Insider
January, 17, 2013
1/17/13
1:00
PM ET
Penn State will have several commits up for weekend visits, but this might be the most important Sunday of the year when it comes to potential preferred walk-ons.
NittanyNation has confirmed that at least eight players who were extended spots on the team as non-scholarship players will be in Happy Valley for "Run-on Day," which will take place from 11 a.m. to 1:30 p.m. Potential walk-ons -- or run-ons, as Bill O'Brien calls them -- will be broken into two groups and will take part in several tours or meetings.
According to recruits, they'll meet with the training staff, coaches and hear about academics. They'll also have lunch together but, due to NCAA rules, recruits will have to pay $10. One prospect said 10 or 11 players received an email with Sunday's itinerary.
To continue reading this article you must be an Insider
January, 15, 2013
1/15/13
11:00
AM ET
What kind of player is Penn State getting here in preferred walk-on
Von Walker
? And what can fans expect?

NittanyNation turned to one of the people who knows most what Walker is capable of on the field -- his high school coach at Mill Hall (Pa.) Central Mountain -- and asked what separates him as a player, how he first noticed Walker's ability and when he especially showcased his FBS potential.
To continue reading this article you must be an Insider
BIG TEN SCOREBOARD
Thursday, 9/3
Friday, 9/4
Saturday, 9/5
Sunday, 9/6
Monday, 9/7