Penn State Nittany Lions:

Tyrone Smith
September, 21, 2013
9/21/13
9:05
PM ET
STATE COLLEGE, Pa. -- Bill O'Brien, the offensive guru who's had to insist on more than one occasion that he's no rock star, took to the dais Saturday evening and cut himself short as he waxed poetic on the Lions' improved rushing attack.
"You guys need to ask me some defensive questions. They're all offensive questions right now," Penn State's head coach said following a 34-0 victory over Kent State. "The defense just pitched a shutout, and you guys were all over them last week and they just pitched a shutout. So, can we get some defensive questions or what? No?"
O'Brien, with a blue cap pulled close to his eyes, waited a moment and then continued on between scattered laughter.
"I thought the defense played a helluva football game. They pitched a shutout, and I think John Butler and that crowd of coaches over there and that crowd of football players over there did a f- …" said O'Brien, pausing to change words in midstream. "… hell of a job."
For a minute there, one reporter told him, it sure sounded like O'Brien was going to say
he had a bunch of "fighters."
"You know what?" O'Brien said with a smile. "I do. We have a bunch of fighters and fantastic kids. Anyone that debates me on that -- it's like my mom, she still doesn't believe I said 'fighters.' Do I look like a guy who swears? You're kidding me."
[+] Enlarge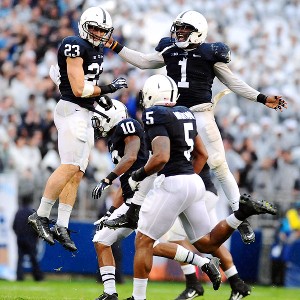 Evan Habeeb/USA TODAY SportsThe Penn State defense had plenty to celebrate as it notched its first shutout since 2010.
O'Brien's mood told the tale of the day. Last week, after his defense surrendered 34 points and 507 yards, he crossed his arms and countered most questions by saying he'd have to watch the film. He glared, and his anger was evident. This time, he laughed and smiled -- and his players shared that sentiment.
Cornerback
Jordan Lucas
pumped his fist as he jogged underneath the tunnel. Linebacker
Nyeem Wartman
embraced DT
Tyrone Smith
, and the dimple-chinned coach didn't have to stop any players from prematurely jogging into the locker room. They stayed and swayed to the alma mater.
O'Brien even lingered a bit and high-fived students who leaned over the rail. Last week, the players stared at their feet and looked as if they had heard a eulogy just minutes before. This week? It seemed as if the Lions were in the midst of a celebration -- probably because they were.
This marked the first Penn State shutout since Sept. 18, 2010, which also just so happened to come against the Golden Flashes. It was also a statement game, one that said the defense wasn't a pushover liked it seemed last week.
PSU surrendered 15 plays of 10 yards or more last week. It gave up just 190 total yards this week.
"It feels good for our defense. But we can't stop there, man," linebacker
Stephen Obeng-Agyapong
said. "We got to keep striving because we definitely made mistakes today, and we just have to keep improving."
Of course, comparing UCF's offense to Kent State might just be like comparing Ohio State to Ohio. Some players believed last week didn't seem as bad as the media made it out to be. But, by the same token, this week's shutout likely isn't the watershed moment for the defense either.
It's more of a confidence boost for the defense than an indicator -- even if some defensive players seemed to take offense at that notion.
"I don't think it was the opponent," Wartman said. "I think it was more us."
Defensive players didn't believe there were big changes between last Saturday and this Saturday. Obeng-Agyapong just chalked the loss to UCF up to one of those days when nothing goes right.
This shutout doesn't mean the Nittany Lions will enter the conference season and limit Indiana's high-powered offense to 200 yards. But it does give Penn State something to build on, something for the defensive players to smile about and something for the fans to look forward to.
The shutout was undoubtedly important to this Penn State team, Kent State or not. And, heading into the bye week, it sure makes a 3-1 record easier to swallow.
"When you can shut any team out, it feels good," Obeng-Agyapong said, "because you stop them from scoring the whole game. That's pretty difficult at times, you know?
"You always feel good when you win. When you lose, you feel crappy. It's as simple as that."
August, 26, 2013
8/26/13
12:30
PM ET
Penn State's
depth chart was released
on Monday and, much to no one's surprise, a starting quarterback was not named. An "OR" appears next to the names of
Tyler Ferguson
and
Christian Hackenberg
.
Still, there were a few notable changes on the depth chart and in the game notes:
Adam Gress was nursing an injury last week, and he was not listed as the definite starter at right tackle. He's still battling with TE-turned-OT Garry Gilliam. Bill O'Brien will likely update Gress' progress on Tuesday.
Von Walker, a run-on whom O'Brien complimented last week, is listed as competing for the No. 2 kickoff return spot with Akeel Lynch. Walker is an athlete whom PSU hopes to utilize as a slotback. This might be the biggest surprise on the depth chart. You can read more about Walker here.
D.J. Crook is listed as the third-string quarterback. He was competing with Austin Whipple and Jack Seymour for the No. 3 spot. He was listed as the third-stringer on the post-spring depth chart as well.
Bill Belton is still listed as the No. 2 tailback, ahead of Lynch ... but that likely doesn't mean much. Both will see carries.
There's an "OR" listed next to Malcolm Willis' name, signifying he's still competing with Ryan Keiser at safety. Willis is obviously expected to be the starter -- barring injury. O'Brien will undoubtedly be asked about that on Tuesday.
Middle linebacker Glenn Carson is still listed as the snapper at punter, despite picking up a run-on whose specialty is snapping and having Howle snapping on field goals.
August, 7, 2013
8/07/13
9:00
AM ET
As part of an ongoing series, NittanyNation will preview a different position leading up to the season opener against Syracuse on Aug. 31. Up today: Defensive tackles.
Projected starters:
DaQuan Jones
(2012 stats: 22 tackles, two tackles-for-loss, one fumble recovery) and
Kyle Baublitz
(three tackles, one sack).
Key losses:
Jordan Hill
(64 tackles, 8.5 tackles-for-loss, 4.5 sacks, one interception, one forced fumble, one fumble recovery) and James Terry (13 tackles, one sack).
Next in line:
Redshirt freshman
Austin Johnson
might not be next in line -- he could very well overtake Baublitz as a starter. Bill O'Brien said on his weekly radio show last season that he expected big things out of the younger defensive tackle, and he's already 21 pounds heavier than Baublitz.
[+] Enlarge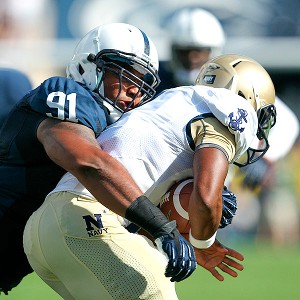 Vinny Carchietta/Icon SMIHow Penn State's defense performs in 2013 will be dependent on how DaQuan Jones plays at defensive tackle.
Regardless, the top three players at this position should see plenty of time. The big question is just who comes in at No. 4. That would be a logjam, and none of the options are all that exciting just yet.
Derek Dowrey
,
Brian Gaia
and
Tyrone Smith
will all compete to see who sees situational time a la Baublitz in 2012. True freshman Parker Cothren likely needs a redshirt season to add bulk before he sees any time on the field.
What to expect
: Huge expectations are being squarely placed on the shoulders of Jones, and he'll need to match Hill's performance to live up to all the hype. Gil Brandt recently
named Jones the top senior DT in the country
-- which was a little surprising considering he made just 12 tackles in the last nine games once Hill faced fewer double-teams and stepped up his game. By comparison, Jones made 10 tackles in the first three games.
For this defensive line to find success, Jones will have to become quickly accustomed to those double teams -- because it'd be an even bigger surprise if teams sent just one interior lineman after him. This position is one of the bigger concerns on the team because, even if the 318-pound Jones does succeed, his other starting teammate will likely be overmatched this season.
Baublitz appears to be a band-aid until Johnson is ready to take off. And Johnson undoubtedly boasts a high ceiling -- but it doesn't seem as if this is the season it will all come together. If the staff had that much faith in him, he would've initially been named starter over Baublitz. Expect PSU's 23rd-ranked run defense to drop, at least a little, in the rankings.
Recruiting trail:
The Nittany Lions have already picked up one 2014 prospect in
Antoine White
(Millville, N.J./Millville), a three-star commit whom ESPN scouts label a "tweener" but who also "gives good effort in pursuit and is a solid wrap-up tackler."
He's about 270 pounds right now, so he needs to bulk up. But PSU's staff really liked the explosiveness of his first step and like his attitude. His high school coach said he and a teammate constantly put in extra work, and White was the lone junior captain on his team last season.
PSU also appears intent on grabbing at least one more DT, likely either ESPN 300 prospect
Thomas Holley
(Brooklyn, N.Y./Lincoln) or a junior college DT such as
Joe Keels
(Highland, Kan./Highland C.C.).
Best-case scenario:
Jones picks up right where Hill left off and becomes an unstoppable run-stuffer who lives up to Brandt's top billing. PSU's No. 23 run defense holds steady, while Johnson breaks out and shows fans that he'll be a four-year starter.
Worst-case scenario:
Jones initially struggles with double teams and gets hurt later in the season, leaving an inexperienced Johnson and a limited Baublitz as the starters. Those two struggle, and Big Ten running backs set up their respective offenses by running straight up the middle.
Top position question:
If Jones falters, what happens to this defense?
Penn State can't withstand mediocre performances at defensive tackle and linebacker. If Jones doesn't live up to expectations, it'll have an ripple effect on the entire defense.
If Jones doesn't play well, that means more work for middle linebacker
Glenn Carson
-- who's been the beneficiary of some great DTs in NFL draft picks Hill and Devon Still. Jones is crucial to this defense's success in a lot of ways, and it was able to overcome a young secondary last season by limiting opponents to 3.54 yards a carry on the ground. If Jones struggles, those rushing numbers increase.
And if those rushing numbers increase? PSU allowed more than four yards a carry in just two of the last 10 seasons. In 2003, it allowed 4.29 yards a carry and finished with a 3-9 record. In 2010, PSU allowed 4.46 yards a carry and went 7-6. In other words, if Jones falters and the run defense struggles, then it might become tricky to get to eight wins.
BIG TEN SCOREBOARD
Thursday, 9/3
Friday, 9/4
Saturday, 9/5
Sunday, 9/6
Monday, 9/7