Penn State Nittany Lions:

Tyrin Stone-Davis
February, 10, 2014
2/10/14
5:00
PM ET
As promised, here's a special Monday edition of the mailbag to help you transition to our chat hiatus. If there's enough interest, we may go to more mailbags during the week this offseason. As always, send your questions for me
here
. And don't forget we want to hear from you,
Rutgers and Maryland fans
.
Now on to the mailbag ...
Glenn K. from Leesburg, Fla., writes:
In regards to your article about
spring practice dates
, what are the influences for each school to vary their start times as much as they appear to do?
Brian Bennett:
It really comes down to the individual preferences of the coaches, Glenn. Some coaches like to start early so there's not a big gap between the end of the season and the start of spring practices. Others like splitting up spring practice and letting the players loose for spring break so they can rest their minds and bodies. Some coaches will factor in the weather in their starting dates, and in the past coaches have also adjusted spring practice times based on how many offseason surgeries and rehabs their players were undergoing. I don't know that there's any right or wrong way to split up those 15 practice dates.
---

Brian from Portland, Ore., writes:
James Franklin's first coaching test with his new Nittany Lions team will be
overseas in Ireland
. Do you think the travel and overseas experience will help or hurt the Lions as they acclimate to a new coaching staff and system?
Brian Bennett:
Well, Brian (great name, by the way), I think the most important thing is the opponent, as both teams will have to deal with the same travel issues. UCF had an undeniably great season in 2013, but losing
Blake Bortles
and other valuable players could make the opener tough on the Knights. I do believe that road trips often offer teams a way to bond together, as they are forced to be within close proximity of one another without the outside distraction of friends, family, ticket requests, etc. So that might prove helpful for Franklin and his staff to get to know the players better. It should be a great experience for all involved, though I'm interested to see how the Nittany Lions deal with the travel as they return home for a game against Akron the following weekend.
---

Aaron from Pittsburgh writes:
I want your honest opinion of
Illinois' 2014 recruiting class
, and before you do that, let me just remind you to include their juco signings. I'm looking at all these recruiting reviews and they make it look like Illinois did squat, but if you look at the jucos you'll see that Tim Beckman filled a lot of needs with instant-impact players.
Brian Bennett:
My response to that would be, are they actually instant-impact guys? Look, I don't have the time or the interest to watch high school football, and I believe recruiting star rankings are vastly overrated, so I'll play wait and see on all the Illini prep signees. I get why Beckman has gone after juco guys to add immediate depth and talent, but there is some inherent risk there as well. Beckman also brought in some jucos last season, and while they did contribute, none of them really became stars or major impact performers.
Jihad Ward
has a great reputation, and we all know Illinois needs help on the defensive line. I like that several of the juco guys are early enrollees, which should give them a much better chance to play and do well early. But the news that the Stone-Davis twins -- who are being counted on to help at receiver and defensive back -- won't make it to campus until May was a minor setback.
---

Jon S. from Bismarck, N.D., writes:
Brian, looking over Iowa's 2014 schedule, its toughest games don't come until arguably the final two weeks of the season. Could we see an undefeated Hawkeyes football team by the time November 22nd rolls around?
Brian Bennett:
Ah, yes, it must be the offseason, where fans can dream about their teams going undefeated. Well, Iowa's 2014 Big Ten schedule is about as advantageous as it gets. Here are the Hawkeyes' first six league games: at Purdue, Indiana, at Maryland, Northwestern, at Minnesota, at Illinois. Four of those teams had losing records in the regular season last year, and Iowa would likely be favored, on paper, in all of them.
Of course, winning them all is a lot easier said than done. We don't really know what to expect from Maryland. Indiana beat Iowa the last time the two teams played (in 2012). Northwestern and Iowa always seem to play tough games, and Minnesota should be better than it was when the Hawkeyes steamrolled the Gophers at TCF Bank Stadium a year ago. A September game at Pitt could also be tricky. But if Iowa can maintain the momentum it had going at the end of last season and build on it, Kirk Ferentz's team should at the very least be right in the thick of the West Division race when it enters its final two games against Wisconsin and Nebraska. Both of which are at Kinnick Stadium, by the way. Yeah, that's a
great
schedule.
---

Ed from The Great State of New Jersey writes:
Hey, Brian. Saw
the article
comparing pre-full share revenue between Nebraska and Maryland. Where does Rutgers fit in?
Brian Bennett:
Ed, Rutgers' deal with the Big Ten is a bit of a mystery for now. But I'd be surprised if the Scarlet Knights got a better agreement than Nebraska. As the Maryland vs. Nebraska payouts show, it's all about leverage. The Terps had a lot of it, given their standing in an ACC that wasn't really hurting financially. Nebraska had less leverage in a fractured Big 12 that it had grown tired of dealing with. Rutgers had almost zero leverage, considering the utter collapse of the old Big East and the miniscule (by comparison) payouts that conference provided. Indeed, few schools have more happily celebrated a conference change than the Scarlet Knights did when the Big Ten came calling. The only question is whether the Big Ten allowed some early concessions to help Rutgers get on a more equal financial footing as the rest of the league.
---
John R. from Dubuque, Iowa, writes:
Ok...now that signing day has come and gone, what are the rankings of the teams head-to-head in the Big Ten and versus the nation? I understand student athletes are still signing letters after the "official" signing day, but where do all our teams stand?
Brian Bennett:
John, you can find ESPN RecruitingNation's complete class rankings
here
. The conference breakdown went like this:
1. Ohio State
2. Michigan
3. Penn State
4. Michigan State
5. Wisconsin
6. Nebraska
7. Northwestern
8. Iowa
9. Maryland
10. Indiana
11. Rutgers
12. Minnesota
13. Illinois
14. Purdue
Have fun with it, debate it, but just remember: Nobody has ever hung a banner for recruiting rankings.
February, 5, 2014
2/05/14
12:00
PM ET
Signed, sealed, delivered, I'm yours.
December, 12, 2013
12/12/13
2:00
PM ET
This is the last week before a dead period, which means coaches will be hosting important targets and visiting as many schools as they can.
There is plenty to discuss within the Big Ten, so here is a look at this week's storylines.
Waiting for Raekwon
The No. 12 ranked prospect in the country, linebacker
Raekwon McMillan
(Hinesville, Ga./Liberty County), is scheduled to annouce his decision Dec. 16.
The No. 1 ranked linebacker has Ohio State in his top three with Alabama and Clemson and will receive an in-home visit from the Buckeyes' coaching staff.
The interesting part about this is there are plenty of rumors swiring around Alabama coach Nick Saban and Texas. Those rumors have likely made their way to McMillan. Whether they impact his decision, or not, is a question that remains.
Booth picking up interest
September, 27, 2013
9/27/13
11:00
AM ET
By
Brad Bournival & Tom VanHaaren
| ESPN.com
It's time to dip into the Big Ten recruiting mailbag and answer some of your questions. We'll try to give everyone a chance to get their questions answered. We encourage you to send your questions by Twitter to
@bbournival
or
@TomVH
.
@JUSTINSMITH78: With the scholarships coming back to Penn State. Where do you think they stand this year with some kids?
Brad Bournival:
Targets like three-star
Mike Gesicki
(Manahawkin, N.J./Southern Regional) said it best following the announcement of the reduction of the scholarships when he talked about being happy for Penn State, but stated he always considered the Nittany Lions a destination. The feeling here is it won't affect the 2014 class that much as it will next year. The father of ESPN Junior 300 wide receiver
David Dowell
(Lakewood, Ohio/St. Edward) and his twin Andrew has said the fact scholarships will be up 20 percent will only help moving forward.
[+] Enlarge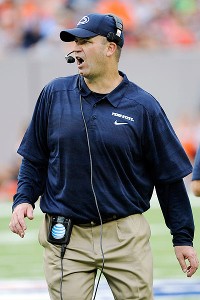 AP Photo/Bill KostrounGood news from the NCAA could lead to a recruiting windfall for Bill O'Brien and Penn State.
@PSUlions1121 How much does the reduction in sanctions for Penn State help them with recruiting?
Tom VanHaaren:
There are two sides of this, the short term and the long term.
In the short term it's great because it allows the Nittany Lions to potentially add five more prospects to the 2014 class. They can offer and pursue kids they might not have gone after with the scholarship reductions and it gives them a little more wiggle room.
In the long run it's outstanding because the potential hit to the depth chart is lowered drastically. Having a limit in scholarships doesn't necessarily affect the team right away, but once they get a few recruiting classes deep with limited numbers it starts to show its impact. Avoiding that is the biggest advantage.
@dannograef: How big is the gap in recruiting between the Big Ten and SEC right now?
Bournival:
It's still pretty large. One look at the top 25 in this year's class rankings shows seven SEC teams with Alabama (No. 1), Tennessee (3) and Georgia (5) in the top five. The Big Ten only has Michigan (No. 6), Ohio State (9) and Penn State (25) in the top 25.
The quality of athlete is still stronger in the SEC. Alabama (14), Tennessee (10), Georgia (9), Florida (9), Texas A&M (9), LSU (9) and Auburn (7) account for 67 ESPN 300 commitments. While Michigan (9), Ohio State (7) and Penn State (3) are doing well, the entire Big Ten Conference only has 24 in the top 300 and that doesn't even count the number of four-star athletes both conferences boast, which again weighs heavily in the SEC's favor.
@UofMKirwin12 What happens first, Michigan moves up in class rankings with a commit or moves down with commits elsewhere. The Wolverines have been at No. 6 for a while now.
VanHaaren:
Good question. I think they will move up before moving down. Da'Shawn Hand (Woodbridge, Va./Woodbridge) is announcing his decision on Nov. 14. Michigan is in his top three with Alabama and Florida and there is a realistic shot that the Wolverines land him.
If he does end up picking Michigan, it will be the only team with two top-five commits in the 2014 class. Hand, at No. 4 overall, would make two five-star commits along with
Jabrill Peppers
(Paramus, N.J./Paramus Catholic) and that would give them a boost.
@buckeyefan686: You've been right on the money with predicting the last Ohio State commits, so who and when do you predict is the next one?
Bournival:
For me all signs point to Gesicki, but with some underlying factors. First, the Buckeyes' commitments have to make him feel welcome this weekend -- they're very good at that, by the way -- and really make him feel like family. After that, Ohio State will have to survive a visit to Penn State on Oct. 12 when the Nittany Lions play Michigan. Both atmospheres will be lively, but I think the Buckeyes can sell the three-star tight end on coming to Columbus.
@MikeBelik1: Any jucos that can make a splash next year in the Big Ten?
VanHaaren:
Illinois is losing four wide receivers after this season, so it was highly important that the coaching staff filled that need. They landed some good looking receiver prospects including juco receiver
Tyrin Stone-Davis
(Philadelphia/Pierce College). He has good size and should be able to help right away.
Indiana landed a good looking offensive line prospect in
DeAndre Herron
(Avon, Ind./Iowa Western Community College), who was a big recruit out of high school. He might not play right away since the Hoosiers have a relatively young line, but he should eventually see the field.
A few uncommitted prospects who could end up in the Big Ten include offensive lineman
Luke Hayes
(El Dorado, Kan./Butler County Community College) and defensive linemen
Terrell Clinkscales
(Dodge City, Kan./Dodge City Community College) and
Joe Keels
(Highland, Kan./Highland Community College).
September, 3, 2013
9/03/13
8:00
AM ET
There are still big holes to fill in recruiting for the 2014 class and top targets still on the board. A lot of position groups are being addressed in recruiting, but not many have been completely filled.
Big Ten recruiting writers Tom VanHaaren and Brad Bournival take a look at the most important position for each Big Ten team in the 2014 class.
To continue reading this article you must be an Insider
August, 20, 2013
8/20/13
8:00
AM ET
The Big Ten needs to add impact players across the board, so this 2014 recruiting class is going to be a crucial one. While Michigan and Ohio State lead the way in the
class rankings
, each team has important commitments in their own right.
Here is a look at the most important commit for each Big Ten team in the 2014 class:
Illinois
WR Tyrin Stone-Davis
6-3, 190
ESPN 300 Rank: N/A (Juco)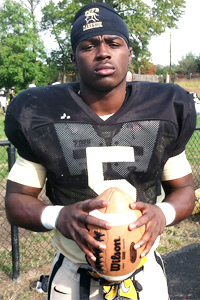 Jared Shanker/ESPNFive-star defensive back Jabrill Peppers, a Michigan commit, is the highest ranked commitment Michigan has landed since 2006.
Illinois has four senior receivers this season, so the offense is going to need help in that category. Since Stone-Davis is a junior college prospect he will most likely be able to make an impact earlier than other receivers coming in this class. Add in the fact that he's coming as a package deal with his twin brother Tyree, a cornerback, then it's an added bonus for the Illini.
To continue reading this article you must be an Insider
BIG TEN SCOREBOARD
Thursday, 9/3
Friday, 9/4
Saturday, 9/5
Sunday, 9/6
Monday, 9/7