Penn State Nittany Lions:

Tyler O'Connor
April, 10, 2014
4/10/14
12:00
PM ET
How long is too long to wait for free pizza?
September, 12, 2013
9/12/13
10:15
AM ET
Ten items to track around Big Ten football in Week 3:
1. Illinois' Chicago Homecoming:
The Fighting Illini hope to capture some interest in the Windy City, as they'll be playing
at Soldier Field for the first time since 1994
. Illinois athletic director Mike Thomas said back in 2011 that he hoped the university would become the "king of Chicago," and while that won't be decided with a win or loss Saturday, a victory could help the Illini take that first step. They'll be playing No. 19 Washington and could start the season 3-0 with the upset -- already surpassing their two-win total from just a year ago. Nothing helps build up fan support quite like winning.
2. Best in the nation, worst in the nation:
OK, the good news first -- the Nittany Lions are a perfect 4-for-4 on fourth downs, the best rate in the country. The problem? They've converted just two third-down attempts ... in 26 tries. That happens to be the worst rate in the country. PSU has been able to overcome that handicap with some long gains, but Central Florida's defense is built to prevent those. So, something will have to give in Happy Valley this weekend if PSU wants to remain undefeated.
3. No more cupcakes for Wisconsin:
The Badgers got their fill of overmatched opponents in the first two weeks by outscoring UMass and Tennessee Tech by a combined score of 93-0. Saturday night will be the first true test for Wisconsin as it takes on a good Arizona State team on the road. Can Wisky adjust, and can the running game continue to shine? Stay tuned.
[+] Enlarge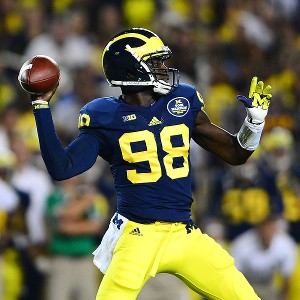 Andrew Weber/USA TODAY SportsDevin Gardner opened the season on the edges of Heisman conversations. That has changed.
4. Devin Gardner's increasing Heisman stock:
During the offseason, Gardner was a 40-to-1 long shot to win the Heisman. Then, as the season neared, he shot up to 25-to-1. Now, after his performance against Notre Dame? 14-to-1, according to Bovada. He's making Michigan fans and Big Ten gamblers pretty happy so far, and at this pace, he just might usurp
Braxton Miller
as the B1G favorite. He's contributing close to 300 yards per game and already has five passing TDs and three rushing scores to his name.
5. As the Spartans' QB carousel turns:
Connor Cook
will start again Saturday against Youngstown State, while true freshman
Damion Terry
appears to be the backup. That means Week 1 starter
Andrew Maxwell
could be riding the bench, alongside
Tyler O'Connor
, who saw action last week. It's definitely the most unique quarterback situation among teams hovering near the top 25, and Mark Dantonio is hoping to find something that works. Cook can run, and that's a plus, but the offense is still trying to find an identity outside of "three-and-out."
6. Braxton vs. sprained MCL:
Ohio State's dual-threat quarterback
remains a game-time decision
against Cal, and Urban Meyer might be forced to start
Kenny Guiton
. Even if Miller can go, it will be interesting to see just how much the sprain affects him. He could have some stiffness Saturday, and that obviously could impact a quarterback who ran for more than 1,200 yards in 2012. It goes without saying that Miller plays a critical role in the OSU offense, so anything that affects Miller will affect this team in a big way.
7. Defensive vengeance:
653. Nebraska fans know what the number means. It's the number of yards the Huskers surrendered to UCLA last season, the second-most yards a Nebraska defense ever gave up. (UCLA won 36-30.) Now, with No. 16 UCLA headed to Lincoln, Neb., it's the Huskers' chance for some payback.
"They're coming into our house, and we owe them,"
Bo Pelini told his players. This should be a good measuring stick for Nebraska's defense and should show how far it has come since last season ... if it has come anywhere at all.
8. Must-win for Kirk Ferentz.
The Iowa State Cyclones have knocked off Ferentz's squad by a field goal in the past two meetings, and Iowa can ill afford a repeat here. The Hawkeyes opened the season with a loss to Northern Illinois, and a loss to their in-state rival would be devastating for a program that fans worry already might be on the decline. This is a statement game for Ferentz and his Hawkeyes.
9. Ball-hawking secondary.
Quick, what college football team leads the nation in interceptions? If you said Northwestern, congratulations. This Wildcats defense has evolved into an opportunistic one and already has come up with seven picks in just two games. (It's tied with Tennessee, which also has seven.) Last season, three Big Ten teams -- Indiana, Michigan, Illinois -- finished their seasons with just seven total picks. Northwestern has an easy matchup this week against Western Michigan and could pad its leading number.
10. Erasing the question marks:
Taylor Martinez
is one of the most decorated quarterbacks in Nebraska history. He owns school records for passing yards, touchdowns and total offense. He's a Davey O'Brien Award candidate, and he is arguably the best passer in the Big Ten. BUT, he has been knocked for turnovers and the inability to win big games. Martinez can change that narrative and answer those question marks by beating No. 16 UCLA this weekend. This is his final season and last chance to prove he's able to win those important games -- and Saturday's is undoubtedly important.
September, 11, 2013
9/11/13
5:00
PM ET
It's Wednesday. Business time. So let's get down to the business of your e-mails:
Adam from D.C. writes:
After two weeks down, I have a couple questions/observations. First, Michigan should top the power rankings after putting down Notre Dame. OSU has yet to really impress/dominate their weak scheduled opponents. This was really evident when Baylor hung 70 points and put up 781 yards on the same Buffalo team that OSU only scored 40 on and put up 460 yards. Is Michigan really the B1G team to beat and should they be on top of the power rankings? Secondly, we all know the Nebraska defense is still having issues. But Northwestern has actually given up the most yards of all the B1G teams so far and is second-to-last in points per a game allowed. You could argue they had to play Cal, but then Cal just barely beat Portland State. So who has the worst defense in the B1G?
Brian Bennett:
Adam and I had the Michigan-Ohio State power rankings debate on Saturday night. If you go only by what the two teams have on their 2013 résumés, then the Wolverines deserve to be on top. They are, after all, the only Big Ten team to defeat a ranked opponent. However, Ohio State hasn't had the opportunity to do the same, and we were convinced all offseason that the Buckeyes were the best and most talented team in the conference. Are we really going to abandon that notion simply because their wins over Buffalo and San Diego State (by a combined score of 82-27, by the way) weren't otherworldly beatdowns?
The other thing to consider here is that Urban Meyer has yet to play with a full deck.
Carlos Hyde
remains suspended,
Bradley Roby
and
Rod Smith
missed the opener,
Braxton Miller
missed most of last week's game,
Corey Linsley
has been recovering from an injury, etc. I still think Ohio State at full strength is the Big Ten's best team, but it sure would be nice to actually see that total lineup go against a strong opponent. Guess we'll have to wait for the Wisconsin game. Also: Two games are in the books. Let's not get too hung up on rankings just yet.
As for Northwestern, the defense hasn't put up terrific stats, but the Wildcats easily have played the toughest schedule in the first two weeks. They are the only team in the league who has opened against a pair of AQ teams, and whatever you want to say about Cal, that team is going to score a whole bunch of points this year. Syracuse really only moved the ball effectively in the second half after Northwestern had built a huge lead and might have been coasting a bit. The loss of cornerback
Daniel Jones
hurt in the Cal game, and freshman
Dwight White
needs to make some major improvements before Big Ten play. But I like the playmaking ability of that defense, which has come up with seven interceptions in the first two games.
It's impossible to judge Northwestern's defense statistically against a team like Wisconsin, which has pitched a pair of shutouts against FCS quality teams. The title of worst defense in the Big Ten still belongs to Indiana until proven otherwise.
---
Quinn from Moline, Ill., writes:
Michigan came off a huge win recently, but Notre Dame hadn't completely proven themselves as a really good team, in my opinion. As well, Northwestern just dismantled Syracuse, but Syracuse isn't nearly as good as Notre Dame is. Who has more momentum going into Week 3?
Brian Bennett:
Let's not take anything away from Michigan's win. Notre Dame is very, very good, and I believe that will be shown throughout the season. I can't believe how many people want to dismiss the Irish and seem to be completely forgetting that they still have many of the same players as last year's team that played for the BCS title.
Northwestern, to me, has been wildly impressive. You can't overstate how tough it was to start on the road in Pac-12 country, fly across two time zones and back, and then play a physical (if perhaps not offensively gifted) Syracuse team. And the Wildcats won both games by double digits without basically anything from
Venric Mark
. They deserve accolades right now, and if you don't think this is a legitimate conference contender, you're not paying attention.
As far as momentum? I'm not sure it matters. Both teams might be a little beat up, emotionally and physically, after these early season challenges. And Michigan plays Akron and UConn next, while Northwestern gets Western Michigan and Maine.
---
Mike from San Diego writes:
Brian, I know the Badgers have played inferior competition so far this year, but I have never been more optimistic for a game against OSU. In Week 1, OSU didn't look too sharp against Buffalo (granted they were missing a few players due to alleged criminal activity). I don't expect the Badgers' defense to throw a shutout against the Buckeyes, but Wisconsin did hold them to the fewest amount of points in regulation last year. Let's say a glimpse of last year's defense shows up to the game and Wisconsin running backs run like they are capable. Stave is healthy (he was injured last year), and Miller already has a few bumps and bruises. Under those assumptions how do you like Bucky's chances? Personally, I am more worried about Northwestern the following week.
Brian Bennett:
More worried about Northwestern at home than Ohio State on the road? That might be a first. Wisconsin has looked great the first two weeks -- who's had a better early honeymoon than Gary Andersen? -- but the competition was so weak that it's hard to know what that means. Bret Bielema's teams used to steamroll inferior competition at home all the time. The Badgers did play very well defensively against Ohio State last year. Miller might have been a bit banged up, but that Wisconsin defense did a great job of taking away his runs, gumming up the middle of the field and making it a slog. That could happen again, as we don't know yet how healthy Miller will actually be in two weeks with that MCL sprain. On the other hand, the Buckeyes are much better at receiver this year and have more weapons on offense, including
Dontre Wilson
and a healthy
Jordan Hall
. Plus, Carlos Hyde will be back that week with presumably fresh legs.
Of course, we also need to see how that young Silver Bullets defense will handle Wisconsin's powerful running game. We'll have a much, much better handle on the Badgers after this week's Arizona State matchup, which I think will tell us a lot more about Wisconsin's chances vs. Ohio State.
---
Steven from Ann Arbor writes:
It has come up regarding
Devin Gardner
and the Michigan quarterback depth situation a couple times, and I apologize if it has already been addressed, but there is a significant amount of data that suggests running quarterbacks aren't nearly as injury-prone as we all (me included) naturally feel they would be. This
link
is a quick sample of what I could find off hand, and there is more, but, as unnatural as it seems, every additional Gardner run does not necessarily magnify his injury risk. With the example of Denard fresh in our memories from last year, this gets lost. I'm sure there are several factors, but one would probably be that hits at the end of a QB run are much more well prepared for than a blindside sack. It clearly isn't as simple as "more runs = more hits = more injuries."
Brian Bennett:
Steven, we may overrate the injury risk of running quarterbacks, since there are plenty of those in college football and they're not getting hurt every week. Knowing how to slide and avoid contact at the end of a run is huge. But the anecdotal evidence on the other side is pretty strong, too. Just look at Braxton Miller, who had to leave Saturday's game against against San Diego State after spraining his MCL when he got sandwiched at the end of a run. Miller also got hurt last year vs. Purdue after taking a hit on a long run. Northwestern's
Kain Colter
suffered a concussion on the second play at Cal when he was smacked on a run. Quarterbacks can get hurt staying in the pocket as well -- just ask Wisconsin's
Joel Stave
, who suffered a broken collarbone when he was sacked last year by Michigan State. But I feel pretty good about Devin Gardner's blind side as long as
Taylor Lewan
is protecting it. I don't have a problem with Michigan running Gardner, because that's a big weapon and they have to play to his strengths. But I find it hard to believe that there isn't added risk of injury there.
---
Matt E. from Southern MD writes:
Brian, thanks for all the work you and Adam do to entertain us B1G faithful. Why no love for Penn State in "What We Learned in the Big Ten: Week 2" though? We obviously have some growing to do and need to establish some consistency, but I thought there were a number of positives to take away from this past weekend.
Brian Bennett:
Matt, the title of that post is "What We Learned in the Big Ten," not "Giving Love to Teams in the Big Ten" or "Here Are Some Positives to Take Away." We're taking a big-picture approach there, trying to assess the big themes and league-wide revelations from each game day. We do only five items per week. With 12 teams in the Big Ten, odds are we're not going to hit on every team in great detail, especially during a nonconference weekend that includes some pretty lopsided games. As for Penn State, what did we really learn about the Nittany Lions?
Christian Hackenberg
had some highs and lows, the running game looked much better and the defense continues to shine. But it was Eastern Michigan. Penn State
should
beat Eastern Michigan 45-7. We learned much more about Penn State in Week 1 against Syracuse, a game I covered in person, and we'll likely learn more this week against UCF.
---
Dave from Kansas City writes:
Do you think Kirk Ferentz is in as much danger of losing his job as Mack Brown or Lane Kiffin?
Brian Bennett:
It's actually an interesting comparison, because Brown and Kiffin are among the handful of coaches who make as much or more per year as Ferentz. The Kiffin similarities end, however, when you consider he's only under contract until 2015, at a reported $4 million per year. While eating two more years at that price would be painful, USC can afford it.
Brown's situation is closer to Ferentz, contract wise. Texas has him signed through the 2020 season -- the same length as Ferentz's deal -- with a $5.2 million annual salary and $100,000 raises each year. But, ESPN's Darrell Rovell has reported that Brown's buyout right now is only (maybe I should say "only") $2.75 million. For a school that has more money than Walter White buried in the desert, that's pocket change. Iowa would owe Ferentz around $18 million if it fired him this season, a figure that is still crazy to wrap your head around. And the program isn't nearly as rich as Texas.
Of course, the Hawkeyes are coming off a win, so let's be optimistic here. Iowa really needs to beat Iowa State this week to calm down this talk about Ferentz and to position itself for a potential return to a bowl game this year.
---
Jesse from Plymouth, Mich., writes:
Part of me thinks MSU (and its fan base) should take the patient approach with
Damion Terry
-- allow him to learn the playbook, create chemistry with his teammates, etc. Besides, if we play him and he ends up finishing it out, you can pretty much guarantee Cook, O'Connor and Maxwell won't be on the roster next year. That's a scary thought knowing we won't have any backup QBs besides true freshmen. However, the other part of me wants to see him on the field badly. Everyone keeps pointing to the fact that he doesn't know the playbook as well and that would hinder the play calling. After seeing pro set, read option, Wildcat, pistol, abracadabra ... maybe that would be a good thing, going back to basics and returning to a more simplified scheme for the time being?
Brian Bennett:
Well, first off I can guarantee you that
Andrew Maxwell
won't be on the roster next year because he's a senior. Let's also acknowledge the mythical, magical qualities that fans associate to the backup quarterback. The thrill of the unknown is always so much better than the guy you've seen on the field struggling. Fact is, almost nobody has actually witnessed Terry perform in a Michigan State uniform in practice besides the coaches and a few media members. I trust Mark Dantonio's coaching staff to know whether he's ready to go.
My take on it has been and remains that if the coaches think Terry is ready, or that there's a better than average chance he could offer an improvement on the other quarterbacks the Spartans have, then he needs to play. Because there is no sense in saving a guy's redshirt when it's possible that he could help you win now. This Michigan State team is built to win this year with its defense and its schedule. You worry about next year next year. Whether Terry is in fact an upgrade, no one really knows. I do know that if the receivers, offensive line and play calling don't all also get better, whoever is playing quarterback for the Spartans will have a difficult time succeeding this year.
September, 5, 2013
9/05/13
8:00
AM ET
We went a combined 23-1 in our first week of predictions, so let's see if we can keep that robust pace going. And how will our Week 2 guest picker fare?

Let's get to it:
Eastern Michigan at Penn State
Brian Bennett:
Not much to see here, as Eastern Michigan has long been a Big Ten sacrificial lamb. This is a good opportunity for
Christian Hackenberg
to work out some kinks, and the kid throws three TD passes. ...
Penn State 35, Eastern Michigan 9.
Adam Rittenberg:
The Hackenberg-
Allen Robinson
connection will link up for two touchdowns, and Penn State coach Bill O'Brien will keep to his word and call better plays, sparking the run game to 175 yards and two scores. Lions roll.
... Penn State 31, Eastern Michigan 10
Indiana State at Purdue
Adam Rittenberg:
Rob Henry
gets the confidence boost he needs and Purdue fixes its communication issues on offense as running back
Akeem Hunt
goes for 135 yards and two touchdowns. The Boilers come out fast and get a first-quarter forced fumble from big
Bruce Gaston
.
... Purdue 38, Indiana State 14
Brian Bennett:
The FCS just had a great weekend, so maybe we should take the three Big Ten games against FCS opponents seriously on Saturday. Nah. A team that just got done giving up 73 points to Indiana is just what the sputtering Purdue offense needs. ...
Purdue 45, Indiana State 17.
Missouri State at Iowa
Brian Bennett:
Iowa finally snaps its seven-game losing streak, using its superior beef to run for 200 yards, and getting a special-teams score. ...
Iowa 31, Missouri State 13.
Adam Rittenberg:
Yeah, this game has
Mark Weisman
and
Damon Bullock
written all over it. The tandem combines for three rushing touchdowns and
Jake Rudock
adds two more through the air to
C.J. Fiedorowicz
and
Kevonte Martin-Manley
.
... Iowa 38, Missouri State 10
Tennessee Tech at Wisconsin
Adam Rittenberg:
James White
rushing touchdown,
Melvin Gordon
rushing touchdown,
Corey Clement
rushing touchdown. Rinse and repeat.
... Wisconsin 63, Tennessee Tech 3
Brian Bennett:
Yawn. Are we done with the FCS games yet? ...
Wisconsin 56, Tennessee Tech 7.
South Florida at Michigan State
Brian Bennett:
If the Spartans can't move the ball against a Bulls team that gave up 53 points to McNeese State last week, they've got even bigger problems than we realized. Three different QBs play for MSU, and two of them throw for TDs. ...
Michigan State 30, South Florida 10.
Adam Rittenberg:
I agree that Michigan State can't be much worse on offense than it was in the opener and will move the ball better, especially on the ground.
Jeremy Langford
and
Riley Bullough
both reach the end zone, and
Tyler O'Connor
makes the quarterback race a little more interesting.
... Michigan State 34, South Florida 3
Cincinnati at Illinois
Adam Rittenberg:
The Illini start quickly and jump ahead on a
Nathan Scheelhaase
touchdown pass to
Josh Ferguson
. But reality begins to set in as a superior Cincinnati team takes charge behind its athletic defense.
... Cincinnati 28, Illinois 17
Brian Bennett:
Illinois will put up a more respectable showing against the Bearcats than Purdue did. Scheelhaase throws for 300 yards and the game is close until midway through the third quarter. But there's just too much
Munchie Legaux
(I can't help myself). ...
Cincinnati 42, Illinois 27
.
San Diego State at Ohio State
Brian Bennett:
I was interested in this game until San Diego State gagged against Eastern Illinois. The Buckeyes turn in a better overall effort than in Week 1, and
Bradley Roby
has a pick in his first game back. ...
Ohio State 45, San Diego State 20.
Adam Rittenberg:
My concern is Ohio State might be less interested than you are, BB. The Buckeyes overcome a sluggish start as
Braxton Miller
fires two second-quarter touchdown passes. Freshman
Dontre Wilson
scores his first touchdown for the Scarlet and Gray.
... Ohio State 41, San Diego State 13
Southern Miss at Nebraska
Adam Rittenberg:
After a
passionate postgame speech last week
, emerging leader
Ameer Abdullah
takes matters into his own hands. The Huskers running back piles up 200 yards and three touchdowns. The defense has its typical hiccups early before settling down.
... Nebraska 42, Southern Miss 17
Brian Bennett:
I expect -- and would hope -- that the Nebraska offense comes out mad after not finishing key drives last week. The Huskers go for the jugular this week behind
Taylor Martinez
's five total TDs, and the defense makes slight improvements. ...
Nebraska 49, Southern Miss 24.
Navy at Indiana
Brian Bennett:
It's never easy or fun to play Navy, but the Hoosiers got some experience against the option last year. The Midshipmen will shorten the game and frustrate the IU offense some, but
Nate Sudfeld
throws a fourth-quarter TD pass to
Kofi Hughes
to seal it. ...
Indiana 28, Navy 20.

Adam Rittenberg:
Sudfeld and the Hoosiers will finish drives better than they did last year against Navy, as
Tevin Coleman
twice reaches the end zone. IU forces a key third-quarter fumble and pulls away midway through the fourth quarter.
Tre Roberson
sees more field time in this one.
... Indiana 34, Navy 23
Syracuse at Northwestern
Adam Rittenberg:
Northwestern's injury issues are worth monitoring, but the Wildcats have enough weapons on offense to outscore a Syracuse team that didn't impress me much last week against Penn State.
Trevor Siemian
connects with
Dan Vitale
on two touchdowns, and the defense comes up big again with a fourth-quarter takeaway.
... Northwestern 28, Syracuse 20
Brian Bennett:
Hard to know what to expect from Northwestern because of the iffy status of both
Venric Mark
and
Kain Colter
. But Syracuse looked limited offensively last week, and I think Siemian rescues the 'Cats once again. ...
Northwestern 31, Syracuse 24.
Minnesota at New Mexico State
Brian Bennett:
It was a tough call between Ann Arbor and Las Cruces for the "GameDay" crew this week -- seriously, what is Minnesota doing here? Are the Gophers just big "Breaking Bad" fans who are planning a side trip to Albuquerque? Anyway, it's close for a half but the defense comes up with another score to send the Aggies to Belize. ...
Minnesota 37, New Mexico State 20
.
Adam Rittenberg:
Maybe the Gophers can take a side trip to Roswell and check out the UFOs. Minnesota quarterback
Philip Nelson
will provide a few identified flying objects in this one, firing two touchdown passes in the second half. It's not a pretty game, but it's a win as Minnesota improves to 2-0.
... Minnesota 34, New Mexico State 21
Notre Dame at Michigan
Adam Rittenberg:
Can't wait to witness this one under the lights at the Grande Casa. Although Michigan struggles early with Notre Dame's fearsome defensive front, the offense settles down late as
Devin Gardner
and
Jeremy Gallon
connect for two second-half touchdowns, including the game-winner in the final minutes. Tommy Rees' mastery of Michigan ends with two second-half interceptions.
... Michigan 24, Notre Dame 21
Brian Bennett:
I just keep remembering how Michigan mostly outplayed Notre Dame last year except for all those picks, and I don't think Gardner will make the same mistakes. Gardner finds Gallon for a pair of scores, and
Blake Countess
intercepts
Tommy Rees
on Notre Dame's final series to turn the lights out on the Irish. ...
Michigan 27, Notre Dame 24.
Now it's time to hear from our guest picker. As we announced last week, we'll be choosing one fan/loyal blog reader each week to try his or her hand at outsmarting us. There's nothing but pride and some extremely limited fame at stake. If you're interested in participating, contact us
here
and
here
. Include your full name (real names, please) and hometown and a
brief
description why you should be that week's guest picker. Please also include "GUEST PICKS" in all caps somewhere in your email so we can find them easily.
The response so far has been overwhelming. This week's guest picker is
Nick Schmit from West Des Moines, Iowa
. The floor is yours, Nick:
"As a graduate of the University of Iowa, I have been following the conference and teams for as long as I can remember. I have plenty of insight and knowledge to offer. Besides, my wife is due with our first daughter on 10/19 (Iowa vs. OSU). Other than her birth, I need something to be excited about in what looks to be another long, depressing, mediocre (or worse) season for the Hawks."
Nick's picks:
Penn State 28, Eastern Michigan 13
Purdue 28, Indiana State 21
Iowa 34, Missouri State 10
Wisconsin 70, Tennessee Tech 3
Michigan State 35, South Florida 10
Cincinnati 31, Illinois 21
Ohio State 42, San Diego State 6
Nebraska 51, Southern Miss 17
Indiana 41, Navy 31
Northwestern 42, Syracuse 20
Minnesota 33, New Mexico State 21
Notre Dame 27, Michigan 24
SEASON RECORDS
Brian Bennett: 12-0
Adam Rittenberg: 11-1
Guest picker: 9-3
August, 28, 2013
8/28/13
10:00
AM ET
Every season, each Big Ten player, coach and team sets out to prove something. Maybe it's to prove last season was just a hiccup or that this season is the start of something special.
Whatever it is, some naturally have more to prove than others. So here's a look at 10 players, units and coaches in the Big Ten who have the most to prove:
[+] Enlarge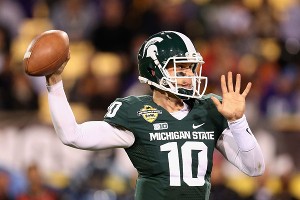 Christian Petersen/Getty ImagesAndrew Maxwell could be on a short leash in East Lansing, so he has plenty to prove.
1. Michigan State QB Andrew Maxwell.
Despite starting every game last season, Maxwell was just named the 2013 starter on Tuesday. So it's not exactly a stretch to think he's on a short leash.
Connor Cook
will get some playing time Friday,
Tyler O'Connor
is "in the mix" and true freshman
Damion Terry
wowed the staff in a recent scrimmage. If Maxwell doesn't quickly prove he's the right man for the job, he'll be watching the right man from the bench.
2. Iowa coach Kirk Ferentz/offensive coordinator Greg Davis.
Are Ferentz's best years behind him? And was last year's passing offense the start of a trend for Davis? The Hawkeyes finished last season at 4-8, their worst record since 2000, and finished with the nation's No. 114 offense. There are plenty of questions surrounding both of these coaches right now, and quieting them would certainly go a long way in proving Iowa's winning tradition isn't gone for good.
3. Penn State special teams.
The Nittany Lions ranked near the bottom statistically in nearly every special teams category in the Big Ten last year. They were tied for ninth in field goal percentage, 11th in punting average, last in kick return average and ninth in punt return average.
Sam Ficken
rebounded in the second half of the season after missing four field goals against Virginia, but he was sporadic again in the Blue-White Game.
Alex Butterworth
's hang time also needs to improve.
4. Purdue coach Darrell Hazell.
He guided Kent State to an impressive 11-3 record last season, became the Mid-American Conference coach of the year and nearly earned a berth in the Rose Bowl. But that was the MAC and this is the Big Ten. There's a big difference, and he wants to show fans of the gold and black that kind of success can carry over.
5. Michigan QB Devin Gardner.
He has big shoes to fill when it comes to replacing Denard Robinson, but expectations are already soaring for the player who has started just four career games at quarterback. Some sporting books have
increased Gardner's odds at the Heisman to 25-to-1
, which means increased confidence, and Michigan is expected to compete with Ohio State for the conference title this season. That's a lot of pressure and, by default, means Gardner has a lot to prove.
6. Wisconsin front seven.
New coach Gary Andersen is hoping the new 3-4 defense can create some headaches for opposing offenses, and the front seven here are trying to show they're quick studies. Wisconsin will have to rely on these seven to win, and their adjustment to the new scheme will have a direct impact on the number of marks in the "W" column.
7. Ohio State defensive line.
Having four new starters tends to mean there are question marks, and this young group will have to answer them.
Noah Spence
came in as the nation's No. 4 recruit back in 2012, and reports all seem to conclude he's living up to the hype. Depth here isn't great and neither is experience, but talent and health are the main things that matter.
8. Nebraska defense.
There's no problem on the offensive side of the ball with players such as
Taylor Martinez
and
Ameer Abdullah
, but defense is what's preventing this team from being great. The Huskers' run defense ranked 90th in the nation last season -- allowing 653 yards, 498 yards, 640 yards and 589 yards in their four losses -- and they could be even worse this year. Three new linebackers will take the field, and Nebraska lost two of its top pass-rushers. A lot to prove? You bet.
9. Michigan RB Fitzgerald Toussaint.
There's no way around it. You have to use the term "disappointment" when referring to Toussaint's 2012 season. Coming off a breakout 1,000-yard campaign in 2011, he struggled last season, averaging just four yards a carry and running inconsistently before breaking his leg against Iowa. He wants to show that 2012 was an aberration.
10. Badgers' receivers outside of Jared Abbrederis.
If you're having difficulty naming a Wisconsin receiver other than Abbrederis, don't feel bad. Abbrederis caught 49 balls last season -- more than all of the other Wisconsin wideouts combined (48).
Jordan Fredrick
,
Alex Erickson
and
Kenzel Doe
will need to step up to make sure secondaries don't just focus on the fifth-year senior.
August, 19, 2013
8/19/13
1:14
PM ET
We are here to do a job, not channel Scrooge McDuck.
August, 13, 2013
8/13/13
12:00
PM ET
"College Football Live" and its Summer Tour stops in Columbus today. Joe Tessitore and Brian Griese will be at Ohio State checking in on Urban Meyer, Braxton Miller and Co. Catch them throughout the day on "SportsCenter" and on CFB Live at 5 p.m. ET on ESPN2.
To the links ...
BIG TEN SCOREBOARD
Thursday, 9/3
Friday, 9/4
Saturday, 9/5
Sunday, 9/6
Monday, 9/7