PSU Nittany Lions:

Ty Howle
April, 20, 2013
Apr 20
7:19
PM ET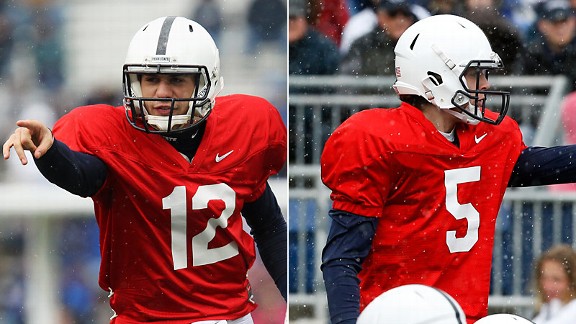 AP Photo, USA Today SportsThe quarterback battle at Penn State between Steven Bench and Tyler Ferguson will continue, and they'll be joined by top recruit Christian Hackenberg this summer.
STATE COLLEGE, Pa. -- Bill O'Brien crossed his arms and furiously chewed a piece of gum when the inevitable question was asked Saturday: Was the Penn State coach any closer to naming a starting quarterback?
He had to know the question was coming. That was the storyline of the Blue-White Game, the main topic fans discussed in the stands, and a topic that reporters have peppered him about every time O'Brien has made himself available.
"No, I'm not any closer," he said. "But I enjoy coaching both guys and, eventually, we'll have to make a decision. But I'm not ready to make that right now."
Inconsistency appeared to be theme of the day for junior college newcomer
Tyler Ferguson
and returning sophomore
Steven Bench
. O'Brien didn't use that term, but he might as well have. He said the pair obviously would've liked to have some plays back but also made some nice throws.
April, 11, 2013
Apr 11
9:00
AM ET
STATE COLLEGE, Pa. -- It's no surprise that the quarterback situation is the story of this offseason.
The Nittany Lions' season will likely only be as good as their signal-caller. So NittanyNation spoke to several players on the field about the two current QBs --
Steven Bench
and
Tyler Ferguson
-- and listened in during teleconferences Wednesday.
[+] Enlarge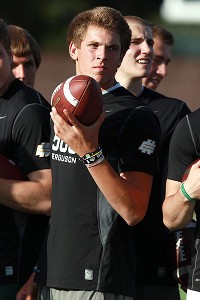 Tom Hauck for ESPNTyler Ferguson and Steven Bench are side by side in Penn State's quarterback competition this spring.
Here's what Penn State coach Bill O'Brien and those players had to say:
Offensive guard Miles Dieffenbach:
"They both are doing a tremendous job at quarterback. They're both getting their fair share of reps, and both have really good velocity on the ball. And both are great leaders.
"O'Brien's throwing a lot at them in the offense, so they're taking it in well, giving good leadership, getting everyone aligned, making the calls right. They're both good quarterbacks."
O'Brien:
"I can't say that one guy has really stood out over the other guy. They both had their moments. I've been very impressed with how hard each guy has worked. You think about these guys -- they're both young, they're both 18, 19 years old. Many of the guys they're playing with have been in the system longer than them.
"So it's a little bit different than last year where everybody was new. So these guys have had to catch up to these veteran guys, and I think they've done a good job. Both guys have had some good moments. We're just looking for it to be more consistent over the next five, six practices."
Linebacker Mike Hull:
"They're both working hard, and they're both doing really well. I don't really pay much attention to the offensive side of the ball, but they're both doing a good job."
When asked if going against one QB is any different than the other
"Nah, not really. It's just our offense. Same stuff every day."
Center Ty Howle:
"Our quarterbacks are playing well right now. They're all picking up the offense very well. They're progressing, and they're really doing a great job as far as leading the team, as far as being in the huddle, commanding them. I feel they're all doing a great job."
When asked if they have different styles
"Being in front of them, not really."
Tight end Kyle Carter:
"I mean, I'm not really going to get into their strengths and weaknesses. They're both taking control of the huddle, and they're both getting us in the right formations."
March, 28, 2013
Mar 28
9:00
AM ET
STATE COLLEGE, Pa. -- Every spring, a few players step up and offer the first glimpses of an upcoming breakout season. Often, the media can only guess and project since they're not at every practice, weightlifting session and team meeting.
The players, however, are there and can see who might be the next
Deion Barnes
or
Allen Robinson
. So, NittanyNation polled several players inside the Lasch Football Building on Wednesday and also took information from Wednesday teleconferences.
The question: Who's made the biggest impact this spring or who's been the biggest surprise? Here's what Penn State's veterans had to say:
Linebacker Glenn Carson:
"I'm really impressed with
Jesse James
. He's had a great winter. That kid's just an animal. I'm really excited to watch him play this year. I think he's a freak athlete. I think he can do amazing things. And if you haven't been impressed by him yet, I think you're going to be even more impressed by him next year."
Offensive guard John Urschel:
"
Ty Howle
is a great center and a great football player. I'd say he's one of the most underrated football players on our team. You don't hear about him enough. I don't think you guys talk about him enough. I don't think we're going to have any problems with him playing at center."
[+] Enlarge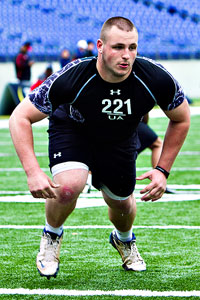 Davide De Pas for ESPN.comCould defensive lineman Brian Gaia break out for the Nittany Lions in 2013?
Defensive tackle DaQuan Jones:
"I really think
Austin Johnson
,
Derek Dowrey
and
Brian Gaia
. They're young, but they're showing a lot of ability. They're going to be great down the road. I'm happy seeing their competitiveness in spring ball."
Safety Malcolm Willis:
"It's a number of guys. If I had to pick one, it'd probably be John Urschel. He comes in every day early and gets his workout in early. And pound for pound, he's probably one of the strongest guys on the team.
Mike Hull
, he's another guy who works his butt off.
Adrian Amos
.
Zach Zwinak
-- I work out with him in the weight room every day, and the amount of weight he can put up, it's crazy. Those are a couple of the guys who have really impressed me so far."
Offensive tackle Adam Gress:
"I'd have to say a lot of the defensive linemen are coming along. All of the younger guys are really working hard, and the guys I was playing against on the scout team last year, now those guys are players. They're people we compete with. So that group's made a lot of progress. ... Austin Johnson's definitely made a lot of progress."
Linebacker Mike Hull:
"
Nyeem [Wartman]
has looked good so far. He's doing a great job filling in. I think he's going to be a great player for us. We just need to all come together as a unit. He's looking good so far, so we just have to see how he progresses."
Defensive end Deion Barnes:
"I think it would be
Kyle Baublitz
. I think he's doing a great job right now. Whoever's been talking to him has done a great job because he's come out of his shell. I've never seen him like this before."
March, 18, 2013
Mar 18
7:37
PM ET
STATE COLLEGE, Pa. -- While Bill O'Brien's voice carried over the field Monday afternoon, quarterbacks coach Charlie Fisher directed his players in a calmer manner.
[+] Enlarge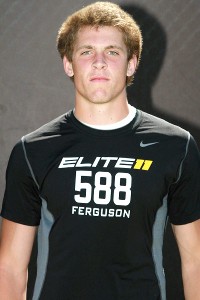 Tom Hauck for ESPNTyler Ferguson showed off his big arm at practice Monday.
During position drills at Penn State's first spring practice, Fisher stood about five yards in front of his four quarterbacks as they took turns taking three- and five-step drops. The quartet of red jerseys would look at Fisher, quickly scan the field and then throw to a stationary receiver.
"Eyes here," Fisher told sophomore
Steven Bench
in a conversational tone, pointing to his his right. "Work through it, work through it."
Bench or
Tyler Ferguson
could wind up as the starting quarterback come Aug. 31, and Monday offered a glimpse of the two signal-callers. Media were invited to attend 20 minutes of open practice, and O'Brien began by calling together a competition: A defensive back would line up against a wideout or tight end in press coverage, while Bench and Ferguson would alternate snaps.
The first team -- offense or defense -- to win three battles would be declared the winner. The losers would be forced to perform five hit-its. It was more for honor than anything and only four passes were thrown while the quarterbacks tried to shake off the rust.
Bench began by just overthrowing
Allen Robinson
on a roughly 35-yard pass, and Ferguson then hit
Jesse James
in stride downfield on an over-the-shoulder grab. Bench followed that up by throwing behind his target on cross route, and Ferguson barely overthrew
Matt Lehman
for two straight incompletions.
The offense, along with Ferguson and Bench, then hit the turf for their hit-its while the defense cheered.
"They're both athletic, they both can throw the football," O'Brien said during a Monday news conference. "Now it's going to depend on how well they make decisions and how accurately they throw the ball.
"They sit in the front row, they pay attention, they take a lot of notes. It's a fun group to be around."
February, 28, 2013
Feb 28
11:00
AM ET
STATE COLLEGE, Pa. -- With spring drills just a few weeks away, NittanyNation decided to break down several of the brewing position battles.
To continue reading this article you must be an Insider
February, 5, 2013
Feb 5
12:01
PM ET
STATE COLLEGE, Pa. -- With signing day just a day away, all the focus will be on the four-star talent and the big-name players. But it's not always the elite recruits who contribute most.
After all, where did Penn State's current starters rank when they were recruits?
To continue reading this article you must be an Insider
January, 24, 2013
Jan 24
8:00
AM ET
Experts, fans and pundits will analyze every angle of the 2013 recruiting class in the coming weeks, but there will be no certainties there. There never are in recruiting.
For every elite prospect who falls short, there's an Allen Robinson -- an under-the-radar, two-star prospect who exceeds all expectations. The only true way to gauge the success of a recruiting class is in hindsight, by simply waiting.
So, as part of a RecruitingNation-wide series, NittanyNation took a closer look at
PSU's Class of 2009
. Some fifth-year seniors will have one more chance to show what they have on the field next fall. But, at this point, it's pretty safe to judge whether the class was a bust or not.
To continue reading this article you must be an Insider
January, 9, 2013
Jan 9
9:00
AM ET
In the next week, NittanyNation will be taking a glance at different positions and their outlook for next season.
[+] Enlarge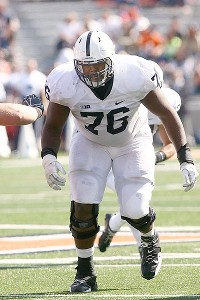 AP Photo/Kevin TanakaOffensive tackle Donovan Smith has a chance to be a star for Penn State next season.
OFFENSIVE LINE
Who: A healthy Donovan Smith could be the star on this line for the next few years, but offensive guards John Urschel -- a first-team All-Big Ten selection -- and Miles Dieffenbach are also solid returning starters. There's a lot of depth here, with three returning backups who saw a lot of time on the field last season. Angelo Mangiro, Ty Howle and Adam Gress will likely compete for the openings left with the graduations of Matt Stankiewitch and Mike Farrell. Gress filled in when Smith was injured, but that right tackle position is probably the biggest question mark right now.
Strengths: There's a lot of options on the offensive line, and this remains one of the deeper positions for the Nittany Lions. Incoming freshmen Brendan Mahon and Andrew Nelson will add further quality depth, and the interior was definitely a strong point last season. Tailback Zach Zwinak often ran through holes paved by the guards, and that figures to be a big plan of the offensive attack again next season. Zwinak was almost never tackled in the backfield.
Weaknesses: This line has to get better when it comes to picking up the blitz. Ohio State really took advantage and often brought an extra rusher to completely disrupt Penn State's offensive rhythm. PSU was relatively average in pass protection -- finishing No. 51 in the nation in sacks allowed (1.75 per game) -- and filling the hole left by Stankiewitch will be a tall task.
Player to watch: Gress. There's more depth on the interior, and that makes RT Gress all the more important. He was penciled in as the spring starter last year but lost his starting job to Farrell and struggled at times. When Smith was injured, it was pretty evident the line wasn't the same -- and Gress' offseason should be closely watched to see what strides he can make.
Overall: Thanks to an improved strength-and-conditioning program, Penn State's offensive line appears to be on its way to becoming a stronger unit -- literally. Mangiro and Howle are more than competent enough to take over at center, but Stankiewitch was one of the best players in the nation at his position. The departures of Farrell and Stankiewitch could definitely lead to a few early growing pains on this offensive line, but Smith is primed for a breakout season. It'll be interesting to see what another year training with Craig Fitzgerald will do for this unit.
January, 3, 2013
Jan 3
11:00
AM ET
STATE COLLEGE, Pa. -- Heading into next season, NittanyNation takes a closer look at holes left by departing Penn State players and the candidates who might fill them.
[+] Enlarge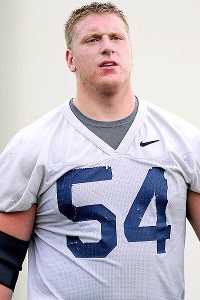 Rich Barnes/US PresswireLions center Matt Stankiewitch will be tough to replace.
CENTER
November, 30, 2012
11/30/12
10:00
AM ET
Every day during the next two weeks, NittanyNation will take a closer look at each position and how Penn State fared over the course of the season.
Up today:
Offensive line
There were some early growing pains, especially when
Donovan Smith
's injury forced
Adam Gress
and
Mike Farrell
to play musical chairs. But, by the end of the season, this unit evolved into a team strength -- one of Penn State's deepest positions that capitalized off the new strength program.
To continue reading this article you must be an Insider
October, 15, 2012
10/15/12
9:00
AM ET
Everyone knows about starters like
Michael Mauti
and
Matt McGloin
, but what about the players behind the scenes, the backups who sometimes have just as big an impact on the game?
NittanyNation decided to look at each game and come up with Penn State's top five backups. If a player started at least once (sorry,
C.J. Olaniyan
) or garnered enough playing time to be considered a starter (so long,
Zach Zwinak
), then he wasn't considered for this list.
To continue reading this article you must be an Insider
October, 5, 2012
10/05/12
10:00
AM ET
Matt McGloin
used some strange adjectives to describe his offense's performance against Illinois. He skipped over "dynamic" and "high-powered" -- and went straight to "not enough."
Just one week ago, the fifth-year signal-caller said his goal entailed scoring 35 points. Sure enough, Penn State upended Illinois 35-7. But, this week, McGloin sounded as if it was Illinois who had scored the five touchdowns.
"We can do better than that," said McGloin, who ran for two touchdowns and passed for another.
"Anytime we get inside the 25 or 30, we got to put points on the board. We got the ability and plays to do it, so we got to stop making dumb mistakes near the goal line."
McGloin wasn't wrong. Despite its biggest scoring output of the season, the Nittany Lions were just 4-of-7 on their red-zone chances. For the season, Penn State is scoring just 62 percent of the time it enters the red zone -- the 11th-worst rate in the country.
On the flip side, Northwestern's defense has toughened up in that area and has allowed just seven touchdowns in 18 trips.
"I'd like to see myself do better," McGloin added, "and be more consistent at times."
October, 3, 2012
10/03/12
6:36
PM ET
STATE COLLEGE, Pa. -- Stan Hixon stood near the sideline with shorts, short sleeves and a wide smile during a warm afternoon practice.
"Nice weather," said a visitor. "Wish it were Saturday."
"Me too," a grinning Hixon said, before jogging off to coach the receivers.
Hixon later had reason to smile -- his wideouts caught everything in preparation of Saturday's Northwestern game. The assistant head coach stood 12 yards in front of the quarterbacks and didn't raise his voice once during the open session of Wednesday's practice.
He glanced down a few times at a folded piece of paper, directed his players in a soft tone and sometimes pulled a player aside. He'd pump his arms to mimic route-running and send the player off with a pat.
Matt McGloin
completed seven straight passes to Hixon's wideouts, mostly on intermediate routes, before a large digital clock showed all zeroes to indicate the drill was over. No wideout dropped a pass, and the only incompletion -- from
Steven Bench
-- came on a miscommunication with
Matt Zanellato
.
Trevor Williams
caught two balls for 36 yards,
Allen Robinson
grabbed two receptions for 28 yards, and
Brandon Moseby-Felder
had two grabs for 21 yards.
Alex Kenney
also caught a 16-yard pass.
September, 27, 2012
9/27/12
1:40
PM ET
Miles Dieffenbach
doesn't just have to worry about written tests in math and English -- he studies feverishly for his weekly Thursday football exam, too.
There's no Scantron, no multiple-choice and no true-false softballs inside the Lasch Football Building. Instead, Penn State assistant Mac McWhorter distributes in-depth, open-ended exams to the offensive linemen.
The coach diagrams the opponent's favorite blitzes and depth chart, and the linemen must choose plays that best counter the opposition's look.
"It's not so much a grade, but moreso letting us know where we messed up," Dieffenbach said. "They don't want us to use our notes, and we try to fill it out as best we can and then we give it to the coaches and, the next day, they give it back."
McWhorter's weekly test is as unavoidable as contact during blocking drills. Everyone's required to sit down and take the exam -- starters, backups, even injured players.
There are no exceptions because Bill O'Brien has emphasized maintaining a rotation and fresh line. Backups
Angelo Mangiro
and
Ty Howle
will find themselves in at guard at some point, while
Eric Shrive
and
Adam Gress
will rotate in at tackle.
"Anytime you can add depth, that's good," O'Brien said. "I think these guys are playing well together."
Penn State's rushing average has slowy risen since Week 2 -- from 2.9 yards a carry to 3.9 to 4.1. And players believe the offensive line's improvement is a big reason for that.
Zach Zwinak
initially shrugged Saturday when asked how this team has improved its running offense, especially when it started four different tailbacks in four weeks. Zwinak thought for another moment before settling on the answer.
"The offensive line," he said. "They've been playing really well."
Dieffenbach said he's improved his exam results every week, but he knows the real test -- the tougher test -- comes Saturday. Illinois is the best defensive line they've seen yet, and O'Brien said the unit reminded him a lot of Penn State's.
Dieffenbach agreed.
"I would definitely say this is the best front four," he said. "They're the biggest, strongest, fastest."
McWhorter will have another exam waiting for Dieffenbach and Co. on Thursday. Reporters and fans may not know the test results, but Saturday will likely be a good indicator.
"It's a pretty in-depth kind of exam," Dieffenbach added.