Penn State Nittany Lions:

Troy Stivason
March, 3, 2014
3/03/14
9:00
AM ET
STATE COLLEGE, Pa. -- It's Monday, so you know what that means: the start of another countdown to help the offseason tick by a little faster.
Every day this week, we'll be looking at another position battle to keep an eye on this spring. Up Monday is a battle that returns one of the most inconsistent players Penn State has had in the last decade.
[+] Enlarge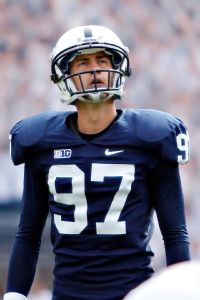 Justin K. Aller/Getty ImagesSam Ficken struggled down the stretch last season.
No. 5 position battle:
Kicker
Departures:
None
Returning players:
Sam Ficken
(15-of-23 field goals),
Chris Gulla
(one game played), Troy Stivason (incoming freshman),
Joe Julius
(incoming freshman)
Breaking it down:
Ficken is a two-year starter, but his job isn't exactly secure right now. It seemed like he had things figured out by Week 4 last season, making 15 consecutive field goals dating to 2012, but then his maddening inconsistency returned. He converted just half of his eight field goals in the last five games, and no attempt was longer than 37 yards.
When Penn State entered the red zone, there was no guarantee -- no matter how close -- that it would come away with three points. And, this summer with the addition of two walk-ons, there'll be more competition for Ficken than there has ever been. That being said, Gulla will be the man to challenge Ficken this spring. Gulla is a sophomore who boasted other walk-on offers from the likes of South Carolina, and he'll likely be the starting punter this season. However, field-goal kicking was Gulla's specialty when he first arrived at Penn State. He should at least push Ficken this offseason. The main key here, though? Consistency. If a kicker here can find consistency -- at any range -- it would go a long way in deciding this race.
Pre-camp edge:
Ficken. He has the experience, and Gulla's attention right now has to be focused on punting. Both he and his high school coach said at this time last season that punting was what Gulla had to work on the most, so James Franklin might not want to divide his attention -- as long as Ficken is serviceable. Ficken is truly a wild card; he could nail a 55-yard field goal on one possession and shank a 24-yard kick on the next. He holds the Penn State record for most consecutive made field goals (15), but he also has managed to record a career 65.2 percent field goal rate. If he finds his groove, just as he did during those 15 field goals, he could be an All-Big Ten kicker. Or he could be buried on the depth chart by August. There might not be a bigger question mark on the team, when it comes to performance, than Ficken.
January, 2, 2014
1/02/14
3:00
PM ET
Here's a compilation of Twitter reaction from current players, former players and recruits regarding Bill O'Brien's decision to coach the Houston Texans:
I love my 2014 class of PSU ....we have that brothers connection and we didn't even enroll to PSU yet

— Marcus Allen (@Chico_Ehhh) January 2, 2014
If it wasn't for Coach OB I probably wouldn't be playing football anymore, I wish him the best in the NFL.

— Devin Pryor #16 (@D_Pryor16) January 1, 2014
I just can't wait to figure out who my head coach is going to be next year #WeAre #WeAreAndAlwaysWillBe

— Charlie Shuman (@BigCShu71) January 1, 2014
We all we got! No reason to panic or jump ship! Doesn't matter the system nor the coach...players win games period

— Bill Belton (@W3BII) January 1, 2014
No matter what happens football games will be played and won by the Nittany Lions love all my brothers we will stick together #WeAre

— Hunter Crafford (@Craf_FordTough) January 1, 2014
Never worry about the things you can't control

— Malik Golden (@_goldenboy6) January 1, 2014
A man's gotta do what a man has GOT TO DO. It's life baby !

— Stephen Obeng-Agy... (@BigBENGTheory7) January 1, 2014
New Year, New Head Coach I suppose

— DaeSean Hamilton (@SkeeterMills__) January 1, 2014
Recruiting Class of 2014 #pennstate #weare I'm going stick by penn state side ! Regardless the new head coach I will be attending penn state

— MARK ALLEN (@theALLENshow) January 1, 2014
Bout to be the best year for me yet and bout to be the best year for Penn State #WeAre

— carter Henderson (@hendydo_42) January 1, 2014
I hope I have another chance to play under Coach O'B. I love the guy, I appreciate everything he's done for me. I couldn't be more thankful.

— Jesse James (@JJames18_) January 1, 2014
Good luck to Coach O'Brien and his family. Made a tremendous impact on my life and many others during his time at Penn State.

— Ty Howle (@THowle60) January 1, 2014
Best of luck to the O'Brien family and to the lucky man that gets to coach this prestige organization... I can't wait to meet you

— Troy Stivason (@teejaystives) January 1, 2014
To all of the Penn State family: Penn State is and will always be about more than any one man. WE ARE everything we have always been

— Derek Dowrey (@doubleDowrey) January 1, 2014
Coach O'Brien was a great mentor, coach and father figure but every coach has the aspirations to coach in the NFL. glad coach can chase his.

— Brian Gaia (@that_gaia) January 1, 2014
Gotta keep on movin forward people that's all we can do #yafeelme

— Austin Johnson (@AJohn15) January 1, 2014
One thing OB taught me is that this is a business, and u should do what's best for you.Texans are getting a good coach, I wish him the best

— Deion Barnes (@DBarnes_18) January 1, 2014
Its weird that I am one of the few penn state football players that will have 4 head coaches #mindblown #ohwell it's the business #NFL

— Matt Zanellato (@mzanellato) January 1, 2014
Coach O'brien is a great coach and great person! Proud to have called him my coach. It was his dream to coach in the NFL, best of luck. #PSU

— Mike Hull (@m_hull4943) January 1, 2014
I'll love Coach Obrien forever. He will always be apart of Penn State. One of the greatest men I've ever known. #PennStateForever

— Miles Dieffenbach (@Curiousjorge65) January 1, 2014
Fight on. We still are and forever will be.

— Garrett Sickels (@Sickels_90) January 1, 2014
Time to move on Penn State! We will find the right man for the job. BOB did plenty for us. Time for a true Blue and White bleeder! #WeAre

— OJ McDuffie (@ojmcduffie81) January 1, 2014
December, 31, 2013
12/31/13
1:00
PM ET
It's never too late -- or too early -- to see what we learned from this past season and also look ahead to next season. So, we've started breaking down each position and unit on the Nittany Lions.
Up today: Special teams
REWIND
[+] Enlarge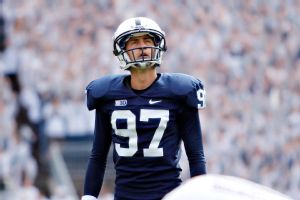 Justin K. Aller/Getty ImagesPenn State kicker Sam Ficken made 15-of-23 field goals this season.
Expectations entering the 2013 season:
Despite kicker
Sam Ficken
's strong end to the season before, confidence wasn't exactly brimming after the kicker's sub-par performance in the Blue-White Game. Punter
Alex Butterworth
's limited ceiling didn't exactly inspire excitement, and it was simply hoped Penn State's special teams wouldn't cost the team any games. It wouldn't be good in 2013 ... but it couldn't possibly be worse than 2012, right?
How they fared:
Ficken started off hot, broke the school record for consecutive made field goals (15), and then promptly cooled off and returned to his inconsistency from the season before. Butterworth had a marginally better year.
If this unit improved from 2012, it wasn't by much. Poor special teams cost Penn State a win against Nebraska, as Ficken missed a field goal and an extra point and
Kenny Bell
returned a kickoff for a 99-yard touchdown. PSU lost in overtime, 23-20. It was another season to forget for special teams.
What we learned:
Ficken remains inconsistent. After nailing 15 straight field goals, it was pretty easy to jump on the kicker's bandwagon. But he still finished the season by making just 15-of-23 field goals (65 percent). He shortened up his approach, spent a year fine-tuning his new technique, succeeded and then ... well ... it just seemed to fall apart. It'll be difficult for fans or coaches to trust Ficken again, even if he remains the starting kicker.
Grading the position:
D-minus. Butterworth downed 17 of 51 punts inside the 20, and
Jesse Della Valle
averaged a respectable 8.7 yards on punt returns. But there's not a lot of good to say outside of that. PSU finished near the bottom in just about every other special-teams category, such as kick return average (19.14 yards -- 100th in nation). If it wasn't for minor improvements by those two, this position would've easily gotten a failing grade. Heck, the argument could be made that it still probably deserves one.
FAST FORWARD
Key losses:
Butterworth. He averaged 39.2 yards a punt, so it's not as if he's irreplaceable. Rising sophomore run-on
Chris Gulla
looks as if he'll take over punting duties since, well, there's just no one else. Gulla was groomed as Butterworth's replacement.
Position stock watch:
On hold. Can special teams really fare much worse? Penn State added a kicker to its 2014 class in Troy Stivason and Gulla is more accustomed to field-goal kicking than punting anyway, so Penn State certainly has options there. It shouldn't be too difficult to match Butterworth's production; it just really comes down to the other areas like kickoff coverage, kickoff returns, etc. PSU will have more scholarships to work with in 2014, so it won't be forced to use players on special teams who just aren't ready -- or at least not as much as before. It's a wait-and-see approach with this unit as there's still plenty of question marks, but there should be some cautious optimism here.
Key to next season:
Field-goal kicking. Penn State needs to put points on the scoreboard when it has the ability, so that's clearly the priority on all the special teams. Sure, it'll be breaking in a new punter ... but what's more costly -- a punter who averages 35 yards a kick or a kicker who makes 60 percent of his FGs? If Ficken picks up where he left off, the staff might not have much patience left over. Gulla has a year under his belt, and Stivason might be able to push as well. Ficken needs to improve, or someone else needs to step up.
PSU's 46-Hour Dance Marathon Raises $13 Million
BIG TEN SCOREBOARD
Thursday, 9/3
Friday, 9/4
Saturday, 9/5
Sunday, 9/6
Monday, 9/7