Penn State Nittany Lions:

Tre Roberson
March, 3, 2014
Mar 3
5:00
PM ET
Let's beat a case of the Mondays and another depressing winter storm with this edition of the mailbag. Remember to
keep your questions coming
, as Adam and I are both doing two mailbags per week now. Or you can always
tweet us
your questions.
Kyle from Madison, Wis., writes:
With spring games on the horizon, we once again see the difference between the BIG and the SEC; where BIG spring games are a moderately attended sideshow that might be fun for a family, SEC games routinely sell out. Is there any way to increase interest among BIG fan bases for these games, and is there any benefit (besides, in the case of Wisconsin, raising extra money for a cause) to doing so?


Brian Bennett: I wouldn't classify Ohio State's spring game as "moderately attended;" the Buckeyes led the nation in spring-game attendance in 2012 with more than 81,000 and set a record with more than 95,000 at the 2009 event. (That figure dipped to 37,000 last year, but Ohio State moved its spring game to Cincinnati in 2013 because of renovations at the 'Shoe). Nebraska got more than 60,000 people to come out to its spring game last year, which became memorable because of Jack Hoffman's inspiring touchdown run. Penn State had more than 60,000 two years ago, and I would expect a big crowd at Beaver Stadium next month to see the beginning of the James Franklin era.
Still, Kyle is right that the average spring game attendance in the Big Ten is typically less than that of the SEC. Just check out
this list
from last spring. But one of the main factors on attendance at those events is weather, and of course, April weather in the Midwest can be a whole lot more unpredictable (and sometimes downright unfriendly) than it is in the South. Unlike with real games in the fall, most fans and alums don't plan for weeks on making it to a game; they look at the weather and see if it's worth it to sit outdoors and watch a practice. Spring games are a great way for fans to get a glimpse of their team during the long offseason, especially those with kids, but they're not usually all that exciting, either. And with every team's spring game available on the Big Ten Network or elsewhere, I can't blame anyone for finding something better to do on an April weekend.
---
Andy from Beavercreek, Ohio, writes:
Does Bo Pelini's raise signal a commitment to the coach, or is it a "Hey, recruits, don't run screaming when we lose a few games" raise?

Brian Bennett:
It's neither, Andy. The $100,000 pay raise Pelini got was worked into his contract in 2011 and was nothing more than a scheduled formality. The more interesting question is whether he'll get a one-year extension to keep his current deal at five years. It hasn't happened yet, but it still could. Ultimately, though, we all know that 2014 is what's most important for Pelini's future. If Nebraska has a mediocre or subpar year, athletic director Shawn Eichorst might be inclined to make a change. If Pelini can finally deliver a conference title or at least maintain the nine- and 10-win plateau without as much off-the-field drama as last year, he'll likely be safe.
---
Jared from Columbus, Ohio, writes:
Can you think of another year where Ohio State's defense would have accounted for 30 percent of the best offensive performances of the season? I've heard the excuse that the talent was down from the norm, but you can't tell me the Buckeyes had less talented athletes than many teams that outpreformed them on D. Are you surprised there hasn't been more talk about accountability of the coaches, especially with a guy like Urban Meyer at the helm?

Brian Bennett:
It was by no means a vintage year for the Silver Bullets, though most of the bad Ohio State defensive performances came in the final weeks of the season. Depth became a major issue, especially in the Orange Bowl, and I was a bit surprised some younger players such as
Vonn Bell
didn't see more reps earlier in the year. (Though, to be fair, the Buckeyes were 12-0 and ranked No. 2 going into the Big Ten title game). Meyer has said over and over again that Ohio State's defense has not been up to standards, especially at linebacker. He has not really criticized his coaches or defensive coordinator Luke Fickell much at all publicly, and I'm not sure what purpose that would serve. The offseason hiring of Chris Ash from Arkansas to be co-defensive coordinator spoke volumes, however, and I'd expect him to have a big role in the defense this year.
---
Luke B. via Twitter writes:
Do you think Indiana's two-QB system can work, or would it be in IU's best interest to pick one and stand by him?

Brian Bennett:
I would argue that it can work and that it did work, for the most part, last season, as the Hoosiers fielded the Big Ten's top passing offense despite juggling
Nate Sudfeld
and
Tre Roberson
at quarterback. Sudfeld started off the season hot but faded a little down the stretch as Roberson took on a bigger role. Sudfeld throws it a little better than Roberson, but Roberson has better wheels. Conventional wisdom suggests that you need to pick just one guy, but Northwestern had success with a two-quarterback system in 2012 and used the same plan last season. Would coach Kevin Wilson like to see one guy totally separate and command the offense this spring as the clear No. 1? Probably. But part him probably also likes the idea of having two guys push each other constantly and knowing he has an option should one struggle on gameday.
---
LP from NYC writes:
Brian: Nobody really talks about this but it feels to me that one the reasons the B1G made the decision to expand East was to protect one of their power brands, who at the time was just given the worst penalty in the history of college sports. Now that my Nittany Lions have shocked the world, including Jim Delany, do you think the B1G brass regrets this decision even a little bit? I mean, can you imagine if they went after Carolina and Duke instead of Rutgers and Maryland?
Brian Bennett:
While there were rumors of the ACC courting Penn State and it's no secret the Nittany Lions felt isolated, I don't think the NCAA penalties had any impact whatsoever on the league's decision to expand East. This was all about opening up new markets, both for TV eyeballs, new fans and recruiting purposes. That's why the Big Ten chose schools located in the highly populated New York/New Jersey and Washington D.C./Baltimore/Virginia, even if the specific programs offered nothing extra special in terms of football. North Carolina and Duke would have given the league better "brands" (though not all that much in football), but they wouldn't have created as much potential areas for growth. It's also odd to me to suggest that league officials would regret the expansion decision when Rutgers and Maryland haven't even officially joined the conference yet.
February, 25, 2014
Feb 25
10:00
AM ET
Here's a team-by-team look at what to watch in the new Big Ten East this spring.

Indiana
Spring start:
March 8
Spring game:
TBA
What to watch
Getting defensive: The Hoosiers have had no trouble scoring since Kevin Wilson took over the program, but opponents have made it look even easier. New defensive coordinator Brian Knorr might have his hands full turning around the Big Ten's worst unit, but Indiana could be dangerous if he can.
Quarterback derby: The offense operated just fine with Tre Roberson and Nate Sudfeld taking turns leading the attack, so Wilson might not even need to settle on just one quarterback. Typically it does help to have a pecking order behind center, though, and the Hoosiers will be watching these guys closely to see if one can gain some separation.
Next in line: There is a ready-made candidate to take over as the team's most productive receiver, but Shane Wynn is going to need some help. For all his speed and elusiveness, Wynn is still undersized and doesn't fit the mold of a traditional receiver, which will make it necessary for somebody like Nick Stoner to step up to help replace Cody Latimer.

Maryland
Spring start:
March 1
Spring game:
April 11
What to watch
Get healthy: The Terrapins have one of the most talented groups of wide receivers in the country when they're completely healthy, but that was an issue last season with both Stefon Diggs and Deon Long suffering broken legs -- just for starters. Neither of those game-breakers is expected to be on the field this spring, but their respective rehabs are critical moving forward.
Give and take: An emphasis on protecting the football on offense and creating more turnovers defensively is nothing new in spring practice, but Randy Edsall might just double down on that message this year. The Terrapins finished last in the ACC in turnover margin last season and were ranked No. 102 in the nation with seven more giveaways than takeaways, which isn't a recipe for success in any league.
Coaching chemistry: The deck wasn't completely reshuffled, but the Terrapins will have three new assistants in charge and could use a seamless transition as they prepare to move to a new league. Keenan McCardell (wide receivers), Chad Wilt (defensive line) and Greg Studrawa (offensive line) will help deliver Edsall's message moving forward, and it's as crucial for a coaching staff to jell and find common ground as it is for players on the field.

Michigan
Spring start:
Feb. 25
Spring game:
April 5
What to watch
Go pro: If it was the coordinator keeping Brady Hoke from putting the offense he wanted on the field, that won't be an issue anymore with Al Borges out of the picture. Snapping up Doug Nussmeier from Alabama should put the Wolverines on the path for a more traditional pro-style attack, and establishing that playbook starts on the practice field in spring.
Quarterback quandary: The competition to lead the new-look offense is open between Devin Gardner and Shane Morris, and how that battle shakes out will obviously have a lasting impact and shape the season for the Wolverines. Gardner has the edge in experience and turned in a gritty, wildly productive outing against Ohio State while injured to end the season, but he certainly has lacked consistency. Morris filled in during the postseason with mixed results, but one of those guys will need to emerge.
On the line: The Wolverines were in the middle of the pack in the Big Ten in sacks, and only Purdue was worse in the league at protecting the quarterback. Both sides of the line have plenty of room to develop, and those daily battles against each other this spring will need to sharpen both the pass-rushers and the blockers if Michigan is going to be able to win games up front.

Michigan State
Spring start:
March 25
Spring game:
April 26
What to watch
Something cooking: The finishing flourish in the Big Ten title game and the Rose Bowl showed how far Connor Cook had come from the start of the season to the end, but there's still more room to grow. His numbers are slightly skewed thanks to the way Michigan State handled the job early in the season, but overall he averaged fewer than 200 yards per game passing. With such a great defense, that was enough -- but boosting that total would be better for the Spartans.
Reload defensively: The seemingly impenetrable defense might have been more than sum of its parts, but the individual pieces Michigan State had on hand weren't too shabby, either. With Darqueze Dennard, Max Bullough and Denicos Allen all gone, the Spartans will need to identify some replacements for the stars of that elite unit from a year ago.
Plug some holes: Both starting offensive guards have to be replaced, and given the perhaps overlooked significance of the work the line did for the Spartans last season, that shouldn't be dismissed as a meaningful item on the checklist. Cook has to be protected in the pocket, for starters, but with the way the Spartans traditionally pound the football on the ground, they'll need some road-pavers to step up during spring practice to keep the offense on the upswing.

Ohio State
Spring start:
March 4
Spring game:
April 12
What to watch
Backs to the wall: There weren't many deficiencies to be found on a team that again went through the regular season unbeaten, but Ohio State's glaring weakness caught up with it late in the year. The Buckeyes looked helpless at times against the pass, and new co-defensive coordinator and secondary coach Chris Ash was brought in to make sure that unit is dramatically improved.
Hold the line: The Buckeyes held on to Braxton Miller for another year, but they lost four seniors who had protected the quarterback for the past couple of seasons. That might be a worthwhile trade, but finding replacements up front will be imperative for a team that has leaned heavily on that veteran presence in the trenches since Urban Meyer took over the program. Taylor Decker is the lone holdover in the starting lineup, and he'll need to assert himself as the leader of the unit.
Air it out: Miller had some shaky performances throwing the ball down the stretch, but taking the passing game to a higher level is not solely his responsibility. The Buckeyes also need improved play and more reliable options at wide receiver, and they've recruited to address that issue over the past couple of years. Michael Thomas, who redshirted during his second year on campus, might be leading the charge for a new batch of playmakers on the perimeter.

Penn State
Spring start:
March 17
Spring game:
April 12
What to watch
Starting fresh: There are new playbooks to learn again for the Nittany Lions, and spring practice will be the first chance for James Franklin to start shaping his team in his image. That process doesn't just include memorizing schemes and assignments for the players, since every coach has a different way of structuring practices and meetings. The sooner the Nittany Lions adjust the better off they'll be in the fall.
Next step: As debut seasons go, it's hard to find much fault in the work Christian Hackenberg did after being tossed into the fire as a true freshman. He threw for nearly 3,000 yards with 20 touchdowns, completing 59 percent and setting the bar pretty high for himself down the road. As part of his encore, Franklin would probably like to see the young quarterback cut down on his 10 interceptions as a sophomore.
Tighten up the defense: There were pass defenses with more holes than Penn State's a year ago, but that will be little consolation for a program that has traditionally been so stout on that side of the ball. Adrian Amos and Jordan Lucas can get the job done at cornerback, but the Nittany Lions need to get stronger at safety -- and also need to fill notable spots in front of them with linebacker Glenn Carson and defensive tackle DaQuan Jones now gone.

Rutgers
Spring start:
March 25
Spring game:
April 26
What to watch
Toughen up: The Scarlet Knights have seen hard-hitting competition and proven they aren't afraid of a challenge, but the Big East and American conferences don't provide nearly the weekly physical test that playing in the Big Ten does. There's no reason to think Kyle Flood won't have his team ready for the transition and a new league, but developing both strong bodies and minds starts in spring practice.
Settle on a quarterback: There's a veteran signal-caller on hand with 28 career starts to his credit, but Flood made it no secret as far back as January that he would hold an open competition during camp to lead the offense. Gary Nova has the edge in experience, but he also has more interceptions in his career than games started. That could open the door for one of three younger guys to step in, though Mike Bimonte, Blake Rankin and Chris Laviano have combined to take a grand total of zero snaps.
Star turn: There's nothing wrong with spreading the wealth, and the Scarlet Knights certainly did that in the passing game last season. Having five targets with at least 28 receptions can keep a defense off-balance, which is a good thing. But ending the season with none of those guys topping 573 yards might not be quite as encouraging, and establishing a consistent, go-to, big-play threat in the spring could prove useful for a team that finished No. 62 in the nation in passing yardage.
January, 24, 2014
Jan 24
1:00
PM ET
The last two seasons have shown that two-quarterback systems can work in the Big Ten.
Northwestern recorded 10 wins in 2012 while rotating
Kain Colter
and
Trevor Siemian
. Indiana led the Big Ten and ranked ninth nationally in total offense last fall while alternating between
Tre Roberson
and
Nate Sudfeld
.
[+] Enlarge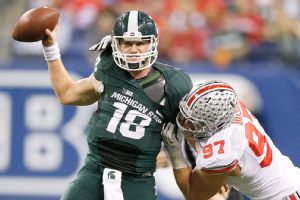 Gregory Shamus/Getty ImagesAfter taking over the quarterback job in Week 5, Connor Cook led the Spartans to 10 consecutive wins.
Given the recent success, my next statement might surprise you: Every Big Ten team would be best served picking one quarterback and sticking with him in 2014. That includes Indiana and Northwestern.
Quarterback rotations can be successful in the short term, but they are rarely sustainable or desirable. We saw this at Northwestern last fall, as the Wildcats never established a consistent offensive rhythm and operated with a reduced playbook, in part because of injuries but also because the unit lacked a clear identity. Northwestern finished 10th in the league in scoring.
Minnesota alternated between quarterbacks
Philip Nelson
and
Mitch Leidner
during several games, including the Texas Bowl against Syracuse. Although the Gophers had a nice surge during Big Ten play and recorded eight wins, they also finished 11th in the league in scoring and last in passing.
Nebraska had some success using two quarterbacks (
Tommy Armstrong Jr.
and
Ron Kellogg III
) last season but did so out of necessity following
Taylor Martinez
's injury. The Huskers also struggled to pass the ball, finishing 11th in the league.
The strongest argument for picking a quarterback and sticking with him comes from the Big Ten's best team in 2013. Michigan State's offense was a train wreck in non-league play as the Spartans used three quarterbacks. After a Week 4 loss to Notre Dame, the coaches decided
Connor Cook
would be their guy. You all know what happened next, but what struck me was Cook's mindset at the time.
"We went through spring ball competition and fall camp competition, it was the most stressed out I've ever been in my entire life just trying to be the quarterback," Cook said last month before the Rose Bowl. "After I got the starting job and started a couple of games, the stress went away and it turned to focus, me being focused and knowing they're not going to use other quarterbacks in the game and not stress too much that go if I make a bad play I'm going to be pulled.
"That's when the stress went out the window."
Players like Northwestern's Siemian and Indiana's Roberson and Sudfeld are more accustomed to sharing time than Cook was, but each of them, like any quarterback, would rather be the clear-cut starter.
Illinois'
Nathan Scheelhaase
is another good example of a player who benefited from an unambiguous role. He struggled
from the middle of the 2011 season through all of 2012, raising the possibility of a rotation last season. Instead, Scheelhaase started every game and led the Big Ten in passing (3,272 yards).
[+] Enlarge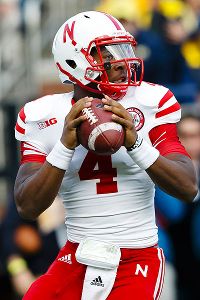 Rick Osentoski/USA TODAY SportsAfter playing well in place of Taylor Martinez, sophomore signal-caller Tommy Armstrong Jr. is the favorite to start for the Cornhuskers in 2014.
I'm all for competition at quarterback, and the Big Ten will feature plenty of it this spring and summer. Only five quarterbacks -- Ohio State's
Braxton Miller
, Penn State's
Christian Hackenberg
, Michigan State's Cook, Iowa's
Jake Rudock
and Michigan's
Devin Gardner
-- can feel pretty secure about their starting roles. Gardner has been mentioned as a possible rotation candidate with
Shane Morris
-- some Michigan fans wouldn't mind seeing Gardner line up at wide receiver, a position of need -- but I'd be surprised if Morris leapfrogs the senior.
I'm also OK with teams employing change-up quarterbacks for a package of plays, be it the Wildcat or something else. Michigan State could be a candidate for this in 2014 with dynamic redshirt freshman
Damion Terry
possibly spelling Cook from time to time.
The first few games also provide a platform to use multiple quarterbacks in settings that can't be replicated on the practice field. Former Ohio State coach Jim Tressel often did this with his younger quarterbacks, giving them a first-half series or two. It makes sense. But by Week 4, roles must be identified.
The offseason is full of Big Ten quarterback questions:
Will Oklahoma State transfer Wes Lunt take the reins at Illinois?

How will Gardner and Hackenberg fare with new offensive coordinators?

After Nelson's transfer, who emerges at Minnesota among Leidner, Chris Streveler and possibly a young quarterback such as Dimonic McKinzy?

Nebraska's Armstrong went 6-1 as a freshman starter, but can he hold off Johnny Stanton?

Can Gary Nova retain his job at Rutgers?

Will Danny Etling keep the top job at Purdue, or will Austin Appleby and possibly early enrollee David Blough enter the mix?

How does Siemian bounce back at Northwestern, and do the Wildcats look at Matt Alviti and Zack Oliver?

Will either Roberson or Sudfeld finally separate himself at IU?
Ultimately, these questions must be answered. The teams that avoid prolonged rotations should be better off for it.
December, 2, 2013
12/02/13
11:00
AM ET
There were two huge rivalry games Saturday, with BCS national title implications at stake. What were the odds that both underdog home teams would score a touchdown to get within one point with 32 seconds left in the game?
That was the scenario in both the Ohio State-Michigan and Alabama-Auburn games. You know what happened. Brady Hoke went for the two-point conversion and didn't get it. Auburn chose to kick the extra point for the tie and won on a heaven-sent final play.
[+] Enlarge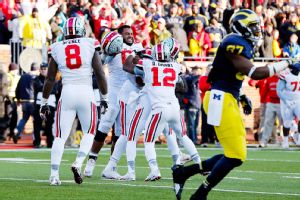 Gregory Shamus/Getty ImagesOhio State survived a scare from Michigan after the Wolverines failed on a two-point conversion to win the game.
Of course, the Tigers and Wolverines were in vastly different situations. Auburn had much more on the line, while Michigan's season would have been made by beating Ohio State. Auburn also knew that Alabama had a dicey kicking situation. Yet Michigan also was at home, where it had lost only once under Hoke, and it already had played in two overtime games this season. The Wolverines could have given themselves a chance to win on a miracle in regulation or in overtime.
Ultimately, I had no problem with Hoke's call, though the two-point play itself was uninspiring. Sometimes it's not the decision but how it unfolds.
Consider that in the biggest play calls for both Penn State and Northwestern on Saturday, both coaches went with a run up the middle on third down. The Nittany Lions' surprise draw play on third-and-9 from their 19 resulted in a 61-yard gain by
Zach Zwinak
that put Wisconsin away. Northwestern went with a basic running play on third-and-6 at Illinois and got 11 yards from
Treyvon Green
, allowing the Wildcats to then run out the clock.
Had those runs been stuffed, both coaches would have been criticized for being too conservative and playing not to lose. It's a tough world, coaching. Unless you are blessed with Guz Malzahn's luck.
Take that and rewind it back ...
Team of the week:
Penn State. Absolutely no one saw the Nittany Lions'
31-24 win
at Wisconsin coming, especially because PSU had played so poorly on the road in Big Ten play. But coach Bill O'Brien led his team to another victory in a season finale, and recording two straight winning seasons under heavy NCAA sanctions is wildly impressive.
Worst hangover:
BCS for Wisconsin? Yes, if that stands for Badgers Caught Sleepwalking. Instead of earning a possible Orange Bowl bid, the Badgers laid a giant egg. A tremendously successful large senior class somehow went out on the worst possible note at Camp Randall Stadium.
Big Men on Campus (offense):
It has been a tough year for Northwestern, but the Wildcats finally got a Big Ten
win at Illinois
. And quarterback
Trevor Siemian
and receiver
Christian Jones
were big reasons why. Siemian threw for 414 yards and four touchdowns, while Jones had two of those scores during a 13-catch, 182-yard career day.
Big Man on Campus (defense):
Iowa linebacker
Christian Kirksey
was named Walter Camp national defensive player of the week after recording 11 tackles, including three for loss, plus a sack and a forced fumble against Nebraska. Really, you could just as easily single out fellow linebackers
James Morris
and
Anthony Hitchens
, who also had great games to cap tremendous seasons by all three. The Hawkeyes will really miss all three seniors next year.
[+] Enlarge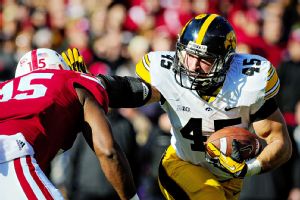 Eric Francis/Getty ImagesIowa's Mark Weisman scored two touchdowns in the win over the Cornhuskers.
Big Man on Campus (special teams):
Chris Davis
. Sure, he plays for Auburn. But his incredible 109-yard kick-six touchdown against Alabama just might allow a Big Ten team to play for the national title for the first time since the 2007 season. Buckeye Nation is a big fan of Davis.
Strangest moment:
Penn State's hurry-up offense clearly confused Wisconsin's defense several times. The most obvious moment came early in the third quarter, when the Badgers had only nine men on defense when the Nittany Lions ran a play. Somehow, Wisconsin got out of that power-play situation when
Tanner McEvoy
broke up an underthrown deep ball.
Pointing the thumb or the finger?
Coaches always talk a good game about accountability, and Bo Pelini usually is one to take blame for a poor performance by his team. But the Nebraska coach looked everywhere but in the mirror on his 15-yard unsportsmanlike conduct penalty against Iowa. Pelini said the call was chicken manure -- I'm paraphrasing -- and even brought Iowa coach Kirk Ferentz's own sideline demeanor into the conversation.
But where was the personal responsibility for Pelini nearly hitting an official in the face with his hat? In what other sport -- or walk of life -- would that be acceptable? Even Prop Joe and Avon Barksdale ("The Wire" nerd alert) knew better than to accost the ref in their annual basketball game. Pelini is lucky to still be employed by Nebraska after Friday's meltdowns.
A Bucket load of offense:
Indiana took out a little offensive frustration on Purdue. After being bottled up on offense by Wisconsin and Ohio State, the Hoosiers unleashed a school record 692 yards and 42 first downs to win the Old Oaken Bucket for the first time in three years.
Tre Roberson
,
D'Angelo Roberts
and
Stephen Houston
all rushed for more than 100 yards for Indiana, the first time in school history the team produced a trio of 100-yard rushers in the same game.
Zero sum game:
Minnesota failed to score an offensive touchdown in its final 10 quarters of the regular season. The lack of an explosive/entertaining offense could hurt the Gophers come bowl selection time. Meanwhile, Michigan State has held six opponents without an offensive TD and pitched shutouts in six of its eight Big Ten games.
Fun with numbers:
Because the debate is about to take over our lives, some key comparisons between Ohio State and Auburn:
Scoring margin: Plus-27.9 per game for Ohio State, plus-16.1 for Auburn

Rushing yardage: 321.3 per game for Ohio State, 318.3 for Auburn

Total yards: 530.5 per game for Ohio State, 491 for Auburn

Team adjusted QBR: 83.8 for Ohio State, 81.0 for Auburn

Yards allowed per game: 355.8 for Ohio State, 414.3 for Auburn

Sagarin strength of schedule rating: 61st for Ohio State, 26th for Auburn

Wins over ranked teams: One for Ohio State (Wisconsin), three for Auburn (Alabama, Georgia, Texas A&M)
December, 2, 2013
12/02/13
9:00
AM ET
Rivalry week in the Big Ten left no doubt: The conference's top two teams will meet in the league championship.

Wisconsin's shocking home loss to Penn State ends the debate over whether the Badgers or Michigan State should be at No. 2 behind front-runner Ohio State. Although the Buckeyes and, to a lesser extent, the Spartans had some struggles Saturday, they found ways to win. The Badgers had their worst performance of the season, and it cost them a potential BCS at-large berth.
That doesn't take away from Penn State, which received big boosts from quarterback
Christian Hackenberg
and others.
Our big dilemma this week was what to do with the 6-8 spots. Penn State had by far its best showing of the season, and Michigan had its best showing in months, even in defeat, against archrival Ohio State. Nebraska didn't show up at home on Black Friday, however, the Huskers have road wins against both the Lions (six days before the Iowa clunker) and Michigan.
After some spirited debate, we ultimately went with body of work to determine the rundown, especially since these are the final regular-season rankings. We understand it devalues the Week 14 performances a bit.
Here's one last look at the
Week 13 rankings
.
Now for the new rundown, final regular-season version.
1. Ohio State (12-0, 8-0 Big Ten: last week: 1):
The Buckeyes lost their composure early and nearly lost their perfect season late. They were faced with adversity for the first time in six weeks, but they made enough plays on both sides of the ball to win. Running back
Carlos Hyde
(226 yards, one TD) and quarterback
Braxton Miller
(five total TDs) led a virtually unstoppable offense, which helped overcome some shoddy pass defense. The Buckeyes now await Michigan State in the Big Ten title game.
2. Michigan State (11-1, 8-0; last week: 3):
There weren't many style points against Minnesota, but the Spartans came away with another double-digit Big Ten win. The defense kept Minnesota out of the end zone, as linebacker
Denicos Allen
led the way. Running back
Jeremy Langford
(134 rush yards, TD) had another big day as Michigan State moved closer to a BCS bowl berth, regardless of the result in Indianapolis.
3. Wisconsin (9-3, 6-2; last week: 2):
It's only a one-spot drop for Wisconsin, but what a downer in Mad City. A team that had been so dominant since falling at Ohio State never showed up on Senior Day against a plucky Penn State team that took control from the onset. Quarterback
Joel Stave
threw three interceptions in the loss, and one of the Big Ten's better defenses allowed a slew of big plays as Penn State racked up 465 yards. It led to Wisconsin's most surprising home loss in recent memory.
4. Iowa (8-4, 5-3; last week: 4):
Kirk Ferentz's crew entered the regular season as a popular pick to finish last in the Legends Division. The Hawkeyes emerged as one of the better teams not only in the division but the entire Big Ten. They've flipped their 2012 regular-season record behind a salty rush defense, led by an outstanding group of linebackers, and a functional offense. After two lackluster showings in the Heroes Game, Iowa outclassed Nebraska in Lincoln and should move up the bowl pecking order.
5. Minnesota (8-4, 4-4; last week: 5):
It doesn't take a doctor at the Mayo Clinic to diagnose what's wrong with Minnesota. The Gophers' defense keeps them in every game, and Saturday's matchup at Michigan State proved to be no exception. But the offense simply can't score or consistently pass the football. Minnesota failed to reach double digits for the third time this season despite multiple opportunities in Spartans territory. It's still a great season for Jerry Kill's team, but there's a lot of work to do on offense before a bowl appearance.
6. Nebraska (8-4, 5-3; last week: 6):
No one would dispute Bo Pelini that this has been a difficult season in Husker Country. No one would argue with Nebraska's ability to keep fighting. But when the same problems (namely turnovers) surface year after year, the bigger picture of the program becomes more depressing. The Huskers and their head coach self-destructed for much of the Iowa game and fell for the third time on their home field. Fortunately for Pelini, it didn't cost him his job, and he should get another chance to compete for an elusive league title in 2014.
7. Penn State (7-5, 4-4; last week: 8):
The Lions had a better team in Bill O'Brien's first season, but they didn't have a better win than Saturday's stunning upset of Wisconsin at Camp Randall Stadium. After losing their first three road games by a combined score of 131-48, Penn State dominated Wisconsin for much of the afternoon at a place where the Badgers rarely lose. Hackenberg ended his freshman season with a signature performance (339 pass yards, 4 TDs) as the offense repeatedly gashed Wisconsin. A much-maligned defense held the Badgers' run game in check as Penn State ended an up-and-down season on a very good note.
8. Michigan (7-5, 3-5; last week: 7):
After plummeting to historic lows earlier in the month, Michigan's offense looked like a completely different unit against Ohio State. Quarterback
Devin Gardner
played brilliantly, coordinator Al Borges called a good game and several others --
Jeremy Gallon
,
Jake Butt
and
De'Veon Smith
-- stepped up in a 603-yard effort. It wasn't enough, as Michigan fell by a point and the defense had no answers for Ohio State, but the Wolverines played their best game in months and can feel a bit better entering the postseason.
9. Indiana (5-7, 3-5; last week: 9):
Oh, what might have been for Indiana. A team with such an explosive offense and eight home games should have made a bowl game, period, but the Hoosiers couldn't get it done. At least they reclaimed the Old Oaken Bucket as quarterback
Tre Roberson
(six TD passes, 273 pass yards, 154 rush yards) torched Purdue and received help from
Stephen Houston
,
D'Angelo Roberts
,
Cody Latimer
and others. It's clear the Hoosiers have to make upgrades on defense. They can't keep wasting such explosiveness on offense.
10. Northwestern (5-7, 1-7; last week: 11):
A season to forget for Northwestern ended on a positive note, as Pat Fitzgerald's team avoided a winless Big Ten season and recorded another victory against its in-state rival. Quarterback
Trevor Siemian
enters the offseason with some confidence after passing for a career-high 414 yards and four touchdowns against Illinois. Wide receiver
Christian Jones
(13 catches, 182 yards, two TDs) also stepped up as Northwestern twice rallied from deficits against Illinois. Fitzgerald said afterward that Northwestern "will be back" in 2014. The work begins now.
11. Illinois (4-8, 1-7; last week 10):
The wins total doubled from two to four, which is nothing to celebrate. But Illinois clearly improved in Year 2 under coach Tim Beckman, who should receive another season in Champaign. Illinois has fixed the offense, and while quarterback
Nathan Scheelhaase
will be tough to replace, several playmakers like
Josh Ferguson
return. A bigger issue is the defense, which had no answer for Northwestern's passing attack on Saturday and surrendered more than 40 points and more than 500 yards per game in Big Ten play.
12. Purdue (1-11, 0-8; last week: 12):
The optimist sees a dynamic young quarterback in
Danny Etling
, who finished his freshman season with 485 pass yards and four touchdowns against Indiana, and a team that can only get better. The pessimist sees a Purdue squad that was the worst in recent Big Ten history and has much work to do on both sides of the ball to become competitive in coach Darrell Hazell's second season. A big offseason awaits Hazell and his staff as they can't go through another season like this one.
December, 1, 2013
12/01/13
10:00
AM ET
Five lessons from the final weekend of Big Ten regular-season play:
[+] Enlarge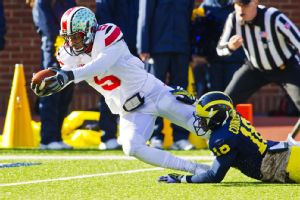 AP Photo/Tony DingQB Braxton Miller and the Buckeyes weren't perfect vs. Michigan but they survived in Ann Arbor.
1. Ohio State is imperfect, but a perfect record might be good enough:
There they are, the team America loves to hate, on the doorstep of the national championship game. Ohio State didn't look like the No. 2 team in America during its
one-point win against unranked Michigan
, allowing 41 points, 31 first downs and 603 total yards to an inspired Wolverines team that managed just 158 yards the week before against Iowa. But Ohio State handled its first brush with adversity in six weeks, as running back
Carlos Hyde
bulldozed his way to 226 rushing yards and
Tyvis Powell
snuffed out Michigan's potential game-winning two-point conversion attempt with 32 seconds to play. The Buckeyes walked out of the Big House with a win, which is more than Alabama could say at Jordan-Hare Stadium. Alabama's loss should move Ohio State up to No. 2 in tonight's BCS standings, although Auburn is now a threat to leapfrog the Scarlet and Gray. This is an imperfect, perfect Ohio State team, which might be headed to play for a crystal football if it can get past Michigan State in the Big Ten championship.
2. It's Michigan State or bust for a second BCS bid:
There's no good way to explain
Wisconsin's 31-24 loss to Penn State
at home on Saturday. The Badgers had been so sound on both sides of the ball all season long, and so dominant the past two months. But Wisconsin made uncharacteristic mistakes all game against a Penn State team that delivered by far its best road performance of the season. Whatever the reason for that stink bomb from Gary Andersen's team, it removed all doubt about a fourth straight BCS game for the Badgers, and it left Michigan State as the clear No. 2 team in the Big Ten. The Spartans weren't especially impressive in a
14-3 win over Minnesota
, but an 11-1 season should get the Spartans in the top 10 of the BCS standings tonight. Michigan State can erase all doubt by beating Ohio State in the Big Ten championship game, sending the Buckeyes to an at-large spot in the process. If not, the Spartans no longer have to worry about competition from within their own league for a BCS at-large spot. Saturday was a very good day to be a Spartan, and a very bad one to be a Badger.
3. You can't kill the Hawkeyes:
Just when it seems safe to write off the
Iowa Hawkeyes
and Kirk Ferentz, the Big Ten's longest-tenured coach, they rise again.
Iowa smacked Nebraska 38-17
in Lincoln to record a statement victory and flip its 2012 record from 4-8 to 8-4. It looks like there will be a third act in Iowa under Ferentz, who oversaw strong stretches from 2002 to '04 and 2008 to '09. Picked by many (cough, cough) to finish last in the Legends Division, Iowa ended up finishing second with a 4-1 mark in division play.
James Morris
and his fellow senior linebackers have sparked a defensive resurgence, and the offense has found its identity in Year 2 under coordinator Greg Davis. Iowa's four losses all came against teams ranked in the top 20. The talk about Ferentz's hefty salary and whether he's worth all that dough will never go away, but he has successfully facilitated another turnaround at Iowa, which should end up in a decent bowl game. Unlike many of its Big Ten brethren, Iowa typically shines in the postseason, going 6-4 in bowls under Ferentz.
[+] Enlarge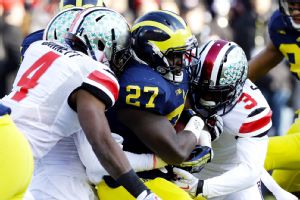 AP Photo/Carlos OsorioMichigan tailback Derrick Green rushed for 47 yards in the loss to Ohio State.
4. Minnesota is a passing game away from being a real contender:
The Gophers lost their last two games of the regular season but earned respect for how they played against Wisconsin and Michigan State. The Badgers came away talking about how they needed to match Minnesota's physicality, which was something that hadn't been said in a long time. At Michigan State on Saturday, the Gophers became just the second team to rush for more than 100 yards against the Spartans this season, and they held an improving MSU offense to just two scoring drives. Yet Minnesota won't be a true Big Ten contender until it develops a passing game. Bad things tend to happen when the offense is forced to throw, like when
Philip Nelson
threw two interceptions (and should have had a third) or when
Mitch Leidner
was sacked for a fumble in the red zone on Saturday. The two quarterbacks combined for just nine completions in 25 attempts in East Lansing. Receiving targets
Donovahn Jones
,
Drew Wolitarsky
and
Maxx Williams
all have promising ability, but all are freshmen who are getting baptized by fire right now. If Minnesota can maintain its gains on defense and in the trenches while becoming competent in the passing game, it will be hard to handle next season.
5. Indiana missed a big opportunity this year:
It's hard not to look at
Indiana's score against Purdue
in the Old Oaken Bucket Game and wonder how this team is staying home for the holidays. The Hoosiers had one of the most explosive offenses in all of the BCS -- except when they played Wisconsin and Ohio State -- and eight home games. Yet they finished 5-7 and still have just one bowl appearance under their belt since 1993. All they had to do was beat Navy at home or not mess up the ending of the game against Minnesota and they would have gotten to six wins. Of course, it's easy to pinpoint the reason why Indiana did not get there: an atrocious defense that has not made nearly enough strides in Kevin Wilson's three years. The Hoosiers should be potent on offense again next year, with quarterbacks
Tre Roberson
and
Nate Sudfeld
, running back
Tevin Coleman
and receivers
Cody Latimer
and
Shane Wynn
still owning eligibility. But if Wilson doesn't make major changes on defense, it might not matter -- again.
December, 1, 2013
12/01/13
9:00
AM ET
Recognizing the best and the brightest around the Big Ten during rivalry weekend:
November, 4, 2013
11/04/13
9:00
AM ET
We have true separation in the Big Ten, and not just with Ohio State at the No. 1 spot. Although the Buckeyes remain the league's kingpin, both Wisconsin and Michigan State also belong in the Big Ten's upper crust.

The big debate in these rankings concerns the No. 2 spot, which Wisconsin has occupied for several weeks. The Badgers handled Iowa on the road and delivered a salty defensive performance even without superstar linebacker
Chris Borland
. Michigan State smothered Michigan, complementing a dominant defense with timely passes from
Connor Cook
. Both teams have won at Iowa and at Illinois. Michigan State has the best win between the bunch but has played the easier schedule.
For now, we're keeping Wisconsin at No. 2. We realize we're in the minority there, but Wisconsin hasn't done much to move down since the Northwestern game. It's too bad the Badgers and Spartans can't play this season to decide the second spot.
Elsewhere, Nebraska avoids another drop thanks to its Hail Mary against sad-sack Northwestern. We debated whether to move Minnesota higher, and we will if the Gophers keep winning. Iowa falls down a few spots, and the bottom of the rankings remains unchanged.
Here's one last look at the
Week 9 rankings
.
Now, the new rundown ...
1. Ohio State (9-0, 5-0 Big Ten; last week: 1):
Ross-Ade Stadium is no longer a graveyard for the Buckeyes, who buried Purdue in a matter of minutes Saturday. Ohio State scored 28 first-quarter points and 42 in the first half, as the tight ends got involved, quarterbacks
Braxton Miller
and
Kenny Guiton
both had jump-pass touchdowns and the defense blanked Purdue. Whether style points matter, Ohio State is finally getting them. The Buckeyes are off this week before visiting Illinois on Nov. 16.
2. Wisconsin (6-2, 4-1; last week: 2):
The offense struggled and top defender Borland watched from the sideline with a hamstring injury, but Wisconsin found a way to beat Iowa.
Marcus Trotter
was fabulous filling in for Borland, as the Badgers' defense repeatedly turned Iowa away in plus territory. Running back
James White
came alive late as Wisconsin pulled away. The Badgers will need a stronger performance this week as they step out of league play against a good BYU squad.
3. Michigan State (8-1, 5-0; last week: 3):
Not only did the Spartans reclaim their superiority against in-state rival Michigan, but they looked like a worthy competitor for Ohio State in a potential Big Ten championship game matchup. If Nebraska falls this week at Michigan, MSU would have a two-game lead on the rest of the division with three weeks to go. An elite defense had its best performance under Pat Narduzzi, as end
Shilique Calhoun
and linebackers
Denicos Allen
and
Ed Davis
combined for seven sacks and 8.5 tackles for loss. Cook made some impressive throws as the Spartans pounded Michigan. They'll have some extra time to celebrate during an open week before visiting Nebraska on Nov. 16.
4. Nebraska (6-2, 3-1; last week: 7):
One play makes all the difference between another Power Rankings drop for Big Red and a three-spot gain. Nebraska had defensive problems early and turnover problems late against Northwestern, but the Huskers never gave up and won a game on a Hail Mary to
Jordan Westerkamp
for the first time in team history. Credit running back
Ameer Abdullah
for keeping a potentially splintering team together. The young defense also shut down Northwestern's offense in the second half. Nebraska must beat Michigan on the road this week to stay in the Legends Division race.
5. Michigan (6-2, 2-2; last week: 4):
That Notre Dame win feels like years ago as Michigan's warts were exposed in Saturday's loss at Michigan State. The Wolverines are either too young or simply not tough enough, as they were pushed around the field at Spartan Stadium. Michigan had a program-low rushing total (minus-48 yards) and couldn't protect quarterback
Devin Gardner
. The program's Big Ten championship drought almost certainly will reach nine years, and it's fair to question where things are really headed under third-year coach Brady Hoke. At least Michigan returns home, where it has never lost under Hoke, to face Nebraska this week.
6. Minnesota (7-2, 3-2; last week: 6):
The Minnesota mojo continues, thanks in large part to an inexcusable crunch-time blunder by Indiana. Minnesota blew a 22-point third-quarter lead but rallied behind
Philip Nelson
, who established himself as the team's offensive leader with 298 pass yards and four touchdowns. It was a rough second half for the defense, but linebacker
Aaron Hill
came up with the decisive play late as the Gophers got out of Bloomington with their third consecutive league win. Minnesota is a factor in the Legends Division race but must keep winning this week against Penn State.
7. Iowa (5-4, 2-3; last week: 5):
Sure, the Hawkeyes are improved this season, but some of the same maddening offensive traits remain, like being unable to finish drives. Iowa should have been up at halftime rather than down 7-6 to Wisconsin, and although quarterback
Jake Rudock
's injury impacted the game, the Hawkeyes' second-half struggles on offense are nothing new. The defense is good enough to get Iowa a few more wins, but can the offense start scoring? Iowa visits Purdue this week.
8. Penn State (5-3, 2-2; last week: 8):
It isn't always pretty with Penn State, but the Lions don't quit, especially on their home field. Freshman quarterback
Christian Hackenberg
once again rallied his team from a late deficit and stepped up in overtime as Penn State avoided what would have been a bad loss to Illinois.
Bill Belton
established himself as the team's top running back with 201 yards and a touchdown. The defense remains far too vulnerable to big passing plays. Penn State will need to be better on both sides of the ball this week as it visits surging Minnesota.
9. Indiana (3-5, 1-3; last week: 9):
Coach Kevin Wilson's crew doesn't quit, but the Hoosiers still don't know how to win. They were 9 yards away from completing a huge second-half comeback against Minnesota and moving a step closer to bowl eligibility. At worst, they were in position to send the game to overtime. Instead, everything fell apart on a dropped backward pass to
Tevin Coleman
, who had a big game (108 rush yards, TD). The quarterback race took another turn with
Nate Sudfeld
outplaying
Tre Roberson
, and the defense had a wildly inconsistent performance. Indiana hosts Illinois this week but will need a road win at Ohio State or Wisconsin to become bowl eligible.
10. Northwestern (4-5, 0-5; last week: 10):
The former Cardiac Cats are only giving their fans heartache at this point as they've forgotten how to perform in the clutch. Northwestern had another golden opportunity for a road win, but let it slip away when it couldn't finish off Nebraska on either side of the ball, leading to the Hail Mary touchdown to
Jordan Westerkamp
. Injuries continue to mount in a snakebitten season for the Wildcats, who likely won't make a bowl. Northwestern has an off week to regroup before hosting Michigan on Nov. 16.
11. Illinois (3-5, 0-4; last week: 11):
The Big Ten losing streak has reached 18 games, and arguably no defeat stung more than Saturday's at Penn State. Illinois wasted opportunities early, took the lead late and still couldn't hold on for a victory. Tim Beckman's team performed better than expected and can take some positives from its performance in Happy Valley, but there's still too much inconsistency on both sides of the ball, as the defense allowed 250 rush yards. Illinois visits Indiana this week.
12. Purdue (1-7, 0-4; last week: 12):
The misery continues for Darrell Hazell's crew, which is on its way to its worst season since 1993 (1-10) and might be one of the worst squads in recent Big Ten memory. Young quarterback
Danny Etling
had another rough outing as Purdue never challenged Ohio State and had no answers for the Buckeyes' offense. Purdue has been shut out in consecutive games and has scored just 17 points in four Big Ten contests. The remaining schedule is a little more favorable, but Purdue has to show something positive by season's end.
October, 28, 2013
10/28/13
9:00
AM ET
Northwestern has made its exit from the Big Ten's top half and shows no signs of returning. Now it's Nebraska's turn to be shown the door. Meanwhile, we welcome an unexpected visitor in Minnesota to the top half of the power rankings.

Minnesota's historic upset of Nebraska provided the major shake-up in this week's rundown. The Gophers, who were No. 11 two weeks ago, have turned around their season with upset wins against both Northwestern and Nebraska. They've guaranteed a second consecutive bowl appearance and can make some noise in the Legends Division down the stretch. Iowa also looks like it will be going back to the postseason after an overtime win against Northwestern.
Michigan State moves up to No. 3 after pulling away from Illinois in Champaign, while Iowa moves up after its overtime win against slumping Northwestern. Penn State's historically bad night at Ohio State bumps the Lions down a few pegs.
Let's take one last look at the
Week 8 rankings
.
Now, for the fresh rundown:
1. Ohio State (8-0, 4-0 Big Ten; last week: 1):
There was no need for a second-half surge as Ohio State throttled Penn State from the get-go, picking up an easy win and the style points it has looked for in Big Ten play. After his near benching at Northwestern, quarterback
Braxton Miller
has performed like a Heisman Trophy candidate, picking apart Penn State's defense for 252 passing yards and three touchdowns. Ohio State racked up its highest-ever yardage total (686) against a Big Ten foe. The Buckeyes' defense recorded three takeaways. Ohio State now visits Purdue, a recent trouble spot.
2. Wisconsin (5-2, 3-1; last week: 2):
The
nation continues to sleep on the Badgers
, but at some point the credit will come if Gary Andersen's crew continues to win. Wisconsin's second open week came at a good time as star linebacker
Chris Borland
had some extra time to heal from a hamstring injury. Borland should be good to go for this week's trip to Iowa, as Wisconsin reunites with its longtime rival for the first time since 2010. Andersen likes the way quarterback
Joel Stave
is progressing, and this week's game should provide a nice gauge.
3. Michigan State (7-1, 4-0; last week: 4):
After a one-year hiatus, Michigan State is back in the Big Ten title race. The Spartans are the only Legends Division team without a Big Ten defeat and can take a huge step toward Indianapolis by beating rival Michigan this week. Quarterback
Connor Cook
and the offense got on track against Illinois, racking up 42 points and 477 total yards. When Cook is in rhythm,
Jeremy Langford
finds running room and the offensive line controls play, Michigan State is tough to beat. But the challenges will get tougher now.
4. Michigan (6-1, 2-1; last week: 5):
Who are these Wolverines? The young, talented group that beat Notre Dame in September or the shaky, flawed squad that hasn't looked very impressive since Sept. 7? We'll finally get some real answers as Michigan begins a challenging November stretch this week at Michigan State.
Devin Gardner
and the offense scored at will against Indiana but face an exponentially tougher challenge against the Spartans' nationally elite defense. A second Big Ten loss would make it tough for Michigan to reach Indianapolis, given the remaining schedule.
5. Iowa (5-3, 2-2; last week: 7):
After struggling against Northwestern's
Kain Colter
last year, Iowa's defense stepped up in a big way, shutting out the Wildcats for a half and recording six sacks, its highest total since the 2008 season. The linebacking corps was terrific, and so was
Drew Ott
. Quarterback
Jake Rudock
wasn't great but made the big throw when it counted to
C.J. Fiedorowicz
in overtime. Iowa is a win away from becoming bowl eligible as rival Wisconsin comes to Kinnick Stadium this week. The Hawkeyes get the edge against Minnesota for the five spot after dominating the Gophers at TCF Bank Stadium.
[+] Enlarge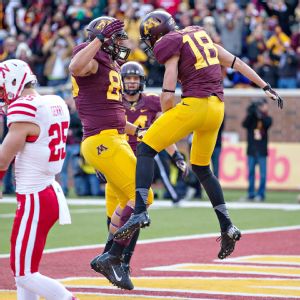 Jesse Johnson/USA TODAY SportsMinnesota's upset of Nebraska moved the Gophers up two spots and dropped the Huskers four spots.
6. Minnesota (6-2, 2-2; last week: 8):
Two weeks ago, many were wondering if Minnesota would make a bowl game and if head coach Jerry Kill would step down because of his health issues. While Kill's future remains somewhat in doubt, he has been in the coaches' booth to watch his team record upset wins against Northwestern and Nebraska. Saturday's dominant performance against the Huskers marked Minnesota's first win against Big Red since 1960. The Gophers received big performances from running back
David Cobb
(138 yards), defensive linemen
Ra'Shede Hageman
and
Theiren Cockran
and others. Minnesota could be a surprise contender in the Legends Division if it continues to win this week at Indiana.
7. Nebraska (5-2, 2-1; last week: 3):
A four-spot drop in the rankings for one loss might seem harsh, but Nebraska invalidated any perceived progress since the UCLA game by struggling in all three phases in a loss at Minnesota. Despite his big-game flaws, Bo Pelini's teams typically had won the games they should win, but the Huskers fell apart after building a 10-0 lead. Quarterback
Taylor Martinez
looked very rusty and the defense couldn't stop Minnesota's ground game. Nebraska tries to get well against slumping Northwestern this week in Lincoln.
8. Penn State (4-3, 1-2; last week: 6):
There will be better nights for quarterback
Christian Hackenberg
and Penn State, which fell behind quickly at Ohio State and never challenged the Buckeyes in the ugliest loss of the Bill O'Brien era. Penn State's defensive issues are very real, though, as the Lions have allowed more than 40 points in three consecutive games for the first time since 1899 (!). Hackenberg's health will be a storyline this week as Penn State faces Illinois. At least the Lions don't have any more open weeks.
9. Indiana (3-4, 1-2; last week: 9):
It's still all about fixing the defense for Indiana, which had no answers for
Jeremy Gallon
, Gardner and Michigan in Week 8. The IU offense can strike and strike quickly, regardless of whether
Tre Roberson
or
Nate Sudfeld
is playing quarterback.
Kevin Wilson
's crew enters a critical home stretch against Minnesota and Illinois. IU likely needs to win both to have a chance of going bowling this year.
10. Northwestern (4-4, 0-4; last week: 10):
Halloween arrives Thursday, but the nightmare has lasted four weeks for the Wildcats, whose October woes have reached a new low under Pat Fitzgerald. All of Northwestern's hallmarks -- great ball security, limited penalties, being great in the clutch -- seem to be going out the window. Fitzgerald has blamed himself and his staff for the recent struggles, and it's hard to disagree after the ultra-conservative decisions late in Saturday's loss to Iowa. Northwestern heads to Nebraska this week, as misery loves company.
11. Illinois (3-4, 0-3; last week: 11):
The Illini's fast start seems like a distant memory now as they've been swallowed up in Big Ten play. Illinois' second consecutive home blowout loss makes a bowl game highly unlikely, and there are issues to address on both sides of the ball. A young defense is getting exposed by power running teams, as Michigan State had its way with the Illini. Bill Cubit is a creative play-caller, but Illinois needs something more against Big Ten defenses. Illinois had a meager eight first downs and 128 total yards against Michigan State.
12. Purdue (1-6, 0-3; last week: 12):
The Boilers entered their second bye week feeling a bit better than they did entering their first. A stout defensive performance against Michigan State, particularly by
Bruce Gaston
and his fellow linemen, provides Purdue something to build on before the stretch run. Purdue now needs to get something going on offense. Ohio State comes to town this week, which should be special for Purdue coaches Darrell Hazell and Marcus Freeman.
October, 21, 2013
10/21/13
9:00
AM ET
The top half of the Power Rankings remains virtually unchanged, as Big Ten kingpin Ohio State rallied to beat Iowa, Wisconsin stomped Illinois, and the Michigan schools held serve in vastly different ways (all defense for Michigan State, all offense for Michigan).

The changes come in the league's second tier, as Northwestern continues its shocking tumble after a home loss to Minnesota, which moves up three spots. Iowa actually moves up despite a loss, as we liked the Hawkeyes' game plan and execution against Ohio State. Indiana also holds steady after nearly winning a shootout at the Big House.
Let's take one final look at the
Week 7 rankings
.
Now for the fresh rundown ...
1. Ohio State (7-0, 3-0 Big Ten; last week: 1):
Another test passed for Ohio State, which overcame a plucky Iowa team with a stellar second half behind quarterback
Braxton Miller
(222 pass yards, 2 TDs, 102 rush yards) and running back
Carlos Hyde
(149 rush yards, 2 TDs). The Buckeyes also survived the ejection of star cornerback
Bradley Roby
in the first quarter and limited Iowa's offense to one big play in the second half. The defense once again will be challenged this week as
Christian Hackenberg
,
Allen Robinson
and Penn State visit Columbus.
2. Wisconsin (5-2, 3-1; last week: 2):
Ohio State retains its spot atop the rankings with a perfect record, but Wisconsin has looked like the Big Ten's most dominant team of late. After crushing Northwestern at Camp Randall Stadium, the Badgers went on the road and steamrolled Illinois, as running backs
Melvin Gordon
(142 rush yards, 3 TDs) and
James White
(98 rush yards, 2 TDs, 29 receiving yards, 1 TD) did their thing and
Joel Stave
had an extremely efficient performance (16 of 21 passing, 189 yards, 2 TDs). The second open week comes at a good time as linebacker
Chris Borland
must get healthy for the stretch run, which features some tricky games.
3. Nebraska (5-1, 2-0; last week: 3):
The Huskers might be the Legends Division favorite at this point, as they get Michigan State at home. Quarterback
Taylor Martinez
should make his return from turf toe this week against Minnesota as Nebraska tries to keep building momentum before the season's defining month. Martinez needs some work before the schedule gets tougher, and the Huskers' offensive line plays its first game without standout guard
Spencer Long
.
4. Michigan State (6-1, 3-0; last week: 4):
A shutout of Purdue wasn't surprising. Neither was another defensive touchdown, Michigan State's fifth of the season, courtesy of linebacker
Denicos Allen
. But Michigan State's offense took a step backward, as the line struggled to control Purdue's defensive front and
Connor Cook
completed only 13 passes for 107 yards. The Spartans will need to be sharper this week against Illinois and particularly when the schedule gets tougher in November.
5. Michigan (6-1, 2-1; last week: 5):
We think
Jeremy Gallon
just caught another long pass. Gallon set a Big Ten single-game record with 369 receiving yards (second most in FBS history), while quarterback
Devin Gardner
set team records for pass yards (503) and total yards (584) and accounted for five total touchdowns. Running back
Fitzgerald Toussaint
added 151 yards and four touchdowns. Michigan needed all the offense to win a shootout with Indiana at the Big House. As for the defense? A problem for another day. Michigan has two weeks to prepare for its Nov. 2 showdown at Michigan State.
6. Penn State (4-2, 1-1; last week: 7):
The off week came at a good time for Penn State after a physically and emotionally draining four-overtime win against Michigan. The Lions had more diversity in their passing game against the Wolverines and will need the same -- as well as strong run production -- to keep pace with Ohio State on Saturday in Columbus. Penn State has won two of its past three games at Ohio Stadium and could play spoiler down the stretch in Leaders Division play.
7. Iowa (4-3, 1-2; last week: 8):
Credit Iowa for an excellent game plan coming off the open week. The Hawkeyes racked up 17 first-half points against Ohio State and controlled the line of scrimmage on both sides of the ball. Ultimately, better talent won out as Iowa couldn't keep pace with Miller, Hyde and the Buckeyes, but the Hawkeyes certainly could make some noise down the stretch in the wide-open Legends Division. Sophomore tight end
Jake Duzey
(6 receptions, 138 yards, 1 TD) gives
Jake Rudock
another weapon in the passing game. Iowa returns home this week to face sputtering Northwestern.
8. Minnesota (5-2, 1-2; last week: 11):
The bye week clearly paid off for Minnesota, and so did a halftime pep talk from coach Jerry Kill, who made his presence felt at Ryan Field without being on the sideline. Minnesota dominated the line of scrimmage, as defensive tackle
Ra'Shede Hageman
, running back
David Cobb
and quarterback
Philip Nelson
, who relieved
Mitch Leidner
, stepped up in the final three quarters. The Gophers took advantage of a short-handed Northwestern team and overcame several bad calls to record a big road win. Up next: Nebraska at home.
9. Indiana (3-4, 1-2; last week: 9):
The Hoosiers are high on entertainment value, boasting the Big Ten's best quick-strike offense and quite possibly the league's best group of wide receivers. But all those highlights and points still aren't translating to enough wins. It's the same movie with IU, with an A-plus offense and a D-minus defense, which surrendered an unacceptable 63 points and 751 yards to Michigan on Saturday.
Tre Roberson
was brilliant at Michigan and seemed to pass by
Nate Sudfeld
in the quarterback pecking order. But the defense remains the team's top priority entering the open week.
10. Northwestern (4-3, 0-3; last week: 6):
The free-fall continues for a Wildcats team that was No. 2 in the power rankings just two weeks ago. Remember when Northwestern held a fourth-quarter lead against Ohio State? Key injuries certainly have played a role in Northwestern's downfall, but quarterback
Trevor Siemian
seems to be regressing and so is the offensive line. A bowl game suddenly is no guarantee for the Wildcats, who need to get
Kain Colter
and
Venric Mark
healthy and refocus for the stretch run. They visit Iowa this week.
11. Illinois (3-3, 0-2; last week: 10):
The Illini needed a fast start coming off the open week against Wisconsin but stumbled out of the gate, falling behind 21-0 on their home field before course-correcting in the second quarter. Quarterback play wasn't the issue, as
Nathan Scheelhaase
and
Reilly O'Toole
combined to complete 25 of 32 passes for 318 yards, but two fumbles led to Wisconsin touchdowns and Illinois' defense couldn't slow down the Badgers. The Illini need at least one upset down the stretch to have a chance to reach six wins and a bowl.
12. Purdue (1-6, 0-3; last week: 12):
Darrell Hazell's squad can build on Saturday's road performance against Michigan State, especially a Boilers defense that allowed just one score and repeatedly penetrated the backfield. The offense had several chances but couldn't finish drives in Spartans territory. Purdue needs to clean up its pass protection after allowing five sacks, but if
Bruce Gaston Jr.
and the defensive front continues to step up, a win could be coming down the stretch. The Boilers have a week off before hosting Ohio State.
October, 14, 2013
10/14/13
9:00
AM ET
Ohio State still sits atop the Power Rankings, but there has been a significant shake-up after the Buckeyes.

Wisconsin's impressive victory against lifeless Northwestern vaults the Badgers to No. 2, as we consider Gary Andersen's team the closest to Ohio State at this point in the season. Northwestern takes a significant tumble, and Michigan also falls after failing to pull off another escape against Penn State. Nebraska and Michigan State are taking care of business against weak competition, which helps both teams now but won't mean much when the schedule gets tougher in November.
Penn State makes a move in a positive direction following its dramatic win against Michigan in four overtimes. The bottom of the rankings holds steady as most teams were off.
Here's one last look at the
Week 6 rankings
.
Week 7 rankings in three, two, one …
1. Ohio State (6-0, 2-0 Big Ten; last week: 1):
After two hard-fought victories to open Big Ten play, the unbeaten Buckeyes had a well-deserved week off. Their young defensive front seven is starting to blossom, which should help against Iowa's power run game on Saturday at The Shoe. Running back
Carlos Hyde
takes aim at an Iowa defense that has yet to allow a rushing touchdown. Ohio State is halfway to another perfect regular season.
2. Wisconsin (4-2, 2-1; last week: 3):
The Badgers looked refreshed, recharged and exceptionally prepared for Northwestern following their open week. Wisconsin's defense completely flustered Northwestern, particularly on third down, where the Wildcats typically excel.
Melvin Gordon
did his thing and Wisconsin moved the ball despite playing without top receiver
Jared Abbrederis
for most of the game. The schedule is favorable the rest of the way and a 10-2 mark is hardly out of the question. Wisconsin visits Illinois this week.
3. Nebraska (5-1, 2-0; last week: 5):
Credit Nebraska for handling its business against inferior competition and not even flirting with a loss for the second consecutive Big Ten game. The defense once again took a step forward as one-time Purdue recruit
Randy Gregory
had two tackles for loss and a fumble recovery. Backup quarterback
Tommy Armstrong Jr
. struggled, but he had plenty of help from the run game, led by
Ameer Abdullah
(126 rush yards, 1 TD). The Huskers once again are off this week, which should allow top signal-caller
Taylor Martinez
to heal from his toe injury.
4. Michigan State (5-1, 2-0; last week: 6):
Defense always will be the Spartans' bread and butter, but Michigan State is capable of winning games with its offense. Sure, Indiana's defense isn't a great barometer, but Spartans fans have to be encouraged by quarterback
Connor Cook
, running back
Jeremy Langford
and a unit that seems to be gaining more confidence by the week. Like Nebraska, Michigan State is handling its business during a favorable stretch of the schedule, which continues this week against flailing Purdue.
5. Michigan (5-1, 1-1; last week: 2):
The Wolverines twice had flirted with losing in their first five games, only to find a way to pull through. They nearly pulled off another escape at Penn State after a strong second half, but breakdowns in all three phases led to a crushing loss in four overtimes. The defense broke down at the end of regulation, the offense couldn't find the end zone in overtime and the normally reliable
Brendan Gibbons
missed three attempts (one was blocked). Michigan will need to grow up in a hurry to challenge for the Legends Division title.
6. Northwestern (4-2, 0-2; last week: 2):
It's a four-spot drop for the Wildcats, and that might be kind after the egg they laid Saturday in Madison. Northwestern clearly had a hangover from the Ohio State game, although there are some troubling trends on offense, namely the inability to covert manageable third downs, which has been a hallmark of past Wildcats teams. The injuries are piling up for Pat Fitzgerald's crew, as
Venric Mark
(ankle) barely played and
Kain Colter
(ankle) didn't do much at quarterback. Northwestern really needs to get well this week against Minnesota.
7. Penn State (4-2, 1-1; last week: 9):
What do we make of Bill O'Brien's Lions? A week after Penn State's first loss to Indiana -- by 20 points, no less -- the Lions rebounded to outlast Michigan 43-40 in a four-overtime thriller. O'Brien played to win while Michigan's coaches went conservative, and freshman quarterback
Christian Hackenberg
rebounded from some mistakes to lead the game-tying touchdown drive at the end of regulation. This Penn State team isn't as good as its predecessor, but it exhibits the same type of resilience and toughness. Penn State gets a well-deserved week off before heading to Ohio State.
8. Iowa (4-2, 1-1; last week: 7):
The open week arrived at a good time for Iowa, which came out of the Michigan State loss with several injuries, although none of the long-term variety. The Hawkeyes need to reboot
Mark Weisman
and the run game after being shut down by the Spartans. Iowa's defense faces its first major test of the season in Ohio State, which will try to stretch the field. The Hawkeyes last won in Columbus in 1991.
9. Indiana (3-3, 1-1; last week: 8):
The inconsistency that has plagued Indiana through the first half of the season showed up Saturday against Michigan State. The offense had more success against Michigan State's venerated defense than most opponents but still left points on the field. Indiana's defense, meanwhile, took a step back as the Spartans had success both on the ground and through the air. The Hoosiers' quarterback situation took another turn as
Tre Roberson
outperformed
Nate Sudfeld
. IU heads back to the Mitten State this week to face Michigan.
10. Illinois (3-2, 0-1; last week: 10):
The Illini didn't play for the second time in four weeks after struggling on both sides of the ball at Nebraska. If Tim Beckman's squad intends to go bowling, it might need a home upset victory in the next two weeks as it hosts Wisconsin and then Michigan State. Illinois hopes to get defensive lineman
Teko Powell
back from injury before facing the dominant Wisconsin rush attack. Quarterback
Nathan Scheelhaase
must rebound after completing only 50 percent of his passes against Nebraska.
11. Minnesota (4-2, 0-2; last week: 11):
Adversity continues for the Gophers as head coach Jerry Kill has taken a leave of absence as he tries to get his epilepsy under control. Although Minnesota assistants and players know how to adjust without Kill, it doesn't make the situation much easier. The big on-field concern for the Gophers is the schedule, which doesn't get any easier this week against Northwestern. The Gophers are still looking for more explosiveness on offense.
12. Purdue (1-5, 0-2; last week: 12):
There will be better days ahead for
Danny Etling
and the Boilers, but it's very ugly right now. Purdue never challenged Nebraska at Ross-Ade Stadium, and the Boilers' problems on offense clearly go beyond the quarterback position as Etling couldn't get much going. Purdue didn't cross midfield until the fourth quarter. The defense had no answers for Nebraska, which piled up 435 yards. This is a really bad football team, folks, and things don't get easier with Michigan State and Ohio State to follow.
September, 5, 2013
9/05/13
8:00
AM ET
We went a combined 23-1 in our first week of predictions, so let's see if we can keep that robust pace going. And how will our Week 2 guest picker fare?

Let's get to it:
Eastern Michigan at Penn State
Brian Bennett:
Not much to see here, as Eastern Michigan has long been a Big Ten sacrificial lamb. This is a good opportunity for
Christian Hackenberg
to work out some kinks, and the kid throws three TD passes. ...
Penn State 35, Eastern Michigan 9.
Adam Rittenberg:
The Hackenberg-
Allen Robinson
connection will link up for two touchdowns, and Penn State coach Bill O'Brien will keep to his word and call better plays, sparking the run game to 175 yards and two scores. Lions roll.
... Penn State 31, Eastern Michigan 10
Indiana State at Purdue
Adam Rittenberg:
Rob Henry
gets the confidence boost he needs and Purdue fixes its communication issues on offense as running back
Akeem Hunt
goes for 135 yards and two touchdowns. The Boilers come out fast and get a first-quarter forced fumble from big
Bruce Gaston
.
... Purdue 38, Indiana State 14
Brian Bennett:
The FCS just had a great weekend, so maybe we should take the three Big Ten games against FCS opponents seriously on Saturday. Nah. A team that just got done giving up 73 points to Indiana is just what the sputtering Purdue offense needs. ...
Purdue 45, Indiana State 17.
Missouri State at Iowa
Brian Bennett:
Iowa finally snaps its seven-game losing streak, using its superior beef to run for 200 yards, and getting a special-teams score. ...
Iowa 31, Missouri State 13.
Adam Rittenberg:
Yeah, this game has
Mark Weisman
and
Damon Bullock
written all over it. The tandem combines for three rushing touchdowns and
Jake Rudock
adds two more through the air to
C.J. Fiedorowicz
and
Kevonte Martin-Manley
.
... Iowa 38, Missouri State 10
Tennessee Tech at Wisconsin
Adam Rittenberg:
James White
rushing touchdown,
Melvin Gordon
rushing touchdown,
Corey Clement
rushing touchdown. Rinse and repeat.
... Wisconsin 63, Tennessee Tech 3
Brian Bennett:
Yawn. Are we done with the FCS games yet? ...
Wisconsin 56, Tennessee Tech 7.
South Florida at Michigan State
Brian Bennett:
If the Spartans can't move the ball against a Bulls team that gave up 53 points to McNeese State last week, they've got even bigger problems than we realized. Three different QBs play for MSU, and two of them throw for TDs. ...
Michigan State 30, South Florida 10.
Adam Rittenberg:
I agree that Michigan State can't be much worse on offense than it was in the opener and will move the ball better, especially on the ground.
Jeremy Langford
and
Riley Bullough
both reach the end zone, and
Tyler O'Connor
makes the quarterback race a little more interesting.
... Michigan State 34, South Florida 3
Cincinnati at Illinois
Adam Rittenberg:
The Illini start quickly and jump ahead on a
Nathan Scheelhaase
touchdown pass to
Josh Ferguson
. But reality begins to set in as a superior Cincinnati team takes charge behind its athletic defense.
... Cincinnati 28, Illinois 17
Brian Bennett:
Illinois will put up a more respectable showing against the Bearcats than Purdue did. Scheelhaase throws for 300 yards and the game is close until midway through the third quarter. But there's just too much
Munchie Legaux
(I can't help myself). ...
Cincinnati 42, Illinois 27
.
San Diego State at Ohio State
Brian Bennett:
I was interested in this game until San Diego State gagged against Eastern Illinois. The Buckeyes turn in a better overall effort than in Week 1, and
Bradley Roby
has a pick in his first game back. ...
Ohio State 45, San Diego State 20.
Adam Rittenberg:
My concern is Ohio State might be less interested than you are, BB. The Buckeyes overcome a sluggish start as
Braxton Miller
fires two second-quarter touchdown passes. Freshman
Dontre Wilson
scores his first touchdown for the Scarlet and Gray.
... Ohio State 41, San Diego State 13
Southern Miss at Nebraska
Adam Rittenberg:
After a
passionate postgame speech last week
, emerging leader
Ameer Abdullah
takes matters into his own hands. The Huskers running back piles up 200 yards and three touchdowns. The defense has its typical hiccups early before settling down.
... Nebraska 42, Southern Miss 17
Brian Bennett:
I expect -- and would hope -- that the Nebraska offense comes out mad after not finishing key drives last week. The Huskers go for the jugular this week behind
Taylor Martinez
's five total TDs, and the defense makes slight improvements. ...
Nebraska 49, Southern Miss 24.
Navy at Indiana
Brian Bennett:
It's never easy or fun to play Navy, but the Hoosiers got some experience against the option last year. The Midshipmen will shorten the game and frustrate the IU offense some, but
Nate Sudfeld
throws a fourth-quarter TD pass to
Kofi Hughes
to seal it. ...
Indiana 28, Navy 20.

Adam Rittenberg:
Sudfeld and the Hoosiers will finish drives better than they did last year against Navy, as
Tevin Coleman
twice reaches the end zone. IU forces a key third-quarter fumble and pulls away midway through the fourth quarter.
Tre Roberson
sees more field time in this one.
... Indiana 34, Navy 23
Syracuse at Northwestern
Adam Rittenberg:
Northwestern's injury issues are worth monitoring, but the Wildcats have enough weapons on offense to outscore a Syracuse team that didn't impress me much last week against Penn State.
Trevor Siemian
connects with
Dan Vitale
on two touchdowns, and the defense comes up big again with a fourth-quarter takeaway.
... Northwestern 28, Syracuse 20
Brian Bennett:
Hard to know what to expect from Northwestern because of the iffy status of both
Venric Mark
and
Kain Colter
. But Syracuse looked limited offensively last week, and I think Siemian rescues the 'Cats once again. ...
Northwestern 31, Syracuse 24.
Minnesota at New Mexico State
Brian Bennett:
It was a tough call between Ann Arbor and Las Cruces for the "GameDay" crew this week -- seriously, what is Minnesota doing here? Are the Gophers just big "Breaking Bad" fans who are planning a side trip to Albuquerque? Anyway, it's close for a half but the defense comes up with another score to send the Aggies to Belize. ...
Minnesota 37, New Mexico State 20
.
Adam Rittenberg:
Maybe the Gophers can take a side trip to Roswell and check out the UFOs. Minnesota quarterback
Philip Nelson
will provide a few identified flying objects in this one, firing two touchdown passes in the second half. It's not a pretty game, but it's a win as Minnesota improves to 2-0.
... Minnesota 34, New Mexico State 21
Notre Dame at Michigan
Adam Rittenberg:
Can't wait to witness this one under the lights at the Grande Casa. Although Michigan struggles early with Notre Dame's fearsome defensive front, the offense settles down late as
Devin Gardner
and
Jeremy Gallon
connect for two second-half touchdowns, including the game-winner in the final minutes. Tommy Rees' mastery of Michigan ends with two second-half interceptions.
... Michigan 24, Notre Dame 21
Brian Bennett:
I just keep remembering how Michigan mostly outplayed Notre Dame last year except for all those picks, and I don't think Gardner will make the same mistakes. Gardner finds Gallon for a pair of scores, and
Blake Countess
intercepts
Tommy Rees
on Notre Dame's final series to turn the lights out on the Irish. ...
Michigan 27, Notre Dame 24.
Now it's time to hear from our guest picker. As we announced last week, we'll be choosing one fan/loyal blog reader each week to try his or her hand at outsmarting us. There's nothing but pride and some extremely limited fame at stake. If you're interested in participating, contact us
here
and
here
. Include your full name (real names, please) and hometown and a
brief
description why you should be that week's guest picker. Please also include "GUEST PICKS" in all caps somewhere in your email so we can find them easily.
The response so far has been overwhelming. This week's guest picker is
Nick Schmit from West Des Moines, Iowa
. The floor is yours, Nick:
"As a graduate of the University of Iowa, I have been following the conference and teams for as long as I can remember. I have plenty of insight and knowledge to offer. Besides, my wife is due with our first daughter on 10/19 (Iowa vs. OSU). Other than her birth, I need something to be excited about in what looks to be another long, depressing, mediocre (or worse) season for the Hawks."
Nick's picks:
Penn State 28, Eastern Michigan 13
Purdue 28, Indiana State 21
Iowa 34, Missouri State 10
Wisconsin 70, Tennessee Tech 3
Michigan State 35, South Florida 10
Cincinnati 31, Illinois 21
Ohio State 42, San Diego State 6
Nebraska 51, Southern Miss 17
Indiana 41, Navy 31
Northwestern 42, Syracuse 20
Minnesota 33, New Mexico State 21
Notre Dame 27, Michigan 24
SEASON RECORDS
Brian Bennett: 12-0
Adam Rittenberg: 11-1
Guest picker: 9-3
September, 3, 2013
9/03/13
3:00
PM ET
Every Monday or Tuesday, I'll take a look back at our Big Ten predictions and poke fun at Brian, our guest picker and myself. Unfortunately, Brian is the big winner after Week 1, going a perfect 12-0 in picks to lead me by a game.
To review, the
Week 1 predictions
made by the reporters and guest picker
Ryan Stitt of Litchfield, Ill.
WEEK 1/SEASON RECORD
Brian Bennett: 12-0 (1.000)
Adam Rittenberg: 11-1 (.917)
It's rewind time …
Indiana State at Indiana
Bennett's pick: Indiana 38, Indiana State 14
Rittenberg's pick: Indiana 42, Indiana State 20
Actual score: Indiana 73, Indiana State 35
20-20 hindsight: We both underestimated the prowess of Indiana's offense, which set a stadium record for points scored. Bennett correctly pegged Tre Roberson to start at quarterback for the Hoosiers and Nate Sudfeld to take over and play plenty. My prediction of three combined rush touchdowns for Tevin Coleman and Stephen Houston fell one score short.
UNLV at Minnesota
Bennett's pick: Minnesota 31, UNLV 16
Rittenberg's pick: Minnesota 27, UNLV 14
Actual score: Minnesota 51, UNLV 23
20-20 hindsight: Again, we didn't expect such a scoring explosion from the Big Ten team. I correctly predicted Minnesota would record several takeaways (it had two). Bennett's pick to click, Gophers running back Donnell Kirkwood, had his night cut short by an ankle injury.
Western Michigan at Michigan State
Bennett's pick: Michigan State 28, Western Michigan 6
Rittenberg's pick: Michigan State 31, Western Michigan 10
Actual score: Michigan State 26, Western Michigan 13
20-20 hindsight: Both of us correctly pegged the Spartan Dawgs defense for a big night, although their pick-six came from a safety (Kurtis Drummond), not a cornerback, as I predicted. Bennett had the better forecast on the offense, writing that the quarterback competition wouldn't be settled in Week 1.
Buffalo at Ohio State
Bennett's pick: Ohio State 42, Buffalo 14
Rittenberg's pick: Ohio State 49, Buffalo 13
Actual score: Ohio State 40, Buffalo 20
20-20 hindsight: Bennett came closer on the score prediction, but we both had the wrong Buckeyes going for long touchdowns as running back Jordan Hall and wide receiver Devin Smith did their thing. Defensive end Noah Spence had a sack, but neither Adolphus Washington nor Ryan Shazier recorded one, as I had predicted.
Massachusetts at Wisconsin
Bennett's pick: Wisconsin 38, UMass 7
Rittenberg's pick: Wisconsin 48, UMass 10
Actual score: Wisconsin 45, UMass 0
20-20 hindsight: This was one of our easier and better predictions of Week 1. Bennett's combined yards prediction of 275 for James White and Melvin Gordon came extremely close -- they had 287 -- and I correctly pegged Badgers quarterback Joel Stave to twice find Jared Abbrederis for touchdowns.
Southern Illinois at Illinois
Bennett's pick: Illinois 31, Southern Illinois 13
Rittenberg's pick: Illinois 27, Southern Illinois 17
Actual score: Illinois 42, Southern Illinois 34
20-20 hindsight: Sense a theme? We both undervalued the offenses of several second-division Big Ten squads in Week 1. Brian came close with his predictions of 35 pass attempts (Illinois had 37) and three Nathan Scheelhaase touchdown passes (he had two).
Purdue at Cincinnati
Bennett's pick: Cincinnati 28, Purdue 27
Rittenberg's pick: Cincinnati 27, Purdue 24
Actual score: Cincinnati 42, Purdue 7
20-20 hindsight: We both expected much more from Purdue in coach Darrell Hazell's debut. Cincinnati quarterback Munchie Legaux made big plays early, not late, as Brian predicted. I had Purdue quarterback Rob Henry committing a key fourth-quarter turnover, but he threw picks in the first and third quarters in a poor performance.
Central Michigan at Michigan
Bennett's pick: Michigan 35, Central Michigan 17
Rittenberg's pick: Michigan 38, Central Michigan 14
Actual score: Michigan 59, Central Michigan 9
20-20 hindsight: We had similar score predictions and both turned out to be way off, at least when it comes to Michigan's offensive output. Michigan receiver Jeremy Gallon had one touchdown catch, not two as I had predicted. Wolverines running back Fitzgerald Toussaint had 57 rush yards, falling short of Brian's prediction (95).
Penn State vs. Syracuse
Bennett's pick: Penn State 27, Syracuse 23
Rittenberg's pick: Penn State 24, Syracuse 21
Actual score: Penn State 23, Syracuse 17
20-20 hindsight: One of our better score predictions, as we both expected a fairly low scoring close game and got one. Penn State had zero rushing touchdowns, not the two I had predicted.
Northern Illinois at Iowa
Bennett's pick: Northern Illinois 23, Iowa 21
Rittenberg's pick: Iowa 24, Northern Illinois 23
Actual score: Northern Illinois 30, Iowa 27
20-20 hindsight: Our lone disagreement of Week 1 went Bennett's way, even though I was in good shape for most of the second half. Iowa running back Mark Weisman (100 rush yards) came 50 yards and two touchdowns shy of my prediction. NIU got a big lift late in the fourth quarter from a Jordan Lynch touchdown pass, not a Lynch scoring run, which was Bennett's forecast.
Wyoming at Nebraska
Bennett's pick: Nebraska 49, Wyoming 21
Rittenberg's pick: Nebraska 52, Wyoming 17
Actual score: Nebraska 37, Wyoming 34
20-20 hindsight: We both expected a stress-free night for the Huskers and a much better performance from the young Nebraska defense. Neither happened. I correctly pegged Nebraska quarterback Taylor Martinez to find Quincy Enunwa for two touchdown passes. Brian's prediction of five combined touchdowns for Martinez and Ameer Abdullah came up short as Imani Cross had Nebraska's two rushing touchdowns.
Northwestern at California
Bennett's pick: Northwestern 30, Cal 24
Rittenberg's pick: Northwestern 33, Cal 24
Actual score: Northwestern 44, Cal 30
20-20 hindsight: We both came up short with our score predictions, although Bennett's forecast of Northwestern recording two timely interceptions proved spot on as linebacker Collin Ellis had a pair of pick-sixes in the second half. Injuries prevented the big night I predicted for Northwestern quarterback Kain Colter and running back Venric Mark.
And now for our guest picker …
Indiana 21, Indiana State 13
UNLV 21, Minnesota 17
Michigan State 28, Western Michigan 17
Ohio State 45, Buffalo 13
Wisconsin 38, UMass 14
Southern Illinois 20, Illinois 17
Cincinnati 27, Purdue 21
Michigan 28, Central Michigan 17
Penn State 28, Syracuse 23
Iowa 24, Northern Illinois 13
Nebraska 27, Wyoming 16
Northwestern 24, California 21
Record:
9-3
Assessment:
Not too shabby, Ryan, although you've clearly lived in Big Ten country too long with some of those low score predictions. You came close with Michigan State-Western Michigan but, like the two of us, underestimated the offensive prowess of teams like Michigan, Northwestern, Indiana, Minnesota and Illinois. That UNLV pick doesn't look too good, but not a terrible first effort.
Who's next?
September, 1, 2013
9/01/13
10:00
AM ET
Every Sunday around this time, we'll recap five lessons from the week that was in Big Ten football.
Pencils ready? Class is in session ...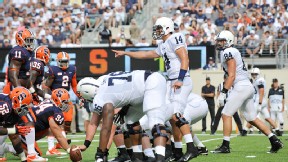 Cal Sport Media/AP ImagesFreshman Christian Hackenberg completed 22 of 31 passes for 278 yards in Penn State's win over Syracuse.
1. Big Ten quarterback mysteries partially solved:
Week 1 provided some clues about the Big Ten's cloudy quarterback picture, but a few mysteries remain. True freshman
Christian Hackenberg
looks like the long-term answer at Penn State. Although he had a few shaky moments, Hackenberg completed 22 of 31 passes for 278 yards and showcased a big-time arm on a 54-yard touchdown strike to Eugene Lewis early in the fourth quarter of the Lions' win against Syracuse.
Joel Stave
got the start for Wisconsin and re-established himself with a mostly solid performance against Massachusetts, twice finding top receiver
Jared Abbrederis
for touchdowns.
Jake Rudock
's collegiate debut ended with a costly interception, but the Iowa sophomore showed some positive signs against Northern Illinois, passing for 256 yards. Iowa has something to build on with Rudock. Indiana might lack a definitive starter, but the Hoosiers have multiple options with
Tre Roberson
,
Nate Sudfeld
and
Cam Coffman
. Sudfeld, who played most of the opener and fired four touchdown passes, may end up being the answer for IU. Things are much shaker for Michigan State and Purdue, as both teams struggled at the quarterback spot in their openers. The Spartans likely will continue to play multiple signal-callers, while
Rob Henry
's starting spot at Purdue could be in jeopardy if he doesn't take better care of the ball.
2. Michigan, Illinois and Iowa can see clearly now on offense:
After two years of running the Denard offense, Michigan displayed a system more suited to coordinator Al Borges' long-term vision. The result was a 59-point, 463-yard explosion against Central Michigan, in which just about everybody contributed. Michigan's vertical passing game is much more of a factor with
Devin Gardner
at quarterback, and the Wolverines ran the ball well with multiple backs. Illinois and Iowa lived in the dark on offense for much of the 2012 season, finishing 119th and 114th, respectively, in yards per game. Both the Fighting Illini and Hawkeyes looked more comfortable with their offensive identities in the openers. Illinois senior quarterback
Nathan Scheelhaase
threw for 340 first-half yards en route to a career-high 416 against Southern Illinois. Despite a crunch-time interception, Iowa's Rudock played with better rhythm in his first career start than veteran James Vandenberg did all of last season. The Hawkeyes are far from a juggernaut but eclipsed 300 yards in the first half against Northern Illinois and scored two touchdowns, more than they had in the first two games of last season. Now if only Greg Davis would get rid of the bubble screen ...
3. Michigan State, Nebraska haven't fixed their issues:
First, the good news: We've only played one week, and Michigan State and Nebraska are each 1-0. The Spartan Dawgs defense is as good as advertised, perhaps even a little bit better, while the Nebraska offense remains explosive. Now, the bad news: The problems that plagued both teams last season and were supposedly addressed in the offseason remain glaring, neon-blinking red flags. The Spartans' offense struggled up front against an inferior opponent in Western Michigan, couldn't create separation at wide receiver and never consistently moved the football. Quarterbacks
Andrew Maxwell
and
Connor Cook
combined to complete 17 passes for 116 yards, continuing a troubling trend of a condensed passing game. Although
Jeremy Langford
(94 rush yards) was a bright spot at times, he also fumbled in the red zone. Michigan State can't expect to win more games by having its defense outscore its offense. The opposite is true at Nebraska, which rebuilt its defense in the offseason with supposedly more athletic players. We totally expected the new Blackshirts to need a few games to find their sea legs, but we did not foresee Wyoming putting up 602 yards of offense and nearly winning in Memorial Stadium. That's reminiscent of the Huskers' defensive disasters last season, only worse because it came at home against a mediocre WAC team. Right now, the same songs are playing in East Lansing and Lincoln, and someone better change the channel.
4. Ohio State can't lose focus despite weak schedule:
Let's face it: Ohio State shouldn't have too much to worry about until Wisconsin comes to The Shoe on Sept. 28. But the Buckeyes are far from a perfect team, and they need to use each week as an opportunity to develop, especially on defense. Ohio State built a 23-0 lead against Buffalo in less than a quarter Saturday, but the concentration level seemed to waver a bit from then on. The Bulls began moving the ball,
Braxton Miller
threw a pick-six and there was a decent amount of sloppiness in the middle of the game. Ohio State might have had a perfect record in 2012, but it was far from a perfect team and remains that way now. Turnovers and penalties -- the Buckeyes had nine of them -- will get you beat against better competition. Ohio State would benefit from a true test during nonleague play, but unless San Diego State or Cal surprisingly provides one, it won't come until the Big Ten opener against the Badgers. Urban Meyer and his staff must stress the details in all three phases the next few weeks. Talent isn't the issue for Ohio State, but a lack of focus could prove costly down the road.
5. Honeymoon is over for Hazell, continues for Andersen:
Purdue was a solid underdog on the road at Cincinnati, but few expected the nightmarish result that occurred. Down just 14-7 at halftime, the Boilermakers imploded in an ugly 42-7 loss that was as bad as anything from the Danny Hope era. Purdue had four turnovers and was so inept that quarterback
Rob Henry
tweeted an apology to "all my family, teammates, friends and fans. My performance today was unacceptable. Never played that bad in my life." The schedule provides a break next week with Indiana State, but then the Boilers have six straight tough games. First-year coach Darrell Hazell has a lot of work to do to keep the offseason optimism going. There's no such problem yet for Wisconsin coach Gary Andersen. It seemed like not much had changed in Madison as the Badgers beat UMass 45-0 and rushed for 393 yards. Of course, Andersen had a much easier opponent for his debut and gets Tennessee Tech next week. His first real challenge will come in Week 3 at Arizona State. But Wisconsin clearly is in a lot better shape than Purdue right now.
July, 24, 2013
7/24/13
11:00
AM ET
Every weekday over the next two weeks, NittanyNation will take a closer look at a different game this season and how the matchup stacks up for PSU. Up today: Indiana.

The Hoosiers last won a bowl game in 1991, before PSU joined the Big Ten. But head coach Kevin Wilson is slowly turning things around -- and this could be the season in which it all comes together.
No, Indiana won't challenge for the conference title or for a major bowl. But the Hoosiers return 21 of 24 starters, and going bowling for the first time in six years is a definite possibility.
To continue reading this article you must be an Insider
Penn State 2015 Class Debuts At No. 3
BIG TEN SCOREBOARD
Thursday, 8/28
Saturday, 8/30