Penn State Nittany Lions:

Tracy Claeys
June, 26, 2014
Jun 26
12:00
PM ET
June, 11, 2014
Jun 11
12:00
PM ET
If you tried to clap, you'd miss your hands.
April, 24, 2014
Apr 24
12:00
PM ET
Spring games on the horizon at Michigan State, Rutgers and Iowa. Read all about it:
April, 2, 2014
Apr 2
5:00
PM ET
Back from Michigan. And back to the mailbag.

Caleb from MSU writes:
With
Malik McDowell
finally
in the fold
, we now have a better look at the pieces available to the MSU defensive line. That being said, what are the chances McDowell starts and or contributes in a major way this year? With
[Marcus] Rush
and
[Shilique] Calhoun
on the ends, there could be some favorable matchups on the inside. Or do you think he needs time to mature to the college game?
Brian Bennett:
Caleb, it's really tough to predict how much a young guy will contribute before he ever makes it to campus. But McDowell was a big-time recruit, or else we wouldn't have been nearly so interested in him. Mark Dantonio usually likes to redshirt guys on the lines, but he said Wednesday that McDowell would likely play this fall because, "I just think he's too big and strong and fast." The Spartans are excited about
Joel Heath
's potential on the inside, but after losing
Tyler Hoover
and
Micajah Reynolds
off last season's team, there should be some opportunities for McDowell to at least contribute.
---

Kyle G. from Prior Lake, Minn., writes:
Curious as to what your thoughts are on the Gophers defense for this upcoming season. A lot of guys returning. Could they [rank] in the top half of the Big Ten?
Brian Bennett
: Minnesota didn't lose a lot of players off last season's defense, but they must replace their best defensive lineman (
Ra'Shede Hageman
), two starting linebackers (
Aaron Hill
and
James Manuel
) and a very good defensive back (
Brock Vereen
). So those are concerns. But I think Jerry Kill and Tracy Claeys have shown they can put together a strong defense, and they still have some good players to work with such as defensive end
Theiren Cockran
and corner
Eric Murray
. If someone such as
Scott Ekpe
steps up to help replace Hageman in the middle and some young linebackers move forward, this has a chance to be an upper-level Big Ten defense.
---

Jon L. via Twitter writes:
Read some stuff at NU specific sites but interested in a broader opinion... What will
Kain Colter
's legacy be in the BIG and at NU?
Brian Bennett:
Good question, but the answer is tied to the eventual outcome of the unionization case. Maybe the full NLRB or the Supreme Court eventually rules against the union movement, or Northwestern's players elect not to unionize. Then this could become an interesting footnote. Or maybe Colter winds up as college sports' version of Curt Flood, an excellent player in his own right who's now known more for his role in bringing about free agency in baseball. Colter's legacy as a player is solid, as he helped lead Northwestern to 10 wins in 2012 and guided the Wildcats to their first bowl victory in 64 years. But whether he's eventually viewed as a pioneer who helped improve athletes' causes or someone who brought down college sports as we know them can't possibly be known yet.
---

Timmer S. via Twitter writes:
Would an annual B1G-ACC football tourney ever be possible? Would be an awesome Week 2 event. Probably tough to schedule.
Brian Bennett:
It would be a blast, and there are already some natural tie-ins with Penn State-Pitt, the Rutgers and Maryland connections and Notre Dame. But as we saw with the short-lived Big Ten/Pac-12 alliance idea, it's just extremely difficult to schedule these types of things in football because teams have vastly different priorities, rivalries, etc. The ACC has talked about having such an alliance with the SEC, where there are already a lot of established interconference clashes. So I don't think we'll ever see a Big Ten/ACC football challenge materialize.
---



Chris Grandview, Mo., writes:
Brian, I am wondering why more and more people want Penn State over Iowa to play Nebraska on Black Friday? I mean, there is history for both Iowa and Penn State playing Nebraska, but why now does everyone think Penn State will be a better matchup now? Look at last year; no one picked Iowa, like I did, to beat Nebraska and Iowa completely dominated Nebraska. Are fans of the Big Ten afraid Iowa can't handle their own now, or that Penn State is some better program always, compared to Iowa? Thanks for your time, sir!
Brian Bennett:
Fans from both Penn State and Nebraska have enjoyed that series, and there is some interesting history there, as you noted. So I understand that. But I've also said repeatedly that the Heroes Game series between Iowa and Nebraska just needs time to grow. The geography makes that a natural potential rivalry, and it will also be a West Division game. The Hawkeyes' victory in Lincoln was the first step in making that more of an actual rivalry. These things need some time to develop, and I think eventually Iowa-Nebraska can become a much more interesting end-of-season affair.
March, 3, 2014
Mar 3
12:00
PM ET
Alright, alright, alright ...
December, 17, 2013
12/17/13
11:00
AM ET
Two winters ago, the Big Ten had an
unprecedented 40 coaching changes
. Three teams replaced their head coaches, and three others replaced three or more assistants.
Last year's coaching carousel
wasn't quite as packed, although eight of the 12 teams made at least one change, and Purdue had a complete staff overhaul. There were 32 changes in all, including nine at the coordinator level.
It's still early in the so-called silly season, and a
big coaching domino just fell in Austin, Texas
, but the Big Ten coaching realm has been relatively quiet so far (operative phrase: so far). The departures of Penn State assistants Charlie Fisher and Ron Vanderlinden are the only confirmed coaching changes in the league.
[+] Enlarge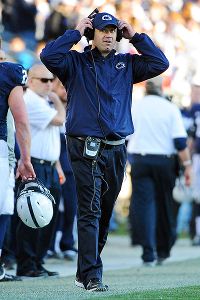 Rich Barnes/USA TODAY SportsNFL teams have their eyes on coach Bill O'Brien, but it's tough to say if he is ready or willing to leave Penn State just yet.
The Big Ten could avoid a head-coaching change for the first time since after the 2009 season. Athletic directors Mike Thomas (Illinois), Shawn Eichorst (Nebraska) and Dave Brandon (Michigan) have affirmed support for their head coaches.
Eichorst's statement released Nov. 30
didn't explicitly say coach Bo Pelini would return for the 2014 season, but it suggested as much.
Eichorst also shot down the claim from Mack Brown's attorney
that a Nebraska representative had contacted him about Brown's services.
Michigan State head coach Mark Dantonio, who is 41-12 in the past four seasons, has been mentioned as a fringe candidate for the Texas job. But Dantonio, who was born in Texas but grew up in Ohio, seems unlikely to leave a great situation at MSU, especially with a sizable raise coming his way. His boss, athletic director Mark Hollis, said Monday that he has "every reason to believe"
Dantonio and defensive coordinator Pat Narduzzi both will return
in 2014.
Potentially the only head-coaching drama in the Big Ten surrounds Penn State's Bill O'Brien, who last month completed his second winning season at the school despite heavy NCAA sanctions. O'Brien, who came to Penn State from the NFL's New England Patriots, talked with several NFL teams about coaching vacancies after the 2012 season but opted to stay put.
CBSsports.com's Jason La Canfora
reported Sunday that the Minnesota Vikings and Houston Texans are interested in O'Brien -- the Washington Redskins soon could be, too -- and that O'Brien is ready to return to the NFL.
It's the belief here and elsewhere that O'Brien will head to the NFL, but potentially not right away. He has one of the nation's top young quarterbacks at Penn State in
Christian Hackenberg
, the Big Ten freshman of the year, and likes having his family in Happy Valley. The NCAA reduced some of its scholarship sanctions against Penn State in September, and it's possible the final two years of the postseason ban will be eliminated. Wouldn't O'Brien like to compete for a Big Ten title with Hackenberg before returning to the NFL? Stay tuned.
Many assistant coach changes take place after the bowl season, but early indications are the Big Ten will remain relatively stable. After replacing two-thirds of his staff last winter, Illinois' Tim Beckman is expected to
keep the same group of assistants
for a make-or-break run in 2014. Northwestern was the Big Ten's biggest disappointment this season, but Pat Fitzgerald intends to keep his staff intact for the fourth straight year.
Indiana coach
Kevin Wilson
has yet to make any staff changes despite another horrific season on defense, although some still could be coming.
Michigan's Brady Hoke doesn't anticipate making changes
despite increased criticism for offensive coordinator Al Borges and line coach Darrell Funk. Pelini has been extremely loyal to his staff, and it's unlikely we'll see much movement at Iowa, Purdue and Wisconsin.
Even some of the Big Ten's top assistants might not be going anywhere. Narduzzi, who reportedly declined the head-coaching job at Connecticut, could remain at Michigan State for another year as more attractive jobs likely will open next year both regionally and nationally. Minnesota defensive coordinator Tracy Claeys, who masterfully led the team during Jerry Kill's health-related absence, has received interest elsewhere but
doesn't sound like he's ready to leave Kill
after two decades on his staff.
Anyone who follows the silly season knows there's a long way to go. We even saw a coaching change after spring practice began, as Jim Bridge went from Illinois to Purdue. It's naive to think more aren't coming around the Big Ten.
Several Ohio State assistants have been mentioned for other jobs, although two landing spots -- Miami (Ohio) and Florida Atlantic -- are off the board. Buckeyes offensive line coach Ed Warinner, the team's best assistant in my view, has been mentioned as a potential candidate at Army, where he spent 13 seasons.
Expect some shuffling in the coming weeks and months, but the Big Ten likely won't approach the big numbers of the past two winters. It'll be interesting to see how the relative stability impacts the on-field results in 2014.
December, 16, 2013
12/16/13
12:00
PM ET
Big Ten bowl season is less than two weeks away.
November, 5, 2013
11/05/13
1:00
PM ET
The deciding weeks of the season are upon us, and after one November Saturday, we have new leaders in the races for offensive and defensive player of the year. Let's take a look at where some awards competitions stand:
Graham–George Offensive Player of the Year
[+] Enlarge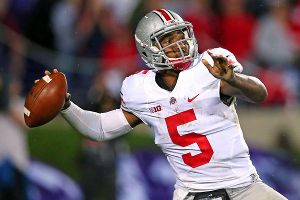 Jonathan Daniel/Getty ImagesBraxton Miller has 13 TD passes and two interceptions in B1G play.
1. Ohio State QB Braxton Miller (Last week: 2):
The preseason leader resumes his perch. It will be interesting to see if Miller's missed time in the nonconference season will hold him back for this award. But in league play he has been dynamite, completing 72.8 percent of his passes for 1,108 yards and 13 touchdowns, with only two interceptions. He has run for 328 yards and two scores in five conference games.
2. Nebraska RB Ameer Abdullah (LW: 3):
Abdullah took over the Big Ten rushing lead last week, with 1,108 yards in eight games. He is without a doubt the leader of the Nebraska offense right now.
3. Wisconsin RB Melvin Gordon (LW: 1):
Gordon had been No. 1 for several weeks but had only 62 yards on 17 carries at Iowa. That makes two subpar performances in conference play, to go along with his showing at Ohio State. Gordon can still get back on top with a big finish, and the battle for the title of best Big Ten back among him, Abdullah and Ohio State's
Carlos Hyde
is one to watch down the stretch.
4. Penn State WR Allen Robinson (LW: NR):
The Nittany Lions star is second nationally in receiving yards per game (130.4) and went over 1,000 yards for the season on Saturday. He's on pace for a 1,500-yard year and should claim his second straight Big Ten receiver of the year trophy.
Nagurski–Woodson Defensive Player of the Year
1. Ohio State LB Ryan Shazier (LW: 2):
Shazier takes over the lead after a seven-tackle, two-sack performance against Purdue. He is tied for the Big Ten lead with 11 tackles for loss, and it doesn't hurt that the Buckeyes defense is starting to take off.
2. Michigan State DE Shilique Calhoun (LW: NR):
He's tied with Ohio State's
Noah Spence
for the Big Ten sacks lead (6.5) and for the lead in TFLs while leading the conference with three fumble recoveries. His pass rushing ability has taken Michigan State's defense to a new level.
3. Wisconsin LB Chris Borland (LW: 1):
Borland missed last week's Iowa game with a hamstring injury after sitting out most of the previous game against Illinois. He has had a tremendous season, but missing conference games is costly in a tight battle for top defensive honors.
4. Michigan State LB Denicos Allen (LW: NR):
The reigning Walter Camp national defensive player of the week, Allen is tied with Shazier and Calhoun with 11 tackles for loss and has been an integral part of the Spartans' dominating defense.
5. Michigan State CB Darqueze Dennard (LW: 3):
You might say there are too many Spartans on this list. To which we'd respond: Have you seen that defense?
Dave McClain/Hayes–Schembechler Coach of the Year
1. Ohio State's Urban Meyer:
Can Meyer break through and earn a coach of the year award, unlike Jim Tressel? It's pretty hard to argue with 21 straight wins.
2. Michigan State's Mark Dantonio:
The Spartans are 8-1 and 5-0 in the Big Ten. Dantonio took some heat early on for his quarterback decisions, but they have worked out quite nicely.
3. Minnesota's Tracy Claeys:
Here's an interesting case. Claeys is the interim coach for the Gophers while Jerry Kill is focusing on his epilepsy treatment. The Gophers are 3-1 with a three-game winning streak under Claeys. If the team finishes the year out strong, Claeys might get some support for this award.
October, 31, 2013
10/31/13
12:00
PM ET
October, 31, 2013
10/31/13
10:15
AM ET
Storylines to watch this week in the Big Ten:
1. The long October is over
. Has it really been five weeks since Ohio State and Wisconsin played? In some ways, it feels like 10. The Big Ten's October schedule was downright scary -- and not in a Happy Halloween kind of way. Well, the league slate turns interesting again this week as No. 21 Michigan visits No. 22 Michigan State and No. 24 Wisconsin visits resurgent Iowa. Even Minnesota's visit to Indiana holds some intrigue. So long to mismatches like Ohio State-Purdue. That's this week, too? OK, they can't all look good.
[+] Enlarge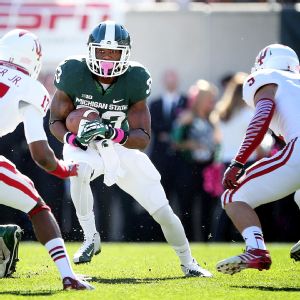 Mike Carter/USA TODAY SportsJeremy Langford and Michigan State can all but run away with the Legends division with a win over Michigan on Saturday.
2. Michigan State might run away with the Legends division.
We'll find out this week. If the Spartans beat Michigan and Northwestern snaps its four-game skid at Nebraska, MSU can book its tickets to Indy. With five straight wins, Michigan State is clearly playing the best football in the Legends. Other than the Spartans, only Minnesota has won consecutive games to enter November. And really, looking at Nebraska's schedule and the way it played last week, it's hard to consider the Huskers a contender at this stage.
3. Let's go bowling.
Friday is Nov. 1, so it's OK to discuss bowl lineups. Taking a peak at the Big Ten, Ohio State, Michigan State, Michigan and Minnesota are bowl eligible. Wisconsin or Iowa will join the mix Saturday, as can Nebraska with a victory over Northwestern. As for the Wildcats, after going 0 for October, it will be getting late in their bid to get back to the postseason without a victory in Lincoln. Indiana has some serious work to do, and Illinois ... the Illini just need to win for the first time in 18 Big Ten games.
4. That's offensive.
Five Big Ten teams rank among the top 16 nationally in scoring. Thirty-six times this year, a Big Ten team has scored 40 or more points -- already up from 27 times all of last season. This week, two of the league's best offensive units face stern tests. Notably, Michigan, which averages 42.4 points, faces a Michigan State defense that allows only 12.3 points, third nationally. Wisconsin, averaging 39.9, visits Iowa and its 12th-ranked scoring defense, giving up 18.1. What will give? Answer that, and you've got your story of the weekend.
5. Braxton Miller needs to do something for an encore.
The Ohio State quarterback is playing the best football of his career after a super-efficient effort last week in the Buckeyes' stomping of Penn State. Miller accounted for 320 yards and five touchdowns on only 35 total-offense attempts in less than three quarters. Up next, Purdue. You've got to wonder when the Boiler D caves, getting no help from the dismal Purdue offense. Maybe it's this week against an Ohio State juggernaut that's scoring 47.3 points per game.
6. Nebraska is searching for defensive answers.
The Huskers expected growing pains with this defense, but they did not expect to be remain so unsettled in the 10th week of the season. Particularly at linebacker, Nebraska has developed little consistency. This week, apparently, freshmen
Josh Banderas
and
Michael Rose
return as starters. Coach Bo Pelini stripped the top-unit players of their Blackshirt practice jerseys. Juggling personnel won't work, though, if the Huskers can't develop a more physical presence.
7. Minnesota coach Jerry Kill is moving toward a return.
Kill, since taking a medical leave of absence following his fifth game-day seizure on Oct. 5, has resumed more coaching responsibilities over the past two weeks. He watched from the press box as the Gophers beat Northwestern, and coached a bit from the booth in Minnesota's upset win over Nebraska. On the road against Indiana on Saturday, Kill plans to do more of the coaching, though he continues to leave control of the sideline to Tracy Claeys, acting head coach and defensive coordinator.
8. Big test for Iowa
. It's time to find out if the Hawkeyes are just a nice story, with their competitive play against Michigan State and Ohio State, followed by an overtime win over Northwestern, or if coach Kirk Ferentz's club is going to make some real noise this fall. Wisconsin presents a stiff challenge, but Iowa's solid rush defense and physical offensive play might make this a good matchup for the Hawkeyes. The schedule sets up well this month for Iowa to turn into perhaps the Big Ten's biggest surprise.
9. Penn State needs to find a fast defensive fix.
The past two losses have turned ugly for the Nittany Lions, who surrendered more points to Ohio State last week than in any game since the 19th century. In its other October games, PSU allowed 84 points, splitting with Michigan and Indiana. All of it has led to scrutiny of defensive coordinator John Butler, defended adamantly this week by coach Bill O'Brien. The Nittany Lions get some relief Saturday against Illinois. Butler shifted a few bodies in the secondary, but he can only work with the talent on hand, and it's not great after key losses to graduation and low numbers because of probation.
10. Michigan is trying to shake its road woes
. Even with that forgettable escape at Connecticut in September, Michigan remains just 6-8 away from the Big House under coach Brady Hoke. He's 19-0 at home, but that won't do any good on Saturday in East Lansing, where Michigan State sacked Michigan quarterbacks seven times in a 28-14 win two years ago. The Wolverines said this week they embrace the hostile environments at their rivals' stadiums. Numbers tell a different story.
October, 17, 2013
10/17/13
10:15
AM ET
Ten things to keep your eyes on in the five Big Ten games on Saturday:
[+] Enlarge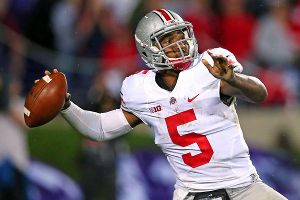 Jonathan Daniel/Getty ImagesCan Braxton Miller and Ohio State's high-powered offense move the ball against Michigan State's stingy defense?
1. Can Iowa's defense slow down Braxton Miller and the Buckeyes?
The Hawkeyes boast a solid group of linebackers, and the Hawkeyes are ranked ninth in the country in total defense and 12th in scoring defense. Still, they haven't faced an offense anywhere close in talent to Ohio State, and it'll be interesting to see how Kirk Ferentz's squad matches up. For Ohio State, it hasn't mattered who's lined up under center or in the backfield. The Buckeyes have posted at least 31 points in every game -- and 40 points in five out of six. Iowa hasn't allowed more than 30 points all season. Something has to give.
2. Big injuries at Northwestern:
The Wildcats' read-option could be in trouble Saturday. Both quarterback
Kain Colter
and tailback
Venric Mark
are nursing injuries, and they're both listed as questionable. Even if they do return, neither will be at 100 percent -- and both are crucial to a team that's been forced to rely on a high-scoring offense to win.
3. Different head coach, different starting quarterback:
A lot has changed for Minnesota in the past few weeks. In Week 1, it looked as if
Philip Nelson
was the quarterback of the future and head coach Jerry Kill would lead this team to continued improvement. Now? Well,
Mitch Leidner
has been promoted to starting quarterback, while Kill has taken a leave of absence due to seizures. Defensive coordinator Tracy Claeys will take over for Kill on Saturday, and Claeys will be coaching from the sideline -- he usually coaches from the press box -- against Northwestern. Claeys still plans to call the defensive plays, so he'll have to spend some time committing those play calls to memory. He won't have those charts in front of him anymore.
4. Michigan's response:
The Wolverines suffered a heartbreaker in Happy Valley, as they couldn't put the game away despite several chances. They're now set to face the team, Indiana, that bounced the Nittany Lions. Michigan may have five wins already on the season, but it's been extremely shaky. A convincing win against the Hoosiers -- and their Big Ten-best passing attack -- could go a long way in showing this team is still a contender. And, of course, that all starts with
Devin Gardner
.
5. Inexperience no problem for this defensive line:
The Buckeyes had to rebuild their defensive line from scratch this season as no starters returned, but these young players have stepped up in a big way. They slowed down Wisconsin's running attack and have contributed to the sixth-best run defense in the nation. True freshman DE
Joey Bosa
is listed as the starter against Iowa this week, and he already has four tackles for loss and a touchdown listed next to his name.
Mark Weisman
and the Hawkeyes will face a stiff test Saturday.
[+] Enlarge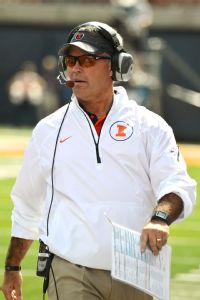 Keith Gillett/Icon SMIIllinois coach Tim Beckman says the players believe and are no longer saying "Can we do it" but instead are now saying "When we do it."
6. Illini still riding a conference-worst streak:
Illinois has
dropped 15 straight Big Ten games
, which means it last won a conference game on Oct. 8, 2011, against Indiana. Illinois plays Purdue on Nov. 23 but, before then, there will be no easy victories. The Illini will play Wisconsin this weekend, followed by Michigan State, Penn State, Indiana and Ohio State. Luckily for Tim Beckman's crew, it's still nowhere close to the Big Ten record for the worst conference losing streak. That unfortunate record-holder would be Northwestern, which lost 38 straight Big Ten games between 1978 and 1982.
7. Spartans' offense in the midst of a turnaround:
Early on, it seemed as if Michigan State's offense would be a liability all season. After all, in the first two games, the defense scored more touchdowns while Mark Dantonio couldn't settle on a quarterback. But
Connor Cook
has since taken over and the running game has taken off. Cook's QBR has taken a step up each week against the FBS, from 17.1 to 27.8 to 68.1 and, last Saturday, to 83.1.
Jeremy Langford
is also starting to make a name for himself, with four touchdowns this past week. The Spartans are trending upward, and they might be difficult to stop. It won't be easy for Purdue.
8. MGIII might be unstoppable the rest of the way:
Yes, the Buckeyes limited Wisconsin's
Melvin Gordon
to 74 yards on 15 carries -- but he'll face just one more top-10 defense the rest of the regular season. He's third in the FBS with 870 rushing yards, ranks second nationally in yards per carry (9.7) among tailbacks and is 10th in the nation in rushing touchdowns (8). He's one of the most exciting players in the Big Ten, and every team going forward will likely struggle stopping him. His next opponent, Illinois, is allowing nearly 200 rushing yards a game.
9. Can Purdue do anything right?
Nothing's been easy for Darrell Hazell's Boilermakers. They just scooted past FCS team Indiana State 20-14, and four of their five losses were decided by 31 points or more. Purdue's future hopes are pinned to true freshman quarterback
Danny Etling
. But, for now, there's no guarantee that Purdue will escape the 2013 season with another win. It's ranked No. 118 in scoring offense and, in scoring defense, it's ranked No. 114. At this point, Purdue would just be fortunate to hang in tough against Michigan State.
10. Home of inconsistent quarterbacks and good defenses:
Welcome to the Big Ten! The conference boasts three teams (Michigan State, Iowa, Wisconsin) that are nationally ranked in the top 10 in total defense, and three more (Michigan, Ohio State, Penn State) that are within the top 20. Still, the passing offenses haven't exactly taken off as planned. The Big Ten's top QBs entering this season -- arguably
Taylor Martinez
, Gardner and Miller -- have either missed time due to injury or have been on the receiving end of some quarterback controversy.
October, 16, 2013
10/16/13
12:00
PM ET
One more win, and it's on to the World Series.
October, 9, 2013
10/09/13
2:15
PM ET
Freshman
Danny Etling
will make his first career start at quarterback for Purdue this weekend, two weeks after making his college debut vs. Northern Illinois.
Boilermakers fans are excited about the future of their young signal-caller, and in that they have company in the Big Ten. Though quarterback is generally viewed as a position that takes experience and maturity to handle, several Big Teams have gone with a youth movement under center.
[+] Enlarge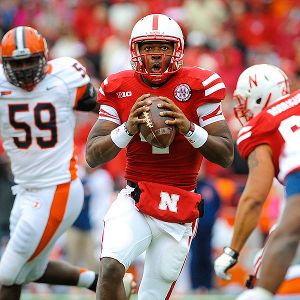 Eric Francis/Getty ImagesRedshirt freshman signal-caller Tommy Armstrong has shown he has a bright future at Nebraska while filling in for Taylor Martinez.
In fact, Etling can look across the field on Saturday and see another young player in his position: Nebraska redshirt freshman
Tommy Armstrong
, who is expected to fill in for the injured
Taylor Martinez
for the third straight game. Etling will be the fourth freshman quarterback to start for a Big Ten program this season, meaning a full third of the league has trusted its offense to a player in his first year of college competition.
What happened to making guys wait their turn and hold clipboards for a few years? The explosion of offense throughout the sport has helped speed the development for quarterbacks.
"I think they are more prepared earlier with all the 7-on-7s and everything that's going on," Michigan coach Brady Hoke said. "There's been more of an opportunity for guys to go out and throw all summer long."
"Some of these kids are playing year round football," Indiana coach Kevin Wilson said. "They're coming in more prepared, and the talent's better. I think the offensive game has gotten to where maybe it's helping quarterbacks."
Freshman quarterbacks aren't a new phenomenon. Minnesota started freshman
Philip Nelson
last year, while Wisconsin started turned to redshirt freshman
Joel Stave
. Indiana's
Nate Sudfeld
didn't start but saw a lot of time last season as a freshman. Two years ago,
Braxton Miller
started for Ohio State his first year of playing, while Indiana played freshman
Tre Roberson
. Current seniors Martinez and Illinois'
Nathan Scheelhaase
both started as redshirt freshman.
Still, the crop of young quarterbacks seems especially large this year, and it's one that could impact the Big Ten for years to come.
The headliner of the group is Penn State's
Christian Hackenberg
, who was ranked as the nation's No. 1 pro-style quarterback recruit last year. Despite not arriving on campus until the summer, Hackenberg has started since the opener. He ranks second in the league in passing yards with 1,367 while throwing for eight touchdowns and four interceptions.
"When you see a guy with [Hackenberg's] body language and how he handles himself, I think it's very impressive," said Hoke, whose Wolverines play at Penn State on Saturday. "I think he looks very composed and he has handled different situations very well. A lot of things impress me about him, like the way he moves up in the pocket and I think he throws a great football."
"

I think they are more prepared earlier with all the 7-on-7s and everything that's going on. There's been more of an opportunity for guys to go out and throw all summer long.

"

Michigan coach Brady Hoke on freshmen quarterbacks playing in college football.
Minnesota's experience with a first-year quarterback didn't end with Nelson. Redshirt freshman
Mitch Leidner
stepped in earlier this season when Nelson was hurt and then got the start over Nelson last week at Michigan. At 6-foot-4, 230-pounds, he's a hard-nosed runner who ran for 151 yards and four touchdowns against San Jose State. Last week, he completed 14 of 21 passes for 145 yards and ran for 66 yards.
"I really thought he made some big plays with his legs and executed really pretty good," acting coach Tracy Claeys said after the loss to Michigan.
Armstrong had to step in for Martinez, who continues to battle a case of turf toe. He has gotten Huskers fans excited by his play, completing 20 of 28 passes for 304 yards, three touchdowns and no interceptions in his first two games. The idea that he should replace a healthy Martinez is silly, but the future looks bright.
"He's still a work in progress," Nebraska coach Bo Pelini said. "There are some mistakes he made that might not have been real apparent to the naked eye, but they're still there and he's still learning a lot. I think every time he goes out there, it gives him an opportunity to grow. Mistakes and things will happen to him, but he's a smart guy and he understands the offense and what's being asked of him."
Etling completes the quarter of first-year quarterbacks. Purdue fans were thrilled to see him throw for 241 yards and two touchdowns (along with two picks) in the otherwise disappointing loss to Northern Illinois. Etling was the most important recruit in Hazell's first signing class, and his ceiling is so high that former starter
Rob Henry
has been moved to safety for the rest of his senior year. While Hazell says Etling opens up the entire passing game for the Boilers, he won't put too much on his plate early.
"He's a very bright guy who works very hard, and he's one heck of a talent," Hazell said. "I'm really looking forward to his progress here in the next few years."
Several Big Ten fan bases are saying the same thing right now about their starting quarterback.
December, 12, 2012
12/12/12
9:00
AM ET
Head coaches are like quarterbacks. They get too much credit and too much blame.
Assistant coaches are like nose tackles. They don't get nearly enough credit despite playing vital roles.
Today, we'll change it up and give some recognition to Big Ten assistant coaches who did exemplary jobs with their position groups or, in some cases, units in 2012. Each of these coaches fostered improvement this season. Some took units in bad shape and made them better. Others took units in decent shape and made them very good. Some entered the season with skeptics and quieted them.
We came up with 13 assistants who deserve recognition. Yes, we realize we're leaving out some quality folks, but we had to cap it somewhere and wanted to spread the love around to the different teams.
Here's the rundown in alphabetical order:
Chris Ash, Wisconsin, defensive coordinator/secondary:
All the attention on the offense's turbulent season took the spotlight away from the good things happening on the defensive side. Wisconsin finished in the top 25 nationally in total defense, scoring defense, rushing defense and pass efficiency defense. The Badgers held nine opponents to 21 points or fewer and gave an inconsistent offense chances to win every time out. Ash will be missed as
he joins ex-Wisconsin coach Bret Bielema at Arkansas
.
[+] Enlarge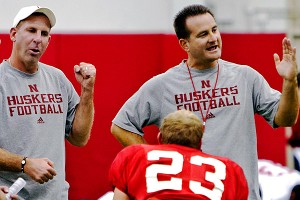 AP Photo/Nati Harnik, FileTim Beck, right, coordinated Nebraska's Big Ten-leading offense for head coach Bo Pelini.
Tim Beck, Nebraska, offensive coordinator/quarterbacks:
The second-year play caller oversaw the Big Ten's top offense, which averaged 462.2 yards per game (24th nationally) and 35.1 points per game (28th nationally). Junior quarterback
Taylor Martinez
made significant strides under Beck's watch, and Nebraska survived the loss of star running back
Rex Burkhead
for most of the season thanks to contributions from
Ameer Abdullah
and others.
Tracy Claeys, Minnesota, defensive coordinator:
An improved defense sparked Minnesota to a 4-0 start and eventually to bowl eligibility for the first time since the 2009 season. The Gophers pass rush showed life for the first time in years as senior end
D.L. Wilhite
and others put pressure on opposing quarterbacks. Minnesota was especially good against the pass, ranking 11th nationally and 20th in pass defense efficiency. Although the offense remains a work in progress, Minnesota should be pleased with the direction on defense under Claeys.
Adam Cushing, Northwestern, offensive line:
Cushing's recruiting ability always has stood out, but his coaching skills had been questioned as Northwestern struggled to convert promising line prospects into powerful blockers. The Wildcats went from a finesse offense to a power offense this season, blasting off of the line to the tune of 230.9 rush yards per game. Red zone offense went from a weakness to a strength as Northwestern tied for 17th nationally. Cushing's line paved the way for star running back
Venric Mark
.
Rich Fisher, Nebraska, wide receivers:
Nebraska isn't known for its wide receiver play, but things are changing under Fisher's watch. Led by standout sophomore
Kenny Bell
, the Huskers' top three receivers combined for 1,657 yards and 11 touchdowns on 115 receptions. Just as important, the receiving corps helped Nebraska's bread-and-butter run game with
effective blocking throughout the season
. Fisher's hiring after the 2010 season raised some eyebrows, as he had taken a break from college coaching, returned to the high school ranks and also served as a
golf instructor in Massachusetts
. But he definitely looks like a great addition to Bo Pelini's staff.
Patrick Higgins, Purdue, wide receivers:
Higgins played a significant role in Purdue's late-season surge, as he took over the offensive play-calling duties after coordinator Gary Nord suffered a severe back injury. Purdue won its final three games with Higgins and head coach Danny Hope handling the play calls. Higgins also did a nice job with Purdue's wide receiving corps, despite the fluctuating quarterback situation. Three veteran Boilers receivers eclipsed 40 catches and 300 receiving yards, and redshirt freshman
Dolapo Macarthy
showed promise.
Seth Littrell, Indiana, offensive coordinator/tight ends/fullbacks:
Head coach Kevin Wilson brought in Littrell to boost Indiana's passing attack, and Littrell delivered despite losing starting quarterback
Tre Roberson
in Week 2. Indiana went from 80th nationally in pass offense to 19th, leading the Big Ten with 311.2 yards per game. With help from assistant offensive coordinator/quarterbacks coach Kevin Johns, Littrell managed the quarterback situation pretty well as both
Cameron Coffman
and
Nate Sudfeld
had success. Littrell will go largely unnoticed because of Indiana's low profile and 4-8 record, but he was one of the Big Ten's best coaching additions for 2012.
Curt Mallory, Michigan, secondary:
Michigan's defensive line dominates the spotlight because that's where coordinator Greg Mattison and head coach Brady Hoke put their primary focus, but Mallory has done a really nice job with a secondary that struggled mightily under the previous regime. Despite losing promising cornerback
Blake Countess
to a
torn ACL in the season opener
, Michigan still finished second nationally (behind Nebraska) in pass defense (155.2 ypg allowed). Safety
Jordan Kovacs
has blossomed under Mallory's watch, and while the depth in the secondary isn't where it will be eventually, Mallory has managed things well.
[+] Enlarge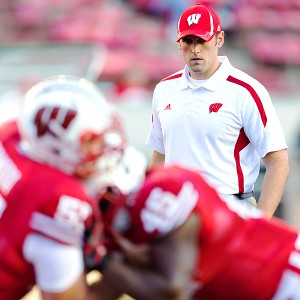 Jeff Hanisch/USA TODAY SportsBart Miller went from grad assistant to coach of a Wisconsin O-line that pummeled its way to Pasadena.
Bart Miller, Wisconsin, offensive line:
Miller began the season as a graduate assistant and moved into one of the team's top assistant roles in Week 3 after the surprising dismissal of veteran line coach Mike Markuson. Although Wisconsin's line didn't have its typical dominant performances every time out, Miller fostered obvious improvement and cohesion during the course of the season. The finished product showed up in the Big Ten championship game against Nebraska, as Wisconsin bullied the Huskers to the tune of 70 points, 539 rushing yards and eight rushing touchdowns.
Reese Morgan, Iowa, defensive line:
Iowa didn't have much to cheer about in 2012, and some of the staff changes Kirk Ferentz made led to some growing pains. Morgan faced a significant challenge in moving from offensive line to defensive line, which returned only a handful of players who had logged field time in 2011. Given the youth and inexperience along the Hawkeyes' defensive front, Morgan did a nice job in Year 1.
Joe Gaglione
had a nice senior season (9 tackles for loss, 5 sacks, 2 forced fumbles) and young players like
Louis Trinca-Pasat
showed promise. The line held its own in the first half of the season before struggling late.
Pat Narduzzi, Michigan State, defensive coordinator:
Many of these assistants took questionable units and improved them. Narduzzi led an elite defense that entered the season with high expectations and met them. Make no mistake: Michigan State's defense is the only reason the team found itself in every game this season. The Spartans had a few standouts, namely linebacker
Max Bullough
, but their overall team defense and stinginess stood out. Narduzzi is one of the nation's premier coordinators and should land a head-coaching job in the near future.
John Strollo, Penn State, tight ends:
Although O'Brien's offense is a tight end's dream, Strollo did a terrific job of developing young and unproven players this season. Redshirt freshman
Kyle Carter
emerged into one of the Nittany Lions' top passing threats, and junior
Matt Lehman
and true freshman
Jesse James
also stepped up at times. Of Penn State's top five receiving-yards leaders this season, three players are tight ends (Carter, Lehman and James).
Ed Warinner, Ohio State, offensive line/co-offensive coordinator:
Warinner took an underachieving Buckeyes offensive line with serious depth questions and turned it into quite possibly the best line in the league. The Buckeyes' front five turned a corner in Big Ten play and created lanes for
Braxton Miller
,
Carlos Hyde
and the Big Ten's top scoring offense. Warinner was the Big Ten's best assistant hire of the last offseason and earns our vote as the league's top assistant in 2012.
College Football Player Rankings: 41-60
BIG TEN SCOREBOARD
Thursday, 8/28
Friday, 8/29
Saturday, 8/30