Penn State Nittany Lions:

Top 5 positions with room to improve
February, 14, 2014
2/14/14
9:00
AM ET
STATE COLLEGE, Pa. -- The end of
this week's countdown
is finally here. And if you're surprised by this top choice, then you just haven't been watching the past two seasons ...
No. 1:
Safeties
[+] Enlarge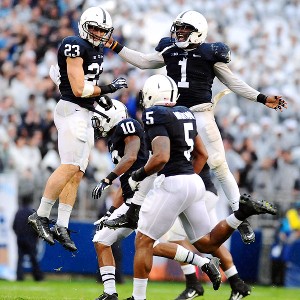 Evan Habeeb/USA TODAY SportsPenn State defensive back Ryan Keiser (23) has experience at safety, but he must improve to get on the field in 2014.
The players:
Adrian Amos
(50 tackles, six pass deflections),
Ryan Keiser
(38 tackles, 11 pass deflections),
Jesse Della Valle
(21 tackles),
Malik Golden
(eight tackles),
Koa Farmer
(incoming freshman),
Marcus Allen
(incoming freshman),
Christian Campbell
(incoming freshman)
Last season:
This group has been the Nittany Lions' Achilles' heel for the past two seasons. Amos started 2013 as a safety while
Trevor Williams
tried his hand at cornerback. Neither fared well, however, and that experiment was abandoned midseason with Keiser taking over. Keiser didn't fare any better, and the safeties found themselves constantly out of position. A third-and-long play was no guarantee for a punt the next down, and better quarterbacks -- like
Blake Bortles
and
Braxton Miller
-- absolutely shredded this secondary.
What's missing:
Ability. There's really no other way to put it. You could go with speed or athleticism or awareness, but all adjectives point back to that same simple trait: talent.
Malcolm Willis
was a really hit-or-miss player last season, but he was at least a team leader who knew the signals well enough to become the "quarterback of the defense." With his graduation, that won't be easily replaced either. Amos is a great corner, too, but he wasn't such a great safety.
Moving forward:
It's not an easy exercise to even decipher who might be a safety next season. Amos didn't fare well, but the newest roster update still puts him at the position. Even
Jordan Lucas
could technically play the position. Those two are clearly the best cornerbacks, but the concern is obviously how much of a liability safety is with the team's top two DBs both at corner. Last season, PSU fared better with both at corner. This season -- who knows? One of the incoming freshmen could become a Day 1 starter, or maybe Golden takes over after a strong spring. Whatever happens, though, the most surprising move might be having two of the more experienced safeties -- Keiser and Della Valle -- both starting alongside one another. Both came to Penn State without scholarships and have impressed in that regard, but they're simply not a good season-long solution to PSU's issues at safety.
On the bright side, though, could Penn State's safety play really be any worse than it was the last two seasons?
February, 13, 2014
2/13/14
9:00
AM ET
STATE COLLEGE, Pa. -- We've arrived at the top two in our
countdown of the positions with the biggest question marks
for Penn State.
The top pick will be unveiled Friday. But up today is a group that wouldn't be a bad choice for No. 1 either ...
No. 2:
Offensive line
[+] Enlarge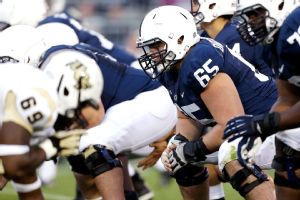 AP Photo/Gene J. PuskarMiles Dieffenbach (65) is one of Penn State's veterans along the O-line.
The players:
Donovan Smith
(10 starts),
Miles Dieffenbach
(11 starts),
Angelo Mangiro
(11 games played),
Andrew Nelson
(redshirted),
Brendan Mahon
(redshirted),
Wendy Laurent
(five games played),
Anthony Alosi
(six games played),
Tanner Hartman
(one game played),
Chasz Wright
(early enrollee),
Noah Beh
(incoming freshman),
Brendan Brosnan
(incoming freshman),
Chance Sorrell
(incoming freshman)
Last season:
This group started off slow and struggled picking up the heavy blitz, but it really improved as the season wore on. Tailbacks
Zach Zwinak
and
Bill Belton
combined for just two 100-yard rushing performances in the first seven games but finished the last five games with five -- and Penn State even outplayed Wisconsin's mammoth line in the finale.
John Urschel
was a first-team All-Big Ten selection, while three substitutes --
Garry Gilliam
,
Eric Shrive
and Mangiro -- saw considerable time.
What's missing:
Experience and depth. Eight players saw a lot of time last season and five are now gone. PSU has just one returning offensive tackle on scholarship with any kind of game experience, and new coach James Franklin will be forced to plug in two rookies on the starting line. Health is obviously paramount here.
Moving forward:
Former coach Bill O'Brien raved about Nelson, who redshirted last season as a freshman, and Nelson will almost certainly take over the starting right tackle position. There's really no one else to consider, outside of incoming freshmen and walk-ons. But the big question comes from the interior. At guard and/or center, Dieffenbach and Mangiro will be a part of some kind of combination, but there's no telling who else fits into Franklin's plans. Laurent could be the center. Or Mangiro could take over that position and Franklin could slide in Mahon at one of the guard positions. Or maybe Franklin decides to move a defensive tackle to the offensive side of the ball. There are a lot of moving pieces right now, and a lot has to go right for this group to start off smoothly. The question marks surrounding this position likely won't be answered by Week 1.
February, 12, 2014
2/12/14
9:00
AM ET
STATE COLLEGE, Pa. -- We've made it to the middle of this week's countdown, and this next position shouldn't come as much of a surprise. This group is now without Penn State's MVP.
No. 3:
Wide receivers
[+] Enlarge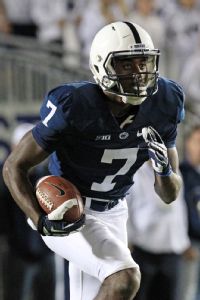 Matthew O'Haren/USA TODAY SportsGeno Lewis' 18 catches as a redshirt freshman makes him the leading returning wide receiver for Penn State.
The players:
Geno Lewis
(18 catches, 234 yards),
Richy Anderson
(13 catches, 111 yards),
Matt Zanellato
(4 catches, 53 yards),
Jake Kiley
(played in one game),
DaeSean Hamilton
(redshirted),
De'Andre Thompkins
(early enrollee),
Chris Godwin
(incoming freshman),
Saeed Blacknall
(incoming freshman),
Troy Apke
(incoming freshman)
Last season:
Allen Robinson
finished with the best statistical receiving year in Penn State history. He broke the school's single-season records for both receptions (97) and receiving yards (1,432) on his way to earning his second straight honor as Big Ten receiver of the year. He accounted for about 46 percent of the passing offense -- the most a single PSU receiver's been relied on in more than 25 years -- while
Brandon Felder
, a senior in 2013, finished second with 28 catches for 312 yards. Robinson was among the best receivers in the nation, but
Christian Hackenberg
had few reliable targets outside of him who weren't listed at tight end.
What's missing:
A-Rob and experience. One quick look at the returning players is all it takes to understand what Penn State's going up against. Four of the nine scholarship wideouts are true freshmen, and only one -- Zanellato -- is an upperclassman. Lewis is the closest thing to a proven commodity, and he needs to improve his route-running for PSU to experience any hint of success here. The future looks bright with one of the nation's top classes of incoming freshmen, but without Robinson there's obviously going to be a drop-off at this position.
Moving forward:
Lewis is the only returning wideout who played in every game last year, so he certainly appears to be the No. 1 -- unless a true freshman can usurp him. James Franklin is going to need those true freshmen to do a lot of heavy lifting this season because there's really no alternative. Zanellato and Anderson will play, but neither is the gamebreaker that Thompkins, Godwin or Blacknall have the potential to be. Thompkins played more tailback than receiver in high school -- catching just 44 balls in the last three seasons -- so he could become the early No. 2 if he learns quickly in the spring. A breakout spring for him would go a long way in putting this staff's minds at ease.
February, 11, 2014
2/11/14
9:00
AM ET
STATE COLLEGE, Pa. -- This week's countdown continues with the No. 4 spot.
Once again, until spring practice starts, we'll have a different countdown every week. Up next are the positions of concern for Penn State, and this group is one that historically hasn't been an issue for the Nittany Lions.
No. 4:
Linebackers
[+] Enlarge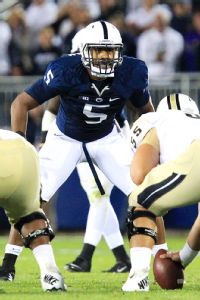 Matthew O'Haren/USA TODAY SportsKeeping Nyeem Wartman healthy will be a big part of the linebackers' success at Penn State in 2014.
The players:
Mike Hull
(78 tackles, 4.5 tackles for loss),
Nyeem Wartman
(32 tackles, 4 pass breakups),
Brandon Bell
(24 tackles),
Ben Kline
(18 tackles, 1 sack),
Gary Wooten
(6 tackles),
Troy Reeder
(incoming freshman),
Jason Cabinda
(incoming freshman)
Last season:
Depth was a huge concern throughout the season, and PSU tried to overcome that with position switches and different combinations. Safety
Stephen Obeng-Agyapong
moved to the outside and filled in for Hull when he was injured, while Bell, Wartman and Kline split time as the season progressed. The health of this unit was an ongoing issue, but
Glenn Carson
turned in a solid season And Hull, when healthy, was also good -- although he failed to meet lofty expectations (in part because of those injuries).
What's missing:
Depth. It's the same issue as 2013, except the most solid starter in Carson is now gone. Kline once again has two surgeries to recover from this offseason, and Wooten appears to be more of a special-teams contributor. Outside of those two, there are just five linebackers on scholarship -- and that includes the two incoming freshmen.
Moving forward:
Wartman and Bell were both greenhorns last season, so they at least have experience now. And they'll both need to be solid -- and healthy -- for this group to experience success. An injury to Hull or those two could be disastrous. Kline is once again a wild card because he's coming off of serious injuries, so PSU might have to turn to a non-scholarship player or a true freshman to pick up some slack. Incoming freshman
Koa Farmer
could play safety or linebacker, and Reeder appears more game-ready than Cabinda. For the second straight season, linebacker is once again a concern for Linebacker U.
February, 10, 2014
2/10/14
9:00
AM ET
STATE COLLEGE, Pa. -- Signing day is over and spring practice is still a few weeks away, so we've designed a few countdowns to keep you busy in the meantime.
This week, we're taking a look at Penn State's top five position groups with room to improve. No. 1 will be unveiled on Friday, so sit back and relax as this countdown kicks off.
Up today: No. 5 -- defensive tackles.
[+] Enlarge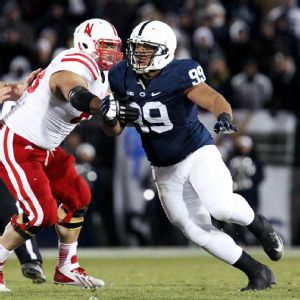 Matthew O'Haren/USA TODAY SportsAustin Johnson showed promise at defensive tackle in 2013 and will be the foundation of Penn State's defensive line next season.
No. 5:
Defensive tackles
The players:
Austin Johnson
(27 tackles, 1 sack, 1 fumble recovery),
Brian Gaia
(5 tackles),
Derek Dowrey
(1 tackle),
Parker Cothren
(redshirt),
Antoine White
(early enrollee),
Tarow Barney
(early enrollee).
Last season:
The interior was a strength in 2013, with 318-pound
DaQuan Jones
anchoring it. Jones earned the team's MVP award by routinely taking on double teams and still leading PSU with 11.5 tackles for loss. He also ensured that neither of Wisconsin's tailbacks reached the 100-yard mark Penn State's upset over the then-No. 15 Badgers.
Kyle Baublitz
rotated in with Johnson on the other side and put up respectable numbers (3 sacks, 1 blocked kick) before deciding to move on with a teaching career. The line was the defense's strong point last season.
What's missing:
Experience. Jones is heading to the NFL, Baublitz is heading to State College Area High, and Johnson is the only returning defensive tackle who saw serious time at the position last season. Put simply, there are a lot of question marks. Former coach Bill O'Brien was set on taking a junior college defensive tackle because he was in such desperate need of finding an immediate contributor, so it wouldn't be surprising to see new coach James Franklin plug in a newcomer right away.
Moving forward:
Defensive end
Anthony Zettel
could move inside and, in a lot of ways, that would help quiet those questions surrounding experience. But he's only 258 pounds right now, so of course there's the question of his weight. Defensive line coach Sean Spencer likes to rotate a lot of players on his line, so we could see more of a lot more combinations this season. Johnson is really the only lock, but he has a bright career ahead of him.
The staff needs to decide quickly what it wants to do with Zettel and, from there, find at least one more DT who can separate himself. Gaia played in 11 games last season and likely holds the slight edge right now, but Dowrey's not that far behind. Barney and Cothren are both darkhorses, and a lot of eyes will be on them in the spring.
BIG TEN SCOREBOARD
Thursday, 9/3
Friday, 9/4
Saturday, 9/5
Sunday, 9/6
Monday, 9/7