Penn State Nittany Lions:

Tommy Armstrong
November, 24, 2013
Nov 24
9:00
AM ET
Recognizing the best and brightest from the Nittany Lions in Week 13:

Tailback Zach Zwinak.
When the Penn State offense started moving, it was usually because of Zwinak. He carried 35 times for 149 yards -- and he was never once tackled behind the line of scrimmage. His longest carry was only 11 yards -- and he still averaged 4.3 yards per carry -- so he was certainly consistent. He routinely carried a Nebraska defender or two. He has had quite the last three games. His rushing totals? 150, 149, 149. Give the man a helmet sticker.
Wideout Allen Robinson.
Seriously, can we just move on with A-Rob's helmet sticker? He's Penn State's best player, so it's pretty self-explanatory what he's doing on this list. He came up with eight of
Christian Hackenberg
's 16 completions, and he wound up with a game-high 106 yards. He's good, really good, and if his inclusion on this list surprises you then, well, maybe you should just go back to watching soccer.
Tight end Jesse James.
He makes this list mainly because of one dazzling play in which he turned a short pass into a 46-yard touchdown. He stiff-armed a Nebraska player, managed to stay in-bounds, and flashed some uncanny speed for a 6-foot-7 receiving target. Outside of Robinson, James had the most receptions (three) and receiving yards (56) on Penn State.
Penn State front-seven.
OK, this is kind of cheating by including so many players, but it's deserved. The Nittany Lions got intense pressure on
Tommy Armstrong Jr
. and
Ron Kellogg III
all day and really helped to throw off their timing. Plus, when it was third-and-4 (or shorter) the defense really stepped up. The Cornhuskers were faced with third-and-short on five occasions and converted zero -- zero! -- of those attempts, including a trio of third-and-1 attempts. It made a huge goal-line stand on third-and-goal at the 5 to force overtime, and this was one of its best games of the season, especially when considering the opponent. It allowed quite a few yards and bent quite a bit, but it never really broke. It surrendered just one touchdown and three field goals. (Special teams allowed the other TD.)
Safety Malcolm Willis.
It was Senior Day for the safety, and he came up with the first forced fumble of his career. He stripped the ball from
Ameer Abdullah
near the goal line, and
Jesse Della Valle
fell on it for the touchback. If not for that play, it could've been a completely different game. Willis also wound up with nine tackles and, although that's something you usually don't want to see from a DB, only one of his stops came on a pass. He was the last line of defense for a lot of Nebraska's runs.
November, 23, 2013
Nov 23
10:05
PM ET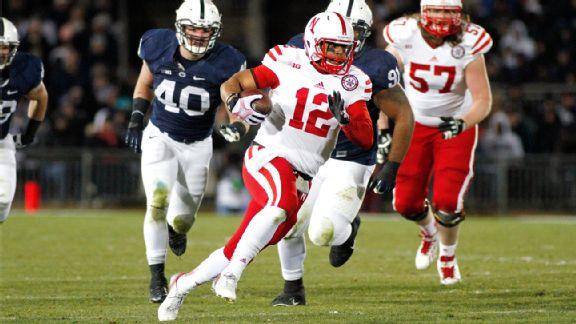 STATE COLLEGE, Pa. --
Ameer Abdullah
nervously chewed on his mouthpiece like a stick of gum, seconds before Nebraska's kicker would attempt the game-winning field goal in overtime.
The Cornhuskers I-back watched from the sideline, backtracking to a space heater when PSU called a timeout to ice the kicker as flurries swirled around. Then Abdullah inched closer to the sideline, again backtracking -- shaking his head and rolling his eyes -- when his team was flagged for a false start.
But the Huskers' short-term frustration -- and the long-term questions -- gave way to players leaping in the air when
Pat Smith
booted the game-winning 42-yard field goal. Some players turned toward hecklers in the crowd and waved. Others sprinted on the field and embraced after the 23-20 overtime victory.
Nebraska fell short of expectations early this season and rumors about Bo Pelini's job security have swirled around the coach more often than the squalls around Happy Valley. But this win, this comeback, offered the Huskers a few days of relief.
It allowed fans to back away from the panic button, at least for now, and for the Huskers to inch closer to a better bowl.
[+] Enlarge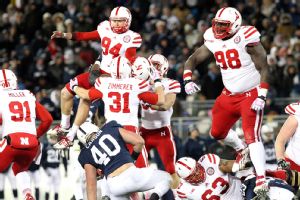 Matthew O'Haren/USA TODAY SportsPat Smith and his teammates celebrate his game-winning kick in overtime.
"I'm proud of our team. Our kids, once again, they showed a lot of heart," Pelini said. "There's a lot of things we had to overcome."
For Nebraska, this contest was more of the same. It hasn't quite experienced the season it envisioned, but it won yet another close game. It's the eighth straight game decided by seven points or fewer that Nebraska's won. And it now has won three of four -- all three by four points or less.
First came the Hail Mary vs. Northwestern then a game-winning TD with 2 minutes left against Michigan -- and then this.
Tommy Armstrong Jr
. injured his ankle early, and an energized
Ron Kellogg III
entered the game and threw an unordinarily high 34 passes. The Huskers escaped a near-safety in the closing minutes and then converted a third-and-long play from its own 1, thanks to a PSU pass interference. Then they watched as Penn State kicker
Sam Ficken
, who missed a PAT earlier in the contest, booted a 37-yard overtime field-goal attempt wide right. It was a bizarre game with plenty of miscues -- and opportunities -- for both teams.
But, once again, the Huskers overcame themselves and triumphed. And Penn State's seniors were forced to jog past the victory bell in their final home game without giving it one final tug.
"What's amazing about our team," said Smith, who went 3-for-3 on field goals in the game of his career, "is our ability to keep fighting no matter how much negativity comes our way."
For much of the season, the Nittany Lions have been able to say the same. PSU outlasted Michigan in a quadruple-overtime thriller and then sneaked past Illinois, 24-17, in overtime earlier in the month. This was the third overtime in the last six weeks for Penn State.
But, like Nebraska, PSU has come up short of expectations this season. And the Nittany Lions were unable to give their frost-bitten fans a victory for the long drives home.
This isn't the end for either team. PSU needs to win one next week, against Wisconsin, to have a winning season. And the Cornhuskers have to beat Iowa next week to continue keeping that negativity at bay.
Those questions aren't ending just because of this game. But this was an important step for Nebraska.
"It was a big victory for us on the road, especially at Penn State," Kellogg said. "It's a loud crowd, there's a lot of emotions, but we stuck together as a team and we came through. Even though it was overtime, we came through with a victory.
"I think it's a good kick-start for us to get ready for Iowa."
November, 23, 2013
Nov 23
7:00
AM ET
STATE COLLEGE, Pa. -- Penn State is trying to send its seniors out with a win, and Bo Pelini is hoping to make a stronger case to keep his job. It should be an entertaining one at Beaver Stadium.
Here are five things to keep an eye on:


1. Offensive sparkplugs Allen Robinson and Ameer Abdullah.
Two of the better players in the Big Ten will be featured in Saturday's game, and they could both be in for big performances. Robinson already owns Penn State's single-season records for receiving yards (1,204) and catches (81) with two contests left, and nearly half of his yards are coming after the catch. Abdullah has rushed for at least 98 yards in every game this season and is averaging 6.5 yards a carry. Both respective offenses lean heavily on these two players, and whoever has the bigger day could wind up leading his team to victory.
2. Plenty of emotion on Senior Day.
Ask any Penn State player to describe this team, and the term "resilient" is bound to pop up. These seniors have been through a lot -- unprecedented sanctions, a scandal, the death of a longtime head coach -- and this is their final chance to leave a mark inside Beaver Stadium. There's no question the Nittany Lions will be motivated Saturday. Tears will be shed, players will embrace, and this game is sure to be a memorable one no matter the final outcome. But the 17 players who'll be honored in their final home game want to go out as winners, and they'll leave it all out there this afternoon.
3. PSU offense on third downs.
The Nittany Lions have had an up-and-down season with third downs -- but it's been a lot more down than up. PSU is No. 94 in the country in converting just 35.9 percent of their third downs (52-of-145), and it's going to have an even harder time against Nebraska. The Cornhuskers' defense is No. 7 in third-down conversion percentage, as their opponents have gotten first downs just 30.9 percent of the time. To contrast that number, PSU converted just 1-of-9 third downs against Minnesota -- and the Gophers are ranked No. 62 in the country in that category. This will be a key area to watch again against Nebraska.
4. Freshman quarterbacks playing beyond their years.
Tommy Armstrong Jr
. has played relatively well in place of
Taylor Martinez
, but the Huskers haven't leaned on him that much. He's 5-1 as a starter, but he's only had one game with more than 21 pass attempts. Hackenberg has thrown at least 23 passes in every game, and he's playing better right now than Armstrong. Both quarterbacks will be asked to pick up the slack, and both could be the future of the Big Ten.
5. Fumbling issues.
Only seven teams in the country have lost fumbles (12) more often than Penn State and, for the Lions to experience success, they'll have to get turnover-free games from Hackenberg and their running backs.
Bill Belton
and
Zach Zwinak
have both played well at times this season, but they've also lost three fumbles apiece. The average NCAA tailback fumbles about once every 91 carries, while those two are fumbling about once every 51 carries. They'll play a big role in the game, so those mistakes have to be non-existent.
November, 22, 2013
Nov 22
9:00
AM ET
Among the celebrated history of the Nebraska-Penn State series, Saturday in State College marks, well, the 16th game. This meeting of storied programs arrives without much of the drama that has accompanied prior clashes. The Cornhuskers are Nittany Lions are both unranked and out of contention for The Big Ten title.
Regardless, plenty of pride remains at stake. Let's talk about it:
Considering the circumstances, what are the mindsets at Nebraska and Penn State as Saturday nears?
[+] Enlarge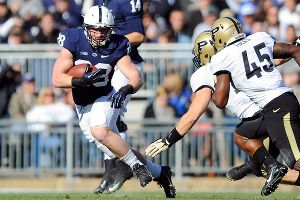 Rich Barnes/USA TODAY SportsFor Zach Zwinak and the rest of the Penn State seniors, this final home game is sure to be an emotional one.
Josh Moyer:
Believe it or not, even without a postseason, the future is not on the minds of these Nittany Lions. This is the final home game for Penn State's seniors, and there's more on the line Saturday than usual. The Lions can't play for any bowl games because of the sanctions but, in the words of cornerback
Jordan Lucas
, these final two games are Penn State's bowl games. These seniors have endured more than most in the country -- the death of a longtime coach, a scandal heard 'round the nation, unprecedented sanctions, etc. -- and this is their final opportunity to leave a mark. Expectations this season hovered around eight wins, so a win here -- getting past .500 -- would be huge for Penn State. This game will be an emotional one for PSU, and a win surely means a lot to this team.
Mitch Sherman:
The Huskers are a prideful bunch. And despite the many goals that vanished this year earlier than ever in coach Bo Pelini's six seasons, Nebraska shows no signs of playing with less than 100-percent effort. The Penn State name and setting at Beaver Stadium figures to stir some emotions with Huskers who understand the history of these programs. Nebraska is young on both sides of the football after injuries decimated the veteran offensive line. Young players tend stay focused more easily on the future. And once you get past pride and the incentive to again win nine games, the future serves a primary motivational factor for the Huskers.
What do you envision as the role in this game of Penn State's star receiver, Allen Robinson?
JM:
He's the Penn State X-factor, as he's being targeted around every third throw. He's accounted for nearly half of the Penn State passing offense this season, and he's one of the top wideouts in school history. For PSU to experience any kind of success through the air, Robinson will need to have a big game. Minnesota had the right idea when it shadowed Robinson with two defenders on nearly every play – Gophers defensive coordinator Tracy Claeys said you could count on one hand the number of times Robinson experienced single-coverage -- but, even in that game, Robinson came away with seven of
Christian Hackenberg
's 14 completions. It's boom-or-bust for Robinson and the passing game.
MS:
The Huskers are confident in their ability to cover with cornerbacks
Ciante Evans
and
Stanley Jean-Baptiste
, but they'll be hard-pressed to stay with Robinson. Jean-Baptiste is a playmaking NFL prospect, but he's not a lockdown corner on the level of, say, Michigan State's
Darqueze Dennard
-- or even Evans. Nebraska will mix its coverages in an attempt to confuse Hackenberg. Still, the freshman QB will find a way to get the football to Robinson. But just how much and in what position to gain yards after the catch? The answer figures to loom large in determining a winner.
Nebraska and Penn State feature freshmen quarterbacks. How do you expect them to play?
MS:
Tommy Armstrong has shown excellent poise and resilience in his six starts as a replacement for injured senior
Taylor Martinez
. Armstrong has also displayed a streak of carelessness and a tendency to make mistakes. He threw three interceptions against both Purdue and Northwestern, then committed three more costly turnovers against Michigan State. In between, he led the Huskers on a game-winning drive at Michigan. Look for Nebraska to utilize Armstrong's athleticism against Penn State and rely on a heavy dose of
Ameer Abdullah
in an attempt to beat the Nittany Lions in the perimeter run game. The less Nebraska can place Armstrong in high-pressure spots, the better.
JM:
Unlike Armstrong, Hackenberg has had the luxury of starting since Week 1. He's shrugged off mistakes, led PSU to two comeback wins (Michigan, Illinois) and has progressed every week. Despite his strong arm, he's been most dangerous on short-to-intermediate throws, and he's attempted at least 23 passes every game. Bill O'Brien isn't afraid to air it out but, like Nebraska, we'll likely see quite a bit of
Bill Belton
and
Zach Zwinak
in the backfield. Outside of Robinson, Hackenberg doesn't really have a key receiving target, and O'Brien has really been emphasizing the running game lately.
How do you expect the game to unfold?
JM:
It's really going to come down to Penn State's hit-or-miss defense. The secondary has struggled, the entire unit is slow, and missed tackles have become a common occurrence. I could see this game following a similar path as the Minnesota contest, in that PSU will aim to stop the run. But even if that works early on -- just as it did against the Gophers -- there's no guarantee PSU will be able to stop a so-so passing attack. A good early indicator to PSU's defense will be how many long runs it allows and just how it fares on third downs. When the defense struggles, those seem to be the places where it really falls apart. That being said, the defense has played poorly all season -- and I think Nebraska has the advantage. I'm calling for the Huskers in a mild upset.
MS:
For Nebraska, it's the same story, new chapter. Much like every game since the Huskers visited Minnesota on Oct. 26, the opportunity to win is right there, but Nebraska must limit its turnovers and special teams mistakes. Don't discount the emotion in play for Penn State on Senior Day. These Nittany Lions have endured so much in State College, and they've failed to beat Nebraska in two tries, a reality that ought to stoke the fires additionally for PSU players and fans. Still, Nebraska has the edge in talent and depth. And with a week to replay all the mental errors that spelled doom against Michigan State, look for the Huskers, by comparison, to play a clean game. Pull it off, and I like Nebraska to win a one-score contest.
November, 21, 2013
Nov 21
10:15
AM ET
Storylines to watch in the Big Ten this weekend:
1. Let's settle this:
Yes, four teams remain in the running to play in the Big Ten title game. But seriously, it's going to be Ohio State and Michigan State. OK, crazy things can happen, but the third-ranked Buckeyes, who welcome Indiana to the Ohio Stadium on Saturday, must lose twice. Same goes for the No. 13 Spartans, who visit Northwestern and host Minnesota to close. It's time to end the uncertainty and start booking travel to Indy. Who are we kidding, it's already started.
[+] Enlarge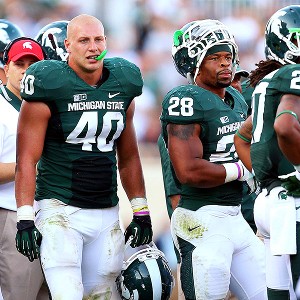 Mike Carter/USA TODAY Sports Michigan State seems to be on a collision course with Ohio State in the Big Ten championship game.
2. Big-time test for the Gophers:
Minnesota, riding a once-in-40-years run of four straight Big Ten wins, faces a serious road block in its bid to keep streaking Saturday as No. 19 Wisconsin visits Minneapolis in the battle for Paul Bunyan's Axe. The 25th-ranked Gophers knocked off Northwestern, Nebraska, Indiana and Penn State, but the Badgers present a test with a new level of difficulty. Led by their pair of 1,000-yard rushers, Melvin Gordon and James White, Wisconsin steamrolled Indiana last week, gaining 554 yards on the ground.
3. A trophy game that's not worth a trophy:
If the Purdue Cannon fails to launch and implodes inward Saturday, well, that would create a mess befitting of this battle of winless Leaders Division teams. Illinois, which has lost 20 straight Big Ten games, is favored by a touchdown on the road over the Boilermakers, who have fallen apart since playing Michigan State to within two touchdowns Oct. 19. Since then, Purdue has been outscored 139-35 by Ohio State, Iowa and Penn State. The Illini, meanwhile, have scored 35 points in back-to-back losses to Indiana and OSU. Something's gotta give Saturday.
4. Freshman quarterbacks on display:
Two of the league's top young QBs converge at Beaver Stadium. Nebraska redshirt freshman Tommy Armstrong earns his seventh start, and true freshman Christian Hackenberg, looking to secure a winning record for Penn State on Senior Day, again gets the call for the Nittany Lions. Hackenberg has endured ups and downs, but his numbers are solid considering the circumstances. Armstrong has struggled with turnovers, but he's 5-1 as a starter and displaying impressive poise behind an injury-plagued Nebraska offensive line that might be without four season-opening starters Saturday.
5. Dark days continue for Wildcats:
Northwestern has fallen so far off the map after a perfect nonconference season that it's not even visible from the top of the Legends Division as we reach late November. Who'd have thought these Wildcats would sit 0-6 in league play when "College GameDay" visited Evanston on Oct. 5 as Pat Fitzgerald's team lost 40-30 to Ohio State? Each of the past four losses has come in excruciating fashion, from the Hail Mary defeat at Nebraska to overtime thrillers against Iowa and Michigan. These Wildcats might have forgotten how to win, and Michigan State, trying to secure an outright division title, appears likely to extend their misery.
6. Buckeyes and the BCS:
It seems inevitable now that if Ohio State keeps winning and Baylor keeps winning, the Bears will pass OSU in the BCS standings and upend the Buckeyes' bid to reach the title game if Alabama or Florida State slips. No. 4 Baylor trails Ohio State this week by 13 thousandths of a point. The switch might occur Sunday as the Bears visit No. 10 Oklahoma State while Ohio State faces Indiana. No score against the Hoosiers or amount of Buckeyes lobbying is likely to reverse the Baylor climb. So expect all eyes in Columbus, Ohio, to be on Stillwater, Okla., Saturday night.
7. Could it be Braxton Miller's finale at the Horseshoe?
Ohio State's junior quarterback was understandably mum when asked this week if Saturday at home against Indiana might mark the final game of his collegiate career. Miller has made huge strides under coach Urban Meyer as a dual-threat QB, and his strengths fit the evolving style of NFL offenses, though he's far from a done deal to leave early. If this is the end, expect him to go out with a bang against the Hoosiers, who have lost four of five and rank among the bottom five nationally in total defense and rushing defense.
8. Tracking the top running backs:
November brings out the best in Big Ten running backs. Six of the league's top individual rushing performances have occurred in the past three weeks, highlighted by a 246-yard effort from Ohio State's Carlos Hyde last week. White, Indiana's Tevin Coleman and Penn State's Bill Belton also have topped 200 yards in a game this month. Hyde and Nebraska's Ameer Abdullah, who has reached 100 yards in every conference game, rank among the leading candidates for Big Ten offensive player of the year. Hyde has rushed for 821 yards in the past five games. He needs 53 yards to become the first running back ever to top 1,000 yards under Meyer.
9. The at-large BCS watch:
Michigan State jumped three spots to 13th in the BCS standings Sunday, promoting the Spartans into position to qualify for an at-large BCS bowl bid. But if it loses again -- even to Ohio State in Indy -- MSU might slide back out of contention. It would be well served to win impressively against Northwestern and Minnesota and root for losses this week from the likes of Oklahoma State, Texas A&M and Missouri, which face challenging games. Wisconsin, at No. 19 in the BCS standings, still must jump into the top 14 to qualify for BCS consideration, though chaos is its best hope.
10. And then there's Iowa-Michigan:
What's the compelling storyline here? Iowa has exceeded expectations this year, but the Hawkeyes are no longer fighting to get bowl eligible for the 12th time in 13 seasons after a win two weeks ago at Purdue. Michigan has failed to meet expectations but last week ended its skid with a win at Northwestern. Iowa has won three of the past four meetings, including two straight in Iowa City. And here's an interesting stat to close: The four teams to beat the Hawkeyes this season have a combined record of 37-3.
November, 11, 2013
Nov 11
11:00
AM ET
Brady Hoke might turn out to be a legendary coach who has a long and storied career at Michigan.
But Hoke will be bucking some trends in order to get that done. In his third year in Ann Arbor, Hoke's Wolverines have taken a major step backward. After Saturday's 17-13 home loss to Nebraska, they're 6-3 with some challenging games ahead, and they're probably lucky not to have one or two more losses already.
Most of the truly great college football coaches in recent times have had their programs up and running by the third year. Alabama's Nick Saban and LSU's Les Miles won BCS titles in their third years at their current schools. Pete Carroll won an AP national title in his third season at USC.
[+] Enlarge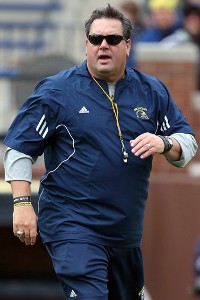 Leon Halip/Getty ImagesBrady Hoke's third season hasn't gone as anyone associated with the Michigan program hoped.
Brian Kelly led Notre Dame to a 12-0 regular season and BCS title game appearance in Year 3. Ohio State's Urban Meyer won a national title his second year at Florida, while Bob Stoops did the same in his second year at Oklahoma. Jim Tressel led Ohio State to a national title his second year and then went 11-2 with a Fiesta Bowl win in Year 3.
The same is true for some legends. Joe Paterno guided Penn State to an undefeated record in his third season as head coach. Bear Bryant went 8-1-2 at Alabama in Year 3. And it's the case for revered Michigan Men. Bo Schembechler was 11-1 and had an undefeated Big Ten record in his third year at the helm of the Wolverines, while the third season for Lloyd Carr resulted in the undefeated 12-0 campaign of 1997.
Hoke did have to revamp the program and rebuild for a new system after Rich Rodriguez left, but several of the coaches mentioned in the preceding paragraphs also had to make major transitions. And any argument preaching patience for Hoke loses some steam when you look at Minnesota, where Jerry Kill and his staff have an 8-2 record in Year 3.
There is hope, but Hoke would have to find precedent in two places he'd probably rather not look. Woody Hayes was just 6-3 in his third year at Ohio State before going undefeated and winning the Rose Bowl the following year. Michigan State took a step back in Mark Dantonio's third year with a disappointing 6-7 mark; the Spartans would win 11 games and a share of the Big Ten title the next season.
So maybe Hoke, who is just 6-5 in his last 11 games, will get things rolling after this difficult third season. But history shows that most truly great coaches have done so by this point.
Take that and rewind it back:
Team of the week:
Nebraska. Say what you want about Michigan's troubles, the Huskers still went into the Big House and snapped the Wolverines' 19-game home winning streak. And the Big Red offense is being held together by spit and string, at times. All-America guard
Spencer Long
is out for the season and senior quarterback
Taylor Martinez
is unavailable. Starting guard
Jake Cotton
is also out, and on Saturday, starting tackle
Jeremiah Sirles
went down with a knee injury. The Huskers turned to little-used
Zach Sterup
to replace Sirles. Take away a pick-six and a Hail Mary against Northwestern, and the Nebraska offense has scored just 30 points total in its last two games. With two victories.
Worst hangover:
The nightmare continues for Michigan. If the Wolverines don't win at Northwestern this week -- and the Wildcats are coming off a bye -- then a 6-6 finish with a five-game losing streak becomes a real possibility.
Best play:
For the second straight week, a late Nebraska play involving
Ameer Abdullah
takes this honor. This time, it was quarterback
Tommy Armstrong's pitch to Abdullah
on third-and-goal from the 5 for the winning touchdown.
Armstrong was ready to run on the option play until Michigan defensive end
Frank Clark
committed to him, and just before he got flattened, Armstrong had the presence of mind to flip the ball forward to Abdullah. The running back did the rest by diving into the end zone, helped by a nice block on the perimeter from receiver
Alonzo Moore
. It was one of the stranger-looking option plays and went down in the box score as a pass, but it couldn't have been any prettier for Nebraska fans.
Big Men on Campus (offense):
Wisconsin's
James White
ran for 147 yards and two touchdowns on 23 carries against BYU, and he added a receiving touchdown. Indiana receiver
Cody Latimer
had a career day versus Illinois, catching 11 passes for 189 yards and three touchdowns.
Big Man on Campus (defense):
Nebraska defensive end
Randy Gregory
recorded three sacks and a quarterback hurry as part of a dominating effort by the Blackshirts (and yes, they've earned that nickname again).
Big Man on Campus (special teams):
Minnesota punter
Peter Mortell
helped the Gophers hang on in the second half of a 24-10 win. He had punts downed at the Penn State 1, 2 and 12 while averaging 46 yards on four attempts.
[+] Enlarge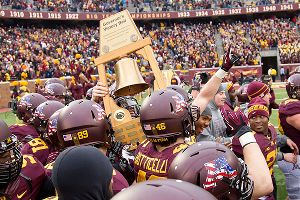 Brad Rempel/USA TODAY SportsMinnesota ran its record to 8-2 with a trophy win over Penn State on Saturday.
Break-dancing:
Forgive Minnesota for being a little new to the whole winning trophies thing. The Gophers captured the Governor's Victory Bell by beating Penn State for the first time since 2004, and in their postgame sideline celebration, they actually broke part of the trophy. "I think we were more worried about keeping [the trophy] together, so we could celebrate with it first," tight end
Maxx Williams
told the Minneapolis Star-Tribune. It's not like there is a lot of great history with that trophy, which has been around since only 1993.
The best part of the Gophers' victory celebration was clearly Jerry Kill's locker room dance. Watch it
here
.
Back to a bowl:
Iowa can officially chalk up last year's 4-8 season as an aberration. The Hawkeyes pounded Purdue 38-14 on the road to earn their sixth win and ensure they will be back in a bowl game this season.
"Obviously, it's not our endgame, but that's one nice byproduct of winning," coach Kirk Ferentz said. "It's something we don't take for granted. All you have to do is look back to last year. So it's great to get that accomplished."
With an off week to get ready for the final two games, Iowa should give Michigan and Nebraska all they can handle.
The Indiana effect:
We are thinking of adding a separate helmet sticker post each week just for games involving Indiana. The Hoosiers put up big numbers and allow opponents to do the same in their weekly shootouts. Against Illinois, IU got huge games from Latimer and running back
Tevin Coleman
(215 yards on 15 carries, two touchdowns). Illini receiver
Steve Hull
caught nine passes for 224 yards and two scores.
Nathan Scheelhaase
threw for 450 yards in a losing effort. The two teams combined for 1,262 total yards, which sounds like a lot until you remember that Indiana and Michigan went for 1,323 last month.
The winning team has scored at least 41 points in every one of the Hoosiers' nine games, and an average of 80.5 points has been scored in each of those contests. Don't expect that to change, as Wisconsin and Ohio State are next up on the schedule.
Fun with numbers (via ESPN Stats & Information):
In the past two weeks, Michigan lost a combined 49.2 expected points on rushing plays. Expected points added is a metric that measures the contributions of each unit to its team's net scoring margin. Therefore, Michigan lost almost 50 net points as a results of its rushes and sacks. An average EPA is 0, so if Michigan had had an average rush offense, and all else remained equal, the Wolverines would have been about even with Michigan State and would have beaten Nebraska by about 22 points.

Against Nebraska, Michigan gained zero or negative yards on 21 of its 36 rushes (58.3 percent). It was the Wolverines' second-most rushes and second-highest percentage of rushes that gained zero or negative yards in a game in the past 10 seasons.

Overall, Michigan added minus-26.3 expected points towards its net scoring margin on rushes (including sacks). That is the lowest rushing EPA for a team in an FBS game this season.

Coleman and his Indiana backfield mate Stephen Houston make an efficient pair. Houston is averaging 7.34 yards per rush, while Coleman is at 7.31. That ranks 10th and 11th, respectively, in the FBS among qualified rushers. They have combined for nearly 1,500 rushing yards despite averaging a little more than 22 rushes per game.

There are 123 FBS teams. Here are some of Purdue's national rankings: Points per game (120), rushing (122), passing yards per attempt (121), yards per play (121), points allowed (109), rushing yards allowed (111), third-down defense (122).

Minnesota is 8-2 and is passing the ball just 31.3 percent of the time. But that can definitely be a winning formula. Ranking right ahead of the Gophers is Stanford (35.5 percent of total plays are passes), while just below them is Auburn (30.8 percent).
November, 2, 2013
Nov 2
7:00
AM ET
Get ready for a full set of Big Ten games, and it should all be all over in time for dinner. That's November in the Big Ten. Here's a preview:
Noon ET
No. 4 Ohio State (8-0, 4-0) at Purdue (1-6, 0-3), Big Ten Network:
For more than a decade, the trip to West Lafayette has served as a Buckeyes stumbling block. Forget it this time. Ohio State, winners of 20 straight, is rolling. Purdue, with freshman QB
Danny Etling
, is struggling mightily on offense. And the Boilermakers defense, despite a few bright moments, doesn't figure to have an answer for
Braxton Miller
and
Carlos Hyde
.
[+] Enlarge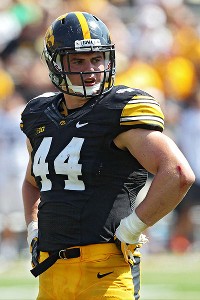 Stephen Mally/Icon SMIJames Morris and the Iowa defense will have their work cut out for them against Wisconsin's dynamic rushing attack.
No. 24 Wisconsin (5-2, 3-1) at Iowa (5-3, 2-2), ABC/ESPN2:
There's much more than bowl eligibility at stake in the Hawkeyes' annual "Blackout" game. Both teams appear to have hit their strides at the right time, and a major battle is brewing here between the Badgers' powerful run game, led by
Melvin Gordon
, and Iowa's stout run defense. The Hawkeyes have led at halftime in every game this season and have allowed a nation-low two rushing touchdowns. Gordon alone has scored a league-best 11 TDs.
Illinois (3-4, 0-3) at Penn State (4-3, 1-2), ESPN:
Negative energy all around. Penn State is coming off a once-in-a-century rout at the hands of Ohio State. Illinois entered league play with buoyed hopes, but losses by 20, 24, and 39 points have only served to extend the Fighting Illini's Big Ten losing streak to 17 games. Who can better shake the bad vibe? Signs point to Penn State, which has responded to six straight losses under Bill O'Brien with wins in the next game. Count on production from the
Christian Hackenberg
-to-
Allen Robinson
connection.
3:30 ET
No. 21 Michigan (6-1, 2-1) at No. 22 Michigan State (7-1, 4-0), ABC:
While the polls favor Michigan, the computers like Michigan State this season over its in-state rival. We'll see who's smarter, man or machine. Don't discount the home-field factor, which was huge for the Spartans two years ago in this series. The Wolverines have struggled this season, and the two before that, on the road. And Michigan State sophomore
Connor Cook
is making solid progress at quarterback.
Minnesota (6-2, 2-2) at Indiana (3-4, 1-2), BTN:
The Golden Gophers seek a three-game, Big Ten winning streak for the first time since they opened the 2008 conference season with victories over Indiana, Illinois and Purdue. The two-QB system with
Mitch Leidner
and
Philip Nelson
is working for Minnesota. Indiana just needs one guy to put up huge numbers. But can
Nate Sudfeld
do enough for the Hoosiers, who have dropped two straight despite scoring 75 points?
Northwestern (4-4, 0-4) at Nebraska (5-2, 2-1), BTN:
It's put-up-or-shut-up time for these Legends Division foes. Northwestern is already out of title contention, but its season has nearly slipped away as offensive anchors
Venric Mark
and
Kain Colter
continue to fight injuries. Colter will play this week, but his counterpart at Nebraska, quarterback
Taylor Martinez
, won't. Freshman
Tommy Armstrong Jr
. gets his fourth start. Expect senior
Ron Kellogg III
to again assist and keep an eye on Huskers I-back
Ameer Abdullah
, bothered this week by an ankle injury.
Weather
We've made it to November, so all things considered, not a bad day on tap. It'll be chilly before early kickoffs in Iowa City and West Lafayette. Both games call for temperatures warming into the low 50s and some wind. For the other noon start, there's a slight chance of showers in State College, though it should be comfortable.
Looks like a nice day in Lincoln, with a high temperature near 60 and sunny skies. Similar conditions appear set for Bloomington. East Lansing gets the worst weather of the day for the best game -- overcast, a slight chance of rain and temps that won't reach 50.
Top Week 10 stories
What to watch in the Big Ten
|
Predictions
|
Did you know?
Iowa-Wisconsin are common enemies
Miller getting better one pass at a time
No room for QB gray area at Nebraska
Minnesota rouses at unlikeliest of times
Freeman at home on sideline with Boilers
MSU's Connor Cook thrives under pressure
U-M hopes to survive mayhem on the road
Time for Hoke, Michigan to take next step
Dynamic frosh has opponents' attention
O'Brien, Della Valle defend coordinator
Q&A: Wisconsin NT
Beau Allen
Video: Big Ten Game of the Week
Wildcats aim for another Lincoln revival
Michigan-Michigan State roundtable
Happy Halloween in the Big Ten
November, 1, 2013
Nov 1
10:00
AM ET
A full slate of Big Ten games awaits on Saturday. Here's a look at facts and figures to preview the opening week of November football in the league:
The short-yardage run game is clicking for Minnesota. And we're talking very short yardage. The Gophers' past eight touchdowns on the ground have covered 1 yard. Eleven of their 19 touchdowns this season were punched in from the 1, and 15 covered 5 yards or fewer. Minnesota rushed for just 14 touchdowns last year. The Gophers are 13-10 under coach Jerry Kill when they score a rushing TD and 2-8 when they don't.
Indiana's offense is doing its part in the program's bid for a winning season. The Hoosiers have scored 28 or more points in eight consecutive games, a first at the school. They've passed for more than 300 yards six times season in seven games. Indiana receivers Cody Latimer, Shane Wynn, Kofi Hughes and tight end Ted Bolser have all surpassed 100 career receptions and 1,000 yards in the past four weeks. Indiana is the only team nationally and the first in the Big Ten since Northwestern in 2008 with four 100-1,000 players.
Despite scoring just three points last week against Michigan State, Illinois' offense remains one of the most improved units nationally. From last season, the Illini have jumped more than 60 spots in the national rankings in passing efficiency, big plays (20 yards or more), first downs per game, passing yardage per game, turnovers lost and scoring offense. Illinois averages 400.7 yards of total offense, up 46 spots from last year, when it ranked 119

th

at 296.7 yards per game.
Penn State, under coach Bill O'Brien, has not lost consecutive games since it opened last season 0-2. Its Oct. 12 win over Michigan, 43-40 in four overtimes -- the longest game in Big Ten history -- prevented a two-game skid on the heels of a loss at Indiana. Penn State needs a win on Saturday over Illinois to prevent consecutive defeats in the wake of a 63-14 loss last week to Ohio State. O'Brien is 5-1 at PSU in games after a loss.
Senior Jeremy Gallon's 369 yards on 14 catches last week against Indiana set Michigan and Big Ten records for receiving yardage in a game. It was the second-highest figure ever posted by an FBS receiver, and the 14 receptions were the second most at Michigan in one game. Gallon has recorded a reception in 33 straight games, with nine touchdown receptions over his past eight. He ranks second in the Big Ten in receiving yardage per game at 118.7.
A win for Michigan State on Saturday over Michigan would keep the Spartans in control of the Legends Division and mark their third consecutive victory over the Wolverines at Spartan Stadium, which has never happened in the 105-game series. Michigan is 19-12-2 against Michigan State in East Lansing, but under Brady Hoke, the Wolverines are 6-8 away from Michigan Stadium. A win for the Spartans would also be their fifth in six games over Michigan. That hasn't happened since MSU won six of seven from 1956 to 1962.
No team in the Big Ten feels quite like Northwestern about October. The Wildcats went 0-3 to even their record at 4-4 as November arrives. This final month of the regular season has proven much more kind to Northwestern. It is 12-6 in November since 2008, with five victories over teams ranked in the top 20, including a 28-25 upset in Lincoln over No. 9 Nebraska in 2011. The Wildcats' lone November loss a year ago came at Michigan in overtime.
Redshirt freshman quarterback Tommy Armstrong, set to start for the fourth time this season on Saturday, has guided Nebraska to scores on 12 of 24 possessions in his previous three starts. Armstrong again replaces senior Taylor Martinez, out after he suffered a hip pointer last week in his return at Minnesota after a three-game absence because of a foot injury. A fourth start by Armstrong would mark the first time at Nebraska since 1998, when Bobby Newcombe and Eric Crouch split time, that two quarterbacks started more than three games in the same season.
Ohio State has remained unbeaten this year to extend its nation-leading winning streak to 20 games in large part because of its success at running the football. OSU, after a season-best 408-yard rushing effort against Penn State -- the first 400-yard day at the school since 1995 -- ranks second in the Big Ten and ninth nationally with a 295.6-yard rushing average. Senior Carlos Hyde has rushed for 464 yards and seven touchdowns in the past three games. Hyde and senior Jordan Hall have combined to rush for 1,038 yards and 15 touchdowns.
Purdue has taken Ohio State to overtime in the past two meetings, losing 29-22 a year ago at Ohio Stadium after a 26-23 victory by the Boilermakers in 2011 that marked the program's second straight home win over the Buckeyes. Saturday appears to set up differently as Purdue starts one of the youngest teams nationally. Offensively, four true freshmen, including quarterback Danny Etling, and three redshirt freshmen have participated on the same play in the past two games.
Wisconsin needs one victory to become bowl eligible for the 12

th

consecutive season. Its run of 11 straight bowl appearances ranks as the longest in the Big Ten and ties the Badgers for the eighth-longest streak nationally. A win would also give Wisconsin an edge in the all-time series against Iowa. It is currently equal at 42-42-2. The Badgers have won six straight games that fall after a bye week, including a 35-6 win three weeks ago over Northwestern.
Iowa cornerback Desmond King is averaging 7.2 tackles in Big Ten games, according to the school, more than any other true freshman in the league. King, who has started seven of the Hawkeyes' eight games, recorded a season-best 12 tackles at Ohio State on Oct. 19 and 11 against Michigan State on Oct. 5. King is the first true freshman to start in the Iowa secondary since Jovon Johnson in 2002. His third-down pass breakup last week against Northwestern negated a potential first down in overtime, helping lead to the Iowa win.
October, 10, 2013
Oct 10
10:15
AM ET
Ten things to keep your eyes on in the four Big Ten games on Saturday:
1. Strength vs. strength for the Spittoon:
The Indiana-Michigan State game might not be the most-hyped matchup of the weekend, but if you like irresistible force/immovable object conflicts, this one's for you. The Spartans lead the FBS in total defense, rush defense and passing efficiency defense. The Hoosiers, meanwhile, are ninth nationally in total offense, 10th in passing yards and 11th in scoring. Indiana scored the first 17 points of the game last year in Bloomington before falling 31-27. This year's Old Brass Spittoon winner will go to the team that better parlays its strengths and its corresponding weaknesses (Michigan State's defense, Indiana's offense).
2. Inexperienced travelers:
Both Indiana and Nebraska have had comfortable early-season schedules, as each has played its first five games at home. Both teams go on the road for the first time this week, with the Hoosiers in East Lansing and Nebraska visiting Purdue. Bo Pelini said the schedule worked out well for his young defense to gain some less stressful experience, but he still will be leaning on youthful players both on defense and at quarterback with redshirt freshman
Tommy Armstrong Jr
. Indiana coach Kevin Wilson said his team uses a lot of hand signals on offense, so he's not too worried about crowd noise. Michigan also gets easily its toughest road test at Penn State, which should be a much more intimidating atmosphere than UConn's Rentschler Field.
3. Heartbreak Hotel, aka Camp Randall Stadium:
No team has suffered more gut-wrenching close losses in the past 2½ years than Wisconsin. But at least Northwestern can relate. Both teams might be playing for national titles if the NCAA shortened games to 55 minutes. On Saturday, Team 5:03 travels to the team that has yielded more Hail Marys than the pope's rosary beads. Both the Wildcats and Badgers are also coming off tough losses to Ohio State, with Wisconsin having two weeks to lick its wounds. The winner can still dream about a BCS bowl. The loser will be in serious catch-up mode. Is there any way it can end except on a key play in the final minute?
4. Northwestern's run defense vs. Wisconsin's rushing attack:
The Wildcats had trouble stopping Ohio State's offensive line and bulldozing back
Carlos Hyde
as the Buckeyes racked up 248 rushing yards in last week's 40-30 win. Northwestern players and coaches say it was more a matter of tackling and execution than a size and strength issue. They will have to do a much better job this week against Wisconsin, which is averaging 300 rushing yards per game. By all accounts, star tailback
Melvin Gordon
's left knee is fine after he injured it against Ohio State two weeks ago, and
James White
ran for 134 yards the last time these two teams played, in 2010 (yes, he's been around a long time). The Badgers ran for 329 yards in that last meeting three years ago. The teams have changed, but Wisconsin's approach hasn't. Northwestern had better hope its run defense has improved.
[+] Enlarge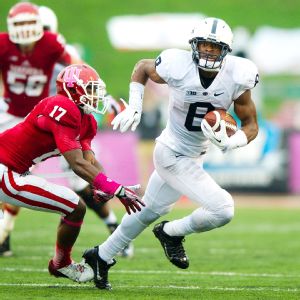 AP Photo/Doug McSchoolerPenn State wideout Allen Robinson has 38 catches for 621 yards this season, with five touchdowns.
5. Penn State's response:
Bill O'Brien has been jovial in many of his news conferences this year, but he was clearly not a happy man on Tuesday.
O'Brien was terse in his answers
with the media and basically refused to address anything regarding the Indiana loss or the team's scholarship situation. It's understandable why he wouldn't want to relive the program's first-ever loss to the Hoosiers or dwell on problems, because he needs his team focused on 5-0 Michigan, which comes to Beaver Stadium for a 5 p.m. game. The game is sold out and will be a White Out, though the enthusiasm from the fans might be a little less than before last week's loss. It remains to be seen whether the team will match O'Brien's feistiness and come out with a much better effort this Saturday.
6. Allen Robinson vs. Blake Countess:
Penn State's Robinson is the reigning Big Ten receiver of the year and is gunning for another trophy after his 12-catch, 173-yard day against Indiana last week. Michigan's top job on defense is to find a way to stop him, and that's where cornerback Countess should come in. Countess has four interceptions this year, tying him for the national lead. The Wolverines likely will need more than just Countess to slow down Robinson, and Penn State continues to search for a complementary weapon in the passing game for quarterback
Christian Hackenberg
.
7.
Ryan's return?
Michigan linebacker
Jake Ryan
has been itching to return from the torn ACL he suffered in the spring, and he has been medically cleared to play on Saturday in State College. Coach Brady Hoke appears hesitant to put his star back in there, fearing the risk of further injury. Hoke said Wednesday that Ryan has practiced as a backup. The Wolverines' defense has been light on big-play ability, which Ryan brings to the table in spades. Getting him back would provide a physical and emotional boost for Michigan.
8.
Etling's big day:
In what has been a sorry season so far for Purdue, at least quarterback
Danny Etling
provides reason for optimism. After making his college debut two weeks ago against Northern Illinois, the freshman gets his first start Saturday vs. Nebraska. Head coach Darrell Hazell says Etling's strong arm opens the whole field for the Boilermakers' passing game, and he hinted at offensive changes made during the bye week to suit Etling's skills. Nebraska's defense did a good job slowing down Illinois' passing attack last week but still has vulnerabilities. Etling had better watch out for cornerback
Stanley Jean-Baptiste
, who -- like Countess -- has four interceptions this season.
9. Two steps forward for Spartans' passing game?
Michigan State had its most encouraging offensive performance of the season in last week's 26-14 win at Iowa. Quarterback
Connor Cook
made good decisions en route to a 277-yard day, and even better for the offense, receivers
Bennie Fowler
and
Macgarrett Kings Jr
. showed off excellent playmaking ability. While not exactly an Oregon-esque outburst, last week's offensive showing was the kind the Spartans and their fans had been waiting to see for more than a year. The key will be whether that is a repeatable performance, especially this week against a below-average Indiana defense.
10. Well, hello again (and for the first time):
One of the most aggravating byproducts of conference expansion is the gap between games for some high-profile programs. Michigan hasn't played Penn State since 2010, while Northwestern and Wisconsin also haven't met in three years despite the short distance between the two schools. That's why it's good to see those two games on the schedule this weekend. With the new division alignment starting in 2014, the Wolverines and Nittany Lions will be paired in the East, while the Wildcats and Badgers will be in the West. Perhaps this will be the start of some renewed rivalry tensions in both series. Meanwhile, Nebraska plays Purdue for the first time as a Big Ten member. The schools have only played twice before and not since 1958 in West Lafayette. Scouting takes on added importance in all three of those games, as these teams have few players and coaches who have ever faced one another on the field.
October, 9, 2013
Oct 9
2:15
PM ET
Freshman
Danny Etling
will make his first career start at quarterback for Purdue this weekend, two weeks after making his college debut vs. Northern Illinois.
Boilermakers fans are excited about the future of their young signal-caller, and in that they have company in the Big Ten. Though quarterback is generally viewed as a position that takes experience and maturity to handle, several Big Teams have gone with a youth movement under center.
[+] Enlarge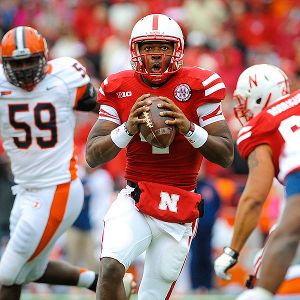 Eric Francis/Getty ImagesRedshirt freshman signal-caller Tommy Armstrong has shown he has a bright future at Nebraska while filling in for Taylor Martinez.
In fact, Etling can look across the field on Saturday and see another young player in his position: Nebraska redshirt freshman
Tommy Armstrong
, who is expected to fill in for the injured
Taylor Martinez
for the third straight game. Etling will be the fourth freshman quarterback to start for a Big Ten program this season, meaning a full third of the league has trusted its offense to a player in his first year of college competition.
What happened to making guys wait their turn and hold clipboards for a few years? The explosion of offense throughout the sport has helped speed the development for quarterbacks.
"I think they are more prepared earlier with all the 7-on-7s and everything that's going on," Michigan coach Brady Hoke said. "There's been more of an opportunity for guys to go out and throw all summer long."
"Some of these kids are playing year round football," Indiana coach Kevin Wilson said. "They're coming in more prepared, and the talent's better. I think the offensive game has gotten to where maybe it's helping quarterbacks."
Freshman quarterbacks aren't a new phenomenon. Minnesota started freshman
Philip Nelson
last year, while Wisconsin started turned to redshirt freshman
Joel Stave
. Indiana's
Nate Sudfeld
didn't start but saw a lot of time last season as a freshman. Two years ago,
Braxton Miller
started for Ohio State his first year of playing, while Indiana played freshman
Tre Roberson
. Current seniors Martinez and Illinois'
Nathan Scheelhaase
both started as redshirt freshman.
Still, the crop of young quarterbacks seems especially large this year, and it's one that could impact the Big Ten for years to come.
The headliner of the group is Penn State's
Christian Hackenberg
, who was ranked as the nation's No. 1 pro-style quarterback recruit last year. Despite not arriving on campus until the summer, Hackenberg has started since the opener. He ranks second in the league in passing yards with 1,367 while throwing for eight touchdowns and four interceptions.
"When you see a guy with [Hackenberg's] body language and how he handles himself, I think it's very impressive," said Hoke, whose Wolverines play at Penn State on Saturday. "I think he looks very composed and he has handled different situations very well. A lot of things impress me about him, like the way he moves up in the pocket and I think he throws a great football."
"

I think they are more prepared earlier with all the 7-on-7s and everything that's going on. There's been more of an opportunity for guys to go out and throw all summer long.

"

Michigan coach Brady Hoke on freshmen quarterbacks playing in college football.
Minnesota's experience with a first-year quarterback didn't end with Nelson. Redshirt freshman
Mitch Leidner
stepped in earlier this season when Nelson was hurt and then got the start over Nelson last week at Michigan. At 6-foot-4, 230-pounds, he's a hard-nosed runner who ran for 151 yards and four touchdowns against San Jose State. Last week, he completed 14 of 21 passes for 145 yards and ran for 66 yards.
"I really thought he made some big plays with his legs and executed really pretty good," acting coach Tracy Claeys said after the loss to Michigan.
Armstrong had to step in for Martinez, who continues to battle a case of turf toe. He has gotten Huskers fans excited by his play, completing 20 of 28 passes for 304 yards, three touchdowns and no interceptions in his first two games. The idea that he should replace a healthy Martinez is silly, but the future looks bright.
"He's still a work in progress," Nebraska coach Bo Pelini said. "There are some mistakes he made that might not have been real apparent to the naked eye, but they're still there and he's still learning a lot. I think every time he goes out there, it gives him an opportunity to grow. Mistakes and things will happen to him, but he's a smart guy and he understands the offense and what's being asked of him."
Etling completes the quarter of first-year quarterbacks. Purdue fans were thrilled to see him throw for 241 yards and two touchdowns (along with two picks) in the otherwise disappointing loss to Northern Illinois. Etling was the most important recruit in Hazell's first signing class, and his ceiling is so high that former starter
Rob Henry
has been moved to safety for the rest of his senior year. While Hazell says Etling opens up the entire passing game for the Boilers, he won't put too much on his plate early.
"He's a very bright guy who works very hard, and he's one heck of a talent," Hazell said. "I'm really looking forward to his progress here in the next few years."
Several Big Ten fan bases are saying the same thing right now about their starting quarterback.
October, 3, 2013
Oct 3
10:15
AM ET
Ten items to track around Big Ten football in Week 6:
1. Will the real Devin Gardner please stand up:
The Michigan quarterback has been an anomaly in the last three weeks. He exceeded expectations against Notre Dame, the toughest test so far this season, but struggled against two cupcake opponents. He competed 64 percent of his passes against the Irish; he went 11-of-23 against UConn. He threw four touchdowns to one interception against Notre Dame; he posted three picks against Akron. He's going up against a middle-of-the-road Minnesota defense Saturday, and no one's quite sure what Gardner is going to show up. Is he finished struggling against mediocre competition? Or is this just the new normal?
2. Sixteen tries, zero wins:
Since 1993, Indiana has played Penn State 16 times. And, since 1993, the Hoosiers have beaten the Nittany Lions a grand total of … zero times. They've come close on six occasions -- losing by just one score -- but Indiana's hoping to reverse that trend this weekend. Redshirt senior
Ted Bolser
has watched his team fall to Penn State four times now, and he doesn't want to make it five. This will be the most up-tempo team PSU faces all season, and Indiana's hoping to catch the visitors off guard.
[+] Enlarge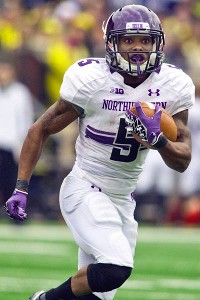 Tony Ding/AP PhotoThe return of running back Venric Mark is a huge boost for Northwestern as it tries to upset No. 4 Ohio State on Saturday.
3. Venric Mark returns:
The Wildcats' offense is about to get quite the boost, as Mark will return after sitting out the last three games with a leg injury. He rushed for more than 1,300 yards last season and he comes back at just the right time for Northwestern. He's a big part of the option attack, which just hasn't been the same without him. And he'll likely play a big role against the Buckeyes. It's great timing for Northwestern -- and terrible timing for OSU.
4. Epic defensive matchup:
At the final whistle, the Michigan State-Iowa score might just end up looking like a baseball tally. The Spartans boast the nation's top-ranked defense, while Iowa isn't too far behind at No. 7. No other game so far this year has pitted two top-seven defenses against one another, and this should be an exciting one for fans who prefer low-scoring contests. The Spartans have come up with nine sacks and 24 tackles-for-loss in just four games, while Iowa ranks 12th in the country by forcing 11 turnovers.
5. Tailoring a game plan without Taylor Martinez:
Martinez is still battling turf toe, and the Nebraska QB is questionable for Saturday's game against Illinois. If he can't go, offensive coordinator Tim Beck could opt to go with the same two-quarterback system he utilized against South Dakota State. That means redshirt freshman
Tommy Armstrong Jr.
and fifth-year senior
Ron Kellogg III
would split reps. Martinez started 32 consecutive games before the streak ended two weeks ago, so neither backup is exactly a proven commodity. Martinez could still play but, if he doesn't, there'll be quite a few extra question marks for the Huskers on Saturday.
6. Can Nathan Scheelhaase keep up this pace?:
The Illini have already surpassed last season's win total, and Scheelhaase has been a big reason for that. He leads the conference in passing yards (1,162) and quarterback rating (174.8). Plus, he's second in completion percentage (67.2), yards per attempt (9.5) and passing touchdowns (12). At this point, it certainly seems as if he belongs on the All-Big Ten team. And it'll be interesting to see if Scheelhaase's huge numbers can continue. He's going up against Nebraska's 105th-ranked passing defense this weekend.
7. Seventeen and counting
Ohio State's 17-game winning streak is on the line against No. 16 Northwestern, and this matchup is once again the Big Ten game of the week. A convincing win here would help boost the Buckeyes' No. 4 ranking in the polls, while a Northwestern victory would help cement the Wildcats' status as a title contender. Pat Fitzgerald has been looking for his gritty team to take the next step, and this is the perfect opportunity. Urban Meyer, meanwhile, hopes to increase the nation's best winning streak and to pave the way to the national title game. Ohio State's the favorite, but no one's counting out the Wildcats.
8. Redeeming the secondary:
OK, there are a few Big Ten teams that could fit under the title of "struggling secondary," but there's one team where that identity isn't quite clear yet -- Penn State. The Nittany Lions actually boast the No. 23 passing defense, BUT they were absolutely dominated by
Blake Bortles
and UCF. Indiana's eighth-ranked passing attack will be a tough test for the PSU secondary. And this will go a long way in determining whether UCF was an anomaly, or whether big passing numbers will be the new norm for Penn State's defense.
9. Forgetting the pig in favor of a jug:
After starting out 4-0 and then losing the Floyd of Rosedale to Iowa, the Golden Gophers will get another chance at a trophy -- in the battle for the Little Brown Jug against Michigan. Of course, Minnesota has only won the trophy three times since 1968. Still, Jerry Kill keeps a replica of the trophy on his desk, and this would be a program-defining upset. The Gophers need one of those, as they have a difficult schedule coming up and a bowl berth certainly isn't guaranteed. Four of their next five opponents are Michigan, Northwestern, Nebraska and Penn State.
10. Bradley Roby trying to get back on track:
He gave up a few big plays against Cal and then, against Wisconsin,
Jared Abbrederis
lit him up to the tune of 207 yards for the biggest game a Badgers receiver has had in a decade. Roby wasn't made available to the media this week, but his teammates voiced confidence in the preseason All-American. He is -- was? -- considered one of the nation's top cornerbacks, but that title might be in jeopardy. He's undoubtedly looking for a big play or two to help silence the doubters. Northwestern doesn't have the most high-powered passing attack so, if Roby struggles this weekend, those critics will only get louder.
September, 26, 2013
Sep 26
12:00
PM ET
Welcome back, Ron Swanson.
August, 19, 2013
Aug 19
5:00
PM ET
Next Monday will be game week. So excited. For now, more of your Monday mail.
[+] Enlarge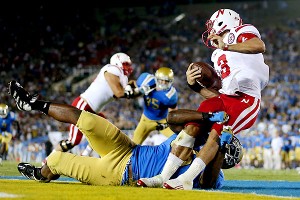 Stephen Dunn/Getty ImagesDon't expect Nebraska's Taylor Martinez to play anywhere but the QB position this fall.
Jeremy from Jenison, Mich., writes:
Which Big Ten team, outside of Ohio State, do you feel has the best chance to make the Rose Bowl? Personally, I think its either Michigan or Nebraska, or Michigan State could possibly sneak in. But what do you think?
Brian Bennett:
Jeremy, I think it's between Michigan and Nebraska. The Huskers benefit because they don't have to play Ohio State in the regular season, while Michigan has the advantage of playing Nebraska in Ann Arbor. I wouldn't be shocked to see Michigan State, Wisconsin or Northwestern sneak up and get to Pasadena (and we are talking about this while assuming Ohio State doesn't go to the BCS title game), but I think the Wolverines and Huskers have better chances because of their talent and schedule. While I rank both below the Buckeyes, either of them could beat Ohio State in a one-game shot -- or in Michigan's case, a second-game-in-two-weeks shot.
Jerry Fan from Minneapolis writes:
Jerry Kill has stated his program needs a signature win this season. Do you think that will happen, and if so, what game do you think it would be?
Brian Bennett:
That's been a consistent theme for Kill this summer, that Minnesota needs to notch a signature win. He hasn't defined exactly what that would look like, but these seem to be the best chances for the Gophers to accomplish that this fall:
Oct. 5: at Michigan
Oct. 19: at Northwestern
Oct. 26: Nebraska
Nov. 9: Penn State
Nov. 23: Wisconsin
Nov. 30: at Michigan State
You could argue whether beating Northwestern or probation-saddled Penn State is really a signature win, but I think Kill would gladly take either of those. Beating Wisconsin would be tremendous for the program because that rivalry has been so one-sided, and the same could be said about Michigan. I'll go out on a limb and say Kill's team does win one of those games, though it won't be against Michigan or Nebraska.
OblioCat from Andersonville, Chicago, writes:
Northwestern wins the Legends Division. Win or lose in the Big Ten Championship Game, is the Big Ten down (even more), or is Northwestern actually a good team? Will the journalists wait for bowl game results to rip on the Big Ten? Granted, when NU beats LSU in its bowl game, part of the South will crumble.
Brian Bennett:
Lot of ifs there, but I doubt too many people would criticize the league for being down if Northwestern wins the Legends Division, unless they finish 8-4 or something and everybody else tanks. The Wildcats are getting plenty of respect this offseason and are ranked in both major polls, so people know how good they are. Heck, the LA Times' Chris Dufresne ranked Northwestern No. 10. The Big Ten's reputation will be based on how the league performs in the nonconference games, but with so few marquee matchups, the Big Ten has more opportunities to reinforce negative perceptions by losing than it does to change them by winning.
Brian from Whiteman Air Force Base writes:
So I was thinking about my Huskers' upcoming season, and thought about Taylor Martinez's future beyond Lincoln. I think it's pretty obvious he won't be drafted as a QB, but more likely as a WR. So I was thinking, how awesome would it be to see him line up at WR a bit for Nebraska, and let our young stub backup QBs (
Tommy Armstrong
and
Johnny Stanton
) get some game experience?? Tim Beck could have a field day with that much talent on the field at one time! That could make for some serious excitement and a terror for defenses!
Brian Bennett:
I'd argue that Nebraska already has a serious amount of talent on offense, and one of the deepest and best receiving corps around.
Taylor Martinez
is so essential to the team's success that I would be stunned to see Beck risk anything by putting him at another position. But I do think playing one of the young guys is going to be important this season for the Huskers as they transition to the post-Martinez era next year. Luckily, the early schedule is such that Martinez could be getting some early rest in September and October, allowing one of those youngsters to get some in-game training.
Kevin from Fairfax writes:
Brian, you missed the most obvious
Heisman sleeper in the Big Ten
:
Akeel Lynch
if he can get on the field early enough. Penn State has the best line in the Big Ten (and maybe the nation) blocking for its running backs, the Nittany Lions have the best collection of skill position players in the league pulling defenders off the line of scrimmage (No PSU back will see a seven or eight man front this year except for in short yardage situations) and the best offensive coaching in the nation.
Brian Bennett:
Eh, sorry, I don't see it.
Zach Zwinak
had a really nice and surprising year last season for Penn State, but it wasn't anything that was remotely Heisman worthy, especially with a 4.9 yards per carry average and only six touchdowns. Plus, coach Bill O'Brien has said that he plans to get carries for Lynch and
Bill Belton
. If anybody is going to attract Heisman attention on the Nittany Lions -- and that in itself is a big question mark because of probation and the lack of roster depth -- I think it will be the quarterback.
Allen Robinson
might be the team's best player, but it's nearly impossible for receivers to win the award. If O'Brien can turn Matt McGloin into the Big Ten's top passer, imagine what he can do with a talent like
Christian Hackenberg
.
Jack from Illinois writes:
While reading your last Big Ten mailbag, I saw your thoughts on Illinois, despite competing and being better, finishing the season at with a record of 3-9. I realize as an Illini fan that we may not be the best team, but should I really be expecting us to be that bad? As daunting as the Illini's schedule looks, it appears there are some games they can really pull an upset in (don't get me wrong though, I don't exactly have much hope in our game against Nebraska). I'm not saying we get bowl eligible, but is it crazy for me to think we get to a record like 5-7?
Brian Bennett:
It's not completely crazy, but Illinois will have to make major strides on offense, defense and special teams to win five games. There are teams on the schedule that the Illini should be able to compete with, like Indiana and Purdue, and they should be favored against Southern Illinois and Miami. Win those four, and it only takes one upset to get to five wins. Still, it seems like an uphill battle given the lack of elite players and depth on the roster.
Dave from Marietta, Ohio, writes:
Regarding the
B1G football bucket list
... I've done all those. Does that mean I'm going to die tomorrow?
Brian Bennett:
I sure hope not, Dave. But whenever you do kick the bucket, you should be pretty happy.
August, 7, 2013
Aug 7
3:08
PM ET
Penn State Hangs On To Top Wisconsin