Penn State Nittany Lions:

Tom Pancoast
September, 3, 2013
9/03/13
1:45
PM ET
STATE COLLEGE, Pa. -- Senior
Matt Lehman
is out for the season and fellow tight end
Kyle Carter
remains day to day, according to Penn State coach Bill O'Brien.

Tight end was among the Nittany Lions' deepest positions just last month. But
Brent Wilkerson
suffered a serious back injury, and Lehman and Carter players suffered injuries Saturday against Syracuse.
O'Brien said he wasn't certain if Carter could play Saturday versus Eastern Michigan. If he can't, that means redshirt freshman
Jesse James
would be the top option, with true freshman
Adam Breneman
as the No. 2. The only other tight end listed on the roster is true freshman walk-on
Tom Pancoast
.
"Certainly, any time you have a player of the caliber as Matt Lehman go down, it's not a good thing," O'Brien said. "It definitely falls into the category of 'next man up.' "
O'Brien didn't disclose the exact injuries of Lehman or Carter. But with Lehman, he referred back to Michael Mauti's knee injury. O'Brien believed Lehman still had a future in football. Carter also remained on the sideline Saturday with his arm wrapped up.
As a result of those injuries, O'Brien said he might utilize another position a bit more -- such as fullback
Pat Zerbe
or another wideout -- to make up for the loss.
"You have to have a contigency plan," O'Brien added.
Lehman was fourth on the team in receiving last season with 24 catches for 296 yards and three touchdowns. He had two catches for 17 yards against Syracuse.
August, 26, 2013
8/26/13
9:00
AM ET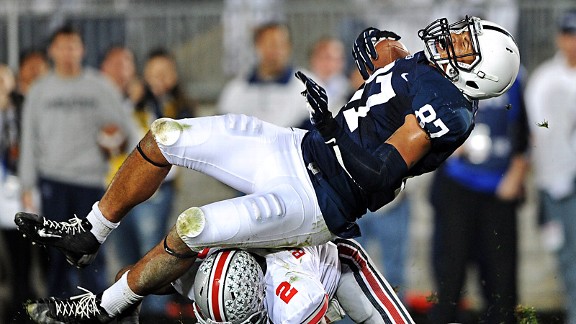 Patrick Smith/Getty ImagesPenn State tight end Kyle Carter aims to improve on his 36-catch season.
As part of an ongoing series, NittanyNation will preview a different position leading up to the season opener against Syracuse on Saturday. Up today: Tight ends.
Projected starters:
Kyle Carter
(2012 stats: 36 catches, 453 yards, two touchdowns) and
Jesse James
(15 catches, 276 yards, five touchdowns)
Key losses:
None
Next in line:
Walk-on-turned-scholarship TE
Matt Lehman
started three games and played in all of them last season, and he'll be the next man up for now if there's any kind of injury. That being said, he'll still see plenty of time in Bill O'Brien's rotation at the position -- and he could be pushed for playing time by the true freshman behind him.
Adam Breneman
missed his senior season of high school with a torn ACL in his right knee, but he's made great strides and has impressed the staff with his recovery. He's from the same high school as former PSU great Kyle Brady, and big things are expected out of the nation's top tight end of the 2013 class. By the end of the season, he could be TE No. 3.
Brent Wilkerson
is nursing a back injury, and O'Brien hasn't mentioned when he could return -- although he did acknowledge the injury was serious.
Wilkerson could see time down the line if he's healthy. If he's not, the only other TE listed on the roster is run-on
Tom Pancoast
, who was initially recruited as a safety.
What to expect:
If this isn't the best group -- group -- of tight ends in the country, it's pretty darn close. This is the most unique part about Penn State's offense, as defenses will have to anticipate four tight end sets at some point.
The tight ends here have taken to calling themselves "TEU," and that's not too far from the truth. Maybe that's a bit premature, but PSU targets tight ends in a big way. Bigger than nearly every other school. PSU could go five consecutive seasons with someone on the Mackey Award watch list, and Breneman is aiming to win the award before he graduates. (It's already typed in his smartphone.)
There's really nothing bad to say about this group. Teammates have raved about the 6-foot-7 James, who should provide a nice red-zone target for the new quarterback. Carter might have the best hands on the team. Penn State's fourth-best tight end could start on most Big Ten teams.
Recruiting trail:
Clearly, the Nittany Lions don't need any more tight ends -- but O'Brien's a fan of the "best player available" philosophy. Three-star prospect
Mike Gesicki
(Manahawkin, N.J./Southern Regional) is the only tight end who could wind up at Penn State in the 2014 class, and PSU is on his short list. Ohio State and Wisconsin are Penn State's biggest competition. Gesicki visited PSU earlier this month.
Best-case scenario:
Carter not only picks up where he left off last year but becomes to tight ends what
Allen Robinson
was to wideouts last season. Carter is named the Big Ten tight end of the year, earns All-America honors and is in the conversation for the Mackey Award. James becomes a touchdown machine, while Breneman sees solid time later in the season and sets a foundation.
Worst-case scenario:
Carter starts off slow after missing time over the offseason because of a wrist injury. He's just fine later on, but PSU finds itself relying more on the run to offset a struggling starting QB -- so the tight ends are unable to flash their ability that much. This group is improved, but it's not easy to tell because they're not seeing as many targets.
Top position question:
Can Carter, or any tight end here, win the Mackey at some point his career?
Absolutely. We averaged the stats of the last 10 Mackey winners, and future Penn State tight ends should come very close to the numbers.
Here's the average: 58 catches, 708 yards, six touchdowns. (And two of the winners had fewer than 50 catches and 600 yards.) If you average Carter's numbers out last year as if he had played every game, he would've finished with 48 catches for 604 yards and three TDs. So he's not that far off.
Breneman's goal of winning the Mackey in the future is very reachable. If Carter can improve his numbers from last year -- and the young QBs do appear to be targeting the tight ends more as security blankets -- then PSU should at least have a semifinalist in the mix.
July, 19, 2013
7/19/13
11:00
AM ET
Welcome to NittanyNation's mailbag! We asked you to tweet or email your questions, and we've selected three to answer in-depth this week.

Jim Murphy writes: How will Brad Bars' injury impact depth for the Lions this season? Was he poised for significant playing time?

Josh Moyer: He had high expectations back in February. I last talked to a smiling Bars during Thon weekend, when he volunteered to show host families around the football building. He said this at the time: "I feel like this is the season I'm going to take my game to another level. My expectations have risen a lot. ... I expect to be a key player on the team this year."
February, 15, 2013
2/15/13
9:00
AM ET
Every weekday, as part of an ongoing series, NittanyNation will take a closer look at a Penn State walk-on.
Vitals:
Safety
Tom Pancoast
, Kennett Square (Pa.) Unionville, 6-foot-4, 190 pounds.

Picked Penn State over:
Scholarship offers from FCS schools Bucknell and Colgate.
To continue reading this article you must be an Insider
February, 11, 2013
2/11/13
12:31
PM ET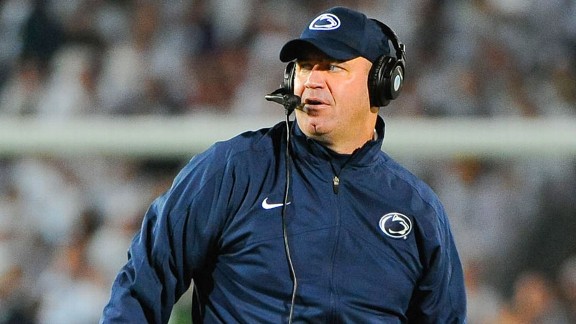 Rich Barnes-USA TODAY SportsBill O'Brien is building a base for the future with PSU's run-on program.
STATE COLLEGE, Pa. -- Bill O'Brien has constantly emphasized the importance of his run-on program, and his hope is this will allow him to add needed depth during a time of sanctions and scholarship reductions.

Penn State's head coach said last week he was hoping to add about 20 walk-ons, and the count currently stands at 21. NittanyNation is aware of a handful of recruits that PSU is either still considering or who are just awaiting acceptance into the school.
But most of this run-on class is already in the books. Here's a list -- complete with film and notes -- of the players on defense and special teams who have committed as run-ons.
To continue reading this article you must be an Insider
February, 3, 2013
2/03/13
3:08
PM ET
With the Super Bowl just a few hours away, NittanyNation decided to poll some of Penn State's committed run-ons to get their take on the game. We asked for them to give the winner, the score -- and their reasoning.
Overwhelmingly, it appears as if Penn State's preferred walk-ons believe the San Francisco 49ers will win the Super Bowl. And the consensus is by a field goal:
WR Gregg Garrity Jr., Wexford (Pa.) North Allegheny: 49ers, 27-17. No answer for Kaepernick and not enough weapons for Baltimore. San Fran will shut down Ray Rice, forcing them to pass. Flacco will have a long day.
QB Jack Seymour, Indianapolis (Ind.) Park Tudor: Ravens, 31-24. I think Flacco is a much better overall quarterback with a really efficient offense that played really well in the past playoff games. He's really stepped up and shown himself to be an elite quarterback. I also picked them because Ray Lewis will carry their defense and is their source of motivation. And he will stop at nothing to win. Ravens all the way! This will be San Francisco's first-ever loss in a Super Bowl!
WR Chris Geiss, Malvern (Pa.) Great Valley: 49ers, 27-24. I don't think the Ravens' D can stop the option.
OG Evan Galimberti, State College (Pa.): 49ers, 27-13. I just think the defense of the 'Niners is too good and Kaepernick could outrun the Ravens.
LS Sean Corcoran, Kankakee (Ill.) Bishop McNamara: 49ers, 27-24. I think their pistol offense is extremely dangerous, and I think their defense will be able to stop Ray Rice to make the Ravens too reliant on the pass game. But I'm still rooting for Corey Graham and Brendon Ayanbadejo on the Ravens because they're former Bears!
LB Kyle Searfoss, Lewisberry (Pa.) Red Land: 49ers, 24-17. Their defense is too good, and Colin Kaepernick is too good.
S Tom Pancoast, Kennett Square (Pa.) Unionville: 49ers, 24-21. Colin Kaepernick has a big game and wins Super Bowl MVP.
K Chris Gulla, Toms River (N.J.) Toms River North: Ravens, 24-21. I'm thinking a little game-winner from Justin Tucker.
RB Brian Tomasetti, Scranton (Pa.) Old Forge: Ravens, 24-20. Their defense is too good. Kaepernick is going to get shut down, and I believe Joe Flacco will have the game of his life. Position-by-position, I feel the Ravens are better -- especially at running back with Ray Rice. Also, Ray Lewis will not lose his last game.
RB Cole Chiappialle, Beaver Falls (Pa.) Blackhawk: 49ers, 27-24. As a diehard Steelers fan, I will be rooting for the 49ers. No way I will cheer for the Ravens!
SB Von Walker, Mill Hall (Pa.) Central Mountain: 49ers, 24-17. Ravens can't stop Gore running or the Kaepernick passing attack.
OT Austin Fiedler, Turbotville (Pa.) Warrior Run: No idea. I think the score for each team will be in the high 20s, and it will be very close -- within six points. OK, I don't really know who will win. Both teams have a lot going for them. The Ravens have the bigger fan base, and that will give somewhat of a homefield advantage. But, on the other hand, I think the 49ers are overall a more solid team. I can't wait to watch the game actually, even though I'm not a big NFL fan.
January, 30, 2013
1/30/13
1:00
PM ET
Tom Pancoast
(Kennett Square, Pa./Unionville) turned down scholarship offers from Bucknell and Colgate to commit to Penn State as a walk-on. The senior -- who plays quarterback and safety -- recently spoke with NittanyNation at length about his decision.
NittanyNation: You turned down two FCS scholarship offers to walk-on to Penn State. Was that a difficult decision, or did you know all along you were going to go here?
Tom Pancoast:
Yeah, it was hard because Bucknell, they said I could get a $58,000-a-year scholarship and it's a great education there. It's a little harder to go to Penn State and eventually earn a scholarship. So I want to say it was a hard decision, but I feel like I knew I always wanted to go to Penn State. I feel like I couldn't live with myself knowning I wanted to do that, that I always wanted to do that as a kid and couldn't pass it up.
To continue reading this article you must be an Insider
January, 30, 2013
1/30/13
11:00
AM ET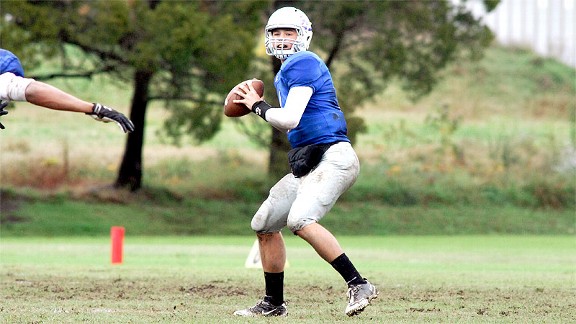 Courtesy of Charles Thomas/Fork UnionWith size and arm ability, Christian Hackenberg will be groomed as Penn State's QB of the future.
Two months ago, Penn State had just one committed quarterback -- and that seemed like a pressing issue that might take a while to resolve. With just one QB officially on the roster in
Steven Bench
, depth was obviously a concern.
Well, it certainly isn't anymore. Bill O'Brien garnered commitments from five players who'll compete at quarterback. And he also convinced four other players -- who were the starting quarterbacks on their respective teams -- to play at other positions at Penn State.
NittanyNation takes a closer look at all these signal-callers:
QUARTERBACKS WHO WILL STAY QBs
Christian Hackenberg, Fork Union (Va.) Military Academy
Stats:
Passing -- 156-of-291; 2,144 yards, 24 TDs, 9 INTs. Rushing -- 89 carries, 436 yards, 3 TDs.
Status:
Committed (scholarship)
Synopsis:
He's the top-rated high school quarterback in the nation. He can make all the throws, has a great arm, and his potential is endless. He just needs to familiarize himself with the playbook and better learn to read defenses. Opposing coaches said he had difficulty picking up disguised coverages and blitzes. He's obviously Penn State's quarterback of the future.
To continue reading this article you must be an Insider
BIG TEN SCOREBOARD
Thursday, 9/3
Friday, 9/4
Saturday, 9/5
Sunday, 9/6
Monday, 9/7