Penn State Nittany Lions:

Tom Brady
May, 23, 2014
5/23/14
4:00
PM ET
Wishing you a fun and safe Memorial Day weekend. Barring
breaking news
-- fingers crossed -- we'll be back with you bright and early Tuesday.
Follow the Twitter brick road
.
Mail call ...
Rajiv from Tallahassee, Fla., writes:
Do you think that there are any programs in the B1G that would automatically get or deserve a spot in the playoff if they ran the table in any given year? Secondly, suppose a team like Northwestern or Minnesota ran the table and then beat a 12-0 Michigan State team in the BIG Championship. Should one of those teams get an automatic bid? Don't think that situation would happen, but certainly an undefeated Ohio State would garner more recognition than Northwestern.
Adam Rittenberg:
Rajiv, it's my belief that any major-conference team that runs the table and wins a league title game to go 13-0 would make the field of four. Why else would you expand the field from two to four? Most Big Ten teams are playing at least one marquee non-league opponent, so even if their league schedule is a little soft like Iowa's or Wisconsin's this year, a perfect mark would be enough to get them in, regardless of their reputation. It would be incredibly disappointing if the committee functions like poll voters and gives preferences to historically strong teams. There would have to be odd circumstances -- two or more undefeated teams from major conferences -- for a 13-0 Big Ten team to be left out.
---
Jason from Tampa writes:
What are your thoughts around Penn State and its stance on the Paterno lawsuit? On one hand, Penn State is a defendant in the lawsuit, has made great strides, and a majority of the severe sanctions are behind them. On the other hand, Penn State might get temporary or full relief of all sanctions. Do you believe their stance is a calculated move to avoid bad publicity and not disrupt the relationship with the NCAA in regards to further sanction reductions?
Adam Rittenberg:
Jason, I think your first point about Penn State making strides and moving past some of the more severe sanctions is a motivator for the school's position. There's no full relief from the sanctions, since Penn State has had two bowl-eligible teams stay home and continues to operate with reduced scholarships. But the school clearly feels that cooperation with the NCAA is the best route. Penn State also has aligned itself with the Freeh Report, which the Paterno family claims isn't credible. Ultimately, PSU seems too far down the road in lockstep with the NCAA to dramatically change its position.
---
Paul from Lincoln, Neb., writes:
I heard Ed Cunningham say on "College Football Live" that from what he observed in the Big Ten last year that the QB play is very poor compared to other conferences. My question(s) to you is: 1) Do you really believe the QB play is that bad in the conference? 2) Who are the QBs in the BIG that could go and start for other major college football programs in other conferences? (You can pull names from last year as well).
Adam Rittenberg:
Paul, quarterback play in the Big Ten has been down for some time. The league hasn't had a quarterback selected in the first round of the NFL draft since Penn State's Kerry Collins in 1995. That's stunning. Although quarterbacks such as
Drew Brees
(Purdue),
Tom Brady
(Michigan) and
Russell Wilson
(Wisconsin) have gone on to win Super Bowls, the league isn't mass-producing elite signal-callers. Something needs to shift, and it could be the quality of quarterback coaches in the Big Ten. Besides Indiana's Kevin Wilson, are there any true QB gurus in the B1G?
Your second question is a bit tricky because there are some major-conference teams elsewhere with dire QB situations. But
Braxton Miller
,
Connor Cook
and
Christian Hackenberg
could start for any FBS squad.
---
Moss from Ann Arbor, Mich., writes:
The Big Ten is starting to resemble a very wealthy yet dysfunctional family. Consumed by more wealth and shiny toys but not paying attention to their children (teams) as they grossly underperform. Is the BIG more interested in the brand than the actual product? The conference has all the advantages but can't seem to get its proverbial act together.
Adam Rittenberg:
Moss,
it just doesn't seem to add up
. A league should be able to build its brand, generate revenue for its schools and win championships on the field. What do you mean by not paying attention? What do you want the Big Ten to do for its underperforming teams? That's the hard part. Commissioner Jim Delany gets criticized a lot, but he has significantly increased the resources for Big Ten programs, which can pay coaches more and invest in their facilities. Ultimately, the Big Ten can move its campuses to the south and west, where more of the elite players are. But I don't agree the league is neglecting its programs by trying to expand its brand.
---
@roberthendricks via Twitter writes:
Do you think OSU has a long-term solution going forward in
J.T. Barrett
,
Cardale Jones
or
Stephen Collier
? I know taking a hot QB in this class is essential, but what if they don't? Post-Braxton fear is setting in.
Adam Rittenberg:
That fear is real, Robert, as Ohio State's quarterback situation beyond 2014 seems cloudy. Miller's injury this spring allowed Jones and Barrett both to get some significant work in practice. While both struggled in the spring game, Jones enters the summer as Miller's primary backup. Ohio State would be wise to get at least one, if not both, into games this season, even in mop-up time. Collier seems like more of a project, and all three men need some time to develop. I don't think it's realistic to expect Ohio State's next quarterback to match Miller's big-play ability.
August, 22, 2013
8/22/13
12:00
PM ET
On this day in 1851, the United States won its first ever America's Cup. And for winning it all, you get a
silver
trophy. Oh, yachting.
November, 20, 2012
11/20/12
5:14
PM ET
STATE COLLEGE, Pa. --
Michael Mauti
's teammates surrounded him in the meeting room Monday, watching as he delivered an emotional plea to finish this season strong.
Players fell silent when the fifth-year senior steadied himself. There was no whispering, no chatter. They all took a seat, "all eyes glued" to Mauti, cornerback
Stephon Morris
said, and nodded as he told this squad to focus on Saturday.
"We still have a game to play, he got up and told us that yesterday," defensive tackle
Jordan Hill
said, "and that we have to go out there and focus on Wisconsin and not focus on him. He said we can focus on him later next week.
[+] Enlarge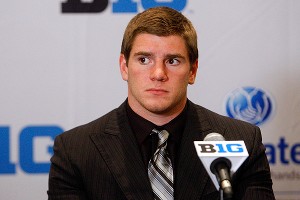 Jerry Lai/US PresswireFifth-year senior linebacker Michael Mauti, Penn State's leading tackler, will watch the Wisconsin game from the sideline.
"That's spoken from a true leader. And that's what we have to do for him, just go and play the game."
Mauti told ESPN on Monday he was still awaiting a diagnosis, and Bill O'Brien said Tuesday that it wasn't the time to address specifics on the linebacker's left knee. It's clear it isn't good -- O'Brien mentioned
Tom Brady
's torn ACL when addressing Mauti -- but the coach expected word of the injury to be released at a later date.
Mauti paused several times Monday when asked about that left knee, which caused him to miss most of last season. He took a few deep breaths and, in a somber tone just said, "It's just not the time, man. Now's not the time. After this week, I'm going to worry about me. Right now, it's about getting these guys ready for Wisconsin."
Mauti has found himself spending a lot of time inside the Lasch Football Building this week. He remains a staple at the team meetings, and he's tried to advise backup
Mike Hull
on nuances of the outside linebacker position.
He stood off to the side during Tuesday's open practice in a blue ballcap and his Penn State varsity jacket. Mauti didn't need crutches to stand, but he walked slowly with a noticeable limp. He passed his stretching teammates, chatting and smiling with
Anthony Zettel
, before watching his teammates take part in position drills.
"I can't tell you how much gratitude I have and how I feel about the fans the last couple of days," Mauti said Monday. "It's been an outpouring of support all year. It helps you understand how special this is."
O'Brien wouldn't say if Mauti might try to petition the NCAA for an extra year of eligibility. He only acknowledged on Monday that the fifth-year senior would not suit up for the final game of the season.
But, even though he'll be on the sideline instead of the field, wearing a ballcap instead of a helmet,
Matt Stankiewitch
knew that wouldn't change the linebacker's mentality.
"It doesn't matter if he can play or he can't play," the senior center said. "He's still going to lead."
October, 23, 2012
10/23/12
4:08
PM ET
STATE COLLEGE, Pa. -- Don't tell Bill O'Brien his quarterback can't be a dual threat.
"What are you talking about?" the coach yelled in mock exasperation Tuesday when a reporter made that statement. "Were you at the Northwestern game?"
An animated O'Brien thrust out his arm and smiled while addressing the athleticism of
Matt McGloin
, who's rushed for five touchdowns and countless first downs this season. Maybe "dual threat" wasn't the right adjective to describe a senior whose slides and dives have been known to cause a few chuckles, but O'Brien said his signal-caller can move.
"People always use that label 'dual threat,' and I always use the example of
Tom Brady
-- and one of the best qualities about Tom Brady is his feet in the pocket," O'Brien said. "What we've tried to do with Matt is teach him about pocket awareness, and Matt's done a good job of that."
Fullback
Michael Zordich
, who stood off to the side during the media conference, took the dais and -- joke or not -- smiled about the notion McGloin was a running threat.
"It's debatable, that comment," Zordich said with a laugh. "But, nah, we mess around with him because we always say he's not that athletic -- but he's very good at getting away from the pocket and evading pressure. It's really impressive.
"I wouldn't go as far as calling him an athlete, but I'll give him credit for that."
McGloin's awkward touchdown "dive" -- or faceplant, depending how you look at it -- became a
memorable .gif in the world of social media
. But there's no debating his efficiency: McGloin has 1,788 passing yards, 19 total touchdowns and just two interceptions.
October, 12, 2012
10/12/12
9:00
AM ET
Every week, NittanyNation will pose five questions to a recruit, player, alum or coach about all things Penn State.
This week's subject is
Kevin Kelly
, a PSU kicker from 2005-2008 who started all four seasons. He came on with a scholarship and left by shattering the school points record. The 5-foot-7 Pennsylvania native ended his career with 425 points -- 143 points more than the No. 2 on the list, Craig Fayak.
Kelly still attends about four games a year and says he never misses a game on TV.
NittanyNation: Have you reached out to Sam Ficken at all, and just how much of a mental game is kicking?
Kevin Kelly
: Yeah. I reached out to him a couple weeks ago, and we've been texting back and forth here and there. But, at this point, it's a mental thing. Being at a Division I school and being a starting kicker, especially at Penn State, it's not physical. His mistakes maybe are physical, but it's moreso a mental thing for him, and it's just something that takes time.
My freshman and sophomore years, I wasn't a good kicker. I made field goals, but I didn't make the ones that I needed to make. He's kind of in the same area, where he's growing and learning. He's gradually getting better and better, and that's what we can expect of him. As long as he's trying to fix those mistakes, that's all we can ask for.
September, 6, 2012
9/06/12
3:00
PM ET
STATE COLLEGE, Pa. -- Bill O'Brien didn't have to pause and search for an answer when asked about this week's offensive game plan. To O'Brien, the solution to Saturday's maladies seemed obvious.
"We've got to be more balanced," the first-year head coach said. "That starts with me."
He didn't walk through the south tunnel Saturday hoping to pass nearly seven out of 10 plays. And, he said, he's not looking to do that against Virginia. He wants to return to the football basics; he wants to run more.
But there's a hitch in this week's scheme: Trainers have held
Bill Belton
out of practice, and O'Brien might be forced to start a fifth-year senior,
Derek Day
, who's carried the ball 15 times in his career.
USC transfer
Silas Redd
reached that mark eight times last season.
"For any QB to be successful, you have to run the football,"
Matt McGloin
admitted.
O'Brien called 48 passes to just 22 runs last week. Even by New England Patriots standards, that's high.
Tom Brady
surpassed the 48-attempt plateau just once last season in a 24-20 loss to the New York Giants.
New England passed about 58 percent of the time last season; Penn State passed in 68.5 percent of its plays last week. To add some perspective, even pass-happy Houston would've called about five more running plays than PSU, based on last year's numbers.
So, O'Brien appeared sincere this week when he said he'd better emphasize his stable of inexperienced running backs. He praised his offensive line and remarked about his confidence in Day and those other tailbacks. But, Virginia coach Mike London didn't appear to expect balance.
"I think they won't depart too far from what they showed last week, showing what their identity is," London said Thursday.
Short, quick pass plays defined the Nittany Lions' offense when it hustled the ball downfield in the first half. Then again, it also defined an offense that sputtered in the second half.
"We felt in the first half we were kind of showing the identity we wanted to have," offensive tackle
Mike Farrell
said, "but in the second half we faded a little bit. So it's been a priority this week for us to improve and play a full game."
Tight end
Kyle Carter
said his team hoped to add another dimension to its attack by focusing more on deep throws. McGloin didn't complete a pass longer than 25 yards, and most attempts weren't thrown farther than 15.
At practice Wednesday, quarterbacks coach Charlie Fisher stood close to McGloin while he launched a handful of 40-yard tosses.
Allen Robinson
caught a perfect ball in stride, while a slower
Matt Zanellato
found himself two steps behind another.
McGloin wouldn't say what he was expecting for Charlottesville. He refused to say whether, when he looks back on this season, Penn State might have more passes than rushes.
"Right now, it's simple," McGloin said. "We're going to do what we have to do to win. If that means we throw it 10 times, we'll throw it 10 times. If we have to run it 100 times, we'll run it 100."
BIG TEN SCOREBOARD
Thursday, 9/3
Friday, 9/4
Saturday, 9/5
Sunday, 9/6
Monday, 9/7