Penn State Nittany Lions:

Tom Bradley
February, 25, 2014
2/25/14
5:00
AM ET
1. West Virginia
hired Tom Bradley
as assistant head coach, and for the first time since the Penn State scandal erupted, a majority of Joe Paterno's assistants are working again. Has it been the taint of the scandal or a commentary on Paterno's staff? The two assistants Bill O'Brien kept -- Larry Johnson and Ron Vanderlinden -- have moved to Ohio State and Air Force, respectively. Galen Hall and Dick Anderson retired. Jay Paterno is running for lieutenant governor in Pennsylvania. Mike McQueary, a big witness in the Jerry Sandusky trial, has yet to resurface.
2. Speaking of Penn State, new head coach James Franklin might be the first sitting SEC head coach to leave the conference for a Big Ten school since the SEC began playing football in 1933. I say "may" because I haven't found one in my research, but I am not positive I have run down every single lead. In recent years, two prominent head coaches, Nick Saban (Michigan State to LSU) and Bret Bielema (Wisconsin to Arkansas), have left the Big Ten for an SEC school.
3. Jerry Jones bought the Dallas Cowboys 25 years ago today, catapulting his University of Arkansas teammate Jimmy Johnson out of college football after a three-year run in which Johnson's Miami Hurricanes went 34-2, winning one national championship (1987) and losing to the eventual No. 1 team in the other two years (Penn State, 1986; Notre Dame, 1988). Another of Jones' Razorbacks teammates, Barry Switzer, came out of retirement and joined Johnson as the only head coaches to win a college football national championship and a Super Bowl (until Pete Carroll joined them earlier this month).
September, 17, 2013
9/17/13
11:00
AM ET
STATE COLLEGE, Pa. -- Penn State's fiery defensive coordinator, John Butler, just crossed his arms and stared up at the big screen after UCF's third touchdown Saturday.
Maybe he just needed to make sure this was real, that he wasn't trapped in a nightmare. Maybe he couldn't believe how his players missed tackles, moved in slow motion or struggled in coverage. Whatever Butler was thinking, it didn't get any better for a defense that surrendered 34 points and 507 yards.
The game's been over now for nearly three days, but answering the questions has only just begun. Some fans have already, tongue-in-cheek, called for PSU to reinstate former defensive coordinator
Tom Bradley
. Others are blaming thud practices, in which no player is tackled to the ground.
In a valley that's never happy after a loss, Bill O'Brien did little to ease concerns when he deflected talk Saturday by saying he'd need to watch the film. But Penn State's struggles, to a great extent, don't need to be viewed on a flat-screen to be explained.
Just look at the roster. Look at the numbers.
[+] Enlarge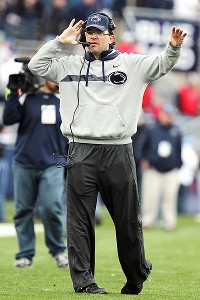 Matthew O'Haren/USA TODAY SportsPenn State defensive coordinator John Butler is receiving some blame for the Lions' poor day on defense, but the problem runs a lot deeper.
This isn't the 2012 team led by two Butkus Award semifinalists at linebacker. This isn't the 2009 squad with three future NFL players at defensive tackle. And it's certainly not the 2010 group that ranked No. 16 in pass defense.
"We knew what we had to to do to stop them," Butler said. "And, to be honest with you, we couldn't stop what we needed to stop."
O'Brien is ESPN's reigning coach of the year and Butler
is considered a rising defensive coordinator
, but they're not King Midas. The Nittany Lions have fewer scholarship players than every team they're facing this season, and the Knights peeled back any illusion that PSU would cruise through this schedule unscathed.
Safety-turned-linebacker
Stephen Obeng-Agyapong
acknowledged he initially feared he was too small for his new role -- but he fared well in the first two weeks. The 5-foot-10 senior was exposed Saturday. Wideout-turned-cornerback
Trevor Williams
earned praise after stopping an Eastern Michigan passing attack that's about as a high-powered as a water pistol. He was exposed Saturday.
Penn State really doesn't have anywhere else left to turn. It's a Whack-a-Mole of depth problems. Butler can move
Adrian Amos
back to cornerback, but then he might have to move Obeng-Agyapong back to safety ... and then who takes over at linebacker?
Mike Hull
appears to be fighting a lingering injury,
Ben Kline
has seen limited time after recovering from offseason shoulder surgery and
Gary Wooten
is ... well ... just not ready for prime time. Butler has MacGyver-ed his way to even fielding a defense, calling upon first-year starters to pick up the slack.
Four defenders made their first career starts this season. Another two had just one career start before the 2013 season. Butler doesn't have a deep defense to choose from. He's not a bad coach; he's a handicapped coordinator -- not unlike Bradley, the same coach some might prefer, earlier in his career.
Bradley, affectionately known as "Scrap," didn't fare too well in Year 2 as coordinator, either. (And, in his first season in 2000, he lost to Toledo.) In 2001, the Johnstown native's defense gave up 443 yards a game. Only 17 teams fared worse that season, as Penn State's defense finished behind the likes of Hawaii, UTEP and New Mexico State.
It was an era when fans were bluer than the Penn State home jerseys. But Scrap just didn't have the players early in his tenure. PSU finished No. 98 in total defense in 2001. Afterward? PSU never finished worse than No. 50 and, during the next 10 seasons, finished within the top 20 a total of seven times.
That's a lot of numbers -- but it goes to show that Bradley was a good coordinator who simply didn't have a lot to work with. Give the best poker player in the world a bad hand and you can't expect them to rake in fistfuls of chips.
So it's a bit early to jump on Butler. Yes, these were the cards that Penn State was dealt -- but that doesn't mean the wrong man's playing the hand.
It's just one game, and PSU could rebound. It did after poor showings last season. But the Big Ten slate is loaded with high-powered offenses, such as Indiana (50 ppg), Michigan (42.7 ppg) and Ohio State (44.7 ppg) -- and those are just Penn State's opponents in October.
It's too early this season for Chicken Littles to proclaim the sky's falling over Beaver Stadium. But it's not too early to remind that this defense is short on depth. It will struggle at times, and Butler will be blamed for it.
But it's not Butler, it's not thud and it's not the game plan. It's primarily the depth -- and it's these sanctions.
PSU's 46-Hour Dance Marathon Raises $13 Million
BIG TEN SCOREBOARD
Thursday, 9/3
Friday, 9/4
Saturday, 9/5
Sunday, 9/6
Monday, 9/7