PSU Nittany Lions:

Tim Beckman
May, 2, 2013
May 2
3:30
PM ET
My hometown is already packed full of visitors and C-list celebrities in anticipation of the Kentucky Derby on Saturday. If you've never been, well come on down and enjoy the party. I've got a spare guest room.

When you live in Louisville, horse racing and handicapping are about all you can think of this time of year, in between bites of Derby Pie. So, like
last year
, I've imagined what the Big Ten 2013 program would look like if the championship chase were more like a horse race. I think the odds would go a little something like this (like the Churchill Downs toteboard, our odds only go up to 99-to-1),:
Ohio State: Even
Despite being scratched from last year's race by NCAA probation, the Buckeyes are the odds-on favorites this time around. They've got big-time winners both at trainer (Urban Meyer) and on the reins (
Braxton Miller
), and their schedule looks like they should get a clean trip.
Michigan: 5-to-1
The Wolverines are switching running styles this year, ditching the spread for a more traditional passing offense led by
Devin Gardner
. No need for blinders, as
Taylor Lewan
has the blind side locked down. Still, this entry hasn't had enough first-place finishes in its recent past performances.
Nebraska 6-to-1
The Huskers have been like one of those tantalizing horses in the program with a huge Beyer speed figure that always disappoints when you put the big money on them. Expect them to be a major pace-setter because of their early schedule, but that defense will determine whether they can make a long-awaited trip to the winners' circle.
Wisconsin: 10-to-1
Pretty good value here for a three-time defending champion of the Run for the Rose Bowl. Still, the Badgers are operating under new connections this time around (new coach Gary Andersen) and will have to prove they can track down Ohio State in the Leaders Division.
Northwestern 12-to-1
Another good option for those seeking value, as the Wildcats might be the wise-guy pick after last year's 10-win season. The problem is the potential of a very bumpy trip with that schedule (Ohio State and Wisconsin as crossover opponents). And there will be a lot of jostling in that Legends Division.
Michigan State: 20-to-1
Some bettors like to look for the bounce factor, meaning they seek out otherwise successful horses who are coming off one bad outing. The Spartans look like the best bounce candidate following last year's 6-6 season, which came after two straight double-digit win seasons. They have a more favorable post position (er, schedule) this time, but their early works suggest some lingering questions about the offense.
Minnesota: 50-to-1
We've reached the real long shots now. Jerry Kill has shown that his charges take off in their third year of training, and the Gophers have turned in some encouraging works. Still, they'll need to run a perfect race to factor in the money.
Indiana:
65-to-1
This would be a Giacomo-level upset. An exotic pick, at best. But with the Hoosiers' ability to score points, they could pull off a shocker if everyone else falters.
Purdue: 75-to-1
Handicappers got burned by picking Purdue as their sleeper last year. The Boilermakers might be even more of a mystery horse this year with a new trainer in Darrell Hazell. Still looks like an also-ran, but don't forget that they seem to run neck-and-neck with Ohio State lately, for whatever reason.
Iowa: 80-to-1
Failed to fire last year, and the speed figures aren't pretty. If you're betting the Hawkeyes, you're basing it on the pedigree of Kirk Ferentz. Should show more fight this time, but might be too much of a plodder to hit the board.
Illinois: 99-to-1

Stumbled out of the gate, no rally, didn't factor in 2012. Equipment changes on offense (new coordinator Bill Cubit's spread system) should help. But Tim Beckman has a lot of work to do to show he's not saddling another nag.
Penn State: Scratched
DQ'd by the NCAA. (Now accepting future wagering on 2016).
So there's how I'd write the program. What kind of odds would you give to each team, and who would you put money on in 2013?
January, 8, 2013
Jan 8
10:08
AM ET
Alabama and Notre Dame put a bow on the 2012 college football season Monday night. Most of the Big Ten would just as soon douse it with gasoline and light a match.
But before a largely forgettable 2012 Big Ten season goes up in flames, let's take one final look at the power rankings following the bowls. Ohio State not surprisingly remains on top, and the bottom three teams stay the same as well. There's a bit of shuffling among the seven bowl teams after varying performances. As has been the case most of the season, very little separates Nos. 2-6.
Here's a look at the
pre-bowl power rankings
.
Let's get to it ...
1. Ohio State (12-0; previously: 1):
The Buckeyes will occupy this spot until they lose a game, which might be a while under coach Urban Meyer. After recording just the sixth unbeaten, untied season in team history, Ohio State sets its sights on even bigger goals as it emerges from NCAA sanctions. The Buckeyes showed major strides on offense behind sophomore quarterback
Braxton Miller
and improved on both lines as the season went on. Meyer exceeded most expectations in Year 1, but they'll be much higher in 2013.
2. Northwestern (10-3; previously: 5):
Pat Fitzgerald's team moves up three spots after claiming its first bowl victory in 64 years. There was surprisingly little drama as Northwestern capitalized on Mississippi State's errors and won the TaxSlayer.com Gator Bowl by two touchdowns. The Wildcats recorded just the third 10-win season in team history and easily could have won another game or two despite a young roster. Things are headed in the right direction in Evanston.
3. Michigan (8-5; previously: 2):
The Wolverines were one defensive stop away from recording the most impressive win in the Big Ten's bowl season and in the Brady Hoke era. They paced a very talented South Carolina team in the Outback Bowl and received big performances from wideout
Jeremy Gallon
, running back
Denard Robinson
and quarterback
Devin Gardner
. Unfortunately for Michigan, an elite pass defense couldn't get it done in the end. Four of Michigan's five losses came against top-10 teams, but an 8-5 record isn't what Hoke or his players had in mind this fall.
4. Penn State (8-4; previously: 3):
Penn State and Michigan are similar in that both teams have "good" losses on their résumés (Michigan a few more than Penn State). Both teams rallied to beat Northwestern at home, while Penn State has another quality win against Wisconsin. The Lions and Wolverines didn't play one another, and we'll never know how Penn State would have fared against a team like South Carolina. Michigan gets the slight edge here, but Penn State had a terrific season behind a dramatically improved offense and a defense led by senior stars
Michael Mauti
,
Jordan Hill
and
Gerald Hodges
.
5. Nebraska (10-4; previously: 4):
The Huskers beat the three teams ahead of them in the rankings, but the power rankings place more weight on recent results, and Nebraska finished the season with a thud. Bo Pelini's team surrendered 105 points in its last two games -- losses to Wisconsin in the Big Ten championship game and to Georgia in the Capital One Bowl. Nebraska showed it could move the ball and score against anyone, despite being turnover-prone. But the defense was abysmal in the four losses and raises serious concerns for Pelini's program going forward.
6. Wisconsin (8-6; previously: 6):
The Barry Alvarez-led Badgers showed they could hang with Stanford, but they couldn't take advantage of the unique opportunity to play in the Rose Bowl despite finishing third in the Leaders Division. The inconsistent offensive execution that plagued Wisconsin throughout the season surfaced once again against a tough and talented Stanford defense. Wisconsin just didn't have enough firepower to get over the hump, which was really the story of its season.
7. Michigan State (7-6; previously: 7):
A come-from-behind win against TCU in the Buffalo Wild Wings Bowl takes the sting off of a season that didn't go according to plan for Michigan State. The Spartans leaned on their defense and received just enough offense from backup quarterback
Connor Cook
and Co. to get past a young Horned Frogs team in Tempe, Ariz. Michigan State posted its second straight bowl win under coach Mark Dantonio and said goodbye to three juniors -- running back
Le'Veon Bell
, tight end
Dion Sims
and defensive end
William Gholston
-- in the days following the game.
8. Minnesota (6-7; previously: 9):
Minnesota appeared poised to give the Big Ten a surprising 1-0 start to the bowl season. The Gophers made strides on offense between the end of the regular season and the Meineke Car Care Bowl of Texas, as young quarterback
Philip Nelson
and the offensive line looked a lot better against Texas Tech. But Minnesota still doesn't know how to finish and suffered breakdowns down the stretch in a tough loss to the Red Raiders. The team still doubled its win total in Jerry Kill's second season and could make some noise in a tough Legends Division next fall.
9. Purdue (6-7; previously: 8):
The Boilers and Minnesota swap places after Minnesota performed much better in its bowl game than Purdue did. A mismatch on paper turned into a total whitewash on the field as Oklahoma State, which had no business being in the Heart of Dallas Bowl, outclassed Purdue from the get-go. Purdue's once-promising season ended with a thud as a veteran-laden Boilers team that kept pace with both Notre Dame and Ohio State struggled mightily against most of the good to great teams it faced this season.
10. Indiana (4-8; previously: 10):
After going 1-11 in Kevin Wilson's first year, Indiana could only get better and took some important steps this season. The Hoosiers showed they can score points on just about every defense in the Big Ten, and their group of skill players is among the league's best. IU's defense still isn't at a Big Ten level and improving the talent and depth on that side of the ball is the chief challenge for Wilson and his staff entering the 2013 season.
11. Iowa (4-8; previously: 11):
A bowl appearance looked like a guarantee for Iowa before the season as the schedule set up favorably for eight or more wins. But the offense took a giant step backward, and injuries hurt the unit throughout the season. Iowa's defense kept it in quite a few games but also let down against better offenses like Northwestern and Michigan. The Hawkeyes will look for more cohesion on offense and more playmakers to emerge. The Legends Division only seems to be getting tougher.
12. Illinois (2-10; previously: 12):
No team and no coach wants to turn the page on 2012 more than Illinois and Tim Beckman. Almost nothing went right in Beckman's first season, as the offense stalled and the defense struggled against spread offenses. The Illini dropped all eight of their Big Ten contests and lost by fewer than 14 points just once. Perhaps new offensive coordinator Bill Cubit can get the offense on track. The defense, meanwhile, must fill holes up front and in the secondary. At least Illinois gets a fresh start in 2013.
November, 19, 2012
11/19/12
1:00
PM ET
It's the last week before the Big Ten championship game, which means this is the last game before bowl season for some teams and the last game until next year for others. Let's look at the story lines for Week 13:
Friday
No. 14 Nebraska (9-2, 6-1 Big Ten) at Iowa (4-7, 2-5)
, Noon, ABC: In the second installment of the Heroes Game, Iowa will need a heroic effort to pull off the upset, even at home. The Hawkeyes have lost five straight, while Nebraska comes in riding a five-game winning streak and just needing to take care of business here to win the Legends Division. It's hard to imagine the Huskers slipping up now, but as we saw this past weekend, sometimes crazy stuff happens.
Saturday
No. 19 Michigan (8-3, 6-1) at Ohio State (11-0, 7-0)
, Noon, ABC: Perhaps you've heard that these two schools have a little bit of a rivalry going on. The Game is always a big deal, and this year's edition looks like the biggest one since 2006. The Buckeyes are looking to finish off a perfect season, while the Wolverines would not only love to ruin that but need it to stay alive for a division title and for an outside shot at a BCS at-large bid. The
Devin Gardner
/
Denard Robinson
combo gives Michigan some crazy explosiveness, while
Braxton Miller
will try to rebound from his first subpar game of the season at Wisconsin. And it's Urban Meyer's first entry into this rivalry as head coach. Is it Saturday yet?
Wisconsin (7-4, 4-3) at Penn State (7-4, 5-2)
, 3:30 p.m., ESPN2: This game is meaningless in the big picture, but it won't feel that way for the Nittany Lions' seniors who have created a unique legacy. The Badgers no longer have a division title to play for and are going to Indianapolis regardless. Still, Wisconsin can help its bowl placement with a win and doesn't want to go into the Big Ten title game on a two-game losing streak.
Montee Ball
needs one more touchdown to break a tie with Travis Prentice for the NCAA career record.
Michigan State (5-6, 2-5) at Minnesota (6-5, 2-5)
, 3:30 p.m., Big Ten Network: It's still a little hard to believe that the Spartans have to win their finale just to go bowling, but that's the predicament they put themselves in. At least they're on the road and not at home, where they went winless in Big Ten play. Will any Michigan State fan even want to travel to watch this team play another game? Minnesota could make that a moot point by winning on senior day and getting to seven wins, which would be a great achievement in Jerry Kill's second year. The Gophers' home finale could be overshadowed by the
A.J. Barker
controversy this week, however.
Indiana (4-7, 2-5) at Purdue (5-6, 2-5)
, Noon, BTN: The Old Oaken Bucket game takes on real meaning as Purdue needs to win to reach its second straight bowl. Indiana saw its bowl hopes end last year, but the Hoosiers will be fired up for this rivalry and would love to keep the Boilermakers home. Danny Hope could be coaching for his job. Purdue has won eight of the last 10 meetings between these two, but Indiana came out on top the last time they met in West Lafayette in 2010.
Illinois (2-9, 0-7) at Northwestern (8-3, 4-3)
, Noon, BTN: Northwestern can wrap up a pretty impressive nine-win season and extend the misery of its top rival. The health of
Kain Colter
and
Venric Mark
will be the main angle to watch this week. Illinois coach Tim Beckman hasn't done much if anything to endear himself to Illini fans this season, but a win here could be a small step in that direction. His team is really thin, though, after enduring several more injuries last week. What are the chances Daniel Day-Lewis can show up in character to present the Land of Lincoln Trophy?
November, 15, 2012
11/15/12
10:15
AM ET
Ten items to track around the Big Ten entering Week 12:
1. Ballin' for history:
Thirteen years after Ron Dayne broke the NCAA career rushing record, another Wisconsin running back is on the doorstep of a major milestone. Badgers senior
Montee Ball
, who, unlike Dayne, spent a year and a half as a reserve, needs one more touchdown Saturday against Ohio State to tie the NCAA career mark of 78 held by former Miami (Ohio) star Travis Prentice. Ball has scored 13 touchdowns in his past six games and is averaging 179.1 yards and three touchdowns in his past nine November games. A big performance against the unbeaten Buckeyes will once again put Ball on the radar for top national honors. Ball's next rushing touchdown will mark his 72nd, moving him past Dayne for the Big Ten career record.
2. Holding serve in the Legends:
Nebraska and Michigan are tied atop the Legends Division at 5-1, and on paper, they should stay that way after Week 12. Both teams are favored to take care of Minnesota and Iowa, respectively, on senior day in Lincoln and Ann Arbor. Nebraska's magic number (wins and Michigan losses) to punch its ticket to Indianapolis is 2. A Huskers loss and a Michigan win puts the Wolverines in control of their own fate in the division. One senior day subplot is whether face-of-the-program stars like Nebraska running back
Rex Burkhead
and Michigan quarterback
Denard Robinson
will play after missing time with injuries. Burkhead (knee) returned to practice this week and seems closer to a return, while Robinson (elbow) remains day-to-day.
[+] Enlarge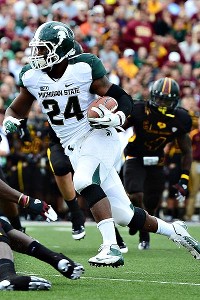 Andrew Weber/US PresswireLe'Veon Bell and the Spartans plan to finish strong against Northwestern on Saturday.
3. Finishing school:
Northwestern and Michigan State easily could be playing for a Legends Division title Saturday. Instead, both teams' inability to finish against the likes of Nebraska and Michigan has left them looking for a full 60-minute performance. Michigan State's four Big Ten losses have come by a combined 10 points. Northwestern held double-digit second-half leads in all three of its Big Ten losses. Something's gotta give Saturday as the teams meet at Spartan Stadium. "Their problem, just like ours, has been closing out games," Spartans linebacker
Chris Norman
told ESPN.com this week. "... It's going to come down to who can finish the best. Saturday is going to be interesting."
4. Hope and a prayer:
There's growing talk that Purdue will make a head-coaching change after the regular season no matter what happens in the final two games. But can fourth-year boss Danny Hope save himself with a three-game win streak to become bowl-eligible? It's reason enough to tune in for an otherwise off-the-radar game between Purdue and slumping Illinois on Saturday. A loss to the Illini would prevent Purdue from getting bowl-eligible and likely seal Hope's fate, while a Purdue win adds intrigue to next week's Bucket game against Indiana. The Boilers' offense got on track last week behind quarterback
Robert Marve
and running back
Ralph Bolden
, while defensive tackle
Kawann Short
had his best game of the season at Iowa.
5. Rivalry renewed:
Saturday's game at Camp Randall Stadium won't decide which Leaders Division team goes to the Big Ten title game, as Wisconsin already punched its ticket last week. But Ohio State can lock up the Leaders Division championship -- the only title it can win this season -- while Wisconsin can legitimize its trip to Indy by handing Urban Meyer's Buckeyes their first loss of the season. Looking ahead, the Ohio State-Wisconsin game likely will be the signature contest in the division for years to come. Illinois is a mess, Purdue has backslid this season, Indiana is still building and Penn State still has three more years of postseason bans. "I hate Wisconsin just as much as Michigan," Ohio State wide receiver
Corey Brown
said this week. While Meyer and Wisconsin coach Bret Bielema say their post-signing day spat is a thing of a past, it could bubble up Saturday depending on how the game goes.
6. Taking a pass:
The Big Ten might not be flush with elite quarterbacks and high-powered offenses this season, but a few of its teams can sling the ball a bit, and two of them meet at Beaver Stadium. Indiana and Penn State are the Big Ten's top two pass offenses, ranking 26th and 40th nationally, respectively. They'll share the field Saturday as they try to rebound from different types of losses. Indiana quarterback
Cameron Coffman
struggled with his accuracy (25-for-46) in last week's loss to Wisconsin and looks for a sharper afternoon. Penn State quarterback
Matt McGloin
wasn't a happy guy after the Nebraska loss and will try to take it out on IU. The game features two of the Big Ten's top receivers in Penn State's
Allen Robinson
and Indiana's
Cody Latimer
.
7. Hawkeye hex:
Iowa has been in a funk for much of the season and particularly in the past month, dropping four consecutive Big Ten contests. Perhaps a date with Michigan can put the Hawkeyes back on track. See, Iowa has won three straight against Michigan for the first time in team history and five of its past eight against the Wolverines. Michigan's seniors are anxious to finally get over the hump against Iowa, one of two Big Ten teams (Penn State the other) they have yet to beat. But maybe it works the other way and Iowa finally shows a spark on offense and stiffens its defense. If not, the Hawkeyes won't be going bowling for the first time since the 2006 season, and it'll be a very long winter for Kirk Ferentz. "It doesn't hurt, obviously," Ferentz said of his team's Michigan win streak, "but it doesn't guarantee us anything."
8. Backs of different sizes:
Michigan State's
Le'Veon Bell
is the biggest featured running back in the Big Ten, checking in at 6-2 and 244 pounds. Northwestern's
Venric Mark
is the smallest, checking in at 5-8 and 175 pounds. But both have been extremely effective this season with the ball in their hands. Bell leads the Big Ten in rushing yards (1,249), while Mark ranks third in rushing yards (1,181) and first in all-purpose yards (1,917). Each has been the MVP of his respective offense, and it'll be interesting to see them on the same field at Spartan Stadium. Both Michigan State and Northwestern defend the run well, too, both ranking in the top 25 nationally.
9. Illini look for a spark:
Illinois ranks last in the Big Ten in scoring, rushing and total offense, and lingers near the bottom of the FBS in all the significant categories. The Illini need some sort of boost on offense or a 2-10 season is a virtual certainty. Head coach Tim Beckman, whose background is defense but who had a high-powered offense at Toledo the past few years,
took a more active role with the offense
this week in an effort to get things going. Beckman also noted that co-offensive coordinators Chris Beatty and Billy Gonzales call plays on different downs. Hmmm. Starting cornerback
Terry Hawthorne
took more reps with the wide receivers this week and could see an increased role against Purdue. Illinois aims to win on senior day for the first time since 2007.
10. Bowl picture taking shape:
We learned a little more about the Big Ten bowl contingent last week as Minnesota became bowl-eligible, Purdue took a big step toward the postseason and both Iowa and Indiana took a step toward a winter at home. There should be some more answers in Week 12. Michigan State aims for its sixth win to go bowling for the sixth consecutive season under coach Mark Dantonio. Purdue must keep its bowl hopes alive at Illinois, while both Iowa and Indiana must win on the road to avoid loss No. 7. It won't be easy for the Hawkeyes or Hoosiers. Indiana never has won at Beaver Stadium in 15 previous meetings with Penn State. Iowa never has won consecutive games at Michigan Stadium.
November, 14, 2012
11/14/12
9:00
AM ET
We take a look inside the Big Ten trends, with no insider trading needed.
Stock up
James White
: While
Montee Ball
understandably is getting all the attention right now, don't forget the job Wisconsin's No. 2 back is doing. White rushed for 161 yards on just 14 carries last week at Indiana, including the back-breaking 69-yard touchdown at the end of the first half. White has run for at least 100 yards in three of his last four games.
Baker Steinkuhler:
The Nebraska defense has played much better in recent weeks -- particularly in the second halves -- and senior defensive tackle Steinkuhler is a reason why. A one-time highly decorated recruit, Steinkuhler is living up to that reputation by playing the best football of his career the past few weeks, coach Bo Pelini said this week. He had six tackles and a sack against Penn State last week. "Baker's a stud," Pelini said. "He's a leader. He's everything you want."


Purdue's ACL trio:
Take a knee, gentlemen. The Boilermakers' backfield trio of
Robert Marve
,
Rob Henry
and
Ralph Bolden
-- who have seven torn ACLs between them -- had a big day at Iowa last week. Marve threw for 266 yards and led the final drive for the winning field goal. Henry continued to play his jack-of-all trades role, including a flip to
Akeem Shavers
on a double option for a touchdown. Maybe most encouragingly, Bolden eclipsed 100 rushing yards for the first time since the beginning of last season. "That was very special for our whole football family," head coach Danny Hope said.
October, 25, 2012
10/25/12
9:00
AM ET
Some weeks are better than others, and Week 9 in the Big Ten is a very good one. All six games pair fairly evenly matched teams, and there's something at stake in all six contests (yes, even Indiana-Illinois).
These might be our most challenging picks of the season, which could be a good thing for Brian Bennett, who trails Adam Rittenberg by a whopping five games in the season standings.
Without further ado, let's get to the picks ...
IOWA at NORTHWESTERN
Brian Bennett: Both teams are searching for some answers on defense, but the Wildcats are much healthier than the Hawkeyes, who are banged up at offensive line and running back. I think we'll see Northwestern get back to running the ball more with
Kain Colter
and
Venric Mark
this week, which works well enough to hold back an Iowa team whose quarterback is under fire.
... Northwestern 23, Iowa 17
Adam Rittenberg: Northwestern does have some injury issues of its own at cornerback, but
James Vandenberg
hasn't been able to take advantage of much this season. I like this matchup for Northwestern, even though
the Wildcats have an identity crisis on offense
right now. Iowa takes the early lead, but Northwestern finally puts the ball in Colter's hands, and he rushes for two second-half touchdowns.
Mark Weisman
bullies his way to 100 rush yards, but Northwestern gets it done on Homecoming.
... Northwestern 24, Iowa 20
INDIANA at ILLINOIS
Adam Rittenberg: I really think Illinois will be better following the open week -- the Illini can't get much worse -- and should capitalize on Indiana's defensive woes. But Indiana's spread offense matches up very well against an Illinois defense that, while talented, struggles mightily against spread teams. Hoosiers receivers
Shane Wynn
,
Cody Latimer
and
Kofi Hughes
each catch touchdowns and Indiana finally finds a way to hold on for its first Big Ten win under Kevin Wilson.
... Indiana 31, Illinois 27
Brian Bennett: I guess I can't pick both to lose this week, huh? The Hoosiers have been much more competitive for the past several weeks than Illinois has, and their offense is better than any unit the Illini can put out there right now. Expect some new wrinkles from Tim Beckman after the bye week, but Indiana's passing game is too much as
Nate Sudfeld
comes off the bench for a pair of second-half touchdown passes.
... Indiana 28, Illinois 27
PURDUE at MINNESOTA
Brian Bennett: One of these teams has to get itself off the mat, and I think it's going to be Minnesota. Purdue has to be feeling a bit of a hangover from last week's heartbreaking loss to Ohio State, and another week of experience will do wonders for Gophers freshman quarterback
Philip Nelson
. He throws a key touchdown pass to
MarQueis Gray
, and a late field goal wins it.
... Minnesota 20, Purdue 19
Adam Rittenberg: This game is all about Purdue's demeanor after last week's heartbreaker. If we see the team that showed up in Columbus, the Boilers will win. If not, Nelson and the Gophers will get it done. I've been burned before, but I don't think Purdue is finished just yet. The Boilers' defense pressures Nelson, forces some takeaways and limits a low-scoring Gophers offense to 17 points. Purdue hits on some big plays to
Gary Bush
and
Antavian Edison
and gets a win it absolutely has to have.
... Purdue 23, Minnesota 17
MICHIGAN STATE at No. 25 WISCONSIN
Adam Rittenberg: I nearly went with the Spartans here, as I just can't believe Mark Dantonio's squad is on the verge of falling below .500. Then again, Wisconsin doesn't lose at Camp Randall Stadium, especially to teams that have no offense. This game follows a familiar script for Michigan State, which hangs around for a while behind its defense but allows a late score.
Le'Veon Bell
has 120 rush yards, but both
Montee Ball
and
James White
score in the second half as Wisconsin prevails.
... Wisconsin 20, Michigan State 13
Brian Bennett: Pretty simple here: Michigan State can't score, and I don't see how that changes this week against an underrated Wisconsin defense that's playing well. Ball & Co. won't find as much running room as normal against this Spartans defense, so quarterback
Joel Stave
will have to play well. He does well enough to get the win, hitting big passes to
Jared Abbrederis
and
Jacob Pedersen
to set up scores in a close one.
... Wisconsin 17, Michigan State 14
OHIO STATE at PENN STATE
Brian Bennett: I learned my lesson in picking against Penn State last week. Ohio State is getting thinned by injuries, and quarterback
Braxton Miller
might not be at full strength after last week's brief hospitalization.
Bill O'Brien's offense will pick apart the Buckeyes' questionable back seven as Matt McGloin throws three TD passes. That and a crazed home-field atmosphere are enough to ruin Ohio State's perfect season. ... Penn State 28, Ohio State 21

Adam Rittenberg: The Buckeyes' slow starts, Miller's injury issues and Ohio State's lack of depth at linebacker are real concerns here. Penn State tight ends
Kyle Carter
and
Jesse James
find enough gaps in Ohio State's defense, and
Bill Belton
racks up 115 rush yards and two scores. Miller plays and keeps his team in the game, but Penn State has too much offense and a huge edge with the Beaver Stadium crowd. Buckeyes go down for the first time.
... Penn State 27, Ohio State 24
No. 22 MICHIGAN at NEBRASKA
Adam Rittenberg: I know Nebraska plays much better at home, and quarterback
Taylor Martinez
has made obvious improvement this season. But Michigan is the steadier team right now, and the better defensive squad. The Wolverines got over the hump last week against rival Michigan State, and they'll find a way to record a signature road win. Linebacker
Jake Ryan
recovers two Nebraska fumbles and
Denard Robinson
breaks off a long touchdown run in the fourth quarter as the Wolverines silence the Sea of Red.
... Michigan 26, Nebraska 24
Brian Bennett: The Legends Division race could get pretty boring if Michigan wins in Lincoln. One thing this league has not been this year is predictable. The Wolverines' recent conservative ways on offense will play into the hands of a Huskers defense that plays better when it knows what to expect. Martinez will pick on Michigan cornerbacks and turn in one of the finest moments of his career as Nebraska roars back from an early double-digit deficit to win.
... Nebraska 28, Michigan 23
Season records
Adam Rittenberg:
54-14 (.794)
Brian Bennett:
49-19 (.721)
October, 15, 2012
10/15/12
11:00
AM ET
After a historic offseason of transition, the Big Ten endured a historic first half of ineptitude.

The league entered the fall with unique circumstances, as two of its premier programs (Ohio State and Penn State) couldn't compete in the postseason because of NCAA sanctions. But between a surging Michigan State program, a Michigan team coming off of a Sugar Bowl championships, a Wisconsin team that had made consecutive Rose Bowl appearances and a veteran-laden Nebraska squad, the Big Ten had ample reasons for optimism. They soon vanished.

Things got off to a rocky start at JerryWorld, as Michigan was stomped 41-14 by defending national champ Alabama. They only got worse in Week 2, the Big Ten's worst regular-season Saturday in recent memory. Big Ten teams went 6-6, including three losses at Pac-12 venues, including two by ranked teams (Wisconsin and Nebraska) against unranked foes (Oregon State and UCLA). The Big Ten went 6-9 against teams from BCS automatic-qualifying conferences and Notre Dame, with three wins coming from one team (Northwestern). Although Ohio State hasn't lost a game under new coach Urban Meyer, the Big Ten removed itself from the national title talk earlier than anyone expected.
October, 4, 2012
10/04/12
10:15
AM ET
Ten items to track on the first October Saturday of Big Ten football:
1. Miller Time, T-Magic on display:
Ohio State's
Braxton Miller
and Nebraska's
Taylor Martinez
might not be traditional Big Ten quarterbacks, but they're the faces of the quarterback position in the league these days. Both are dynamic dual threats who have made significant strides from the 2011 season. Miller aims to continue his Heisman Trophy campaign Saturday night against a Nebraska defense that struggled to contain him last year before he left the game with an ankle injury. Martinez led the biggest comeback in Huskers history last year against Ohio State and has accounted for eight touchdowns (6 pass, 2 rush) in his past three games.
2. Boiling point:
Purdue coach Danny Hope says he already knows a lot about his team after three non-league wins and a 3-point road loss at Notre Dame. The rest of us aren't quite as sure about what the Boilers will be this season. The good news: Everyone will find out in the next three weeks, as Purdue opens Big Ten play with its defining stretch of the season. Before hosting Wisconsin and visiting Ohio State, Purdue hosts Michigan on Saturday in its most anticipated game since perhaps Wisconsin in 2004. The Boilers average 51 points per game on their home field, where they open league play against the Wolverines for the first time since 1970.
3. Oktoberfest:
Northwestern coach Pat Fitzgerald made October a major point of emphasis as far back as the summer, mindful of his team's struggles in the season's middle month. The Wildcats have done well in September (20-9) and November (13-8) under Fitzgerald, but they've had their difficulties in October (10-15), including a 1-4 mark in 2011. Northwestern is 5-0 for the third time in five seasons and takes a national ranking to Happy Valley, where it faces a streaking Penn State squad. It's a good chance for Northwestern to change its October fortunes against its most challenging opponent to date.
4. Seeking mojo in Mad City:
Austin Powers
would steer clear of the Illinois-Wisconsin game Saturday. Both teams are looking for their mojo after the first five weeks. Illinois tries to find it in a very tough place (Camp Randall Stadium) after being embarrassed on its home field in back-to-back weeks. Asked this week about boosting team morale, first-year coach Tim Beckman said, "That's what we're dealing with each and every day." Wisconsin appeared to make strides last week against Nebraska before collapsing down the stretch. Coach Bret Bielema is encouraged with his team's progress amid transition, but Wisconsin can't start Big Ten play at 0-2. Wide receiver
Jared Abbrederis
called the Illinois game a must-win for Wisconsin.
5. MSU offense looks for green flag:
After puttering around the track in the first five games, Michigan State's offense heads to the Crossroads of America (Indiana) hoping to finally shift into fifth gear. Coach
Mark Dantonio shuffled the depth chart a bit
this week, as freshman wide receiver
Aaron Burbridge
will start and other young players like freshman receiver
Macgarrett Kings Jr.
should see increased time. Michigan State can't neglect the run game, though, as it boasts a 15-1 record when
Le'Veon Bell
scores at least one rush touchdown. Indiana surrendered 704 yards to Northwestern last week (394 rushing). Saturday is the time for Michigan State to finally put it all together on offense.
[+] Enlarge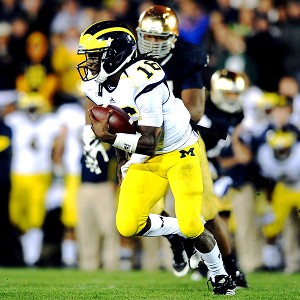 Chris Williams/Icon SMIDenard Robinson and Michigan look to break out of their away-from-home scoring malaise at Purdue.
6. Michigan wants better road show:
The last time we saw Michigan,
Denard Robinson
was turning over the ball and the Wolverines weren't crossing the goal line at Notre Dame. Michigan's 13-6 setback in South Bend continued a troubling trend for the Wolverines offense, which has
averaged just 20.9 points away from Ann Arbor
(as opposed to 40.1 points at home) in the past two seasons. With future road tests against Nebraska and Ohio State, it's important for the Wolverines to get on track Saturday at Purdue. The Boilers defense has been solid most of the season but surrendered 41 points and 534 yards last week against Marshall.
7. Whiteout in Happy Valley:
Sparked by their team's three-game win streak,
Penn State students are planning a whiteout
at Beaver Stadium for Saturday's game against Northwestern. The Lions aim for their first home win against a ranked opponent since the 2008 season, and several players
called the contest a must-win
. Senior quarterback
Matt McGloin
has owned Northwestern in his career (417 pass yards, 6 TDs, 0 INTs in two games), and McGloin is a much better quarterback in Bill O'Brien's offense. After an ominous start, Penn State can enter an off week with a ton of momentum with a victory.
8. Bo heads home:
While his team
aims for a signature road win in the Big Ten
, Nebraska coach Bo Pelini makes a homecoming of sorts Saturday at Ohio Stadium. Pelini played safety for the Buckeyes from 1987 to '90 and hails from Youngstown, Ohio. Not surprisingly, the Huskers' boss
downplayed his Ohio State roots
this week, saying he's "at a different time in my life, a different place" and "has a job to do." It's wise for Pelini to keep himself out of the spotlight as much as possible, but he'll likely experience some emotion when Nebraska takes the field at The Shoe. And a victory against his alma mater will mean a little extra.
9. Two Hoosiers take aim:
Indiana coach
Kevin Wilson
doesn't see much separating quarterbacks
Cameron Coffman
and
Nate Sudfeld
, and he'll likely use both against Michigan State. Coffman has started the past two games, while Sudfeld has finished them, providing a spark down the stretch.
Wilson likes the competition
and plays down the other C-word (controversy), but the picture could clear up Saturday as the two quarterbacks face by far the best defense they've seen this season. Whoever better commands the IU offense -- and gets the ball to talented receivers
Kofi Hughes
and
Cody Latimer
-- will take a step closer to locking up the top job.
10. Badgers' 2-minute drill:
Joel Stave
is Wisconsin's starting quarterback, and he looked the part last week against Nebraska in his first career road start. But in crunch time, after Stave got a bit shaken up, the Badgers followed their plan and went with veteran
Danny O'Brien
under center rather than Stave. O'Brien moved Wisconsin to midfield but botched the call on a fourth-and-1 play, leading to a fumble that clinched the victory for the Huskers. It'll be interesting how the Badgers proceed should a two-minute situation come up against Illinois.
Will they turn to O'Brien or give Stave a shot
? Stay tuned.
September, 27, 2012
9/27/12
12:15
PM ET
Ten items to track around the Big Ten as conference play finally gets under way:
1. Miller Time vs. The Green Monster:
The Big Ten's most dynamic offensive player goes up against the league's top defense Saturday afternoon at Spartan Stadium. Michigan State will see a very different
Braxton Miller
than the one it bottled up last year in Columbus in a near-shutout victory against the Buckeyes. Miller, who leads the Big Ten with seven rushing touchdowns, faces by far his toughest test in a Spartans' defense that ranks in the top 11 nationally in scoring, rushing and pass efficiency. Despite Michigan State's stingy defensive numbers, it looks to make more game-changing plays after recording just six takeaways and three sacks in the first four games.
2. Big Red redemption:
After its Big Ten debut turned into a disaster last year in Madison, Wis.,
Nebraska finally gets a chance for redemption
Saturday night as Wisconsin comes to town. Huskers junior quarterback
Taylor Martinez
once again will be in the spotlight after throwing a career-high three interceptions last year against the Badgers. Martinez has looked like a different player this season, throwing nine touchdown passes and just one interception and ranking 10th nationally in passer rating (180.9). With a healthy
Rex Burkhead
back in the fold, Martinez leads the Big Ten's top offense against a Wisconsin defense that has looked strong so far.
3. Poaching season in Champaign:
Coach Bill O'Brien and his Penn State players held their tongues this week, but they
haven't forgotten what Illinois' coaching staff did last summer
. Illini coach Tim Beckman sent eight assistant coaches to State College to recruit Penn State players after the NCAA imposed heavy sanctions on the Lions' program. Senior linebacker
Michael Mauti
and his teammates will be geared up to make Beckman's team pay Saturday in the Big Ten opener for both teams. While it's important for Penn State to control its emotions -- "You never want to take it too far," defensive tackle
Jordan Hill
said -- the Lions visit Memorial Stadium with some momentum after back-to-back wins.
[+] Enlarge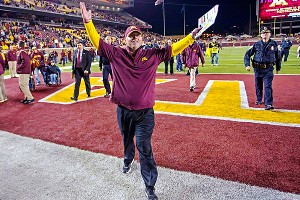 Jesse Johnson/US PresswireJerry Kill aims to lead Minnesota to its third consecutive win over Iowa, something the Gophers haven't done since 1998-2000.
4. Three little pigs:
The
landscape could be shifting in the Minnesota-Iowa series
. After losing eight of nine games to an obviously superior Iowa program, Minnesota has won consecutive games. The Gophers carry a perfect record into Iowa City, while the Hawkeyes are reeling after falling apart late in last week's loss to Central Michigan. Although Iowa is favored, Minnesota comes in with the momentum following a strong defensive effort last week against Syracuse. The Gophers aim for their first win at Kinnick Stadium since 1999 and try to bring home the bacon (
Floyd of Rosedale
) for the third consecutive year, something they haven't done since 1998-2000.
5. Bell tolls for Buckeyes:
Tackling has been a problem for Ohio State's defense, which inexplicably ranks last in the Big Ten in yards allowed heading into league play. Luke Fickell's unit had better tighten things up before Saturday, or Michigan State's
Le'Veon Bell
will steamroll the Buckeyes. At 6-foot-2 and 244 pounds, Bell can batter his way through decent tackling attempts, so Ohio State will need to swarm the Big Ten's leading rusher (610 yards). The Buckeyes can expect a steady diet of Bell, who leads the nation in rushing attempts with 117 (29.25) through the first four games. On the flip side, Michigan State likely needs to generate some offense outside of Bell to win.
6. Making his Mark:
While more heralded Big Ten running backs have struggled with injuries or poor production, Northwestern's
Venric Mark
has put himself on the radar as an early Offensive Player of the Year candidate. Mark ranks third among Big Ten running backs with 399 rush yards and has recorded more than 120 all-purpose yards in all four games this season. The Wildcats have been much more of a run-driven offense this year, thanks to Mark and an improved line. Saturday, Mark takes aim at Indiana as Northwestern tries to improve to 5-0.
7. Stave symphony:
Joel Stave
showed in April that
he could play piano under pressure
. He showed last week he could handle himself in his first career start (210 pass yards, 1 TD). But how will the Wisconsin quarterback handle a hostile environment like Nebraska's Memorial Stadium? Find out Saturday night as Stave makes his first career road start against Nebraska. Stave certainly benefits from having top receiver
Jared Abbrederis
on the field, and he could have a full complement of running backs if
Montee Ball
passes his concussion tests. Wisconsin went with Stave as its starter because of his steadiness. The Badgers need the redshirt freshman to limit mistakes and make plays when they're available in a pressure-packed situation Saturday night.
8. Iowa, Illinois get defensive:
Both Iowa and Illinois saw their defenses gashed last week in humbling home losses to Central Michigan and Louisiana Tech, respectively. Iowa's defense performed well in the first three games and better than expected up front before caving against the Chippewas last week. Illinois' defense, pegged to be among the Big Ten's best, has been shockingly poor in the team's two losses, surrendering a combined 97 points to Arizona State and Louisiana Tech. With both teams not getting enough from the quarterback position, the defenses need to tighten up Saturday for crucial Big Ten openers against Minnesota and Penn State.
9. Wilson returns to roots:
Indiana coach Kevin Wilson built his reputation as an offensive genius at Northwestern, where he coordinated one of the nation's best offenses in 2000, before moving onto more success at Oklahoma. "I stand here today because of what those kids did for us in 2000," he said Tuesday. Wilson returns to Evanston on Saturday with an Indiana team searching for its first Big Ten victory on his watch. The Hoosiers have looked good on offense this year, despite losing top quarterback
Tre Roberson
to a season-ending broken leg.
Cameron Coffman
makes his first career road start at quarterback as he leads the Big Ten's top passing attack (326 ypg) against a Northwestern team that hasn't been tested much through the air since struggling in its opener at Syracuse.
10. Marshall plan:
Purdue wraps up non-league play Saturday against Marshall, which should provide a nice test for a Boilers' defense that has played well to date. The Thundering Herd lead the nation in passing offense (383.5 ypg) and offensive plays (371). Purdue has surrendered only one passing touchdown this season. Although it's important for Boilers quarterback
Caleb TerBush
and the offense to capitalize on a weak Marshall defense, it's also vital for Purdue to contain Marshall as it prepares to face other spread offenses in Big Ten play.
September, 26, 2012
9/26/12
9:00
AM ET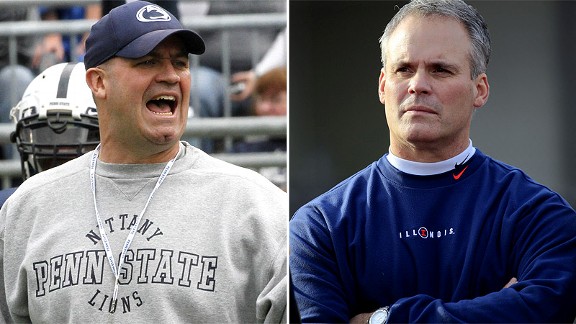 AP PhotoPenn State coach Bill O'Brien and Illinois coach Tim Beckman aren't exactly the best of friends.
During a week where Penn State's camp didn't talk much about Illinois or its poaching coach Tim Beckman, Bill O'Brien's long pause said it all.
Asked on Tuesday's Big Ten coaches' conference call about Beckman's claim Monday that he had reached out to O'Brien during Big Ten preseason media days in an attempt to diffuse any tension between the two, O'Brien hesitated for several seconds.
"Uh, I think I met him at the Big Ten media days," O'Brien said. "That's about it."
Translation: don't expect any pregame pleasantries between the two coaches Saturday in Champaign, Ill. The post-game interaction could be a little frosty, too.
O'Brien hasn't forgotten Beckman's not-so subtle attempt to lure Penn State players to Illinois after the NCAA imposed heavy sanctions on the Penn State program and made it as easy as possible for players to transfer, even within the Big Ten. Although O'Brien is trying to keep the focus on what Illinois' players do between the lines, the subplot of whether Illini coaches went over the line this summer undoubtedly adds to Saturday's game.
"It takes a lot to bother me," O'Brien said, "so I would tell you that, again, our players, myself, our staff, we're very focused on the task at hand."
O'Brien and his players were bothered in late July when Beckman sent eight assistant coaches to State College to pursue Penn State players. The Illini coaches weren't on campus but set up shop in town, making sure Lions players knew they were there. O'Brien passed a group of Beckman's assistants at the State College airport two days after the sanctions came down.
Penn State senior linebacker
Michael Mauti
didn't offer
much about the Illinois recruiting push
after last Saturday's win against Temple, only saying, "You can kind of gather how we feel about them." He didn't hold back in July during Big Ten media days, saying, "You're going to sit here and wish our program well and then try to pull the legs out from underneath us and take our kids? Well, you are playing by the rules. But there really are no rules. If you're gonna wish us well and then try to take our kids, then I got a problem with that."
He's not the only one, although the sentiment is different for each Penn State player.
What's clear is this: the Lions know what Illinois did last summer.
"Definitely, that's your first instinct," defensive tackle
Jordan Hill
said. "But it's all fun and games. Nobody's like, 'I hate these guys' or anything like that. It's just motivation. ... When it affects you in a negative way on and off the field, then you know it's going too far. You never want to take it too far to where it's affecting you badly."
Illinois ended up landing one Penn State player: reserve offensive lineman
Ryan Nowicki
. Beckman on Monday said he didn't regret the recruitment, noting that Illinois broke no rules, alerted Penn State of its intent and had been first contacted by Nowicki.
While Beckman wishes the situation hadn't attracted so much attention, he simply wanted to give Nowicki the opportunity to transfer.
"We did everything under the rules, and everybody was notified prior to anything happening," he said Tuesday. "... I'm sure it has a little bit of an effect on this football game, but it's still about tackling and blocking and doing the things right fundamentally to be successful."
Illinois quarterback
Nathan Scheelhaase
expects to see a geared-up Penn State squad Saturday, and while he's aware that the summer recruitment attempt could fuel some of the men in white helmets, both teams share the same primary objective: to start 1-0 in Big Ten play.
"Bulletin-board material and things that happened in the past can only last you for so long," Scheelhaase told ESPN.com. "At the end of the day, you've got to strap up and play football. That's what it comes down to."
August, 28, 2012
8/28/12
9:00
AM ET
We're just two days away from the 2012 college football season, and it's time to check out the top Big Ten games to watch this fall, in chronological order.
Here are 12 contests you don't want to miss ...
Friday
Boise State at Michigan State:
Although Michigan is the Big Ten's highest-rated team entering the season, Michigan State is getting more love as the league favorite. The Spartans get a chance to make a statement against a Boise State team that has built its reputation on winning games like these.
Saturday
Michigan vs. Alabama (at Arlington, Texas):
No regular-season game can shape the Big Ten's national perception more than this one, as Michigan takes on the defending national champ at JerryWorld. After an 11-win season in its first year under Brady Hoke, Michigan looks to take the next step and re-establish itself as a national power. Quarterback
Denard Robinson
has been very good in September throughout his career, and he can make a push for the Heisman Trophy with a big game against Bama.
Sept. 22
Michigan at Notre Dame:
The teams' past three meetings have had plenty of drama, thanks in large part to Robinson, who engineered Michigan's historic comeback under the lights last year in Ann Arbor. Robinson attempts to complete a career of tormenting the Irish in another night game at Notre Dame Stadium. Both teams play brutal schedules this fall, but Notre Dame, as the home team, really needs to end its slide against the Maize and Blue.
Sept. 29
Wisconsin at Nebraska
: Wisconsin rudely welcomed Nebraska to the Big Ten last fall with a 48-17 walloping in Madison. The Huskers try to avenge the loss as they open Big Ten play at Memorial Stadium. This is a big one for Nebraska quarterback
Taylor Martinez
, who threw three interceptions against the Badgers in 2011. The game also pits the league's top two running backs in Wisconsin's
Montee Ball
and Nebraska's
Rex Burkhead
.
Penn State at Illinois:
This game wouldn't have made the list six weeks ago. That was before the NCAA hammered Penn State with sanctions and Illinois coach Tim Beckman sent eight assistant coaches to Happy Valley to try to poach Lions players (he landed one in offensive lineman
Ryan Nowicki
). It's safe to say Beckman won't be receiving a Christmas card from Bill O'Brien. The Big Ten opener in Champaign has gotten a lot more interesting as two similar teams dealing with change face off.
Oct. 6
Nebraska at Ohio State:
Nebraska coach Bo Pelini returns to his alma mater for a critical cross-division game. The Huskers need to prove they can win in a hostile Big Ten venue, while Ohio State plays its league home opener under Urban Meyer. If you enjoy athletic quarterbacks, be sure to tune in as Martinez matches up with Ohio State's
Braxton Miller
, who flustered the Huskers last season before leaving the game with an ankle injury.
Oct. 20
Michigan State at Michigan:
This could be the game of the year in the Big Ten as the league's two highest-rated teams in the preseason square off. It's a rivalry game and a contest that could shape the race in the Legends Division. Last year's spicy contest in East Lansing only thickens the plot, and all eyes will be on Michigan State's
Will Gholston
and Michigan's
Taylor Lewan
as they reunite. The Spartans aim for their first-ever five-game win streak against the Wolverines.
Oct. 27
Michigan State at Wisconsin:
Blockbuster Saturday in the Big Ten begins with a rematch of the 2011 league title game. These teams brought us plenty of drama in 2011, and could be on course for a rematch in Indianapolis. The game features two outstanding running backs in Ball and Michigan State's
Le'Veon Bell
, as well as two quarterbacks -- Wisconsin's
Danny O'Brien
and Michigan State's
Andrew Maxwell
-- with something to prove. The Badgers have dropped just one home game to Michigan State since 1991.
Michigan at Nebraska:
Another pivotal Legends Division showdown takes place under the lights at Nebraska's Memorial Stadium. Although both teams face tests before this game, they should both be in the division race. Martinez and Robinson are two of the league's most exciting offensive players. Nebraska tries to avenge last year's blowout loss in Ann Arbor against a Michigan team that will be accustomed to hostile environments.
Nov. 3
Nebraska at Michigan State:
The final matchup between Legends Division frontrunners takes place in East Lansing. It completes a tortuous stretch for Michigan State (Michigan, Wisconsin, Nebraska), and marks another chance for Nebraska to prove itself on the road in Big Ten play. The Huskers dominated last year's contest, but Michigan State hasn't lost a home game since the 2009 season.
Nov. 17
Ohio State at Wisconsin:
The Buckeyes-Badgers rivalry should be the top Leaders Division matchup for years to come, and while Ohio State's bowl ban takes away some luster from this year's class, no one has forgotten the post-signing day spat between Bret Bielema and Meyer. There's no love lost between these two programs and their coaches, and though Ohio State can't win the division this year, it can shape the race with a victory in Madison, where Wisconsin has been dominant under Bielema.
Nov. 24
Michigan at Ohio State:
Hoke and Meyer meet for the first time in The Game, which should pit two good teams for the first time since the 2007 season. Michigan could be in the mix for the Legends Division title and possibly more, while Ohio State knows its season will end against the hated Wolverines. The Robinson-Miller matchup adds intrigue, and both teams should be strong on the defensive side. The unique circumstances surrounding the game make it a must-see event.
August, 27, 2012
8/27/12
1:00
PM ET
Week 1 of the 2012 season is finally, gloriously upon us. Here is your preview of what to expect as Big Ten football makes its most welcome return into our lives this week (all times ET):
Thursday
Minnesota at UNLV
(11 p.m., CBS Sports Network): Grab an extra cup of coffee Thursday afternoon and get ready to watch the Gophers kick off the season for the Big Ten. Minnesota should be improved in Year Two under Jerry Kill. If so, they should be able to beat a struggling UNLV program, even on the road.
Friday
No. 24 Boise State at No. 13 Michigan State
(8 p.m., ESPN): We waited nearly nine months for college football to return, and this is a reward for our patience. Two new quarterbacks are the big story here, as both get tossed into the fire against stout defenses. Should be great.
Saturday
Northwestern at Syracuse
(Noon, ESPN2): The journalism bowl helps get the first Saturday of the season started.
Kain Colter
and the Wildcats' skill players should have some fun running on the Carrier Dome turf.
Ohio at Penn State
(Noon, ESPN): The Bill O'Brien era kicks off, and there are sure to be plenty of stories focusing on the atmosphere around Beaver Stadium. But don't overlook the Bobcats, who won 10 games last year for Frank Solich.
Western Michigan at Illinois
(Noon, ESPNU): The Tim Beckman era begins against a Broncos team that played the Illini tough last year in Champaign. Beckman coached Toledo to a 66-63 victory over Western Michigan last year. There will probably be less scoring this weekend.
Miami (Ohio) at No. 18 Ohio State
(Noon, Big Ten Network): Urban Meyer coaches his first game for the Buckeyes, who figure to be heavy favorites over the RedHawks. The spread offense will take over the 'Shoe.
Iowa vs. Northern Illinois
(3;30 p.m., ESPNU): Hawkeyes fans are sure to flock to Chicago's Soldier Field to watch their team take on the Huskies, who went 11-3 last season. It could be a tough early test for Iowa's rebuilt defensive line.
Eastern Kentucky at Purdue
(3:30 p.m., BTN): Boilermakers coach Danny Hope faces his alma mater, but the FCS Colonels shouldn't be much of a match for what appears to be an improved Purdue squad. If they are, that's a bad sign.
Southern Miss at No. 17 Nebraska
(3:30 p.m., ABC regional): The Huskers don't have a gimme in their opener against the Golden Eagles, who went 12-2 in 2011. But Southern Miss has a new coach and several new starters, so
Taylor Martinez
and Co. should take care of business.
Northern Iowa at No. 12 Wisconsin
(3:30 p.m., BTN): Northern Iowa is a good FCS program that won 10 games last season. But the Badgers, who debut new starting quarterback
Danny O'Brien
, usually make quick work of outmanned opponents at Camp Randall Stadium.
No. 8 Michigan vs. No. 2 Alabama
(8 p.m., ABC): You might have heard a little something about this game at Cowboys Stadium in Arlington, Texas. The Wolverines could plant a big flag for the Big Ten and themselves if they can pull this one off.
Indiana State at Indiana
(8 p.m., BTN): You'll probably be watching Michigan-Alabama, but if you switch to this game you'll like see the Hoosiers win their first game since Sept. 17 of last year.
August, 6, 2012
8/06/12
11:12
AM ET
Illinois made waves last week by sending eight assistant coaches to State College to try to lure Penn State players. The aggressive and controversial approach has yielded at least one Nittany Lion.
Offensive lineman
Ryan Nowicki
, a redshirt freshman guard, is
transferring from Penn State to Illinois
, colleague Scott Powers and others are reporting. Nowicki's departure from Penn State has been in the works for a little while, and the 6-foot-5, 280-pound Glendale, Ariz., native, reportedly was deciding between Illinois, Washington and Arizona State.
The Big Ten has waived its intra-conference transfer rule for current Penn State players wishing to leave, Chad Hawley, the league's associate commissioner for compliance, told ESPN.com. So Nowicki will be eligible to play immediately for the Fighting Illini. A three-star recruit who redshirted during the 2011 season, Nowicki adds depth to an Illinois offensive line looking to replace two starters.
Nowicki is the eighth Penn State player to transfer since NCAA sanctions against the program came down last week. He's not a significant loss for the Lions at this point, but you have to wonder how many more will follow. One player Penn State can't afford to lose is wide receiver
Justin Brown
, who is considering an offer from Oklahoma.
Illinois would like to add more Lions to its roster, which features just 80 scholarship players (not counting Nowicki), first-year coach Tim Beckman said last week.
Penn State and Illinois face one another in the Big Ten opener Sept. 29 in Champaign.