Penn State Nittany Lions:

Tim Beck
May, 6, 2014
5/06/14
2:30
PM ET
Everybody is a draftnik this week, and we're putting our own Big Ten spin on things. Rather than looking at the players leaving the league -- don't worry, we'll do that, too -- we're speculating on how a draft within the conference would play out.
To recap: All current Big Ten players are eligible to be drafted (incoming recruits are not). The teams will pick in reverse order of
regular-season finish last year
. Picks are based on factors like position need, remaining eligibility, scheme, previous players lost in the draft.
Check out the
first half of the first round here
. It gets a bit messy with teams swiping each other's top players, but that makes it fun.
Now, for the final seven picks ...
Pick No. 8: Penn State
[+] Enlarge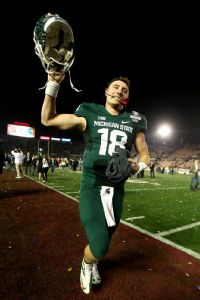 Jeff Gross/Getty ImagesConnor Cook's Rose Bowl-winning resume makes him a popular choice in the second half of the first round of the Big Ten draft.
Adam Rittenberg says the Lions select ... Michigan State QB Connor Cook
The offensive line is Penn State's shakiest position group, but
Christian Hackenberg
(selected No. 5 by Rutgers) leaves a massive hole at quarterback. Cook, a pro-style signal-caller with a big arm and more experience than Hackenberg, makes a lot of sense as he fits the system and comes off top performances in the Big Ten championship game and the Rose Bowl.
Brian Bennett says the Lions select ... Ohio State OT Taylor Decker
Penn State does need help on the offensive line, but it can afford to be patient. Decker was playing as well as any Ohio State offensive lineman late last season, when he was only a redshirt freshman. He can come to State College and offer help now and for the next three years, seeing the Lions through probation.
Pick No. 9: Minnesota
Rittenberg says the Gophers select ... Maryland WR Stefon Diggs
Minnesota loses some star power on defense, but I expect coordinator Tracy Claeys to produce a solid unit. The bigger issue is boosting a pass offense that ranked 115th nationally last season. Diggs comes off an injury-shortened season, but he's an explosive playmaker with 88 career receptions and two years of eligibility left. He would complement promising young wideouts like
Drew Wolitarsky
.
Bennett says the Gophers select ... Nebraska WR Kenny Bell
The Gophers might just be a downfield receiving threat away from being actual division contenders. Bell is a senior but offers two things Jerry Kill wants: leadership and toughness as a blocker. Bell would also deliver some explosiveness while guiding Minnesota's young wideouts along.
Pick No. 10: Iowa
Rittenberg says the Hawkeyes select ... Indiana LT Jason Spriggs
Brandon Scherff
(selected No. 1 by Purdue) is a major loss for Iowa, which now needs a replacement to anchor its offensive line. Spriggs might not be as big a name as Scherff, but he has quietly started the first 24 games of his college career and earned honorable mention All-Big Ten honors the past two seasons. He also has two years of eligibility left.
Bennett says the Hawkeyes select ... Wisconsin RB Melvin Gordon
True, Iowa has about 37 tailbacks right now. But the pure speed and playmaking ability of Gordon is tough to pass up here, especially for an offense seeking more home-run plays. Plus, he originally committed to the Hawkeyes, so this is a way for them to finally get Gordon in black and gold.
Pick No. 11: Nebraska
Rittenberg says the Huskers select ... Ohio State DE Joey Bosa
Running back
Ameer Abdullah
(selected No. 6 by Maryland) is a significant loss, but the Huskers have good depth behind him. They need a replacement for All-Big Ten end
Randy Gregory
(selected No. 4 by Indiana), and Bosa, who ended his freshman season in beast mode, is an easy choice. He should keep the expectations high for the Huskers' defensive front seven. And he has at least two seasons left.
[+] Enlarge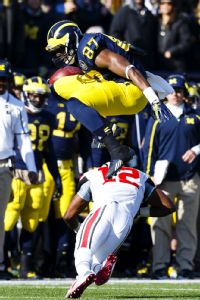 Rick Osentoski/USA TODAY SportsDevin Funchess would give Nebraska an athletic, versatile playmaker in the passing game.
Bennett says the Huskers select ... Michigan WR/TE Devin Funchess
Nebraska doesn't seem to have a lot of gaping holes but could use a playmaker in the passing game after losing Bell (selected No. 9 by Minnesota). Funchess would make a nice safety valve for Tommy Armstrong and is a destroyer of red zone defenses. Tim Beck lobbies hard for this pick and would get two years to deploy Funchess in a variety of ways.
Pick No. 12: Wisconsin
Rittenberg says the Badgers select ... Ohio State DL Michael Bennett
Like Nebraska, Wisconsin has lost an elite running back (Melvin Gordon, selected No. 7 by Michigan), and like the Huskers, the Badgers have enough to get by without him. Wisconsin has an even bigger need to upgrade its defensive front seven after losing six starters to graduation. Bennett, a junior who could play either line spot and had seven sacks last season, is a really good fit for Wisconsin.
Bennett says the Badgers select ... Michigan State QB Connor Cook
The passing game remains a sore spot for Wisconsin, and no clear starter under center emerged this spring. Cook knows how to run a pro-style offense and would have two years left in Madison.
Pick No. 13: Ohio State
Rittenberg says the Buckeyes select ... Michigan QB Devin Gardner
Well, this should be interesting. Ohio State needs a quarterback after losing
Braxton Miller
to Northwestern (pick No. 3), and there aren't too many proven options out there. The Buckeyes likely can get by with a one-year player to allow younger guys to develop. Gardner is a good fit in a true spread offense, and he showed at times last year that he can put up huge numbers.
Bennett says the Buckeyes select ... Indiana QB Tre Roberson
I had Rutgers snagging Miller earlier in the first round. Roberson might be the closest facsimile to Miller in the league right now, a guy with good wheels who can also sling it around the field. He has plenty of game experience and two years of eligibility left.
Pick No. 14: Michigan State
Rittenberg says the Spartans select ... Iowa QB Jake Rudock
OK, the quarterback swapping is getting a little silly, but Michigan State needs one after losing Cook (selected No. 8 by Penn State), and Rudock brings experience to the Spartans backfield. Rudock comes from a pro-style system at Iowa and should take another step this season. Plus, he has two years of eligibility left.
Bennett says the Spartans select ... Ohio State S Vonn Bell
You can't convince me that Mark Dantonio wouldn't go defense first in a draft like this. And I think the prospect of a stud defensive back would prove too hard for him to resist. Bell showed real promise in his brief exposure last year with the Buckeyes and has three years left to help fortify the No-Fly Zone.
April, 9, 2014
4/09/14
12:00
PM ET
January, 28, 2014
1/28/14
9:00
AM ET
As the coach hiring season nears an end, we're examining the Big Ten coaching landscape and some recent trends. Today we take a look at the rising salaries for assistants and whether a $1 million coordinator is on the horizon in the league.
In the days leading up to the Discover Orange Bowl earlier this month, Clemson offensive coordinator Chad Morris received nearly as much attention as the head coaches in the game.
That was because of Morris' ties to Ohio State head coach Urban Meyer and the high-powered Tigers offense he engineered. Plus, Morris was already being paid like a head coach.
In part because of Meyer's reported interest in hiring Morris in December 2011, Morris is the nation's highest-paid assistant coach at $1.3 million annually. But he's not alone in the $1 million coordinator club. LSU's John Chavis and Alabama's Kirby Smart also made more than seven figures as assistants in 2013, and Louisville recently lured defensive coordinator Todd Grantham away from Georgia with a five-year contract worth $1 million annually.
[+] Enlarge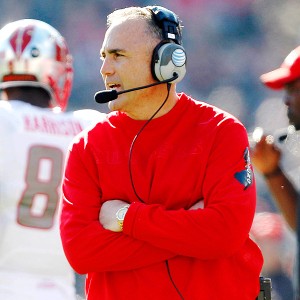 Frank Victores/USA TODAY SportsAt incoming Big Ten program Rutgers, head coach Kyle Flood barely makes more than at least one Big Ten coordinator.
The Big Ten has yet to take the plunge and cross the $1 million mark for an assistant coach. But there's little doubt that the pay for top coordinators is on the rise, and so is the league's investment in them.
"I think it's imminent," Ohio State athletic director Gene Smith told ESPN.com. "I don't know when, but I think it's imminent. Whether that's two years from now or four years from now, it's highly possible you'll see that in our league."
Some are not that far away now. Michigan defensive coordinator Greg Mattison is the Big Ten's highest-paid assistant at $851,000 per year. The Wolverines recently hired Doug Nussmeier away from Alabama as their offensive coordinator, and while his salary hasn't been disclosed yet, athletic director Dave Brandon has said it won't exceed Mattison's. Nussmeier was making $681,500 at Alabama.
Those numbers are compiled through open records requests and public information. But Brandon told ESPN.com that because contracts often include things like performance and longevity bonuses and deferred payments, "under certain scenarios, we've got coordinators now who could make over $1 million [in 2014]."
The $1 million mark is an arbitrary one in many ways. Brandon does not see an issue with surpassing it.
"Coordinator positions are very important, and when you look at what they are being paid in the pro ranks and in other conferences, the market has taken those positions up," he said. "If you're going to make a big investment in your head coach, you've got to back that investment up with the people around him to really bring it all together."
The arms race in college sports used to center on facilities. But now that just about every campus has upgraded every building imaginable and the construction crews are running out of projects, pay for assistant coaches seems to be the new frontier.
Consider that in 2010, the highest-paid Big Ten assistant coach was Illinois offensive coordinator Paul Petrino, at just more than $475,000. The increased commitment can really be seen at Ohio State, where in 2008, the Buckeyes did not pay a single Jim Tressel assistant more than $275,000. Now, Ohio State co-defensive coordinator Luke Fickell makes $610,000 and offensive coordinator Tom Herman earns $555,000. The Buckeyes just hired Chris Ash away from Arkansas as their co-defensive coordinator and safeties coach at a salary of $520,000, and they're paying new defensive line coach Larry Johnson $400,000.
"It's crazy," Smith said. "Stakes are higher. The revenue's gotten bigger. So you see those assistant coaches who are extremely talented being compensated consistent with their skills. It's blown up. And I'm not so sure it's going to slow down.
"It's just market-driven. It's really not unlike any other industry. Any industry or large corporation is going to pay whatever the market is for their top CFO or top COO or whatever the top positions are that they're trying to fill on their executive team. A head football coach is a CEO. And his executive team is his assistants."
That's fine for rich programs such as Ohio State and Michigan. Or Nebraska, which paid offensive coordinator Tim Beck $700,000 last year. But can every Big Ten school afford to reward its assistants like captains of industry? Consider that Clemson's Morris made more in base pay in 2013 than two Big Ten head coaches (Minnesota's Jerry Kill and Indiana's Kevin Wilson). Incoming Rutgers head coach Kyle Flood makes only $9,000 more per year than Mattison.
"It's challenging, especially for a program like Indiana, where we have a smaller stadium, we don't fill it," Indiana athletic director Fred Glass told ESPN.com. "So it's tough to compete."
"I guess one of the questions is, where does it level off?," Penn State athletic director Dave Joyner told ESPN.com. "It depends on the revenue structure. If the revenue goes up and the investment causes a return that's worthwhile, maybe things do continue to escalate, and particularly at schools that are able to financially support their programs so that it's not a burden on the general funds."
Then again, few investments can have a more direct impact on the actual football product than paying top dollar for a truly elite coordinator. Michigan State surely doesn't regret the $558,000 it paid to defensive coordinator Pat Narduzzi last year; one could argue he would be underpaid even at $1 million.
It won't be long until a Big Ten assistant gets there.
"We're going to see it," Smith said. "Especially at places like Ohio State, Michigan, Penn State -- the big stadiums, so to speak. It's going to end up being here at some point. "
October, 30, 2013
10/30/13
12:00
PM ET
The head of state has called for me by name. But I don't have time for him. It's going to be a glorious day. I feel my luck could change.
October, 3, 2013
10/03/13
12:00
PM ET
September, 9, 2013
9/09/13
12:00
PM ET
I think the Bengals defense just called another timeout. Sorry, couldn't resist #bears.
To the links ...
August, 19, 2013
8/19/13
5:00
PM ET
Next Monday will be game week. So excited. For now, more of your Monday mail.
[+] Enlarge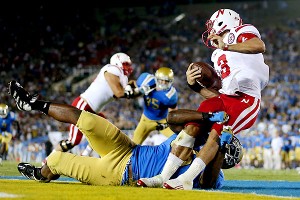 Stephen Dunn/Getty ImagesDon't expect Nebraska's Taylor Martinez to play anywhere but the QB position this fall.
Jeremy from Jenison, Mich., writes:
Which Big Ten team, outside of Ohio State, do you feel has the best chance to make the Rose Bowl? Personally, I think its either Michigan or Nebraska, or Michigan State could possibly sneak in. But what do you think?
Brian Bennett:
Jeremy, I think it's between Michigan and Nebraska. The Huskers benefit because they don't have to play Ohio State in the regular season, while Michigan has the advantage of playing Nebraska in Ann Arbor. I wouldn't be shocked to see Michigan State, Wisconsin or Northwestern sneak up and get to Pasadena (and we are talking about this while assuming Ohio State doesn't go to the BCS title game), but I think the Wolverines and Huskers have better chances because of their talent and schedule. While I rank both below the Buckeyes, either of them could beat Ohio State in a one-game shot -- or in Michigan's case, a second-game-in-two-weeks shot.
Jerry Fan from Minneapolis writes:
Jerry Kill has stated his program needs a signature win this season. Do you think that will happen, and if so, what game do you think it would be?
Brian Bennett:
That's been a consistent theme for Kill this summer, that Minnesota needs to notch a signature win. He hasn't defined exactly what that would look like, but these seem to be the best chances for the Gophers to accomplish that this fall:
Oct. 5: at Michigan
Oct. 19: at Northwestern
Oct. 26: Nebraska
Nov. 9: Penn State
Nov. 23: Wisconsin
Nov. 30: at Michigan State
You could argue whether beating Northwestern or probation-saddled Penn State is really a signature win, but I think Kill would gladly take either of those. Beating Wisconsin would be tremendous for the program because that rivalry has been so one-sided, and the same could be said about Michigan. I'll go out on a limb and say Kill's team does win one of those games, though it won't be against Michigan or Nebraska.
OblioCat from Andersonville, Chicago, writes:
Northwestern wins the Legends Division. Win or lose in the Big Ten Championship Game, is the Big Ten down (even more), or is Northwestern actually a good team? Will the journalists wait for bowl game results to rip on the Big Ten? Granted, when NU beats LSU in its bowl game, part of the South will crumble.
Brian Bennett:
Lot of ifs there, but I doubt too many people would criticize the league for being down if Northwestern wins the Legends Division, unless they finish 8-4 or something and everybody else tanks. The Wildcats are getting plenty of respect this offseason and are ranked in both major polls, so people know how good they are. Heck, the LA Times' Chris Dufresne ranked Northwestern No. 10. The Big Ten's reputation will be based on how the league performs in the nonconference games, but with so few marquee matchups, the Big Ten has more opportunities to reinforce negative perceptions by losing than it does to change them by winning.
Brian from Whiteman Air Force Base writes:
So I was thinking about my Huskers' upcoming season, and thought about Taylor Martinez's future beyond Lincoln. I think it's pretty obvious he won't be drafted as a QB, but more likely as a WR. So I was thinking, how awesome would it be to see him line up at WR a bit for Nebraska, and let our young stub backup QBs (
Tommy Armstrong
and
Johnny Stanton
) get some game experience?? Tim Beck could have a field day with that much talent on the field at one time! That could make for some serious excitement and a terror for defenses!
Brian Bennett:
I'd argue that Nebraska already has a serious amount of talent on offense, and one of the deepest and best receiving corps around.
Taylor Martinez
is so essential to the team's success that I would be stunned to see Beck risk anything by putting him at another position. But I do think playing one of the young guys is going to be important this season for the Huskers as they transition to the post-Martinez era next year. Luckily, the early schedule is such that Martinez could be getting some early rest in September and October, allowing one of those youngsters to get some in-game training.
Kevin from Fairfax writes:
Brian, you missed the most obvious
Heisman sleeper in the Big Ten
:
Akeel Lynch
if he can get on the field early enough. Penn State has the best line in the Big Ten (and maybe the nation) blocking for its running backs, the Nittany Lions have the best collection of skill position players in the league pulling defenders off the line of scrimmage (No PSU back will see a seven or eight man front this year except for in short yardage situations) and the best offensive coaching in the nation.
Brian Bennett:
Eh, sorry, I don't see it.
Zach Zwinak
had a really nice and surprising year last season for Penn State, but it wasn't anything that was remotely Heisman worthy, especially with a 4.9 yards per carry average and only six touchdowns. Plus, coach Bill O'Brien has said that he plans to get carries for Lynch and
Bill Belton
. If anybody is going to attract Heisman attention on the Nittany Lions -- and that in itself is a big question mark because of probation and the lack of roster depth -- I think it will be the quarterback.
Allen Robinson
might be the team's best player, but it's nearly impossible for receivers to win the award. If O'Brien can turn Matt McGloin into the Big Ten's top passer, imagine what he can do with a talent like
Christian Hackenberg
.
Jack from Illinois writes:
While reading your last Big Ten mailbag, I saw your thoughts on Illinois, despite competing and being better, finishing the season at with a record of 3-9. I realize as an Illini fan that we may not be the best team, but should I really be expecting us to be that bad? As daunting as the Illini's schedule looks, it appears there are some games they can really pull an upset in (don't get me wrong though, I don't exactly have much hope in our game against Nebraska). I'm not saying we get bowl eligible, but is it crazy for me to think we get to a record like 5-7?
Brian Bennett:
It's not completely crazy, but Illinois will have to make major strides on offense, defense and special teams to win five games. There are teams on the schedule that the Illini should be able to compete with, like Indiana and Purdue, and they should be favored against Southern Illinois and Miami. Win those four, and it only takes one upset to get to five wins. Still, it seems like an uphill battle given the lack of elite players and depth on the roster.
Dave from Marietta, Ohio, writes:
Regarding the
B1G football bucket list
... I've done all those. Does that mean I'm going to die tomorrow?
Brian Bennett:
I sure hope not, Dave. But whenever you do kick the bucket, you should be pretty happy.
August, 19, 2013
8/19/13
1:14
PM ET
We are here to do a job, not channel Scrooge McDuck.
December, 12, 2012
12/12/12
9:00
AM ET
Head coaches are like quarterbacks. They get too much credit and too much blame.
Assistant coaches are like nose tackles. They don't get nearly enough credit despite playing vital roles.
Today, we'll change it up and give some recognition to Big Ten assistant coaches who did exemplary jobs with their position groups or, in some cases, units in 2012. Each of these coaches fostered improvement this season. Some took units in bad shape and made them better. Others took units in decent shape and made them very good. Some entered the season with skeptics and quieted them.
We came up with 13 assistants who deserve recognition. Yes, we realize we're leaving out some quality folks, but we had to cap it somewhere and wanted to spread the love around to the different teams.
Here's the rundown in alphabetical order:
Chris Ash, Wisconsin, defensive coordinator/secondary:
All the attention on the offense's turbulent season took the spotlight away from the good things happening on the defensive side. Wisconsin finished in the top 25 nationally in total defense, scoring defense, rushing defense and pass efficiency defense. The Badgers held nine opponents to 21 points or fewer and gave an inconsistent offense chances to win every time out. Ash will be missed as
he joins ex-Wisconsin coach Bret Bielema at Arkansas
.
[+] Enlarge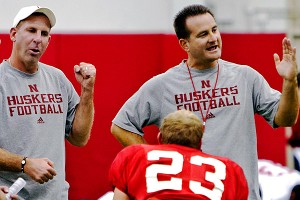 AP Photo/Nati Harnik, FileTim Beck, right, coordinated Nebraska's Big Ten-leading offense for head coach Bo Pelini.
Tim Beck, Nebraska, offensive coordinator/quarterbacks:
The second-year play caller oversaw the Big Ten's top offense, which averaged 462.2 yards per game (24th nationally) and 35.1 points per game (28th nationally). Junior quarterback
Taylor Martinez
made significant strides under Beck's watch, and Nebraska survived the loss of star running back
Rex Burkhead
for most of the season thanks to contributions from
Ameer Abdullah
and others.
Tracy Claeys, Minnesota, defensive coordinator:
An improved defense sparked Minnesota to a 4-0 start and eventually to bowl eligibility for the first time since the 2009 season. The Gophers pass rush showed life for the first time in years as senior end
D.L. Wilhite
and others put pressure on opposing quarterbacks. Minnesota was especially good against the pass, ranking 11th nationally and 20th in pass defense efficiency. Although the offense remains a work in progress, Minnesota should be pleased with the direction on defense under Claeys.
Adam Cushing, Northwestern, offensive line:
Cushing's recruiting ability always has stood out, but his coaching skills had been questioned as Northwestern struggled to convert promising line prospects into powerful blockers. The Wildcats went from a finesse offense to a power offense this season, blasting off of the line to the tune of 230.9 rush yards per game. Red zone offense went from a weakness to a strength as Northwestern tied for 17th nationally. Cushing's line paved the way for star running back
Venric Mark
.
Rich Fisher, Nebraska, wide receivers:
Nebraska isn't known for its wide receiver play, but things are changing under Fisher's watch. Led by standout sophomore
Kenny Bell
, the Huskers' top three receivers combined for 1,657 yards and 11 touchdowns on 115 receptions. Just as important, the receiving corps helped Nebraska's bread-and-butter run game with
effective blocking throughout the season
. Fisher's hiring after the 2010 season raised some eyebrows, as he had taken a break from college coaching, returned to the high school ranks and also served as a
golf instructor in Massachusetts
. But he definitely looks like a great addition to Bo Pelini's staff.
Patrick Higgins, Purdue, wide receivers:
Higgins played a significant role in Purdue's late-season surge, as he took over the offensive play-calling duties after coordinator Gary Nord suffered a severe back injury. Purdue won its final three games with Higgins and head coach Danny Hope handling the play calls. Higgins also did a nice job with Purdue's wide receiving corps, despite the fluctuating quarterback situation. Three veteran Boilers receivers eclipsed 40 catches and 300 receiving yards, and redshirt freshman
Dolapo Macarthy
showed promise.
Seth Littrell, Indiana, offensive coordinator/tight ends/fullbacks:
Head coach Kevin Wilson brought in Littrell to boost Indiana's passing attack, and Littrell delivered despite losing starting quarterback
Tre Roberson
in Week 2. Indiana went from 80th nationally in pass offense to 19th, leading the Big Ten with 311.2 yards per game. With help from assistant offensive coordinator/quarterbacks coach Kevin Johns, Littrell managed the quarterback situation pretty well as both
Cameron Coffman
and
Nate Sudfeld
had success. Littrell will go largely unnoticed because of Indiana's low profile and 4-8 record, but he was one of the Big Ten's best coaching additions for 2012.
Curt Mallory, Michigan, secondary:
Michigan's defensive line dominates the spotlight because that's where coordinator Greg Mattison and head coach Brady Hoke put their primary focus, but Mallory has done a really nice job with a secondary that struggled mightily under the previous regime. Despite losing promising cornerback
Blake Countess
to a
torn ACL in the season opener
, Michigan still finished second nationally (behind Nebraska) in pass defense (155.2 ypg allowed). Safety
Jordan Kovacs
has blossomed under Mallory's watch, and while the depth in the secondary isn't where it will be eventually, Mallory has managed things well.
[+] Enlarge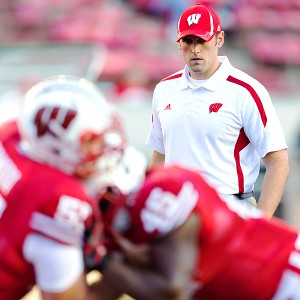 Jeff Hanisch/USA TODAY SportsBart Miller went from grad assistant to coach of a Wisconsin O-line that pummeled its way to Pasadena.
Bart Miller, Wisconsin, offensive line:
Miller began the season as a graduate assistant and moved into one of the team's top assistant roles in Week 3 after the surprising dismissal of veteran line coach Mike Markuson. Although Wisconsin's line didn't have its typical dominant performances every time out, Miller fostered obvious improvement and cohesion during the course of the season. The finished product showed up in the Big Ten championship game against Nebraska, as Wisconsin bullied the Huskers to the tune of 70 points, 539 rushing yards and eight rushing touchdowns.
Reese Morgan, Iowa, defensive line:
Iowa didn't have much to cheer about in 2012, and some of the staff changes Kirk Ferentz made led to some growing pains. Morgan faced a significant challenge in moving from offensive line to defensive line, which returned only a handful of players who had logged field time in 2011. Given the youth and inexperience along the Hawkeyes' defensive front, Morgan did a nice job in Year 1.
Joe Gaglione
had a nice senior season (9 tackles for loss, 5 sacks, 2 forced fumbles) and young players like
Louis Trinca-Pasat
showed promise. The line held its own in the first half of the season before struggling late.
Pat Narduzzi, Michigan State, defensive coordinator:
Many of these assistants took questionable units and improved them. Narduzzi led an elite defense that entered the season with high expectations and met them. Make no mistake: Michigan State's defense is the only reason the team found itself in every game this season. The Spartans had a few standouts, namely linebacker
Max Bullough
, but their overall team defense and stinginess stood out. Narduzzi is one of the nation's premier coordinators and should land a head-coaching job in the near future.
John Strollo, Penn State, tight ends:
Although O'Brien's offense is a tight end's dream, Strollo did a terrific job of developing young and unproven players this season. Redshirt freshman
Kyle Carter
emerged into one of the Nittany Lions' top passing threats, and junior
Matt Lehman
and true freshman
Jesse James
also stepped up at times. Of Penn State's top five receiving-yards leaders this season, three players are tight ends (Carter, Lehman and James).
Ed Warinner, Ohio State, offensive line/co-offensive coordinator:
Warinner took an underachieving Buckeyes offensive line with serious depth questions and turned it into quite possibly the best line in the league. The Buckeyes' front five turned a corner in Big Ten play and created lanes for
Braxton Miller
,
Carlos Hyde
and the Big Ten's top scoring offense. Warinner was the Big Ten's best assistant hire of the last offseason and earns our vote as the league's top assistant in 2012.
November, 10, 2012
11/10/12
9:48
PM ET
LINCOLN, Neb. -- Serious-minded Nebraska coach Bo Pelini is not usually one to make a lot of wisecracks when talking to the media.
But Pelini couldn't help but joke after his team pulled off yet another comeback from a double-digit deficit, this time to beat Penn State
32-23
on Saturday.
"I'm going to call the Big Ten and spot 'em 14 points, and we're good to go," Pelini said.
At this point, if you're a Nebraska fan or an opponent victimized by these zombie-like Huskers, you can't do much else but shake your head at the absurdity of this team's ways. Down 17 at home in the third quarter to Wisconsin? No problem. Trailing by 12 with six minutes to go at Northwestern? No sweat. Behind by 10 with a little more than seven minutes to play? We got this.
Some teams walk a tightrope. Nebraska jumps a motorcycle over a lake full of alligators while on fire. Team officials say the Huskers' four second-half, double-digit comebacks this season lead the nation and are the most in school history.
So when Penn State ran to the locker room with a 20-6 lead after 30 minutes on Saturday, there was no panic for the home team.
"The vibe at halftime was, 'All right, it's 0-0,'" running back
Ameer Abdullah
said. "We do this every week. We know what to do."
Pelini said he was hoping his team could the score by the fourth quarter. It surprised him by striking for two touchdowns in the first 5:23 of the second half to shift momentum their way. But this is Nebraska, so it still wasn't easy.
The Huskers wouldn't take their first lead until there was 10:57 left to play. And they caught a major break after that, when tight end
Matt Lehman
fumbled a potential go-ahead Penn State touchdown into the end zone for a Nebraska touchback.
Replays appeared to show that Lehman broke the plane just before losing the ball, but an official review upheld the fumble call. Nittany Lions quarterback
Matt McGloin
later tweeted out a
video of the play
and hinted in a postgame interview that referees had it in for Penn State because of the Jerry Sandusky scandal.
[+] Enlarge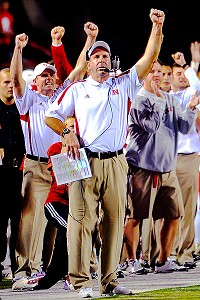 AP Photo/Dave WeaverAfter losing to UCLA last season, Bo Pelini and Nebraska hope to turn the tables when the Bruins and Huskers meet again on Saturday.
Pelini acknowledged his team was "fortunate" that the play was ruled a fumble on the field, making it harder to overturn. Nebraska also benefited from some questionable late calls at Michigan State last week. But championship seasons are often marked by those kinds of good fortune.
Fumble or not, the fact remains that the Huskers outscored Penn State 26-3 in the second half, holding the Nittany Lions to just 136 total yards after halftime. The Blackshirts defense was clearly bothered by Penn State's hurry-up "NASCAR" offensive package, burning three defensive timeouts and getting caught with too many defenders on the field several times in the first half.
"They went to the hurry-up and we couldn't adjust well," defensive lineman
Cam Meredith
said. "A lot of times we were looking at the sideline and not getting the call. We came up with a solution."
The answer was brilliantly simple, as Nebraska decided just to go with the same defensive alignment every time Penn State went to the no-huddle. It worked, as
Daimion Stafford
grabbed a key interception against McGloin and the Huskers later forced McGloin into an intentional grounding in the end zone for a safety.
Nebraska forced three turnovers, for once coming out on the right side of that battle. That doesn't mean it was all good news, though, as quarterback
Taylor Martinez
fumbled the ball inside the Penn State 5 to ruin a scoring chance, and
Tim Marlowe
muffed a first-half punt return to set up a Nittany Lions touchdown. The Huskers entered the day tied for second-to-last in the nation in lost fumbles, and they gave two more away to run their season total to minus-16.
Slipperiness with the ball isn't supposed to translate to winning. Yet, like an eccentric billionaire, Nebraska keeps succeeding despite its erratic behavior. Its offense leads the Big Ten in scoring and yardage despite all the turnovers and the slow starts. What could the Huskers do if they ever cleaned all that up?
"The sky's the limit," said Abdullah, who had his sixth 100-yard day of the season with 116 yards on 31 carries. "We've yet to play our best game offensively. We say we want to play our best game in our last game, and we've got a couple of games left."
Believe it or not, there is some method to this comeback madness. Offensive coordinator Tim Beck says opposing defenses have thrown new looks at the Huskers all season long in an effort to slow down their deep cast of offensive skill players.
"There are some games where we might as well not even practice," he said. "Because what we're seeing isn't what we're practicing against."
Beck said it often takes a couple of quarters to figure out just what is happening and then adjust to it. On Saturday, the Nittany Lions used some blitzes and schemes that Beck hadn't seen on film from them all year.
Beck's offense also is designed to wear opponents out with its high-tempo pace and speed. That's one reason the Huskers kept running toss sweeps to different sides of the field, making Penn State's thin defense run from sideline to sideline all game. The Nittany Lions looked gassed by the fourth quarter.
That doesn't mean Nebraska would like to continue this particular pattern of falling behind, turning the ball over and mounting wild comebacks.
"It's enough already," Martinez said. "We need to start getting ahead."
But this particular brand of crazy works for them. After losing 63-38 at Ohio State on Oct. 6, Pelini told his team it needed to win out to claim a Big Ten title. Four straight wins later, the Huskers are in control of the Legends Division. They need only to beat Minnesota at home next week and win at struggling Iowa in the season finale to reach the Big Ten championship game.
"That's four down, and we've got two more to go," Pelini said. "We just have to stay the course."
The same crazy, winning course.
Big Ten Recruiting Classes Evaluated
BIG TEN SCOREBOARD
Thursday, 9/3
Saturday, 9/5
Monday, 9/7