Penn State Nittany Lions:

Terrelle Pryor
June, 9, 2014
6/09/14
12:00
PM ET
April, 4, 2014
4/04/14
4:30
PM ET
Enjoy the Final Four. And for you Michigan fans out there, enjoy the spring game at the Big House.
Don't forget:
Twitter!
To the inbox ...
Kenny from Cincy writes:
I was comparing on-the-field accomplishments of the past two Ohio State QBs and I feel like Terrelle Pryor has had a better career (you know, despite crippling the program the next year but I feel like most in Buckeye land have forgiven him). Pryor: 3 Big Ten championships, a Rose Bowl win, and a Sugar Bowl win over a SEC team in three years (I know the games were vacated, but it did happen).
Braxton Miller
: 0-2 in bowls and 0 Big Ten championships, but two Silver Footballs and 24 wins in a row are nice. My question is, due to the expectations that QBs like Troy Smith and Pryor elevated, do you think Miller has to win a Big Ten championship or more this year or will the Braxton Miller years be seen as a failure in Buckeyes fans' eyes?
Adam Rittenberg:
Kenny, this is a really interesting debate regarding each quarterback's legacy. There's no doubt Miller has accomplished more individually than Pryor. He could be the first Big Ten player to win three offensive player of the year awards. He likely would have won a Big Ten championship in 2012 if Ohio State had been eligible for postseason play, but when you look at macro team accomplishments -- league titles and BCS bowl wins -- Pryor definitely gets the edge. He likely was an ill-timed blitz away from having a third BCS bowl win in the 2009 Fiesta Bowl against Texas. One big difference is Pryor played on teams with much better defenses. Miller had several reasons to return for his senior season, and winning a Big Ten title certainly is one of them.
---

Joe from Phoenix writes:
I don't understand everyone's love for a nine-game conference schedule. I do not believe rematches in college football are a good thing, as it makes the first game irrelevant. With a nine-game schedule, you almost guarantee a rematch in the championship game. Why not schedule one more "quality" nonconference game? That way all Big Ten schools have an opportunity to have one more win on their record, and look better for the bowl committees.
Adam Rittenberg:
Joe, I hear you and it definitely increases the likelihood of a rematch in the Big Ten championship, but I also see the league's viewpoint. It wants a greater schedule rotation to enhance your product week after week. It wants players to face every league team at least once in a four-year period. I also think it's tricky to demand another quality nonleague game in place of the ninth Big Ten contest. Some schools would step up, but you need teams from other power conferences to play ball, too, which is no guarantee. I also think some schools would schedule cupcakes. Bowl committees rarely care about strength of schedule.
---
Joe from South Bend, Ind., writes:
Adam, what was maybe one thing you found impressive with your visit to Happy Valley and was your one big takeaway?
Adam Rittenberg:
Joe, I'm very impressed with
James Franklin
's staff. They're very sharp guys who know how to keep the energy level high and relate well to a group of new players. Everyone knows that Franklin operates in fifth gear, but his assistants do, too, and there's tremendous cohesion with the staff. It would have been much harder if the staff lacked familiarity as it tried to get to know the players. My big takeaway: Penn State's defense is much further along than the offense, and the Lions likely will need to win low-scoring games this fall. Coordinator Bob Shoop has a good plan and inherits some good pieces. Quarterback
Christian Hackenberg
is a once-in-a-generation type quarterback, but he'll face more pressure this year because of the issues with the offensive line.
---
Kevin from Las Vegas writes:
Is history the only thing that qualifies a team for elite status? Wisconsin is seen as a sleeper in the B1G, and two years ago they were "elite." Michigan and Ohio State would never be considered "sleepers," even after down years. Is this simply because of historic achievements (lots of national championships when Teddy Roosevelt was president), branding (our helmets have wings!), or lazy writers (not you guys, of course)? Do teams like Wisconsin, Michigan State or Iowa ever really have a shot of being elite because their legacy doesn't include deep history?
Adam Rittenberg:
Kevin, it's a good point to raise, especially because I think Michigan State is being overlooked heading into 2014 just because it hasn't been a traditional power. You hear a lot about Ohio State making a run for the College Football Playoff, but Michigan State dominated the Big Ten last year (nine wins by 10 or more points), won the Rose Bowl and brings back quarterback
Connor Cook
and defensive coordinator Pat Narduzzi, among others. Wisconsin has gained national respect in the past 20-plus years, but the Badgers also recently lost three consecutive Rose Bowls, which hurt their cause. Iowa has had its moments but lacks the consistency of Wisconsin. Michigan State, meanwhile, really has it rolling under Mark Dantonio. At some point, the Spartans need to be viewed as elite for what's happening now, not in the past.
---
Charlie from Chicago writes:
What recruits in the conference are due to have breakout seasons in their freshman year?
Adam Rittenberg:
There are potentially quite a few this year, Charlie. Early enrollees have an advantage, so keep an eye on players such as Ohio State LB
Raekwon McMillan
, Michigan WR
Freddy Canteen
, Ohio State WR
Johnnie Dixon
and Penn State WR
De'Andre Thompkins
. Other potential impact recruits arriving in the summer include Michigan CB
Jabrill Peppers
(the Big Ten's top-rated recruit in the 2014 class), Illinois DE
Jihad Ward
(junior college transfer), Minnesota RB
Jeff Jones
and Michigan State DT
Malik McDowell
, whom
Mark Dantonio gushed about Wednesday
after he finally signed.
March, 26, 2014
3/26/14
2:30
PM ET
STATE COLLEGE, Pa. --
Penn State
quarterback
Christian Hackenberg
hasn't even completed two weeks of spring practice, so it's still anybody's guess how the reigning Big Ten freshman of the year will perform in 2014.
But, over the last 25 years, five other Big Ten quarterbacks have found themselves in similar positions. Like Hackenberg, they impressed fans with memorable rookie campaigns, were named the Big Ten freshman of the year and raised expectations over the offseason.
[+] Enlarge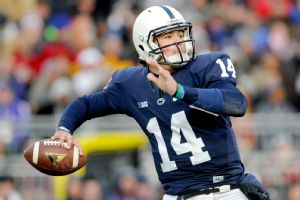 MCT via Getty ImagesHow will Nittany Lions signal-caller Christian Hackenberg follow up his fantastic freshman season?
Hackenberg's sophomore season won't be in the books for quite some time. But here's a look at those other five QBs and how they fared in their sophomore seasons and in their careers:
Braxton Miller, Ohio State, won award in 2011
Sophomore stats (2012):
148-of-254 passing (58.3 percent); 2,039 yards, 15 TDs, 6 INTs; 227 carries, 1,271 yards, 13 TDs
Ohio State record (2012):
12-0, no postseason due to sanctions (2011: 6-7, lost to Florida in Gator Bowl)
Sophomore synopsis:
It would've been difficult to ask Miller for a much better sophomore campaign. He was the Big Ten's offensive player of the year, finished fifth in the Heisman voting and even bested
Carlos Hyde
in both rushing yards (1,271 to, 970) and yards per carry (5.6 ypc to 5.2 ypc). Miller was more renowned for his legs than his arm, but he was still the second-most efficient passer in the conference. He also came up big when his team needed; the Buckeyes won six games that were decided by a touchdown or less.
His career:
He could've opted to leave early for the NFL this offseason but instead decided to
stay one last season
. He's becoming more well-rounded with each season, and he's once again one of the favorites to win the Heisman.
Terrelle Pryor, Ohio State, won award in 2008
Sophomore stats (2009):
167-of-295 passing (56.6 percent); 2,094 yards, 18 TDs, 11 INTs; 162 carries, 779 yards, 7 TDs
Ohio State record (2009):
11-2, beat Oregon in Rose Bowl (2008: 10-3, lost Fiesta Bowl vs. Texas)
Sophomore synopsis:
With the top tailback (Chris Wells) and wideout (Brian Robiskie) from 2008 both gone, Pryor put the offense on his back and carried it to an improved record. Pryor led the team in rushing yards and rushing touchdowns, and he was instrumental in the Buckeyes' Rose Bowl win. He threw for 266 yards, rushed for a game-high 72 yards and was named the MVP. Statistically, his sophomore campaign wasn't his best season -- but he had a lot to overcome.
His career:
He led the Buckeyes to three straight BCS bowl berths, but his legacy was marred by an early exit. He was suspended for the first five games of his senior season --
due to Tattoo-Gate
-- so he instead opted for the NFL's supplemental draft in 2011. The Oakland Raiders took him in exchange for a third-round pick, although reports this week have said Pryor is now
seeking to cut ties with the Raiders
because he hopes to be a starter somewhere.
Brooks Bollinger, Wisconsin, won award in 1999
Sophomore stats (2000):
110-of-209 passing (52.6 percent); 1,479 yards, 10 TDs, 7 INTs; 157 carries, 459 yards, 6 TDs
Wisconsin record (2000):
9-4, beat UCLA in Sun Bowl (1999: 10-2, beat Stanford in Rose Bowl)
Sophomore synopsis:
The Badgers needed to fill the big shoes of Heisman Trophy winner Ron Dayne, so they leaned a little more on the passing game in 2000. But, make no mistake about it, this was a run-first team that lived and died on the ground while relying heavily on Michael Bennett. Still, Bollinger played a big role as an effective dual-threat quarterback -- and this Wisconsin team came close to equaling success from the year before. Three of the Badgers' four losses were decided by six points or less, and two of those losses came in overtime.
His career:
Bollinger never put up big passing numbers -- he
never ranked higher than third
in a given Big Ten stat category -- but he was consistent and did what was asked of him. The Big Ten Network even chose him as
one of the 10 best quarterbacks
in the conference from 2000 to 2010. He played five seasons in the NFL and was the
Pittsburgh Panthers
' QB coach for two seasons.
Antwaan Randle El, Indiana, won award in 1998
Sophomore stats (1999):
150-of-279 passing (53.8 percent); 2,277 yards, 17 TDs, 7 INTs; 224 carries, 788 yards, 13 TDs
Indiana record (1999):
4-7 (1998: 4-7)
Sophomore synopsis:
Randle El's sophomore season was his best, by passing numbers, in his four years as a starter. He accounted for 69 percent of the entire offense that season and led the Big Ten with 30 combined touchdowns. The main reason Randle El couldn't lead Indiana to more wins? The defense allowed at least 30 points in nine of 11 contests. The highlight of the Randle El's season
came against Illinois in October
, when he overcame a 21-point deficit late in the third quarter to force overtime. Neil Rackers nailed a field goal to open up overtime for Illinois, but Randle El tossed a 25-yard TD pass on the very next play to seal the 34-31 win.
His career:
The Hoosiers never won more than five games during his career, but he was clearly the team's best player. (And he was probably the most athletic person on campus -- he also played two years of basketball and one year of baseball.) He had a nine-year NFL career with the Pittsburgh Steelers and Washington Redskins.
Eric Hunter, Purdue, won award in 1989
Sophomore stats (1990):
200-of-366 passing (54.6 percent); 2,355 passing yards, 12 TDs, 14 INTs; 97 carries, 0 yards, 7 TDs
Purdue record (1990):
2-9 (1989: 3-8)
Sophomore synopsis:
Hunter was
looked upon as a young Randall Cunningham
, but his career never lived up to those freshman expectations. He threw 11 TDs on 178 attempts as a freshman and just 12 TDs on 366 attempts as a sophomore. The main problem was an inexperienced offensive line, and it only got worse as the season wore on. In the last five games, Hunter had 11 picks.
His career:
Those sophomore struggles led to the firing of Purdue's coach, which meant a new coach and a new system for Hunter. The line continued to struggle, Hunter never got back on track, and he saw less time on the field each season thereafter. He earned a reputation for his inability to read defenses, and the Boilermakers never won more than four games a season during his career.
January, 29, 2014
1/29/14
10:30
AM ET
There have been plenty of memorable prospects and players to come through the Big Ten, but RecruitingNation's scouts have put together their
Ultimate ESPN 300
list of top recruits.
Here are the top five Big Ten recruits who made the list:
September, 2, 2013
9/02/13
9:00
AM ET
It's rare for a true freshman like
Christian Hackenberg
to earn the starting quarterback job -- but it's not unheard of in the Big Ten.
[+] Enlarge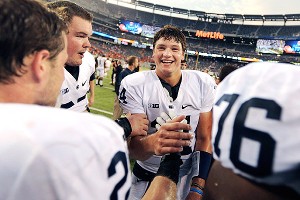 Nabil K. Mark/Centre Daily Times/Getty ImagesChristian Hackenberg started his Penn State career with a win over Syracuse on Saturday.
We took a look at the Big Ten true freshmen who came before the Penn State signal-caller to see how they fared. We looked at quarterbacks from the past 10 years who started at least six games that first year and offered a rundown of those true freshman seasons, along with how their careers played out.
There's no telling right now where the four-star Hackenberg (Scout grade: 88) might end up. But here's what Big Ten history has to say:
Minnesota, 2012
Philip Nelson, Scout grade: 74
Freshman stats:
75-of-152 (49.3 percent) for 873 yards, eight TDs, eight INTs; 69 carries for 184 yards
Record as freshman starter:
2-5
Freshman synopsis:
Nelson was expected to redshirt but, between injuries and inconsistent QB play, his number was called earlier. He started the last seven games and had limited success. But he showed some potential such as the Purdue win, where he completed 68 percent of his passes and threw three touchdowns.
College career & beyond:
He started Week 1 and helped lead Minnesota to a 51-23 win over UNLV. He could be in line to become a four-year starter, and all eyes will be on whether he can guide Minnesota to back-to-back bowls.
Penn State, 2010
Rob Bolden, Scout grade: 81
Freshman stats:
112-of-193 (58 percent) for 1,360 yards, five TDs, seven INTs; 30 carries for minus-11 yards, one TD, one fumble lost
Record as freshman starter
: 5-3
Freshman synopsis:
Bolden became the first true freshman to start a PSU opener in 100 years. He impressed in Week 1
by dominating Youngstown State
with 239 passing yards, two TDs and a pick -- but his season would falter afterward. He seemed to regress, and a quarterback battle with
Matt McGloin
lasted all season. (Actually, for two seasons.) PSU finished 7-6 and lost to Florida in the Outback Bowl. Bolden didn't play in the postseason.
College career & beyond:
Bolden transferred to LSU last year but has yet to attempt a pass. He's not poised for any playing time, and rumors have continued to circulate that he's considering another transfer.
Michigan, 2009
Tate Forcier, Scout grade: 81
Freshman stats:
165-of-281 (58.7 percent) for 2,050 yards, 13 TDs, 10 INTs; 118 carries for 240 yards, three TDs, four fumbles lost
Record as freshman starter:
5-7
Freshman synopsis:
He got off to a solid 4-0 start and made his mark by
throwing a last-second, game-winning TD against Notre Dame
. ESPN analyst Matt Millen, echoing a shared sentiment of Forcier's bright future, called him the best QB in the B1G. But his career took a nosedive in Week 5. The Wolverines lost to Michigan State, 26-20, and Forcier would win just one more game -- against Delaware State -- the rest of the season. His early performance still helped him earn a spot
on ESPN's All-Big Ten freshman team
.
College career & beyond:
He was briefly listed as the third-string QB at the start of the next season and saw limited time behind
Denard Robinson
. He hoped to transfer to Miami (Fla.) after a sophomore slump but ended up at San Jose State. He then withdrew from that school in January, 2012
because of poor academic standing
.
Ohio State, 2008
Terrelle Pryor, Scout grade: 93
Freshman stats:
100-for-165 (60.6 percent) for 1,311 yards, 12 TDs, four INTs; 139 carries for 631 yards, six TDs, one fumble lost
Record as freshman starter:
8-1
Freshman synopsis:
He came in as a consensus top-five national recruit, and he lived up to expectations. By Week 4, the dual-threat rookie supplanted
Todd Boeckman
-- a quarterback who took the Buckeyes to the national title game a year before -- and started the rest of the regular season. OSU finished 10-3 and lost the Fiesta Bowl to Texas. He was named Big Ten freshman of the year.
College career & beyond:
He helped OSU earn three straight BCS berths before declaring early for the NFL's 2011 supplemental draft when it looked as if he'd be suspended. Oakland gave up a third-round pick for him, and he currently looks to be the backup. He has thrown for 155 yards so far in his NFL career.
Illinois, 2006
Juice Williams, Scout grade: 82
Freshman stats
: 103-for-261 (39.5 percent) for 1,489 yards, nine TDs, nine INTs; 154 carries for 576 yards, two TDs, six fumbles lost
Record as freshman starter:
1-8
Freshman synopsis:
Williams got the nod in Week 4 and shocked the nation one week later at Michigan State. Coming in as huge underdogs -- about four touchdowns -- Illinois' Williams
threw for 122 yards and rushed for 103 to upset the Spartans 23-20
. Illinois dropped the last seven games and finished 2-10, but four losses were decided by one score. He was an honorable mention on The Sporting News' freshman All-American team.
College career & beyond:
Williams' sophomore campaign was a memorable one, as he beat No. 1 Ohio State -- the Illini's
first win over the top-ranked team in a little over a half-century
-- and finished 9-4 with a season-ending loss in the Rose Bowl. That was the highlight of his career, however, as he won just eight games over the next two seasons.
Michigan, 2004
Chad Henne, Scout grade: N/A
Freshman stats:
240-of-399 (60.2 percent) for 2,743 yards, 25 TDs, 12 INTs; 55 carries for minus-137 yards, two TDs, two fumbles lost
Record as freshman starter
: 9-3
Freshman synopsis:
The Pennsylvania native started Week 1 when a sore arm hindered Matt Gutierrez, and Henne never looked back. He picked up national headlines in October after back-to-back 300-yard games. Said Minnesota coach Glenn Mason: "If you didn't know he was a freshman,
you wouldn't know he was a freshman
." He tied
Elvis Grbac
's season record for touchdown passes with 25 and, unsurprisingly, made the All-American freshman team. He also led Michigan to the Rose Bowl, in which it lost to Texas, 38-37.
College career & beyond
: Henne's college career saw its ups and downs, but he's still at -- or near -- the
top of most Michigan passing records
. He went 0-4 against Ohio State, but UM still finished in the top 25 in three of his four seasons. Miami selected him the second round of the 2008 NFL draft, and he's now the backup QB on Jacksonville.
November, 7, 2012
11/07/12
10:00
AM ET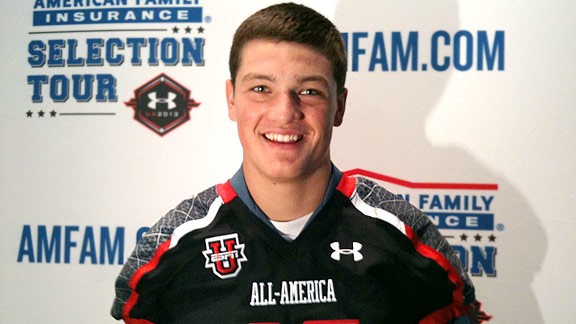 Josh Moyer/ESPN.comChristian Hackenberg has a lot to live up to as ESPN's No. 1-rated quarterback, as that position has produced its share of college stars in recent years.
Christian Hackenberg
(Fork Union, Va./Fork Union) follows a long line of successful No. 1-rated quarterbacks in the ESPN 150 -- leaving many to wonder what his future might hold.
Can he come in and be the starter? Does history say he'll succeed? Can he experience success right off the bat?
NittanyNation decided to take a closer look at every one of ESPN's top passers since 2006 to determine what history says about Hackenberg's chances -- for both his future and his success during that rookie campaign.
To continue reading this article you must be an Insider
BIG TEN SCOREBOARD
Thursday, 9/3
Friday, 9/4
Saturday, 9/5
Sunday, 9/6
Monday, 9/7