Penn State Nittany Lions:

Ted Roof
September, 13, 2013
9/13/13
9:00
AM ET
Penn State defensive coordinator John Butler is so competitive and intense that a childhood friend wonders half-jokingly if a demon lives inside him.
Wisconsin defensive coordinator Dave Aranda, meanwhile, is California cool, an admittedly cerebral coach directing a scheme built on aggression.
[+] Enlarge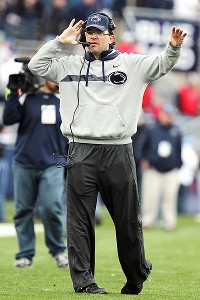 Matthew O'Haren/USA TODAY SportsPenn State's John Butler is emotional, animated, competitive and his players feed off that.
Butler can't be missed on the Penn State sideline, a ball of energy whose animated style makes players feel like he's one of them. Aranda is more Zen-like, bringing a teacher's approach that connects with bright Badger defenders as he conveys messages without veins bulging from his neck.
Butler and his boss, Bill O'Brien, are near replicas, fiery Irishmen from hardboiled Eastern cities who share a relentless drive to succeed. Aranda and his boss, Gary Andersen, first met in Maui of all places. They both have backgrounds in defense but are, as Andersen puts it, "polar opposites."
The obvious differences between Butler and Aranda shouldn't overshadow the fact that both first-year Big Ten defensive coordinators are rising stars, rocketing up the coaching ladder. They're highly respected among their peers and viewed as likely future head coaches.
Both men also will be put to the test this week, as they lead defenses against two strong opponents -- No. 20 Wisconsin visits Arizona State and Penn State hosts UCF -- led by standout quarterbacks (ASU's
Taylor Kelly
, UCF's
Blake Bortles
).
"This is why you do it, man," Butler told ESPN.com. "As a competitor, when the competition improves, you better improve your game or you're going to get embarrassed."
Butler and Keith Conlin rarely were embarrassed as young athletes growing up just outside Philadelphia. In fact, they rarely lost at anything. Conlin and Butler met in first grade and played together on every team and in every sport.
They won titles in everything, thanks to Conlin, a self-described "mutant athlete" who went on to be an All-Big Ten offensive lineman at Penn State, and Butler, who eventually played football and basketball at Division III Catholic University. But they didn't win every game.
"Imagine the kid who would sulk and cry after games when you lose, but during the game was going to do whatever it took to win," Conlin said of Butler. "He wasn't the crybaby who lost and [said], 'I'm going to take my ball and go home.' He was literally mad because we lost. Losing is probably the worst thing he could possibly have in his world.
"It's almost like a demon he has, his drive and competitiveness."
It's also an asset that helped Butler rise from modest coaching origins -- Midwestern State, Texas State and Harvard -- to the Big Ten (Minnesota) in 2007, to the SEC (South Carolina) in 2011 and back to the Big Ten last year as Penn State's secondary coach and special teams coordinator. When defensive coordinator Ted Roof left for Georgia Tech in January,
O'Brien immediately promoted Butler
, who vaulted veteran Lions assistants Larry Johnson (defensive line) and Ron Vanderlinden (linebackers) for the role.
O'Brien's rationale: "He's just a coordinator, that's what he is. ... I knew if the coordinator job ever opened up, he would be the guy."
The transition was quick. Minutes after Roof informed the staff of his move, O'Brien walked into Butler's office.
"Billy said, 'This is the move I want to make,'" Butler recalled. "I told him, 'That's great. Let's move on.' I've prepared myself for this for a long time."
[+] Enlarge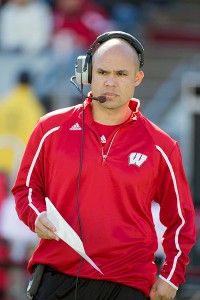 AP Photo/David StlukaWisconsin's Dave Aranda and his network of connections have risen through the coaching ranks.
Preparation is at the core of Aranda's approach. He has his principles -- multiple fronts, varied blitzes, a focus on takeaways -- but constantly keeps his ears open.
If there's a new approach, Aranda, 37, wants to learn it, even if he never employs it in a practice or a game.
"Professional development for him is very important," Andersen said. "He's a great researcher, very detailed. He's always out there looking for new things. He's much better at that than I was as a coordinator. I probably got a little set in my ways.
"If he's in a city where there's a football program, it doesn't matter if it's NFL, Division I or Division II, he's going to see if he can learn something from somebody."
This summer, Aranda dropped in on the Green Bay Packers, Atlanta Falcons and Jacksonville Jaguars, in addition to college teams like Ohio and Eastern Michigan.
"Outside of my family, about the only other people I talk to are other defensive coaches," Aranda said. "You try to get as many questions answered prior to having to answer them in games."
Andersen and Aranda first met at a high school camp in Maui. They both embraced what Andersen calls "the aggressive side of defense" -- capitalizing on blitz opportunities and gearing a scheme toward forcing turnovers. Aranda, like Butler, worked his way through the lower ranks (California Lutheran, Delta State, Southern Utah) before getting his big break at Hawaii.
Andersen watched Aranda's first coordinator stint -- Hawaii led the nation in takeaways in 2010 and finished 15th nationally in sacks the following year -- and
in 2012 brought him to Utah State
, essentially to replace himself as the defensive play-caller. Since Andersen made no other changes, Aranda took over a defensive staff as the only newcomer.
"There's no pretense," Aranda said. "I've always thought that it's not whose ideas that matter; it's just that it works."
After coordinating a Utah State defense that last season finished in the top 15 in points allowed, sacks, rushing yards allowed, pass efficiency and total yards allowed, Aranda received offers from two major-conference schools -- reportedly Cal and Texas Tech – but he chose to stay at Utah State. But that was before Andersen landed the Wisconsin job.
"A lot of people would say it was kind of crazy," Andersen said, "but he said no because he felt like that was where he needed to be. I respected that, so when we had the opportunity to come here, [bringing Aranda] was a slam dunk."
O'Brien and Butler didn't know each other well before O'Brien landed the Penn State job, but they had a mutual connection in strength coach Craig Fitzgerald, who had met O'Brien at Maryland and had attended high school with Butler and Conlin. O'Brien brought both Fitzgerald and Butler in from South Carolina.
After meeting O'Brien, Conlin wondered how Butler would mesh with his new boss.
"How [O'Brien] was emotionally so driven in everything he does, I was like, 'Man, they're either going to be best friends or the most hated enemies of all time,'" Conlin said.
It turned out to be the former. Both men are in their early forties. O'Brien grew up north of Boston in Andover, Mass. Butler lived in Boston while working at Harvard and said the city's energy reminds him of Philly.
"He's a quick-minded guy, a hardworking guy," O'Brien said. "We believe in the same things football-wise."
Added Butler: "It ended up being an excellent match."
Butler's style clicked with Penn State's players, whose competitive spirit carried them through a summer of sanctions and a season with no bowl or championship possibilities. The Lions won eight of their final 10 games last fall and the secondary, labeled as the defense's weak link, held its own.
"He's pumped up, just like all of us," defensive tackle
DaQuan Jones
said. "He's just out there, all loud and running around. I love it."
Butler hasn't pumped the brakes on his approach, despite his increased responsibilities. Competitiveness is non-negotiable for his players, although he has learned over time that it takes on different forms.
"Whether you're overtly competitive, which maybe I am, as opposed to internally competitive, which a lot of other people are, that spirit shows through in all of our guys," he said.
Butler, 40, oversees two of the nation's most accomplished assistants in Johnson and Vanderlinden, the only two holdovers from Joe Paterno's staff. Despite the experience gap, the transition "came natural," Butler said, and Penn State has surrendered only 24 points, 22 first downs and 132 rush yards in its first two games.
Conlin, who has seen Butler's evolution and maturation firsthand, has no doubt his friend will eventually lead a program.
"I don't know when, I don't know where," Conlin said, "but I wouldn't want to be playing against him. There's going to be 11 guys out there who will cut your heart out to win that game."
Andersen also sees Aranda as a future head coach, but hopes to keep him for "a while." Like Butler, Aranda has had early success, as the Badgers have yet to allow a point in two games.
And like Butler, Aranda will be challenged Saturday. Arizona State ranked 14th nationally in scoring last season and put up 55 in its opener. Aranda faced the same Todd Graham offense in the 2010 Hawaii Bowl, when Graham's Tulsa team put up 62 points against Hawaii.
"I think about that a lot," he said. "So it's exciting for me to get back in it and give it a go. It's a challenge, the stuff as a coach you look forward to."
Maybe Aranda and Butler aren't so different after all.
March, 6, 2013
3/06/13
11:00
AM ET
De'Andre Thompkins
may go to school at Swansboro (N.C.), but he can't make a turn in the hallways without being reminded of Penn State.
A Nittany Lion emblem is the classroom screensaver of his math teacher, Ed Walsh, and a PSU jacket is hanging nearby. A history teacher, health instructor and his football coach also either grew up as Nittany Lions fans or went to the university.
Heck, even a custodian inside the red-brick school chats up with Thompkins about PSU and the Pittsburgh Steelers.
January, 18, 2013
1/18/13
1:00
PM ET
Welcome to NittanyNation's bi-weekly mailbag! We asked you to tweet your questions this week, and we've selected three to answer in-depth -- starting with the question we received most.

Scott Reading (@7reading7) writes:
What will be the biggest challenge for O'Brien this upcoming season? I feel it'll be the secondary.
Josh Moyer:
Well, the secondary certainly isn't a bad choice. But with both safeties returning and another year under
Adrian Amos
' belt, I think we can all agree they should be improved overall from last season. But it's definitely far from a strength.
To continue reading this article you must be an Insider
January, 13, 2013
1/13/13
3:55
PM ET
Class of 2014 WR
DeAndre Thompkins
was a little disappointed to see his recruiting coach, Ted Roof, leave for Georgia Tech -- but Thompkins said Penn State has really shown it cares about him since then.
To continue reading this article you must be an Insider
January, 13, 2013
1/13/13
10:00
AM ET
NittanyNation takes a look at this week's Penn State football news and what you might have missed:
Should college athletes be paid? ESPN asked several of the nation's top seniors, including Christian Hackenberg, that very question.
The postgraduate coach of PSU walk-on Austin Whipple talked about what made him a special quarterback and when he really impressed in 2012.
Penn State commit Curtis Cothran said he found PSU games much more enjoyable than NFL games in an extensive Q&A.
High school freshman Rahshaun Smith is just 15 years old, but he added a PSU scholarship offer on Friday. He talked with NittanyNation about the honor.
January, 10, 2013
1/10/13
3:47
PM ET
STATE COLLEGE, Pa. -- John Butler didn't receive word about Ted Roof's departure until Wednesday morning, but he said he didn't hesitate when Bill O'Brien offered him the promotion to defensive coordinator soon thereafter.

"It's not like there was a surprise party with it," Butler told the media Thursday afternoon. "He told me I was the new defensive coordinator, and I just asked him what he needed me to do."

Butler, formerly the secondary coach, said he's waited 20 years for an opportunity like this. And he plans to make the most of it. He still wants to overlook the cornerbacks or safeties -- "I'm not going to be a walk-around coordinator" -- and he doesn't plan to change a lot from this defense.

He acknowledged the appearance of this unit in 2013 "would be very similar" to last season. His philosophy is to offer multiple looks, be aggressive and play fast. Butler hoped to keep the schemes simple and continue to help the players along in their development.

"I think a definition of that is you got to create confusion with your opponent, meaning we're not going to sit back on our heels in one look, one coverage, and let the offense dictate how we're going to play them," he said. "Aggressive doesn't mean we're going to blitz them every snap. That's not what aggressive means.

"It means we're going to change coverage looks, we're going to change front looks, we're going to change players around so they can't be blocked a certain away all the time. We're going to try to take control away from the offensive coaches."


January, 10, 2013
1/10/13
1:00
PM ET
Ted Roof's surprise resignation Wednesday won't send this defense reeling, in part, because John Butler is a fiery, competent coach. But his departure will definitely be felt in one key department -- recruiting.
Roof was Penn State's pipeline to the South, a man whose reputation commanded the attention of recruits, especially those in Georgia and Alabama. With his absence, so goes an important part of that pipeline.
Historically, the coaching staff hasn't ventured farther south than Virginia, so Penn State wasn't a favorite among recruits unaccustomed to building snowmen. Most didn't see the university as an option -- until Roof showed up.
To continue reading this article you must be an Insider
September, 2, 2012
9/02/12
9:41
AM ET
STATE COLLEGE, Pa. -- Defensive tackle
Jordan Hill
just shook his head.
Penn State wasn't supposed to allow 499 yards of offense in the opener. Ohio wasn't supposed to run for 175 yards. And the defense wasn't supposed to be a liability this season.
A downtrodden Hill short on answers swiveled his head Saturday, looking into media members' eyes, and vowed this would never happen again. "You won't see that all season, I'll tell you that right now," he said. "No other team will do that to us again."
[+] Enlarge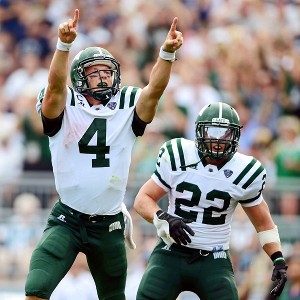 Andrew Weber/US PresswireThe Penn State defense had no answers for Tyler Tettleton (4) and Co.
A team hadn't done that to Penn State in a season opener since Miami (Fla.) in 2001, a year when most of the Nittany Lions' current players tossed Nerf footballs or hung on the monkey bars during recess.
Matt McGloin
was 11 years old at the time; others were as young as 7.
Penn State defenses just didn't struggle. Not like this. Sure, the Lions allowed 600 yards against Houston in January's TicketCity Bowl -- but the Cougars' No. 1-ranked offense averaged 599 yards a game.
This was different. The players didn't know the numbers, but they felt it: Penn State's defense fared worse than most of Ohio's lower-level opponents last year. Ohio's offense averaged just 449 yards a game last year; Penn State permitted half-a-football-field more than that Saturday.
"From the history of our defense, we all know we can do better than this," defensive end
Deion Barnes
said.
Players seemed beside themselves and at a loss to explain the change. Linebacker
Michael Mauti
stared at his feet outside the locker room, and Bill O'Brien treated Saturday's press conference as if he were late for a doctor's appointment.
Penn State had last allowed more than 490 regular-season yards on Nov. 24, 2001, against Michigan State -- just a few weeks after that Miami game (602 yards). The Nittany Lions finished 5-6 that season, a year sandwiched between those forgettable "dark days" of Penn State football, a time when the Lions found just one winning season over the span of five.
In the face of July's sanctions and a loss to a MAC team -- which last happened against Toledo in 2000 -- the specter of those "dark days" now hangs over Happy Valley. Hill and Mauti swore Saturday this was just a warm-up, not the beginning of a trend, but Penn State's next opponent (Virginia) will better answer that.
"We're not going to let this carry over to next week," Mauti said.
If Penn State's defense struggles for a second straight game, Saturday's loss to Ohio can no longer be treated like an exception. Either Penn State simply lacks talent on a defense that lost four starting DBs to graduation or defensive coordinator Ted Roof's scheme fits like a jigsaw piece to the wrong puzzle.
Roof's aggressive style boosted poor defenses at Duke and Minnesota, but he struggled with a solid team in Auburn. Behind first-round NFL draft pick
Nick Fairley
in 2010, Auburn finished 60th in total defense. In 2011, it finished the regular season in 78th.
This early in the season, players turned to the bright side. But it's not yet clear if that's the right side.
"We have to come back to work on Monday," Hill said. "We still have 11 more games to go."
August, 27, 2012
8/27/12
11:07
PM ET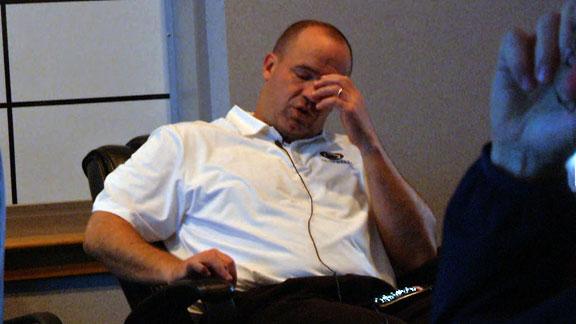 Editor's note: Ivan Maisel has the latest from Penn State as the Nittany Lions prepare for their season opener versus Ohio.
STATE COLLEGE, Pa. -- Shortly after 1 p.m. Monday, defensive coordinator Ted Roof conferred with head coach Bill O'Brien to change the game plan and put the Nittany Lions in shoulder pads for practice Monday. Roof wanted his defense to get some short-yardage and goal-line work as Penn State prepares to open the season against Ohio.
It's unusual to hit on Monday. But as Roof explained, "I don't know what normal is. This is the first one."
Lost in the discussion of everything else that has surrounded Penn State over the Past nine months is the actual transition of a new staff learning to work together. Football is a notoriously who-you-know business, and O'Brien, like most head coaches, called his guys together to come work for him at Penn State. Tight ends coach John Strollo came from Ball State. He and running backs coach Charles London worked with O'Brien for Roof at Duke.
"When he went to the Patriots," Strollo said of O'Brien, "I kept calling him and bugging him. 'Don't forget about me.'"
In the offensive staff meeting, you could tell the coaches had a history. O'Brien, receivers coach Stan Hixon and offensive line coach Mac McWhorter worked together at Georgia Tech. They interjected anecdotes from their days under offensive coordinator Ralph Friedgen. Though the staff sat at a long oval table, O'Brien ran the meeting from the corner of the room. He sat at a desktop computer to work the video he had assembled of the Ohio defense.
Roof had never worked with defensive line coach Larry Johnson or linebackers coach Ron Vanderlinden, the two assistants whom O'Brien hired from Joe Paterno's staff.
"One of the reasons that I hired Ted," O'Brien said, "is his ability to get along with people."
Roof, like quarterback coach Charlie Fisher, has an accent that you could pour over waffles (for extra thick, listen to McWhorter). He made sure that he, Johnson, Vanderlinden and secondary coach John Butler learned how to work together.
"We've had three dry runs with headsets, sidelines, to rehearse the whole thing," Roof said. "Who's going to make the call, who's responsible for signing it in, who's going to be quiet when they're making a call. They are good guys and good coaches. As long as we're on the same page, we'll be fine. It's my job to tie it all together."
As for practice in shoulder pads, O'Brien liked what he saw. He liked the focus -- perhaps because, for the first time all season, he turned off the music at practice. He liked enough of what he saw that he cut it 20 minutes short.
"I don't know much about what I'm doing," he said afterward, "but I sensed that they had given really good effort to that point. A lot of the things we cut we're going to get to later in the week. It's the first day of school. Some of them have to eat and get to study hall by 7:30."
As study hall began, the offensive staff began a meeting to watch the practice video.
August, 22, 2012
8/22/12
3:57
PM ET
Defensive end
Anthony Chickillo
sounded confused in 2009.
The Florida native's recruiting was heating up the winter of his junior season. He would go on to become ESPN's No. 24 overall prospect — and record five sacks as a freshman with Miami — but, in 2009, he spent his days poring over a mountain of letters from every school in the nation.
Well, almost every school.
To continue reading this article you must be an Insider
August, 6, 2012
8/06/12
11:13
AM ET
Our position-by-position preseason rankings roll on as we get to the linebackers. This is one of the strongest overall position groups in the league, full of returning stars and pro prospects.
Here are the top 10 individual linebackers leading into 2012, based heavily on last year's performance with some consideration given to potential.
1. Gerald Hodges, Penn State, senior:
A first-team All-Big Ten performer a year ago, Hodges is a leading contender for Big Ten defensive player of the year honors this season. A big hitter with speed, he had 106 tackles, 4.5 sacks and 10 tackles for loss in a breakthrough junior campaign. New coordinator Ted Roof could set Hodges loose on more blitzes this season.
2. Chris Borland, Wisconsin, junior:
Borland switched to middle linebacker last year, and Bret Bielema said he could be the best middle linebacker he's ever coached. Borland isn't very tall (at a listed 5-foot-11) but makes up for it with all-around athleticism and instincts. He finished with 143 tackles last season.
[+] Enlarge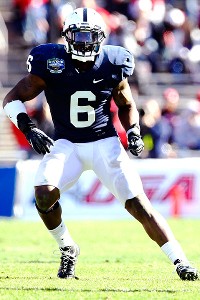 Kevin Jairaj/US PresswireA new coordinator could help Penn State's Gerald Hodges put up even bigger numbers as a senior.
3. Jonathan Brown, Illinois, junior:
Brown made a name for himself last year as sophomore, erupting for 19.5 tackles for loss and six sacks. He gets to quarterbacks in a major hurry, and they are not happy to see him.
4. Max Bullough, Michigan State, junior:
The captain of the Spartans' outstanding defense from his middle linebacker spot, Bullough has a keen understanding of the game that comes from growing up in a football family. He's also an impressive athlete at 6-foot-3 and 252 pounds. His tackle numbers last year (89) weren't huge, but he's got a ton of talent around him.
5. Denicos Allen, Michigan State, junior:
Allen is one of those talented guys around Bullough. The Spartans love to use his speed on linebacker blitzes, and for good reason. He had 11 tackles and 18.5 tackles for loss last season while flying in from the edge.
6. Mike Taylor, Wisconsin, senior:
It shows you how good and deep the Big Ten linebacker corps is that Taylor ranks only sixth after racking up a whopping 150 tackles last year. He's always around the ball and has strong tackling skills. It's hard to find a more reliable combo than him and Borland.
7. James Morris, Iowa, junior:
He led Iowa with 110 tackles a year ago, though there's a strong feeling that he and the Hawkeyes should have made more plays on defense last season. Morris has started since midway through his freshman season and should continue to improve. Iowa will need its linebackers to make plays behind a young defensive line.
8. Michael Mauti, Penn State, senior:
We love Mauti's playmaking ability and sense for the game, and we love the leadership he's shown through the Nittany Lions' crisis. We just hate the fact that he hasn't been able to stay healthy during his career. Here's hoping for some luck in that department in his final go-round, and if so, he has a chance to be among the very best linebackers in the conference.
9. Kenny Demens, Michigan, senior:
Demens was named the Wolverines' top linebacker last season after recording 94 tackles and three sacks. He should be a leader of a veteran group that might provide the strength of Michigan's defense in 2012.
10. Will Compton, Nebraska, senior:
Last week at Big Ten media days, Bo Pelini called Compton the unquestioned leader of the Cornhuskers' defense. He'll also look to become the team's top playmaking linebacker in the absence of Lavonte David. He had 82 tackles a year ago, including excellent performances in key victories over Michigan State and Penn State.
PSU's 46-Hour Dance Marathon Raises $13 Million
BIG TEN SCOREBOARD
Thursday, 9/3
Friday, 9/4
Saturday, 9/5
Sunday, 9/6
Monday, 9/7