Penn State Nittany Lions:

Tate Forcier
June, 10, 2014
6/10/14
5:00
PM ET
Questions, answers and
Twitter
. What could possibly be better on a Tuesday in June?
Let's begin ...

Virgel from Valdosta, Ga., writes:
Adam, do you think that if this season ends the Tim Beckman era at Illinois, they would go after a high-profile coach on the bench right now, like a Mack Brown? Your thoughts?
Adam Rittenberg:
Interesting thought, Virgel, as it's hard to know where athletic director Mike Thomas would turn. He has a track record of hiring MAC coaches -- Butch Jones, Brian Kelly, Beckman -- but I'd be shocked if he went that route again. Brown will be 62 in August, has a ton of money and likely a lengthy TV career ahead, so I'm not sure how much he would want to coach again. And if he did, for how long?
Illinois doesn't want to keep changing coaches. But thinking outside the box could be a good approach. Or Thomas could hire a guy like Michigan State defensive coordinator Pat Narduzzi, who is ready to lead a major-conference program.
---
Kyle from Hamilton, Ontario, writes:
We all have heard how "weak" Iowa's schedule is. It has even been rumoured that they could be favoured in every game. Given the fact they don't play Ohio State, a scenario exists that they both could go undefeated. That could have happened in 2002 if Iowa didn't blow the lead against Iowa State that year. My question is this: If both Ohio State and Iowa go undefeated do both teams make the playoffs?
Adam Rittenberg:
Man, I love that Canadian spelling. This would be a fascinating scenario, Kyle. A lot depends on what happens in other conferences and how the Big Ten performs in marquee nonleague games. But I don't think Iowa makes the playoff with a loss in the league championship game, primarily because of the seemingly soft regular-season schedule.
In this scenario, Ohio State would have a road win against a preseason top-10 team in Michigan State. The Buckeyes also play Virginia Tech in nonleague play. Will the Michigan home win help or hurt Ohio State? How much credit will Iowa get for beating Wisconsin and Nebraska at home? All these questions factor into the playoff decision. Ultimately, I doubt the Big Ten gets two teams into the initial playoff. Fairly or unfairly, the league will pay for its recent shortcomings. But Ohio State has a better chance as a one-loss team than Iowa.
---
Dave from Marietta, Ohio, writes:
The Big Ten should've gone to North-South divisions instead of East-West. I'm not sure about the exact locations of the schools, but a North-South alignment could look something like this ... North -- Minnesota, Wisconsin, Michigan, Michigan State, Northwestern, Purdue, Iowa. South -- Maryland, Rutgers, Penn State, Ohio State, Indiana, Illinois, Nebraska.
Adam Rittenberg:
Interesting idea, Dave, as this proposal appears to create more historical balance than the current East-West alignment. But if you look at the Big Ten's recent expansion, the idea is to live in a second region along the East Coast. It's not a northern expansion but an eastern one. Another factor to consider is geography. Nebraska would be a major outlier in the South division -- nearly an eight-hour drive from its closest division competitor (Illinois) and a loooong way from Ohio State, Penn State, Maryland and Rutgers. Would Husker fans care? Maybe, maybe not. They would get annual games with both Penn State and Ohio State.
I like how your proposal satisfies the
Iowa-Wisconsin-Minnesota rivalry triangle/dilemma
, but it also would require at least one extra protected crossover, Ohio State-Michigan, which would reduce the overall schedule rotation for two of the league's marquee programs. I definitely see value in the North-South model, but East-West is here, at least for now.
---
[+] Enlarge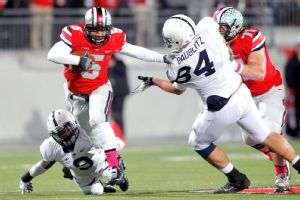 AP Photo/Paul VernonOhio State's Braxton Miller is one of just two early enrollees to be Big Ten Freshman of the Year in the last seven years.
Dave from Columbus, Ohio, writes:
I wondered if you've seen any data comparing early enrollees and players who enroll in the fall. Do early enrollees start sooner, play in more games, have better drafts or have better graduation rates than players who enroll in the summer/fall? My thought is if the player works hard enough to graduate high school early, maybe there's a bit of a better work ethic.
Adam Rittenberg:
Good question, David, and there's not a great answer yet as this trend remains somewhat new. The number of early enrollees really spiked in the 2009 and 2010 recruiting classes. Not surprisingly, there is some evidence that
early enrollees
are
contributing faster
in their careers than those who arrive in the summer. We've seen examples in the Big Ten such as Wisconsin cornerback
Sojourn Shelton
, who earned a starting job as a true freshman. Ohio State quarterback
Braxton Miller
enrolled early and has started since the middle of his freshman season.
Then again, a
2009 ranking of top early enrollee groups

showed more misses (Tate Forcier, Kevin Newsome, Will Campbell) than hits (Gerald Hodges) in the Big Ten. Penn State had
seven early enrollees in 2010
but only one, running back Silas Redd, became a star for the Lions.
Of the Big Ten's last seven Freshman of the Year recipients, just two -- Ohio State's Miller and Illinois' Arrelious Benn -- were early enrollees. So it's hard to draw clear conclusions.
---
Peter from Boston writes:
Would be interested to hear your thoughts on a
recent article by John U. Bacon
about attendance issues at Michigan (Ivan Maisel referenced it in his latest
3-Point Stance
). Personally, I think you could insert any major program in the country (including my alma mater Penn State) and write roughly the same article. ADs constantly point the finger at high-definition TV and other tech as the reason for slipping attendance, and it's definitely a factor, but Bacon makes some very good points about the in-game experience and costs of attending a game at a major university. What do you think?
Adam Rittenberg:
There are some very valid points in Bacon's story, especially about rising ticket prices. As Ohio State AD Gene Smith recently told me, "The reality is a lot of our ticket pricing, some of us are at the top of the pyramid." And it seems like the branding push, especially in the Big Ten, is turning off some fans. Has the sport sold its soul in some ways? No doubt. Is branding too much of a priority in the Big Ten, which makes a lot of money but doesn't really win anything? There's a case to be made. ADs are devoting a
lot of energy to improving the gameday experience
, but two solutions are pretty simple: scheduling better opponents and charging less for tickets.
September, 2, 2013
9/02/13
9:00
AM ET
It's rare for a true freshman like
Christian Hackenberg
to earn the starting quarterback job -- but it's not unheard of in the Big Ten.
[+] Enlarge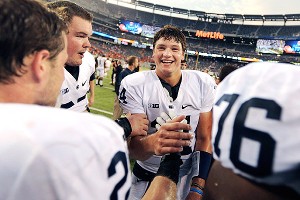 Nabil K. Mark/Centre Daily Times/Getty ImagesChristian Hackenberg started his Penn State career with a win over Syracuse on Saturday.
We took a look at the Big Ten true freshmen who came before the Penn State signal-caller to see how they fared. We looked at quarterbacks from the past 10 years who started at least six games that first year and offered a rundown of those true freshman seasons, along with how their careers played out.
There's no telling right now where the four-star Hackenberg (Scout grade: 88) might end up. But here's what Big Ten history has to say:
Minnesota, 2012
Philip Nelson, Scout grade: 74
Freshman stats:
75-of-152 (49.3 percent) for 873 yards, eight TDs, eight INTs; 69 carries for 184 yards
Record as freshman starter:
2-5
Freshman synopsis:
Nelson was expected to redshirt but, between injuries and inconsistent QB play, his number was called earlier. He started the last seven games and had limited success. But he showed some potential such as the Purdue win, where he completed 68 percent of his passes and threw three touchdowns.
College career & beyond:
He started Week 1 and helped lead Minnesota to a 51-23 win over UNLV. He could be in line to become a four-year starter, and all eyes will be on whether he can guide Minnesota to back-to-back bowls.
Penn State, 2010
Rob Bolden, Scout grade: 81
Freshman stats:
112-of-193 (58 percent) for 1,360 yards, five TDs, seven INTs; 30 carries for minus-11 yards, one TD, one fumble lost
Record as freshman starter
: 5-3
Freshman synopsis:
Bolden became the first true freshman to start a PSU opener in 100 years. He impressed in Week 1
by dominating Youngstown State
with 239 passing yards, two TDs and a pick -- but his season would falter afterward. He seemed to regress, and a quarterback battle with
Matt McGloin
lasted all season. (Actually, for two seasons.) PSU finished 7-6 and lost to Florida in the Outback Bowl. Bolden didn't play in the postseason.
College career & beyond:
Bolden transferred to LSU last year but has yet to attempt a pass. He's not poised for any playing time, and rumors have continued to circulate that he's considering another transfer.
Michigan, 2009
Tate Forcier, Scout grade: 81
Freshman stats:
165-of-281 (58.7 percent) for 2,050 yards, 13 TDs, 10 INTs; 118 carries for 240 yards, three TDs, four fumbles lost
Record as freshman starter:
5-7
Freshman synopsis:
He got off to a solid 4-0 start and made his mark by
throwing a last-second, game-winning TD against Notre Dame
. ESPN analyst Matt Millen, echoing a shared sentiment of Forcier's bright future, called him the best QB in the B1G. But his career took a nosedive in Week 5. The Wolverines lost to Michigan State, 26-20, and Forcier would win just one more game -- against Delaware State -- the rest of the season. His early performance still helped him earn a spot
on ESPN's All-Big Ten freshman team
.
College career & beyond:
He was briefly listed as the third-string QB at the start of the next season and saw limited time behind
Denard Robinson
. He hoped to transfer to Miami (Fla.) after a sophomore slump but ended up at San Jose State. He then withdrew from that school in January, 2012
because of poor academic standing
.
Ohio State, 2008
Terrelle Pryor, Scout grade: 93
Freshman stats:
100-for-165 (60.6 percent) for 1,311 yards, 12 TDs, four INTs; 139 carries for 631 yards, six TDs, one fumble lost
Record as freshman starter:
8-1
Freshman synopsis:
He came in as a consensus top-five national recruit, and he lived up to expectations. By Week 4, the dual-threat rookie supplanted
Todd Boeckman
-- a quarterback who took the Buckeyes to the national title game a year before -- and started the rest of the regular season. OSU finished 10-3 and lost the Fiesta Bowl to Texas. He was named Big Ten freshman of the year.
College career & beyond:
He helped OSU earn three straight BCS berths before declaring early for the NFL's 2011 supplemental draft when it looked as if he'd be suspended. Oakland gave up a third-round pick for him, and he currently looks to be the backup. He has thrown for 155 yards so far in his NFL career.
Illinois, 2006
Juice Williams, Scout grade: 82
Freshman stats
: 103-for-261 (39.5 percent) for 1,489 yards, nine TDs, nine INTs; 154 carries for 576 yards, two TDs, six fumbles lost
Record as freshman starter:
1-8
Freshman synopsis:
Williams got the nod in Week 4 and shocked the nation one week later at Michigan State. Coming in as huge underdogs -- about four touchdowns -- Illinois' Williams
threw for 122 yards and rushed for 103 to upset the Spartans 23-20
. Illinois dropped the last seven games and finished 2-10, but four losses were decided by one score. He was an honorable mention on The Sporting News' freshman All-American team.
College career & beyond:
Williams' sophomore campaign was a memorable one, as he beat No. 1 Ohio State -- the Illini's
first win over the top-ranked team in a little over a half-century
-- and finished 9-4 with a season-ending loss in the Rose Bowl. That was the highlight of his career, however, as he won just eight games over the next two seasons.
Michigan, 2004
Chad Henne, Scout grade: N/A
Freshman stats:
240-of-399 (60.2 percent) for 2,743 yards, 25 TDs, 12 INTs; 55 carries for minus-137 yards, two TDs, two fumbles lost
Record as freshman starter
: 9-3
Freshman synopsis:
The Pennsylvania native started Week 1 when a sore arm hindered Matt Gutierrez, and Henne never looked back. He picked up national headlines in October after back-to-back 300-yard games. Said Minnesota coach Glenn Mason: "If you didn't know he was a freshman,
you wouldn't know he was a freshman
." He tied
Elvis Grbac
's season record for touchdown passes with 25 and, unsurprisingly, made the All-American freshman team. He also led Michigan to the Rose Bowl, in which it lost to Texas, 38-37.
College career & beyond
: Henne's college career saw its ups and downs, but he's still at -- or near -- the
top of most Michigan passing records
. He went 0-4 against Ohio State, but UM still finished in the top 25 in three of his four seasons. Miami selected him the second round of the 2008 NFL draft, and he's now the backup QB on Jacksonville.
BIG TEN SCOREBOARD
Thursday, 9/3
Friday, 9/4
Saturday, 9/5
Sunday, 9/6
Monday, 9/7