Penn State Nittany Lions:

Take Two
March, 5, 2014
Mar 5
9:00
AM ET
Big Ten bloggers Adam Rittenberg and Brian Bennett occasionally will give their takes on a burning question facing the league. We'll both have strong opinions, but not necessarily the same view. We'll let you decide which blogger is right.
As the Big Ten positions itself for a new television contract that should shatter revenue records, the subject of playing more weekday games has surfaced. There's even been some buzz about the
possibility of more Friday night games
, although commissioner
Jim Delany doesn't expect them for a while
. Still, the only major conference that has resisted many regular-season weekday days could head in that direction in the not-so distant future.
Today's Take Two topic is:
Should the Big Ten schedule more weekday games?
[+] Enlarge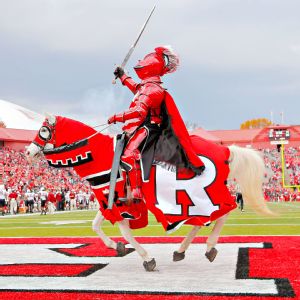 Jim O'Connor/USA TODAY SportsHaving schools such as Rutgers play Thursday or Friday night conference games wouldn't be the worst thing in the world for the Big Ten.
Take 1: Adam Rittenberg
I've been consistent on this issue since the Big Ten blog launched. More weekday games? Yes, please. I appreciate college football Saturdays as much as the next person, but the Big Ten has been missing out on certain exposure opportunities by clumping all of its games on one day, particularly in the noon ET/11 a.m. CT window. We've seen some Thursday night and Friday night games in Week 1, and Nebraska and Iowa are playing the day after Thanksgiving, but the Big Ten has largely steered clear of weekday games. The rationale: We're the Big Ten. We don't need no stinking weekday games.
That's true to an extent. Programs such as Ohio State, Michigan, Nebraska and Penn State receive exposure no matter when they play. Programs such as Michigan State, Iowa and Wisconsin also aren't starved for a separate TV window that can get more eyeballs on their product. But there's another group of Big Ten programs that could benefit greatly from these games, perhaps not in attendance but certainly in exposure. Too many games are overlooked in that Saturday morass, especially when the bigger-name teams are playing. Wouldn't matchups such as Purdue-Illinois, Minnesota-Northwestern or Maryland-Indiana get more attention on Thursday night than Saturday afternoon? I have mixed feelings about Fridays because those are big high school game nights in the Midwest, but a Friday game every once in a while isn't a bad deal.
The Big Ten has made some encouraging scheduling moves in recent months. More Saturday prime-time games are on the way, most likely in the 2014 season. More weekday games would be another good move for certain programs. Big Ten teams don't need to go overboard, but they should be open to the pluses that can come from these events.
Take 2: Brian Bennett
Saturdays are sacred. Let's just get that out of the way at the beginning. The Big Ten is right to preserve the tradition of fall afternoon kickoffs as much as possible. That's what college football is all about.
There are certain programs in the league that should never consider hosting a game on any day but Saturday, apart from opening week and Thanksgiving weekend. As part of our Flip Week series last season, I attended a Thursday night game at Clemson. Because that campus is in a small town and the stadium demands ample parking, Clemson canceled all classes on Thursday afternoon to get ready for the game. Can you imagine many Big Ten schools doing that? And there were a few thousand empty seats for that game against Georgia Tech, a rarity for the Tigers at home. Programs with large stadiums in college towns such as Penn State, Michigan and Iowa would struggle to get all the logistics in place for a weeknight, midseason game.
But it's also hard to argue against the point that college football is dictated by TV, and Thursday night games have provided great exposure. Louisville practically built itself into a power by playing any day of the week, and the ACC has benefited from Thursday games. With the Big Ten expanding to 14 teams, it's hard to squeeze all those games into a Saturday viewing period and not have some get lost in the shuffle. Programs such as Illinois, Indiana, Minnesota and Purdue could really benefit from a Thursday or Friday night spotlight, even if it's just on the Big Ten Network. Rutgers is used to playing on weeknights, and Maryland is no stranger to it from its ACC days.
So why not the occasional Thursday or Friday night game? Friday games would hurt high school football, but as a once-a-year thing, they would hardly be a death knell. Keep the games on Saturdays as often as possible. But a limited dose of weeknight games can be very helpful in the right spots. More TV slots could mean more money when the league negotiates its new broadcast rights package. And these days, TV and money drive everything in college football.
August, 29, 2013
8/29/13
1:00
PM ET
Big Ten bloggers Adam Rittenberg and Brian Bennett will occasionally give their takes on a burning question facing the league. We'll both have strong opinions, but not necessarily the same view. We'll let you decide which blogger is right.
As the 2013 season kicks off this week, we're making our picks for the four major Big Ten individual awards.
Today's Take Two topic:
Who will win Big Ten freshman of the year honors?
Take 1: Brian Bennett
The options are plentiful, as some very talented true freshmen enter the league, and you can't discount redshirt freshmen.
Deion Barnes
was a redshirt freshman last year when he won the award at Penn State, and I say the Thompson-Randle El trophy stays in State College -- this time on the offensive side.
Head coach Bill O'Brien still hasn't named a starting quarterback for Saturday's game against Syracuse, but I continue to believe that
Christian Hackenberg
will pilot the Nittany Lions offense for the majority of this season. And the player who was ranked as the No. 1 pro style quarterback in the Class of 2013 will have an outstanding supporting cast around him, with receiver
Allen Robinson
, a deep group of tight ends, some experienced running backs and a solid offensive line. We shouldn't expect Hackenberg to throw for 3,000 yards like Matt McGloin did last year, but he will put up strong numbers in that offense. Playing such a high-profile position will surely help his candidacy with voters, which is why I see Hackenberg beating out other candidates like Ohio State's
Dontre Wilson
, Michigan State's
Riley Bullough
and Michigan's
Derrick Green
.
Take 2: Adam Rittenberg
Hackenberg is a good call, Brian, and if he can steady the ship on offense for the Lions, he'll have an excellent chance to win the award. I might have picked Michigan's Green before preseason camp, but senior Fitz Toussaint really took control of the running back spot in recent weeks. Ultimately, the race comes down to Hackenberg and Ohio State's Wilson.
There's no doubt Hackenberg plays a more high-profile position, but I'm going with Wilson because of the "SportsCenter" factor. I expect the Buckeyes' H-back to be a transformative type player, not only for Ohio State but in the Big Ten, piling up highlight-reel touchdowns. Wilson will have three or four jaw-dropping touchdowns that get replayed over and over on ESPN and the Big Ten Network. He'll get noticed very early in the season, and it'll help that he plays for a national championship contender. Wilson is a different player than former Illinois standout Arrelious Benn, the last wide receiver named Big Ten freshman of the year (in 2007). But like Benn, Wilson will contribute in different ways and get the attention he needs to win the award.
More major awards picks
Penn State 2015 Class Debuts At No. 3
BIG TEN SCOREBOARD
Thursday, 8/28
Saturday, 8/30