Penn State Nittany Lions:

Take Two
June, 18, 2014
6/18/14
8:00
AM ET
Big Ten reporters Adam Rittenberg and Brian Bennett will occasionally give their takes on a burning question facing the league. We'll both have strong opinions, but not necessarily the same view. We'll let you decide which one is right.
A couple of weeks ago, we took a look at potential
3,000-yard passers in the Big Ten
in 2014. Then we
had you vote on
who would most likely get to that plateau this season.
The league's leading passer from last season was Illinois'
Nathan Scheelhaase
. He's now pursuing a career in the ministry. No other 3,000-yard passers return, although Penn State's
Christian Hackenberg
and Michigan's
Devin Gardner
got very close. So
today's Take Two topic
is this: Who will lead the Big Ten in passing yards in 2014?
[+] Enlarge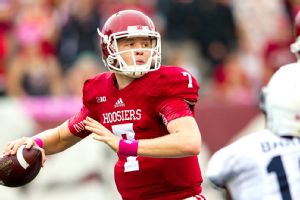 AP Photo/Doug McSchoolerIndiana's Nate Sudfeld will have the reins to the Hoosiers' offense to his self next season.
Take 1: Brian Bennett
Hackenberg is the easy answer. But I do worry about his offensive line and the lack of experience at receiver. Gardner also had some monster games last season, but Michigan has many of the same issues as Penn State, and new offensive coordinator Doug Nussmeier wants to run the ball more.
That's why I'm going with Indiana's
Nate Sudfeld
. That might sound like a mild surprise, but after last week's announcement that
Tre Roberson
would transfer, I think Sudfeld is in line for a huge season. Consider that he and Roberson combined to throw for 3,651 yards last season while splitting time. Sudfeld alone passed for over 2,500 yards in just eight starts.
The junior has an NFL-caliber arm and will finally have the offense all to himself, with no other experienced quarterbacks on the roster. The Hoosiers do need to develop some receiving targets after losing
Cody Latimer
,
Kofi Hughes
and
Ted Bolser
to the NFL. Still, coach Kevin Wilson loves to throw the ball, and Sudfeld won't have to look over his shoulder in 2014. I think he'll go more than 3,000 yards and lead the Big Ten in passing yards.
[+] Enlarge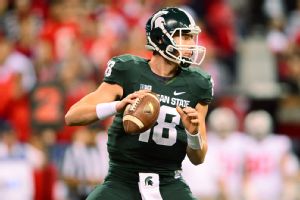 Andrew Weber/USA TODAY SportsMichigan State's Connor Cook has most of his offensive weapons returning in 2014.
Take 2: Adam Rittenberg
I'm also tempted to go with Hackenberg, but the questions at line and at receiver, coupled with a new offensive staff, steer me elsewhere. But instead of choosing Sudfeld or Gardner, I'm going with the quarterback who ended his season playing better than any other in the Big Ten (and perhaps the country). Where's the love for Michigan State's
Connor Cook
?
He's the guy who won MVP honors at both the Big Ten championship game and the Rose Bowl after recording the first two 300-yard passing performances of his career. Although the first performance came against a porous Ohio State secondary, Cook also put up 332 pass yards against Stanford. He finished fourth in the Big Ten in passing yards (2,755), but he only became the clear-cut starter in league play.
Michigan State returns all but one of its core receivers, as well as tight end
Josiah Price
, an emerging target for Cook late in the season. Coach Mark Dantonio wants to run the ball and has
Jeremy Langford
back in the fold, but Cook has proven what he can do with the ball in his hands and should get more chances this year. Hackenberg is the best pure passer in the league and Sudfeld might play in the most pass-friendly offense -- although
Tevin Coleman
's presence could change that -- but I'm going with the hot hand in Cook.
May, 7, 2014
5/07/14
3:30
PM ET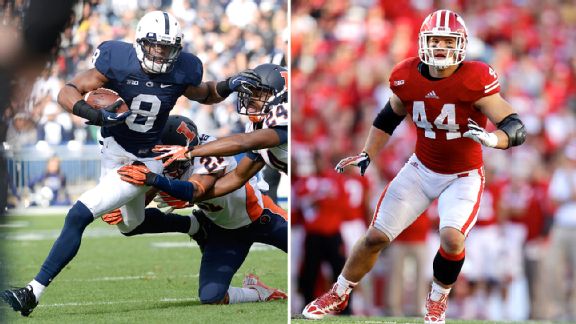 AP Photo, Getty ImagesProductions isn't a question when looking at Penn State's Allen Robinson and Wisconsin's Chris Borland.
Big Ten bloggers Adam Rittenberg and Brian Bennett occasionally will give their takes on a burning question facing the league. We'll both have strong opinions, but not necessarily the same view. We'll let you decide which blogger is right.
The 2014 NFL draft is rapidly approaching, and we have some thoughts on the Big Ten's draft class. We each
weighed in on the league's top future pro
earlier this week.
Today's Take Two topic:
Who will be the Big Ten's top draft sleeper this year?
Take 1: Adam Rittenberg
It's weird to describe
Allen Robinson
as a sleeper, as the Penn State product won the Big Ten's Richter-Howard Receiver of the Year award both in 2012 and 2013. But this year's
draft is loaded at wideout
, and
some have questioned Robinson's decision
to
skip his final college season
and turn pro. His speed could be an issue for some NFL teams, and he's projected in the second or third round. If he falls to the third round, he would be a major steal.
I like three things about Robinson:
He was extremely productive at Penn State despite working with two different quarterbacks, an unheralded senior in Matt McGloin and a decorated true freshman in Christian Hackenberg. He recorded 174 receptions and 17 touchdowns the last two seasons

He excelled in an NFL-style offense with former Penn State coach Bill O'Brien, now with the Houston Texans

He's very effective in the red zone and can make tough catches, like this one against Michigan last year. He's not afraid of traffic and can find space to make plays where there isn't much real estate.
Other receivers might have better measurables, but Robinson has gotten it done between the lines. He'll be a good pro receiver.
Take 2: Brian Bennett
I'm going to choose another player who really shouldn't be considered a sleeper: Wisconsin's
Chris Borland
. Big Ten fans know all about Borland, as he spent a long and productive career making big plays at linebacker for the Badgers, winning league defensive player of the year honors last year.
Many scouts who came through Madison and who have watched his game film say Borland deserves to be a first-rounder. But it's highly unlikely he'll go that high, and I've seen him projected some places in the third round or lower. The problems, for some, begin with the measurables. Borland stands only 5-foot-11. He ran a subpar 4.83 40-second draft at the NFL combine. He has short arms and a shoulder that has gone under the knife twice.
But Borland has never been a conventional-looking player, and you can't measure the size of his passion or understanding of the game. He's an outstanding all-around athlete who shouldn't be judged on the basis of some workout runs but rather what he does on the field. My biggest concern with Borland is that his body won't be able to withstand the rigors of the NFL. But if he can stay healthy, I have no doubt he'll be a terrific pro and a valuable addition to somebody's team -- perhaps at a real bargain price.
March, 5, 2014
3/05/14
9:00
AM ET
Big Ten bloggers Adam Rittenberg and Brian Bennett occasionally will give their takes on a burning question facing the league. We'll both have strong opinions, but not necessarily the same view. We'll let you decide which blogger is right.
As the Big Ten positions itself for a new television contract that should shatter revenue records, the subject of playing more weekday games has surfaced. There's even been some buzz about the
possibility of more Friday night games
, although commissioner
Jim Delany doesn't expect them for a while
. Still, the only major conference that has resisted many regular-season weekday days could head in that direction in the not-so distant future.
Today's Take Two topic is:
Should the Big Ten schedule more weekday games?
[+] Enlarge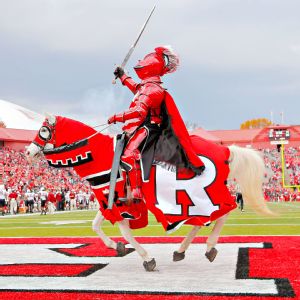 Jim O'Connor/USA TODAY SportsHaving schools such as Rutgers play Thursday or Friday night conference games wouldn't be the worst thing in the world for the Big Ten.
Take 1: Adam Rittenberg
I've been consistent on this issue since the Big Ten blog launched. More weekday games? Yes, please. I appreciate college football Saturdays as much as the next person, but the Big Ten has been missing out on certain exposure opportunities by clumping all of its games on one day, particularly in the noon ET/11 a.m. CT window. We've seen some Thursday night and Friday night games in Week 1, and Nebraska and Iowa are playing the day after Thanksgiving, but the Big Ten has largely steered clear of weekday games. The rationale: We're the Big Ten. We don't need no stinking weekday games.
That's true to an extent. Programs such as Ohio State, Michigan, Nebraska and Penn State receive exposure no matter when they play. Programs such as Michigan State, Iowa and Wisconsin also aren't starved for a separate TV window that can get more eyeballs on their product. But there's another group of Big Ten programs that could benefit greatly from these games, perhaps not in attendance but certainly in exposure. Too many games are overlooked in that Saturday morass, especially when the bigger-name teams are playing. Wouldn't matchups such as Purdue-Illinois, Minnesota-Northwestern or Maryland-Indiana get more attention on Thursday night than Saturday afternoon? I have mixed feelings about Fridays because those are big high school game nights in the Midwest, but a Friday game every once in a while isn't a bad deal.
The Big Ten has made some encouraging scheduling moves in recent months. More Saturday prime-time games are on the way, most likely in the 2014 season. More weekday games would be another good move for certain programs. Big Ten teams don't need to go overboard, but they should be open to the pluses that can come from these events.
Take 2: Brian Bennett
Saturdays are sacred. Let's just get that out of the way at the beginning. The Big Ten is right to preserve the tradition of fall afternoon kickoffs as much as possible. That's what college football is all about.
There are certain programs in the league that should never consider hosting a game on any day but Saturday, apart from opening week and Thanksgiving weekend. As part of our Flip Week series last season, I attended a Thursday night game at Clemson. Because that campus is in a small town and the stadium demands ample parking, Clemson canceled all classes on Thursday afternoon to get ready for the game. Can you imagine many Big Ten schools doing that? And there were a few thousand empty seats for that game against Georgia Tech, a rarity for the Tigers at home. Programs with large stadiums in college towns such as Penn State, Michigan and Iowa would struggle to get all the logistics in place for a weeknight, midseason game.
But it's also hard to argue against the point that college football is dictated by TV, and Thursday night games have provided great exposure. Louisville practically built itself into a power by playing any day of the week, and the ACC has benefited from Thursday games. With the Big Ten expanding to 14 teams, it's hard to squeeze all those games into a Saturday viewing period and not have some get lost in the shuffle. Programs such as Illinois, Indiana, Minnesota and Purdue could really benefit from a Thursday or Friday night spotlight, even if it's just on the Big Ten Network. Rutgers is used to playing on weeknights, and Maryland is no stranger to it from its ACC days.
So why not the occasional Thursday or Friday night game? Friday games would hurt high school football, but as a once-a-year thing, they would hardly be a death knell. Keep the games on Saturdays as often as possible. But a limited dose of weeknight games can be very helpful in the right spots. More TV slots could mean more money when the league negotiates its new broadcast rights package. And these days, TV and money drive everything in college football.
August, 29, 2013
8/29/13
1:00
PM ET
Big Ten bloggers Adam Rittenberg and Brian Bennett will occasionally give their takes on a burning question facing the league. We'll both have strong opinions, but not necessarily the same view. We'll let you decide which blogger is right.
As the 2013 season kicks off this week, we're making our picks for the four major Big Ten individual awards.
Today's Take Two topic:
Who will win Big Ten freshman of the year honors?
Take 1: Brian Bennett
The options are plentiful, as some very talented true freshmen enter the league, and you can't discount redshirt freshmen.
Deion Barnes
was a redshirt freshman last year when he won the award at Penn State, and I say the Thompson-Randle El trophy stays in State College -- this time on the offensive side.
Head coach Bill O'Brien still hasn't named a starting quarterback for Saturday's game against Syracuse, but I continue to believe that
Christian Hackenberg
will pilot the Nittany Lions offense for the majority of this season. And the player who was ranked as the No. 1 pro style quarterback in the Class of 2013 will have an outstanding supporting cast around him, with receiver
Allen Robinson
, a deep group of tight ends, some experienced running backs and a solid offensive line. We shouldn't expect Hackenberg to throw for 3,000 yards like Matt McGloin did last year, but he will put up strong numbers in that offense. Playing such a high-profile position will surely help his candidacy with voters, which is why I see Hackenberg beating out other candidates like Ohio State's
Dontre Wilson
, Michigan State's
Riley Bullough
and Michigan's
Derrick Green
.
Take 2: Adam Rittenberg
Hackenberg is a good call, Brian, and if he can steady the ship on offense for the Lions, he'll have an excellent chance to win the award. I might have picked Michigan's Green before preseason camp, but senior Fitz Toussaint really took control of the running back spot in recent weeks. Ultimately, the race comes down to Hackenberg and Ohio State's Wilson.
There's no doubt Hackenberg plays a more high-profile position, but I'm going with Wilson because of the "SportsCenter" factor. I expect the Buckeyes' H-back to be a transformative type player, not only for Ohio State but in the Big Ten, piling up highlight-reel touchdowns. Wilson will have three or four jaw-dropping touchdowns that get replayed over and over on ESPN and the Big Ten Network. He'll get noticed very early in the season, and it'll help that he plays for a national championship contender. Wilson is a different player than former Illinois standout Arrelious Benn, the last wide receiver named Big Ten freshman of the year (in 2007). But like Benn, Wilson will contribute in different ways and get the attention he needs to win the award.
More major awards picks
PSU's 46-Hour Dance Marathon Raises $13 Million
BIG TEN SCOREBOARD
Thursday, 9/3
Friday, 9/4
Saturday, 9/5
Sunday, 9/6
Monday, 9/7