Penn State Nittany Lions:

Stanley Jean-Baptiste
December, 10, 2013
Dec 10
1:30
PM ET
In the preseason, we took a stab at picking the over-under regular-season win totals for each Big Ten team. We used the baselines established by oddsmakers in Vegas.
Now, it's time to see how we fared -- and find out which of us was smarter in August.
Illinois
Over-under:
3.5
Actual wins:
4
Brian's pick:
Under
Adam's pick:
Under
20/20 hindsight:
We both had the Illini finishing 3-9; the preseason over-under number was a good one. Illinois' blowout win over Cincinnati remains one of the more surprising results of the season, but the Illini also came close to beating Penn State, Indiana and Northwestern.
Indiana
Over-under:
5.5
Actual wins:
5
Brian's pick:
Over
Adam's pick:
Over
20/20 hindsight:
Vegas got us again. Both of us were bullish on the Hoosiers making a bowl game this year. Home losses to Navy and Minnesota were killers.
Iowa
Over-under:
5.5
Actual wins:
8
Brian's pick:
Under
Adam's pick:
Under
20/20 hindsight:
Like most people, we underestimated the Hawkeyes this year. By a lot.
Michigan

Over-under:
8.5
Actual wins:
7
Brian's pick:
Over
Adam's pick:
Over
20/20 hindsight:
So, um, yeah. This isn't going too well for us.
Michigan State
[+] Enlarge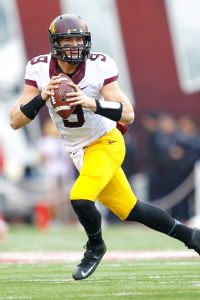 Michael Hickey/Getty ImagesThe Big Ten bloggers correctly predicted a bowl-bound season for Philip Nelson and the Gophers.
Over-under:
8.5
Actual wins:
11
Brian's pick:
Under
Adam's pick:
Over
20/20 hindsight:
Finally, somebody gets one right, and it's Adam. I had Michigan State at 8-4. Adam had the Spartans at 9-3. We both underestimated them.
Minnesota
Over-under:
6.5
Actual wins:
8
Brian's pick:
Over
Adam's pick:
Over
20/20 hindsight:
And I'm on the board. Finally. But 8-4 still surprised us.
Nebraska
Over-under:
9.5
Actual wins:
8
Brian's pick:
Over
Adam's pick:
Over

20/20 hindsight:
I said in my prediction that it wouldn't shock me if Nebraska went 8-4, which they did. Adam called the over "a fairly easy call."
Northwestern
Over-under:
8.5
Actual wins:
5
Brian's pick:
Under
Adam's pick:
Over
20/20 hindsight:
Neither of us thought the Wildcats would miss a bowl game, but I had them falling short of expectations because of the schedule.
Ohio State
Over-under:
11
Actual wins:
12
Brian's pick:
Push
Adam's pick:
Push
20/20 hindsight:
Though we both figured Ohio State would be dominant, we just thought it would be too hard to go undefeated again. It wasn't -- at least until the Big Ten title game.
Penn State
Over-under:
8
Actual wins: 7
Brian's pick:
Push
Adam's pick:
Push
20/20 hindsight:
Another whiff. I even mentioned a possible 6-0 start for Penn State. At least the Nittany Lions beat Wisconsin to get closer to the preseason number.
Purdue
Over-under:
5.5
Actual wins:
1
Brian's pick:
Under
Adam's pick:
Under
20/20 hindsight:
Guess it's safe to say the Boilermakers fell way short of expectations in Darrell Hazell's first year, though we both expected some struggles.
Wisconsin
Over-under:
9
Actual wins:
9
Brian's pick:
Push
Adam's pick:
Under
20/20 hindsight:
Once again, the wiseguys were right on the number, and so was I, as I predicted a 9-3 season with losses to Arizona State, Ohio State and one other Big Ten team. Blind squirrel, meet nut.
Final results
Brian:
4-8

Adam:
3-9
I won but take no pride in those picks. The lesson here, as always: Don't mess with Vegas.
We also took a stab at some random over-unders of our own in the preseason. Let's take a look at how those turned out:
Michigan State starting QBs
Over-under:
2
Actual:
2
Brian's pick:
Over
Adam's pick:
Under
20/20 hindsight:
The Spartans played three quarterbacks early and very nearly went with a fourth in
Damion Terry
. But only
Andrew Maxwell
and
Connor Cook
started.
Taylor Martinez touchdowns + turnovers
Over-under:
50
Actual:
13
Brian's pick:
Under
Adam's pick:
Under
20/20 hindsight:
This one became a lock because of Martinez's injuries. He finished with 10 touchdowns, two interceptions and a lost fumble. We'll never know what a healthy T-Magic could have done his senior season, and that's a shame.
Big Ten players ejected for targeting
Over-under:
2.5
Actual:
5
Brian's pick:
Under
Adam's pick:
Over

20/20 hindsight:
It took a while for the league to have its first player ejected, but then the new rule showed its impact. For the record, the five players ejected were Nebraska's
Stanley Jean-Baptiste
, Ohio State's
Bradley Roby
, Indiana's
David Kenney
, Michigan State's
Isaiah Lewis
and Purdue's
Landon Feichter
.
Braxton Miller rushing attempts
Over-under:
188
Actual:
131
Brian's pick:
Over
Adam's pick:
Over
20/20 hindsight:
Another category where an injury affected things. Miller would have gotten close and possibly reached our over-under if he didn't miss three games with a knee injury.
Chris Borland takeaways
Over-under:
7.5
Actual:
3
Brian's pick:
Under
Adam's pick:
Over
20/20 hindsight:
Borland wasn't as active on the turnover front as Adam thought, but he still wound up as the Big Ten defensive player of the year.
Indiana defensive points allowed
Over-under:
29 ppg
Actual:
38.8 ppg
Brian's pick:
Over
Adam's pick:
Over
20/20 hindsight:
And this is why the Hoosiers didn't make a bowl.
Devin Gardner's rushing totals
Over-under:
400 yards and 10 touchdowns
Actual:
483 and 11
Brian's pick:
Over
Adam's pick:
Under
20/20 hindsight:
Thanks to a whole lot of sack yardage, Gardner came very close to our preseason baselines.
Iowa AIRBHG strikes
Over-under:
2
Actual:
0
20/20 hindsight:
The Iowa running back curse was thankfully lifted this year. Afraid to say anything more for fear of jinxing it.
Totals
Brian:
4-4
Adam:
5-3
December, 2, 2013
Dec 2
6:15
PM ET
You've had a chance to check out the 2013 All-Big Ten teams and individual award winners. The four major award winners -- Offensive Player of the Year, Defensive Player of the Year, Coach of the Year and Freshman of the Year -- will be unveiled Tuesday.

Let's dive into today's selections ...
INDIVIDUAL AWARDS
The overall list isn't bad, although some of the selections certainly are debatable.
ALL-BIG TEN TEAMS
Overall, these looked a little
better than the 2012 version
, which contained several glaring problems in our view. The coaches' team continues to surprise us (not in a good way) with six defensive backs and two punters because of ties in the voting, and no Mewhort on the first team is hard to believe. But this was a slight step up.
(By the way, the Big Ten still doesn't have either of us vote for the media team, so direct your blame elsewhere).
Lewan, Mewhort and Iowa's Brandon Scherff all are terrific tackles, but we would have gone with Mewhort and Lewan on the first team, which the coaches did not.
Although Michigan's Devin Funchess claimed Kwalick-Clark Tight End of the Year honors, the coaches went with Iowa's C.J. Fiedorowicz as their first-team tight end. We can debate whether Funchess actually is a tight end or not, but his receiving numbers (47 catches, 727 yards, six touchdowns) are way better than Fiedorowicz's (26 catches, 253 yards, six TDs).
The coaches had six first-team defensive backs but didn't find room for Michigan's Blake Countess, who tied for the league lead in interceptions, or Nebraska's Stanley Jean-Baptiste, who had four picks and 11 pass breakups. Maybe only one Michigan State safety (our pick would be Kurtis Drummond) should be there.
Michigan wide receiver Jeremy Gallon had some huge performances, but he probably belongs on the second team behind Penn State's Robinson and Wisconsin's Jared Abbrederis, who were more consistent as the season went along. The coaches went with Ohio State's Corey Brown as their other second-team wideout, while the media went with Indiana's Cody Latimer. We like Latimer there.
One player the coaches and media differed on is Minnesota safety Brock Vereen, a first-team selection by the coaches but just an honorable mention selection by the media. He probably belongs right in between, on the second team, after leading a stout Gophers defense.

Another big difference between the coaches and media involved Iowa's B.J. Lowery. The media voted him as a first-team defensive back, while the coaches did not have Lowery among their eight choices on the first and second teams. Lowery is a nice player, but we're scratching our heads a bit as to why he was a first-team pick by the media.
Both Wisconsin back, Melvin Gordon and James White, made the second team. It says a lot about the depth at running back this year that Michigan State's Jeremy Langford, who ran for 1,200 yards and 16 touchdowns, couldn't crack the first or second teams.

We sure wish the league had a process for breaking ties on the coaches' team. Six defensive backs and two punters? That's just strange, though we'd like to see that two-punter formation in real life.
Connor Cook or Nathan Scheelhaase as the second-team quarterback? The coaches and media split on that. Scheelhaase has the better numbers, but Cook won all eight Big Ten starts. No wonder that latter fact probably impressed the coaches more.
The major awards -- offensive and defensive players of the year, freshman of the year and coach of the year -- will be announced on Tuesday.
November, 27, 2013
Nov 27
9:00
AM ET
Is it rivalry week already? Indeed it is. Where did this season go?
There's no drama in the Big Ten division races as Ohio State and Michigan State have secured spots in the league championship game next week. But the season-long predictions race is all square entering Week 14. The winner buys dinner in Indy before the title game. It's white-knuckle time.
Here we go …
Friday
IOWA (7-4, 4-3) at NEBRASKA (8-3, 5-2)


Brian Bennett:
This could be a black-and-blue Friday as two teams that love to run could make this a physical, low-scoring game. I think Nebraska has a bit too much speed for the Hawkeyes, and it's hard to bet against the Huskers, given how they keep pulling out victories in tight games. Nebraska grabs the lead early on an
Ameer Abdullah
run and holds on late when
Stanley Jean-Baptiste
picks off
Jake Rudock
.
… Nebraska 21, Iowa 17

Adam Rittenberg:
Our first game might be the toughest to predict. Both defenses perform well and turn this into a field-goal fest. Iowa takes the lead in the third quarter on a Rudock touchdown pass, but Abdullah won't be denied in what could be his final game as a Husker. Abdullah rushes for 130 yards and a score, mostly in the second half, as Nebraska rallies once again for a win.
… Nebraska 19, Iowa 16
Saturday
MINNESOTA (8-3, 4-3) at MICHIGAN STATE (10-1, 7-0)


Rittenberg:
Minnesota's offense failed to score last week and will have another tough game against the nation's No. 1 defense. Spartans running back
Jeremy Langford
rushes for two more touchdowns as Michigan State uses another big fourth quarter to strengthen its chances for a BCS bowl bid, no matter how things turn out in Indy.
… Michigan State 24, Minnesota 10
Bennett:
Minnesota really has trouble throwing the ball. That will equal problems against the nation's No. 1 defense. The Gophers' defense gums things up enough to keep the score within reach, but
Connor Cook
connects on a pair of touchdown passes and the Spartans' defense does the rest.
… Michigan State 17, Minnesota 6
OHIO STATE (11-0, 7-0) at MICHIGAN (7-4, 2-4)


Bennett:
The Game isn't much of one this year. Even at home, Michigan just doesn't have enough offensive ability to hang with Ohio State. The Wolverines' defense puts up a valiant effort and slows down
Carlos Hyde
, but
Braxton Miller
converts several key third downs and throws three touchdown passes. …
Ohio State 35, Michigan 14

Rittenberg:
Rivalry games can spark surprises at times, but Ohio State is so much better than Michigan and has much more on the line. Plus, the Buckeyes' defensive line is rapidly improving and will become the latest group to infiltrate Michigan's backfield. Miller puts himself back on the Heisman radar with three touchdowns (two pass, one rush), and the Buckeyes record a second-half pick-six against
Devin Gardner
and rout Michigan.
… Ohio State 42, Michigan 13
PURDUE (1-10, 0-7) at INDIANA (4-7, 2-5)


Rittenberg:
Ah, the Bucket game. I thought Indiana would be playing for a bowl berth, but it's not to be. The Hoosiers still should have little trouble putting up points against Purdue. Wide receivers
Cody Latimer
and
Shane Wynn
combine for three touchdowns as Indiana holds off a nice rally led by
Danny Etling
(250 pass yards, 2 TDs).
… Indiana 38, Purdue 28
Bennett:
The Hoosiers are much better than the Boilermakers, but both will be staying home for the holidays. With nothing but pride at stake, Indiana lets it fly on offense and works out some frustration on its rivals by putting up 550 yards.
… Indiana 51, Purdue 24

PENN STATE (6-5, 3-4) at WISCONSIN (9-2, 6-1)


Bennett:
A wildly accomplished group of Wisconsin seniors will go out on a high note and give BCS bowls one more thing to think about. The Badgers smash the school record for rushing early and keep piling it up as both
James White
and
Melvin Gordon
gain more than 100 yards together again.
Allen Robinson
has a nice Penn State sendoff, but
Sojourn Shelton
comes up with an interception in the second half.
… Wisconsin 38, Penn State 14

Rittenberg:
Wisconsin is inching closer to a BCS at-large berth, and Penn State has been really bad on the road. This one gets ugly, folks, as White rushes for 200 yards and two scores on senior day and Gordon breaks off a 65-yard touchdown run. The Lions move the ball decently early before Wisconsin's defense adjusts and buckles down.
… Wisconsin 45, Penn State 17
NORTHWESTERN (4-7, 0-7) at ILLINOIS (4-7, 1-6)


Rittenberg:
There's only one way for this miserable Northwestern season to end. If the Wildcats had a healthy
Kain Colter
and some explosiveness at running back, I might pick the Purple. But Illinois' offense has it rolling right now, and the Illini will strike with big plays to
Steve Hull
(!) and
Josh Ferguson
, rallying in the second half. Northwestern will have one final chance to win but falls when a fourth-down option to
Mike Trumpy
falls a yard short.
… Illinois 24, Northwestern 20
Bennett:
Fitting that the season picks contest should come down to a game involving Northwestern, a team that has cost both of us some wins this season. It makes perfect sense to pick Illinois, which shed the Big Ten losing streak monkey off its back last week and has to be feeling better about itself than the Wildcats, who just want the season to end. But I can't reconcile that this Northwestern team will (A) actually finish 0-8 in league play or (B) lose to a team it beat 50-14 last year. So to the likely detriment of my wallet, I'll side with the purple here and say
Trevor Siemian
helps the Wildcats exploit the Illini defense, and
Jeff Budzien
wins it at the end.
… Northwestern 27, Illinois 24

Those are our picks. Now it's time to hear from one of you. As a reminder, throughout the season, we'll choose one fan/loyal blog reader each week to try his or her hand at outsmarting us. There's nothing but pride and some extremely limited fame at stake. We have one game left to pick -- the Big Ten championship -- before the bowls, so if you're interested in participating, contact us
here
and
here
. Include your full name (real names, please), hometown and a brief description of why you should be that week's guest picker. Please also include "GUEST PICKS" in all caps somewhere in your email so we can find it easily.
This week's guest is
Jarrod Reese from Sioux City, Iowa
. Jarrod, the floor is yours. …
I live in Sioux City, right on the border of Nebraska and South Dakota. I'm a lifelong Hawkeyes fan and have had to endure the taunts from the Huskers faithful the last two years. I think we can finally do it this year (I need the bragging rights). As a bonus, I just got engaged last Thursday. How about a nice engagement gift from my favorite B1G Blog?
You got it, Jarrod, and congrats on the engagement. We're sending you
a gift
.
Here are Jarrod's Week 14 picks:
Iowa 23, Nebraska 17
Michigan State 28, Minnesota 6
Ohio State 52, Michigan 17
Wisconsin 35, Penn State 13
Indiana 45, Purdue 17
Northwestern 17, Illinois 14
SEASON RECORDS
Brian Bennett:
76-14
Adam Rittenberg:
76-14
Guest pickers:
70-20
November, 22, 2013
Nov 22
9:00
AM ET
Among the celebrated history of the Nebraska-Penn State series, Saturday in State College marks, well, the 16th game. This meeting of storied programs arrives without much of the drama that has accompanied prior clashes. The Cornhuskers are Nittany Lions are both unranked and out of contention for The Big Ten title.
Regardless, plenty of pride remains at stake. Let's talk about it:
Considering the circumstances, what are the mindsets at Nebraska and Penn State as Saturday nears?
[+] Enlarge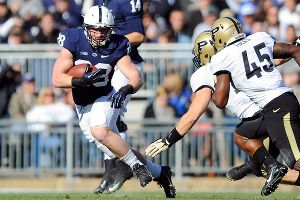 Rich Barnes/USA TODAY SportsFor Zach Zwinak and the rest of the Penn State seniors, this final home game is sure to be an emotional one.
Josh Moyer:
Believe it or not, even without a postseason, the future is not on the minds of these Nittany Lions. This is the final home game for Penn State's seniors, and there's more on the line Saturday than usual. The Lions can't play for any bowl games because of the sanctions but, in the words of cornerback
Jordan Lucas
, these final two games are Penn State's bowl games. These seniors have endured more than most in the country -- the death of a longtime coach, a scandal heard 'round the nation, unprecedented sanctions, etc. -- and this is their final opportunity to leave a mark. Expectations this season hovered around eight wins, so a win here -- getting past .500 -- would be huge for Penn State. This game will be an emotional one for PSU, and a win surely means a lot to this team.
Mitch Sherman:
The Huskers are a prideful bunch. And despite the many goals that vanished this year earlier than ever in coach Bo Pelini's six seasons, Nebraska shows no signs of playing with less than 100-percent effort. The Penn State name and setting at Beaver Stadium figures to stir some emotions with Huskers who understand the history of these programs. Nebraska is young on both sides of the football after injuries decimated the veteran offensive line. Young players tend stay focused more easily on the future. And once you get past pride and the incentive to again win nine games, the future serves a primary motivational factor for the Huskers.
What do you envision as the role in this game of Penn State's star receiver, Allen Robinson?
JM:
He's the Penn State X-factor, as he's being targeted around every third throw. He's accounted for nearly half of the Penn State passing offense this season, and he's one of the top wideouts in school history. For PSU to experience any kind of success through the air, Robinson will need to have a big game. Minnesota had the right idea when it shadowed Robinson with two defenders on nearly every play – Gophers defensive coordinator Tracy Claeys said you could count on one hand the number of times Robinson experienced single-coverage -- but, even in that game, Robinson came away with seven of
Christian Hackenberg
's 14 completions. It's boom-or-bust for Robinson and the passing game.
MS:
The Huskers are confident in their ability to cover with cornerbacks
Ciante Evans
and
Stanley Jean-Baptiste
, but they'll be hard-pressed to stay with Robinson. Jean-Baptiste is a playmaking NFL prospect, but he's not a lockdown corner on the level of, say, Michigan State's
Darqueze Dennard
-- or even Evans. Nebraska will mix its coverages in an attempt to confuse Hackenberg. Still, the freshman QB will find a way to get the football to Robinson. But just how much and in what position to gain yards after the catch? The answer figures to loom large in determining a winner.
Nebraska and Penn State feature freshmen quarterbacks. How do you expect them to play?
MS:
Tommy Armstrong has shown excellent poise and resilience in his six starts as a replacement for injured senior
Taylor Martinez
. Armstrong has also displayed a streak of carelessness and a tendency to make mistakes. He threw three interceptions against both Purdue and Northwestern, then committed three more costly turnovers against Michigan State. In between, he led the Huskers on a game-winning drive at Michigan. Look for Nebraska to utilize Armstrong's athleticism against Penn State and rely on a heavy dose of
Ameer Abdullah
in an attempt to beat the Nittany Lions in the perimeter run game. The less Nebraska can place Armstrong in high-pressure spots, the better.
JM:
Unlike Armstrong, Hackenberg has had the luxury of starting since Week 1. He's shrugged off mistakes, led PSU to two comeback wins (Michigan, Illinois) and has progressed every week. Despite his strong arm, he's been most dangerous on short-to-intermediate throws, and he's attempted at least 23 passes every game. Bill O'Brien isn't afraid to air it out but, like Nebraska, we'll likely see quite a bit of
Bill Belton
and
Zach Zwinak
in the backfield. Outside of Robinson, Hackenberg doesn't really have a key receiving target, and O'Brien has really been emphasizing the running game lately.
How do you expect the game to unfold?
JM:
It's really going to come down to Penn State's hit-or-miss defense. The secondary has struggled, the entire unit is slow, and missed tackles have become a common occurrence. I could see this game following a similar path as the Minnesota contest, in that PSU will aim to stop the run. But even if that works early on -- just as it did against the Gophers -- there's no guarantee PSU will be able to stop a so-so passing attack. A good early indicator to PSU's defense will be how many long runs it allows and just how it fares on third downs. When the defense struggles, those seem to be the places where it really falls apart. That being said, the defense has played poorly all season -- and I think Nebraska has the advantage. I'm calling for the Huskers in a mild upset.
MS:
For Nebraska, it's the same story, new chapter. Much like every game since the Huskers visited Minnesota on Oct. 26, the opportunity to win is right there, but Nebraska must limit its turnovers and special teams mistakes. Don't discount the emotion in play for Penn State on Senior Day. These Nittany Lions have endured so much in State College, and they've failed to beat Nebraska in two tries, a reality that ought to stoke the fires additionally for PSU players and fans. Still, Nebraska has the edge in talent and depth. And with a week to replay all the mental errors that spelled doom against Michigan State, look for the Huskers, by comparison, to play a clean game. Pull it off, and I like Nebraska to win a one-score contest.
November, 7, 2013
Nov 7
10:15
AM ET
Storylines to watch this week in the Big Ten:
1. Legends eliminator:
Michigan State has the lead and its feet up on the couch during its bye week. It can simply relax and watch as Michigan and Nebraska fight to stay alive in the division race, with the loser effectively out of the picture after just two weeks in November. The Wolverines, in particular, are barely hanging on and would need a lot of help after dropping the head-to-head tiebreaker to the Spartans. Meanwhile, after nearly having their chances extinguished a week ago, but surviving with a Hail Mary, the Huskers have a chance to make the most of their good fortune. Consecutive games against Michigan and Michigan State -- with a couple of wins -- could surprisingly put them in first place.
[+] Enlarge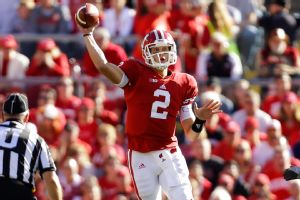 Mike McGinnis/Getty ImagesJoel Stave and the Badgers look to keep their BCS at-large hopes alive on Saturday.
2. Resume building:
The Badgers can't get the help they need in the Leaders Division with Ohio State on a bye week, and they can't make a move within the conference anyway as they step outside the Big Ten for a late-season date with BYU. Gary Andersen just can't seem to escape the Cougars after four encounters with them at Utah State and 11 more as an assistant at Utah,
and he could use a win over his old foe as the Wisconsin coach tries to keep his program in the running for a potential BCS at-large bid. A win over the Cougars won't do anything to change their fate in the league, but it could provide a boost nationally for the perception of the Badgers.
3. Digging into the mix:
The Gophers need some help if they're going to win the division, but the way they've handled their own business to even stay in the picture in the middle of November is impressive enough no matter what happens. Given all the potential distractions that could have come with coach Jerry Kill's health or playing multiple quarterbacks, the work Minnesota has done to get to 3-2 in the league and within striking distance if things break its way is one of the better stories of the season. It also won't be over if it can take care of Penn State at home.
4. B.B. firing:
There is no uncertainty in the Penn State backfield now, and it's safe to assume that any chance of a road win over the Gophers will involve a heavy dosage of
Bill Belton
. The Nittany Lions junior is coming off a career-best 201-yard performance in a win over Illinois that made it quite clear that he's the best option for Bill O'Brien's rushing attack. And while Minnesota hasn't been a slouch on defense during its surprising run, it has allowed more than 142 yards per game on the ground, which Belton would be more than willing to exploit.
5. Postseason plans:
With Penn State again ineligible for a bowl bid due to its NCAA sanctions, only Iowa can clinch a postseason appearance with a win this weekend. And if the Hawkeyes can't get it done against Purdue, they probably don't deserve to go anywhere but home for the holidays. The Boilermakers have been shut out for two straight games, and Iowa has appeared more than capable of extending that scoring drought with its solid defense against Ohio State and Wisconsin in recent weeks, even in losing efforts. Struggling Purdue could put an end to that losing skid and ensure the Hawkeyes get an extra game this season.
6. Worst nightmare for a scoreboard operator:
The two worst defenses in the Big Ten are set to do battle on Saturday, and the first unit to get a stop as Illinois visits Indiana might just get a win. The Hoosiers have been far and away the least productive defensive team in the league this season in allowing more than 500 yards per game, almost 50 more than the Illini. Indiana does balance that out with an offense that is putting up 40 points per game, which ranks second only to Ohio State's ruthless scoring machine in the Big Ten. But points figure to be easy to come by this weekend, so forcing a turnover or two could decide the outcome.
7. Purdue is searching for the red zone:
Forget about scoring points. The first thing the Boilermakers need to do is just move the football inside the 20-yard line. The Boilermakers have made a total of only 16 trips into the red zone all season, an average of just two visits per game and obviously a major factor for an offense putting up just 11.5 points every week. That's still just half the battle, though, and three missed field goals and three interceptions have ended scoring threats for the Boilermakers even when they do put together a deep drive into opposing territory.
[+] Enlarge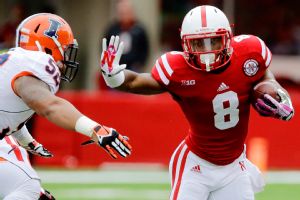 AP Photo/Nati HarnikAmeer Abdullah is locked in a duel with Wisconsin's Melvin Gordon for the B1G rushing crown.
8. Rushing title up for grabs:
There's enough distance now to officially call it a two-man race for the season rushing title, and Nebraska's
Ameer Abdullah
and Wisconsin's
Melvin Gordon
are once again going to see plenty of the football with lots at stake for both teams this weekend. Abdullah holds the lead by just 34 yards, though Gordon has a decisive edge in yards per carry thanks to his 33 fewer attempts. Ohio State's
Carlos Hyde
is in the discussion with those two tailbacks for All-Big Ten honors, but his three-game suspension early in the season leaves him lagging behind the leaders for the rushing crown.
9. Dueling defensive backs:
The co-leaders atop the Big Ten in interceptions obviously won't be on the field at the same time, but if either Michigan's
Blake Countess
or Nebraska's
Stanley Jean-Baptiste
are able to pull ahead with a pick on Saturday, it could be critical in determining which team keeps its division hopes alive for another week. There's obviously a chance they could both add to their total of four interceptions since the Wolverines and Huskers have combined to throw 21 of them already this season, but turnovers figure to be decisive and those guys have proven they can force them.
10. Ohio State looks for help:
Even without a game, the Buckeyes could still be a big winner on the off date as they cheer for a few upsets to boost their national title case. In order, Ohio State will be tuned in looking for Oklahoma to knock off Baylor, Stanford to beat Oregon or Alabama to lose to LSU as it continues to wait for some assistance to climb higher than No. 4 in the BCS standings. Within the Big Ten, and with Michigan State off, the Buckeyes figure to be most interested in Wisconsin extending its winning streak to continue making their win in September look better.
October, 23, 2013
Oct 23
12:00
PM ET
World Series. Game 1. Wainwright. Fenway. So excited. Full sentences ... difficult. Links:
October, 18, 2013
Oct 18
11:00
AM ET
We've reflected on the
first half of the Big Ten season
, evaluated
each team
and looked ahead to what promises to be a
more exciting second half
.
As we put a bow on the first half, we're selecting a midseason All-Big Ten team. This list certainly isn't as significant as the postseason squad, but these players merit recognition for their performances during the first seven weeks of the season.

The envelope, please ...
OFFENSE
QB:
Nathan Scheelhaase
, Illinois
RB:
Melvin Gordon
, Wisconsin
RB:
Ameer Abdullah
, Nebraska
WR:
Allen Robinson
, Penn State
WR:
Jared Abbrederis
, Wisconsin
TE:
Ted Bolser
, Indiana
C:
Corey Linsley
, Ohio State
OL:
Spencer Long
, Nebraska
OL:
Brandon Scherff, Iowa

OL:
Rob Havenstein, Wisconsin

OL:
Jack Mewhort, Ohio State
DEFENSE
DE: Shilique Calhoun, Michigan State
DT: DaQuan Jones, Penn State
DE: Tyler Scott, Northwestern
LB: Chris Borland, Wisconsin
LB: Ryan Shazier, Ohio State
LB: Max Bullough, Michigan State
LB: James Morris, Iowa
DB: Darqueze Dennard, Michigan State
DB: Stanley Jean-Baptiste, Nebraska
DB: Ibraheim Campbell, Northwestern
DB: Blake Countess, Michigan
SPECIALISTS
K:
Jeff Budzien
, Northwestern
P:
Mike Sadler
, Michigan State
KR:
Marcus Jones
, Minnesota
PR:
Kevonte Martin-Manley
, Iowa
We'll start with the quarterback spot, which has been underwhelming around most of the league, partly because of injury. It was a close call between Scheelhaase and Penn State true freshman
Christian Hackenberg
, but Scheelhaase gets a slight edge with more touchdown passes and fewer interceptions. We had another tough decision at the No. 2 running back spot between Abdullah and Iowa's
Mark Weisman
, who has been very productive so far. Ultimately, Abdullah has made more out of his carries and got the nod.
The Big Ten's depth at linebacker prompted us to go with a 3-4 defensive alignment for the midseason team. We had some debate for the lone defensive tackle spot between Jones, Ohio State's
Michael Bennett
and Minnesota's
Ra'Shede Hageman
, but went with Jones, the league's leader in tackles for loss (8.5). Linebacker is so deep that it was tough limiting the list to only four. We ultimately went with Morris over Illinois'
Jonathan Brown
because Morris has made more game-changing plays. Cornerback has been a deeper position than safety through the first half, so we went with three corners and only one safety.
Kick returner was another close call between Minnesota's Jones and Illinois'
V'Angelo Bentley
.
October, 9, 2013
Oct 9
1:00
PM ET
Conference play is in full swing, so it's time once again to gauge where players stand in the individual Big Ten awards races. Remember, there's still plenty of time left, and these will fluctuate quite a bit until we get deep into the season:
Graham–George Offensive Player of the Year
1. Wisconsin RB Melvin Gordon (LW: 2):
Gordon was off last week but moves back into the top spot after
Mark Weisman
was shut down by Michigan State. Gordon still leads the Big Ten in rushing but will have to prove he's healthy against Northwestern this week.
2. Nebraska RB Ameer Abdullah (LW: Not ranked):
Abdullah makes a big jump after his huge game against Illinois. He's second in the league in rushing behind Gordon and leads the Big Ten in all-purpose yards.
[+] Enlarge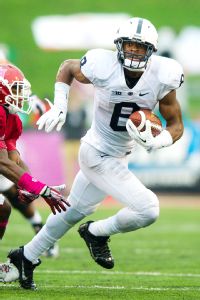 AP Photo/Doug McSchoolerPenn State receiver Allen Robinson caught a career-best 12 passes against Indiana.
3. Penn State WR Allen Robinson (LW: NR):
The Nittany Lions lost to Indiana last week, but Robinson was spectacular in grabbing a career-best 12 passes for 173 yards and two touchdowns. He's on pace to gain close to 1,500 yards receiving.
4. Wisconsin WR Jared Abbrederis
(LW: 5):
Abbrederis was also off last week but is right there with Robinson in the race for the league's Richter–Howard Receiver of the Year award.
5. Indiana QB Nate Sudfeld (LW: NR):
Sudfeld helms the league's best passing attack and tops the Big Ten with 1,467 passing yards, to go along with 13 touchdowns. That puts him on pace for a 3,500-yard season.
Dropped out:
Iowa RB Mark Weisman, Ohio State QB
Braxton Miller
, Illinois QB
Nathan Scheelhaase
Waiting room:
Ohio State RB
Carlos Hyde
Nagurski–Woodson Defensive Player of the Year
1. Wisconsin LB Chris Borland (LW: 1):
He was off last week, but Borland still holds the belt for how he played the first five weeks. He's got a big challenge this week with Northwestern's versatile offense.
2. Ohio State LB Ryan Shazier (LW: 2):
Although the Buckeyes were shaky defensively at Northwestern last week, Shazier came up with another 10 tackles and was right there on the punt block that
Bradley Roby
grabbed for a touchdown. He leads the Big Ten with eight tackles for loss.
3. Michigan State CB Darqueze Dennard (LW: NR):
Dennard showed what he could do when he's not being called for ticky-tack pass interference penalties, grabbing two interceptions against Iowa. He's our representative this week from the the ridiculous Spartan Dawgs, who lead the nation in total defense, rushing defense and pass efficiency defense.
4. Nebraska CB Stanley Jean-Baptiste (LW: NR):
It's hard to imagine any Cornhuskers player winning defensive player of the year honors because of the perception/performance of that overall unit. But Jean-Baptiste is having quite the year. He -- along with Michigan's
Blake Countess
-- is tied for the national lead in interceptions (four). He's also second in the Big Ten in passes defended (10).
5. Northwestern DE Tyler Scott (LW: NR):
Though Northwestern lost the game, it didn't surrender an offensive touchdown in the first half to Ohio State. Scott forced and recovered a fumble, and he leads the Big Ten in sacks with four.
Dropped out:
Michigan State DE
Shilique Calhoun
, Penn State DT
DaQuan Jones
, Iowa LB
James Morris
Bakken–Andersen Kicker of the Year
1. Northwestern's Jeff Budzien:
Last year's co-winner of this award, Budzien is 9-for-11 on field goals this year and nailed all three of his attempts versus Ohio State. He's perfect inside 40 yards in 2013.
2, Penn State's Sam Ficken:
He continues to author a tremendous comeback story. Ficken is 8-of-10 this year, which includes a 54-yarder. One of his two misses was a Hail Mary attempt from 57 yards. He has become a reliable weapon for Bill O'Brien.
Waiting room:
Iowa's
Mike Meyer
, Michigan's
Brendan Gibbons
, Michigan State's
Michael Geiger
October, 3, 2013
Oct 3
9:00
AM ET
Adam has a one-game lead in the standings, and we've got five interesting league contests to forecast this week.
Without further ado, the crystal ball says …
PENN STATE at INDIANA


Brian Bennett:
Indiana is 0-for-16 lifetime against Penn State, so you'd have to ignore all historic precedent to pick the Hoosiers. I see IU doing some damage on Penn State's pass defense just as UCF and
Blake Bortles
did. But the Hoosiers' defense won't have any answers for
Christian Hackenberg
and
Zach Zwinak
, the latter of whom scores three times. …
Penn State 42, Indiana 34
Adam Rittenberg:
The Lions defense isn't as bad as it performed against UCF and not as good as it performed against Kent State. But an average Penn State defense, combined with Hackenberg and a stable of running backs, will be too much for Indiana to overcome. Hackenberg twice connects with
Allen Robinson
for touchdowns, and Indiana's quarterback situation becomes cloudier.
… Penn State 38, Indiana 27
ILLINOIS at NEBRASKA


Adam Rittenberg:
Illinois' big-play offense isn't a welcome sight for Nebraska's beleaguered defense, which has been gashed by pretty much everyone so far this season. But Bo Pelini's teams typically perform well after open weeks, and at some point, the defense will start to tighten up. Illinois'
Josh Ferguson
gives his team an early lead, but Nebraska rallies in the second half behind running backs
Ameer Abdullah
and
Imani Cross
, as well as wideout
Kenny Bell
, who hauls in two touchdown passes.
… Nebraska 38, Illinois 31
Brian Bennett:
The Illini have a chance here, especially if
Taylor Martinez
doesn't play or is severely limited.
Nathan Scheelhaase
will burn the Huskers for three touchdown passes. But Nebraska's running game, led by a 150-yard day from Abdullah, will prove the difference, and
Stanley Jean-Baptiste
picks off Scheelhaase late to thwart a potential rally. …
Nebraska 38, Illinois 28
MICHIGAN STATE at IOWA


Brian Bennett:
I've picked against the Hawkeyes three times already and have been wrong twice. (It's nothing personal, Iowa fans, I swear). I really should learn from my mistakes. But I think Michigan State's defense can slow down
Mark Weisman
and generally make life miserable for
Jake Rudock
on Saturday. I have little confidence in the Spartans' offense, but a bye week should have given Dave Warner and Jim Bollman a chance to come up with a couple of plays that work. That may be all it takes in a game like this, which is decided on field goals.
… Michigan State 13, Iowa 10.
Adam Rittenberg:
Tsk, tsk, Brian. Haven't you learned never to doubt Herky in an under-the-radar year? Iowa has the momentum right now, and the Hawkeyes will wear down the Spartans in the second half with Weisman (2 TDs) and
Damon Bullock
. Michigan State's defense keeps it close as always, but the offensive issues continue as Iowa linebacker
James Morris
seals the win with his third interception of the season.
… Iowa 20, Michigan State 17
MINNESOTA at MICHIGAN


Adam Rittenberg:
The open week came at a perfect time for Michigan to clean up its act. Quarterback
Devin Gardner
limits his risks and makes smarter decisions in this one, firing two second-half touchdown passes to
Jeremy Gallon
. Michigan rides running back
Fitzgerald Toussaint
(130 rush yards, 2 TDs) and contains a Minnesota offense that simply doesn't look ready for Big Ten play. Michigan once again teaches Minnesota how to juggy.
… Michigan 31, Minnesota 13
Brian Bennett:
The Wolverines have issues, but I don't think they are as big as the problems Minnesota has, which include an MIA passing game. Surely two weeks of studying film have made Gardner more cautious with the ball. Michigan just has more weapons, especially at home where they never lose under Brady Hoke. It's not always pretty, but Gardner accounts for four touchdowns behind a revamped offensive line. …
Michigan 28, Minnesota 14
OHIO STATE at NORTHWESTERN


Brian Bennett:
Northwestern should be able to make some plays on Ohio State's defense, especially with
Venric Mark
back and some questions in the Buckeyes' secondary. But I think the Wildcats will need turnovers to have a strong chance to win. They'll get two, but it won't be enough as
Braxton Miller
has his best game of the year, running for 120 yards and passing for 250. Ohio State starts fast again and holds on.
… Ohio State 36, Northwestern 27
Adam Rittenberg:
Northwestern hasn't handled spotlight games well in the past, although the team seemed to turn a corner last year in ridding itself of its bowl bugaboo. Is Northwestern's Buckeye bugaboo next? I expect the Wildcats' offense to perform well and open up the playbook, especially with Mark back in the fold. Mark twice reaches the end zone and
Trevor Siemian
attacks a vulnerable Ohio State secondary playing without
Christian Bryant
. But Ohio State's big-play ability will be a little too much to overcome, as Miller leads a memorable game-winning drive in the final minutes.
… Ohio State 34, Northwestern 31
Now it's time for our guest picker. As a reminder, throughout the season we'll choose one fan/loyal blog reader each week to try his or her hand at outsmarting us. There's nothing but pride and some extremely limited fame at stake. If you're interested in participating, contact us
here
and
here
. Include your full name (real names, please) and hometown and a brief description why you should be that week's guest picker. Please also include "GUEST PICKS" in all caps somewhere in your email so we can find it easily.
This week's guest prognosticator is Brandon Poturica, who's stationed at Morón Air Base in Spain. Take it away, Brandon:
"Adam & Brian: Why you should choose me is simple. I met Urban Meyer in Kuwait during a USO tour in the summer of 2011, only months away from when he took the OSU job. I'm from his hometown of Ashtabula, Ohio, and have been stationed overseas since he took the job (Japan and Spain). The Buckeyes have been undefeated since the last time I stepped on American soil, and I'm a superstitious man, so if that means I don't return home and they keep winning, then I'll just have to cheer from afar. Go Bucks and God Bless the USA."
How could we say no to that? Thanks for your service, Brandon, and save us some sangria and tapas. Here are Brandon's picks:
Penn State 38, Indiana 17
Illinois 28, Nebraska 21
Iowa 17, Michigan State 14
Michigan 38, Minnesota 10
Ohio State 56, Northwestern 35
SEASON RECORDS
Adam Rittenberg:
44-6
Brian Bennett:
43-7
Guest pickers:
40-10
September, 25, 2013
Sep 25
12:00
PM ET
September, 9, 2013
Sep 9
12:00
PM ET
I think the Bengals defense just called another timeout. Sorry, couldn't resist #bears.
To the links ...
September, 9, 2013
Sep 9
9:02
AM ET
The top half of the Power Rankings remains exactly the same, but some interesting story lines are starting to develop.

Is Ohio State or Michigan the Big Ten's best team? Michigan made its case Saturday night against Notre Dame, while Ohio State's bigger tests await in Weeks 5 and 6 (Wisconsin and Northwestern). For now, we're keeping the Buckeyes at No. 1, but we'll need to see a strong performance this week on the road against Cal's high-powered offense.
Northwestern and Wisconsin held steady, and both Nebraska and Penn State looked better in Week 2. Illinois is the big mover after Saturday's dominant win against Cincinnati, while Indiana, Michigan State and Iowa fall. There's some separation after the top six, and Nos. 7-9 really could appear in any order.
These are consistent with our rankings in the ESPN.com power poll.
Here's one last look at the
previous Big Ten rankings
.
To the rundown …
1. Ohio State (2-0, last week: 1):
Braxton Miller
's knee injury created some tense moments in Columbus, but Ohio State fans settled down and settled in to the smooth sounds of Kenny G (Guiton, that is). One of the nation's best backup quarterbacks torched San Diego State for three touchdowns as a Buckeyes team that sleepwalked through the second half in Week 1 took charge from the get-go. Ohio State's young defense will be tested much more this week by the "Bear Raid" offense at Cal.
2. Michigan (2-0, last week: 2):
Debate the Notre Dame-Michigan rivalry all you want, but
it mattered a lot
for quarterback
Devin Gardner
and the Wolverines. Gardner proved he's a big-game quarterback and triggered an impressive offensive performance against Notre Dame's physical defense. Although Michigan's defense had some issues, it made timely plays against the Irish. The Wolverines have the look of a BCS bowl team and possibly a Big Ten champion.
3. Northwestern (2-0, last week: 3):
Week 1 was all about survival for Northwestern. Saturday night, the Wildcats showed why they should contend for the Legends Division title this season. Quarterbacks
Kain Colter
and
Trevor Siemian
had their way with Syracuse's defense, and wideout
Tony Jones
had a huge night as Northwestern easily improved to 2-0. The Wildcats should be 4-0 in three weeks when Ohio State visits Evanston, and star running back
Venric Mark
should be healthy by then.
4. Wisconsin (2-0, last week: 4):
The run game has been dominant, the defense suffocating and the competition level horrendous. What do we make of these Badgers after two not surprisingly dominant performances against lowly Massachusetts and Tennessee Tech? Wisconsin deserves credit for handling its business with few if any mistakes, recording back-to-back shutouts to open a season for the first time since 1958. Quarterback
Joel Stave
looks comfortable. But the competition goes up -- way, way up -- this week at Arizona State.
5. Nebraska (2-0, last week: 5):
The Huskers defense doesn't deserve the "Blackshirts" label quite yet, but at least the unit avoided less-flattering terms for a week. Cornerbacks
Stanley Jean-Baptiste
and
Ciante Evans
set the tone for a rebound performance with pick-sixes in the first quarter, and junior-college transfer
Randy Gregory
applied pressure all game. The defense needs a better performance this week against UCLA, potentially the only team that can beat the Huskers during the first two months of the season.
6. Penn State (2-0, last week: 6):
After a rough start, freshman quarterback
Christian Hackenberg
settled down in his Beaver Stadium debut. He also got a ton of help from the run game, which had struggled in the opener but broke out for 251 yards and five touchdowns. Tackle
DaQuan Jones
triggered a suffocating Lions defense, which will be tested much more this week when
Blake Bortles
and Central Florida visit Happy Valley.
7. Minnesota (2-0, last week: 8):
Although Aggie Vision was the real highlight Saturday night, Minnesota provided a few of its own in an easy win against New Mexico State. The Gophers continue to find creative ways to score, adding a special teams touchdown and a defensive touchdown in a
44-21 romp
. Despite being short-handed at running back, Minnesota got the ground game going behind Rodrick Williams (148 yards, 1 TD),
David Cobb
(56 yards, 1 TD) and quarterback
Philip Nelson
(122 rush yards, 1 TD). The Gophers have another tuneup this week before their first real test Sept. 21 against San Jose State.
8. Michigan State (2-0, last week: 7):
Can
Shilique Calhoun
play quarterback? The sophomore defensive end has been Michigan State's best offensive weapon in the first two games, scoring one more touchdown than the entire Spartans offense. Michigan State's defense has added a dynamic playmaking element early this season. Unfortunately, the problems on offense only seem to be worsening and the quarterback situation is anyone's guess right now.
9. Illinois (2-0, last week: 11):
Surprise, surprise, the Illini are unquestionably on the rise. Few saw it coming, but Illinois walloped Cincinnati behind another impressive performance by quarterback
Nathan Scheelhaase
and the offense. One of the nation's worst offenses has surged under coordinator Bill Cubit, scoring 87 points in the first two games. Linebacker
Mason Monheim
and the defense rebounded nicely after a shaky Week 1 effort. Can the Illini pull off another upset this week against Washington at Chicago's Soldier Field?
10. Indiana (1-1, last week: 9):
Kevin Wilson
's words last week proved prophetic
as Indiana's offense lacked the efficiency it needed early on against Navy's ball-control offense. But eventually a defense has to make some stops and Indiana's once again couldn't, especially in the closing minutes. The Hoosiers surrendered 444 rush yards in a
41-35 loss
, once again showing that this program hasn't turned a corner. Things get tougher this week as a very good Bowling Green squad comes to Memorial Stadium.
11. Iowa (1-1, last week: 10):
Some Iowa fans undoubtedly felt better about their team after last week's loss to Northern Illinois than Saturday's win against FCS Missouri State. The Hawkeyes had just seven points through the first 37 minutes before
Mark Weisman
(180 rush yards, 2 TDs) took over down the stretch. Quarterback
Jake Rudock
showed good mobility but also threw a pick-six. Iowa faces a must-win this week as it hits the road to face rival Iowa State.
12. Purdue (1-1, last week: 12):
The Boilers got a win Saturday, but they won't win many more if they don't clean up their problems on offense. If Purdue can't punch the ball into the end zone against Indiana State from inside the 5-yard line, what's going to happen against Big Ten defenses? Defensive tackle
Bruce Gaston
had a big day, but the Boilers need many others to elevate their play as Notre Dame visits Ross-Ade Stadium this week.
Penn State vs Wisconsin Highlight