Penn State Nittany Lions:

Stan Hixon
March, 10, 2014
3/10/14
10:30
AM ET
Non-Minnesota fans might have missed Friday's official announcement that Mike Sherels has been promoted to Gophers linebackers coach after serving on the team's recruiting staff. Sherels is the first new assistant Jerry Kill has hired in his Minnesota tenure, but the move likely signified -- likely being the operative word -- something bigger for the Big Ten.
The end of the coaching carousel for 2014.
This post always includes a reminder that additional coaching changes still can happen, even though most of the Big Ten has started spring practice. It's the nature of the business.
Despite two new teams in the Big Ten, the number of overall changes in the league dropped for the second consecutive year, going from 32 in 2013 to 27 this year. There was only one complete staff overhaul, at Penn State, and four programs -- Illinois, Iowa, Michigan State and Northwestern -- kept all of their coaches from last season. After replacing more than half of his staff in the last offseason, Illinois' Tim Beckman hopes continuity pays off in what likely will be a make-or-break 2014 campaign. Iowa is back to its stable self after two years of coaching flux, while Northwestern coach Pat Fitzgerald hasn't made a staff change since after the 2010 season.
Michigan State made a major commitment
to Mark Dantonio and his assistants after the Spartans' Rose Bowl win, but it's still impressive that Dantonio retained the entire staff after such a great season.
Both Rutgers and Maryland have some new faces on staff before their inaugural season of Big Ten play. Rutgers has two new coordinators (one outside hire, one promotion), while Maryland has new assistants overseeing both lines.
[+] Enlarge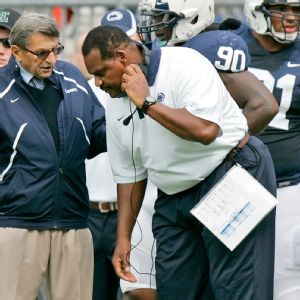 Michael R. Sisak/Icon SMILongtime Penn State defensive line coach Larry Johnson moved to Ohio State this offseason after James Franklin was hired as the Nittany Lions' head coach.
Other than Penn State, Indiana and Rutgers are the only teams featuring two new coordinators in 2014. Although IU assistant Kevin Johns previously held the co-offensive coordinator title, he'll be the main man, as he takes over for Seth Littrell.
For the most part, the coaches leaving Big Ten programs did so voluntarily and for potentially better positions. Penn State head coach Bill O'Brien took the same role with the Houston Texans, while two assistants -- Ohio State's Everett Withers and Maryland's Greg Gattuso -- left to become FCS head coaches at James Madison and Albany, respectively. The Big Ten lost several assistants to the NFL, as O'Brien brought four assistants with him from Penn State (John Butler, Stan Hixon, Charles London and Anthony Midget) and swiped another from Ohio State's staff (Mike Vrabel). Wisconsin also lost running backs coach Thomas Hammock to the Baltimore Ravens.
Arguably the most interesting move took place within the league, as longtime Penn State defensive line coach Larry Johnson replaced Vrabel at Ohio State.
OK, let's get to it already.
Here's the rundown of coaching changes (head coach and full-time assistants only; number of new coaches in parentheses):
INDIANA (3)
Who's gone?
Doug Mallory, defensive coordinator/safeties
Seth Littrell, offensive coordinator/QBs
Jon Fabris, defensive line
Who's in?
Brian Knorr, defensive coordinator/defensive ends/outside linebackers
Larry McDaniel, defensive line
Noah Joseph, safeties
Other moves
Promoted Kevin Johns to main offensive coordinator. Johns also now coaches quarterbacks in addition to wide receivers.
Moved James Patton from assistant defensive line/special teams to tight ends and fullbacks
MARYLAND (3)
Who's gone?
Tom Brattan, offensive line
Lee Hull, wide receivers
Greg Gattuso, defensive line
Who's in?
Greg Studwara, offensive line
Keenan McCardell, wide receivers
Chad Wilt, defensive line
MICHIGAN (1)
Who's gone?
Al Borges, offensive coordinator/quarterbacks
Who's in?
Doug Nussmeier, offensive coordinator/quarterbacks
Other moves
Defensive coordinator Greg Mattison is overseeing linebackers instead of defensive linemen
Mark Smith moves from linebackers to defensive line
Roy Manning moves from outside linebackers to cornerbacks

Curt Mallory will coach only safeties rather than the entire secondary
MINNESOTA (1)
Who's gone?
Bill Miller, linebackers/assistant head coach
Who's in?
Mike Sherels, linebackers (promoted from recruiting staff)
Other moves
Pat Poore moves from wide receivers to running backs
Brian Anderson moves from running backs to wide receivers
NEBRASKA (1)
Who's gone?
Terry Joseph, secondary
Who's in?
Charlton Warren, secondary
OHIO STATE (2)
Who's gone?
Everett Withers, co-defensive coordinator/safeties
Mike Vrabel, defensive line
Who's in?
Chris Ash, co-defensive coordinator/safeties
Larry Johnson, defensive line/assistant head coach
PENN STATE (10)
Who's gone?
Bill O'Brien, head coach/offensive playcaller
John Butler, defensive coordinator/cornerbacks
Charlie Fisher, quarterbacks
Stan Hixon, wide receivers/assistant head coach
Larry Johnson, defensive line
Charles London, running backs
Mac McWhorter, offensive line
Ron Vanderlinden, linebackers
John Strollo, tight ends
Anthony Midget, safeties
Who's in?
James Franklin, head coach
John Donovan, offensive coordinator/tight ends
Bob Shoop, defensive coordinator/safeties
Charles Huff, running backs/special teams
Brett Pry, co-defensive coordinator/linebackers
Josh Gattis, wide receivers/assistant special teams
Herb Hand, offensive line
Ricky Rahne, quarterbacks
Sean Spencer, defensive line
Terry Smith, cornerbacks
PURDUE (1)
Who's gone?
Jon Heacock, defensive backs
Who's in?
Taver Johnson, defensive backs
RUTGERS (4)
Who's gone?
Dave Cohen, defensive coordinator/linebackers
Ron Prince, offensive coordinator
Rob Spence, quarterbacks
Damian Wroblewski, offensive line
Who's in?
Ralph Friedgen, offensive coordinator/quarterbacks
Bob Fraser, linebackers/special teams
Mitch Browning, offensive line
Ben McDaniels, wide receivers
Other moves
Promoted special teams coordinator Joe Rossi to defensive coordinator
Anthony Campanile is coaching only tight ends after overseeing both tight ends and wide receivers
WISCONSIN (1)
Who's gone?
Thomas Hammock, running backs/assistant head coach
Who's in?
Thomas Brown, running backs
January, 6, 2014
1/06/14
5:15
PM ET
STATE COLLEGE, Pa. -- Eight Penn State staff members
submitted their resignations Monday
, and now only three coaches remain on staff.
Among those who left include defensive coordinator John Butler, running backs coach Charles London, wide receivers coach Stan Hixon, safeties coach Anthony Midget and strength coach Craig Fitzgerald.
With the announcement of a new head coach possibly just days away, the movement wasn't considered much of a surprise. Many of those assistants followed former coach Bill O'Brien to Happy Valley, and there was no guarantee they would've kept their jobs had they stayed at Penn State anyway.
Hixon and London were seen as locks to join O'Brien, and O'Brien was forced to defend Butler at several points during the season from "Fire him" criticism. But there was one staff member here whom players most hoped to see back, and one departure that hurt the most -- Fitzgerald, the strength coach.
For those unfamiliar with the Nittany Lions' program, that might come as a surprise. But likely not to PSU fans. Former and current players lamented the loss on Twitter.
The main person we needed to keep after OB was Fitz. Huge lost...took our speed & strength program from cats to dogs. Much love tho. My dude

— Stephon Morris (@S_Morris12) January 6, 2014
He was a fan favorite who wore his trademark shorts and T-shirt during snow squalls and below-freezing temperatures. He'd perform the worm during pregame routines and once, players said, licked the gym floor to fire his team up. So, yeah, maybe the guy was a bit crazy. But in a good way. He was beloved by the team, and he helped improve a weight room that was widely believed to be in need of a makeover. He also aided tight end
Garry Gilliam
in transitioning to right tackle, as he gained about 40 pounds in seven months' time.
Just keep coach J and Fitz and I'm cool lol

— Adrian Amos (@PSU_Amos_4) January 2, 2014
Larry Johnson is the interim head coach now, and he's guiding a bare-bones staff of just two others: TE coach John Strollo and OL coach Mac McWhorter. They'll be charged with keeping this recruiting class together until a new head coach comes along.
This staff could have a whole new look in a week's time; it just received its first official change since O'Brien's departure on Monday afternoon.
January, 1, 2014
1/01/14
1:32
PM ET
STATE COLLEGE, Pa. -- Penn State defensive line coach Larry Johnson Sr. has been named the Nittany Lions' interim head coach until a replacement is found, a source with knowledge of the situation told ESPN.com.
The move is hoped to add at least some stability after news broke late Tuesday night about Bill O'Brien's decision to
take the Houston Texans' head coaching job
. Johnson Sr. is the last remaining assistant from Joe Paterno's tenure and is not expected to follow O'Brien.
The other assistants, however, were handpicked by O'Brien and it's not yet known who might be joining the Texans staff. PennLive.com already reported that wideouts coach
Stan Hixon plans to join O'Brien
, but the futures of the other assistants are still undetermined.
Other assistants that could potentially follow O'Brien include running backs coach Charles London, who spent time as a scout, offensive assistant and quality control coach with three NFL teams, and defensive coordinator John Butler.
Johnson Sr. will primarily be charged with keeping the recruiting class together, the source said, until a new head coach is found. Johnson Sr. could not be reached for comment.
The longtime assistant coach was hired by Paterno in 1996 and quickly earned a reputation as a hard-nosed recruiter. He developed seven first-team All-Americans and 14 first-team All-Big Ten selections.
He played a critical role in the commitment of several Penn State recruits in the current class, including ESPN 300 DT
Thomas Holley
(Brooklyn, N.Y./Lincoln).
August, 17, 2013
8/17/13
9:56
PM ET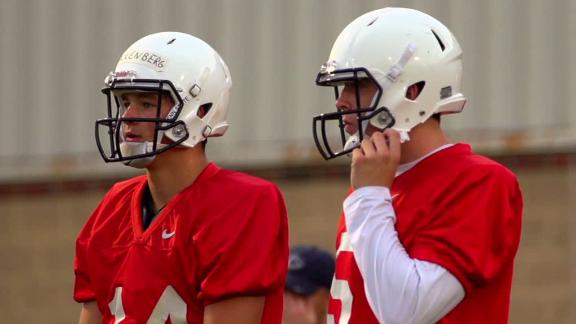 "May the best man win."
That's all offensive guard
John Urschel
had to say when asked about Penn State's quarterback race. And it's a tight one right now between first-year signal-callers
Tyler Ferguson
and Christian Hackenberg.
That's the big battle this preseason, the competition that all eyes are on right now. Head coach Bill O'Brien is
"pretty close" to naming a starter
, and it's a decision all of Happy Valley is eager to hear.
Early in training camp, when the freshmen practice at 7:30 p.m., even the upperclassmen returned to the field to watch Hackenberg throw some footballs.
"The biggest storyline of this team, I would say, got to be our quarterback situation," assistant coach Stan Hixon said.
ESPN took a closer look at the QB battle and how O'Brien is preparing the two as part of "ESPN All Access: Penn State Training Days." The behind-the-scenes program will culminate in a one-hour special at 7 p.m. Tuesday on ESPN. And a five-part series consisting of 30-minute specials will also air on ESPNU starting 6 p.m. Wednesday.
Clips such as this will preview the program and will run up until Tuesday.
August, 13, 2013
8/13/13
9:00
AM ET
STATE COLLEGE, Pa. --
Allen Robinson
crossed his arms during Penn State's media day and lingered near the end zone, a place he found plenty -- 11 times to be exact -- during last season's record-breaking run.
Despite the familiar surroundings, the stonefaced junior seemed out of place with the focus on his accolades. He routinely dismissed talk about last season's Big Ten-leading 77 catches and 1,013 yards. And on three separate occasions, he labeled his year as "decent" before deflecting praise to teammates or addressing the offseason.
[+] Enlarge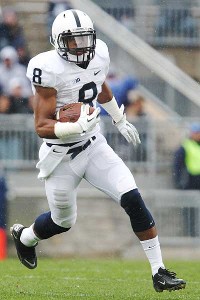 Matthew O'Haren/USA TODAY SportsAllen Robinson says he still has room for growth on the football field, despite pulling in 77 catches last season to break Penn State's single-season receptions record of 63.
"I don't know, Allen," said one reporter. "I think it was a little better than decent."
Robinson offered a slight shrug but didn't crack a smile: "I'm just trying to come open and make plays when my number's called."
The junior wideout is coming off one of the most surprising performances from one of the program's most surprising seasons -- but he's not looking back. After shattering the school's long-standing single-season receptions record (63) as a sophomore, surpassing the likes of PSU greats Bobby Engram and O.J. McDuffie, Robinson said he's focused on 2013.
So maybe it shouldn't come as a surprise he declined to talk much about that record. He didn't want to talk about it much last season either. His parents opted to use the word "relief" when describing it, and the two paused when asked just how much Robinson has brought up the fact he sent those PSU record books back to the printing press.
"I don't remember him bringing it up once since January," his mother, Tracie, said. "I really don't. He just doesn't talk about his achievements."
Added his father, also named Allen: "He hasn't brought it up, not once with me. Allen talks the most about him and
Adrian Amos
, as far as D-back and wide receiver. That's what he talks about, about making each other better."
Neither Robinson nor his family are even sure where that record-setting pigskin is. It's not resting on a desk inside his dorm, nor is it on the family's mantle. The Robinsons said they never really thought about it; a Penn State spokesman said he didn't think anyone ever pulled it aside for the museum located inside the very stadium Robinson set the record.
Not that the younger Robinson really seems to mind. He's looking ahead. Without an experienced quarterback, the wideout with the 37-inch vertical took it upon himself this summer to organize the team. He'd wake up every morning at exactly 5:05 -- just enough time to rush to the football building by 5:30 -- lift, then grab a quick breakfast before heading to class and later sending out mass texts for some 7-on-7s or extra route-running drills.
"He was the one initiating all those sessions," wideout
Matt Zanellato
said. "There were some times where we'd be doing so much that Fitz (strength coach Craig Fitzgerald) would send out a text saying, 'Take this afternoon off. You guys need to relax.'"
Robinson mostly heeded Fitzgerald's words, "but it's just me trying to be a leader. And a lot of it's how good do we really want to be this year? Do we want to be 8-4 again -- or do we want to be 12-0?"
The 6-foot-3 wideout, the recipient of last year's Richter-Howard Receiver of the Year Award, is nine pounds heavier this season. He's faster, he's become accustomed to all the receiver spots, and he's improved his route-running. Put simply, the Big Ten's best wideout is even better.
Assistant coach Stan Hixon has taught quite a few great ones, such as Buffalo Bills' leading WR Stevie Johnson and first-round draft pick Michael Clayton. Robinson reminds him a bit of Clayton -- "tough, tough, tough" -- but Hixon believed the player affectionately known as A-Rob still has a ways to go in 2013.
"He's going to be really good," Hixon said. "But he's just good right now. With the guys I've been around, he's got that ceiling. He has the potential to be better, so my expectation is higher than what a lot of people think."
Robinson, as serious a player as there is on the Nittany Lions, was relayed that message from Hixon: Good, but not yet really good. The Michigan native glanced down, trying to conceal a quick grin -- the first and only smile in 15 minutes of speaking.
"I would say he's right," Robinson said.
"There's a lot of things I can do to improve my game. Last year, I had a decent year -- so I'm just trying to improve off that. There were some catches last year I didn't come down with, so I'm just trying to improve."
That became the third, and final, time Robinson used "decent." So, clearly, those records and those accolades are in the past for the Penn State receiver. He's hoping last season isn't a highlight -- he's convinced it's just the beginning for him and these Nittany Lions.
March, 6, 2013
3/06/13
11:00
AM ET
De'Andre Thompkins
may go to school at Swansboro (N.C.), but he can't make a turn in the hallways without being reminded of Penn State.
A Nittany Lion emblem is the classroom screensaver of his math teacher, Ed Walsh, and a PSU jacket is hanging nearby. A history teacher, health instructor and his football coach also either grew up as Nittany Lions fans or went to the university.
Heck, even a custodian inside the red-brick school chats up with Thompkins about PSU and the Pittsburgh Steelers.
BIG TEN SCOREBOARD
Thursday, 9/3
Friday, 9/4
Saturday, 9/5
Sunday, 9/6
Monday, 9/7