Penn State Nittany Lions:

Seth Littrell
January, 22, 2014
Jan 22
5:00
PM ET
Winter stinks. Warm me up with some of your emails:
Darren from Spring Hill, Fla., writes:
I'd appreciate your thoughts on Indiana's coordinator situation. I've also thought the pecking order in the BCS era is 1. SEC, 2. (3-way tie depending on year) Pac-12/Big 12/Big Ten; 3. ACC 4. Varies. So why would a coordinator leave IU for the same position at UNC (Littrell) ... is the ACC and, say, the Mountain West more appealing than a low-tier Big Ten school? Thanks.
Brian Bennett:
While it's somewhat unusual to see a Big Ten coordinator leave for the same job at what is at best a mid-tier program in the ACC, we have to remember Indiana is not exactly a football power. The Hoosiers have been to one bowl game since 1993 and often play in front of a bunch of empty seats, and the program has not historically provided much of a springboard for coaches' careers. So if Seth Littrell wanted to move on after two very successful years, that becomes more understandable.
We also don't yet know the money situation here. Early reports said Littrell would also be named assistant head coach at North Carolina, which suggests a pay raise. Indiana has made a much bigger commitment to football in recent years but still isn't among the top-paying Big Ten schools when it comes to coaches' salaries. Perhaps the most interesting aspect here is that Littrell -- a former Oklahoma player with deep Sooners ties -- is leaving former Oklahoma coordinator Kevin Wilson's staff to join that of former Oklahoma State play-caller Larry Fedora.
---
Lachlan from Winterpeg writes:
Hey BB, with the hiring of the new assistants at PSU, I see two that stand out to me. The defensive coordinator and the receivers coach. The defense last year had many ups and downs (mostly downs) and bringing in a guy that fielded a top-25 defense last year in the SEC brings in hope. On the other end, a receivers coach that has produced a couple of All-American receivers takes on the task of taking the remaining WR group for PSU that was lackluster last year, and trying to turn them into a threat in the passing game seems challenging. Which of these two do you expect to have a better handle on things being as both have issues to work with, depth with the defense and a group of unproven receivers on the other?
[+] Enlarge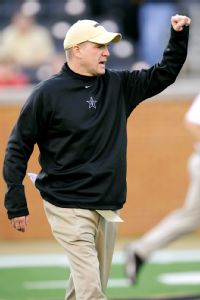 Sean Meyers/Icon SMINew Penn State defensive coordinator Bob Shoop takes over a defense that loses just three starters and he should have plenty of talent to work with this season.
Brian Bennett:
Just in terms of talent and experience to work with, new defensive coordinator Bob Shoop should have an easier go of things right away. Shoop -- whose brother, John, is Purdue's offensive coordinator, giving us a Big Ten Shoop-Shoop -- led a Vanderbilt defense that really was the backbone of that team during its nine-win seasons each of the past two years. While Penn State's defense had its struggles in 2013, the unit loses only three starters (
DaQuan Jones
,
Glenn Carson
and
Malcolm Willis
). Shoop will need to develop leaders on that side of the ball and improve the secondary, but there is talent in place.
Receivers coach Josh Gattis has a tougher assignment. No player outside of
Allen Robinson
really produced a whole lot at wideout for the Nittany Lions last year, and
Brandon Felder
is gone, too.
Geno Lewis
has solid potential but still needs polishing. Gattis will likely have to quickly coach up some incoming freshmen such as
De'Andre Thompkins
and
Chris Godwin
. The receiver group will have to make a lot of progress this offseason to give
Christian Hackenberg
some help. Remember, too, that head coach James Franklin has coached receivers in the past, and Penn State has also reportedly hired former Temple receivers coach Terry Smith for an unspecified role. So that position should get a lot of attention.
---

John from Minneapolis writes:
Hey, Brian. In
Monday's chat
you answered a question about
Philip Nelson
and stated, " Nelson himself didn't light it up as a passer, but he might not want to run it as much as Minnesota seems to want from its QB. If that's the case, I have no problem with him transferring somewhere else." I understand what you're saying, but whatever happened to sticking with a commitment? It smells like weak character to me. That same attitude is why the divorce rate is 50 percent. That's it, thanks.
Brian Bennett:
The problem is that commitment and loyalty too often is a one-way street in college sports. A player such as Nelson is supposed to fulfill his four years to the school, yet coaches can leave at any time and his scholarship is up for renewal every season? And Nelson will have to sit out a year unless he transfers to a lower level. The reality is that college sports is a business, and players have to look out for themselves. If Nelson believes his future will be better served by playing in a different system, more power to him.
---
Craig from Braintree, Mass., writes:
The Gophers certainly are not in the top half of the B1G as far as budget, but they bought not only a quality head coach but a whole staff that will not be easily influenced by a few extra bucks. You have any thoughts about whether Jerry Kill and his staff deserve raises?
Brian Bennett:
Kill made a reported $1.2 million last year, which is hardly chump change but still ranked as the lowest in the Big Ten. Minnesota officials said they would work on bumping up Kill's pay this offseason, and Kill would like raises for his assistants, too. After an eight-win season, that staff is definitely in line for some salary increases. The price of keeping a high-quality head coach in the Big Ten is escalating rapidly. The good news for the Gophers is I don't think Kill is looking to leave anytime soon.
---

Dave from Millstone, N.J., writes:
So, Brian. We're BaAAaack. ... When is the date when you'll start covering Rutgers in the blog? We missed you since you bolted the Big East for the B1G -- now we're following you, haunting you, filling your dreams. We're coming; you can't stop it now. Oh, sure, you can change assignments and head to the ACC, where Andrea abandoned us to last year. But we will find you, no matter what. Now write one of you famous opinions on how RU will never be great. Go ahead, make my day! Seriously, looking forward to getting picked on by the big boys of the B1G for a few seasons before we take over. So when's the warm welcome start on the blog?
Brian Bennett:
You made me laugh, Dave, so good job. I'm looking forward to reuniting with Rutgers and visiting Piscataway again. Maybe I should start increasing my workouts now in anticipation of hitting a grease truck. We typically incorporate new schools right after signing day. So look for coverage of the Scarlet Knights -- and Maryland -- in the Big Ten blog in just a couple more weeks.
January, 15, 2014
Jan 15
5:00
PM ET
Mail time ...
Ed S. from Belleville, Ill., writes:
Please ask
James Franklin
how he can justify going after kids he recruited for Vanderbilt and whether he is going out of his way to try to wreck the Vanderbilt football program. What happened to his "fierce loyalty" to the Commodores and what does he now think of recruits who renege on their commitments to other schools?
Brian Bennett:
Ed, those are fair questions. Some coaches say they won't recruit players who committed to their previous school when they switch jobs. There are a couple of things to keep in mind here. One, the better players in Vanderbilt's class almost certainly committed to the Commodores because of Franklin, so it makes sense that they'd be interested in following him to another school. Given Penn State's scholarship limitations, he may feel an even bigger need to flip some of those Vandy recruits. And this is who Franklin is, a guy who's going to be aggressive in everything he does, especially so in recruiting. He's going to push the envelope and ruffle some feathers.
---
Glenn K. from Leesburg, Fla., writes:
Brian, regarding your article about
BIG ticket sales for bowl games
, don't you think attendance might also have been affected by the economy and the weather? If you want to enjoy the whole enchilada with your team before the actual game, including airfare, hotel, parties, tours, etc., you're looking at thousands of dollars (I know from experience), plus thousands more if you're taking your whole family. I wouldn't think that the weather in the Midwest and East helped much, either, as far as traveling goes.
Brian Bennett:
The economy absolutely plays a factor, Glenn, and I mentioned the costs in my post. Airfare and hotel rates have gone up, and I was astounded at how expensive hotels in south Florida were over New Year's. These are not cheap trips, for the most part, especially because the majority of Big Ten bowl sites are located more than a comfortable driving distance away from campuses. I doubt very much that weather played a role in keeping people away, since you really need to book these kinds of trips a couple of weeks in advance to have any success finding good deals. If anything, the weather fosters more travel as Midwesterners love any excuse to escape the winter. But there's little question that bowl trips are becoming more difficult for the average fan, and it will be interesting to see how fans travel if their team can make it to a Big Ten championship game, national semifinal and national title game all in about a month's time under the new playoff system.
---

Kevin from Saline, Mich., writes:
What is it that has made this 2013 MSU football team so much more successful than the 2011 Spartans? Every skill position on that 2011 team was terrific, the defense was still elite, and the chemistry and leadership with Kirk Cousins at the helm was extremely good as well. Is it just finding the inches, as Mark Dantonio always says? I was convinced that 2011 team was destined to be the team to break our Rose Bowl drought. I couldn't be happier with this season and this team, but when I compare them side-by-side with the 2011 version, that 2011 version seems more talented to me.
Brian Bennett:
Kevin, you're right that the 2011 Michigan State team was awfully good and probably still a bit underrated in hindsight. The offense was much more experienced in 2011 with Cousins and B.J. Cunningham and Keshawn Martin at receiver. The defense was very good, though not quite as elite as the 2013 team. The 2011 team turned in a couple of clunkers, however, including an 18-point loss at Notre Dame and a 24-3 defeat at Nebraska in which the Spartans looked completely flat a week after beating Wisconsin on the Hail Mary.
Still, that team was extremely close to making the Rose Bowl, losing a back-and-forth Big Ten championship game to Russell Wilson's Wisconsin team that turned on a late running-into-the-punter penalty. And those Spartans went on to beat Georgia in the Outback Bowl. This year's team might have benefited from an easier schedule leading up to the Big Ten title game -- the 2011 squad, for example, played three teams ranked in the top 15 in the regular season, while the 2013 squad faced none. But this year's Spartans turned it on when it really mattered and "found the inches," as Dantonio said. That last step from being a very good team to a championship one is sometimes the steepest.
---

David K. from New Haven, Ind., writes:
Brian, any chance that IU might actually spend what it takes to get a proven defensive coordinator? I think
Kevin Wilson
has the program going in the right direction, but unless they get somebody in there who knows what he is doing and has been with a winning program, I fear he is doomed to fail because of the awful defense. You get what you pay for, and if they go that way, then the Hoosiers and Wilson are doomed.
Brian Bennett:
David, every Big Ten team has money. It's good to see teams like Michigan State, Penn State and Michigan making major commitments to coaching salaries this winter, because that is what it's going to take to win at the big-boy table. Indiana doesn't have quite the deep pockets as some other schools, mainly because of the Hoosiers' attendance problems. Wilson's highest-paid assistant is offensive coordinator Seth Littrell, who is making $356,500 -- and earning it, based on IU's offensive numbers in 2013. I doubt you would see Indiana go much higher than that on the defensive side. Just how many superstar coordinators would be interested in coming to a program that has struggled on defense for so long and now has an offense-first mentality? That remains a major question. There's nothing wrong with finding an up-and-comer to run the defense. Indiana's challenge will be to keep top assistants such as Littrell when they become hot commodities.
---

Samuel from Iowa City, Iowa, writes:
Hey, Brian. Some big coaching moves in the East got me wondering about Iowa. Kirk Ferentz is one of the best-paid head coaches. But what about the assistants? Did I read correctly last week that Iowa is once again one of the most valuable football programs in the country? Does Iowa have the resources the make some big assistant coaching moves like OSU is doing?
Brian Bennett:
Iowa does have strong resources. Not quite Ohio State or Michigan level, but certainly in the upper half of the Big Ten. Much of those resources are going to pay Ferentz close to $4 million per year. Neither defensive coordinator Phil Parker nor offensive coordinator Greg Davis are among the top 10 in
salary among assistants in the Big Ten
. That has been the pattern under Ferentz, who promoted Parker from within and hired Davis after he had been out of football for a year. Perhaps whenever Ferentz retires, the pay scale between the Iowa head coach and his assistants will tilt a little.
---
Andrew from San Ramon, Calif., writes:
Hi, Brian. I've done some research, and the Huskers have an OK schedule coming up this year. Notable teams like Fresno State and Miami lose a lot of key players to the draft. Seven home games and five away games. With the win of the Gator Bowl on their shoulders and new recruits coming in, what do you think the Huskers' chances are at going possibly 10-2 or 11-1? (Losses might be @ Wisconsin and/or Michigan State.)
Brian Bennett:
It's entirely too soon to start predicting team records for 2014. I do like Nebraska right now as the early favorite to win the West Division, but I think the conference schedule is a little harder than you make it out to be. The Huskers not only have to travel to Michigan State and Wisconsin but also to Northwestern -- which has played Nebraska extremely tough and should bounce back from an abysmal 2013 -- and Iowa, which just won in Lincoln to close out the recently completed regular season. Compare that to new division rival Wisconsin, which does not play Michigan State, Ohio State, Michigan or Penn State from the East and whose hardest conference road games are Iowa and Northwestern.
I like the potential for Nebraska's young defense in 2014, and if quarterback Tommy Armstrong makes a significant jump in the offseason, the offense could be really good, too. But Bo Pelini's team is going to have to get some work done on the road in league play to get back to the Big Ten championship game.
December, 12, 2012
12/12/12
9:00
AM ET
Head coaches are like quarterbacks. They get too much credit and too much blame.
Assistant coaches are like nose tackles. They don't get nearly enough credit despite playing vital roles.
Today, we'll change it up and give some recognition to Big Ten assistant coaches who did exemplary jobs with their position groups or, in some cases, units in 2012. Each of these coaches fostered improvement this season. Some took units in bad shape and made them better. Others took units in decent shape and made them very good. Some entered the season with skeptics and quieted them.
We came up with 13 assistants who deserve recognition. Yes, we realize we're leaving out some quality folks, but we had to cap it somewhere and wanted to spread the love around to the different teams.
Here's the rundown in alphabetical order:
Chris Ash, Wisconsin, defensive coordinator/secondary:
All the attention on the offense's turbulent season took the spotlight away from the good things happening on the defensive side. Wisconsin finished in the top 25 nationally in total defense, scoring defense, rushing defense and pass efficiency defense. The Badgers held nine opponents to 21 points or fewer and gave an inconsistent offense chances to win every time out. Ash will be missed as
he joins ex-Wisconsin coach Bret Bielema at Arkansas
.
[+] Enlarge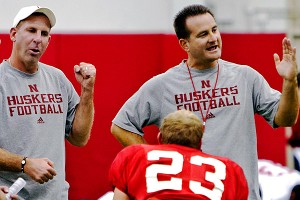 AP Photo/Nati Harnik, FileTim Beck, right, coordinated Nebraska's Big Ten-leading offense for head coach Bo Pelini.
Tim Beck, Nebraska, offensive coordinator/quarterbacks:
The second-year play caller oversaw the Big Ten's top offense, which averaged 462.2 yards per game (24th nationally) and 35.1 points per game (28th nationally). Junior quarterback
Taylor Martinez
made significant strides under Beck's watch, and Nebraska survived the loss of star running back
Rex Burkhead
for most of the season thanks to contributions from
Ameer Abdullah
and others.
Tracy Claeys, Minnesota, defensive coordinator:
An improved defense sparked Minnesota to a 4-0 start and eventually to bowl eligibility for the first time since the 2009 season. The Gophers pass rush showed life for the first time in years as senior end
D.L. Wilhite
and others put pressure on opposing quarterbacks. Minnesota was especially good against the pass, ranking 11th nationally and 20th in pass defense efficiency. Although the offense remains a work in progress, Minnesota should be pleased with the direction on defense under Claeys.
Adam Cushing, Northwestern, offensive line:
Cushing's recruiting ability always has stood out, but his coaching skills had been questioned as Northwestern struggled to convert promising line prospects into powerful blockers. The Wildcats went from a finesse offense to a power offense this season, blasting off of the line to the tune of 230.9 rush yards per game. Red zone offense went from a weakness to a strength as Northwestern tied for 17th nationally. Cushing's line paved the way for star running back
Venric Mark
.
Rich Fisher, Nebraska, wide receivers:
Nebraska isn't known for its wide receiver play, but things are changing under Fisher's watch. Led by standout sophomore
Kenny Bell
, the Huskers' top three receivers combined for 1,657 yards and 11 touchdowns on 115 receptions. Just as important, the receiving corps helped Nebraska's bread-and-butter run game with
effective blocking throughout the season
. Fisher's hiring after the 2010 season raised some eyebrows, as he had taken a break from college coaching, returned to the high school ranks and also served as a
golf instructor in Massachusetts
. But he definitely looks like a great addition to Bo Pelini's staff.
Patrick Higgins, Purdue, wide receivers:
Higgins played a significant role in Purdue's late-season surge, as he took over the offensive play-calling duties after coordinator Gary Nord suffered a severe back injury. Purdue won its final three games with Higgins and head coach Danny Hope handling the play calls. Higgins also did a nice job with Purdue's wide receiving corps, despite the fluctuating quarterback situation. Three veteran Boilers receivers eclipsed 40 catches and 300 receiving yards, and redshirt freshman
Dolapo Macarthy
showed promise.
Seth Littrell, Indiana, offensive coordinator/tight ends/fullbacks:
Head coach Kevin Wilson brought in Littrell to boost Indiana's passing attack, and Littrell delivered despite losing starting quarterback
Tre Roberson
in Week 2. Indiana went from 80th nationally in pass offense to 19th, leading the Big Ten with 311.2 yards per game. With help from assistant offensive coordinator/quarterbacks coach Kevin Johns, Littrell managed the quarterback situation pretty well as both
Cameron Coffman
and
Nate Sudfeld
had success. Littrell will go largely unnoticed because of Indiana's low profile and 4-8 record, but he was one of the Big Ten's best coaching additions for 2012.
Curt Mallory, Michigan, secondary:
Michigan's defensive line dominates the spotlight because that's where coordinator Greg Mattison and head coach Brady Hoke put their primary focus, but Mallory has done a really nice job with a secondary that struggled mightily under the previous regime. Despite losing promising cornerback
Blake Countess
to a
torn ACL in the season opener
, Michigan still finished second nationally (behind Nebraska) in pass defense (155.2 ypg allowed). Safety
Jordan Kovacs
has blossomed under Mallory's watch, and while the depth in the secondary isn't where it will be eventually, Mallory has managed things well.
[+] Enlarge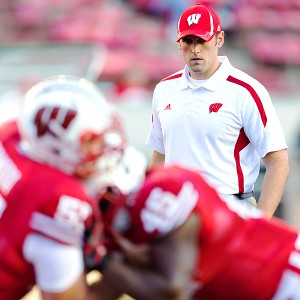 Jeff Hanisch/USA TODAY SportsBart Miller went from grad assistant to coach of a Wisconsin O-line that pummeled its way to Pasadena.
Bart Miller, Wisconsin, offensive line:
Miller began the season as a graduate assistant and moved into one of the team's top assistant roles in Week 3 after the surprising dismissal of veteran line coach Mike Markuson. Although Wisconsin's line didn't have its typical dominant performances every time out, Miller fostered obvious improvement and cohesion during the course of the season. The finished product showed up in the Big Ten championship game against Nebraska, as Wisconsin bullied the Huskers to the tune of 70 points, 539 rushing yards and eight rushing touchdowns.
Reese Morgan, Iowa, defensive line:
Iowa didn't have much to cheer about in 2012, and some of the staff changes Kirk Ferentz made led to some growing pains. Morgan faced a significant challenge in moving from offensive line to defensive line, which returned only a handful of players who had logged field time in 2011. Given the youth and inexperience along the Hawkeyes' defensive front, Morgan did a nice job in Year 1.
Joe Gaglione
had a nice senior season (9 tackles for loss, 5 sacks, 2 forced fumbles) and young players like
Louis Trinca-Pasat
showed promise. The line held its own in the first half of the season before struggling late.
Pat Narduzzi, Michigan State, defensive coordinator:
Many of these assistants took questionable units and improved them. Narduzzi led an elite defense that entered the season with high expectations and met them. Make no mistake: Michigan State's defense is the only reason the team found itself in every game this season. The Spartans had a few standouts, namely linebacker
Max Bullough
, but their overall team defense and stinginess stood out. Narduzzi is one of the nation's premier coordinators and should land a head-coaching job in the near future.
John Strollo, Penn State, tight ends:
Although O'Brien's offense is a tight end's dream, Strollo did a terrific job of developing young and unproven players this season. Redshirt freshman
Kyle Carter
emerged into one of the Nittany Lions' top passing threats, and junior
Matt Lehman
and true freshman
Jesse James
also stepped up at times. Of Penn State's top five receiving-yards leaders this season, three players are tight ends (Carter, Lehman and James).
Ed Warinner, Ohio State, offensive line/co-offensive coordinator:
Warinner took an underachieving Buckeyes offensive line with serious depth questions and turned it into quite possibly the best line in the league. The Buckeyes' front five turned a corner in Big Ten play and created lanes for
Braxton Miller
,
Carlos Hyde
and the Big Ten's top scoring offense. Warinner was the Big Ten's best assistant hire of the last offseason and earns our vote as the league's top assistant in 2012.
October, 22, 2012
10/22/12
2:20
PM ET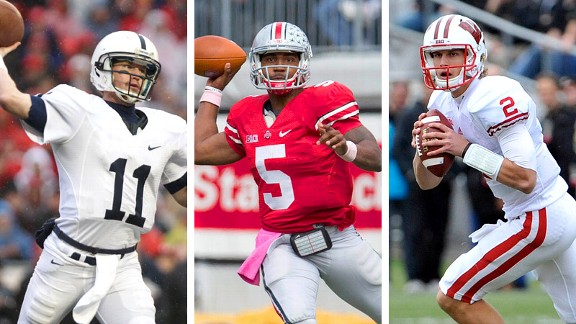 US PresswireThe recent performances by (L to R) Penn State's Matt McGloin, Ohio State's Braxton Miller and Wisconsin's Joel Stave give the Big Ten some hope for improved quarterback play.
Of the many theories to explain the Big Ten's collective struggles this season, the one about the league's dearth of elite quarterbacks certainly rings true.
Through eight weeks, the Big Ten has just one quarterback ranked among the nation's top 30 in pass efficiency (Nebraska's
Taylor Martinez
at No. 15). The league has just one quarterback in the nation's top 30 in completions per game (Penn State's
Matt McGloin
at No. 19). The league has zero quarterbacks ranked in the nation's top 30 in total passing yards.
As former
Ohio State coach Earle Bruce told me last month
, "A team can't get cut short at that position. I don't know whether the evaluation of the quarterbacks has been wrong, or they had injuries or whatever, but the quarterback position is down in the Big Ten. There's no doubt about that."
Bruce is right. There's no doubt. But there's also hope on the horizon for a league that hasn't had a quarterback selected in the first round of the NFL draft since 1995 (Penn State's Kerry Collins).
The Early Offer: March 5
BIG TEN SCOREBOARD
Saturday, 12/21
Monday, 12/23
Tuesday, 12/24
Thursday, 12/26
Friday, 12/27
Saturday, 12/28
Monday, 12/30
Tuesday, 12/31
Wednesday, 1/1
Thursday, 1/2
Friday, 1/3
Saturday, 1/4
Sunday, 1/5
Monday, 1/6