Penn State Nittany Lions:

Sean Corcoran
July, 19, 2013
7/19/13
11:00
AM ET
Welcome to NittanyNation's mailbag! We asked you to tweet or email your questions, and we've selected three to answer in-depth this week.

Jim Murphy writes: How will Brad Bars' injury impact depth for the Lions this season? Was he poised for significant playing time?

Josh Moyer: He had high expectations back in February. I last talked to a smiling Bars during Thon weekend, when he volunteered to show host families around the football building. He said this at the time: "I feel like this is the season I'm going to take my game to another level. My expectations have risen a lot. ... I expect to be a key player on the team this year."
June, 13, 2013
6/13/13
3:19
PM ET
Penn State released an updated depth chart today and, although quarterback remains a question mark, some positions certainly became clearer.
Here's a closer look at some of the notable changes:
1. Lots of movement in the secondary.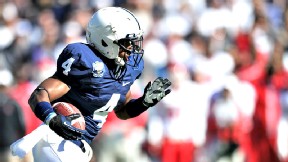 Cal Sport Media via AP ImagesA starting cornerback last season, Adrian Amos currently tops the depth chart at safety.
Adrian Amos
is the top DB for the Nittany Lions, and he shined at cornerback last season. The versatile player practiced a lot at safety this offseason, though, and the depth chart now lists him as a starting safety alongside ... well, apparently, the other starter still isn't a lock.
Stephen Obeng-Agyapong
, who started last season, is listed as Amos' backup. The other starter isn't yet decided, as Bill O'Brien put the "OR" next to
Malcolm Willis
' name, meaning a competition is still under way between him and walk-on-turned-scholarship athlete
Ryan Keiser
.
At cornerback, which saw Amos and the graduated Stephon Morris as the 2012 starters, there are two new names to watch. Sophomore
Jordan Lucas
grabbed one starting spot, while wideout-turned-corner
Trevor Williams
is listed at the other.
Da'Quan Davis
is Lucas' backup.
2. TE-turned-OT Garry Gilliam is now up to 305 pounds.
That's a huge turnaround in less than a year. He played the role of blocking TE last year and started the season at 262 pounds. So, in about 10 months, he's gained 43 pounds. That says quite a bit about PSU's strength and conditioning program. He's currently listed as Dononvan Smith's backup at left tackle.
3. Kyle Baublitz will start alongside DaQuan Jones at DT.
Redshirt freshman
Austin Johnson
received a lot of praise over the spring, and he seemed poised to grab the starting spot. But the more-experienced Baublitz is instead part of the first-string lineup.
Baublitz played in six games last year, and the most recent roster puts him at 286 pounds -- 32 pounds lighter than Jones and 11 pounds lighter than Johnson. He had two tackles and one sack last year.
4. The long-snapper is ... MLB Glenn Carson?
At least for now, it is.
Sean Corcoran
is an incoming run-on who's expected to compete for the starting snapping jobs, so Carson's name there could be short-lived.
5. Bill Belton remains the No. 2 RB, while Brandon Moseby-Felder will still start opposite WR Allen Robinson.
Neither was a big surprise, but there were questions surrounding both players.
Akeel Lynch
is the no. 3 RB, while
Eugene Lewis
-
Matt Zanellato
are the receiving backups. (Lewis should still see a considerable amount of time on the field, obviously.)
Moseby-Felder nursed a leg injury last season, which slowed him down in the early going, and he could be a nice surprise this season. Early enrollee
Richy Anderson
might have garnered his share of pats on the back, too, but he's listed as a fourth-stringer. A redshirt could be in his future.
6. Charles Idemudia is the non-scholarship LB to watch.
Yes, the starting lineup is still
Mike Hull
-Carson-
Nyeem Wartman
... but that was never really in doubt. With just five scholarship linebackers on the roster -- six once
Brandon Bell
gets on campus -- a walk-on was poised to see some time.
PSU's players threw around a couple names, such as
Adam Cole
and Matthew Baney, but Idemudia is the only non-scholarship LB listed on the depth chart.
7. Kick/punt returners listed.
PSU tried a few different players on special teams last season. But as of now Belton and
Alex Kenney
are listed as the top-two kick returners, with
Jesse Della Valle
as the top punt returner. Those three had the most kick/punt returns last season, so it's not a huge shock to see those names again. One interesting change, though? Anderson is the No. 2 PR.
February, 12, 2013
2/12/13
9:00
AM ET
Every weekday, as part of an ongoing series, NittanyNation will take a closer look at a Penn State walk-on.
Vitals:
LS
Sean Corcoran
, Kankakee (Ill.) Bishop McNamara, 6-foot-2, 210 pounds.
To continue reading this article you must be an Insider
February, 11, 2013
2/11/13
12:31
PM ET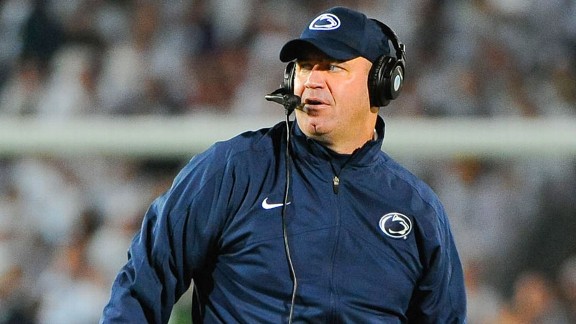 Rich Barnes-USA TODAY SportsBill O'Brien is building a base for the future with PSU's run-on program.
STATE COLLEGE, Pa. -- Bill O'Brien has constantly emphasized the importance of his run-on program, and his hope is this will allow him to add needed depth during a time of sanctions and scholarship reductions.

Penn State's head coach said last week he was hoping to add about 20 walk-ons, and the count currently stands at 21. NittanyNation is aware of a handful of recruits that PSU is either still considering or who are just awaiting acceptance into the school.
But most of this run-on class is already in the books. Here's a list -- complete with film and notes -- of the players on defense and special teams who have committed as run-ons.
To continue reading this article you must be an Insider
February, 3, 2013
2/03/13
3:08
PM ET
With the Super Bowl just a few hours away, NittanyNation decided to poll some of Penn State's committed run-ons to get their take on the game. We asked for them to give the winner, the score -- and their reasoning.
Overwhelmingly, it appears as if Penn State's preferred walk-ons believe the San Francisco 49ers will win the Super Bowl. And the consensus is by a field goal:
WR Gregg Garrity Jr., Wexford (Pa.) North Allegheny: 49ers, 27-17. No answer for Kaepernick and not enough weapons for Baltimore. San Fran will shut down Ray Rice, forcing them to pass. Flacco will have a long day.
QB Jack Seymour, Indianapolis (Ind.) Park Tudor: Ravens, 31-24. I think Flacco is a much better overall quarterback with a really efficient offense that played really well in the past playoff games. He's really stepped up and shown himself to be an elite quarterback. I also picked them because Ray Lewis will carry their defense and is their source of motivation. And he will stop at nothing to win. Ravens all the way! This will be San Francisco's first-ever loss in a Super Bowl!
WR Chris Geiss, Malvern (Pa.) Great Valley: 49ers, 27-24. I don't think the Ravens' D can stop the option.
OG Evan Galimberti, State College (Pa.): 49ers, 27-13. I just think the defense of the 'Niners is too good and Kaepernick could outrun the Ravens.
LS Sean Corcoran, Kankakee (Ill.) Bishop McNamara: 49ers, 27-24. I think their pistol offense is extremely dangerous, and I think their defense will be able to stop Ray Rice to make the Ravens too reliant on the pass game. But I'm still rooting for Corey Graham and Brendon Ayanbadejo on the Ravens because they're former Bears!
LB Kyle Searfoss, Lewisberry (Pa.) Red Land: 49ers, 24-17. Their defense is too good, and Colin Kaepernick is too good.
S Tom Pancoast, Kennett Square (Pa.) Unionville: 49ers, 24-21. Colin Kaepernick has a big game and wins Super Bowl MVP.
K Chris Gulla, Toms River (N.J.) Toms River North: Ravens, 24-21. I'm thinking a little game-winner from Justin Tucker.
RB Brian Tomasetti, Scranton (Pa.) Old Forge: Ravens, 24-20. Their defense is too good. Kaepernick is going to get shut down, and I believe Joe Flacco will have the game of his life. Position-by-position, I feel the Ravens are better -- especially at running back with Ray Rice. Also, Ray Lewis will not lose his last game.
RB Cole Chiappialle, Beaver Falls (Pa.) Blackhawk: 49ers, 27-24. As a diehard Steelers fan, I will be rooting for the 49ers. No way I will cheer for the Ravens!
SB Von Walker, Mill Hall (Pa.) Central Mountain: 49ers, 24-17. Ravens can't stop Gore running or the Kaepernick passing attack.
OT Austin Fiedler, Turbotville (Pa.) Warrior Run: No idea. I think the score for each team will be in the high 20s, and it will be very close -- within six points. OK, I don't really know who will win. Both teams have a lot going for them. The Ravens have the bigger fan base, and that will give somewhat of a homefield advantage. But, on the other hand, I think the 49ers are overall a more solid team. I can't wait to watch the game actually, even though I'm not a big NFL fan.
October, 11, 2012
10/11/12
9:00
AM ET
Sean Corcoran (Kankakee, Ill./Bishop McNamara) usually returned home from school last October, relaxed on his recliner and played some Assassin's Creed.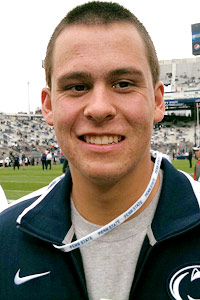 Josh Moyer/ESPN.comKankakee, Ill., long snapper Sean Corcoran will fulfill a dream when he joins Penn State as a preferred walk-on next season.
Sometimes, his mind wandered about what college he would apply to. Sometimes, he thought about different majors in medicine. But, as a 210-pound long-snapper, he never imagined he would play football at a Division I college.
And the 2013 prospect certainly never envisioned himself committing to Penn State as a preferred walk-on -- or being told he would compete for the starting job next season.
To continue reading this article you must be an Insider
BIG TEN SCOREBOARD
Thursday, 9/3
Friday, 9/4
Saturday, 9/5
Sunday, 9/6
Monday, 9/7