Penn State Nittany Lions:

sanctions
September, 25, 2013
9/25/13
5:30
PM ET
STATE COLLEGE, Pa. -- The afterglow of reduced sanctions has faded here in Happy Valley.
Tuesday afternoon classes filled with chatter about the
restoration of Penn State scholarships
, but the wave of surprise and satisfaction has died down.
Former players, fans and alumni are pleased with the NCAA's most recent move. That much is obvious. But an overwhelming number of people labeled it as simply not good enough. It's cause to smile but not to celebrate.
[+] Enlarge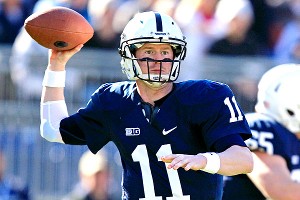 AP Photo/Gene J. PuskarFormer Penn State QB Matt McGloin is pleased with the NCAA's decision, but he wants more.
"I was really excited for Coach [Bill] O'Brien and the program, but I was kind of still pissed off because I feel like the NCAA is just taking baby steps toward things," said Stephon Morris, who played cornerback for Penn State last season. "They know they're wrong -- we all know they're wrong -- so why not give us everything we deserve? I feel like they could do more than what they're doing."
The town's opinion of the NCAA hasn't changed. Some students still strolled downtown, backpacks slung over their shoulders, with blue T-shirts that depict the letters "NCAA" with the "C" angled into a hammer and sickle. "National Communist Athletic Association," the shirts read.
Stop a Penn State student, ask about the reduction in sanctions, and you're almost begging to first hear a soliloquy on everything that's wrong with the NCAA and its president, Mark Emmert. Students and fans are quick to say they don't mean to diminish the atrocities of former defensive coordinator Jerry Sandusky -- but they add he doesn't reflect the university and didn't offer a competitive advantage.
They say the NCAA overstepped into a criminal matter. And a reduction in sanctions is simply a door-prize for being wronged themselves.
"With the scholarships, yeah, I'm happy about it. I'm happy we give out money for kids to play football," said Penn State senior Tyler Bodnar, a meteorology major. "But it seems like they're kind of like, 'Oh we screwed up. We didn't mean to come down that hard.'
"We feel like we're still getting punished for something we had no hand in -- and neither did the players, neither did the coaches, neither did the community."
In the HUB-Robeson Center -- a popular glass-and-brick building where students can dine quickly on cheap pizza, grab a latte and leach off free WiFi -- students read books quietly on the second floor Tuesday evening and again Wednesday afternoon. Some studied on the bustling first floor, while overheard conversations centered on a criminal justice class and dorm-room drama.
The theme of student discussion did not revolve around the NCAA's most recent move, of allowing PSU 75 scholarships next season, as opposed to the original cap of 65, and putting PSU at the full allotment of 85 scholarships by 2016. Four of 10 interviewed students Tuesday evening hadn't even heard of the reduction.
Three thousand miles away, in the confines of Oakland, Calif., Oakland Raiders quarterback Matt McGloin was well-aware of the move. McGloin, the former walk-on and O'Brien protege, sat in the Penn State players' lounge last July 23, when Emmert strolled up to the podium on TV and recited the crushing sanctions.
Emmert glanced up from his notes every few moments, without a change in facial expression. At Penn State some players, mostly the freshmen and sophomores with their entire college careers in front of them, just cried. The upperclassmen, McGloin remembered, just seethed with anger and frustration.
"To watch him on TV, you could see it in his face -- how it meant nothing to him to hand all this out. It meant nothing to him," McGloin said Tuesday night. "That's what got guys so frustrated."
The reduction doesn't make up for that day, McGloin continued, but the news of extra scholarships was still something he was pleased with -- even if he wasn't so sure about the NCAA's motive.
"I'm optimistic about the situation and want to say it's the first step toward something great. At least they're doing something about it," he said. "But, at the same time, I'm starting to think that maybe the direction they're heading is, 'Hey, let's give them something small just to shut everybody up and shut these people up so it makes it look like we're doing something.' That's my only concern with it."
Penn State senior Allen Sheffield, president of the group of student campers known as "Nittanyville," understands where McGloin's coming from. Sheffield still remembers mowing the grass, washing laundry and taking out the trash before reclining on his couch last July 23 to watch the sanctions beside his father.
The shock, anger and potpourri of emotions didn't wane because of a recent NCAA announcement. One student felt it was as if a company cheated them out of $1 million and then tossed them a $100,000 settlement. Of course they're still angry. Of course they think that's not enough.
Nittany Nation took to social media to express their surprise and contentment over the restoration of scholarships. But that happiness had about the same shelf life as milk left out in the sun.
"Twitter tells everything," Sheffield said Wednesday afternoon. "My timeline from the first couple hours was just like boom-boom-boom. And then, later on, no one's really talking about it."
Some fans are still organizing and calling for the Board of Trustees to resign. Cars are still cruising through the downtown with "409" bumper stickers -- a nod to Joe Paterno's 409 wins, 111 of which were vacated as part of the sanctions. And message board posters are still questioning the validity of points made in the Freeh Report.
Happy Valley lived up to its namesake for a few hours Tuesday. But now it's as if the reduction never happened. The community isn't happy -- and might not be until Emmert can say there's no culture problem or the sanctions are erased.
"What they've given us is great and all," McGloin said. "But I guess I'd have to agree with Steph [Stephon Morris]. It's just not enough yet."
August, 1, 2013
8/01/13
4:34
PM ET
Bill O'Brien joined Ivan Maisel for the ESPNU College Football Podcast and addressed a multitude of issues, ranging from the sanctions to the leadership to the quarterbacks (and even
John Urschel
, too).
Maisel asked early on whether O'Brien hoped the sanctions would be reduced.
"Life's about hope," O'Brien said with a laugh. "I hope, yeah.
"... Down the road, hopefully something does happen. But, right now, what we try to do every day is work under the rules in which we have to play under. And that's kind of the challenge of it. And if you were sitting in our staff meetings the last couple weeks, it's an interesting challenge. And who knows where that road is going to lead because it's unprecedented? But it's been kind of fun to navigate the waters, that's for sure."
You can listen to the entire podcast right here.
July, 23, 2013
7/23/13
1:10
PM ET
Exactly one year ago today, Mark Emmert announced unprecedented sanctions against Penn State.

One year later, those penalties are still being debated -- as is the NCAA's inconsistent punishments. ESPN took a closer look at the enforcement issues the NCAA is facing with cases such as Penn State's.
January, 29, 2013
1/29/13
12:46
PM ET
Bill O'Brien knew he wanted to focus on Penn State's run-on program months before the sanctions even hit.
He spent winters in New England watching
Danny Woodhead
and
Wes Welker
-- two unheralded players out of high school -- and saw them improve and contribute more as the season wore on. Forget recruiting rankings. Forget the pack mentality. O'Brien thought he could find some diamonds in the rough as run-ons, relative unknowns who could help this team win.
When those sanctions did finally hit, leading to fewer scholarships, O'Brien knew the run-on program would be more important than ever. His staff hit the recruiting trail hard and followed every lead it could.
This staff's effort helped uncover prospects such as prep quarterback
D.J. Crook
, who emailed the staff without any expectation he'd get a response. And, with the help of recruits like Crook, O'Brien is hoping to ensure this program remains one of the country's best.
Click here to read the story
January, 11, 2013
1/11/13
11:00
AM ET
Every week, NittanyNation will pose five questions to a recruit, player, alum or coach about all things Penn State.

This week's subject is Tim Freeman, a PSU offensive tackle from 1985 to 1989. This week's edition of "5 Questions" is slightly different, in that Freeman will answer five questions based around one theme: Gov. Tom Corbett's lawsuit against the NCAA.

Freeman drove from New Jersey last week to stand behind Corbett during the announcement of the lawsuit. The PSU alum, a youth coach, has three children of his own and feels strongly about the sanctions.

NittanyNation: We talked before, and you told me you didn't think the NCAA should have brought these sanctions against Penn State -- so why do you think they chose to do so in the first place?

Tim Freeman: I think there was a huge reaction as a result of children being harmed -- and the reaction was exactly what it should have been, in terms of people being outraged. So I think that's why the NCAA acted the way they did.

But I would say they actually had a tremendous amount to gain. If you have a very powerful institution and one of the members has an issue, that trade organization can gain a significant amount of power they might not have necessarily been delegated. ... I feel strongly this is a criminal matter, and this is a matter that can only be handled by our judicial system. This is not a matter that the NCAA is capable of handling. They don't have the people who are capable of sorting this out.


January, 3, 2013
1/03/13
3:00
PM ET
NittanyNation takes a look at some of the excerpts that stand out in the
43-page lawsuit
that Pennsylvania Gov. Tom Corbett filed against the NCAA on Wednesday, in hopes to get Penn State's sanctions overturned:
Page 4 -- The NCAA took the public position that its unique and unprecedented actions were necessary to correct a "culture" at Penn State that improperly exalted the football program to a position of "deference" and "reverence" within the university. While the role of football and other high-profile sports on college campuses is certainly a legitimate subject for debate, the notion that this phenomenon is in any way unique to Penn State defies credulity.
Page 25 -- Division I college football is a huge generator of revenue for participating institutions, and virtually all "football schools" treat their football coaches and programs with "deference" and "reverence." The NCAA, of course, contributes directly to this "culture" by permitting and condoning lucrative television and apparel contracts for its major conferences and institutions, outsourcing its postseason to for-profit entities such as bowl games and the Bowl Championship Series, and allowing the contests between its most skilled "student-athletes" to become national prime time entertainment on a weekly basis.
Page 38 -- The role that a championship-caliber football program can play in the health of a university has been articulated by Dr. Emmert himself, who, as chancellor of Louisiana State University in 1999, defended the hiring of big-name football coach at a seven-figure salary by saying, "Simply put, success in LSU football is essential for the success of Louisiana State University."
Page 29 -- [A]t least ten Penn State football players transferred from Penn State, taking advantage of the NCAA's sanction that allowed them to play immediately for competing schools. At least five football recruits severed their commitments to Penn State. Like children looting a newly broken pinata, competing colleges and universities promptly snapped up the newly available football players, strengthening their own football programs at the expense of the one the NCAA had conspired to decimate.
Pages 19-20 -- On November 17, 2011, Dr. Emmert issued a letter to Penn State President Rodney Eirckson demanding Penn State's production of information related to the grand jury indictment. After issuing the letter, Dr. Emmert posted it on the NCAA's website, itself a departure from the NCAA's long-standing tradition of not publicizing its commencement of investigations against its member institutions: This disciplinary action would be different, and Dr. Emmert wanted everyone to know it.
Page 15 -- The fact that the alleged actions of those involved in the tragic events at Penn State were criminal, and that no violations of NCAA rules had been identified, would not dissuade Dr. Emmert from seizing upon the international publicity that the Penn State matter had instantly attracted to make a show of unprecedented and aggressive discipline -- discipline that he, with the input of a handful of university presidents and chancellors, would determine and impose. Once and for all, the NCAA would shed the reputation of being soft on discipline, even if doing so meant ignoring the existing NCAA rules and processes that its member institutions justifiably expected and to which they were entitled.
January, 3, 2013
1/03/13
9:00
AM ET
NittanyNation takes a look at news and reaction from Pennsylvania and around the country on Gov. Tom Corbett's decision to file a lawsuit against the NCAA in hopes to get Penn State's sanctions overturned.
January, 2, 2013
1/02/13
7:06
PM ET
ESPN.com senior writer/legal analyst Lester Munson tackles some tough questions in a FAQ designed to give readers a better understanding of just what's going on in Pennsylvania Gov. Tom Corbett's lawsuit against the NCAA.
Munson writes that the lawsuit will likely be dismissed early because of two basic legal rules, explains why, talks about Corbett's legal theory and what the next steps in this lawsuit are.
Click here to read the story
January, 2, 2013
1/02/13
1:30
PM ET
STATE COLLEGE, Pa. -- Gov. Tom Corbett took the podium Wednesday, railing against the NCAA for overstepping its authority and announcing a federal lawsuit against the organization.
The
43-page lawsuit
was filed Wednesday and seeks to repeal Penn State's sanctions. NCAA vice president and general counsel Donald M. Remy responded in a statement and said he was "disappointed" with Corbett's decision.
Penn State is not part of the lawsuit, and Corbett said he waited this long to fully research the situation and because he didn't want to interrupt the football season.
"If the state of Pennsylvania thinks it's the best decision, it's what they're going to do," Penn State quarterback
Matt McGloin
said. "We appreciate everything they're doing now and everything the alumni have done for us."
Click here for the full story
BIG TEN SCOREBOARD
Thursday, 9/3
Friday, 9/4
Saturday, 9/5
Sunday, 9/6
Monday, 9/7