Penn State Nittany Lions:

run-ons
June, 20, 2013
6/20/13
5:02
PM ET
NIttanyNation's Josh Moyer talks to 2013 run-on OL Evan Galimberti about the opportunity he has at Penn State and what strengths he believes he possesses.
February, 11, 2013
2/11/13
12:31
PM ET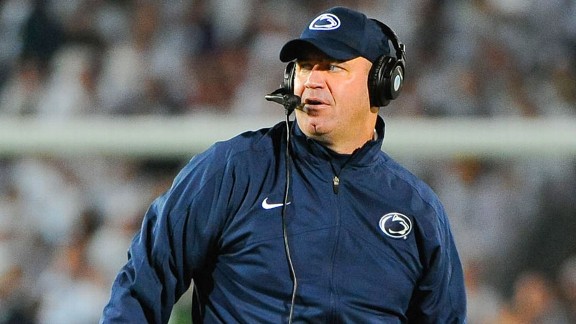 Rich Barnes-USA TODAY SportsBill O'Brien is building a base for the future with PSU's run-on program.
STATE COLLEGE, Pa. -- Bill O'Brien has constantly emphasized the importance of his run-on program, and his hope is this will allow him to add needed depth during a time of sanctions and scholarship reductions.

Penn State's head coach said last week he was hoping to add about 20 walk-ons, and the count currently stands at 21. NittanyNation is aware of a handful of recruits that PSU is either still considering or who are just awaiting acceptance into the school.
But most of this run-on class is already in the books. Here's a list -- complete with film and notes -- of the players on defense and special teams who have committed as run-ons.
February, 11, 2013
2/11/13
12:30
PM ET
Here's a list -- complete with film and notes -- on Penn State's offensive run-ons.
To continue reading this article you must be an Insider
February, 3, 2013
2/03/13
3:08
PM ET
With the Super Bowl just a few hours away, NittanyNation decided to poll some of Penn State's committed run-ons to get their take on the game. We asked for them to give the winner, the score -- and their reasoning.
Overwhelmingly, it appears as if Penn State's preferred walk-ons believe the San Francisco 49ers will win the Super Bowl. And the consensus is by a field goal:
WR Gregg Garrity Jr., Wexford (Pa.) North Allegheny: 49ers, 27-17. No answer for Kaepernick and not enough weapons for Baltimore. San Fran will shut down Ray Rice, forcing them to pass. Flacco will have a long day.
QB Jack Seymour, Indianapolis (Ind.) Park Tudor: Ravens, 31-24. I think Flacco is a much better overall quarterback with a really efficient offense that played really well in the past playoff games. He's really stepped up and shown himself to be an elite quarterback. I also picked them because Ray Lewis will carry their defense and is their source of motivation. And he will stop at nothing to win. Ravens all the way! This will be San Francisco's first-ever loss in a Super Bowl!
WR Chris Geiss, Malvern (Pa.) Great Valley: 49ers, 27-24. I don't think the Ravens' D can stop the option.
OG Evan Galimberti, State College (Pa.): 49ers, 27-13. I just think the defense of the 'Niners is too good and Kaepernick could outrun the Ravens.
LS Sean Corcoran, Kankakee (Ill.) Bishop McNamara: 49ers, 27-24. I think their pistol offense is extremely dangerous, and I think their defense will be able to stop Ray Rice to make the Ravens too reliant on the pass game. But I'm still rooting for Corey Graham and Brendon Ayanbadejo on the Ravens because they're former Bears!
LB Kyle Searfoss, Lewisberry (Pa.) Red Land: 49ers, 24-17. Their defense is too good, and Colin Kaepernick is too good.
S Tom Pancoast, Kennett Square (Pa.) Unionville: 49ers, 24-21. Colin Kaepernick has a big game and wins Super Bowl MVP.
K Chris Gulla, Toms River (N.J.) Toms River North: Ravens, 24-21. I'm thinking a little game-winner from Justin Tucker.
RB Brian Tomasetti, Scranton (Pa.) Old Forge: Ravens, 24-20. Their defense is too good. Kaepernick is going to get shut down, and I believe Joe Flacco will have the game of his life. Position-by-position, I feel the Ravens are better -- especially at running back with Ray Rice. Also, Ray Lewis will not lose his last game.
RB Cole Chiappialle, Beaver Falls (Pa.) Blackhawk: 49ers, 27-24. As a diehard Steelers fan, I will be rooting for the 49ers. No way I will cheer for the Ravens!
SB Von Walker, Mill Hall (Pa.) Central Mountain: 49ers, 24-17. Ravens can't stop Gore running or the Kaepernick passing attack.
OT Austin Fiedler, Turbotville (Pa.) Warrior Run: No idea. I think the score for each team will be in the high 20s, and it will be very close -- within six points. OK, I don't really know who will win. Both teams have a lot going for them. The Ravens have the bigger fan base, and that will give somewhat of a homefield advantage. But, on the other hand, I think the 49ers are overall a more solid team. I can't wait to watch the game actually, even though I'm not a big NFL fan.
February, 3, 2013
2/03/13
10:00
AM ET
NittanyNation takes a look at this week's Penn State football news and what you might have missed:
January, 29, 2013
1/29/13
12:46
PM ET
Bill O'Brien knew he wanted to focus on Penn State's run-on program months before the sanctions even hit.
He spent winters in New England watching
Danny Woodhead
and
Wes Welker
-- two unheralded players out of high school -- and saw them improve and contribute more as the season wore on. Forget recruiting rankings. Forget the pack mentality. O'Brien thought he could find some diamonds in the rough as run-ons, relative unknowns who could help this team win.
When those sanctions did finally hit, leading to fewer scholarships, O'Brien knew the run-on program would be more important than ever. His staff hit the recruiting trail hard and followed every lead it could.
This staff's effort helped uncover prospects such as prep quarterback
D.J. Crook
, who emailed the staff without any expectation he'd get a response. And, with the help of recruits like Crook, O'Brien is hoping to ensure this program remains one of the country's best.
Click here to read the story
January, 17, 2013
1/17/13
1:00
PM ET
Penn State will have several commits up for weekend visits, but this might be the most important Sunday of the year when it comes to potential preferred walk-ons.
NittanyNation has confirmed that at least eight players who were extended spots on the team as non-scholarship players will be in Happy Valley for "Run-on Day," which will take place from 11 a.m. to 1:30 p.m. Potential walk-ons -- or run-ons, as Bill O'Brien calls them -- will be broken into two groups and will take part in several tours or meetings.
According to recruits, they'll meet with the training staff, coaches and hear about academics. They'll also have lunch together but, due to NCAA rules, recruits will have to pay $10. One prospect said 10 or 11 players received an email with Sunday's itinerary.
To continue reading this article you must be an Insider
BIG TEN SCOREBOARD
Thursday, 9/3
Friday, 9/4
Saturday, 9/5
Sunday, 9/6
Monday, 9/7