Penn State Nittany Lions:

Rodrick Williams
March, 11, 2014
3/11/14
5:00
PM ET
First of two this week. Send your Big Ten football questions
here
. And follow us
on Twitter
.
To the inbox ...

AIS from Madison, Wis., writes:
I seem to remember that Minnesota had a returning 1,000-yard rusher last year in
Donnell Kirkwood
, before he was limited by injuries.
David Cobb
put together a great season in his time as the featured back but had to split carries for a while before separating from
Rodrick Williams
. I'm not a Minnesota fan, but I believe that all three of the runners I mentioned will be back in 2014. Is
Jeff Jones
that
good to expect immediate contributions with a healthy stable of more experienced (and to varying degrees, capable) backs?
Adam Rittenberg:
We'll soon find out, AIS, but running back is a position in which freshmen can contribute immediately, and Jones arrives at Minnesota with more fanfare than any of the other backs. You bring up a good point about Kirkwood, who had 926 rushing yards in 2012 but was largely forgotten after his injury and with Cobb's emergence last year. Williams also quietly averaged 5.5 yards per carry last year. Jones clearly won't walk into a major role. He'll have to earn it. But he had a great senior year and has the talent to produce right away and push older players.
---
Todd from The Land of Chief Illiniwek writes:
On Friday, you said "no thanks" to the idea of a standing major nonconference rivalry game between Nebraska and Missouri, but your counterargument raised an alternative that supports the idea. Nebraska shouldn't play Missouri but rather Big 12 Oklahoma every year. Illinois should play SEC Missouri every year (with hopefully better results than during the Zook era). Iowa should play Big 12 Iowa State. Michigan should play Pac-12 USC. Purdue should play Notre Dame. Penn State should play Pitt. Indiana should play a basketball rival like North Carolina or Kansas? Have Ohio State play Alabama. Maryland and Rutgers should play their biggest rivals from their old conferences, or maybe an annual replay of the Rutgers vs. Harvard birth of American football played on a rugby pitch without pads ...
Adam Rittenberg:
Todd, it's not that simple, and you're missing my larger point. First, trying to get all those schools on board with what amounts to an exclusive nonconference scheduling agreement -- few of them would play another marquee nonleague opponent because of minimum home-game requirements -- is very tough. Remember
the ill-fated Big Ten-Pac-12 scheduling alliance
? You would run into similar issues, especially with a school such as USC, which isn't giving up its annual series against Notre Dame for one with Michigan. The larger point is this model prevents variety in scheduling. Wouldn't fans rather see different marquee opponents every few years than the same group (non-con rival, MAC opponent, other small-conference opponent)? I know I would.
---
Dan from Scottsdale, Ariz., writes:
Adam, what's your take on Tress [Jim Tressel] being included or excluded in the Hall of Fame? As a Buckeyes fan, I enjoy whenever Tress is a topic. He was so dominant in his 10 years and I get a kick when all the haters get worked up. (You, Michigan. 9-1. That's right, 9). And, do you think he will be a head coach again?
Adam Rittenberg:
It's interesting to see him on the ballot, Dan, and it's largely because of his accomplishments at Youngstown State. He's actually listed under "divisional coaches" on
the ballot
, and they're highlighting his achievements at YSU more than those at OSU. Tressel's overall achievements in coaching merit a spot in the Hall of Fame, regardless of how things ended in Columbus. Will he coach again?
Many of those close to him think he will
, but he also really enjoys his administrative position at Akron. I think it all depends on what opportunities come his way.
---

Jeff from Cleveland writes:
Dear Abby (Adam), I am a huge Cats fan, and early reports from spring practice suggest that
Trevor Siemian
has pulled ahead in the QB competition. Recent reports also suggest that Siemian's inconsistent play during last season was largely attributable to injury. While I would like to forget last season and look ahead to the fall, I am still haunted by Siemian's unforgivable pick 6s (Ohio State, Nebraska, Minnesota). Should I forgive and forget, or do I have reason to worry about Siemian's ability to consistently deliver top-level Big Ten QB play?
Adam Rittenberg:
You can't completely forget the past when judging a player, Jeff, but the injury, which made an impact on his footwork on throws, along with poor offensive line play, must be factored into the equation. Siemian has been pretty solid when given time to throw and a system that puts him in position to succeed. Northwestern's two-quarterback system worked in 2012, but I think you'll see a more confident Siemian as the clear starter, especially if the offense goes back to what we saw from 2007-10 (pass heavy). Northwestern has veteran receivers, a good tight end and plenty of options at running back. If the offensive line holds up, Siemian should be improved this fall.
---
Scott from Lebanon, Pa., writes:
I'm a Penn State fan and especially like the trophy games (e.g., Paul Bunyan's Ax, Floyd of Rosedale, etc.) that are played in the B1G. Now that Maryland and Rutgers joined the B1G, I have an idea for two trophy games when they play Penn State. The trophy for PSU vs. Maryland would be the Surveyor's Transit (Mason-Dixon Line) and when PSU plays Rutgers, the trophy would be Washington's Tricorn (Washington crossed the Delaware River, The Battle of Trenton). What do you think?
Adam Rittenberg:
Much bigger fan of
Washington's tricorn
than the other one, Scott, mainly because I'm not sure many people know what the
surveyor's transit
actually is (not a bad-looking item, though). Imagine the pictures players would get wearing that headgear after victories. Maybe Penn State and Maryland could just play for the right to own Delaware?
October, 24, 2013
10/24/13
12:00
PM ET
September, 13, 2013
9/13/13
12:00
PM ET
Don't go camping near a lake today ...

September, 9, 2013
9/09/13
9:02
AM ET
The top half of the Power Rankings remains exactly the same, but some interesting story lines are starting to develop.

Is Ohio State or Michigan the Big Ten's best team? Michigan made its case Saturday night against Notre Dame, while Ohio State's bigger tests await in Weeks 5 and 6 (Wisconsin and Northwestern). For now, we're keeping the Buckeyes at No. 1, but we'll need to see a strong performance this week on the road against Cal's high-powered offense.
Northwestern and Wisconsin held steady, and both Nebraska and Penn State looked better in Week 2. Illinois is the big mover after Saturday's dominant win against Cincinnati, while Indiana, Michigan State and Iowa fall. There's some separation after the top six, and Nos. 7-9 really could appear in any order.
These are consistent with our rankings in the ESPN.com power poll.
Here's one last look at the
previous Big Ten rankings
.
To the rundown …
1. Ohio State (2-0, last week: 1):
Braxton Miller
's knee injury created some tense moments in Columbus, but Ohio State fans settled down and settled in to the smooth sounds of Kenny G (Guiton, that is). One of the nation's best backup quarterbacks torched San Diego State for three touchdowns as a Buckeyes team that sleepwalked through the second half in Week 1 took charge from the get-go. Ohio State's young defense will be tested much more this week by the "Bear Raid" offense at Cal.
2. Michigan (2-0, last week: 2):
Debate the Notre Dame-Michigan rivalry all you want, but
it mattered a lot
for quarterback
Devin Gardner
and the Wolverines. Gardner proved he's a big-game quarterback and triggered an impressive offensive performance against Notre Dame's physical defense. Although Michigan's defense had some issues, it made timely plays against the Irish. The Wolverines have the look of a BCS bowl team and possibly a Big Ten champion.
3. Northwestern (2-0, last week: 3):
Week 1 was all about survival for Northwestern. Saturday night, the Wildcats showed why they should contend for the Legends Division title this season. Quarterbacks
Kain Colter
and
Trevor Siemian
had their way with Syracuse's defense, and wideout
Tony Jones
had a huge night as Northwestern easily improved to 2-0. The Wildcats should be 4-0 in three weeks when Ohio State visits Evanston, and star running back
Venric Mark
should be healthy by then.
4. Wisconsin (2-0, last week: 4):
The run game has been dominant, the defense suffocating and the competition level horrendous. What do we make of these Badgers after two not surprisingly dominant performances against lowly Massachusetts and Tennessee Tech? Wisconsin deserves credit for handling its business with few if any mistakes, recording back-to-back shutouts to open a season for the first time since 1958. Quarterback
Joel Stave
looks comfortable. But the competition goes up -- way, way up -- this week at Arizona State.
5. Nebraska (2-0, last week: 5):
The Huskers defense doesn't deserve the "Blackshirts" label quite yet, but at least the unit avoided less-flattering terms for a week. Cornerbacks
Stanley Jean-Baptiste
and
Ciante Evans
set the tone for a rebound performance with pick-sixes in the first quarter, and junior-college transfer
Randy Gregory
applied pressure all game. The defense needs a better performance this week against UCLA, potentially the only team that can beat the Huskers during the first two months of the season.
6. Penn State (2-0, last week: 6):
After a rough start, freshman quarterback
Christian Hackenberg
settled down in his Beaver Stadium debut. He also got a ton of help from the run game, which had struggled in the opener but broke out for 251 yards and five touchdowns. Tackle
DaQuan Jones
triggered a suffocating Lions defense, which will be tested much more this week when
Blake Bortles
and Central Florida visit Happy Valley.
7. Minnesota (2-0, last week: 8):
Although Aggie Vision was the real highlight Saturday night, Minnesota provided a few of its own in an easy win against New Mexico State. The Gophers continue to find creative ways to score, adding a special teams touchdown and a defensive touchdown in a
44-21 romp
. Despite being short-handed at running back, Minnesota got the ground game going behind Rodrick Williams (148 yards, 1 TD),
David Cobb
(56 yards, 1 TD) and quarterback
Philip Nelson
(122 rush yards, 1 TD). The Gophers have another tuneup this week before their first real test Sept. 21 against San Jose State.
8. Michigan State (2-0, last week: 7):
Can
Shilique Calhoun
play quarterback? The sophomore defensive end has been Michigan State's best offensive weapon in the first two games, scoring one more touchdown than the entire Spartans offense. Michigan State's defense has added a dynamic playmaking element early this season. Unfortunately, the problems on offense only seem to be worsening and the quarterback situation is anyone's guess right now.
9. Illinois (2-0, last week: 11):
Surprise, surprise, the Illini are unquestionably on the rise. Few saw it coming, but Illinois walloped Cincinnati behind another impressive performance by quarterback
Nathan Scheelhaase
and the offense. One of the nation's worst offenses has surged under coordinator Bill Cubit, scoring 87 points in the first two games. Linebacker
Mason Monheim
and the defense rebounded nicely after a shaky Week 1 effort. Can the Illini pull off another upset this week against Washington at Chicago's Soldier Field?
10. Indiana (1-1, last week: 9):
Kevin Wilson
's words last week proved prophetic
as Indiana's offense lacked the efficiency it needed early on against Navy's ball-control offense. But eventually a defense has to make some stops and Indiana's once again couldn't, especially in the closing minutes. The Hoosiers surrendered 444 rush yards in a
41-35 loss
, once again showing that this program hasn't turned a corner. Things get tougher this week as a very good Bowling Green squad comes to Memorial Stadium.
11. Iowa (1-1, last week: 10):
Some Iowa fans undoubtedly felt better about their team after last week's loss to Northern Illinois than Saturday's win against FCS Missouri State. The Hawkeyes had just seven points through the first 37 minutes before
Mark Weisman
(180 rush yards, 2 TDs) took over down the stretch. Quarterback
Jake Rudock
showed good mobility but also threw a pick-six. Iowa faces a must-win this week as it hits the road to face rival Iowa State.
12. Purdue (1-1, last week: 12):
The Boilers got a win Saturday, but they won't win many more if they don't clean up their problems on offense. If Purdue can't punch the ball into the end zone against Indiana State from inside the 5-yard line, what's going to happen against Big Ten defenses? Defensive tackle
Bruce Gaston
had a big day, but the Boilers need many others to elevate their play as Notre Dame visits Ross-Ade Stadium this week.
September, 5, 2013
9/05/13
9:00
AM ET
Ten items to track around Big Ten football in Week 2:

1. House party:
If the second night game at Michigan Stadium is anything like the first, we'll all be thrilled (well, except for those Notre Dame folks). Michigan and Notre Dame
delivered the drama two years ago under the lights
, and the spectacle Saturday night in Ann Arbor should once again be incredible. The teams' past four meetings have all been decided by seven points or fewer (19 points total). The series sadly disappears after the 2014 meeting in South Bend, so enjoy it while it lasts.
2. Rees vs. Gardner:
Notre Dame-Michigan features another appetizing quarterback matchup. While
Tommy Rees
remains a polarizing figure for some Notre Dame fans, it's hard to argue with what he has done against Michigan. Before last Saturday's opener against Temple, Rees' only 300-yard passing performance came against Michigan two years ago, and he led Notre Dame to victory last fall. Rees can stretch the field, as he had more passes of 20 yards or longer against Temple (7) than Everett Golson had in any game last season.
Devin Gardner
was Michigan's leading receiver last year against Notre Dame, but he's firmly entrenched as a quarterback. Gardner has been deadly in the red zone for the Wolverines, converting 19 touchdowns in 22 red zone trips as the starter.
3. Spartans looking for a spark:
Michigan State basically has two more weeks to get its offense right before facing one of the nation's top defenses on the road at Notre Dame. The unit's opening act was highly disappointing, as Michigan State averaged just 3.8 yards per play against a Western Michigan defense that ranked 61st nationally in 2012. Head coach Mark Dantonio has kept mostly quiet about his quarterback situation this week as
four players continue to get reps in practice
. The Spartans need a solution there and at other offensive spots against South Florida, which allowed 56 points to McNeese State in its opening loss.
4. Illini aim to continue big-play ways:
One of the nation's most feeble offenses in 2012 broke out last week against Southern Illinois, as Illinois recorded six plays of 30 yards or longer -- matching its total from all of last season! Senior quarterback
Nathan Scheelhaase
recorded a career-high 416 pass yards and featured weapons like
Josh Ferguson
and
Ryan Lankford
. The question is whether the Illini can come close to that type of production against a much, much tougher opponent in Cincinnati, which held Purdue to one short scoring drive and only 226 yards last week. We'll get a much better gauge about Illinois' offensive progress against Tommy Tuberville's defense.
5. Northwestern's health:
After a mostly injury-free season in 2012, Northwestern already has been bitten by that pesky bug early this fall. The Wildcats will be without starting cornerback
Daniel Jones
(knee) for the rest of the season, putting redshirt freshman
Dwight White
in the spotlight against Syracuse. Top quarterback
Kain Colter
(head) and running back
Venric Mark
(leg) both are questionable for the game. If Northwestern can survive again like it did last week against Cal, it has a chance to get healthy in the next two weeks against weaker opponents before a two-week prep for Ohio State.
[+] Enlarge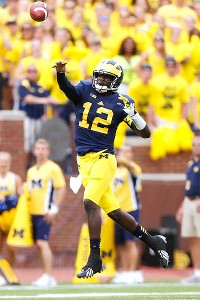 Gregory Shamus/Getty ImagesQuarterback Devin Gardner was 10-of-15 passing for 162 yards with one touchdown and two interceptions in Michigan's season-opening rout of Central Michigan.
6. Roby watch in Columbus:
After playing nine new defensive starters in last week's opener against Buffalo, Ohio State regains a very big piece in All-Big Ten cornerback
Bradley Roby
, who returns from suspension. Coach Urban Meyer wanted Roby to re-prove himself as a starter this week in practice, but it's only a matter of time before the junior distinguishes himself. Ohio State is looking for a cleaner performance in all three phases against struggling San Diego State, and it will be interesting to see how Roby performs.
7. Indiana's offensive efficiency:
Kevin Wilson's Hoosiers scored touchdowns on five of their first six offensive possessions in last week's opener against Indiana State, en route to a Memorial Stadium-record 73 points. If Indiana can come close to that type of efficiency Saturday against Navy, it will improve to 2-0. Possessions likely will be limited against the Midshipmen, as Indiana found out last year when it had only 10 offensive drives in a 31-30 loss. The Hoosiers had to settle for three field goals of 30 yards or less and need to be better about punching it in against Navy. "You don't get as many at-bats," Wilson said.
8. Second chances:
Purdue and Iowa didn't get off to the starts they wanted in Week 1, and neither did Nebraska's defense, which surrendered 35 first downs and 602 yards to Wyoming in the opener. Fortunately, all three teams should redeem themselves against weaker competition on Saturday. The Boilermakers need to boost quarterback
Rob Henry
's confidence and fix their communication problems on offense against Indiana State. Iowa quarterback
Jake Rudock
must rebound from his late interception against Missouri State. The Huskers defense, meanwhile, aims to clean things up against a Southern Miss team that has lost 13 straight and scored just 15 points against Texas State last week.
9. Wolverines' youth put to test:
Don't be surprised if Michigan-Notre Dame comes down to how well the Wolverines' young interior offensive line performs against an elite Fighting Irish defensive front led by nose guard
Louis Nix III
and end
Stephon Tuitt
, two potential first-round picks in next April's NFL draft. Michigan will start redshirt freshman
Kyle Kalis
at right guard, true sophomore
Jack Miller
at center and redshirt sophomore
Graham Glasgow
at left guard. They'll be challenged all night long (especially Miller) as they try to create running room for
Fitzgerald Toussaint
and protect Gardner.
10. Hack's home debut:
Penn State fans have been waiting more than a year and a half to watch quarterback
Christian Hackenberg
take snaps at Beaver Stadium. They'll finally get their chance Saturday as the Lions face Eastern Michigan in their home opener. Hackenberg had a few expected hiccups in his collegiate debut against Syracuse but also showed why he can be such a special player for Penn State's offense. Head coach Bill O'Brien vows to put Hackenberg in better positions to succeed this week. Hackenberg also will have top weapon
Allen Robinson
at his disposal from the start, which should make a big difference.
July, 30, 2013
7/30/13
9:00
AM ET
Every day this week, NittanyNation will continue taking a closer look at a different game this season and how the matchup stacks up for PSU. Up today: Minnesota.
With Jerry Kill at the helm, the Golden Gophers are poised to become bowl regulars -- and could become one of the bigger surprises in the Big Ten this season.
Minnesota was 3-9 in 2010 before Kill took over. Then the former Northern Illinois coach equaled that record in 2011 before doubling the win total in 2012. It's Year 3 for Kill now, and this third year is the one in which Minnesota could take off.
Kill loves to run the ball, but his hopes are inextricably linked with sophomore quarterback phenom
Philip Nelson
, Minnesota's Mr. Football in 2011 who received recruiting interest from the likes of Nebraska and Wisconsin. Nelson experienced a rough rookie campaign, but Minnesota's hopes for a breakout season are tied to just how much he can improve this season.
Minnesota isn't a lock on the Nittany Lions' schedule. Not anymore. It's a wild card, and it's one PSU can't take for granted.
January, 10, 2013
1/10/13
11:00
AM ET
The Big Ten won only two bowl games this season, but several players stood out around the league.
Let's take a look at ESPN.com's Big Ten All-Bowl squad ...
OFFENSE
QB:
Devin Gardner
, Michigan -- There weren't many good choices around the league, but Gardner fired three touchdown passes and racked up 214 pass yards. He has accounted for at least two touchdowns in all five of his starts at quarterback for the Wolverines.
RB:
Le'Veon Bell
, Michigan State -- The nation's ultimate workhorse running back did his thing in his final game as a Spartan. Bell had 32 carries for 145 yards and a touchdown, recording his eighth 100-yard rushing performance of the season. He also threw a 29-yard pass on a pivotal third-down play.
RB:
Rex Burkhead
, Nebraska -- Another back who stood out in his final collegiate game, Burkhead racked up 140 rush yards and a touchdown on 24 carries, and added four receptions for 39 yards. It's really too bad we didn't get to see what Burkhead could have done all season when healthy.
[+] Enlarge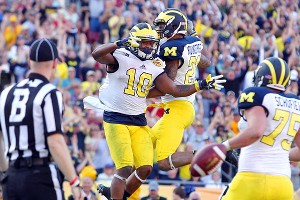 Kim Klement/USA TODAY SportsJeremy Gallon celebrates one of his two touchdown catches against South Carolina.
WR:
Jeremy Gallon
, Michigan -- Gallon recorded career highs in receptions (9) and receiving yards (145), and scored two touchdowns against a strong South Carolina defense in the Outback Bowl. It was his third 100-yard receiving performance of the season.
WR:
Derrick Engel
, Minnesota -- Along with quarterback
Philip Nelson
, Engel provided some hope for Minnesota's future on offense with 108 receiving yards on four receptions in the Meineke Car Care Bowl of Texas. His 42-yard reception marked the third longest of Minnesota's season.
TE:
Dan Vitale
, Northwestern -- The freshman provided offensive balance Northwestern needed against a Mississippi State team that focused on taking away
Venric Mark
and the run game. Vitale recorded team highs in both receptions (7) and receiving yards (82) as Northwestern ended the nation's longest bowl losing streak in the TaxSlayer.com Gator Bowl.
OL:
Taylor Lewan
, Michigan -- Everyone remembers
Jadeveon Clowney
's near decapitation of Michigan's
Vincent Smith
in the Outback Bowl -- which
resulted from a miscommunication
between Lewan and tight end
Mike Kwiatkowski
-- but the Wolverines' left tackle did a good job overall against college football's most dominant defensive lineman. Lewan anchored a line that helped Michigan put up decent numbers against an elite defense.
OL:
Zac Epping
, Minnesota -- Minnesota's offensive line showed flashes of the dominance it displayed for much of the Glen Mason era against Texas Tech. The Gophers racked up 222 rush yards and two touchdowns on 54 carries, as Epping and his linemates opened up holes for
Donnell Kirkwood
,
Rodrick Williams
and
MarQueis Gray
.
OL:
Brian Mulroe
, Northwestern -- Mulroe made his 40th career start and helped Northwestern finally get over the hump in a bowl game. The Wildcats had a balanced offensive attack, avoided the penalty flag and didn't allow a sack against Mississippi State.
OL
:
Cole Pensick
, Nebraska -- Stepping in for the injured
Justin Jackson
at center, Pensick helped the Huskers find success running the ball against Georgia, especially up the middle. Nebraska had 239 rushing yards in the Capital One Bowl.
OL:
Travis Frederick
, Wisconsin: The Badgers rushed for 218 yards against Stanford, which came into the Rose Bowl with the nation's No. 3 rush defense. They also gave up only one sack to a defense which led the FBS in that category. Frederick played very well at center and announced he would skip his junior year to enter the NFL draft a few days later.
DEFENSE
DL:
Quentin Williams
, Northwestern -- Williams set the tone for Northwestern's win with an interception returned for a touchdown on the third play from scrimmage. He also recorded two tackles for loss, including a sack, in the victory.
DL:
William Gholston
, Michigan State -- Another player who stood out in his final collegiate game, Gholston tied for the team lead with nine tackles, including a sack, and had a pass breakup in the Buffalo Wild Wings Bowl win against TCU. The freakishly athletic defensive end stepped up in a bowl game for the second straight season.
DL:
Tyler Scott
, Northwestern -- Scott and his fellow linemates made life tough for turnover-prone Mississippi State quarterback
Tyler Russell
in the Gator Bowl. The Wildcats junior defensive end recorded three tackles for loss, including two sacks, and added a quarterback hurry in the win.
DL:
Ra'Shede Hageman
, Minnesota -- The big man in the center of Minnesota's defensive line stood out against Texas Tech, recording six tackles, including a sack, and a pass breakup. Gophers fans should be fired up to have Hageman back in the fold for the 2013 season.
LB:
Max Bullough
, Michigan State -- Bullough once again triggered a strong defensive performance by Michigan State, which held TCU to just three points in the final two and a half quarters of the Wings bowl. The junior middle linebacker tied with Gholston for the team tackles lead (9) and assisted on a tackle for loss.
LB:
Chris Borland
, Wisconsin -- The Badgers' defense clamped down against Stanford after a slow start, and Borland once again stood out with his play at middle linebacker. The standout junior led Wisconsin with nine tackles as the defense kept the Badgers within striking distance in Pasadena.
LB:
Jake Ryan
, Michigan -- Ryan capped a breakout season with another strong performance in the bowl game, recording 1.5 tackles for loss, a fumble recovery and half a sack. He'll enter 2013 as a top candidate for Big Ten Defensive Player of the Year honors.
CB:
Michael Carter
, Minnesota -- Carter finished off a strong senior year with two interceptions, a pass breakup and seven tackles in the 34-31 loss to Texas Tech.
CB:
Nick VanHoose
, Northwestern: The redshirt freshman picked off a Mississippi State pass and returned it 39 yard to set up the game-clinching touchdown in the fourth quarter.
S:
Jared Carpenter
, Northwestern: The senior was named MVP of the Gator Bowl win with a game-high 10 tackles and a near interception late in the game.
S:
Ibraheim Campbell
, Northwestern: The Wildcats dominate our all-bowl team secondary for good reason. Campbell had an interception and a pass breakup against the Bulldogs.
Specialists
P:
Mike Sadler
, Michigan State -- The punters took center stage in Tempe as both offenses struggled, and Sadler provided MSU with a huge lift in the field-position game. He set Spartans bowl records for punts (11) and punting yards (481), averaging 43.7 yards per punt with three inside the 20-yard line. His booming punt inside the TCU 5 helped lead to a game-turning fumble by the Horned Frogs'
Skye Dawson
.
K:
Brendan Gibbons
and
Matt Wile
, Michigan -- Both kickers share the honors after combining to go 3-for-3 on field-goal attempts in the Outback Bowl. Gibbons, the hero of last year's Sugar Bowl, connected from 39 yards and 40 yards in the first half. Wile hit a career-long 52-yard attempt in the third quarter, setting an Outback Bowl record.
Returner:
Troy Stoudermire
, Minnesota -- It took a bit longer than expected, but Stoudermire finally set the NCAA record for career kick return yards with a 26-yard runback on the opening kickoff against Texas Tech. The senior cornerback finished the game with 111 return yards, including a 37-yard runback, on four attempts.
BIG TEN SCOREBOARD
Thursday, 9/3
Friday, 9/4
Saturday, 9/5
Sunday, 9/6
Monday, 9/7