Penn State Nittany Lions:

Rodney Erickson
May, 20, 2014
5/20/14
5:00
PM ET
It's finally warming up outside, but the Big Ten mailblog is always on fire.
Find us
on Twitter
!
What'cha want?

Kurt from Shawano, Wis., writes:
With the likelihood that the "buy games" for Big Ten Conference teams will cost around or over $1 million, will the conference rethink the "no FCS" game policy? A few points: 1. FCS are cheaper, helping athletic budgets 2. No other "major 5" conference has stated that they will also not play FCS games. 3. Many FCS teams in the Big Ten footprint are ACTUALLY BETTER than low- level FBS teams. North Dakota State and South Dakota State come to mind. 4. Using the threat of playing FCS teams would help to reduce the cost of those FBS buy games. Could this policy change?
Adam Rittenberg:
Good question, Kurt, and I addressed this Tuesday in my B1G numbers piece about
the high cost of home games
. The short answer is no, I don't see the league reconsidering its policy. Commissioner Jim Delany has been firm on the fact that while some FCS teams are excellent, he doesn't like the idea of Big Ten teams with 85 scholarship players playing teams with only 62 or 63. Financially and logistically, the FCS games make sense. But for the most part, they do not make sense competitively.
The Big Ten must do all it can to help its members with non-league scheduling. If things reach a desperate point and we start
seeing Big Ten teams scheduling each other in non-league games
, perhaps then we could see the policy reconsidered.
---

Mike from State College, Pa., writes:
Have you been following the
NCAA/PSU hearing
today? There's some good stuff in the information coming from the trial. Most importantly: NCAA admits to threatening the Death Penalty unless the Consent Decree was signed for the first time, which is in direct conflict with what Mark Emmert & Ed Ray said after the Consent Decree was signed. Someone lied. Good story, no?
Adam Rittenberg:
It's an interesting story, Mark, but it's not a new one. The conflicting statements from Emmert and Ray have been out there practically since the beginning. In fact, here's what Ray
told me the day the sanctions were handed down
:
President Erickson was quoted today as saying that Penn State accepted that deal because if not, you would have decided to suspend play. Can you confirm that?

Ray: I've known Rod for a long time. I didn't hear what he said. I was on a plane flying back to Oregon. But I can tell you categorically there was never a threat made to anyone about suspension of play if the consent decree was not agreed to.
And yet that's exactly what happened, which is not surprising at all. The NCAA had to at least broach the possibility of no games/no season to get Penn State to sign.
---
Rudytbone from Spring, Texas, writes:
I'm surprised that neither you nor Brian has commented on the B1G's snub of Philly with the new league offices in New York. Philly is the obvious geographical location, about equidistant from Rutgers, Penn State, and Maryland. But, they chose NYC. Or is it not a snub, because the plan was to get to NYC any way they could? (Rutgers and the Twerps were just a convenient excuse.)
Adam Rittenberg:
It's not a snub because New York is a much bigger business hub than Philadelphia. The Big Ten can access everyone it needs in New York to grow its brand on the East Coast, and it also has office space in Washington, D.C., for meetings. Rutgers, PSU and Maryland all can easily access the New York office, and more Big Ten officials go through NYC on a regular basis than Philadelphia. Putting full-time staff in NYC was a fairly easy decision for the B1G.
---


DJ from Minneapolis writes:
It seems odd that a conference like the Big Ten that's trying to enhance its image and have a legitimate shot at the playoffs and a national championship game schedules the way it does. Why would a legitimate power like Wisconsin draw both Rutgers and Maryland for crossover games vs. either Ohio State or Michigan while an up-and-coming team like Minnesota gets both? Doesn't this damage Wisconsin's strength of schedule when it comes to the rankings and also potentially cost the B1G a bowl spot by putting a fringe bowl team like Minnesota in danger of not getting to the six-win mark?
Adam Rittenberg:
DJ, that's one way of looking at it, and your point about Minnesota possibly having to scrape for bowl eligibility this season is understandable. But as I've told others, I wouldn't read too much into the crossover schedules for 2014 and 2015. When parity-based scheduling takes effect along with the nine-game league slate, Wisconsin won't have years where it misses all the big boys in the East Division.
Could strength of schedule hurt Wisconsin's playoff chances this year? Maybe, but Wisconsin opens with LSU. A win there puts Wisconsin in the playoff mix. Could the Badgers afford a loss in Big Ten play and remain alive for the playoff? That's tough to see, but few Big Ten teams are going to be able to afford a loss and make the top four this season.
---
Drew from Austin, Texas, writes:
What is the new name of the collection of the best college football teams (Formerly Division 1-A, formerly FBS.)? Certainly it cannot still be referred to as Football Bowl Subdivision considering there is now a playoff?
Adam Rittenberg:
No, the FBS/FCS designations are still around because those divisions are still in place. The term you'll hear more of in the coming years is the Group of Five, which signifies the five major conferences (B1G, SEC, ACC, Big 12 and Pac-12). Technically, all FBS teams are eligible for the upcoming playoff. But a lot of the upcoming NCAA governance changes based around autonomy are linked to the Group of Five.
January, 1, 2014
1/01/14
7:00
AM ET
There's never an ideal time to lose a football coach, especially a bright, successful one like Bill O'Brien. But the timing of
O'Brien's reported departure to the NFL's Houston Texans
appears to be especially unfortunate for Penn State.
It isn't necessarily related to recruiting, although Penn State's 2014 class certainly could be impacted significantly by O'Brien's exit, barely a month before national signing day. It isn't necessarily related to the current players, although key ones such as quarterback
Christian Hackenberg
certainly must reassess their future with the program.
[+] Enlarge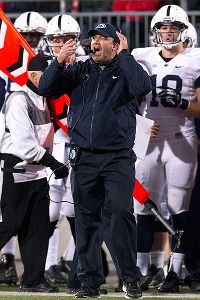 Greg Bartram/USA TODAY SportsWhoever replaces Bill O'Brien at Penn State will go to a school that is losing both its athletic director and president shortly.
The bad timing has more to do with those overseeing the upcoming coach search and the willingness of coveted candidates to buy into Penn State. The problem is that Penn State's football program isn't the only entity at the school with instability at the top. There's the athletic department. And the entire university itself.
Athletic director Dave Joyner and university president Rodney Erickson both were hastily appointed to their posts in 2011 after the child sex abuse scandal broke. Joyner is no longer Penn State's acting AD, but he's only expected to serve until Erickson steps down June 30 (or potentially earlier). Penn State's
presidential search has been rocky and unsuccessful so far
, as the school's reported choice, David Smith, ended up resigning his post at SUNY-Upstate Medical University in November after it was
found that he had been accepting unapproved money from outside companies
linked to the school.
So Penn State must now begin a coaching search with a lame-duck AD and a lame-duck president. It might not matter, as the school hired O'Brien at a shaky time. The program still continues to operate under heavy NCAA sanctions, including two more years of a postseason ban, but O'Brien's impressive performance elevated its profile for potential candidates. There's also a chance the sanctions are further reduced before the 2014 season.
Still, coaches like to know who their bosses will be. They know what happens when new athletic directors come in and things go south on the field. ADs want to hire their own coaches, and typically keep inherited coaches on shorter leashes than ones they select. Regardless of the sentiment about Joyner and Erickson -- and for many Penn Staters, it's not favorable -- the fact that they'll soon be gone can't be overlooked by potential candidates. There will be more than two people involved in identifying and hiring Penn State's next coach, but every coach wants and needs to have an AD and a president firmly in his corner for the long term.
O'Brien's frustration with Penn State's leadership and the need to be a figurehead for the school -- as
told to David Jones in this illuminating piece
-- also must be noted. Few coaches will be interested in a job that requires them to not only win football games but unify a community.
Penn State's administrative flux might not matter to the right coach. Maybe it's someone with stronger ties to the school, who isn't worried about winning over his future bosses.
But after all Penn State has been through, it would be better to begin another football transition without one still going on with the administration.
September, 24, 2013
9/24/13
2:20
PM ET
Penn State coach Bill O'Brien was an understandably happy man Tuesday when he appeared on the Big Ten coaches' teleconference.
O'Brien learned earlier Tuesday about the
NCAA's decision to gradually reinstate scholarships
that had been removed when the sanctions against the program came down in July 2012. He will meet with the team at 2:45 p.m. ET to discuss the big news. Penn State has an open week.
"Since I was hired here, we're just trying to do what's right for the student-athletes here," O'Brien said. "We've made mistakes. We've owned up to those. If we sent an improper text or made a [prohibited] phone call, we reported them right away. We're certainly not perfect. I think we have a good leader here in [university president] Rod Erickson.
"We're just trying to do the best job we can for Penn State every day."
That job gets easier for O'Brien and his staff, who can adjust their recruiting approach beginning next year. Penn State has 12 recruits verbally committed
for the 2014 class
.
O'Brien declined to discuss specific recruiting strategies but talked about the challenge that the initial sanctions posed. At times, Penn State has been able to offer only one scholarship per position.
"We always felt once we were able to get a young man and his parents here on campus, the place sold itself," O'Brien said. "It's a place where you can get a fantastic degree. It's a place where you can play in the Big Ten. … As far as recruiting the individual athlete, that was never difficult here. The numbers were the difficult part."
O'Brien is excited for his players and Penn State fans, especially the students, calling it "a good day for all of those people." He's appreciative of the support from other Big Ten coaches. Iowa's Kirk Ferentz called Penn State's initial penalties "a bad deal" and is glad steps are being taken to rectify things.
Although the scholarship change doesn't impact Penn State until next year, it gives O'Brien a chance to reiterate a message to his players about "sticking together and being committed."
Penn State could receive an additional reduction of penalties, including the postseason ban, which is set to run through the 2015 season. But O'Brien isn't thinking about that just yet.
"When the rules changed a little bit, we adapted to those rules," he said. "The rules now are we can sign a few more guys and can get back to 85 scholarships a little bit sooner. We can't go to a bowl or compete for a championship, but we definitely can get more on an even playing field numbers-wise, and that's what we're concentrating on as a staff."
BIG TEN SCOREBOARD
Thursday, 9/3
Friday, 9/4
Saturday, 9/5
Sunday, 9/6
Monday, 9/7