Penn State Nittany Lions:

Quincy Enunwa
May, 12, 2014
5/12/14
1:00
PM ET
Tired of NFL draft rewind posts? Well, it's nearly over. And besides, not much else is happening in mid-May.
We're taking a closer look, roundtable-style, at
the Big Ten's draft
: how certain teams did, the risers, the falls and more. Noted draft hater Brian Bennett is somewhere in Italy, so Big Ten reporters Mitch Sherman, Josh Moyer and Austin Ward are kind enough to join me in breaking down the draft.
The draft roundtable is on the clock ...
[+] Enlarge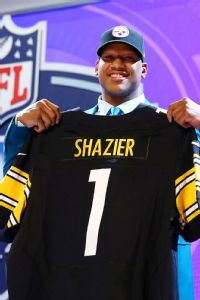 Elsa/Getty ImagesRyan Shazier ended a three-year drought without a Buckeye in the first round.
Let's start off with individual teams you cover -- Nebraska (Sherman), Penn State (Moyer) and Ohio State (Ward), for those who need a refresher. What stood out to you most about each team's draft showing?
Moyer:
Penn State had just three players drafted, so what really stood out to me was how divided the opinion was on
Allen Robinson
, who was picked up by the
Jacksonville Jaguars
in the second round. At times, he was a projected first-rounder. At other times, he wasn't projected to go until Day 3. Some lauded the Jags' pick; others labeled it a reach. Let me add my two cents: He's going to succeed in the NFL. I spoke with two former PSU and NFL wideouts,
O.J. McDuffie
and Kenny Jackson, and they both said last season that A-Rob boasts more physical skills than they ever did. That has to count for something.
Sherman:
NFL organizations continue to rate Nebraska defensive backs highly. Cornerback
Stanley Jean-Baptiste
(second round to the Saints) was the 11th draftee from the secondary in the past 10 years. Since 2003, though, just two Nebraska offensive players, including new Redskins guard
Spencer Long
, have landed in the top three rounds. Receiver
Quincy Enunwa
, despite technical shortcomings, offers value to the Jets as a sixth-round pick. As expected, all others, including quarterback
Taylor Martinez
, had to take the free-agency route.
Ward:
Ohio State has long been a pipeline for the next level, but it had actually been three years since it had produced any first-round picks until
Ryan Shazier
and
Bradley Roby
on Thursday night. The Buckeyes followed that up with four more players being selected, which suggests the talent level is starting to get back to the level the program is accustomed to after going through a bit of a down stretch. It seems a bit backward that two guys from a beleaguered defense were the top picks while the record-setting offense wasn't represented until
Carlos Hyde
and
Jack Mewhort
were grabbed in the second round, but either way the Buckeyes appear to be back as a favored target for NFL organizations.
Turning our attention to the entire Big Ten, which player surprised you by how high he was drafted, and which player surprised you with how far he fell in the draft?
Rittenberg:
I was a little surprised to see
Michael Schofield
go before the end of Day 2. We knew Michigan's poor offensive line play wouldn't impact
Taylor Lewan
, but I thought it might make teams hesitant about selecting Schofield. He's a good player who enters a great situation in Denver. Another Big Ten offensive lineman on a struggling unit, Purdue's
Kevin Pamphile
, surprised me with how early he went. I didn't see
Darqueze Dennard
, the nation's most decorated cornerback on arguably the nation's best defense last season, dropping to No. 24 overall. Wisconsin's
Chris Borland
and Ohio State's Hyde went later than I thought they would.
Sherman:
Long's rise to the third round surprised me after he missed the final six games of his senior season with a knee injury that kept him out of the combine and limited him at Nebraska's pro day. I pegged the former walk-on as a fifth- or sixth-round pick. And I thought Lewan might slip past the first 15 picks because of character questions from a pair of off-field incidents at Michigan. Conversely, I thought Borland's exemplary résumé at Wisconsin might propel him into the top 50 picks. At No. 77 to the 49ers he's a steal.
Ward:
There really weren't guys who made shocking jumps up the board in my mind, though Ohio State safety
Christian Bryant
sneaking into the seventh round was a feel-good story after he missed the majority of his senior season with a fractured ankle. The Big Ten also had a handful of first-round caliber players slide to the second day, so Minnesota's
Ra'Shede Hageman
, Indiana's
Cody Latimer
, Hyde or Penn State's Robinson all qualified as minor surprises -- and great values for their new teams.
Moyer:
How many people thought
Dezmen Southward
would be the first Badger drafted? I sure didn't. The
Atlanta Falcons
scooped him up early in the third round, and they probably could've snagged him two rounds later. As far as guys who fell, I expected both Latimer and Dennard to go sooner. They didn't free-fall, but you kept hearing before the draft how those two improved their stock -- and then Latimer nearly fell to the third round, anyway.
[+] Enlarge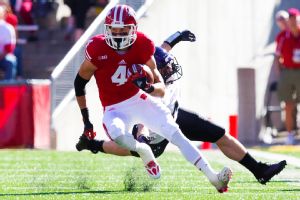 Jeff Hanisch/USA TODAY SportsWisconsin WR Jared Abbrederis went in the fifth round to the Green Bay Packers.
Which Big Ten players will be the biggest sleepers/best values in the draft?
Ward:
General managers and coaches might view running backs as easily replaceable in this new era in the NFL, but the league's most recent champion offered another reminder of how important it is to have a productive rushing attack and an elite tailback. Hyde hasn't proven anything at the next level yet, so comparing him with Seattle's
Marshawn Lynch
is a bit premature. But Hyde has all the physical tools to be a star, from his well-built frame to his often overlooked speed, and he's going to a team in San Francisco that has a system that will put him in position to thrive.
Rittenberg:
Southward's high selection surprised me, too, but the other four Wisconsin players -- Borland,
Jared Abbrederis
, running back
James White
and nose tackle
Beau Allen
-- all are good value pickups. White is an extremely versatile player who might never be a featured back but can block, catch passes and do whatever his coaches need. Allen gained great experience as a nose tackle last fall. I think the
New York Jets
get a sixth-round steal in Enunwa, whose blocking skills should help him get on the field. Big Ten coaches loved
DaQuan Jones
, who looks like a nice value pickup for Tennessee in the fourth round.
Sherman:
I'll place Robinson (second round to Jacksonville) and Abbrederis (fifth to Green Bay) together in a category of undervalued Big Ten receivers. Perhaps it illustrates a general stigma about offensive skill players from the conference; throw second-rounders Latimer and Hyde into the discussion, too. NFL decision-makers might not respect the competition these players face on a weekly basis and count it against them in evaluations. If so, that's a big problem for the Big Ten.
The Big Ten had eight more players drafted this year than in 2013, but its champion, Michigan State, had only one selection. What does this say about the league and its trajectory?
Sherman:
After 2012, the Big Ten presumably had nowhere to go but up in producing quality prospects. The influx of Urban Meyer-recruited talent will soon impact the Big Ten in the draft. Same goes for Brady Hoke, even if he's not making gains in the standings. Penn State and Nebraska, too, are upgrading their talent, so the trajectory figures to continue upward. As for Michigan State, it was young on offense and clearly better than the sum of its parts on defense, a testament to Mark Dantonio and Pat Narduzzi. The absence in the draft of
Max Bullough
and
Denicos Allen
caught me off guard.
Moyer:
Having more picks shows the Big Ten is on the right track ... but it still has a long way to go. Yes, it improved on last year -- but it still finished behind the SEC (49), ACC (42) and Pac-12 (34) this year, in terms of players drafted. As far as Michigan State, I think their success serves as a reminder that the right coaching and the right schemes can still trump a roster full of NFL-caliber players. Penn State's success during the sanctions also helps to reinforce that.
Ward:
It's another reminder of how well-coached the Spartans were a year ago, particularly in turning a defense that had just one player drafted into the nation's best unit. Dantonio deserves another bow for the job he and his staff did a year ago, even if they didn't have much to celebrate during the draft. The league does seem to be on the rise again in the minds of top athletes around the country with Meyer, Hoke and now James Franklin upping the ante on the recruiting trail. Those efforts should produce even better weekends than the one that just wrapped up.
Rittenberg:
It says something when arguably the best Big Ten team in the past seven or eight years -- MSU had nine double-digit league wins plus the Rose Bowl triumph -- produces only one draft pick. Still, I think the arrow is pointed up after a horrendous 2013 draft. The Big Ten has struggled to produce elite prospects at both cornerback and wide receiver in recent years. This year, the league had three corners drafted in the first two rounds, and while I agree the Big Ten's wide receivers were undervalued, the league still produced five picks. The next step is obvious: generating better quarterback play as no Big Ten QBs were drafted this year.
May, 12, 2014
5/12/14
9:00
AM ET
The biggest non-game on the American sporting calendar is
all done
, as the 2014 NFL draft wrapped up Saturday afternoon in New York. After
arguably its worst draft in the modern era
in 2013, the Big Ten performed better this year with 30 picks. Still, the league finished fourth among conferences in selections, trailing the SEC (49), ACC (42) and Pac-12 (34).
After a big Friday night with six second-round selections -- including four in a row -- and six third-round selections, the Big Ten's momentum slowed a bit Saturday in the final four rounds. The league had only one sixth-round pick and only four in the seventh round.
Let's start the breakdown by listing Big Ten draftees by round (with comments below). Maryland and Rutgers players aren't included here because neither group competed in the Big Ten (Terrapins CB Dexter McDougle went in the third round; Rutgers had no players drafted).
FIRST ROUND (4)
[+] Enlarge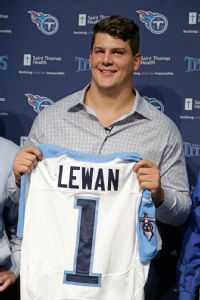 AP Photo/Mark HumphreyTaylor Lewan was the first Big Ten player selected, going 11th overall to the Tennessee Titans.
Analysis:
Click here for my first-round thoughts
SECOND ROUND (6)
Analysis:
Hageman ends up in a really good spot with the Falcons. Although Latimer had an excellent pre-draft performance, it wasn't surprising to see him end up in the middle of the second round. Hyde waited longer than many anticipated, but he enters a great situation with a team that loves to play power football. Robinson joins a new-look Jaguars passing attack featuring quarterback
Blake Bortles
and wideout
Marqise Lee
.
THIRD ROUND (6)
Analysis:
Everyone had Southward going before Borland, right? Borland, the 2013 Big Ten defensive player of the year, had an exceptional college career, but concerns about his height and perhaps his injury history moved him down the draft boards. The Iowa Effect shows up here as both Fiedorowicz and Kirksey were swept up by teams that respect what the Hawkeyes do. What does it say that Michigan's offensive line struggled mightily in 2013 but had two tackles drafted in the first three rounds? Those young Wolverines linemen had better step up this fall.
FOURTH ROUND (4)
Analysis:
Some really good pickups in this round, especially White, who will fit in very well with New England's offense. Although
James Morris
received the most accolades among Iowa's linebackers at the college level, both Kirksey and Hitchens were mid-round selections, while Morris went undrafted and signed with New England as a free agent. As a Chicago Bears fan, I love the Vereen pick. He's a smart, athletic versatile player who knows from his older brother what it takes to succeed in the NFL.
FIFTH ROUND (5)
[+] Enlarge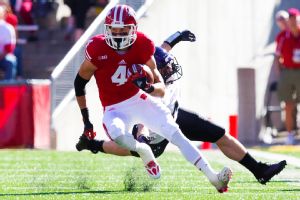 Jeff Hanisch/USA TODAY SportsJared Abbrederis isn't venturing far from Madison as he was drafted by the Green Bay Packers.
Analysis:
Like his teammate Borland, Abbrederis had a much longer wait than expected but lands in a very familiar spot with Green Bay. I think he's a steal and will surprise people with his ability to make plays despite less-than-ideal measurables. Pamphile had a fairly quiet college career but is seen as a project and could develop into a better pro. Urschel is another player who lacks the ideal physical traits sought in the NFL, but could make up for it with exceptional intelligence.
SIXTH ROUND (1)
Analysis:
Enunwa complemented his superb blocking skills with big-play ability in the pass game as a senior. He's a good value for a Jets team that needs to boost the league's 31st-ranked pass offense.
SEVENTH ROUND (4)
Analysis:
All four players could be very good values. Bolser is an athletic tight end who had 15 career touchdown catches. Allen showed versatility as a senior, transitioning to a 3-4 scheme. Gallon heads to a Patriots team that has had success with smaller, productive receivers. Bryant likely would have been selected higher if not for major leg and ankle injuries last season.
Here are the draft picks per B1G team:
Ohio State:
6
Wisconsin:
5
Michigan:
3
Penn State:
3
Nebraska:
3
Iowa:
3
Purdue:
2
Minnesota:
2
Indiana:
2
Michigan State:
1
The big surprise is a Michigan State team that dominated Big Ten play and won the Rose Bowl had just one player selected, as standout linebackers
Max Bullough
and
Denicos Allen
didn't have their names called. Only four teams -- LSU, Alabama, Notre Dame and Florida State -- had more selections than Ohio State. Illinois, which led the Big Ten in draft picks last season (4) and had 18 picks between 2009-13, had no selections. Northwestern also went without a draft pick for the second straight year.
Curious about the Big Ten's undrafted free-agent signings? Check back in a bit as we take a look.
February, 27, 2014
2/27/14
11:00
AM ET
We're taking snapshots of each position group with each Big Ten team entering the spring. The wide receivers and tight ends are up next.

Illinois:
The Illini are looking for more from this group after losing top target
Steve Hull
, who exploded late in the season to finish just shy of 1,000 receiving yards. While running back
Josh Ferguson
(50 catches in 2013) will continue to contribute, Illinois could use a boost from
Martize Barr
, who arrived with high expectations but only had 26 receptions last fall. Another junior-college transfer,
Geronimo Allison
, could make an impact beginning this spring, but there's some mystery at wideout. Illinois looks more solid at tight end with seniors
Jon Davis
and
Matt LaCosse
.

Indiana:
Despite the somewhat surprising early departure of All-Big Ten selection
Cody Latimer
, Indiana should be fine here.
Shane Wynn
is the veteran of the group after recording 633 receiving yards on 46 catches last season.
Kofi Hughes
and
Duwyce Wilson
also depart, so Indiana will be leaning more on
Nick Stoner
and
Isaiah Roundtree
. The Hoosiers have high hopes for early enrollee
Dominique Booth
, a decorated recruit who could fill Latimer's spot on the outside. Productive tight end
Ted Bolser
departs and several players will compete, including early enrollee
Jordan Fuchs
.

Iowa:
Almost all the wide receivers are back from a group in which none eclipsed more than 400 receiving yards in 2013. Balance is nice, but separation could be nicer for the Hawkeyes this spring.
Kevonte Martin-Manley
is the most experienced wideout and has 122 career receptions.
Tevaun Smith
also returns, and Iowa fans are excited about big-play threat
Damond Powell
, who averaged 24.2 yards on only 12 receptions last season. Iowa loses its top red-zone target in tight end
C.J. Fiedorowicz
and will need
Jake Duzey
to deliver more Ohio State-like performances.

Maryland:
When the Terrapins get healthy, they might have the Big Ten's best wide receiving corps.
Stefon Diggs
and
Deon Long
, both of whom sustained broken legs against Wake Forest last season, have the ability to stretch the field as both averaged more than 15 yards per reception before the injuries struck. Leading receiver
Levern Jacobs
also returns, alongside junior
Nigel King
and sophomore
Amba Etta-Tawo
, who averaged more than 16 yards per catch in 2013.
Marcus Leak
, who started seven games in 2012, rejoins the team after a year away. The Terps are unproven at tight end after losing
Dave Stinebaugh
.

Michigan:
There's a reason why some Michigan fans want
Devin Gardner
to return to wide receiver for his final season. The Wolverines are thin on the perimeter after losing
Jeremy Gallon
and
Drew Dileo
. Redshirt sophomores
Jehu Chesson
and
Amara Darboh
are both candidates to start, and
Dennis Norfleet
could be the answer in the slot. But there's plenty of opportunity for younger players like
Drake Harris
, an early enrollee. Michigan's best pass-catching option,
Devin Funchess
, is listed as a tight end but plays more like a receiver. The Wolverines will be without their second-string tight end,
Jake Butt
, who suffered an ACL tear in winter conditioning.

Michigan State:
Remember all the justified angst about this group a year ago? It has pretty much gone away as the Spartans wideouts rebounded nicely in 2013.
Bennie Fowler
departs, but MSU brings back its top two receivers in
Tony Lippett
and
Macgarrett Kings
, who showed explosiveness down the stretch last fall.
Aaron Burbridge
had a bit of a sophomore slump but provides another option alongside veteran
Keith Mumphery
, who averaged 16.6 yards per catch in 2013.
Josiah Price
leads the tight end group after a solid freshman season.

Minnesota:
Here's a group to watch during spring practice, particularly the wide receivers. Minnesota has proven it can run the ball and defend under Jerry Kill, but the passing game was putrid in 2013, ranking last in the Big Ten and 115th nationally. Youth is partly to blame, and while the Gophers still lack experience, they can expect more from promising players like
Drew Wolitarsky
and
Donovahn Jones
. Senior
Isaac Fruechte
provides a veteran presence. Minnesota looks solid at tight end with sophomore
Maxx Williams
, the team's receiving yards leader (417) in 2013.

Nebraska:
The Huskers lose a significant piece in
Quincy Enunwa
, who led the team in receiving yards (753) and had three times as many receiving touchdowns (12) as anyone else in 2013.
Kenny Bell
is set to recapture the No. 1 receiver role, which he had in 2012, and comes off of a 52-catch season as a junior. Nebraska must build around Bell this spring with players like the mustachioed
Jordan Westerkamp
, who had 20 catches as a freshman, including a rather memorable one to beat Northwestern. Will
Jamal Turner
turn the corner this offseason? Juniors
Sam Burtch
and
Taariq Allen
also return.
Cethan Carter
started six games at tight end last fall and should take over the top spot there as
Jake Long
departs.

Northwestern:
The passing game fell short of expectations in 2013, but there's reason for optimism as Northwestern returns its top three pass-catchers in
Tony Jones
,
Christian Jones
and
Dan Vitale
. The two Joneses (no relation), who combined for 109 catches in 2013, lead the receiving corps along with junior
Cameron Dickerson
. Speedy Rutgers transfer
Miles Shuler
provides a playmaking spark, possibly at slot receiver. Vitale, who had a somewhat disappointing sophomore season, has All-Big Ten potential at the superback (tight end) spot. Although Northwestern rarely plays true freshmen, superback
Garrett Dickerson
, Cameron's brother, could see the field right away.

Ohio State:
A group that drew heavy criticism from coach Urban Meyer two springs ago is stockpiling talent.
Devin Smith
is the familiar name, a big-play senior who has started each of the past two seasons and boasts 18 career touchdowns. Ohio State must replace top wideout
Corey Brown
and will look for more from
Evan Spencer
.
Michael Thomas
has stood out in practices but must translate his performance to games. This could be a breakout year for H-back
Dontre Wilson
, who averaged nine yards per touch as a freshman. Buckeyes fans are eager to see redshirt freshmen
Jalin Marshall
and
James Clark
, and incoming players like
Johnnie Dixon
could make a splash right away. Ohio State returns an elite tight end in
Jeff Heuerman
.

Penn State:
The Lions have very different depth situations at receiver and tight end. They're looking for contributors on the perimeter after losing
Allen Robinson
, the Big Ten's top wide receiver the past two seasons, who accounted for 46 percent of the team's receiving production in 2013.
Brandon Felder
also departs, leaving
Geno Lewis
as the likeliest candidate to move into a featured role.
Richy Anderson
also returns, but there will be plenty of competition/opportunity at receiver, a position new coach James Franklin targeted in recruiting with players like
Chris Godwin
and
Saeed Blacknall
. Things are much more stable at tight end as the Lions return three talented players in
Jesse James
,
Kyle Carter
and
Adam Breneman
.

Purdue:
If you're looking for hope at Purdue, these spots aren't bad places to start. There are several promising young players like receiver
DeAngelo Yancey
, who recorded a team-leading 546 receiving yards as a freshman.
Cameron Posey
also had a decent freshman year (26 catches, 297 yards), and
Danny Anthrop
averaged 18.4 yards as a sophomore. A full offseason with quarterbacks
Danny Etling
and
Austin Appleby
should help the group. Tight end also should be a strength as
Justin Sinz
, who led Purdue with 41 catches last season, is back along with
Gabe Holmes
, who returns after missing most of 2013 with a wrist injury.

Rutgers:
The good news is tight end
Tyler Kroft
returns after leading Rutgers in both receptions (43) and receiving yards (573) last season. Kroft will immediately contend for All-Big Ten honors. Things are murkier at wide receiver, where top contributors
Brandon Coleman
and
Quron Pratt
both depart.
Leonte Carroo
took a nice step as a sophomore, averaging 17.1 yards per catch and enters the spring as the frontrunner to become the team's No. 1 wideout.
Ruhann Peele
is another promising young receiver for the Scarlet Knights, who boast size with
Carlton Agudosi
(6-foot-6) and
Andre Patton
(6-4).

Wisconsin:
The quarterback competition will gain more attention this spring, but Wisconsin's receiver/tight end situation could be more critical. The Badgers lose
Jared Abbrederis
, their only major threat at receiver the past two seasons, as well as top tight end
Jacob Pedersen
. Players like
Jordan Fredrick
and
Kenzel Doe
must translate their experience into greater production, and Wisconsin will look for more from young receivers like
Alex Erickson
and
Robert Wheelwright
. Help is on the way as Wisconsin signed five receivers in the 2014 class, but wideout definitely is a position of concern right now.
Sam Arneson
is the logical candidate to step in for Pedersen, but there should be competition as the Badgers lose a lot at the position.
February, 24, 2014
2/24/14
10:30
AM ET
The 2014 NFL scouting combine in Indianapolis is more than halfway over, and
testing results
have been recorded for quarterbacks, running backs, tight ends, wide receivers, offensive linemen and specialists. As we do every year around this time, let's check in on how the Big Ten contingent is performing at the site of the Big Ten championship game (Lucas Oil Stadium).
Note: These are results through Sunday.
[+] Enlarge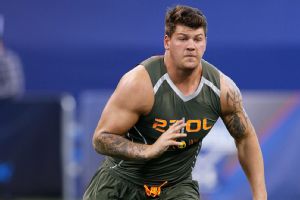 Joe Robbins/Getty ImagesMichigan offensive tackle Taylor Lewan was one of several Big Ten players who increased their stock at the NFL combine over the weekend.
TOP PERFORMERS
Overall
By position
Running backs:
Wisconsin's
James White
is tied for fourth in bench-press reps with 23; Ohio State's
Carlos Hyde
is tied for 13th with 19.
Wide receivers:
Enunwa is tied for 11th in 40-yard dash and seventh in bench-press reps with 19; Indiana's
Cody Latimer
is first in bench-press reps with 23; Rutgers'
Brandon Coleman
is tied for second in bench-press reps with 21; Michigan's
Jeremy Gallon
is tied for 13th in bench-press reps with 15; Robinson is sixth in vertical jump, tied for third in broad jump, seventh in 20-yard shuttle and sixth in 60-yard shuttle; Fowler is tied for fifth in broad jump, 15th in 20-yard shuttle and 12th in 60-yard shuttle; Abbrederis is 12th in 3-cone drill at 6.8 seconds, 11th in 20-yard shuttle and seventh in 60-yard shuttle.
Tight ends:
Iowa's
C.J. Fiedorowicz
is sixth in the 40-yard dash (4.76 seconds), fifth in bench-press reps (25), tied for 11th in vertical jump (31.5 inches), tied for sixth in broad jump (9 feet, 8 inches), first in 3-cone drill (7.1 seconds) and 20-yard shuttle (4.26 seconds); Wisconsin's
Jacob Pedersen
is tied for 13th in the 40-yard dash (4.89 seconds), 11th in 3-cone drill (7.55 seconds), seventh in 20-yard shuttle (4.4 seconds) and tied for second in 60-yard shuttle (12.19 seconds).
Offensive linemen:
Michigan's
Taylor Lewan
is first in 40-yard dash (4.87 seconds) and broad jump (9 feet, 9 inches), tied for 11th in bench-press reps (29), tied for third in vertical jump (30.5 inches), fourth in 3-cone drill (7.39 seconds), ninth in 20-yard shuttle (4.49 seconds); Michigan's
Michael Schofield
is sixth in 40-yard dash (5.01 seconds), 13th in 3-cone drill (7.62 seconds) and 11th in 20-yard shuttle (4.57 seconds); Linsley is tied for second in bench-press reps; Penn State's
John Urschel
is tied for eighth in bench-press reps (30), tied for fifth in vertical jump (29 inches), ninth in 3-cone drill (7.55 seconds) and tied for sixth in 20-yard shuttle (4.47 seconds); Ohio State's
Jack Mewhort
is tied for 14th in bench-press reps (28); Wisconsin's
Ryan Groy
is tied for seventh in broad jump (9 feet), eighth in 3-cone drill (7.49 seconds) and tied for sixth in 20-yard shuttle (4.47 seconds); Iowa's
Conor Boffeli
is seventh in 3-cone drill (7.44 seconds) and 13th in 20-yard shuttle (4.61 seconds).
Defensive linemen (bench-press only):
Hageman is tied for third with 32 repetitions.
Workouts and testing for defensive linemen and linebackers takes place Monday, followed by the defensive backs on Tuesday. We'll have more updates as the results come in, but you should check out ESPN.com's full
combine coverage here
.
February, 7, 2014
2/07/14
9:00
AM ET
The official
invite list for the 2014 NFL combine
is out, and 36 Big Ten players will try to impress pro scouts during workouts in Indianapolis from Feb. 22-25. In case you were wondering, that's fourth most among conferences behind the SEC (71 invitees), the ACC (48) and the Pac-12 (45).
Here are the Big Ten players who were invited, broken down by position:
Quarterbacks (0)

Running backs (2)

Wide receivers (8)

Tight ends (2)

Offensive linemen (8)

Defensive linemen (2)

Linebackers (7)

Defensive backs (7)

Specialists (0)
Breakdown
It's a strong list of players, but were there any snubs. Nebraska quarterback
Taylor Martinez
, Michigan State linebacker
Denicos Allen
and Iowa cornerback
B.J. Lowery
jump out right away as missing, though Martinez has injury (and position) concerns, while Allen's small frame means he'll have to prove to scouts he can play at the next level.
I'm also a bit surprised not to see Indiana's
Ted Bolser
on this list; he's not a traditional blocking tight end, but his receiving skills would seem to translate to the NFL. Only nine kickers and punters were invited to Indy, yet it's a little disappointing that Purdue's
Cody Webster
and Northwestern's
Jeff Budzien
weren't included in the specialists.
Others who could have gotten an invite include Purdue defensive tackle
Bruce Gaston
, Ohio State guard
Andrew Norwell
and Nebraska defensive back
Ciante Evans
.
That doesn't mean those guys won't play in the NFL. But their path to the league might be a little more winding.
January, 21, 2014
1/21/14
10:15
AM ET
It's Senior Bowl week, so you should be following our draft experts as they track the 15 Big Ten players suiting up for the
North squad
on Saturday in Mobile, Ala. Before turning the page toward the Senior Bowl, let's review how the Big Ten groups performed this past weekend in the East-West Shrine Game and NFLPA Collegiate Bowl.
East-West Shrine Game
Players who registered statistics:
NFLPA Collegiate Bowl
Players who registered statistics:
November, 21, 2013
11/21/13
9:00
AM ET
The predictions race is all square, and Week 13 brings a full slate of Big Ten action, as every team will be on the field Saturday afternoon.
Will Brian Bennett inch back in front, or will Adam Rittenberg gain the edge entering the final week? Loser buys dinner in Indy.
Let's begin …
MICHIGAN STATE at NORTHWESTERN


Bennett:
Let's see … in which heartbreaking manner can Northwestern lose this week? The Wildcats can't be counted out here, as they've come close to knocking off several teams in recent weeks, and it is senior day in Evanston, Ill. But Northwestern doesn't have enough offensive versatility to counter Michigan State's defense.
Jeremy Langford
goes over 100 yards again, and the Spartans clinch their Big Ten championship berth
… Michigan State 20, Northwestern 10

Rittenberg:
The Spartans can taste a trip to the Big Ten championship game and will get there, though not without a fight from Northwestern, which has continued to play hard during a nightmarish stretch. Michigan State quarterback
Connor Cook
starts slowly but gets hot in the third and finishes with two touchdown passes.
Kain Colter
makes some plays on senior day but Northwestern once again can't find the end zone enough and drops another one in single digits. Sparty on to Indy.
… Michigan State 23, Northwestern 16
MICHIGAN at IOWA


Rittenberg:
Michigan will actually need touchdowns in regulation to win this week and faces a better defensive line in Iowa. Neither offense does much in the first two and a half quarters before Iowa's run game starts to stir behind
Jordan Canzeri
and
Mark Weisman
, both of whom reach the end zone. The Hawkeyes break a tie early in the fourth quarter and seal the win on a
B.J. Lowery
interception of
Devin Gardner
.
… Iowa 20, Michigan 13
Bennett:
A very cold, potentially windy day in Iowa City favors the team that can run the ball, and Michigan is not that team. It won't be pretty, but the Hawkeyes' offensive line and
Mike Meyer
(three field goals) get the job done.
… Iowa 16, Michigan 13

ILLINOIS at PURDUE


Bennett:
The Streak is dead. Illinois snaps the 20-game Big Ten losing skid against a Purdue team that is bad enough to build its own lamentable streak. At least we know the Illini can score. I'm still not sure what the Boilers are good at.
Nathan Scheelhaase
throws for four scores.
… Illinois 35, Purdue 21

Rittenberg:
This game features two bad defenses, one improving, but still weak, offense and one potent offense. Illinois breaks The Streak behind Scheelhaase, who piles up 350 pass yards and three touchdowns.
Josh Ferguson
adds a rushing touchdown as Illinois holds off Purdue, which receives a good performance (220 pass yards, two TDs) from
Danny Etling
.
… Illinois 34, Purdue 24
WISCONSIN at MINNESOTA


Rittenberg:
Minnesota is looking a lot more like Wisconsin these days, which is a good thing, but the Badgers still are the superior version. The Gophers jump ahead early behind a
David Cobb
touchdown run, but Wisconsin's defense buckles down and
James White
and
Melvin Gordon
get rolling, combining for three touchdowns. Minnesota hangs tight, but Wisconsin retains the axe for a 10th consecutive season.
… Wisconsin 28, Minnesota 20
Bennett:
The Minnesota mojo makes it tempting to pick the home team. But as well as the Gophers are playing, Wisconsin is on even more of a roll. The Wisconsin run game will take its toll and help the Badgers break through with a pair of touchdown runs by White in the fourth quarter, chopping down the Gophers.
… Wisconsin 31, Minnesota 17

INDIANA at OHIO STATE


Bennett:
Indiana has played Ohio State tough the past two seasons, but pair the Hoosiers' terrible defensive efforts with this hyper-explosive Buckeyes offense and the potential for a rout is high. IU can't stop the run, so
Braxton Miller
and
Carlos Hyde
will enjoy the open lanes for a combined 350 yards and five touchdowns before sitting out the fourth quarter. A mad Ohio State defense records a pair of interceptions, including a pick-six.
… Ohio State 59, Indiana 17
Rittenberg:
Shield your eyes, Hoosiers fans, as this one will get ugly early. Ohio State builds a 28-7 lead at the end of the first quarter as Hyde eclipses 1,000 yards for the season on a touchdown run and finishes with 210 yards and three scores. Indiana's offense shows up and wideout
Cody Latimer
records two long scoring passes, but Ohio State gets contributions from everyone against the overmatched Hoosiers defense.
… Ohio State 63, Indiana 24
NEBRASKA at PENN STATE


Rittenberg:
Both teams are flawed, and, while Penn State is much better on its home field, Nebraska's run game and improving defense will be the difference.
Ameer Abdullah
rushes for 140 yards and a touchdown, and
Tommy Armstrong Jr
. bounces back. Penn State gets some production from
Zach Zwinak
(120 yards, two TDs) and its run game as well, but Nebraska mounts a game-winning drive in the closing seconds for the victory.
… Nebraska 31, Penn State 28
Bennett:
Don't count out Penn State on what should be an emotional senior day. But Nebraska just has more athletes right now.
Kenny Bell
and
Quincy Enunwa
exploit a shoddy Nittany Lions pass defense for a couple of touchdown catches, while
Randy Gregory
makes life miserable for
Christian Hackenberg
.
… Nebraska 24, Penn State 17
You've seen our predictions. Now it's time to hear from one of you. As a reminder, throughout the season, we'll choose one fan/loyal blog reader each week to try his or her hand at outsmarting us. There's nothing but pride and some extremely limited fame at stake. If you're interested in participating, contact us
here
and
here
. Include your full name (real names, please), hometown and a brief description of why you should be that week's guest picker. Please also include "GUEST PICKS" in all caps somewhere in your email so we can find it easily.
This week's guest is
Ali Tomek from Evanston, Ill.
Ali, take it away …
I should be the guest picker for this week because I love the blog and B1G football! I grew up in Omaha and have attended nearly every home game at Nebraska's Memorial Stadium since I was in elementary school. I'm definitely one of those football-obsessed Husker fans: I still feel bitter about that 13-12 loss to Texas in the 2009 B12 Championship. I've also attended games in five B1G stadiums: Nebraska, Northwestern, Michigan, Iowa and Penn State. OH, AND I'm an undergrad at Northwestern! Unfortunately for the Wildcats, though, my true loyalties will always lie with the Cornhuskers. Go Big Red!
Let's hope Ali's professors don't read this note before final exams. Ouch.
Here are her picks:
Michigan State 27, Northwestern 10
Michigan 17, Iowa 13

Illinois 35, Purdue 17

Wisconsin 31, Minnesota 17

Ohio State 56, Indiana 14

Nebraska 24, Penn State 17
SEASON RECORDS
Brian Bennett:
68-14
Adam Rittenberg:
68-14
Guest pickers:
65-19
October, 24, 2013
10/24/13
1:00
PM ET
You could learn just about everything you need to know about the state of the Big Ten's receivers just by following the Twitter feeds of Nebraska's
Kenny Bell
and Wisconsin's
Jared Abbrederis
. A sample:
This man @jeremygallon1 is going HAM! He's gonna go for 300 receiving.

— Kenny Bell (@AFRO_THUNDER80) October 19, 2013
Scratch that. Gallon is going for 400 — Kenny Bell (@AFRO_THUNDER80) October 19, 2013
@CodyLatimer3 y'all wrs in that michigan game went off!!! — Jared Abbrederis (@abbrecadabra) October 21, 2013
@abbrecadabra tryna get like you bro! You had more yards against Ohio state then I got this year!
Yes, it's fair to say that Big Ten receivers are noticing what others at the position are doing. These days, it's becoming harder and harder not to notice.
Last season, Penn State's
Allen Robinson
was the only league player to finish in the Top 71 in the FBS in receiving yards per game -- prompting me to ask
where all the Big Ten star receivers had gone
. A year later, we have our answer.
Three Big Ten receivers -- Michigan's
Jeremy Gallon
, Wisconsin's
Jared Abbrederis
and Robinson -- rank in the top 20 nationally in receiving yards, with Indiana's
Cody Latimer
checking in at No. 27. Meanwhile, Nebraska's
Quincy Enunwa
is tied for ninth in the country with seven touchdown receptions.
[+] Enlarge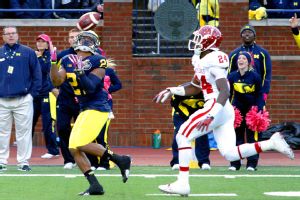 AP Photo/Lon HorwedelJeremy Gallon's record-setting performance against Indiana had fellow B1G receivers buzzing.
"There are some awfully good guys who can stretch the field vertically, or guys who have great strength battling for the football," Michigan coach Brady Hoke said. "I think you saw that the other day when we played."
We sure did. Indiana's outstanding group of pass-catchers allowed the Hoosiers to throw for 410 yards in the Big House. But the Wolverines' Gallon nearly matched that himself with a Big Ten record receiving 369 yards in the 63-47 shootout. You'd better believe that other wideouts noticed that.
"That's just ridiculous," Abbrederis told ESPN.com. "That's crazy. That was almost half my season [total] last year. That's a day that wide receivers dream of."
Abbrederis had his own standout game earlier this year when he recorded 10 catches for 207 yards at Ohio State while being defended by All-America cornerback
Bradley Roby
. But he joked "mine was kind of small" compared to Gallon's day.
Penn State's Robinson has had his own stat-stuffing days, including a 12-catch, 172-yard, two-touchdown showing in a loss at Indiana. He watched some of Gallon's performance during Penn State's bye week and thinks that he could match the 369-yard performance if the conditions were right.
"He was able to go out there and beat the defensive backs pretty much all game and get open for his team," Robinson told ESPN.com. "So I would say that's something other receivers could do if they got the opportunity."
Robinson easily won the Big Ten's Richter-Howard Receiver of the Year award as the league's only 1,000-yard producer last year, but he's got company this season. Gallon, Abbrederis and Latimer are all on pace to eclipse 1,000 yards right now.
Is Robinson eager to retain his trophy?
"That's out of my control as far as awards," he said. "Each and every game and in the offseason, I continue to try to be best player I can be, and whatever comes with that is fine. I don't try to stress myself over it too much or lose sleep too much. We have a talented group of receivers in this league."
This group, in fact, includes some of the best in school history.
[+] Enlarge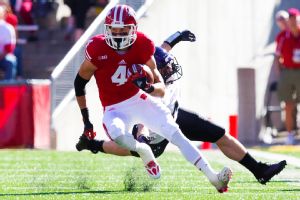 Jeff Hanisch/USA TODAY SportsJared Abbrederis is tied for second in the Big Ten in receptions and is third in receiving yards per game.
Abbrederis, a senior, is just 113 yards away from becoming the No. 2 all-time receiver at Wisconsin and needs 657 in his last six games to surpass Lee Evans for the career record. Robinson, a junior, is already fifth in career touchdown catches (16), seventh in career receptions (123) and 11th in career receiving yards (1,747) at Penn State. Gallon should finish in the Top 5 of Michigan career receiving yards.
They're the big three in the league right now, but there are plenty of others excelling at the position. Nebraska's Bell hasn't put up big receiving numbers yet but is still capable of jaw-dropping plays like
this one
. Like Enunwa, he's also a physical blocker for the Huskers running game. And the junior ranks fourth all-time in Nebraska career receiving yards and needs less than 900 to become the school's all-time leader.
Indiana's Latimer has great size (he's 6-foot-3) and hands and is joined by
Kofi Hughes
and
Shane Wynn
to form a three-headed receiving monster. Ohio State's
Philly Brown
has developed into a go-to weapon. Michigan's
Devin Funchess
is a receiver hiding in a tight end's body.
"I saw the game [Robinson] had against our rivals, and he was fantastic," Ohio State coach Urban Meyer said. "He's a very fast and talented guy who goes up and high points the ball. I nominated Abbrederis for a bunch of the postseason awards when I got to see him live and in color. He's a tremendous player. So I think those are NFL players we're getting to face almost every week."
They remain very collegial while still in college.
Abbrederis says he started following Bell closely after Wisconsin played Nebraska twice last year. Bell told the Omaha World-Herald that he and Enunwa watch tape of Abbredris every week because "that guy's a stud." Robinson is tight with Iowa's
Kevonte Martin-Manley
and sends him the occasional text or tweet during the season.
"I'm obviously not going to play directly against them, so it's not bad to have a relationship," Abbrederis said. "It's good to see guys doing some good things in this league."
It's getting harder and harder not to notice all those good things.
"We had a Heisman Trophy winner at receiver in the Big Ten with Desmond Howard," Indiana coach Kevin Wilson said. "So there have always been a lot of good receivers in this league, and there are definitely some good ones right now."
October, 24, 2013
10/24/13
9:00
AM ET
Who are
these guys
? We're the real American pickers, and we're sifting through the Big Ten rubble to make our selections for Week 9. Thankfully, this is the final Saturday with a measly four games on the docket, as all 12 teams will be in action Nov. 2.
Adam clings to a one-game lead in the season standings, as the race for a dinner at St. Elmo in Indianapolis remains at steak. Our
Week 8 picks
mirrored one another. Will it be the same in Week 9?
Let's get started …
NEBRASKA at MINNESOTA


Brian Bennett:
This is a good spot to bring back
Taylor Martinez
, so he can shake off some rust before the telling November stretch begins. I think Nebraska will still want to be a bit careful with its quarterback, however, and not risk any further harm to his turf toe. So Martinez doesn't run much but throws a pair of touchdowns to
Quincy Enunwa
, and the improving Huskers defense has a strong showing against a rather one-dimensional Minnesota attack.
… Nebraska 28, Minnesota 16

Adam Rittenberg:
A healthy Martinez makes the difference for the Huskers as the senior quarterback breaks off a long touchdown run in the first quarter and finishes with three combined scores.
Philip Nelson
rallies Minnesota in the second quarter with touchdown passes to
Maxx Williams
and
Derrick Engel
, but the Huskers' offense proves to be too much in the second half as
Ameer Abdullah
records another 100-yard game.
… Nebraska 35, Minnesota 24
NORTHWESTERN at IOWA


Adam Rittenberg:
Iowa has played better than its record shows, while Northwestern is in a major tailspin. So why am I picking Northwestern?
Kain Colter
's likely return gives Northwestern the ingredients it has been missing on offense the past two weeks. Colter will convert key third downs like he did last year against Iowa, and while the Hawkeyes take an early lead behind
Mark Weisman
's rushing and their tight-end play, Northwestern finds its offense again in the second half and rallies for a win at Kinnick.
… Northwestern 31, Iowa 28
Brian Bennett:
I've picked against Iowa a lot this season, with some successes (Northern Illinois, Michigan State) and some failures (Iowa State, Minnesota). I might give Hawkeyes fans a complex if I pick against them at home against a team that's 0-3 in the Big Ten. I'm still tempted to go with Northwestern because of the Wildcats' recent success against Iowa and the return of Colter. But I also really liked the way the Hawkeyes played at Ohio State on offense and think they can keep it up by using those big tight ends. It's going to be a close one, but
Mike Meyer
hits the game-winner with 90 seconds to go.
… Iowa 27, Northwestern 24

MICHIGAN STATE at ILLINOIS


Brian Bennett:
The Illini are at home, and Michigan State might get caught peeking toward Michigan. But the Illinois defense is really struggling right now, too much so to foresee an upset here. I think
Connor Cook
will get back on track a bit with 200 yards passing and a TD, and the Michigan State defense will force three turnovers against
Nathan Scheelhaase
& Co., including another one for a score.
… Michigan State 24, Illinois 12

Adam Rittenberg:
This could be a trap game for the Spartans before next week's home showdown against rival Michigan, but I think Michigan State's offense received its wakeup call against Purdue. Illinois' struggles against the run continue as
Jeremy Langford
goes for 120 yards and two touchdowns. The Illini strike first with a long scoring pass to
Ryan Lankford
and move the ball well at times, but Michigan State clamps down and records another defensive touchdown in the third quarter.
… Michigan State 27, Illinois 16
PENN STATE at OHIO STATE


Adam Rittenberg:
Get ready for another fun one at the Horseshoe, as both offenses can put up points and stretch the field. Penn State quarterback
Christian Hackenberg
looks nothing like a freshman in the first half with two touchdown passes before showing his youth late in the game, as he's picked off by Buckeyes cornerback
Bradley Roby
. As we've seen in the past few games, Ohio State's offensive line takes control in the second half.
Carlos Hyde
goes for 120 yards and a score as the Buckeyes use a big fourth quarter to win.
… Ohio State 38, Penn State 28
Brian Bennett:
Yeah, I think this has a chance to be a wild one. So wild that I'm calling for … overtime. With a week off to prepare, I expect Bill O'Brien to throw the kitchen sink at the Buckeyes' defense, and for Hackenberg to hook up with
Allen Robinson
for three scores. Ohio State mounts its patented comeback, ties the score on a
Braxton Miller
heave to
Corey Brown
, and wins it on a Hyde run in the second OT.
… Ohio State 51, Penn State 48

That's how we see things playing out on Saturday. Now it's time to hear from our guest picker. As a reminder, throughout the season we'll choose one fan/loyal blog reader each week to try his or her hand at outsmarting us. There's nothing but pride and some extremely limited fame at stake. If you're interested in participating, contact us
here
and
here
. Include your full name (real names, please), hometown and a brief description of why you should be that week's guest picker. Please also include "GUEST PICKS" in all caps somewhere in your email so we can find it easily.
This week's guest picker is
Nick Galea from Normal, Ill.
What'cha got, Nick?
Hey guys, I should be the guest picker because my life revolves around Big Ten football. I currently hold two degrees from Big Ten schools (MSU undergrad/Illinois law), and I've watched Big Ten football in 7 different venues in my life. This week is of special significance to me, as my two alma maters square off in Champaign. I'd love to have a prediction on the line while I'm in Memorial Stadium watching Nate Scheelhaase test the league's No. 1 defense. Thanks!
Here are Nick's Week 9 picks ...
Nebraska 38, Minnesota 24
Iowa 28, Northwestern 27
Michigan State 27, Illinois 10
Ohio State 45, Penn State 38
SEASON RECORDS
Adam Rittenberg:
55-9
Brian Bennett:
54-10
Guest pickers:
49-15
September, 12, 2013
9/12/13
9:00
AM ET
After two relatively easy weeks of picking games, the challenge gets much tougher with a delicious slate of Week 3 games. Last week, our picks mirrored one another. There will be some disagreements this time around.

Let's dive in ...
BOWLING GREEN at INDIANA
Brian Bennett:
Bowling Green has looked terrific in its first two games, while Indiana's defense was all but absent last week versus Navy. Different styles, but I think the Falcons seize on the Hoosiers' weaknesses. They kick a field goal late for my not-very-special upset special. ...
Bowling Green 37, Indiana 34
Adam Rittenberg:
I had Indiana beating Navy and losing this game entering the season, so naturally, I'm picking the Hoosiers to win after falling to Navy. The defense bounces back a little against a more conventional offense, and
Nate Sudfeld
consistently attacks downfield to
Kofi Hughes
and
Shane Wynn
. Sudfeld rallies IU in the fourth quarter and finds
Ted Bolser
for the game-winning touchdown. ...
Indiana 38, Bowling Green 35
WESTERN ILLINOIS at MINNESOTA
Rittenberg:
Can you wake me when Minnesota finally starts playing someone? Quarterback
Philip Nelson
adds two more rushing scores as the Gophers pull away early in the third quarter following a
Ra'Shede Hageman
forced fumble. Then we can look ahead to San Jose State. ...
Minnesota 37, Western Illinois 17
Bennett:
There's not much interesting about this game, except that we get to throw around the word "Leathernecks." It's a good week to get
Mitch Leidner
some experience. ...
Minnesota 35, Western Illinois 13

UCLA at NEBRASKA
Bennett:
I've gone back and forth on this all week, but in the end I worry that Nebraska's home-field advantage won't be enough to overcome its youth on defense.
Brett Hundley
amasses five total touchdowns, and the Huskers come up just short on their final drive. ...
UCLA 38, Nebraska 34
Rittenberg:
Nebraska's defense remains a big concern, especially against Hundley, but with no Johnathan Franklin, the early kickoff and a long trip, I expect UCLA to be a big sluggish. Martinez delivers a turnover-free performance in a big game and finds
Quincy Enunwa
for the game-winning touchdown pass in the final minute. ...
Nebraska 35, UCLA 34
AKRON at MICHIGAN
Rittenberg:
UCF's
Blake Bortles
abused Akron for big plays in Week 1.
Devin Gardner
, eat your heart out. The Gardner-Gallon connection cranks up again as
Jeremy Gallon
hauls in two more touchdowns.
Fitzgerald Toussaint
goes for 120 rush yards and a score as Michigan rolls. ...
Michigan 45, Akron 17
Brian Bennett:
Akron has won four games since the end of the 2009 season. Notre Dame hangover? Maybe, but it won't matter one bit. ...
Michigan 48, Akron 10

YOUNGSTOWN STATE at MICHIGAN STATE
Bennett:
Is Jim Tressel back coaching Youngstown State? Maybe then the Penguins would have a chance. The Spartans play
Connor Cook
and
Damion Terry
and get only two touchdown drives out of both of them. But the defense scores again. ...
Michigan State 27, Youngstown State 3
Rittenberg:
I'm tempted to go with the Penguins since Michigan State's offense is ice cold (be sure to tip your waitress). This will be close for three quarters, but Michigan State's Terry steps up late with a touchdown pass and a touchdown run (yes, two offensive touchdowns). Sadly, no touchdown for Bane this week. ...
Michigan State 24, Youngstown State 10
IOWA at IOWA STATE
Rittenberg:
Do I have to pick a winner here? Iowa took a step back last week in many ways, although the power run stepped up when the team needed a lift. This will be a sloppy game on both sides, but
Mark Weisman
and
Damon Bullock
, along with the offensive line, prove to be the difference in the fourth quarter.
... Iowa 19, Iowa State 17
Bennett:
Kirk Ferentz really needs this game. Then again, so does Paul Rhoads after losing to Northern Iowa in the opener. I don't expect many fireworks, either, but the Cyclones are just a little more desperate and have the momentum in this series. They win it on an overtime field goal.
... Iowa State 16, Iowa 13
UCF at PENN STATE
Bennett:
UCF is a trendy sleeper pick and has an experienced quarterback. But Penn State's defense is a major step up from Conference USA/American Athletic competition. It's close for a half, but
Christian Hackenberg
gets going in the third quarter with a pair of touchdown tosses to
Allen Robinson
, and Bill O'Brien tops George O'Leary.
... Penn State 27, UCF 17

Rittenberg:
Tricky game for Bill O'Brien's crew, but I expect Penn State's defense to do enough against
Blake Bortles
and a talented UCF offense. UCF jumps out to an early lead, but
Zach Zwinak
and
Akeel Lynch
spark Penn State's rushing attack in the second half, each scoring a touchdown as the Lions prevail.
... Penn State 34, UCF 27
WASHINGTON vs. ILLINOIS (at Chicago)
Rittenberg:
Washington is the more talented and experienced team, and a lot needs to go right for the Illini to pull off the upset. I see another fast start for Illinois against a Huskies team that struggles on the road and might be a little sleepy following a bye week.
Nathan Scheelhaase
throws two more touchdown passes, but Washington tight end
Austin Seferian-Jenkins
proves to be the difference with 120 receiving yards and a score.
... Washington 31, Illinois 21
Bennett:
I'd like to pick the Illini here because it would be a great story. They certainly proved me wrong last week in a big way. I still think Washington is just a little too talented, though.
Keith Price
throws four touchdown passes, making him the best quarterback Soldier Field has seen in a while. (That one's for you, Adam.)
... Washington 37, Illinois 23

OHIO STATE at CALIFORNIA
Bennett:
Cal played Northwestern pretty tough and then ... almost lost to Portland State? Inconsistency should be expected, I guess, with a freshman QB and a new coach. There are going to be a whole lot of big plays in this one, and I suspect
Kenny Guiton
will see the majority of the action. Big coming-out party for
Dontre Wilson
here.
... Ohio State 49, Cal 28

Rittenberg:
Cal provides a nice test for Ohio State's young defense, but the presence of cornerback
Bradley Roby
should help hold one of the Bears' standout wide receivers (
Chris Harper
and
Bryce Treggs
) in check. Ohio State has too much at the line of scrimmage and will use its ground game of
Jordan Hall
,
Rod Smith
and Wilson to outlast the Bears.
... Ohio State 38, Cal 27
NOTRE DAME at PURDUE
Rittenberg:
The Boilers have shown me nothing to suggest they can knock off a team like Notre Dame, which is pretty darn good despite last week's loss in Ann Arbor, Mich. Purdue starts strong but can't finish two early drives. The Irish then take over with their rushing attack, led by
Amir Carlisle
, and force two second-half takeaways.
... Notre Dame 38, Purdue 17
Bennett:
Circle the wagons, Purdue. It's going to be a long couple months.
... Notre Dame 35, Purdue 7

WESTERN MICHIGAN at NORTHWESTERN
Bennett:
Western Michigan just lost to Nicholls State. OK, then. Northwestern might not be quite as sharp after two big games, but it won't need to be.
Kain Colter
rushes for 100 yards and a pair of scores, and he and
Trevor Siemian
both get an early rest.
... Northwestern 38, Western Michigan 10

Rittenberg:
Previous Northwestern teams might be ripe for a letdown, but not the 2013 squad. Kain Colter and Trevor Siemian deliver another strong performance, combining for five touchdowns (three pass, two rush), including two scoring passes to
Christian Jones
. The defense forces two more turnovers as the Wildcats cruse.
... Northwestern 41, Western Michigan 17
WISCONSIN at ARIZONA STATE
Rittenberg:
I just don't like the matchup for the Badgers, even though they've been so impressive early on. Arizona State's strength (pass game) goes up against Wisconsin's weakness (secondary), and although the Badgers control the clock with their run game, the Sun Devils hit in too many big plays. Too much
Taylor Kelly
in this one.
... Arizona State 35, Wisconsin 28
Bennett:
I think big
Will Sutton
will be a shock to the system to Wisconsin offensive linemen used to dealing with the UMass and Tennessee Tech lines of the world. The secondary also gets burned a few too many times.
Joel Stave
throws two interceptions to thwart a comeback attempt, and Big Ten teams stay thirsty in the desert.
... Arizona State 28, Wisconsin 20.

Wait, we're not done yet. It's time for our guest picker of the week. Oh, you haven't heard? Throughout the season, we'll choose one fan/loyal blog reader each week to try his or her hand at outsmarting us. There's nothing but pride and some extremely limited fame at stake. If you're interested in participating, contact us
here
and
here
. Include your full name (real names, please) and hometown and a
brief
description why you should be that week's guest picker. Please also include "GUEST PICKS" in all caps somewhere in your email so we can find it easily.
We found this week's picker in the desert:
Adam Fraser from Gilbert, Ariz.
The floor is yours:
I'm a lifelong Husker fan living in Arizona. I'm a season-ticket holder and couldn't make it back for the UCLA game. I just started a new career at Prudential and my boss played football for UCLA. I've followed your blog for years and constantly smash your predictions. Let me put it on record at least one week, the Huskers biggest week of the year!! Thanks Adam (do it for your fellow Adam).
Other Adam's picks ...
Bowling Green 42, Indiana 40
Minnesota 30, Western Illinois 20
Nebraska 41, UCLA 37
Michigan 45, Akron 6
Michigan State 20, Youngstown State 13
Iowa 20, Iowa State 16
Penn State 24, UCF 13
Washington 31, Illinois 30
Ohio State 30, California 28
Notre Dame 38, Purdue 14
Northwestern 48, Western Michigan 10
Arizona State 34, Wisconsin 20
SEASON RECORDS


Brian Bennett: 22-2
Adam Rittenberg: 21-3
Guest pickers: 18-6


September, 3, 2013
9/03/13
3:00
PM ET
Every Monday or Tuesday, I'll take a look back at our Big Ten predictions and poke fun at Brian, our guest picker and myself. Unfortunately, Brian is the big winner after Week 1, going a perfect 12-0 in picks to lead me by a game.
To review, the
Week 1 predictions
made by the reporters and guest picker
Ryan Stitt of Litchfield, Ill.
WEEK 1/SEASON RECORD
Brian Bennett: 12-0 (1.000)
Adam Rittenberg: 11-1 (.917)
It's rewind time …
Indiana State at Indiana
Bennett's pick: Indiana 38, Indiana State 14
Rittenberg's pick: Indiana 42, Indiana State 20
Actual score: Indiana 73, Indiana State 35
20-20 hindsight: We both underestimated the prowess of Indiana's offense, which set a stadium record for points scored. Bennett correctly pegged Tre Roberson to start at quarterback for the Hoosiers and Nate Sudfeld to take over and play plenty. My prediction of three combined rush touchdowns for Tevin Coleman and Stephen Houston fell one score short.
UNLV at Minnesota
Bennett's pick: Minnesota 31, UNLV 16
Rittenberg's pick: Minnesota 27, UNLV 14
Actual score: Minnesota 51, UNLV 23
20-20 hindsight: Again, we didn't expect such a scoring explosion from the Big Ten team. I correctly predicted Minnesota would record several takeaways (it had two). Bennett's pick to click, Gophers running back Donnell Kirkwood, had his night cut short by an ankle injury.
Western Michigan at Michigan State
Bennett's pick: Michigan State 28, Western Michigan 6
Rittenberg's pick: Michigan State 31, Western Michigan 10
Actual score: Michigan State 26, Western Michigan 13
20-20 hindsight: Both of us correctly pegged the Spartan Dawgs defense for a big night, although their pick-six came from a safety (Kurtis Drummond), not a cornerback, as I predicted. Bennett had the better forecast on the offense, writing that the quarterback competition wouldn't be settled in Week 1.
Buffalo at Ohio State
Bennett's pick: Ohio State 42, Buffalo 14
Rittenberg's pick: Ohio State 49, Buffalo 13
Actual score: Ohio State 40, Buffalo 20
20-20 hindsight: Bennett came closer on the score prediction, but we both had the wrong Buckeyes going for long touchdowns as running back Jordan Hall and wide receiver Devin Smith did their thing. Defensive end Noah Spence had a sack, but neither Adolphus Washington nor Ryan Shazier recorded one, as I had predicted.
Massachusetts at Wisconsin
Bennett's pick: Wisconsin 38, UMass 7
Rittenberg's pick: Wisconsin 48, UMass 10
Actual score: Wisconsin 45, UMass 0
20-20 hindsight: This was one of our easier and better predictions of Week 1. Bennett's combined yards prediction of 275 for James White and Melvin Gordon came extremely close -- they had 287 -- and I correctly pegged Badgers quarterback Joel Stave to twice find Jared Abbrederis for touchdowns.
Southern Illinois at Illinois
Bennett's pick: Illinois 31, Southern Illinois 13
Rittenberg's pick: Illinois 27, Southern Illinois 17
Actual score: Illinois 42, Southern Illinois 34
20-20 hindsight: Sense a theme? We both undervalued the offenses of several second-division Big Ten squads in Week 1. Brian came close with his predictions of 35 pass attempts (Illinois had 37) and three Nathan Scheelhaase touchdown passes (he had two).
Purdue at Cincinnati
Bennett's pick: Cincinnati 28, Purdue 27
Rittenberg's pick: Cincinnati 27, Purdue 24
Actual score: Cincinnati 42, Purdue 7
20-20 hindsight: We both expected much more from Purdue in coach Darrell Hazell's debut. Cincinnati quarterback Munchie Legaux made big plays early, not late, as Brian predicted. I had Purdue quarterback Rob Henry committing a key fourth-quarter turnover, but he threw picks in the first and third quarters in a poor performance.
Central Michigan at Michigan
Bennett's pick: Michigan 35, Central Michigan 17
Rittenberg's pick: Michigan 38, Central Michigan 14
Actual score: Michigan 59, Central Michigan 9
20-20 hindsight: We had similar score predictions and both turned out to be way off, at least when it comes to Michigan's offensive output. Michigan receiver Jeremy Gallon had one touchdown catch, not two as I had predicted. Wolverines running back Fitzgerald Toussaint had 57 rush yards, falling short of Brian's prediction (95).
Penn State vs. Syracuse
Bennett's pick: Penn State 27, Syracuse 23
Rittenberg's pick: Penn State 24, Syracuse 21
Actual score: Penn State 23, Syracuse 17
20-20 hindsight: One of our better score predictions, as we both expected a fairly low scoring close game and got one. Penn State had zero rushing touchdowns, not the two I had predicted.
Northern Illinois at Iowa
Bennett's pick: Northern Illinois 23, Iowa 21
Rittenberg's pick: Iowa 24, Northern Illinois 23
Actual score: Northern Illinois 30, Iowa 27
20-20 hindsight: Our lone disagreement of Week 1 went Bennett's way, even though I was in good shape for most of the second half. Iowa running back Mark Weisman (100 rush yards) came 50 yards and two touchdowns shy of my prediction. NIU got a big lift late in the fourth quarter from a Jordan Lynch touchdown pass, not a Lynch scoring run, which was Bennett's forecast.
Wyoming at Nebraska
Bennett's pick: Nebraska 49, Wyoming 21
Rittenberg's pick: Nebraska 52, Wyoming 17
Actual score: Nebraska 37, Wyoming 34
20-20 hindsight: We both expected a stress-free night for the Huskers and a much better performance from the young Nebraska defense. Neither happened. I correctly pegged Nebraska quarterback Taylor Martinez to find Quincy Enunwa for two touchdown passes. Brian's prediction of five combined touchdowns for Martinez and Ameer Abdullah came up short as Imani Cross had Nebraska's two rushing touchdowns.
Northwestern at California
Bennett's pick: Northwestern 30, Cal 24
Rittenberg's pick: Northwestern 33, Cal 24
Actual score: Northwestern 44, Cal 30
20-20 hindsight: We both came up short with our score predictions, although Bennett's forecast of Northwestern recording two timely interceptions proved spot on as linebacker Collin Ellis had a pair of pick-sixes in the second half. Injuries prevented the big night I predicted for Northwestern quarterback Kain Colter and running back Venric Mark.
And now for our guest picker …
Indiana 21, Indiana State 13
UNLV 21, Minnesota 17
Michigan State 28, Western Michigan 17
Ohio State 45, Buffalo 13
Wisconsin 38, UMass 14
Southern Illinois 20, Illinois 17
Cincinnati 27, Purdue 21
Michigan 28, Central Michigan 17
Penn State 28, Syracuse 23
Iowa 24, Northern Illinois 13
Nebraska 27, Wyoming 16
Northwestern 24, California 21
Record:
9-3
Assessment:
Not too shabby, Ryan, although you've clearly lived in Big Ten country too long with some of those low score predictions. You came close with Michigan State-Western Michigan but, like the two of us, underestimated the offensive prowess of teams like Michigan, Northwestern, Indiana, Minnesota and Illinois. That UNLV pick doesn't look too good, but not a terrible first effort.
Who's next?
August, 1, 2013
8/01/13
9:00
AM ET
Every day this week, NittanyNation will continue taking a closer look at a different game this season and how the matchup stacks up for PSU. Up today: Nebraska.
653, 498, 640, 589.
Mention those numbers to a Nebraska fan, and he'll probably shake his head because he knows exactly what they represent -- the yards allowed by the Cornhuskers in their four losses in 2012. That includes the 63-38 loss to Ohio State and the 70-31 thumping by Wisconsin.
There's not another team like Nebraska in the Big Ten. The offense is great, and
Taylor Martinez
will undoubtedly be in the conversation as a semifinalist for the Davey O'Brien Award. But the defense? Well, the Huskers might be better served fielding a front seven from the MAC.
Think about the disparity between Indiana's offense and defense -- and then multiply it by three. That's as close to Nebraska's recipe as you can get. When the Huskers lost, they lost big. When the defense struggled, it struggled big.
Nebraska boasts the offense of a Big Ten champion and the front seven of a Big Ten pretender. Bo Pelini has his work cut out for him this season on defense, but there's no doubt this offense will be among the most exciting in the conference.
The only question, really, is if that'll be enough.
BIG TEN SCOREBOARD
Thursday, 9/3
Friday, 9/4
Saturday, 9/5
Sunday, 9/6
Monday, 9/7