Penn State Nittany Lions:

PSU sanctions reduction
September, 26, 2013
9/26/13
6:30
PM ET
Matt McGloin
, now a backup quarterback for the Oakland Raiders, led Penn State last season to an 8-4 record and helped keep the program intact. He was there when the sanctions first came down and, although he's no longer in Happy Valley, he was still happy to hear about the recent reduction in sanctions.
McGloin recently spoke at length about his reaction to the reduction, his thoughts on the NCAA and what other sanction bothers him the most.
Josh Moyer:
What was your initial reaction to the news of the
reduction of the sanctions
?
Matt McGloin:
It was shocking. It was exciting at the same time because it's something you'd like to say and think would happen -- but you never expect it to happen. I'm happy for the program, the university and most importantly coach [Bill] O'Brien, with everything he's done so far and how he's kept the place together. I'm especially happy for him.
Moyer:
I went to the HUB and talked to a lot of people. And everybody was basically saying, 'Good but not good enough.' Stephon Morris shared a similar sentiment. Is that something you agree with, or are you just happy now?
[+] Enlarge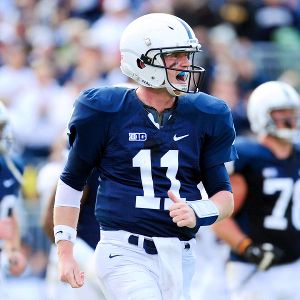 Evan Habeeb/USA TODAY SportsMatt McGloin led Penn State to an 8-4 record last season.
McGloin:
I'm optimistic about the situation and want to say it's the first step toward something great. At least they're doing something about it. But, at the same time, I'm starting to think that maybe the direction they're heading is, 'Hey, let's give them something small just to shut everybody up and shut these people up so it makes it look like we're doing something.' That's my only concern with it.
Moyer:
So the optimist in you wants to think it's the beginning of more reductions, but the pessimist in you thinks this was just to shut up Penn State?
McGloin:
Exactly. My only concern is that they decided to just give us this. Not that it's small. It's definitely a great thing. But at the same time -- and I don't know if it's on anyone else's mind -- but it's their way of saying, 'Here. Stop complaining, and leave us alone.'
Moyer:
Why is that still a concern?
McGloin:
Here's the thing. At the end of the day, they're trying to save themselves. They don't want to wake up tomorrow morning and have egg on their face and realize they made a huge mistake. So they're trying to make people happy. They're trying to keep the Penn State community happy and, at the same time, keep everybody else happy.
Like, 'Hey, we gave them this. But they still have a $60-million fine, they still can't play in a championship game, they still can't play for a bowl game. That's still a lot going on there.' What they've given us is great and all. But I guess I'd have to agree with Steph. It's just not enough yet.
Moyer:
What would be enough? Restore everything? Is it more just the vacated wins?
McGloin:
Well, for one, it's the wins that were vacated. That's over 10 years of preparation, hard work, working hard 365 days a year to play 12 games. That's dedication. You sacrifice a lot. You sacrifice your social life, relationships and stuff like that to be something better and be great for your university. Nobody's going to tell me I didn't play in the 400th game or the 409th game. That's ridiculous.
So a step would be getting the wins back. I understand all the fines. The fines are fine; that's something that has to happen. … But I think if we could get the wins back and maybe play in the postseason, that would be great. But, like I said, the wins are just my main concern. That's just ridiculous.
Moyer:
Are the wins important mainly because of Joe Paterno? Or is it getting those wins for everybody?
McGloin:
For me, I kind of owe Joe my career because he gave me the opportunity to play Division I. And I know he always had my back. Maybe he didn't come out and say it, but I know that he did.
But it's like I said. It's kind of for all that he went through, his career and seeing it end and then seeing those wins vacated after he worked so hard his whole life when someone else messed up. It simply isn't fair.
Moyer:
Can you kind of contrast how it felt when the NCAA did take those scholarships away back on July 23 and how you feel today?
McGloin:
First of all, you're sitting there around your team [in the players' lounge on July 23]. That's your guys. That's some of your best buddies, some of the guys you go to war with each and every day. To watch [NCAA president Mark Emmert] on TV, you could see it in his face -- how it meant nothing to him to hand all this out. It meant nothing to him. That's what got guys so frustrated. His reaction toward it was as if he simply didn't care. It meant nothing to him to give that to us. His expression didn't change at all throughout the whole process. It was as if he was going about his day, as if it was just another part of his day and didn't realize he was trying to tear down one of the greatest football institutions of all time. And it's frustrating. You get worked up just talking about it right now.
September, 25, 2013
9/25/13
5:30
PM ET
STATE COLLEGE, Pa. -- The afterglow of reduced sanctions has faded here in Happy Valley.
Tuesday afternoon classes filled with chatter about the
restoration of Penn State scholarships
, but the wave of surprise and satisfaction has died down.
Former players, fans and alumni are pleased with the NCAA's most recent move. That much is obvious. But an overwhelming number of people labeled it as simply not good enough. It's cause to smile but not to celebrate.
[+] Enlarge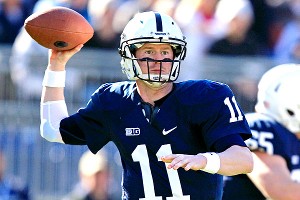 AP Photo/Gene J. PuskarFormer Penn State QB Matt McGloin is pleased with the NCAA's decision, but he wants more.
"I was really excited for Coach [Bill] O'Brien and the program, but I was kind of still pissed off because I feel like the NCAA is just taking baby steps toward things," said Stephon Morris, who played cornerback for Penn State last season. "They know they're wrong -- we all know they're wrong -- so why not give us everything we deserve? I feel like they could do more than what they're doing."
The town's opinion of the NCAA hasn't changed. Some students still strolled downtown, backpacks slung over their shoulders, with blue T-shirts that depict the letters "NCAA" with the "C" angled into a hammer and sickle. "National Communist Athletic Association," the shirts read.
Stop a Penn State student, ask about the reduction in sanctions, and you're almost begging to first hear a soliloquy on everything that's wrong with the NCAA and its president, Mark Emmert. Students and fans are quick to say they don't mean to diminish the atrocities of former defensive coordinator Jerry Sandusky -- but they add he doesn't reflect the university and didn't offer a competitive advantage.
They say the NCAA overstepped into a criminal matter. And a reduction in sanctions is simply a door-prize for being wronged themselves.
"With the scholarships, yeah, I'm happy about it. I'm happy we give out money for kids to play football," said Penn State senior Tyler Bodnar, a meteorology major. "But it seems like they're kind of like, 'Oh we screwed up. We didn't mean to come down that hard.'
"We feel like we're still getting punished for something we had no hand in -- and neither did the players, neither did the coaches, neither did the community."
In the HUB-Robeson Center -- a popular glass-and-brick building where students can dine quickly on cheap pizza, grab a latte and leach off free WiFi -- students read books quietly on the second floor Tuesday evening and again Wednesday afternoon. Some studied on the bustling first floor, while overheard conversations centered on a criminal justice class and dorm-room drama.
The theme of student discussion did not revolve around the NCAA's most recent move, of allowing PSU 75 scholarships next season, as opposed to the original cap of 65, and putting PSU at the full allotment of 85 scholarships by 2016. Four of 10 interviewed students Tuesday evening hadn't even heard of the reduction.
Three thousand miles away, in the confines of Oakland, Calif., Oakland Raiders quarterback Matt McGloin was well-aware of the move. McGloin, the former walk-on and O'Brien protege, sat in the Penn State players' lounge last July 23, when Emmert strolled up to the podium on TV and recited the crushing sanctions.
Emmert glanced up from his notes every few moments, without a change in facial expression. At Penn State some players, mostly the freshmen and sophomores with their entire college careers in front of them, just cried. The upperclassmen, McGloin remembered, just seethed with anger and frustration.
"To watch him on TV, you could see it in his face -- how it meant nothing to him to hand all this out. It meant nothing to him," McGloin said Tuesday night. "That's what got guys so frustrated."
The reduction doesn't make up for that day, McGloin continued, but the news of extra scholarships was still something he was pleased with -- even if he wasn't so sure about the NCAA's motive.
"I'm optimistic about the situation and want to say it's the first step toward something great. At least they're doing something about it," he said. "But, at the same time, I'm starting to think that maybe the direction they're heading is, 'Hey, let's give them something small just to shut everybody up and shut these people up so it makes it look like we're doing something.' That's my only concern with it."
Penn State senior Allen Sheffield, president of the group of student campers known as "Nittanyville," understands where McGloin's coming from. Sheffield still remembers mowing the grass, washing laundry and taking out the trash before reclining on his couch last July 23 to watch the sanctions beside his father.
The shock, anger and potpourri of emotions didn't wane because of a recent NCAA announcement. One student felt it was as if a company cheated them out of $1 million and then tossed them a $100,000 settlement. Of course they're still angry. Of course they think that's not enough.
Nittany Nation took to social media to express their surprise and contentment over the restoration of scholarships. But that happiness had about the same shelf life as milk left out in the sun.
"Twitter tells everything," Sheffield said Wednesday afternoon. "My timeline from the first couple hours was just like boom-boom-boom. And then, later on, no one's really talking about it."
Some fans are still organizing and calling for the Board of Trustees to resign. Cars are still cruising through the downtown with "409" bumper stickers -- a nod to Joe Paterno's 409 wins, 111 of which were vacated as part of the sanctions. And message board posters are still questioning the validity of points made in the Freeh Report.
Happy Valley lived up to its namesake for a few hours Tuesday. But now it's as if the reduction never happened. The community isn't happy -- and might not be until Emmert can say there's no culture problem or the sanctions are erased.
"What they've given us is great and all," McGloin said. "But I guess I'd have to agree with Steph [Stephon Morris]. It's just not enough yet."
September, 24, 2013
9/24/13
6:00
PM ET
Speaking on the Big Ten coaches' conference call Tuesday, Penn State coach Bill O'Brien didn't sound as happy as you might expect him to be.
The NCAA had just announced that it would
restore scholarships for the Nittany Lions beginning next season
, helping put O'Brien and his program back on a more even footing with their peers. O'Brien certainly was pleased with that decision, though it didn't do anything to help him win games this season. Like any football coach, he's focused on preparing for the next game, which will be Oct. 5 at Indiana.
[+] Enlarge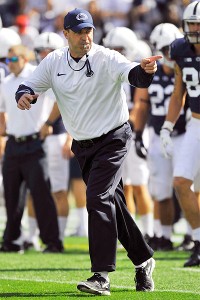 Randy Litzinger/Icon SMIAt a young age, it was clear that Bill O'Brien had aspirations of becoming a football coach. "I loved coaching ... loved the strategy of the game and reading about the game," he said.
"It doesn't have any effect on this year, so we've got to immediately get back to work on Indiana and try to improve," O'Brien said. "Today is definitely more about the future. It's about next year, and the year after and the year after that."
That's true. What's also true is that the future of Penn State football is inexorably tied to that of O'Brien. And Tuesday's announcement made it far more likely that O'Brien will be sticking around in State College, Pa., for a while.
Remember, O'Brien took the job before he knew of the crippling sanctions the NCAA would levy against the school. He has been coaching with one hand tied behind his back ever since, with depth issues on his current team and fewer scholarships to offer on the recruiting trail. He has done a remarkable job with what he has been given, but you couldn't blame O'Brien for wanting an easier situation.
His success in the NFL as the offensive coordinator with the New England Patriots, along with his obvious ability as a playcaller at Penn State in a pro-style system, makes O'Brien a sought-after commodity at the next level. The Eagles and Browns both talked to O'Brien about their coaching vacancies last year, and they won't be the last ones to have his agent's number on speed dial in the offseason.
Eventually, O'Brien is likely to return to the NFL. The money and the opportunity to coach the best players are just too much to turn down. The Eagles are paying former Oregon coach Chip Kelly a reported $32.5 million over five years. O'Brien might have even more leverage because of his NFL background, and despite its many resources, Penn State would have trouble matching that kind of money.
But O'Brien and his family are also comfortable in State College and seem to enjoy the college lifestyle. What Tuesday's ruling does is provide light at the end of the tunnel and more reason to see this job through. Instead of having to wait until 2018 to have a full roster of players, O'Brien can have as many as 80 scholarship players in the 2015 season and the full 85 in 2016. He no longer has to be ultraselective about which players he recruits while scouring the region for promising walk-ons. He can offer more prospects, and Penn State can better survive the inevitable recruiting misses.
There will still be some gaps in the junior and senior classes. But as it stands now, Penn State should at least field a competitive team in 2016, the first year the Lions are eligible for the postseason. And it remains quite possible that the NCAA could reduce the bowl ban and let Penn State play in one as soon as next season, though there are no guarantees.
O'Brien can now see the top of the mountain he must climb. Whether it's 2016 or earlier, the first time the Nittany Lions get to a bowl game will be a special moment that he shouldn't want to miss. Freed from the toughest part of the sanctions, O'Brien could make Penn State a Big Ten and even national title contender again before too long.
The NFL will always be there and it will remain tempting. But O'Brien now has far less reason to jump ship than he did before today.
September, 24, 2013
9/24/13
3:00
PM ET
By
ESPN.com staff
| ESPN.com
Editor's note: To watch the show on your smartphone, click here.
ESPN.com reporters Brian Bennett, Adam Rittenberg and Mark Schlabach discuss what the NCAA's move to reduce the sanctions on Penn State means for the organization and the school.
September, 24, 2013
9/24/13
2:20
PM ET
Penn State coach Bill O'Brien was an understandably happy man Tuesday when he appeared on the Big Ten coaches' teleconference.
O'Brien learned earlier Tuesday about the
NCAA's decision to gradually reinstate scholarships
that had been removed when the sanctions against the program came down in July 2012. He will meet with the team at 2:45 p.m. ET to discuss the big news. Penn State has an open week.
"Since I was hired here, we're just trying to do what's right for the student-athletes here," O'Brien said. "We've made mistakes. We've owned up to those. If we sent an improper text or made a [prohibited] phone call, we reported them right away. We're certainly not perfect. I think we have a good leader here in [university president] Rod Erickson.
"We're just trying to do the best job we can for Penn State every day."
That job gets easier for O'Brien and his staff, who can adjust their recruiting approach beginning next year. Penn State has 12 recruits verbally committed
for the 2014 class
.
O'Brien declined to discuss specific recruiting strategies but talked about the challenge that the initial sanctions posed. At times, Penn State has been able to offer only one scholarship per position.
"We always felt once we were able to get a young man and his parents here on campus, the place sold itself," O'Brien said. "It's a place where you can get a fantastic degree. It's a place where you can play in the Big Ten. … As far as recruiting the individual athlete, that was never difficult here. The numbers were the difficult part."
O'Brien is excited for his players and Penn State fans, especially the students, calling it "a good day for all of those people." He's appreciative of the support from other Big Ten coaches. Iowa's Kirk Ferentz called Penn State's initial penalties "a bad deal" and is glad steps are being taken to rectify things.
Although the scholarship change doesn't impact Penn State until next year, it gives O'Brien a chance to reiterate a message to his players about "sticking together and being committed."
Penn State could receive an additional reduction of penalties, including the postseason ban, which is set to run through the 2015 season. But O'Brien isn't thinking about that just yet.
"When the rules changed a little bit, we adapted to those rules," he said. "The rules now are we can sign a few more guys and can get back to 85 scholarships a little bit sooner. We can't go to a bowl or compete for a championship, but we definitely can get more on an even playing field numbers-wise, and that's what we're concentrating on as a staff."
September, 24, 2013
9/24/13
1:25
PM ET
Penn State issued the following statements Tuesday after
the NCAA announced the gradual reinstatement of scholarships
to the football program.
Athletic director Dave Joyner
"I am very happy for Coach [Bill] O'Brien, the football coaches and staff and the players; especially pleased for our current and future student-athletes, who are the most important reason why we love working in intercollegiate athletics. We will continue to work hard within the Athletics Integrity Agreement to fully comply and to achieve excellence in everything we do at Penn State."
Head football coach Bill O'Brien
"Today's announcement by the NCAA is tremendous news. As a staff, we are especially pleased for our players, who have proven themselves to be a resilient group of young men who are able to look ahead, focus and overcome adversity. Penn State has long been known for graduating its student-athletes and providing them with a world class education. The scholarship additions will allow us to provide more student-athletes with a tremendous opportunity to earn that degree and play football for Penn State."
Clearly a great day for O'Brien and the Lions. More to come ...
September, 24, 2013
9/24/13
12:50
PM ET
The Big Ten released a statement on the NCAA's decision to reduce the scholarship sanctions against Penn State:
"Earlier today the National Collegiate Athletic Association (NCAA) held a teleconference to announce a modification to the sanctions set forth in the Consent Decree that the NCAA entered into with Penn State on July 23, 2012.

"The NCAA's decision to modify the Consent Decree was based strongly on the recommendations of Senator George Mitchell, who has been serving since August 2012 as the independent Athletics Integrity Monitor responsible for overseeing Penn State's implementation of the reforms set forth in the Athletics Integrity Agreement (AIA). The AIA was entered into on August 29, 2012 by the NCAA, the Big Ten Conference and Penn State as one of the requirements of the Consent Decree.

"As a party to the AIA, the Big Ten, through its Council of Presidents and Chancellors (COPC), met with Senator Mitchell on Tuesday, September 17, 2013 and received his report on Penn State's progress in complying with the reform requirements of the AIA. Senator Mitchell's briefing included a recommendation to modify the NCAA sanctions in the Consent Decree related to scholarships based on the significant progress that Penn State has made to date in its compliance and reform efforts. He made no other recommendations to modify any other sanctions at this time.

"'On the basis of Senator Mitchell's briefing, the COPC reached consensus to support his recommendation to the NCAA,' said COPC Chair and Iowa President, Sally Mason. 'We support the NCAA's announcement today acting on that recommendation.'"
PSU's 46-Hour Dance Marathon Raises $13 Million
BIG TEN SCOREBOARD
Thursday, 9/3
Friday, 9/4
Saturday, 9/5
Sunday, 9/6
Monday, 9/7