Penn State Nittany Lions:

PSU position previews
August, 29, 2013
8/29/13
9:00
AM ET
As part of an ongoing series, NittanyNation will preview a different position leading up to the season opener against Syracuse on Saturday. Today is the last installment: Quarterback.
Projected starter:
Christian Hackenberg
(2012 HS stats: 156-of-291 for 2,144 yards; 24 touchdowns, nine interceptions)
Key losses:
Matt McGloin (2012 stats: 270-of-446 for 3,266 yards; 24 touchdowns, five interceptions)
Next in line:
No, Bill O'Brien still hasn't publicly announced a starter -- but that appears to be Hackenberg, with juco signal-caller
Tyler Ferguson
as the backup. Ferguson will still see time at points this year, so last year's McGloin-
Steven Bench
split shouldn't be repeated.
D.J. Crook
is listed as the third-string quarterback, while
Austin Whipple
is likely No. 4. Freshman walk-on
Jack Seymour
, who turned down MAC scholarship offers, is No. 5.
What to expect:
Let's start off with what NOT to expect -- and that's a repeat of last season's 24:5 TD-to-INT ratio. Hackenberg is one of those players, his high school coach said, who comes along once or twice in a career. But that doesn't necessarily equate to immediate success.
Even NFL quarterback Matt Stafford, whom ESPN rated the No. 1 QB back in his class, threw nearly twice as many picks as touchdowns in his first season. So there's no easy way to place expectations on Hackenberg here. For every Stafford, there's a Chad Henne -- somebody who breaks out as a true freshman and ties some school passing records.
Hackenberg boasts all the tools for success -- throwing power, accuracy, mobility, size -- but he needs to improve upon reading defenses. All freshmen do. This year may be a wild card, but the future is bright for Hackenberg. Penn State's just hoping that future comes sooner rather than later.
Recruiting trail:
ESPN 300 quarterback
Michael O'Connor
(Bradenton, Fla./IMG Academy) will enroll early, and he'll bring some much-needed depth to the position. He's a quality player who, if needed, could contribute right away.
O'Brien likes to go after the best players available, and that was O'Connor. He wasn't a "need" pick. O'Brien offered him a scholarship before Bench even transferred, a few weeks after he wowed assistant coach Charlie Fisher by calling out Penn State plays he saw on film. O'Connor is a quick study and, if everything goes as planned, could become a two-year starter following Hackenberg.
Best-case scenario:
Hackenberg fares well in his first few starts during the nonconference season. There are some bumps but, overall, he keeps Penn State in games and earns the respect of fans and his teammates with his play. The Lions' offense breaks out with more big plays than ever thanks to Hackenberg's arm, and he earns a spot on the freshman All-American team. He peaks near the end of the season, guides PSU to an improved record and has fans clamoring about a title run in 2016.
Worst-case scenario:
The true freshman's adjustment to the college game is a slow one, as he makes poor decisions that consistently lead to turnovers. O'Brien is forced to use Ferguson a bit more than anticipated, and a controversy looms. Hackenberg shows flashes of potential, giving fans hope, but he also shows he's just not yet ready to be a full-time starter. Penn State wins fewer than eight games as a result.
Top position question: Just how good can Hackenberg be?
Well, he's bound for the NFL. That's … not something you usually say about an 18-year-old kid who's never taken a college snap. But every one of ESPN's top-rated quarterback recruits made it to the NFL upon graduation, and only one of the three younger quarterbacks still playing doesn't appear to have an NFL future. (Sorry, Phillip Sims.)
Russell Wilson played in the same high school league as Hackenberg, and most coaches there said Wilson is the better QB. Still, it's close. Expectations are big enough here that Hackenberg would be a disappointment if he didn't make it to the NFL.
How good can he be? He could be the best since Kerry Collins. But that's all a game of "what ifs" right now. Obviously, his potential is high -- but we should get a glimpse Saturday of just what he's capable of.
August, 27, 2013
8/27/13
9:00
AM ET
As part of an ongoing series, NittanyNation will preview a different position leading up to the season opener against Syracuse on Saturday. Up today: Offensive linemen.
Projected starters:
Adam Gress
(6-foot-6, 320 pounds),
John Urschel
(6-3, 301),
Ty Howle
(6-0, 293),
Miles Dieffenbach
(6-3, 295) and
Donovan Smith
(6-5, 322)
Key losses:
RT Mike Farrell and C Matt Stankiewitch
Next in line:
The Nittany Lions will use a rotation again this season, with
Angelo Mangiro
as the next man up when it comes to the interior. At tackle,
Eric Shrive
and
Garry Gilliam
will compete for time. (Shrive is also versatile enough to play inside.)
Those three should see the most time besides the starters. Others who could contribute include
Anthony Alosi
,
Wendy Laurent
and true freshman
Andrew Nelson
.
What to expect:
With another season under OL coach Mac McWhorter and strength coach Craig Fitzgerald, this line should take another step forward. Sure, the loss of Stankiewitch and Farrell hurt -- but Howle isn't that much of a downgrade and Smith is healthy for a change.
If the right tackle (Gress or Gilliam) can get off to a good start, this line will be better than last season. Smith could be the next great lineman at Penn State, and the interior is very strong. As a result,
Zach Zwinak
should see plenty of holes inside and the running game should improve.
This group isn't entirely bigger weight-wise -- Gress, Howle and Dieffenbach lost weight from last season -- but don't let that fool you. This group is stronger, literally, from last season and should push around opposing defensive linemen a bit more.
Recruiting trail:
In-state product
Noah Beh
(Scranton, Pa./Scranton Prep) is the lone offensive lineman of the 2014 class right now, and he won't make an instant impact at Penn State. He's no more than 260 pounds, so he'll need some time to fill out.
On the plus side, he can also play on the defensive line. And he has a lot of upside. Next season, however, could be the "Year of the Offensive Lineman" for Penn State.
PSU could take about three prospects there, and it's already extended offers to more than a half-dozen players -- including the likes of ESPN Junior 300 prospects
Sterling Jenkins
(Pittsburgh, Pa./Baldwin),
Tristen Hoge
(Pocatello, Idaho/Highland),
Ryan Bates
(Warminster, Pa./Archbishop Wood) and
Richie Petitbon
(Washington, D.C./Gonzaga).
Best-case scenario:
At least three linemen earn All-Big Ten honors, as Smith breaks out and earns a reputation as
Levi Brown
's heir apparent. The line takes great strides, further increasing the legend of the crazy-in-a-good-way strength coach. (He wears shorts in 20-degree temperatures, does the worm before some games and once licked the gym floor to fire up his players.) Fans can breathe easy in future years knowing the linemen are in the hands of Fitzgerald and McWhorter.
Worst-case scenario:
The right tackle is a big letdown and creates havoc along the line, while Smith shows himself to be injury prone. The interior is still good, but the tackles struggle without Smith and don't give the quarterback much time to throw.
Top position question: How does Donovan Smith compare to Levi Brown?
Well, the last staff sure thought they were similar -- because that was one of the Nittany Lions' big recruiting pitches.
Former PSU coach Bill Kenney playfully pulled aside Smith's seat during a recruiting trip in 2010, telling him it was Brown's seat. The two were both initially recruited to play the defensive line, and Kenney showed Smith some clips of the 2007 first-round NFL draft pick.
Brown, 29, is currently listed at 6-6 and 324 pounds. Smith is 6-5, 322. And Urschel previously hinted that Smith held more potential than second-round pick Stefen Wisniewski. So Smith certainly has the potential to follow in Brown's footsteps.
August, 26, 2013
8/26/13
9:00
AM ET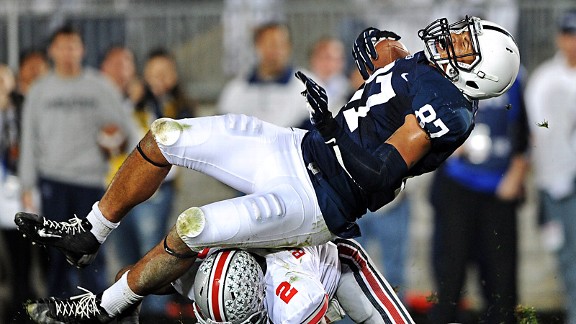 Patrick Smith/Getty ImagesPenn State tight end Kyle Carter aims to improve on his 36-catch season.
As part of an ongoing series, NittanyNation will preview a different position leading up to the season opener against Syracuse on Saturday. Up today: Tight ends.
Projected starters:
Kyle Carter
(2012 stats: 36 catches, 453 yards, two touchdowns) and
Jesse James
(15 catches, 276 yards, five touchdowns)
Key losses:
None
Next in line:
Walk-on-turned-scholarship TE
Matt Lehman
started three games and played in all of them last season, and he'll be the next man up for now if there's any kind of injury. That being said, he'll still see plenty of time in Bill O'Brien's rotation at the position -- and he could be pushed for playing time by the true freshman behind him.
Adam Breneman
missed his senior season of high school with a torn ACL in his right knee, but he's made great strides and has impressed the staff with his recovery. He's from the same high school as former PSU great Kyle Brady, and big things are expected out of the nation's top tight end of the 2013 class. By the end of the season, he could be TE No. 3.
Brent Wilkerson
is nursing a back injury, and O'Brien hasn't mentioned when he could return -- although he did acknowledge the injury was serious.
Wilkerson could see time down the line if he's healthy. If he's not, the only other TE listed on the roster is run-on
Tom Pancoast
, who was initially recruited as a safety.
What to expect:
If this isn't the best group -- group -- of tight ends in the country, it's pretty darn close. This is the most unique part about Penn State's offense, as defenses will have to anticipate four tight end sets at some point.
The tight ends here have taken to calling themselves "TEU," and that's not too far from the truth. Maybe that's a bit premature, but PSU targets tight ends in a big way. Bigger than nearly every other school. PSU could go five consecutive seasons with someone on the Mackey Award watch list, and Breneman is aiming to win the award before he graduates. (It's already typed in his smartphone.)
There's really nothing bad to say about this group. Teammates have raved about the 6-foot-7 James, who should provide a nice red-zone target for the new quarterback. Carter might have the best hands on the team. Penn State's fourth-best tight end could start on most Big Ten teams.
Recruiting trail:
Clearly, the Nittany Lions don't need any more tight ends -- but O'Brien's a fan of the "best player available" philosophy. Three-star prospect
Mike Gesicki
(Manahawkin, N.J./Southern Regional) is the only tight end who could wind up at Penn State in the 2014 class, and PSU is on his short list. Ohio State and Wisconsin are Penn State's biggest competition. Gesicki visited PSU earlier this month.
Best-case scenario:
Carter not only picks up where he left off last year but becomes to tight ends what
Allen Robinson
was to wideouts last season. Carter is named the Big Ten tight end of the year, earns All-America honors and is in the conversation for the Mackey Award. James becomes a touchdown machine, while Breneman sees solid time later in the season and sets a foundation.
Worst-case scenario:
Carter starts off slow after missing time over the offseason because of a wrist injury. He's just fine later on, but PSU finds itself relying more on the run to offset a struggling starting QB -- so the tight ends are unable to flash their ability that much. This group is improved, but it's not easy to tell because they're not seeing as many targets.
Top position question:
Can Carter, or any tight end here, win the Mackey at some point his career?
Absolutely. We averaged the stats of the last 10 Mackey winners, and future Penn State tight ends should come very close to the numbers.
Here's the average: 58 catches, 708 yards, six touchdowns. (And two of the winners had fewer than 50 catches and 600 yards.) If you average Carter's numbers out last year as if he had played every game, he would've finished with 48 catches for 604 yards and three TDs. So he's not that far off.
Breneman's goal of winning the Mackey in the future is very reachable. If Carter can improve his numbers from last year -- and the young QBs do appear to be targeting the tight ends more as security blankets -- then PSU should at least have a semifinalist in the mix.
August, 23, 2013
8/23/13
9:00
AM ET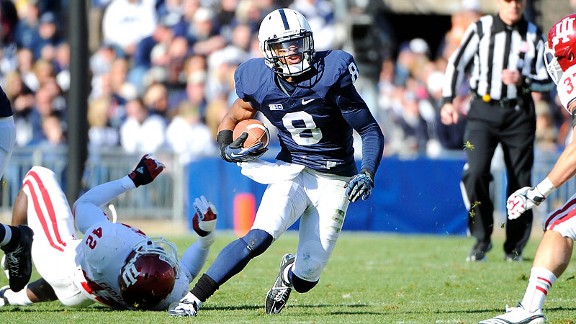 Rich Barnes/US PresswireJunior Allen Robinson returns after setting PSU's single-season record for receptions in 2012.
As part of an ongoing series, NittanyNation will preview a different position leading up to the season opener against Syracuse on Aug. 31. Up today: Wide receivers.
Projected starters:
Allen Robinson
(2012 stats: 1,013 yards, 77 catches, 11 touchdowns) and
Brandon Moseby-Felder
(437 yards, 31 catches, one touchdown)
Key losses:
None
Next in line:
Redshirt freshman
Eugene Lewis
was close to playing last year but, as a former high school quarterback, he needed an extra year to learn the receiver position. He's a fast, exciting playmaker who should add another wrinkle to this offense.
Matt Zanellato
also will see an increased workload this season and said he's been practicing at all the receiver positions. He's versatile, so Zanellato should help catch some defenses off-guard. In the slot,
Alex Kenney
is the top guy -- with true freshman
Richy Anderson
backing him up.
What to expect:
This group is clearly better than last year, and with Lewis' addition to the lineup, the quarterback here shouldn't have to just turn to A-Rob and the tight ends for targets. Moseby-Felder and Lewis have good speed, and this position is definitely in good shape. It's deeper, more experienced and more talented than in 2012.
Robinson was the best wideout in the Big Ten last season -- and he only has gotten better. That should be a scary thought for opposing defenses. Outside of Robinson last year, the Nittany Lions really didn't have a No. 2 wideout the first few games of the season -- Moseby-Felder had a lingering injury -- but that's not a problem this year.
A lot of the receivers have the ability to play at different spots, and that should keep defenses guessing. The statistics might not match last year's, but this is one of the most-improved units on the team.
Recruiting trail:
The Nittany Lions didn't need to grab three receiver commits in the 2014 class, but it's hard to say no to some of the top guys on your recruiting board. PSU received verbals from ESPN 300 wideouts in
De'Andre Thompkins
(Swansboro, N.C./Swansboro) and
Chris Godwin
(Middletown, Del./Middletown), in addition to three-star WR
Troy Apke
(Pittsburgh, Pa./Mount Lebanon).
The Lions have arguably the best group of receiver commits in the country, and it's very safe to say PSU is done at this position for this class. Looking ahead to 2015, it seems as if PSU would take either one wideout or none. It already has offered
Van Jefferson
(Brentwood, Tenn./Ravenwood).
Best-case scenario:
Robinson earns All-America honors, grabs a bunch of jump balls and breaks his own single-season record. Debates begin as to whether he is PSU's best receiver ever. Meanwhile, Lewis has a breakout season, while Moseby-Felder builds off last year and Zanellato plays well when called upon.
Worst-case scenario:
Robinson is better than last year, but it doesn't show. With a struggling quarterback, teams shadow Robinson and he is unable to make the same impact he did in 2012. Lewis gets confused on some routes, and Moseby-Felder doesn't improve enough to take some of the pressure off of Robinson. This group is good, better than last year, but it's difficult to see.
Top position question: Will Robinson declare early for the NFL draft?
Obviously, this question is a bit premature -- but it's one every Penn State fan wants to ask. He has the ability to play in the NFL, and it really wouldn't be that surprising for him to at least inquire about his draft grade.
We recently asked Robinson's father, also named Allen, about declaring early for the NFL. Here's what he had to say:
"What I would really like him to do is play his senior season," Robinson's father said. "Allen is young. I think he can get much better. I think he can put on some more weight, and I think he can get faster before he goes to the next level. But that's just my own thoughts.
"We'll see how things turn out."
PSU's 46-Hour Dance Marathon Raises $13 Million
BIG TEN SCOREBOARD
Thursday, 9/3
Friday, 9/4
Saturday, 9/5
Sunday, 9/6
Monday, 9/7