Penn State Nittany Lions:

Philly Brown
October, 25, 2013
10/25/13
9:00
AM ET
Penn State will travel to The Horseshoe on Saturday for its 29th meeting against Ohio State. So, in preparation of the game, Penn State beat writer Josh Moyer and Ohio State beat writer Austin Ward sat down to discuss four key questions surrounding the contest.
What's the X-factor for the Penn State-Ohio State game?
Moyer:
The crowd. Listen, you can say that almost any week -- but it especially holds true Saturday. The Nittany Lions have just 12 seniors on their roster, and they've already played a dozen true freshmen this season. Both redshirt and true freshmen comprise 53 percent (59 of 111) of the roster. Fifty-three percent! So most of these players on this roster haven't competed in front of a truly hostile crowd, and
Christian Hackenberg
's biggest road test to date has been in front of a half-empty Memorial Stadium at Indiana, a game Penn State lost. Penn State is blaring the music a bit louder at practice this week -- but that can only prepare players so much. Penn State can't afford to make mistakes, and some burned timeouts and false starts could be in the Lions' future.
[+] Enlarge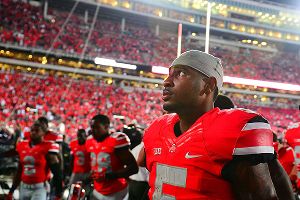 Andrew Weber/USA TODAY SportsBraxton Miller and Ohio State are on a roll offensively.
Ward:
The Buckeyes are hitting on all cylinders on offense, and they're going to score points with
Braxton Miller
healthy and playing at a high level on offense and
Carlos Hyde
blowing through defenders to pace the rushing attack. But the real key for Ohio State will be if its improving front seven is able to collapse the pocket and force Hackenberg to make mistakes the secondary can feast on for a couple turnovers. Hackenberg has played beyond his years early in the season, but he hasn't played anywhere nearly as hostile as Ohio Stadium and the Buckeyes could add to the difficulty by dialing up their aggression early and often, coming off a couple slow starts that can at least partially be attributed to somewhat conservative schemes.
Which player is the most important?
Moyer:
Hackenberg. Miller is obviously a tempting choice, but he's going to score. You can't totally stop Miller. Hackenberg is the wild card. We've seen 50-plus yard throws fall right into the receivers' hands, we've seen him stand in the pocket and deliver tight spirals across his body. But we've also seen him make head-scratching decisions, stare at one receiver and hold on to the ball way too long. He's exceeded expectations and, overall, has done a remarkable job this season. But you just don't know what quarterback you're going to get on Saturday. Will he play the way he did in the final three quarters against Kent State, when he went 6 of 25? Will he rally his team for a comeback the way he did against Michigan in the final minute? If he plays well, Penn State has a chance. If he doesn't, Penn State has no chance. It's that simple.
Ward:
The entire offense centers around Miller's versatility, and the Buckeyes are operating at a different level now that the junior quarterback has become a more polished passer. His ability to move the chains and create explosive gains on the ground is unquestioned, but a year ago, teams like Penn State were able to slow down the Buckeyes at times late in the season because they could load the box without too much fear of getting beat through the air. That approach doesn't work as well now, and with Miller coming off perhaps the most efficient outing of his career, the Nittany Lions will have to honor the threat of
Philly Brown
or
Devin Smith
down the field. That, in turn, opens up holes for Hyde. All of that revolves around the special talent taking the snaps.
What's the matchup to watch?
Moyer:
WR
Allen Robinson
vs. CB
Bradley Roby
. A-Rob is one of the top receivers in the nation who could leave early for the NFL; Roby is the returning All-American corner who's trying to make amends for an awful game against
Jared Abbrederis
to show he's still a high draft pick. What's not to love about this matchup? Robinson has a 37-inch vertical leap and the best route-running ability on the team; Roby boasts great closing speed, a penchant for picking up on routes and, Bill O'Brien said, is "one of the top defensive backs in the country." It's no secret that Robinson is the biggest weapon on this Penn State offense, and this game will go a long way in developing Roby's reputation. Another bad game for Roby and the chatter will undoubtedly pick up. On the flip side, if Robinson succeeds, he could watch his draft stock soar a few notches. It should be the most entertaining matchup in the conference Saturday.
Ward:
The elite head-to-head battle on the perimeter between Roby and Robinson will be worth the price of admission. But when the Buckeyes are on offense, there could be perhaps an even more intriguing chess match as the Nittany Lions try to get defensive tackle
DaQuan Jones
in favorable situations. The Big Ten's leader in tackles for a loss is facing perhaps the best overall group of blockers in the league, and center
Corey Linsley
and guards
Marcus Hall
and
Andrew Norwell
are well aware of how important it will be to win up front and keep Jones out of the backfield.
Which team has the advantage?
Moyer:
Ohio State. No question about it -- even the most die-hard Penn State fans have to admit the Buckeyes have the clear advantage here. Ohio State is more experienced, has a deeper roster, has the home-field advantage, a more well-rounded offense, a better front-seven, etc. PSU is about a two-touchdown underdog in this one, and it lost to OSU by double-digits last season with a lot more going for it. If Penn State is going to keep this one close, its offense has to score points -- a lot of points -- to stand a chance. It's difficult to discount Penn State in any game, but it'd be foolish to even hint that these two teams are evenly matched. They're not. Ohio State has the advantage.
Ward:
The Buckeyes have more firepower than just about any team in the country on offense, and even after a couple sloppy starts on defense over the last couple weeks, they still rank No. 15 in the nation in total defense. That's a perfect formula for winning a lot of games, and the Buckeyes have done that every single time they've taken the field under Urban Meyer. Ohio State is somewhat uniquely equipped to handle different scenarios depending on what it wants to accomplish, either speeding up the tempo if it feels the need to put up a bunch of points or leaning on its ground game to work on the clock and grind out a victory if it needs to. That ability to adapt has been invaluable during the 19-game winning streak, and along with what appears to be a more talented roster on paper, it should help provide an edge once again for the Buckeyes.
October, 24, 2013
10/24/13
8:00
AM ET
STATE COLLEGE, Pa. --
Stephen Obeng-Agyapong
sees the play everywhere. He can't forget.
[+] Enlarge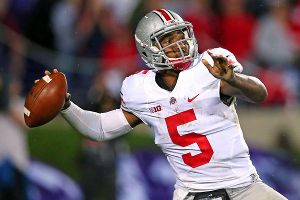 Jonathan Daniel/Getty ImagesStopping Braxton Miller will be key to any chance of a Penn State victory.
Third quarter. Third-and-goal from the 1. Oct. 27, 2012.
Braxton Miller
fakes a handoff from the shotgun, while a diving Sean Stanley mistakenly takes out the decoy. Gerald Hodges spots the football and sprints over to Miller as the quarterback steps backward to avoid the diving tackle. Then, from the 5-yard line, Miller runs forward -- leaping in the air from the 2-yard line, between two defenders, to grab one of the Big Ten's
most-impressive 1-yard TD runs
.
Obeng-Agyapong doesn't go out of his way to see that play, a score that handed the Buckeyes a 21-10 lead. It's just hard to miss.
"I see that play all the time. … It just happens to be there," he said. "I don't actually look; it just pops up there. You're just trying to play this game and not let things like that happen again."
Those kinds of plays have highlighted Miller's career and have helped dictate the Buckeyes' success since he lined up under center as a true freshman. Since that time, Ohio State is 14-1 when the dual-threat reaches the 200-yard mark in total yards. When he's held to less than 200 yards? His team's just 7-5.
Talk to Penn State's defensive linemen, linebackers or DBs. Talk to the coaches. It doesn't matter. They're all going to echo the exact same thing: Stopping Miller, who reportedly runs in the 4.4s, is absolutely key.
"It's a very difficult challenge playing a guy like Braxton Miller -- in my opinion one of the top five players in the country," coach Bill O'Brien said. "He's improved immensely since being in the system."
Miller leads the conference in quarterback rating (160.0) and completion rate (69.6). He reminds Obeng-Agyapong of Michigan's
Devin Gardner
, who rushed for 121 yards and threw for another 240 against PSU.
But the OSU quarterback is more experienced, more refined, and -- in O'Brien's estimation -- certainly better. Penn State's head coach didn't heap that kind of praise ("One of the top five players in the country") upon Gardner.
But, against Miller, Penn State knows its backs are up against a wall that stands 6-foot-2 and 215 pounds. He accounted for three-quarters of the OSU offense when playing the blue jerseys last season. He can make plays outside of the pocket. He can mix up his passes to
Philly Brown
(33 catches, 453 yards, 6 TDs) and
Devin Smith
(30 catches, 434 yards, 6 TDs).
Every team is aware of him on every play. PSU linebacker
Glenn Carson
swore he'd spend "well over 10 hours" reclining in the film room and watching tape of just Ohio State's quarterback.
"Definitely," he said, "containing Braxton is one of the emphases of this week."
Miller dominated PSU inside the intimidating confines of Beaver Stadium last season. Now, the dual-threat QB will perform in front of a friendly scarlet-and-gray crowd that numbers in the six figures.
The challenge Saturday night won't be any easier for this defense. But, for Obeng-Agyapong and the rest of his teammates, they're hoping they don't see anymore repeats of that 1-yard run. They want to atone for it -- and give OSU something to think about over the next year.
PSU's 46-Hour Dance Marathon Raises $13 Million
BIG TEN SCOREBOARD
Thursday, 9/3
Friday, 9/4
Saturday, 9/5
Sunday, 9/6
Monday, 9/7