Penn State Nittany Lions:

Penn State spring predictions
March, 14, 2014
3/14/14
9:00
AM ET
STATE COLLEGE, Pa. -- We've finally reached the end of this week's countdown, which involves five predictions for the spring.
Up today is a look at who's going to step up into a leadership role …
[+] Enlarge
Zuma Press/Icon SMIThe evolution of Jordan Lucas' game at Penn State has been evident.
CB Jordan Lucas emerges as the defense's vocal leader
Jordan Lucas
lacked confidence as a freshman
. His friend and teammate, Stephon Morris, knew it. His father knew it. And he knew it.
But when Morris graduated, Lucas stepped up as a sophomore and put together the strongest season out of the defensive backs. (Sorry,
Adrian Amos
fans, those games at safety didn't help.) Lucas is a charismatic person, not unlike his head coach, and his evolution has been pretty evident.
If there was any doubt about his work ethic or his confidence, that was put to rest in the last month. Not only did
Bill Belton
name Lucas as one of the team's hardest workers last October, but strength coach Dwight Galt also praised the corner about a week ago for being a gym rat.
As for that confidence? Fans were treated to a glimpse of that
during a memorable exchange
at coach James Franklin's signing day pep rally. Lucas was handed the microphone and skipped the usual "Thanks-for-coming" cliché by turning to PSU great LaVar Arrington and asking the crowd, "LaVar said it's What-U?"
"LBU," Arrington responded.
"You guys like that, LBU?" Lucas asked. "What about LBU and DBU?"
Lucas carried himself well, while Arrington and Franklin joked about the light-hearted exchange. "Jordan likes the microphone," Franklin said. Added Arrington: "Jordan came out with his muscles and his tattoos, and he lost his mind."
Safety
Malcolm Willis
was regarded as the secondary's leader last season, and middle linebacker
Glenn Carson
stepped into a team leadership role. With those two gone, a new leader has to emerge -- and Lucas certainly seems ready for the role. Both Amos and
Ryan Keiser
aren't very vocal, so the secondary needs someone in that department. And, as the defense searches for someone new to help lead, Lucas isn't one to shy away from the task.
More predictions:
No. 5:
A more public, eager-to-please coach
No. 4:
Blue-White attendance more than doubles from 2013
No. 3:
OL struggles surpass secondary as biggest concern
No. 2
: Tarow Barney and De'Andre Thompkins make immediate impact
March, 13, 2014
3/13/14
9:00
AM ET
STATE COLLEGE, Pa. – And then there were two.
We're nearing the start of Penn State's spring practice, which means we're nearing the end of our countdown series. This week's countdown, involving five predictions for the spring, continues with a look at two early enrollees who should earn playing time in 2014...
Barney and Thompkins make immediate impact
[+] Enlarge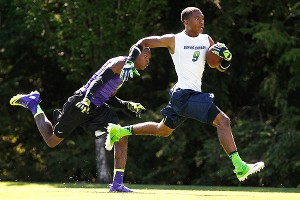 Steve Dipaola/NikePenn State early enrollee De'Andre Thompkins, who was ranked No. 73 in the 2014 ESPN 300, could be a starter in 2014.
Defensive tackle
Tarow Barney
and wide receiver
De'Andre Thompkins
aren't just poised for considerable playing time in 2014; they could very well find themselves as starters on the spring depth chart.
Thompkins will battle with sophomore
Richy Anderson
in the slot, and Thompkins might have a higher ceiling. He's faster and more athletic, but how quickly he ascends centers on his route-running ability. He finds himself in a similar position as
Geno Lewis
was in his first season, because Thompkins is transitioning from high school tailback to receiver. Regardless, Thompkins is best when he's in open space -- and he's sure to wow with a big play or two during the spring scrimmage.
Even if Thompkins isn't quite ready to surpass Anderson -- and the prediction here is that he will -- the freshman can still vie for a starting job as a returner. On kickoffs, he posted video game-type numbers as a high school junior (11 returns, 560 yards, 51 yard average). And, on punts as a senior, he returned three for an average of 61 yards. Just take a look
at his highlight video
.
As for Barney, it's no secret that the Nittany Lions need some help at defensive tackle. Without
DaQuan Jones
and
Kyle Baublitz
, redshirt sophomore
Austin Johnson
will take over one of the spots. The other one is wide open. The position battle here will likely be between Barney and redshirt sophomore
Brian Gaia
. (Defensive end
Anthony Zettel
could also be a factor, but for now it's difficult to see him in an interior role outside of passing downs.)
Even if Barney doesn't win out, he's still going to see plenty of time. Defensive line coach Sean Spencer likes to use a lot of personnel and a lot of combinations, not unlike the philosophy of former offensive line coach Mac McWhorter, so Barney will have every opportunity to make a splash.
Thompkins and Barney both have a lot to learn a lot in a short period of time -- Thompkins is changing positions; Barney's coming from a junior college and took up football a little more than three years ago -- but both players will be thrown into the mix early out of pure need. In other seasons, the staff might bring them along slowly. But this spring? Expect to see them on the field early -- and expect them to make an immediate impact.
More predictions:
No. 5:
A more public, eager-to-please coach
No. 4:
Blue-White attendance more than doubles from 2013
No. 3:
OL struggles surpass secondary as biggest concern
March, 12, 2014
3/12/14
9:00
AM ET
STATE COLLEGE, Pa. -- We've reached the middle of this week's countdown, which involves five predictions for the spring.
Up Wednesday is an issue that has been talked about a lot but is even more serious than it seems ...
OL struggles surpass secondary as biggest concern
Forget about the offensive line's three new starters for a moment. Forget about the fact Penn State will likely start two redshirt freshmen,
Andrew Nelson
and
Brendan Mahon
, who have never played in a college game. And forget about the fact they'll all be learning new schemes from a new assistant coach.
That's all been
talked about before
. But take a closer look at this lack of depth; just look at the second-string offensive line. This should be the most this unit struggles since at least the "dark years" of the early 2000s.
[+] Enlarge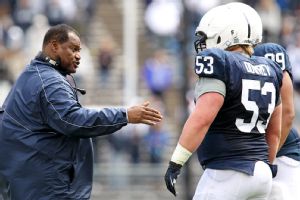 Matthew O'Haren/USA TODAY SportsFormer Penn State assistant Larry Johnson talks with Derek Dowrey during the 2013 spring game. Dowrey might be moving to the offensive line, where there's a big need for players.
Backups
Wendy Laurent
and
Anthony Alosi
have had very limited playing time, playing in 16 combined contests but receiving even less experience than that number suggests. And that's the
strong
part of this backup offensive line. The other three spots this spring will be taken up by an early enrollee (
Chasz Wright
) and two walk-on underclassmen. The defensive line should dominate in the Blue-White Game.
That's not to say the weakness with this unit is just depth; inexperience is the biggest issue among the starters. But that's been pretty well documented. The mess behind them hasn't been.
More position switches are bound to happen -- defensive tackle
Derek Dowrey
has already
been linked to a move to the offensive line
, contrary to the updated published roster -- and the big problem with this line is that it's one injury away from disaster. It's akin to the linebacker issue last season except this might be even worse. Safety
Stephen Obeng-Agyapong
was able to briefly make up for his size at linebacker with his speed, but there's no hiding a weak link on the offensive line.
If Mahon or Nelson falters, this line falters. If one of the five starters suffers an injury, this line falters. With
Bill Belton
and
Zach Zwinak
returning, this is the best stable of running backs that Penn State has fielded in at least three seasons, and
Christian Hackenberg
has one of the strongest arms in Penn State history. But that won't mean much if this line can't jell by August. And while this staff tries to figure it all out this spring, it's not going to be pretty.
More help will come over the summer in the form of three more signees, but this line will undoubtedly struggle even then. Still, it won't get any worse than it will this spring.
More predictions:
No. 5:
A more public, eager-to-please coach
No. 4:
Blue-White attendance more than doubles from 2013
March, 11, 2014
3/11/14
9:00
AM ET
STATE COLLEGE, Pa. – The countdown of Penn State spring practice predictions continues. And, between new contributors and a new coaching staff, there will be plenty to watch in Happy Valley this spring. So this prediction really shouldn't come as a surprise ...
Blue-White attendance more than doubles from 2013
A lot was working against Penn State's annual spring game last season. Rain canceled the carnival and activities the night before, the popular autograph session was discontinued, and kickoff began two hours earlier than usual (at noon as opposed to 2 p.m.). Only an estimated 28,000 fans showed up.
[+] Enlarge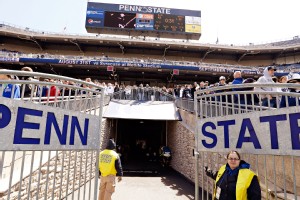 AP Photo/Keith SrakocicThe gates should open wide for a big crowd at Penn State's spring game on April 12.
This season? James Franklin and the university are taking control of everything they can to boost that attendance. The autograph session is back, Bill O'Brien's
odd scoring system
is out, and kickoff is now at 1:30 p.m. on April 12. As a result, this could draw the best crowd in four or five years.
Sanctions or not, there's an air of excitement surrounding this team -- and Franklin has fanned those flames with talk of
dominating the state
and returning Penn State to national prominence. As long as Happy Valley isn't covered in rain clouds, those excited fans should again flock to the annual Blue-White Game.
There was a time not too long ago when the attendance at Beaver Stadium for the spring game outnumbered the best regular-season crowds at Pitt. (In 2009, for example, 76,500 fans watched the Blue-White Game. Pitt's Heinz Field holds just 65,500.)
But, for one reason or another, the crowds at Penn State have since dropped. There were respectable crowds that numbered between 55,000 and 60,000 in 2010 and 2012. But rain and miserable weather put a damper on the 2011 and 2013 games. As a result, it's not a stretch to think that 2014's attendance should reach 56,000 at the very least.
And, if the weather cooperates, there could be another 10,000. Maybe more.
More spring predictions:
No. 5:
A more public, eager-to-please coach
March, 10, 2014
3/10/14
9:00
AM ET
STATE COLLEGE, Pa. -- It's a long way until the season kicks off, but there'll be an oasis of relief in just one week when spring practice starts up next Monday morning.
Throughout the offseason, we've had other countdowns --
position battles
,
players to watch
,
impactful recruiting classes
,
positions to improve
-- to help the winter tick by a little faster. And this week's countdown, involving five predictions for the spring, will be the final one.
So let's get started ...
[+] Enlarge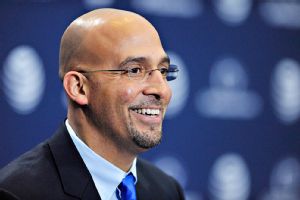 Nabil K. Mark/Getty ImagesJames Franklin is much more public than former Penn State coach Bill O'Brien.
A more public, eager-to-please coach
Ever spot Bill O'Brien at the Creamery? Or maybe just walking around town? It was something he often said he'd like to do more often, but he was a private person who tended to sound like a curmudgeon at certain news conferences -- namely when he professed his dislike for "birthdays, weddings, theme parks, the beach." He was a great coach, but admitted he was no pep-rally coach.
Expect the complete opposite from new coach James Franklin, who boasts the
complete opposite personality
.
Franklin
held a pep rally on signing day
and filled a gym with several thousand fans. On his first day in Happy Valley, he walked off his plane and
introduced himself to two young fans
. And he has already
spoken at THON
and committed to
speak at an upcoming scholar-athlete banquet
. Sure, a lot of what he says and does might just be part of a strategy to garner good will. He's two parts coach and one part politician. But he doesn't shirk from the spotlight, and fans should see more of him this spring than they saw from O'Brien in two years.
Franklin has already become a familiar face at wrestling matches, and it's not unusual to spot him at hockey or basketball games either. Penn State's signing day war room, which was open to some fans and media, literally had trumpets blaring and OL coach Herb Hand rapping for a few listeners. The only thing that was missing was a partridge in a pear tree.
Franklin joked during his introductory news conference that he'd
blow up balloons at kids' backyard birthday parties
if he was asked. Of course, after he received quite a few messages, he publicly admitted that was a bit of a hyperbole. But expect more speaking engagements, more fan interaction (the autograph session for the Blue-White Game is back, for example), and more public appearances. This year's Coaches Caravan tour should be quite the memorable one.
If you don't know much about Franklin yet, you certainly should by the end of the spring.
BIG TEN SCOREBOARD
Thursday, 9/3
Friday, 9/4
Saturday, 9/5
Sunday, 9/6
Monday, 9/7