Penn State Nittany Lions:

Penn State Pro Day
April, 8, 2014
4/08/14
4:30
PM ET
STATE COLLEGE, Pa. -- Go ahead, underestimate
Allen Robinson
. He doesn't care; he's used to it.
Robinson was a consensus two-star prospect in high school. He caught three passes as a college freshman. And, before his sophomore season, the media focused on players such as Alex Kenney and Shawney Kersey as possible stars.
[+] Enlarge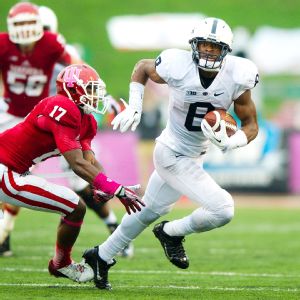 AP Photo/Doug McSchoolerDespite a highly productive college career, Allen Robinson understands that NFL scouts have their doubts about his speed.
Everyone, outside of Robinson's close friends and family, overlooked the skinny kid wearing No. 8. No one foresaw two back-to-back B1G receiver of the year awards or Biletnikoff watch lists. And now, exactly a month before the draft, some analysts have taken to saying he's not one of the elite wideouts in this draft -- that the junior is maybe a third-round talent.
Robinson hears all the chatter; it just doesn't bother him. He has been here before.
"My whole life has been sitting around waiting," he said after Penn State's Tuesday pro day. "So whatever round I go in, it is what it is. But at the same time, when I get to my team, I'm going to grind and earn my spot."
The Michigan native, who caught high school passes from four-star recruit Rob Bolden, knows some have criticized his breakaway speed, or lack thereof. (NFL.com's profile of him
lists that as his main weakness
.) The concern is he's too slow to be a productive NFL wideout, that he's a solid college wideout whose NFL stock dropped considerably since running a 4.6-second 40.
That's not news to Robinson, but he has made a career out of proving doubters wrong. He centered a lot of his training around improving that 40-yard dash in time for Tuesday's pro day. And, according to Robinson, scouts approached him afterward and told him he clocked a sub-4.5.
He also finished with a 42-inch vertical, a three-cone time of 6.53 seconds and a broad jump of 10 feet, 11 inches. All of those numbers were
improvements from the NFL combine numbers
.
"I've seen a lot of improvement in myself," Robinson said. "I feel like I made the best decision I could've made [declaring early], and I'm comfortable with that."
Robinson doesn't know where he'll go in the draft. Maybe he'll surprise the analysts and be picked in the second round, or maybe even the first. But, wherever he goes, he said he wouldn't be disappointed. And wherever he goes, no one is counting him out this time around.
"Everyone's dream is to go in the first round, but I can't control that," he said. "So wherever I end up going, God has blessed me with being picked by a team. All I can do is stay prepared and ready and, once my name is called, show those guys what I can do and earn my spot on the field."
Not stressing out:
Defensive tackle
DaQuan Jones
might be the first Penn State player taken in next month's NFL draft, but he's trying not to think about that.
"You really don't know until the draft so, right now, I'm not really stressing about it," said Jones, who has been projected to go as early as the second round. "All I can do now is take care of my body."
Jones weighed in at 324 pounds, a six-pound gain since the start of last season, and stood at 6-foot-3. He said teams have approached him as both a 3-4 and 4-3 defensive tackle, and he's fine with either.
"Everyone's going to multiple defenses," he said, "so you're going to play either/or no matter where you go."
High risk … high reward?:
Tight end-turned-offensive tackle
Garry Gilliam
was present for pro day, and it's a good thing he was. A lot of NFL scouts didn't even know he declared.
"They actually said they didn't know I was coming out," said Gilliam, who had one year of eligibility remaining and declared late. "So it was huge to come out here."
Gilliam probably could have benefited from another season at Penn State. He played only one season as an offensive tackle after bulking up last offseason. But, at 23 years old and with two degrees already, Gilliam felt it was time to move on.
He came in Tuesday at 6-6, 306 pounds and ran a sub-5-second 40. But his upper body strength has teams worried, as he did between 19 and 20 reps on the bench press.
"I think they know I'm a raw player and they need to develop me," he said, "but I think they'll take a shot to do it."
Disrespected:
Middle linebacker
Glenn Carson
didn't receive an invitation to last month's NFL combine. And he doesn't plan to forget that snub anytime soon.
"I definitely came in today with a chip on my shoulder," he said. "I felt as if I should've gotten a combine invite, and that's why I had to go out there and impress people today.
"I felt like I was a little underappreciated, but all you have to do is put your head down and work. And that's what I did for these past three months."
Carson could wind up as a priority free agent, but he's not expected to be drafted. Still, he felt as if he improved his stock on Tuesday and said several scouts complimented his performance and how he played "smooth."
"It would be awesome to get drafted," Carson said.
March, 11, 2013
3/11/13
3:41
PM ET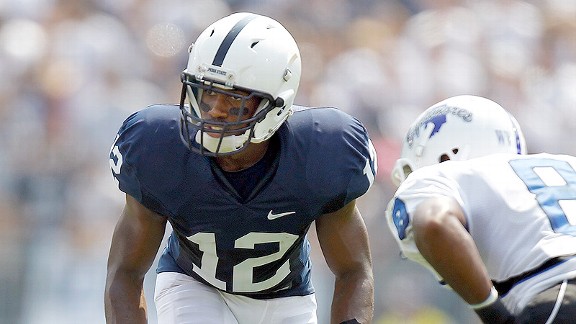 Justin K. Aller/Getty ImagesStephon Morris is only 5-foot-8, but his speed is his calling card for NFL scouts.
STATE COLLEGE, Pa. -- Cornerback
Stephon Morris
couldn't suppress a grin when he stepped outside Holuba Hall right after Penn State's pro day.
With a white business card from the New England Patriots in hand, Morris said he spoke with several teams -- including the Denver Broncos and Houston Texans -- but that wasn't the only reason for the smile. Standing at 5-foot-8, he knew his time at the 40-yard dash would be critical.
"You can't have a slow 5-8 corner," he said. "So I'm just glad I wowed them."
Morris couldn't have been happier with his speed Monday afternoon. He claimed he spoke to two scouts after his 40, one of whom hand-timed him at 4.16 while another clocked him at 4.22 on the first run. His official time was a 4.35.
"A 4.16?" one reporter asked incredulously.
"Yeah," Morris said with a laugh. "I rode into it, though."
Although that unofficial number would be pretty impressive if accurate, the bottom line is that Morris was able to turn in a good time after missing a spot in the NFL combine by a mere two votes. He said he his measurements came in at 5-foot-8, 188 pounds, and he did 18 reps on the bench press.
The media wasn't permitted to watch the workouts, which 25 NFL teams attended, but Morris said he was pleased with the scouts' response to his numbers. When asked again about his speed, Morris pointed toward the Outback Bowl in 2011 when he ran down Florida tailback
Chris Rainey
, who's been timed as fast as 4.28 seconds.
Regardless of his times, though, Morris is just hoping he might hear his name called in late April.
"There's shockers who get drafted every year," Morris said. "And, hopefully, I'll be one of those shockers."
Early rounds:
Linebacker
Gerald Hodges
and defensive tackle
Jordan Hill
said they're both hoping to be selected in the second or third rounds.
And if they do happen to drop to the fourth?
"I'll be a little upset," Hill acknowledged. But I'll be ready to go to work. I just need the opportunity; I need to get my foot in the door."
Said Hodges: "I'll be upset, too, if I went down that far, but I'm going to put it all in God's hands. Just as long as I have my chance to play in the NFL, it's a dream come true. No matter how you get there, it's how you perform once you get there."
Hodges said he'll be working out in State College for now and already has some individual workouts scheduled with a few teams. He wouldn't name them, but he did say he had formal interviews at the combine with the Detroit Lions, Oakland Raiders and Baltimore Ravens, among others.
Hill impresses:
The defensive tackle said he probably wasn't ready to run the 40-yard dash at the combine because of his lingering knee injury. But he wanted to do everything at the combine; he figured he'd just improve upon those numbers at pro day.
He did just that. He said he turned in a 4.97-second 40 -- 0.26 seconds faster than his combine time -- and increased his broad jump to 9-foot-3.
"I was able to get a full-night sleep; a lot more stress was off," Hill said. "It was my first 40 I ran out there ... and it was one of those things that was brand new to me."
Patience, patience:
Now comes the hard part for Rimington Trophy finalist
Matt Stankiewitch
-- the waiting game.
The center said he felt relaxed after taking part in pro day, but he knew that feeling wouldn't last.
"Of course, you're on edge because you don't know what you're future's going to be like," he said. "I have it in my head that I'm going to get drafted. If I don't, I don't. If I do, I do. In the NFL, it matters where you end -- not where you start."
Stankiewitch took part in field drills and just the broad jump because he didn't want to risk injury and said he believed his numbers would likely be similar those at the NFL combine. He increased his broad jump six inches -- to 8-foot-2 from 7-8.
Package deal?:
Fullback
Michael Zordich
is hoping to land on an NFL team, while his father is hoping for the same -- albeit as a coach -- after the Philadelphia Eagles revamped their staff.
The younger Zordich said the two often joke they're both looking for NFL jobs at the same time. And they're both on the phone trying to find the right place.
"That'd be awesome," he said about the two landing on the same team. "I wouldn't mind playing for Pop."
He said he's not sure whether he'll be drafted, but his focus at this point his just making it to a camp.
BIG TEN SCOREBOARD
Thursday, 9/3
Friday, 9/4
Saturday, 9/5
Sunday, 9/6
Monday, 9/7