Penn State Nittany Lions:

Penn State Nittany Lions
April, 1, 2014
Apr 1
5:00
AM ET
1. Reading USC's spring prospectus, this nugget stopped me: In six games last season, the Trojans used a total of 14 or fewer players on defense. That's a stark illustration of the effect of the NCAA scholarship penalties. USC has eight starters returning on each side of the ball. But of the 49 returning lettermen, 18 were either walk-ons, injured or scholarship guys who just didn't play. That's a reminder of the work that Steve Sarkisian has cut out for him, and of how well the Trojans did to go 10-4 last season.

2. Former Penn State assistant coach Jay Paterno entered the race for the Democratic nomination for Pennsylvania lieutenant governor late, and now he has withdrawn early. Another candidate challenged the legitimacy of the signatures on Paterno's nomination petitions. The legal battle would have consumed considerable time and money leading up to the May 20 primary. Too bad, because as news stories go, it would have been interesting to see if Paterno could use his name recognition to make voters take him seriously. He seemed to be making headway.

3. If you love writing and you love college football history, make sure you read "His Ownself," the just-published autobiography of legendary sportswriter Dan Jenkins. He saw TCU play for the 1936 Rose Bowl, and he saw TCU play in the 2011 Rose Bowl. No one covered the 1960s, the decade of Bear Bryant, John McKay and Darrell Royal, better. You also get Jenkins on the last 60 years of golf, from Hogan to Woods. It's like standing in the corner of a bar with Jenkins holding court. It is great, great fun.

January, 6, 2014
Jan 6
5:00
AM ET
1. Tigers coach Gus Malzahn said Sunday that he expected a feeling-out period in the first quarter against Florida State, largely because of the 30-day layoff. Alabama scored touchdowns on its first two possessions a year ago, but those were the first first-quarter touchdowns in the BCS Championship Game in five years, since Beanie Wells of Ohio State broke for a 65-yard score against LSU.

2. Auburn has won with more than its share of improbabilities, but the fact that Florida State head coach Jimbo Fisher replaced six assistant coaches after the 2012 season and the team improved is, to say the least, unusual. "A lot of those guys I've known in the past," Fisher said. "There were a lot of guys who philosophically believe a lot of the same things I do. … We get along. There's a bunch of guys there that truly like each other and hang out together and it's been a tremendous group."

3. Mama called and Al Golden didn't answer. The Miami head coach released a statement Sunday that he will not be leaving for Penn State, his alma mater. To be fair, I don't know if Penn State wanted to hire Golden or not. But it should be pointed out that after three seasons of living in the shadow of an NCAA investigation, Golden may be excused for not returning to the Nittany Lions and their NCAA problems.

December, 24, 2013
12/24/13
10:30
AM ET
Editor's note: During Week 12, 10 ESPN.com reporters changed conferences to experience college football in unfamiliar territory. Here is what they learned from the experience.
One of my best friends in Oklahoma City is a Penn State grad who moved to the Sooner State a couple of years ago. Since we met, she's always talked about how special a place Penn State is.
As fate would have it, my Flip Week assignment happened to be State College, Pa., which gave me the chance to inspect firsthand whether she's been telling the truth.
Turned out, she was.
My visit to Penn State exceeded even the expectation she set for me. The food was great. The people were even better. And the experience was a memorable one.
Below is an overview of my trip to a place I hope to return to someday soon:
(Me eating a Penn State mooseburger)
My first moose burger #campusconnection #flipweek #pennstate pic.twitter.com/3Am5pIrxca

— Jake Trotter (@Jake_Trotter) November 16, 2013
Best meal:
Does this have to be an actual meal? The best thing I ate in State College was a grilled sticky from Ye Olde College Diner. The grilled stickies are akin to cinnamon rolls, only more delicious. ESPN.com Penn State reporter Josh Moyer gave me the sage advice of ordering it a la mode (with ice cream). Add in a cup of black coffee, and it was tremendous. So tremendous I ordered a to-go box to take to the tailgate I had been invited to the next day. And I learned, there's no better way to win over a group of Penn State strangers than a box of grilled stickies from Ye Olde College Diner.
Must-see sight in State College:
The heartbeat of the Penn State football experience is the tailgate. Before every game, tens of thousands descend to the parking lots and fields outside Beaver Stadium for pregame camaraderie. As several tailgaters explained to me, the Penn State tailgate is a way for family and friends who might not live close to one another to reconnect, which is difficult to do during the actual game. The tailgating doesn't end when the final whistle blows, either. Floodlights outside the stadium are kept on hours after the game, so the tailgates -- and the reunions -- can carry on into the night.
Biggest surprise:
Despite everything that has happened the last couple of years, the school spirit at Penn State couldn't be stronger. Students camped out for the best seats the night before, even though the opponent was Purdue. Downtown State College was hopping the night before the game. Penn State bumper stickers lined the highway all the way back to the airport I flew into (Pittsburgh). I couldn't detect any malaise on campus, and thanks in large part to coach Bill O'Brien, there is an infusing optimism that Penn State will be back on top before long. That's saying a lot, considering the program was on the brink of decimation just a year ago.
Biggest difference from Big 12:
The fans in the Big 12 are great. The student sections are great, too. But I'm not sure any students in the Big 12 would camp out in 30-degree weather the night before to get tickets for a game featuring an opponent the caliber of Purdue. In fact, I've seen many student sections in the Big 12 with empty seats under similar circumstances. Not only was the student section at Penn State overflowing, but it was boisterous the entire day. I'm not sure I've seen a student section live or die on every single play in a game that was never really in doubt.
They said it:
"In this state, the one thing you have to do before you die is go to a Penn State tailgate." – Penn State fan Luigi Puglia
If I could go back:
I would take in more of the State College nightlife and the Penn State campus. Because I was on official assignment, I avoided State College staples such as Otto's Pub and Brewery and the American Ale House & Grill, but both came highly recommended. Because my itinerary was crammed, I didn't have a chance to just walk around the Penn State campus and go through buildings like the Hub, either. Apparently, there's a mule skeleton on display there.
December, 19, 2013
12/19/13
12:00
PM ET
September, 12, 2013
9/12/13
10:00
AM ET


Josh Moyer talks with Penn State left tackle Donovan Smith about the running game and learning from senior John Urschel.
April, 16, 2013
4/16/13
2:15
PM ET
On Sunday, Big Ten and consensus national player of the year
Trey Burke
made
official his entrance into the NBA draft
. There was basically nothing surprising about this decision, save maybe one thing -- the conference Burke left behind.
Now that the POY is gone, and taking other top scorers
Deshaun Thomas
,
Cody Zeller
and
Brandon Paul
to the NBA draft with him, the top two returning points-per-game scorers in the Big Ten will both play for the same team. Ah, but which team? Burke's own
Michigan Wolverines
, which shot their way to the national title game? Similarly efficient Indiana? League powers Michigan State or Ohio State? Emerging Iowa? No, no, no, no and no.
[+] Enlarge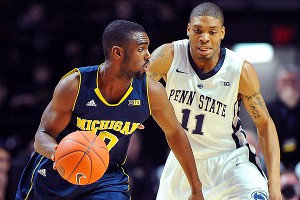 Rich Barnes/US PresswirePenn State's Jermaine Marshall will be among the Big Ten's top returning scorer's next season.
At the start of the 2013-14 season,
the Big Ten's top two returning scorers will be
D.J. Newbill
and
Jermaine Marshall
, both
of whom play for ... Penn State
. Penn State? Penn State!
It's a true story
, and one that probably says more about Pat Chambers' team than the Big Ten, when you really think about it.
First of all, as anyone even remotely into efficiency statistics would recognize, points per game is not the greatest statistic in the world. It's pretty simple stuff: Taking a larger number of shots to score a certain number of points doesn't always mean you're helping your team. Both Newbill and Marshall, despite finishing fifth and sixth in Big Ten scoring last season, failed to post an offensive rating higher than 100.0 last season. Penn State simply wasn't very good, and definitely wasn't deep, because star guard Tim Frazier -- who was a preseason conference POY sleeper pick who finished the 2011-12 year second in the conference in scoring with 18.8 points, 6.2 assists and 4.7 rebounds per game -- was lost to a season-ending an Achilles rupture in the Puerto Rico Tip-Off in November. Newbill and Marshall were asked to do a lot more than they probably bargained for, and while it didn't always result in efficiency, it did result in points.
In other words, it's not like saying Newbill and Marshall are the best returning players in the Big Ten. Obviously not. Michigan State will have
Keith Appling
and some combination of
Gary Harris
,
Adreian Payne
,
Branden Dawson
and
Denzel Valentine
; Indiana has point guard
Yogi Ferrell
; Michigan could have
Mitch McGary
or
Glenn Robinson III
; Ohio State has
Aaron Craft
and a March-emergent
LaQuinton Ross
; Wisconsin has
Sam Dekker
; Iowa has a score of interesting players, particularly center
Adam Woodbury
; Purdue has
A.J. Hammons
, who could be a beast; new Minnesota coach Richard Pitino has a really good returning backcourt (
Andre Hollins
,
Austin Hollins
;
Joe Coleman
), provided it can figure out how to stop turning the ball over.
You get the point: There are still going to be a lot of good players in the Big Ten. Rest assured, the Nittany Lions will not come off a 10-21 season with a monopoly on college hoops talent.
Even so, Penn State will be intriguing. The Nittany Lions have been the victims of some really awful luck in the past two seasons, the first of it minor (when Big Ten teams hit the lottery from beyond the arc against them,
a bit of production not entirely related to defense
) the latter of it Frazier's injury, which came just six weeks ahead of the start of one of the more brutal Big Ten conference seasons in memory.
But Frazier will be back next season. Newbill and Marshall will still be around. Penn State will have more depth, more skill, more issues being guarded on the perimeter. Don't expect the Nittany Lions to compete for a conference title, because that would be even crazier than saying Penn State has the top two returning scorers from the best Big Ten season in recent memory. But they will be very intriguing.
January, 20, 2013
1/20/13
9:00
AM ET
NittanyNation takes a look at this week's Penn State football news and what you might have missed:
January, 4, 2013
1/04/13
11:00
AM ET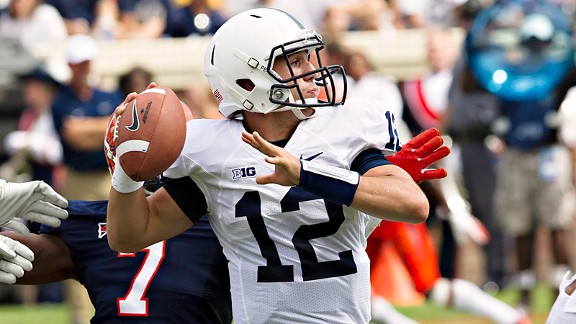 Lee Coleman/Icon SMISteven Bench is in line to be the next starting quarterback for Penn State.
STATE COLLEGE, Pa. -- Heading into next season, NittanyNation takes a closer look at holes left by departing Penn State players and the candidates who might fill them.
QUARTERBACK
Who
:
Matt McGloin
came into Penn State as a no-name walk-on and leaves after posting one of the best seasons in PSU history. He was the most valuable player on this offense -- arguably on this team -- and he was a confident leader who limited his mistakes and directed comebacks. No departing player might be missed as much as McGloin next season.
By the numbers
: Penn State boasted the No. 35 passing offense in the nation. McGloin finished with 3,266 yards and a 60.5 percent completion rate -- but his most impressive stat was his touchdown-to-interception ratio, which stood at 24-to-5.
January, 3, 2013
1/03/13
11:00
AM ET
STATE COLLEGE, Pa. -- Heading into next season, NittanyNation takes a closer look at holes left by departing Penn State players and the candidates who might fill them.
[+] Enlarge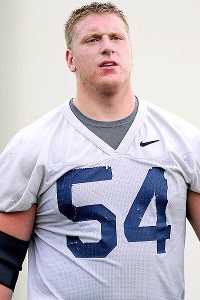 Rich Barnes/US PresswireLions center Matt Stankiewitch will be tough to replace.
CENTER
January, 2, 2013
1/02/13
11:00
AM ET
STATE COLLEGE, Pa. -- Heading into next season, NittanyNation takes a closer look at holes left by departing Penn State players and the candidates who might fill them.
CORNERBACK
Who: Stephon Morris was -- by far -- the most experienced player in the secondary in 2012, and his leadership will be missed. He played in 49 career games and evolved into an above-average cornerback who was an honorable-mention selection on the All-Big Ten team. He wasn't the tallest corner on the field at 5-foot-8, but he was quick and picked up a reputation as a hard worker. He earned the Jim O'Hora Award, given to the most improved defensive player, after spring practice.
By the numbers: He finished fifth on the team with 60 tackles (41 solo stops), five tackles for loss, 1.5 sacks and five pass breakups. He was part of a pass defense that was ranked No. 50 nationally and allowed 225 yards per game.
Job description: Morris may have preferred man coverage, but Penn State was forced to stick with zone coverage for most of 2012 because of some early secondary struggles. Whoever fills in for Morris will likely be counted on for more man coverage, though, and his replacement will be asked to force more turnovers. Morris was a good corner, but he didn't come away with a single interception, fumble recovery or forced fumble.
Top candidates: Rising sophomore Da'Quan Davis is the favorite to fill in because he was the only other cornerback to really see time at the position in 2012. Incoming freshman Jordan Smith, who will enroll in less than a week, is a definite darkhorse here, but PSU could always turn to its other two 2012 DBs. Jordan Lucas and Jake Kiley might be better suited at safety, but both could be moved around in case of injury or to add some competition.
One to watch: Davis. He was our No. 1 2012 player to watch next season, and that's because a lot will be resting on his young shoulders. He's not the biggest corner at 161 pounds, but another offseason should help him bulk up. He's being groomed to take over for Morris -- and Morris, Bill O'Brien and two high school coaches all commented on Davis' work ethic. It's his job to lose at this point.
January, 2, 2013
1/02/13
9:00
AM ET
In spite of the sanctions, the Nittany Lions' recruiting class has held up remarkably well. It's currently ranked No. 24 in the nation and features the nation's top quarterback in
Christian Hackenberg
and top tight end in
Adam Breneman
.
Without the specter of the sanctions, this class would be even better. But how does it rank now compared to past Penn State classes? Is this class just as good, or has it noticeably slid a little?
NittanyNation takes a look back at the last four classes and sees how 2013 stacks up.
To continue reading this article you must be an Insider
December, 12, 2012
12/12/12
11:11
PM ET
Thursday is decision day at Iowa Western Community College.
With quarterback
Jake Waters
already set to make his college choice known between Kansas State and Penn State, defensive end
Devon Nash
said Wednesday night that he would also announce his commitment. K-State and Oklahoma State are finalists for Nash.
Waters threw for 3,501 yards, completing 244 of 333 passes with 39 touchdowns and three interceptions, in helping the Reivers to a 12-0 finish and No. 1 final ranking in the NJCAA poll.
To continue reading this article you must be an Insider
September, 19, 2012
9/19/12
10:30
AM ET
Officially or unofficially, Temple has lost every game against Penn State since a 1950 tie. The Owls haven't beaten the Nittany Lions since 1941. Just don't tell Steve Addazio.
"We approach this game like every other game," the Owls' second-year coach said.
And you, Bill O'Brien?
"No. No," the first-year Lions coach said. "At no point in time do I ever address winning streaks. That has nothing to do with this game. Every year is different. I don't know what they were like in 1940, but in 2012 this is an excellent Temple team with a bunch of good players."
It is a Temple team that might finally be ready to knock off its in-state rival, which lost 13 players in wake of NCAA sanctions and started 0-2 before routing Navy on Saturday. The Owls dropped a tight 14-10 contest to the Lions last season in Philadelphia that, along with every other Penn State victory from 1998-2011, was vacated in light of the school's child-abuse scandal. Temple battled Penn State to the end of a 22-13 loss one year earlier in Beaver Stadium, where the Owls have never won.
[+] Enlarge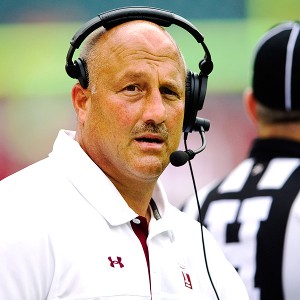 Howard Smith/US PresswireAfter some near-misses in recent seasons, Steve Addazio is looking to lead Temple to its first victory over Penn State since 1941.
But Penn State's Big Ten pedigree and Temple's recent rise from the brink of no football to a first-year Big East member still leaves Addazio playing the underdog card when entering State College.
"What happens is obviously our roster is filled with a majority of Pennsylvania players, and Penn State was Penn State," Addazio said. "And so every guy on our roster didn't get recruited by anybody by Penn State, so they come in here and it's a measuring stick, and that fosters a great deal of rivalry into a game. It's just natural that that would happen, you know what I mean?"
A season-opening rout of Villanova gave way to a Sept. 8 letdown against Maryland. Addazio turned up the intensity during Temple's bye last week, implementing a more physically demanding set of practices.
He blamed himself for easing up a bit with a banged-up roster but does not want to make that mistake again, aiming for progress over preservation.
"Right now I think what's most important is that we develop," Addazio said. "I knew we'd be young, I knew this would be where we would be, so I like our practice. I think our players feel good about what we've gotten done right now. We're playing at a high-speed level as opposed to a low-speed level, and that's how you improve. You can't improve the other way, you just can't. You can get away with it with a veteran team but not a young team."
Addazio and O'Brien used to cross paths as college assistants and have developed a mutual respect for one another as rare Northeast-born coaches. But in the early stages of their first head-coaching jobs, neither sees the history between their programs as relevant to Saturday's contest.
"We're going to go in there and we're going to play as hard as we can play, and that's our mindset, not what the stats are, not how many years," Addazio said. "It just doesn't mean anything to me because when we go in the stadium, each guy's going to have to buckle his chin strap.
"It's going to be one guy against one guy and 11 against 11, that's what it is."
Penn State 2015 Class Debuts At No. 3
BIG TEN SCOREBOARD
Thursday, 8/28
Saturday, 8/30