Penn State Nittany Lions:

Pat Smith
November, 23, 2013
11/23/13
10:05
PM ET
STATE COLLEGE, Pa. --
Ameer Abdullah
nervously chewed on his mouthpiece like a stick of gum, seconds before Nebraska's kicker would attempt the game-winning field goal in overtime.
The Cornhuskers I-back watched from the sideline, backtracking to a space heater when PSU called a timeout to ice the kicker as flurries swirled around. Then Abdullah inched closer to the sideline, again backtracking -- shaking his head and rolling his eyes -- when his team was flagged for a false start.
But the Huskers' short-term frustration -- and the long-term questions -- gave way to players leaping in the air when
Pat Smith
booted the game-winning 42-yard field goal. Some players turned toward hecklers in the crowd and waved. Others sprinted on the field and embraced after the 23-20 overtime victory.
Nebraska fell short of expectations early this season and rumors about Bo Pelini's job security have swirled around the coach more often than the squalls around Happy Valley. But this win, this comeback, offered the Huskers a few days of relief.
It allowed fans to back away from the panic button, at least for now, and for the Huskers to inch closer to a better bowl.
[+] Enlarge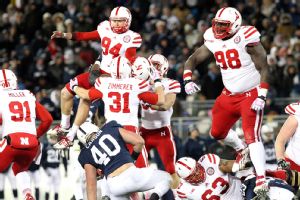 Matthew O'Haren/USA TODAY SportsPat Smith and his teammates celebrate his game-winning kick in overtime.
"I'm proud of our team. Our kids, once again, they showed a lot of heart," Pelini said. "There's a lot of things we had to overcome."
For Nebraska, this contest was more of the same. It hasn't quite experienced the season it envisioned, but it won yet another close game. It's the eighth straight game decided by seven points or fewer that Nebraska's won. And it now has won three of four -- all three by four points or less.
First came the Hail Mary vs. Northwestern then a game-winning TD with 2 minutes left against Michigan -- and then this.
Tommy Armstrong Jr
. injured his ankle early, and an energized
Ron Kellogg III
entered the game and threw an unordinarily high 34 passes. The Huskers escaped a near-safety in the closing minutes and then converted a third-and-long play from its own 1, thanks to a PSU pass interference. Then they watched as Penn State kicker
Sam Ficken
, who missed a PAT earlier in the contest, booted a 37-yard overtime field-goal attempt wide right. It was a bizarre game with plenty of miscues -- and opportunities -- for both teams.
But, once again, the Huskers overcame themselves and triumphed. And Penn State's seniors were forced to jog past the victory bell in their final home game without giving it one final tug.
"What's amazing about our team," said Smith, who went 3-for-3 on field goals in the game of his career, "is our ability to keep fighting no matter how much negativity comes our way."
For much of the season, the Nittany Lions have been able to say the same. PSU outlasted Michigan in a quadruple-overtime thriller and then sneaked past Illinois, 24-17, in overtime earlier in the month. This was the third overtime in the last six weeks for Penn State.
But, like Nebraska, PSU has come up short of expectations this season. And the Nittany Lions were unable to give their frost-bitten fans a victory for the long drives home.
This isn't the end for either team. PSU needs to win one next week, against Wisconsin, to have a winning season. And the Cornhuskers have to beat Iowa next week to continue keeping that negativity at bay.
Those questions aren't ending just because of this game. But this was an important step for Nebraska.
"It was a big victory for us on the road, especially at Penn State," Kellogg said. "It's a loud crowd, there's a lot of emotions, but we stuck together as a team and we came through. Even though it was overtime, we came through with a victory.
"I think it's a good kick-start for us to get ready for Iowa."
October, 28, 2013
10/28/13
11:00
AM ET
You know the old adage about offense selling tickets and defense winning championships? Forget about it.
If that were true, how could you explain that four of the top five scoring teams in the country are Baylor, Oregon, Florida State and Ohio State? And that all four are undefeated, ranked in the top five in the major polls and in the BCS title chase? (No. 4 on that list, by the way, is Texas A&M, which has a reigning Heisman Trophy winner and is 12th in the BCS standings). Even Alabama is averaging 41.2 points per game, 13th best in FBS.
[+] Enlarge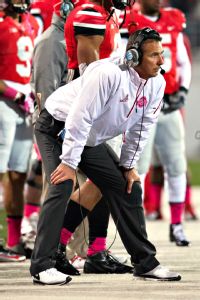 Greg Bartram/USA TODAY SportsUrban Meyer and Ohio State were on the offensive against Penn State.
The only team in the Top 25 nationally in points per game that doesn't have a winning record? Indiana, which is tied for eighth at 42.4 PPG -- but also is No. 119 in total defense.
You've got to score a lot to win big in college football these days, and you've got to do the same to stand out in the BCS crowd. So no wonder Urban Meyer and Ohio State put their foot on the gas pedal Saturday against Penn State, scoring 42 points in the first half en route to a 63-14 rout.
The Buckeyes' 686 total yards were their most ever against a Big Ten opponent. Meyer, in classic step-on-your-neck fashion, challenged a spot on a Penn State fourth-down play late in the third quarter. Ohio State led 56-7 at the time -- and got the call reversal to go its way. Nittany Lions coach Bill O'Brien just stared ahead for several seconds when a a reporter later asked about that challenge, then declined to comment. But O'Brien did say of the game, "We'll remember some things."
Still, it's hard to blame the Buckeyes for doing everything they could to put up an impressive score after they've heard about their lack of style points all year long. The scary thing for the rest of the Big Ten is that Ohio State and
Braxton Miller
appear to be just now finding their stride on offense. Yes, that's a funny thing to say for a team scoring 47.2 points per contest and that has seven 50-point games since 2012, or one more than the program managed in the entire Jim Tressel era. But it's true.
This is an offense that appears to be steamrolling toward a championship. Wouldn't it be fun if Michigan State's equally dominating defense got a chance to test that old adage in Indianapolis?
Take that and rewind it back:
Team of the week:
For the second straight week, it's Minnesota. Of course it is, after the Gophers knocked off Nebraska for the first time since 1960, got their signature Big Ten win and clinched bowl eligibility. What the team has been doing while head coach Jerry Kill is on a leave of absence is incredible.
Worst hangover:
There have been some ugly losses in the Bo Pelini era at Nebraska, but maybe none as dispiriting as Saturday's defeat at Minnesota. The 9-7 home loss to Iowa State might be the only one to trump it. Tommie Frazier, who publicly criticized Pelini and his staff after the UCLA debacle, tweeted out "Do I need to say anymore?" right after the game ended. It will be another uncomfortable week in Lincoln.
Best play:
Facing third-and-7 from the Northwestern 8-yard line in overtime,
Iowa's
Jake Rudock
dropped back to pass and almost immediately had blitzing safety
Ibraheim Campbell
in his grille. When Rudock released the ball, it looked in live action as though he was merely throwing it away. Instead, the ball sailed perfectly to tight end
C.J. Fiedorowicz
for the touchdown that proved to be the game winner.
[+] Enlarge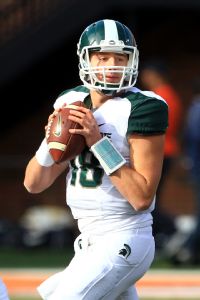 Pat Lovell/USA TODAY SportsConnor Cook won't soon forget Saturday's win.
Craziest play:
Speaking of surprising touchdown passes,
Connor Cook
must be living right. The Michigan State
quarterback scrambled to his right late in the first half
on a third-and-25 from the Illinois 29-yard line. He then threw toward the end zone into double coverage, and a pair of Illini defensive backs,
Jaylen Dunlap
and
Eaton Spence
, were in front of Bennie Fowler for the underthrown pass, and Dunlap tipped it twice before it fell in the hands of Fowler for a TD. The score was 7-3 before that play, and it was the start of 35 unanswered points for Michigan State. "I was a little afraid," Cook said of his throw. But he finished with just one incompletion in 16 attempts.
Big Man on Campus (Offense):
Braxton Miller is getting hot. Scorching hot, in fact. He went 18-of-24 for 252 yards and three touchdowns through the air while rushing for 68 yards and two scores in the 63-14 trouncing of Penn State. If he plays like that, nobody in this league is beating the Buckeyes.
Big Man on Campus (Defense):
Iowa linebacker
Anthony Hitchens
had nine tackles, a sack and a key forced fumble in the win over Northwestern.
Big Man on Campus (Special teams):
His team lost, but
Pat Smith
did all he could for Nebraska. Smith went 3-for-3 on field goals, connecting from 37, 42 and 45 yards on a windy day. Say this for the Huskers: They keep churning out excellent kickers.
Got a plane to catch?
This might be the craziest number of the week: 2:50. That's how long the Northwestern-Iowa game lasted. Yes, the two teams somehow managed to play an overtime game in less than three hours, or about the time it takes for two David Ortiz at-bats. Of course, it might have taken a bit longer had Pat Fitzgerald elected to use his timeouts at the end of the game.
After a
Mike Trumpy
fumble, Iowa took over at midfield with 3:14 remaining. The Hawkeyes struck on an 18-yard Fiedorowicz pass reception to get near field goal range and then started going conservative as the clock drained. Fitzgerald, who had two timeouts in his pocket, did not call either of them to save some potential time for the Northwestern offense. He finally called one after Iowa had used its own timeout on fourth-and-11 with 15 seconds left. The Wildcats then intercepted the pass but had no time to do anything but take a knee.
Fitzgerald said later that he thought the wind would make it tough on Iowa to kick a field goal and that "we were playing to win the game." It sure seemed instead that he was playing for overtime, and we saw in the Michigan game that playing not to lose often leads to exactly the thing you're trying to avoid.
August, 27, 2013
8/27/13
10:00
AM ET
Some people might say we live a fantasy life by covering Big Ten football for a living. And they'd have a point. But we also like to dabble in some fantasy football around here, going head to head each week in our own two-man Big Ten-centric league. (If you want to play college fantasy football, you can do so through
ESPN's College Football Challenge
).
We're entering out third year of this league, and we're tied at one championship apiece. Adam escaped last season by winning seven of the 13 head-to-head showdowns (though I like to point out that my team scored more fantasy points on the season). We start with a clean slate in 2013. I get the top pick in our snake draft that we conducted yesterday. (Note: I changed my team name this year to The One Who Knocks in honor of Heisenberg and one of the greatest TV shows ever).
Here are the results of that draft:
Pick 1: Brian selects Ohio State quarterback Braxton Miller
[+] Enlarge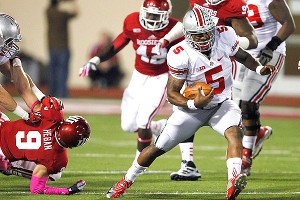 AP Photo/Sam RicheIs Braxton Miller the top fantasy option in the Big Ten this season?
Rationale:
This wasn't as big of a no-brainer as it may appear, as I seriously considered
Taylor Martinez
here. I worry, for fantasy purposes, that Miller may not run as much as last season. But I still expect Ohio State to score in bunches, and Miller will be heavily involved in the fun. No sense in trying to overthink this one.
Pick 2: Adam selects Nebraska quarterback Taylor Martinez
Rationale:
Like Miller, Martinez is a true dual threat who can pile up fantasy points. If he takes another step as a passer, look out for Big Red.
Pick 3: Adam selects Northwestern running back Venric Mark
Rationale:
Mark is a big-play threat both as a rusher and as a return man, and he should pile up fantasy points early in the season.
Pick 4: Brian selects Michigan quarterback Devin Gardner
Rationale:
I'll take the other one of the "Big Three" QBs to start the year. I'm pegging Gardner for a huge season, and with so much uncertainty at quarterback at other Big Ten schools, I'm making sure to snatch him up now.
Pick 5: Brian selects Penn State wide receiver Allen Robinson
Rationale:
It may seem unorthodox to take a receiver before I've selected a running back, but I'm confident that there will be plenty of good running backs in this league. Meanwhile, Robinson is easily the Big Ten's top receiver, and he made life miserable for me last fall while on Adam's team.
Pick 6: Adam selects Wisconsin wide receiver Jared Abbrederis
Rationale:
No matter who plays quarterback for the Badgers, No. 4 will be the primary target in the passing game. Abbrederis can stretch defenses and should have a big senior season.
Pick 7: Adam selects Northwestern quarterback Kain Colter
Rationale:
Colter and Mark are virtually unstoppable in the zone-read game, and I've got 'em both. Although the passing questions linger with Colter, his running ability makes him good for fantasy points.
Pick 8: Brian selects Nebraska running back Ameer Abdullah
Rationale:
It's time to grab a running back, and Abdullah should run wild alongside Martinez early in the season, especially given Nebraska's not-too-taxing early schedule. He might just throw in a special teams score or two as a bonus.
Pick 9: Brian selects Wisconsin running back Melvin Gordon
Rationale:
A slight gamble here, as Gordon could take a backseat to teammate
James White
, especially early on. But there should be plenty of opportunities for both, especially in Week 1. And the talent and potential here is too tantalizing to pass on.
Pick 10: Adam selects Iowa running back Mark Weisman
Rationale:
Weisman showed last season he can be dominant when healthy, and he'll play behind one of the Big Ten's better offensive lines. AIRBHG, you had better stay away.
Pick 11: Adam selects
Michigan wide receiver Jeremy Gallon
Rationale:
Gallon's numbers surged late last season with Gardner at quarterback, and he'll be the clear No. 1 option in the passing game as Michigan employs a more traditional pro-set offense this season.
Pick 12: Brian selects Nebraska wide receiver Kenny Bell
Rationale:
I strongly considered Indiana's
Cody Latimer
here, but the danger is that
Kofi Hughes
,
Shane Wynn
and other Hoosiers receivers could all split the numbers. Mr. Afro Thunder is the Huskers' obvious top weapon in the passing game and could have a field day against Wyoming.
Pick 13: Brian selects Michigan State's defense
Rationale:
The Spartans' elite defense actually wasn't that great in fantasy last season, as low totals in takeaways and sacks prevented it from matching real-life performance. I'm willing to bet that changes this year and will go with the best defense -- at least on paper -- in the Big Ten.
Pick 14: Adam selects Ohio State's defense
Rationale:
Michigan State boasts the Big Ten's best defense, but for fantasy purposes, Ohio State's D receives much higher marks. I'm banking on
Noah Spence
,
Adolphus Washington
and other young players to step up early and often.
Pick 15: Adam selects Northwestern's kickers
Rationale:
Jeff Budzien
had only one miss in 2012 -- a 53-yard try at that -- and should be one of the primary contenders for the Lou Groza Award this fall.
Pick 16: Brian selects Nebraska's kickers
Rationale:
The Huskers will be breaking in a new placekicker --
Mauro Bondi
and
Pat Smith
are battling it out -- but this program has churned out big-time kickers. And while Big Red might not settle for a lot of field goals on Saturday, I expect to at least get some points on multiple PATs.
Our complete rosters for Week 1:
The Trombone Shorties
Nebraska QB Taylor Martinez
Northwestern QB Kain Colter
Northwestern RB Venric Mark
Iowa RB Mark Weisman
Wisconsin WR Jared Abbrederis
Michigan WR Jeremy Gallon
Ohio State defense
Northwestern kickers
The One Who Knocks
Ohio State QB Braxton Miller
Michigan QB Devin Gardner
Nebraska RB Ameer Abdullah
Wisconsin RB Melvin Gordon
Penn State WR Allen Robinson
Nebraska WR Kenny Bell
Michigan State defense
Nebraska kickers
BIG TEN SCOREBOARD
Thursday, 9/3
Friday, 9/4
Saturday, 9/5
Sunday, 9/6
Monday, 9/7