Penn State Nittany Lions:

O.J. Ross
July, 31, 2013
7/31/13
9:00
AM ET
Every day this week, NittanyNation will continue taking a closer look at a different game this season and how the matchup stacks up for PSU. Up today: Purdue.

Darrell Hazell finished last season with one of the nation's most impressive coaching performances, leading Kent State to an 11-win season and coming within a heartbeat of an Orange Bowl berth.

Purdue's new head coach will need another one of the country's best performances just to get the Boilermakers into a bowl.

Hazell will need to break in a new quarterback and a new stable of receivers. Purdue will need to replace its best defensive player in DT Kawann Short. And it will need to fight past a tough non-conference slate that includes Cincinnati and Notre Dame.

Hazell's up for the challenge, but make no mistake about it: This is a rebuilding season for the Boilermakers. Hazell turned around a struggling Kent State squad from 5-7 in his debut season to 11-3 in Year 2. This will probably be a similar first season for Hazell record-wise, and there'll be plenty of bumps along the way.


September, 15, 2012
9/15/12
8:31
PM ET
STATE COLLEGE, Pa. --
Allen Robinson
stared at his hands last week when they failed him against Virginia. Twice he dropped the ball, and he mentioned all week he needed to maintain his focus.
Consider that mission accomplished.
[+] Enlarge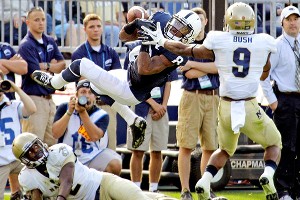 AP Photo/Gene J. PuskarAllen Robinson didn't hang on to this pass, but he did catch three TDs against Navy, the first Penn State player to accomplish that in three seasons.
On Saturday, the sophomore became the first Penn State player in three years to haul in a trio of touchdown catches. He finished with five receptions for a career-high 136 yards -- and enough big plays to splice together about a two-minute highlight tape.
"I just go out there and try to play football," Robinson said. "And Matt [McGloin] was able to hook up with me early."
Matt McGloin
found Robinson twice in the first quarter on a pair of 45-yard passes. On one throw, McGloin found the 6-foot-3 wideout 20 yards downfield. Robinson juked one defender, cut inside and sprinted another 25 yards for the score.
He averaged 27 yards a catch. Before the game, Penn State's longest pass traveled 30 yards.
"Usually if you're 6-3, you're not going to run a 4.3," receivers coach Stan Hixon said, "but with his route-running, he can create separation."
The 201-pound wideout entered this season as an unheralded player with just three career receptions next to his name. He's now fast becoming one of best receivers in the Big Ten.
Entering Saturday, he led the conference in receptions -- outcatching the No. 2, Purdue's
O.J. Ross
, by half-a-dozen. Robinson now has 24 receptions for 322 yards and four touchdowns.
Robinson said he spent the offseason working with any quarterback who would throw to him -- starter Matt McGloin, backup
Steven Bench
, QB-turned-TE
Paul Jones
-- to rehearse his route-running. Because of the constant repetition, Robinson said he made the jump from above-average route runner to a great one.
Cornerback
Stephon Morris
said a few weeks ago Robinson was his favorite receiver to line up against. He had trouble picking up the wideout's tendencies when he ran routes.
"I told you," Morris said Saturday." He's going to be hard to cover."
Robinson's final big play might have been the most impressive. Late in the third quarter, McGloin tossed a slightly high spiral over the middle to
Trevor Williams
. The true freshman deflected the ball into the air, and Robinson pulled down the volley about five yards deep in the end zone for a 25-yard touchdown.
That was his third touchdown, the most for a PSU receiver since
Graham Zug
hauled in three in 2009 against Michigan.
Robinson was told his phone would likely be ringing every few minutes from coaches hoping for an end-of-the-season transfer. But he said going elsewhere isn't a consideration.
"I'm definitely here with Coach O'Brien and Penn State," he said. "It's not really about playing in the Big Ten championships or playing in a bowl game."
September, 14, 2012
9/14/12
11:30
AM ET
STATE COLLEGE, Pa. -- Call Navy one dimensional. Go on, call them predictable.
Penn State's players know what's coming. Everyone does. Navy's recipe for success hasn't been a recipe inasmuch as it's been a single ingredient: Run.
But knowing what's coming and knowing how to stop it are two very different challenges.
They're good at what they do, and they're fast," defensive end
Pete Massaro
said. "There's no way you can get a scout-team offense up to that level in just a few days."
[+] Enlarge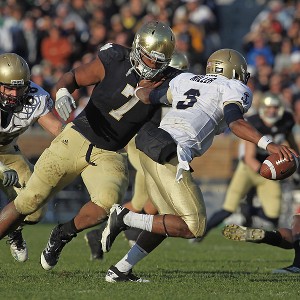 Photo by Jonathan Daniel/Getty ImagesNavy quarterback Trey Miller (3) probably won't throw more than he runs against Penn State on Saturday.
Loading the box is one solution, but it's a lot like marking "C" on a Scantron test: It can't be the answer every time. With the triple option, Navy can roll around the outside if a defensive end bites. If the DBs hesitate, watch out for the play-action.
Through sleight-of-hand and a tricky set-up, Navy has ridden this offense to become one of the country's premier running teams. Since 2002, the Middies have consistently ranked as one of the nation's top four rushing teams.
Well, except for 2010. That was a down year. Navy finished just sixth nationally and rushed for a paltry 284.8 yards a game.
"You have to change up your whole defense for a team like Navy, Georgia Tech and any triple-option team," cornerback
Adrian Amos
said.
Bill O'Brien preached discipline this week like Navy preached ball-control. For Penn State to out-muscle a team that runs four times for every pass, their front-seven can't be out of position.
Quarterback
Trey Miller
will dive forward more often than he drops back.
Noah Copeland
and at least half-a-dozen other running backs will record a carry. O'Brien knows what to expect -- everybody does -- it's just a question of the outcome.
"I didn't schedule Navy," O'Brien said with a laugh.
Surprise tailback?
O'Brien offered fans a bit of a riddle during his weekly radio show Thursday.
"We're going to do a few different things on Saturday," he said. "There' be one other guy back there that you haven't seen carrying the football."
O'Brien told fans they'd have to see Saturday who it was, but reporters and fans have already ventured quite a few guesses:
Gerald Hodges
,
Paul Jones
,
Glenn Carson
,
P.J. Byers
,
Alex Kenney
,
Akeel Lynch
,
Garry Gilliam
, etc.
Byers and Lynch are the favorites, but one can never tell with O'Brien -- who used a linebacker (Hodges) to return kicks during Game 1.
Leading the Big Ten:
Even if sophomore wideout
Allen Robinson
fails to record a catch Saturday, he could still lead the conference in receptions.
He currently has 19 catches, while Purdue's
O.J. Ross
is second with 13 grabs. Robinson might have even had 21 catches -- if he didn't drop two on back-to-back plays last week.
"I had a couple drops this week because of lack of concentration," he said. "I just can't let that happen anymore. ... I need to focus and make sure I'm looking the ball in."
Where's Amos?
O'Brien said in the preseason that Amos could play anywhere: safety, cornerback -- even linebacker.
Against a run-first offense like Navy, which requires some sure-tacklers, it'll be interesting to see where Amos lines up. If O'Brien wants to move Amos around in the early part of the season, this game seems like his best bet.
Stopping the run:
Deion Barnes
might be the team's best pass-rusher -- he's tied for the Big Ten lead in sacks with three -- but he admitted this week he needs to get better at stopping the run.
With the better run-stuffer, Massaro, likely out with several injuries, Navy could target the redshirt freshman.
"You got to read blocks better," Barnes said. "You have to be more attentive this week."
Trick plays:
O'Brien was asked Thursday if he planned to use many trick plays against Navy, like last week's fake punt that resulted in a 19-yard scamper by a linebacker.
"We're going to pull out all the stops," he said. "So we got a few trick plays for Saturday, and we'll see if we can pull them out. When you call them, you want them to work."
BIG TEN SCOREBOARD
Thursday, 9/3
Friday, 9/4
Saturday, 9/5
Sunday, 9/6
Monday, 9/7