Penn State Nittany Lions:

O.J. McDuffie
January, 2, 2014
1/02/14
3:00
PM ET
Here's a compilation of Twitter reaction from current players, former players and recruits regarding Bill O'Brien's decision to coach the Houston Texans:
I love my 2014 class of PSU ....we have that brothers connection and we didn't even enroll to PSU yet

— Marcus Allen (@Chico_Ehhh) January 2, 2014
If it wasn't for Coach OB I probably wouldn't be playing football anymore, I wish him the best in the NFL.

— Devin Pryor #16 (@D_Pryor16) January 1, 2014
I just can't wait to figure out who my head coach is going to be next year #WeAre #WeAreAndAlwaysWillBe

— Charlie Shuman (@BigCShu71) January 1, 2014
We all we got! No reason to panic or jump ship! Doesn't matter the system nor the coach...players win games period

— Bill Belton (@W3BII) January 1, 2014
No matter what happens football games will be played and won by the Nittany Lions love all my brothers we will stick together #WeAre

— Hunter Crafford (@Craf_FordTough) January 1, 2014
Never worry about the things you can't control

— Malik Golden (@_goldenboy6) January 1, 2014
A man's gotta do what a man has GOT TO DO. It's life baby !

— Stephen Obeng-Agy... (@BigBENGTheory7) January 1, 2014
New Year, New Head Coach I suppose

— DaeSean Hamilton (@SkeeterMills__) January 1, 2014
Recruiting Class of 2014 #pennstate #weare I'm going stick by penn state side ! Regardless the new head coach I will be attending penn state

— MARK ALLEN (@theALLENshow) January 1, 2014
Bout to be the best year for me yet and bout to be the best year for Penn State #WeAre

— carter Henderson (@hendydo_42) January 1, 2014
I hope I have another chance to play under Coach O'B. I love the guy, I appreciate everything he's done for me. I couldn't be more thankful.

— Jesse James (@JJames18_) January 1, 2014
Good luck to Coach O'Brien and his family. Made a tremendous impact on my life and many others during his time at Penn State.

— Ty Howle (@THowle60) January 1, 2014
Best of luck to the O'Brien family and to the lucky man that gets to coach this prestige organization... I can't wait to meet you

— Troy Stivason (@teejaystives) January 1, 2014
To all of the Penn State family: Penn State is and will always be about more than any one man. WE ARE everything we have always been

— Derek Dowrey (@doubleDowrey) January 1, 2014
Coach O'Brien was a great mentor, coach and father figure but every coach has the aspirations to coach in the NFL. glad coach can chase his.

— Brian Gaia (@that_gaia) January 1, 2014
Gotta keep on movin forward people that's all we can do #yafeelme

— Austin Johnson (@AJohn15) January 1, 2014
One thing OB taught me is that this is a business, and u should do what's best for you.Texans are getting a good coach, I wish him the best

— Deion Barnes (@DBarnes_18) January 1, 2014
Its weird that I am one of the few penn state football players that will have 4 head coaches #mindblown #ohwell it's the business #NFL

— Matt Zanellato (@mzanellato) January 1, 2014
Coach O'brien is a great coach and great person! Proud to have called him my coach. It was his dream to coach in the NFL, best of luck. #PSU

— Mike Hull (@m_hull4943) January 1, 2014
I'll love Coach Obrien forever. He will always be apart of Penn State. One of the greatest men I've ever known. #PennStateForever

— Miles Dieffenbach (@Curiousjorge65) January 1, 2014
Fight on. We still are and forever will be.

— Garrett Sickels (@Sickels_90) January 1, 2014
Time to move on Penn State! We will find the right man for the job. BOB did plenty for us. Time for a true Blue and White bleeder! #WeAre

— OJ McDuffie (@ojmcduffie81) January 1, 2014
December, 31, 2013
12/31/13
9:00
AM ET
With the New Year just hours away, it might be a good idea to look back on this past year of Penn State football.

So here are some of the more memorable moments and stories to appear on this site in 2013:

November, 13, 2013
11/13/13
11:00
AM ET
STATE COLLEGE, Pa. -- The debate's been raging in Happy Valley dorm rooms, tailgates and bars for the past few weeks: Is
Allen Robinson
the greatest Penn State receiver of all-time?
[+] Enlarge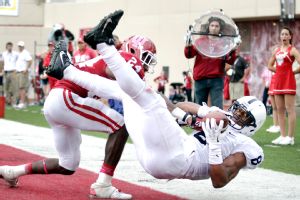 AJ Mast/Icon SMIIs Allen Robinson the greatest receiver in Penn State history? Time will tell.
One glance at the stats is all it takes to make a quick case for the junior. He broke NFL vet Bobby Engram's single-season school record for receiving yards (1,084) last week -- and he still has three games remaining. He's either at the top, or near the top, of every conceivable receiving category. And he's just the second receiver in PSU's 127-year history to clinch back-to-back 1,000-yard seasons.
Much to the chagrin of fans hoping for closure to the debate, Robinson declined to weigh in last week by saying, "Just being in the conversation with those guys is an honor."
But those former Penn State greats weren't so reserved in discussing Robinson's place in history.
"He's every bit as good as any one of us," two-time All-American Kenny Jackson told ESPN.com.
Jackson was referring to himself and two other PSU greats, Engram and O.J. McDuffie. All three earned All-America honors, all three played in the NFL, and all three are mainstays in the Penn State record books. When it comes to Penn State's best-ever wideouts, those are the three most often brought up in conversation.
And, now, it appears that there are four -- including the 6-foot-3, 210-pound Robinson.
"He's got every tool we had," McDuffie told ESPN.com, "and every physical tool we wish we had. We made the most of what we had, but he's an atypical receiver in the NFL."
But it's not quite time to place Robinson at the top of that list and end the debate. Despite that praise, neither former receiver was quite ready to anoint A-Rob as the greatest ever -- even if his numbers put him in the company of one.
Based purely on ability, both still labeled Engram as the G.O.A.T. Engram was the first-ever Biletnikoff Award winner in 1994, a human vacuum who reeled in every pass, leaving State College with about a dozen receiving records and an undefeated 1994 season.
"I put Bobby Engram at No. 1, Kenny at No. 2 -- and then I think it's hard between me and Allen," said McDuffie, who finished his PSU career in 1992 with 125 catches for 1,988 yards and 16 touchdowns. "Bobby is one of those guys who could mix it up; he could block downfield and make big catches. Kenny, well, I didn't get to see much from what he did on the football field, but what really draws me to him is that he's a two-time All-American receiver at Penn State -- and that's not easy to do at Penn State."
Historian/author Lou Prato,
who literally wrote the encyclopedia on Nittany Lions football
, borrowed a line from a Magic-8 ball: "Ask again later." He wasn't ready to rank Robinson, a junior who could declare early for the NFL, because his career wasn't yet over.
Prato said he'd have to consult his notes and reflect upon the question before offering an educated opinion. He graduated from Penn State in 1959, six years before Joe Paterno took over as head coach, and he wouldn't go further than acknowledging Robinson belongs in the top 10 and that Engram was PSU's "greatest clutch receiver."
But both he and the two wideouts cautioned not to base the "best-ever" title on numbers alone. Robinson's stats this season -- 73 catches; 1,106 yards; six TDs -- are more a product of the times as opposed to a simple reflection of talent, they said.
Jackson, a track star, lined up with his hand in the dirt in the early 1980s when JoePa's hair still matched his jet-black shoes. He earned All-America honors in 1983 when he caught just 28 balls.
Neither Jackson nor McDuffie competed on a team that completed more than 180 passes. Former walk-on Matt McGloin completed 270 passes just last season when Robinson set a school record with 77 receptions.
"I don't care how he broke Bobby's 1,000 yards. That is not impressive; any one of us could've done that if the coach wanted to target us," Jackson said. "Allen Robinson is impressive to me not because of the numbers because it's so easy to get ridiculous numbers now. What's impressive to me is Allen Robinson, every Saturday, shows up with nothing to play for. He's got talent; I'm very impressed without looking at the numbers."
Added Prato: "Because of those different eras, it all becomes subjective. There were a couple great receivers in the '30s and '40s, but they didn't pass as much. So who knows?"
Robinson may not be the most talented -- according to Jackson and McDuffie, that's Engram -- but he certainly appears to be the most valuable of the four. So far in 2013, Robinson has accounted for 39 percent of the team's receptions (73 of 188) and 47 percent of its passing yards (1,106 of 2,342).
Compare that to past greats, and Robinson is still on top. (Engram's best season, 1995, comes close as he hauled in 32 percent of his team's catches and 46.5 percent of the passing yards.) A-Rob accounted for more of the passing offense than any PSU receiver since 1971.
Plus, Jackson and McDuffie argued, Robinson is doing more with less. Kerry Collins -- who threw for more than 40,000 yards in the NFL -- launched balls to Engram. Should Robinson get a few bonus points since he's catching balls from a true freshman, on a team with 24 fewer scholarships than the opposition?
It all depends on what criteria one wants to use to determine the best-ever. But, looking ahead, both all-time greats believe Robinson is destined for a path on which few Penn State receivers have traveled.
"Allen Robinson has more upside and did more with what he had at Penn State than I did," Jackson said. "And if you asked me, 'Who would I draft -- me or Allen Robinson?' I'd say, 'Draft Allen.' I don't know if even Bobby or O.J. had as much upside as this kid because of his size."
At the very least, Robinson has already earned the respect from the very best.
So, for now, let the debate rage on.
November, 9, 2013
11/09/13
2:45
PM ET
Allen Robinson
moved to the top of the Penn State record books.
The junior wide receiver set the Nittany Lions' single-season receiving record in the fourth quarter of the Minnesota game on a 12-yard pass from
Christian Hackenberg
. He moved past Bobby Engram, who set the long-standing mark of 1,084 yards back in 1995.
Entering the game, Robinson needed just 42 yards to surpass the milestone. He finished the game with seven catches for 63 yards.
He now holds the school's single-season records for both receiving yards and receptions. He broke the receptions record (77) last season, and h'es on pace to break that again this season.
"I don't try to pay too much attention to it," Robinson said earlier this week, regarding the records. "But it's a good honor."
Heading into the Minnesota game, he averaged 10 catches and 149 yards in Big Ten games and was ranked fourth nationally with 1,043 yards. He's accounting for about 48 percent of the passing offense.
He'll still need one more season to catch up to Engram's record for career receiving yards (3,026), but he could choose to leave for the NFL. Robinson said that's something he'll discuss with the coaching staff once the season's over.
November, 7, 2013
11/07/13
2:30
PM ET
There's no use in trying to get
Allen Robinson
to discuss school records.
[+] Enlarge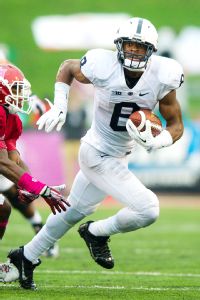 AP Photo/Doug McSchoolerHe's closing in on another school record, but Allen Robinson isn't thinking too much about it.
He's just 42 yards shy of breaking Penn State's single-season record for receiving yards (1,084), a mark set in 1995 by NFL vet Bobby Engram. But Robinson deflects nearly any mention of rewriting the history books or figuring out where he fits in Nittany Lion history.
"I just try not to pay too much attention to it," Robinson said, "but it's definitely a good honor."
This isn't feigned humility from the reigning Big Ten receiver of the year. He shattered Penn State's single-season record for receptions last season by making 77 catches, 14 more than former record holders Engram and O.J. McDuffie. But, earlier this season, his parents admitted that record-breaking football isn't sitting on a mantle back home in Southfield, Mich.
Despite the presence of Penn State's All-Sports Museum inside the football stadium, no one thought to grab the record pigskin last year. Robinson and his parents figured they continued to play the game with that football, and it then got tossed along with all the other game-used ones.
That doesn't bother them. They never thought about it, really, until a reporter asked. Records just aren't that important to the Robinsons. So there's no telling what will happen with this next record-breaking football, which is something fans and the media are well-aware of, even though it's not exactly something the team emphasizes.
When a reporter told Bill O'Brien that his star receiver was nearing Engram's mark earlier this week, Penn State's head coach didn't launch into a soliloquy about Robinson's importance. O'Brien's response: "Is he?"
"Yeah," the reporter said, asking whether he talked about the record with Robinson.
"No, no, no," O'Brien responded. "I just learned that from you. No, we don't talk about records. We talk about doing the best we can to make sure we're ready to go for Minnesota."
Robinson ranks first in the Big Ten and fourth in the nation with 1,043 receiving yards. He's first in the Big Ten and eighth in the nation with 66 receptions. And he's averaging 10 catches and 149 yards in each Big Ten contest.
He's in the conversation as the best Penn State receiver of all time, and the junior could very well enter the NFL draft early. (That's something he'll discuss with the staff after the season, he insisted.) Robinson will almost certainly set the receiving record on Saturday at TCF Bank Stadium because it'd be a season-low if he didn't.
He's on pace to break his receptions record from last season. If he stays another season, he could break just about every PSU career receiving record. And he's accounting for 48 percent of Penn State's passing offense right now.
But ask Robinson about the feats, and you're likely to hear a familiar refrain: "I haven't thought too much of it."
August, 13, 2013
8/13/13
9:00
AM ET
STATE COLLEGE, Pa. --
Allen Robinson
crossed his arms during Penn State's media day and lingered near the end zone, a place he found plenty -- 11 times to be exact -- during last season's record-breaking run.
Despite the familiar surroundings, the stonefaced junior seemed out of place with the focus on his accolades. He routinely dismissed talk about last season's Big Ten-leading 77 catches and 1,013 yards. And on three separate occasions, he labeled his year as "decent" before deflecting praise to teammates or addressing the offseason.
[+] Enlarge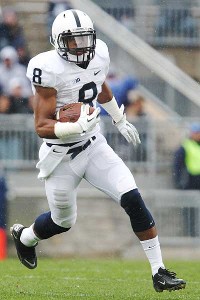 Matthew O'Haren/USA TODAY SportsAllen Robinson says he still has room for growth on the football field, despite pulling in 77 catches last season to break Penn State's single-season receptions record of 63.
"I don't know, Allen," said one reporter. "I think it was a little better than decent."
Robinson offered a slight shrug but didn't crack a smile: "I'm just trying to come open and make plays when my number's called."
The junior wideout is coming off one of the most surprising performances from one of the program's most surprising seasons -- but he's not looking back. After shattering the school's long-standing single-season receptions record (63) as a sophomore, surpassing the likes of PSU greats Bobby Engram and O.J. McDuffie, Robinson said he's focused on 2013.
So maybe it shouldn't come as a surprise he declined to talk much about that record. He didn't want to talk about it much last season either. His parents opted to use the word "relief" when describing it, and the two paused when asked just how much Robinson has brought up the fact he sent those PSU record books back to the printing press.
"I don't remember him bringing it up once since January," his mother, Tracie, said. "I really don't. He just doesn't talk about his achievements."
Added his father, also named Allen: "He hasn't brought it up, not once with me. Allen talks the most about him and
Adrian Amos
, as far as D-back and wide receiver. That's what he talks about, about making each other better."
Neither Robinson nor his family are even sure where that record-setting pigskin is. It's not resting on a desk inside his dorm, nor is it on the family's mantle. The Robinsons said they never really thought about it; a Penn State spokesman said he didn't think anyone ever pulled it aside for the museum located inside the very stadium Robinson set the record.
Not that the younger Robinson really seems to mind. He's looking ahead. Without an experienced quarterback, the wideout with the 37-inch vertical took it upon himself this summer to organize the team. He'd wake up every morning at exactly 5:05 -- just enough time to rush to the football building by 5:30 -- lift, then grab a quick breakfast before heading to class and later sending out mass texts for some 7-on-7s or extra route-running drills.
"He was the one initiating all those sessions," wideout
Matt Zanellato
said. "There were some times where we'd be doing so much that Fitz (strength coach Craig Fitzgerald) would send out a text saying, 'Take this afternoon off. You guys need to relax.'"
Robinson mostly heeded Fitzgerald's words, "but it's just me trying to be a leader. And a lot of it's how good do we really want to be this year? Do we want to be 8-4 again -- or do we want to be 12-0?"
The 6-foot-3 wideout, the recipient of last year's Richter-Howard Receiver of the Year Award, is nine pounds heavier this season. He's faster, he's become accustomed to all the receiver spots, and he's improved his route-running. Put simply, the Big Ten's best wideout is even better.
Assistant coach Stan Hixon has taught quite a few great ones, such as Buffalo Bills' leading WR Stevie Johnson and first-round draft pick Michael Clayton. Robinson reminds him a bit of Clayton -- "tough, tough, tough" -- but Hixon believed the player affectionately known as A-Rob still has a ways to go in 2013.
"He's going to be really good," Hixon said. "But he's just good right now. With the guys I've been around, he's got that ceiling. He has the potential to be better, so my expectation is higher than what a lot of people think."
Robinson, as serious a player as there is on the Nittany Lions, was relayed that message from Hixon: Good, but not yet really good. The Michigan native glanced down, trying to conceal a quick grin -- the first and only smile in 15 minutes of speaking.
"I would say he's right," Robinson said.
"There's a lot of things I can do to improve my game. Last year, I had a decent year -- so I'm just trying to improve off that. There were some catches last year I didn't come down with, so I'm just trying to improve."
That became the third, and final, time Robinson used "decent." So, clearly, those records and those accolades are in the past for the Penn State receiver. He's hoping last season isn't a highlight -- he's convinced it's just the beginning for him and these Nittany Lions.
July, 8, 2013
7/08/13
12:29
PM ET
Imagine creating a team consisting solely of Penn State greats. Which All-American tailback would you choose? Which defensive tackle? Better yet, what about those linebackers?
These aren't easy questions to answer -- but you won't have to imagine for much longer. NittanyNation organized a 24-round Nittany Lions fantasy draft to see whom five experts would choose head to head. We'll publish the results and analysis on Tuesday.

The mission: Draft players forming a 4-3 defense, take a starting offensive lineup -- including one RB, two wideouts, a tight end and a "flex" position -- along with a kicker and punter. NittanyNation's Josh Moyer organized the draft and participated, along with:
O.J. McDuffie. If this name doesn't ring a bell, your Penn State fan card is revoked. McDuffie is one of PSU's greatest wideouts and sits fifth in the school record books for career receptions (125). He and Bobby Engram also held the single-season receptions record (63) until Allen Robinson broke it last season. McDuffie was a first-round NFL draft pick who hauled in 415 catches over eight seasons with the Miami Dolphins.
Lou Prato. He literally wrote the encyclopedia on Penn State football, and one would be hard-pressed to find a person who knows more about the Nittany Lions than him. He's the director of the Penn State All-Sports Museum and is a noted author and historian.
Stephon Morris. The speedy cornerback was the most experienced player in the secondary last season and is currently a DB for the New England Patriots. He was one of PSU's senior leaders who helped keep the team together during the sanctions and, boy, did Morris take this draft seriously. He called up several former players, pored over player bios, consulted with his father, etc. His competitive nature on the field carried over to the fantasy draft.
Bob McClellan. He is te editor of ESPN.com's NittanyNation, BuckeyeNation and WolverineNation and a Big Ten grad. Bob has been a sports editor and sports writer in newspapers and online for 25-plus years. Prato was a professor of his in graduate school at Northwestern.
This isn't supposed to be the be-all, end-all of the greatest PSU players. But it's definitely a great starting point to the conversation. Each participant came in with a different strategy -- somewhat unsurprisingly, for example, Morris focused on defense early to control field position -- and each drafter brought something new to the table.
The best players weren't always picked first -- especially if drafters thought they could get away with waiting to snag the better, possibly lesser-known players later on. (Who's better: Greg Buttle or 1906 captain W.T. Dunn?) That didn't always work out and led to some lighthearted name-calling during the draft, along with some continued ribbing a few days later.
Every participant left the draft feeling as if he had pieced together the best team. Would you have done anything differently? Did one of us drop the ball? Were more recent players overvalued?
Take a look on Tuesday, and let us know. We'll roll out the full team results, the position-by-position breakdown and an analysis from every participant. We can't exactly offer a sneak peek just yet, but here was our draft order (and, yes, it followed a snake draft where the last to draft in the first round was the first to draft in the next):
1. Prato
2. McClellan
3. Morris
4. Moyer
5. McDuffie
Which PSU player went No. 1 overall? Which 15 linebackers were taken, and in what order? See you on Tuesday.
November, 18, 2012
11/18/12
9:00
AM ET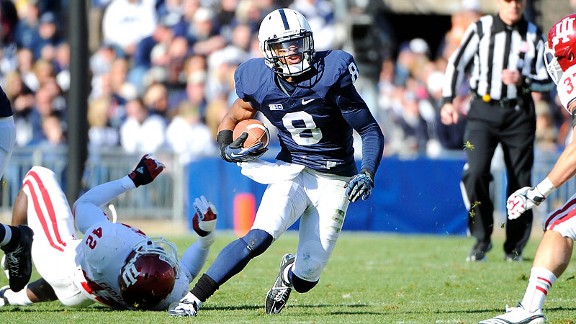 Rich Barnes/US PresswireAllen Robinson had 10 catches for 197 yards and is opening up his own wing in the Penn State record book.
The good and the bad from Penn State's 45-22 win over Indiana on Saturday:
THREE UP
November, 17, 2012
11/17/12
3:46
PM ET
STATE COLLEGE, Pa. -- It was a record-breaking day for Penn State.
Allen Robinson
set the Nittany Lions' single-season receptions record in the first quarter, and
Matt McGloin
set a school record for yards in a single season and career touchdowns.
Behind a strong offensive effort -- highlighted by performances from Robinson and McGloin -- the Nittany Lions overcame a slow start to
throttle Indiana 45-22
Saturday.
Robinson now has 73 receptions, surpassing the record of 63 set by former PSU greats
Bobby Engram
and
O.J. McDuffie
. McGloin boasts 3,071 passing yards this season and 45 career passing touchdowns.


With the win, Penn State's record improves to 7-4 (5-2 Big Ten), while Indiana falls to 4-7 (2-5 Big Ten).
It was over when
:
Zach Zwinak
crossed the goal line for a 1-yard touchdown late in the third quarter. The Hoosiers were building momentum, but that score put an end to it. PSU led 35-22 at that point, and Indiana wouldn't threaten again.
Game ball goes to
: Robinson. Not only did he set the single-season receptions record on his first catch of the game, but he caused problems for Indiana all day. He was responsible for the Nittany Lions' first three touchdowns and finished with 10 catches for 197 yards.
Stat of the game
: 482 -- Penn State's offensive yardage in the first three quarters, when the game was still in doubt. Indiana couldn't stop the Nittany Lions on the ground or through the air.
Turning point
: In the third quarter, with Indiana trailing by only six, Bill O'Brien found his team facing fourth-and-10 on his opponent's 33. He decided to go for it -- surprise, surprise -- and McGloin found
Brandon Moseby-Felder
for a 12-yard gain. That key play set up a touchdown.
Unsung hero
:
Gerald Hodges
. With the
injury to Michael Mauti
, Penn State's other outside linebacker stepped up. He showed just why he's a Butkus Award candidate with 12 tackles and an interception. Hodges was this defense's playmaker Saturday.
Unsung hero, part deux
:
Cameron Coffman
. With no help from the running game, Coffman was forced to throw often -- and he did a pretty good job. He threw two interceptions, but one came when he pressed while trailing by three touchdowns. He finished with 454 passing yards.
November, 17, 2012
11/17/12
12:19
PM ET
STATE COLLEGE, Pa. --
Allen Robinson
set the Penn State single-season record for receptions in style Saturday.
Needing just one catch to break the mark of 63 set by PSU greats Bobby Engram and O.J. McDuffie, the sophomore wideout finished with 10 catches, 197 yards and three touchdowns against Indiana.
"It means a lot, just with some of the guys that come through here," Robinson said Saturday. "It definitely means a lot."
Robinson's record-setting catch came on a 3rd-and-6 play in the first quarter. Matt McGloin found him on a screen pass, but Robinson was tackled for a one-yard loss. His later catches better flashed his athleticism.
The 6-foot-3 wideout grabbed a screen pass midway through the second quarter, spun to fake out a safety, and sprinted for a 53-yard touchdown. Through 11 games, he now has 73 catches for 978 yards and 11 touchdowns.
Robinson caught just three passes last season as a backup. He said he didn't really set any goals immediately after the season. But once Bill O'Brien came on board and several starters were either dismissed, transferred or graduated, he aimed to reach 70 receptions.
"With all the guys leaving, I knew that somebody would have to step up," he added.
Wide receivers coach Stan Hixon said he knew "right off the bat" the sophomore was special. And Robinson knew the record was possible with O'Brien's new offense.
Most of Penn State's passing records figure to go down with the new pro-style offense -- Robinson himself will likely break the career receptions mark of 179 -- so this was simply the first.
Matt McGloin also broke several records Saturday, although they were only on the books for a short time. He passed Daryll Clark for most passing yards in a season (3,066) and now has the most career touchdowns (45).
November, 15, 2012
11/15/12
2:30
PM ET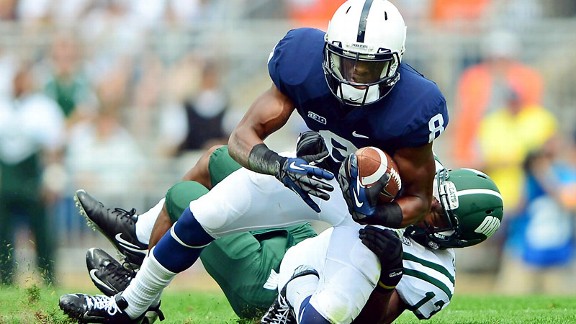 Andrew Weber/US PresswireSophomore wideout Allen Robinson has already tied Penn State's single-season receptions record with 63 this year.
Allen Robinson
stood on the sideline Jan. 2, during an unusually cool Texas afternoon, and watched
Rob Bolden
toss 26 balls -- not one of which traveled toward his direction.
Robinson was a backup wideout, an offensive afterthought, during the TicketCity Bowl. If he tried to envision his future with Penn State, broken records and national honors likely weren't on his mind.
But that dynamic quickly changed with Bill O'Brien's pass-first offense. Robinson said Wednesday he wasn't surprised -- even though he was one season removed from three receptions -- that he needed just one more catch to break Penn State's single-season receptions record.
"With the offense that Coach O'Brien has us running and stuff, I knew once the season was starting, I was going to be in position to make big plays," Robinson said. "This was really one of my goals, to be able to have as many catches as I do now. So it's not too surprising."
The sophomore wideout has already tied Penn State's single-season receptions record (63) with two PSU greats,
Bobby Engram
and
O.J. McDuffie
. One more catch Saturday, and Robinson will send those record books back to the printing press.
Robinson didn't flip to Page 75 of the glossy football guide to view those records, nor did he set out to figure whether he was close. As chatter intensified on Twitter and fans picked up on the potential record, Robinson couldn't ignore it. He realized relatively early he could set this record -- even if his teammates weren't quite as aware.
"Nah, I wasn't aware of that," linebacker
Glenn Carson
said earlier this week. "I just know that Allen's been playing great ball and really helping the team on offense this year. But, no, I wasn't aware of that -- and that's great news. Good for him."
PSU's 46-Hour Dance Marathon Raises $13 Million
BIG TEN SCOREBOARD
Thursday, 9/3
Friday, 9/4
Saturday, 9/5
Sunday, 9/6
Monday, 9/7