Penn State Nittany Lions:

Nick Saban
May, 29, 2014
5/29/14
9:40
AM ET
The SEC football coaches, proud purveyors of oversigning and other honorable recruiting practices, have banded together in the name of integrity. Take a bow, (good ol') boys. You deserve it.
[+] Enlarge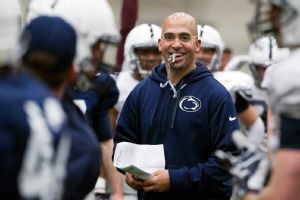 AP Photo/PennLive.com/Joe HermittSEC coaches aren't thrilled with Penn State coach James Franklin's decision to have summer camps in their territory.
Apparently the SEC coaches aren't too pleased with a plan hatched by one of their former colleagues, James Franklin. The new Penn State coach, formerly at Vanderbilt, and his assistants will guest coach next month at summer camps in the heart of SEC country, at Georgia State and Stetson. It means the Penn State staff can evaluate prospects from in and around Atlanta and DeLand, Fla., two SEC recruiting hotbeds.
Although NCAA rules limit programs from running high school camps more than 50 miles from their campus, coaches are allowed to work at camps outside of the radius as long as they don't run the events.
"The Big Ten and NCAA rules allow you to do these things," Franklin recently told reporters during a Coaches Caravan stop in King of Prussia, Pa. "We wanted to not only have camps on our campus, which we're going to have a bunch of them, but also be able to maybe take the Penn State brand and be able to take it to part of the country that maybe young men and families wouldn't be able to make it to our place, take it to them.
"And I'm fired up about it."
But
Franklin's former SEC brethren aren't fired up
. Unlike the morally reprehensible Big Ten, the SEC prohibits coaches from working at camps beyond 50 miles from campus. Again, it's all about integrity in that league.
So SEC coaches have complained to their commissioner, Mike Slive, to step in and try to stop Franklin and his attempt to enter their sacred ground.
"It's that kind of thing that gets us to think about our rules," Slive said. "They [SEC coaches] like our rule; they don't like the so-called satellite camps. They see it as a loophole and asked us to see what we can do about that."

Slive said the SEC would have to approach the NCAA about closing the loophole.
You go and do that, Commissioner Slive. March yourself to Indianapolis. By golly, someone needs to stand up for doing things the right way. And if the NCAA asks about oversigning, just show them your championship rings. So sparkly!
The truth is other programs are capitalizing on the same loophole. As colleagues Brett McMurphy and Edward Aschoff report, coaches from Oklahoma State and New Mexico plan to work several camps in Texas this summer. While Florida and Georgia are among the
highest-producing states for FBS prospects
, Texas tops the list.
So Franklin isn't the only one. But his plan to extend the recruiting reach for a
Penn State program that has largely ignored the fertile South
in recent years is brilliant. Everyone asks me how the Big Ten can close the gap with the SEC. The answer is to spend more time in its territory.
"This thing that James Franklin did with Georgia State, that's a stroke of genius," Big Ten Network analyst Gerry DiNardo, a former coach at LSU and Vanderbilt, told me. "If Penn State continues to do that, and other Big Ten schools continue to have an agreement with these smaller Southern schools and you can officially visit a prospect in May and June, it will be the most significant move in favor of Big Ten football in my lifetime."
Just wait until more Big Ten coaches begin stumping for earlier official visits, which would help their cause tremendously. Michigan's Brady Hoke is on board. So are many others in the league.
It'll be fun to see how the SEC reacts to that campaign.
Ole Miss athletic director Ross Bjork offered this gem at SEC spring meetings when asked about Franklin's summer Southern migration. By the way, arguably no SEC program has a
more storied oversigning tradition than Ole Miss
.
"That's our backyard, so anytime those things happen, your eyes and ears perk up to say, What do we need to address [the issue] if that's a hindrance?" Bjork said. "If it's a competitive disadvantage, then we need to look at it."
Competitive disadvantage! Sound the alarms! The Big Ten is gonna get us!
To quote the other
Björk
:
You're all right
There's nothing wrong
Self-sufficience please!
And get to work
And if you complain once more
You'll meet an army of me
The SEC should stop complaining about, of all things, a potential challenge to its recruiting hegemony. Better yet, it should change its policy and come on up to Big Ten country.
Nick Saban loves Ohio
. Les Miles is a Michigan guy. Kevin Sumlin went to Purdue.
How could Division III power Wisconsin-Whitewater turn down a chance to bring back favorite son Bret Bielema to America's dairyland?
But maybe it's better that the SEC coaches dig in on this issue. Remember, they're all about fairness and honor in recruiting.
And 37-man recruiting classes.
May, 28, 2014
5/28/14
1:00
PM ET
Scheduling is a hot topic around college football these days as the major conferences hold their spring meetings and plan for a future that finally includes a playoff system. Whether it's number of conference games, how often to play other major-conference teams, whether to schedule FCS teams, or playing neutral-site games, everyone is trying to find the magic scheduling formula.
So what works best? It depends on the team and, in some cases, the league.
It's admirable to hear Alabama coach Nick Saban say he wants all teams from the five power conferences -- SEC, Big Ten, Pac-12, Big 12 and ACC -- to play only one another, creating a better product for the fans.
Nick Saban wants Power 5 conferences to play only games against other P5 schools. "Better for fans & for players"

— Brett McMurphy (@McMurphyESPN) May 27, 2014
Saban is right, but it's also easier for him to make such a statement when he almost always has the most talented team on the field.
Other teams are just trying to get bowl-eligible, so a more manageable schedule model is the best route for them.
Here's your assignment today:
Create the ideal 12-game schedule model for your team. It requires a good deal of introspection because very few teams can realistically target the College Football Playoff.
Take a look at your team, its realistic goals (that's the hard part), and what you would like to see out of the schedule. You are the athletic director, but you also must consider what works best for your fan base.
Answer the following questions in your responses:
How many Big Ten games would you like to see on the schedule: eight, nine, perhaps 10?
How many nonleague games should your team play against other teams from Group of Five conferences? Which teams would you ideally like to see?
Should your team schedule FCS opponents? Why or why not? And if yes, which ones?
How would you approach neutral-site games? Would you avoid them completely? Would you schedule them every year or every other year? Which teams would you schedule and where would you play? Keep in mind that Big Ten athletic directors are warming up to these games more and more as they try to put together nonleague schedules after 2016.
Keep your responses fairly short and send them
here
and
here
. Identify yourself and your team. We'll print some of the best ones later this week in the blog.
May, 2, 2014
5/02/14
12:00
PM ET
Read up and enjoy the weekend.
May, 1, 2014
5/01/14
12:00
PM ET
Howdy, May. There goes one more month out of the way before football season starts for real.
April, 25, 2014
4/25/14
3:00
PM ET
Final weekend of Big Ten spring football. Soak it up.
Twitter
is something we use.
So is email ...
Greg from Boulder, Colo., writes:
I don't understand why so many major conference coaches are against a nine-game conference schedule plus one non-conference "BCS" opponent and two home cupcakes. Seven home games every year unless on occasion you choose to move a game to a neutral site. This model doesn't hurt anyone aside from mid-major programs like Temple who will never get a "home" game against Penn State again. Truth be told my first choice would be a balanced eight-game conference schedule, but get the major conferences to agree to play TWO major non-conference games every year.
Adam Rittenberg:
Greg, I'd be in favor of your plan, although it would mean a smaller rotation of cross-division games in the Big Ten. Why do coaches favor easier schedules? Because they want to keep their jobs. It's not a coincidence that Nick Saban favors a model with nine league games and one marquee non-league game per year. He's an elite coach with an elite program. He's not worried about squeaking into bowl games at 6-6 like some of his colleagues are, both in the SEC and elsewhere. The home games are going to happen no matter what, and some coaches would rather see them against lower-level teams than league members or top non-league competitors.
---
Erik from Bethlehem, Pa., writes:
Adam, I have a question regarding the Northwestern vote on whether to unionize. In the Q&A that Coach Fitzgerald had, he said the players should vote no if they wanted to remain students and not employees. I read a separate article where it was stated that the football players would be employees regardless of how they vote on the union because of the court ruling. I really haven't heard that point talked about at all, so would it be the case that players would be considered employees regardless of how the union vote pans out?
Adam Rittenberg:
Good question, Erik. If the national NLRB board upholds the Chicago regional director's ruling, the players are classified as employees, union or no union. Now if they're employees without a union, it remains to be seen what, if anything, would change for them. Unionizing would bring in a third party, the College Athletes Players Association, to attempt to collectively bargain on behalf of the players with Northwestern. But they are employees right now, and only a national NLRB overturn would change things.
Dan from Dublin, Ohio, writes:
Do you understand the detail of the NLRB ruling to understand why walk-ons don't get a vote? They have the same obligations as walk-on players and already receive fewer benefits. This seems like an illogical part of the ruling. Thanks for your thoughts.
Adam Rittenberg:
Dan, while it seems illogical for those who know what walk-ons go through to be part of these teams, the Chicago regional director spelled it out pretty clearly. If you don't receive compensation -- in the form of a scholarship -- for your athletic services, you cannot be considered an employee. One of Northwestern's arguments against the union is that it could create a wedge between walk-ons and scholarship players.
---

Austin from Iowa City, Iowa, writes:
I realize Iowa's schedule is considered soft at this point, and that the toughness of the schedule doesn't come until late November, but why did the BTN not consider the Northwestern-Iowa game on Nov. 1? In years past this matchup has been a great one, especially under the lights inside Kinnick Stadium. Who doesn't like seeing the black and gold stripes under the lights?
Adam Rittenberg:
Austin, the stripes are awesome. I've heard that Iowa expressed interest in playing the Northwestern game at night, but the Big Ten Network didn't want to compete with ABC/ESPN in prime time. The Illinois-Ohio State game kicks off the same night on ABC, ESPN or ESPN2. Check out
this Q&A
with Michael Calderon, the BTN's vice president of programming and digital media. Calderon says, "We've learned over the years that the audience becomes fragmented when we schedule prime-time games that compete directly with Big Ten games on ABC or ESPN." There's only one Saturday where both groups have prime time games.
---
Justin from Denver writes:
I am wondering your opinion on the potential for a new JoePa statue. I know an entire university can't be held responsible for the horrific actions of a few, but at what point do we acknowledge a statue is being seriously considered to honor a man who covered up, or at the very least turned his back on years of child molestation? I have no problem with the school, I realize this is not in any way a PSU project, and have enjoyed our first three bouts as B1G members, but is it just me, or do people seem to not be as turned off by this idea as they should be?
Adam Rittenberg:
Justin, there are a lot of people turned off by the idea. There's also a portion of people who feel Paterno's on-campus statue never should have been removed, that he was unfairly characterized in the Freeh Report, that the school threw him under the bus despite sketchy information and that he acted appropriately regarding the Jerry Sandusky situation. There are strong feelings on both sides. I think colleague
Josh Moyer makes some good points
about how Penn State should address Paterno's legacy at some point soon. I understand why the school has remained silent to this point, but you have to respond to your constituents sooner or later.
My issue with
the proposed statue
is whether it truly reflects the views of everyone in State College, or only a portion of staunch Paterno supporters who live there. Maybe there should be a series of town meetings to gauge how people feel. Organizers can say the statue represents the town, but how do they know?
February, 25, 2014
2/25/14
5:00
AM ET
1. West Virginia
hired Tom Bradley
as assistant head coach, and for the first time since the Penn State scandal erupted, a majority of Joe Paterno's assistants are working again. Has it been the taint of the scandal or a commentary on Paterno's staff? The two assistants Bill O'Brien kept -- Larry Johnson and Ron Vanderlinden -- have moved to Ohio State and Air Force, respectively. Galen Hall and Dick Anderson retired. Jay Paterno is running for lieutenant governor in Pennsylvania. Mike McQueary, a big witness in the Jerry Sandusky trial, has yet to resurface.
2. Speaking of Penn State, new head coach James Franklin might be the first sitting SEC head coach to leave the conference for a Big Ten school since the SEC began playing football in 1933. I say "may" because I haven't found one in my research, but I am not positive I have run down every single lead. In recent years, two prominent head coaches, Nick Saban (Michigan State to LSU) and Bret Bielema (Wisconsin to Arkansas), have left the Big Ten for an SEC school.
3. Jerry Jones bought the Dallas Cowboys 25 years ago today, catapulting his University of Arkansas teammate Jimmy Johnson out of college football after a three-year run in which Johnson's Miami Hurricanes went 34-2, winning one national championship (1987) and losing to the eventual No. 1 team in the other two years (Penn State, 1986; Notre Dame, 1988). Another of Jones' Razorbacks teammates, Barry Switzer, came out of retirement and joined Johnson as the only head coaches to win a college football national championship and a Super Bowl (until Pete Carroll joined them earlier this month).
December, 13, 2013
12/13/13
4:00
PM ET
Sadly, there's no Big Ten football this weekend for the first time since August. I'll be counting the minutes until bowl season.
Don't forget to follow us
on Twitter
.
To the inbox ...
Matthew from Minneapolis writes:
Hey Adam, I can't help but feeling you've been dodging my question about "national brand teams" in Michigan/Penn State. What qualitative or quantitative data do you have to substantiate these claims? You recently wrote "...what they're used to seeing, and that's Michigan/Penn State [being good]..." really? When was the last time either of these teams were even remotely decent?
Adam Rittenberg:
Matthew, I'm not sure how old you are. If you're under 30, the Michigan and PSU brands might not resonate for you as much as Wisconsin's, MSU's and Iowa's. But it's different for those who remember Michigan's national title in 1997 and five Big Ten championships between 1997-2004, not to mention the program's long-term history. The same holds true for those who remember Penn State's national titles in the 1980s or the great teams in 1994, 2005 and 2008.
You want data that validates Michigan and Penn State as big brands? Look at the money they bring in. They're always included in
Forbes' list of most valuable college football teams
. They have huge stadiums, massive alumni/fan bases and plenty of NFL alumni. I'm not arguing that Michigan and, to a lesser extent because of the circumstances, Penn State are underachieving. I'm actually underscoring that in Michigan's case. But they're still national brands because of what they've done over time.
---

Ron from Minneapolis writes:
Hi, Adam. I think the Gophers got the shaft this year for their bowl game. Gophers fans don't travel well because they end up in bad bowl games. I would bet anything that had they been selected to the Gator Bowl, the fan base would be very good. What I worry about is, even if they would go 9-3 or 10-2 next year, they will still get passed over to a good bowl because of fan travel? It's hard to recruit and become a contender when people don't even watch a lower bowl game like this. As fans, how do we get the word out to the bowl committees so this doesn't keep happening?
Adam Rittenberg:
Ron, the good news for you and your fellow Gophers fans is that the Big Ten, beginning in 2014, will
take over the bowl selection process
rather than put it solely in the hands of bowl officials. Bowls and teams will be assigned to tiers, and the league will work to avoid repeat destinations or repeat opponents for teams. "We're going to really want to have different teams in different bowls," Big Ten commissioner Jim Delany said in announcing the new bowl lineup in June. "... You'll see a real focus on getting diversity and freshness."
All that said, it's important for Minnesota fans to show up at this year's Texas Bowl, support a good team and begin to change the perception about how well they travel. Quite frankly, you're overestimating the gap between the TaxSlayer.com Gator Bowl and the Texas Bowl. The Gator Bowl has some more tradition, but I'd argue the Texas Bowl is in better location with a better time slot, away from the New Year's Day gridlock. Bowl committees don't care about head-to-head results or fans whining about being passed over. You probably won't have this problem in the future, but you still should go and support your team if possible.
---

Todd from Peoria, Ill., writes:
How did Ohio State end up playing Clemson and Alabama playing Oklahoma? Given how close both came to the title game, wouldn't that be a better match-up than either got this year? It would prove how the (true) best SEC team this year compares to the best available B1G team and whether OSU had any business thinking of playing for the crystal football. Also, what do you think of the apparent decision by Tim Beckman to keep DC Tim Banks despite two years of dismal defense by my beloved Illini?
Adam Rittenberg:
Todd, it has more to do with the current relationships between BCS bowls and certain leagues. The ACC's tie to the Discover Orange Bowl led the bowl to replace Florida State with Clemson. The same held true with the SEC and the Allstate Sugar Bowl, which replaced Auburn with Alabama. Ohio State-Alabama would have been great, though I was hoping the Sugar would pick Oregon to face Bama, a matchup we've wanted for years. But because of the game's upcoming Big 12 tie-in (Champions Bowl), it went with Oklahoma, and Alabama-Oklahoma looks like a mismatch.
As for Illinois, I'm a little surprised Beckman will
keep his entire defensive staff intact
. He's entering a make-or-break season, and he wants to sink or swim with the coaches he hired. He probably doesn't want another year of significant staff turnover. But the defense must get a lot better.
---

Tony from Austin, Texas, writes:
Hey Adam, what are the chances of
Taylor Martinez
playing in the NFL? Is it likely he has a future as an NFL quarterback or is he best changing positions (see Denard Robinson)?
Adam Rittenberg:
Tony, Nebraska coach Bo Pelini told me before the season that he thinks Martinez can play quarterback in the NFL. Pelini knows the NFL, but I'd be surprised if Martinez is taking snaps in the pros next year. His mechanics are improved from his sophomore year but remain far from textbook, which is the standard in the NFL. I don't see enough arm strength, either. Martinez certainly has skills that translate to the next level, namely his speed, so I see him moving to another position.
---

Todd from Louisville writes:
Adam, your comments in two different posts appear to be almost directly opposed to me. Should Iowa fans demand and expect more than an 8-4 record or be realistic/objective about being ambitious and excited for the future? Do you intend to appear combative with these fans no matter what position they espouse?
Adam Rittenberg:
Todd, I think my Iowa comment was misinterpreted, and that's my fault. Iowa fans obviously should be excited about their team's four-win improvement this season. My comment was that in general, an 8-4 record seems to please more fan bases in the Big Ten then it would in the SEC. I don't think enough Big Ten fan bases demand excellence from their programs. That's not a shot at Iowa fans, who were understandably disappointed in 2012. But now the bar must be raised for 2014. Iowa has a real chance to win the West division, and anything less should be considered a disappointment. Kirk Ferentz makes big money and should be held to a higher standard than 8-4. That's more than fair.
There are many reasons why the Big Ten has slipped a bit nationally in football. But I wonder if enough teams in this league take a championship-or-bust approach to seasons, and whether that's contributing to the mediocrity.
---

Sam from Detroit writes:
Adam, if things go how they usually go with Nick Saban and he decides to leave for Texas, do you think Mark Dantonio would be a candidate for the Alabama job? He has to be one of the more desirable coaches out there right now, and Alabama is obviously one of the better jobs. I seem to remember Dantonio being in the middle of the pack as far as compensation for B1G coaches and while I'm sure he'll get a bump this year, it won't be an SEC-esque bump. Do you think he'd leave for a job like Alabama?
Adam Rittenberg:
I don't think so, but Michigan State needs to step up and provide Dantonio and his assistants substantial raises. Dantonio knows he's in a great situation at MSU. He has a great boss in Mark Hollis, and his family is happy there. His only tie to the SEC is the fact he played at South Carolina. Dantonio definitely has some leverage if other schools begin courting him, but I'd be a bit surprised if he leaves. He's not a guy completely driven by money, and he knows he can compete for the College Football Playoff at MSU.
November, 6, 2013
11/06/13
4:00
PM ET
USA Today has come out with its
annual database of college coaching salaries
. Not surprisingly, Alabama's Nick Saban tops the chart with a salary of $5,545,852 for 2012.
[+] Enlarge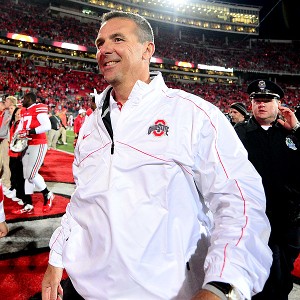 Andrew Weber/US PresswireOhio State's Urban Meyer is the highest-paid coach in the Big Ten.
Those questioning Bret Bielema's move from Wisconsin to Arkansas might change their opinion after seeing Bielema's 2013 salary with the Hogs ($5,158,863), which ranks third behind Saban and Texas' Mack Brown. Then again, Bielema's compensation also i
ncludes a $1.9 million buyout that had to be paid to Wisconsin
.
Where do the Big Ten coaches stack up?
Ohio State's Urban Meyer is first in the Big Ten and sixth nationally with a salary of $4,608,000, two spots ahead of Michigan's Brady Hoke ($4,154,000). Meyer and Hoke both are eligible for $550,000 bonuses in 2013.
Iowa's Kirk Ferentz follows Hoke and ranks ninth nationally in salary ($3,985,000). Ferentz also has an insane maximum bonus of $1,750,000. The conversation about his value for a program hovering around .500 isn't going to go away.
Penn State's Bill O'Brien ($3,282,779) and Nebraska's Bo Pelini ($2,975,000) also appear among the top 20 coaches in 2013 salary. The SEC has three of the nation's four highest-paid assistants, four of the top seven and eight of the top 20. The Big Ten and Big 12 are tied for the second-most in the top 20 with five each.
But there's a sizable dropoff after Pelini as Northwestern's Pat Fitzgerald comes in next at 41st nationally ($2,221,153). Michigan State's Mark Dantonio undoubtedly is the best value in the league at $1,959,744, behind first-year coaches Darrell Hazell of Purdue ($2,160,833) and Gary Andersen of Wisconsin ($2,120,823).
Purdue had been criticized for underpaying for coaches, but Hazell's deal, which includes a maximum bonus of $1,095,000, is certainly competitive nationally.
Illinois coach Tim Beckman comes in 60th nationally in salary ($1,700,000), while Indiana's Kevin Wilson ($1,291,220) and Minnesota's Jerry Kill ($1,200,000) round out the list. Both Wilson and Kill earn less than coaches from Colorado State, Navy, South Florida and Central Florida. That seems a bit troubling for teams in a loaded league like the Big Ten.
Although the Big Ten is somewhat competitive with the SEC at the top in paying coaches, the
overall numbers aren't close
.
Maryland coach Randy Edsall, whose team joins the Big Ten in 2014, ranks right behind Andersen in salary at 48th overall ($2,025,440). Rutgers coach Kyle Flood is earning just $860,000, trailing the coaches from Air Force, Memphis, Wyoming and others. Fairly or unfairly, that won't help the perception that Rutgers doesn't belong in a league like the Big Ten.
What are your thoughts on the coaching salaries around the Big Ten and nationally?
September, 27, 2013
9/27/13
12:00
PM ET
Enjoy the fact that your royal overlords are a frail old woman and a tiny baby.
PSU's 46-Hour Dance Marathon Raises $13 Million
BIG TEN SCOREBOARD
Thursday, 9/3
Friday, 9/4
Saturday, 9/5
Sunday, 9/6
Monday, 9/7