PSU Nittany Lions:

Neiko Robinson
February, 12, 2013
Feb 12
11:00
AM ET
STATE COLLEGE, Pa. -- Some of the Nittany Lions' top players right now were three-star recruits who flew just under the radar:
Deion Barnes
,
Adrian Amos
,
Mike Hull
,
Kyle Carter
. And the list goes on.
The Class of 2013 looks to continue that trend. NittanyNation decided to take a closer look at some three-star players in this class whom fans should keep an eye on.
To continue reading this article you must be an Insider
February, 6, 2013
Feb 6
7:07
PM ET
Coaches aren't able to talk about individual recruits until they sign their letters of intent. Here's how Penn State coach Bill O'Brien responded to questions about them Wednesday:
To continue reading this article you must be an Insider
February, 6, 2013
Feb 6
3:00
PM ET

Signing day has gone smoothly in Happy Valley.
Here's a recap of how the letters of intent came in and how the class came together in
Penn State's Class of 2013
.
Follow the live blog after the jump.
February, 5, 2013
Feb 5
8:00
AM ET
Every weekday until signing day, NittanyNation will break down a commitment from Penn State's 2013 recruiting class. This is the final Lions spotlight.
Vitals:
S
Neiko Robinson
, Bratt, Fla./Northview, 6-foot, 162 pounds.
Committed:
June 4, 2012.
To continue reading this article you must be an Insider
January, 23, 2013
Jan 23
8:00
AM ET
With two weeks left until signing day, NittanyNation takes a closer look at what fans should know about the state of the class and this Penn State team.
Team needs:
Defensive coordinator John Butler made it clear he wasn't happy with the secondary's depth last season. At cornerback, untested true freshman
Da'Quan Davis
was the backup, and the safeties opened the year as the team's weakness.
That's not the only concern. With
Matt McGloin
's departure,
Steven Bench
is now the most experienced quarterback on the team. And he threw just eight passes last season. Linebacker is also a position that could use a few extra bodies, especially with
Michael Mauti
and
Gerald Hodges
making a run at the NFL.
To continue reading this article you must be an Insider
January, 20, 2013
Jan 20
5:21
PM ET
Neiko Robinson
stared outside his window on the plane ride to Happy Valley, trying his best to envision what Beaver Stadium might look like up close.
When the three-star safety's plane glided over town, his eyes immediately targeted that giant erector set of a structure. He felt a sense of excitement, a surge of adrenaline, and his eyes followed until it went out of view.
"When the stadium was coming up, you couldn't help but see it," the PSU commit said with a laugh. "I just got chill bumps. When I saw it, I was like, 'Oh gosh.' I was just at a loss for words."
To continue reading this article you must be an Insider
January, 17, 2013
Jan 17
11:00
AM ET
Several Penn State commits plan to make trips this weekend to Happy Valley -- including one pledge who has never stepped foot in Pennsylvania.
To continue reading this article you must be an Insider
January, 11, 2013
Jan 11
9:00
AM ET
Over the past week, NittanyNation has taken a glance at different positions and their outlook for next season.
[+] Enlarge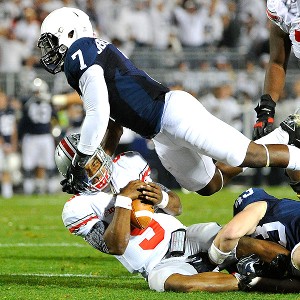 Rich Barnes/US PresswireMuch will be expected of Stephen Obeng-Agyapong in his senior season for the Lions.
Who: Stephen Obeng-Agyapong and Malcolm Willis both return as starters and rising redshirt seniors. Willis was known as the quarterback of the secondary, while teammates called Obeng-Agyapong the most improved player since Week 1. Ryan Keiser is a solid special teams player and might be next in line if someone goes down. Then again, there's certainly enough young players here to push for time as backups. Jake Kiley and Jordan Lucas (listed as a CB but could also play S) appear to be the furthest ahead, while incoming freshman Neiko Robinson should be a solid addition to the scout team for now. Kasey Gaines is almost guaranteed to redshirt.
Strengths: These starters are experienced, and they made some nice improvements in the second half of the season. Willis added a lot to the communication of the defense, and it was pretty evident when he was out of the lineup. Obeng-Agyapong made longer strides than anyone else on defense, and there's a lot of potential here in a quartet consisting of incoming freshmen and redshirt freshmen.
Weaknesses: Although the safeties made great strides last season, they were still the Achilles' heel of this defense. PSU had to resort to more zone coverage because they seemed to lack awareness and were a liability on third downs. Neither safety recorded an interception, and they need to shore up the middle of the field better than in 2012.
Surprise player: Kiley. Bill O'Brien mentioned him by name on Monday, and he's also been a player who's received quite a bit of praise since preseason camp. He likely won't see much time this season, but he could still end up being a three-year starter. This year will go a long way in determining his development and future role. Somebody needs to replace Willis and Obeng-Agyapong in 2014.
Overall: This will obviously be an improved group from last season because both starters return and finally have more experience under their belts. The graduation of Jake Fagnano doesn't hurt that much, and fans can expect to see above-average production out of the safeties. This isn't a strength of the defense -- not by any means -- but it should no longer be a liability. Obeng-Agyapong especially has a lot of potential, and these two starters will be looked upon as leaders in the secondary.
January, 10, 2013
Jan 10
1:00
PM ET
Ted Roof's surprise resignation Wednesday won't send this defense reeling, in part, because John Butler is a fiery, competent coach. But his departure will definitely be felt in one key department -- recruiting.
Roof was Penn State's pipeline to the South, a man whose reputation commanded the attention of recruits, especially those in Georgia and Alabama. With his absence, so goes an important part of that pipeline.
Historically, the coaching staff hasn't ventured farther south than Virginia, so Penn State wasn't a favorite among recruits unaccustomed to building snowmen. Most didn't see the university as an option -- until Roof showed up.
To continue reading this article you must be an Insider
January, 2, 2013
Jan 2
4:01
PM ET
Penn State commit
Jordan Smith
(Washington, D.C./H.D. Woodson) relaxed on his couch, his eyes fixed to the TV screen during Tuesday's Capital One Bowl, when a few words on ESPN's ticker caught his eye -- something to do with NCAA sanctions and a lawsuit.
The three-star cornerback stopped watching the Georgia-Nebraska game and focused on that scrolling bar at the bottom. His eyes remained on that spot for what felt like 5 or 10 minutes until he spotted the news again and fully grasped what was happening:
Pennsylvania Gov. Tom Corbett was going to file a lawsuit
against the NCAA in an attempt to force the organization to overturn the Nittany Lions' sanctions.
To continue reading this article you must be an Insider
January, 1, 2013
Jan 1
1:00
PM ET
PSU commit
Neiko Robinson
(Bratt, Fla./Northview) will make his first trip to Penn State on an official visit Jan. 18, and NittanyNation recently spoke with the defensive back about the upcoming visit, his commitment to PSU and his strengths/weaknesses.

NittanyNation: Neiko, let's start it off with the question a lot of people are eager to hear. You live in ACC/SEC country -- so why choose Penn State?
Neiko Robinson
: I mean, to me, it's like a legendary school. Down here, the only thing everybody talks about is Alabama, LSU and Auburn, but I always liked Penn State and I always knew they were a good school. I love Joe Paterno, and my dad's favorite team is Miami, and he kept talking about how Penn State beat them in the national championship [in the 1986 season]. So it's like a dream to me.
To continue reading this article you must be an Insider
December, 23, 2012
12/23/12
4:30
PM ET
There's still about 44 days left for PSU to pick up two more players for the Class of 2013, but there's already some things we know about this group.
NittanyNation takes a look at five things that have already come into focus here:
1.
The future for this offense is bright.
If ESPN's No.1-rated passer,
Christian Hackenberg
, was the only offensive prospect in this class, that statement might still be accurate. But throw in the nation's No. 1 TE in
Adam Breneman
, the No. 10 OG in
Brendan Mahon
and the No. 18 OT in
Andrew Nelson
-- and that's the best combination in the Big Ten.
To continue reading this article you must be an Insider
December, 11, 2012
12/11/12
10:00
AM ET
ORLANDO, Fla. – The best way to describe
Neiko Robinson's
(Bratt, Fla./Northview) senior year: Eventful.
The three-star defensive back transferred to Northview from Flomaton (Ala.) over the summer and had to sit through a multiple-game suspension for throwing a punch during a game earlier in the season.
But the 5-foot-11, 170-pound prospect found a happy ending when Northview defeated Trenton, Fla., 42-21, for the Class 1A state championship. Robinson had 11 tackles and an interception in the game.
To continue reading this article you must be an Insider
August, 29, 2012
8/29/12
3:11
PM ET
Penn State commit
Neiko Robinson
(Bratt, Fla./Northview) has been suspended for six games after throwing and landing a punch in a preseason game last week, according to a spokesman from the Florida High School Athletic Association.
FHSAA spokesman Corey Sobers told ESPN that Robinson was suspended through Oct 5. A punch merits between a two- and six-game suspension, Sobers said, and the association believed this situation merited the full six games.
The story was first reported Wednesday by the Pensacola (Fla.) News Journal.
The 6-foot, 162-pound safety is a three-star recruit who committed to Penn State on June 4. He also holds offers from Louisiana Tech, Purdue and UAB. Robinson did not immediately respond to a message seeking comment.
Northview can appeal the decision, but nothing has yet been filed.