Penn State Nittany Lions:

Navorro Bowman
February, 19, 2014
2/19/14
9:00
AM ET
STATE COLLEGE, Pa. – We've reached the middle of this week's countdown, which is ranking Penn State's most impactful recruiting classes of the past decade.
Up next is a class that was responsible for a half-dozen All-Big Ten selections.
No. 3 most impactful class:
Class of 2006
Top prospects:
CB A.J. Wallace, RB
Evan Royster
, TE
Andrew Quarless
, DT Ollie Ogbu, DT
Jared Odrick
, DE
Aaron Maybin
, LB Bani Gbadyu, DE Maurice Evans, OT Lou Eliades, WR
Brett Brackett
, LB
NaVorro Bowman
Biggest surprise:
Royster. ESPN's scouts gave him a grade of 72, which was equivalent to a low-tier three-star prospect. Out of the 20 prospects that ESPN rated, Royster had the lowest grade. But he certainly left his mark at Penn State. He left the university as its all-time leading rusher, surpassing such greats as Curt Warner, Ki-Jana Carter and Franco Harris. He averaged 5.7 yards a carry, rushed for 3,904 yards and scored 29 touchdowns. He wasn't the best tailback ever to wear the blue jersey, but he certainly belongs in the top-10 conversation.
[+] Enlarge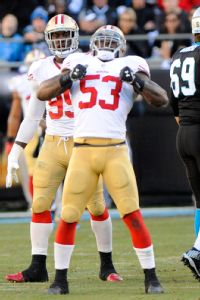 Sam Sharpe/USA TODAY SportsFormer Penn State star linebacker NaVorro Bowman is a three-time All-Pro with the San Francisco 49ers.
Impact player:
Bowman. He basically took the place of All-American
Dan Connor
in 2008 and didn't skip a beat. He led the team with 106 tackles that season and finished behind Maybin in tackles for loss with 16.5. PSU finished with the No. 8 defense in the nation that year, and Bowman came right back the next season and was an All-Big Ten selection before declaring early for the NFL draft. He had 17 tackles for loss in 2009, a half-dozen more than Odrick, who was an All-American. Like Royster, Bowman might not have been the best at his position ever to matriculate through "Linebacker U," but he belongs in the top-10 conversation.
Why this class is important:
Just take a look at these names. The talent here is incredible, as this class produced a half-dozen All-Big Ten selections and a pair of All-America picks. Many of the players here were skilled enough to play in the NFL, as six were taken in the draft.
But if there's one thing that prevents this class from moving up a spot or two, it was the fact a few entered the NFL early or found a way into Joe Paterno's doghouse. Quarless was incredibly skilled, but spent two seasons trying to work his way back into Paterno's good graces after marijuana possession charges. Maybin and Evans had short, but bright careers and clearly weren't ready for the next level when they declared. (Evans might have declared early because he also found himself in Paterno's doghouse.) Bowman also declared early – but clearly was prepared. If those players stayed through their senior seasons or stayed out of trouble, this class goes down as one of the best of all time.
It's still a very good class, one filled with NFL talent and solid college contributors. But this class had the potential to be even better; it could have been legendary.
More impactful recruiting classes:
No. 5: Class of 2011
No. 4: Class of 2004
December, 3, 2013
12/03/13
11:00
PM ET
STATE COLLEGE, Pa. -- Longtime linebackers coach Ron Vanderlinden and quarterbacks coach Charlie Fisher are no longer with the Penn State football program, according to the school.
The university's official statement said both coaches "have resigned to pursue other opportunities." It wasn't immediately clear what those other opportunities were.
Neither Fisher nor Vanderlinden returned calls from ESPN.com seeking comment.
"I've greatly enjoyed my 13 years at Penn State and all the student-athletes I had an opportunity to work with," Vanderlinden said in a news release. "I wish Coach [Bill] O'Brien and Penn State nothing but the best in the future."
O'Brien will begin a job search immediately and said he will not comment until the positions are filled. Potential candidates are not yet known.
The assistants' departures come just three days after the Nittany Lions clinched their second winning season during unprecedented sanctions. Penn State upset then-No. 15 Wisconsin on Saturday, the first time PSU defeated a top-15 team on the road since 2008, to finish the season at 7-5.
Vanderlinden's departure was considered especially surprising, given his track record. He's been a part of the staff since 2001 and oversaw a program widely known as Linebacker U. He coached several All-Americans such as
Michael Mauti
,
Dan Connor
and
Paul Posluszny
-- in addition to NFL stars
NaVorro Bowman
and
Sean Lee
.
He also played an important role in the commitments of at least a half-dozen pledges for the 2014 class, including four-star linebacker
Troy Reeder
(Wilmington, Del./Salesianum).
"At this point it does not affect my decision," Reeder said earlier in the afternoon. "Coach [Bill] O'Brien and [John] Butler will be coming down to see me today and are going to explain everything in more detail."
Vanderlinden has coached since 1978 and served as Northwestern's defensive coordinator from 1992 to 1996 -- coaching current Wildcats coach Pat Fitzgerald -- and then coached at Maryland from 1997 to 2000 before landing in Happy Valley.
Fisher was one of O'Brien's first hires at Penn State and helped spring former walk-on Matt McGloin to a school-record 3,266 passing yards in 2012. Fisher arrived at the school after spending one season at Miami (Ohio), where he acted as the quarterbacks coach/passing game coordinator. Before that, he was an assistant at Vanderbilt for nine seasons.
"I want to thank Penn State and Coach O'Brien for the opportunity to be a part of the program the past two seasons," Fisher said in the news release. "It was a great experience and I am very proud of what we accomplished. Now I'm looking forward to the next chapter and making a positive impact on the next group of players I have the privilege of working with."
Tom VanHaaren contributed to this report
July, 10, 2013
7/10/13
11:00
AM ET
STATE COLLEGE, Pa. -- The
all-time Penn State fantasy draft
might be over, but the controversy has only just begun.
NittanyNation thought it'd take an extra day to reflect on the process, offer some analysis, give some opinions and then move on from a memorable three-hour, 24-round draft.
Steve Jones and Mike Poorman will grade each team later today, but NittanyNation wanted to give its own rundown of the draft and offer a behind-the-scenes look at a few picks.
The best PSU player?
In a casual Twitter poll Monday night, linebacker Jack Ham received the most mentions for best overall Penn State player. Team Prato took him in the second round, with everyone except the softspoken McDuffie playfully calling Lou Prato a jerk. (Everyone wanted Ham.)
It was an interesting, nonscientific poll because it took about a dozen votes for a single name to be repeated. LaVar Arrington and John Cappelletti also received multiple mentions.
Prato voted for Lenny Moore by drafting him with his No. 1 overall pick.
[+] Enlarge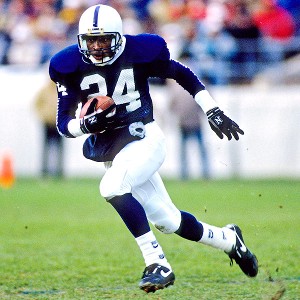 USA TODAY SportsO.J. McDuffie wasn't happy when Team Moyer drafted him -- immediately before McDuffie planned to draft himself.
Most memorable part of the draft:
Definitely the end of the seventh round. Only one receiver had been drafted until that point (Bobby Engram), and Team Moyer needed a wideout.
So, right before Team McDuffie had back-to-back picks, Team Moyer selected O.J. McDuffie for his own fantasy team.
Team Moyer: "Sorry to do this to you, OJ, but I got to. I'm taking O.J. McDuffie. Need Collins to throw to someone."
Team McDuffie: "Damn, Josh. I was just about take myself."
That's when four receivers -- McDuffie, Bryant Johnson, Deon Butler, Kenny Jackson -- were taken consecutively and caused headaches for the other three participants. That was a key part to the draft. And, five days later, O.J. still wasn't happy about the move.
"I still can't believe you did that," McDuffie said, laughing. "Right before me."
Biggest head-scratchers:
Cornerback Brian Miller as the No. 2 overall pick? C'mon, Team McClellan. Cornerback was the slimmest position in the draft, so corners had added value -- that was McClellan's reasoning for taking him so high -- but one could've held off on Miller until at least the fourth or fifth round.
Team McClellan passed up Ki-Jana Carter and Kerry Collins for Miller. Team Morris also received some ribbing for making Sean Lee the No. 1 LB, but Stephon Morris wanted to draft someone in the first round with whom he had played. So that was understandable.
But when Morris took kicker Chris Bahr in the 10th round? Definite head-scratcher -- although he did
explain that move here
. McDuffie also surprised just about everyone when he drafted Larry Johnson over the likes of Curt Warner and Cappelletti.
Best undrafted players:
Where to even begin? There were plenty; you could make up a great team on just left-overs from the draft.
QB Tony Sacca, FB Franco Harris, RB Blair Thomas, WR Derek Moye, OT Chris Conlin, and C Matt Stankiewitch are among the best remaining picks on offense. As far as the defense: DT Jimmy Kennedy, DE Bruce Bannon, LB Michael Mauti, CB Derek Bochna and S Harry Hamilton were also undrafted.
Best sleepers (or best-value picks):
OK, we'll throw Team McClellan a bone here. Grabbing two-time All-American and College Football Hall-of-Famer Dennis Onkotz in the 16th round was probably the steal of the draft.
That greatly boosted Team McClellan's LB corps. And he grabbed another great-value pick with Lydell Mitchell in the 20th round. Team Morris definitely got great value in QB Todd Blackledge in the 19th round, and Team Moyer's best-value picks appeared to be LB Greg Buttle in the 18th round and Kenny Jackson in the eighth.
Morris means business:
A lot of participants hit the books before the draft, but Morris' preparation was a little different. As a player, he had a bit of a leg up, because he didn't just stop at reading up on all the players -- he went straight to the source.
Morris called up several former players -- including Lee, Chafie Fields, NaVorro Bowman, Derrick Williams and Arrington -- to talk about whom they thought deserved to be drafted.
"Once you told me about it, I had contacts with guys who I played with and guys like Chafie Fields, who I was thinking about signing with, so I just did my research," Morris said Tuesday night. "I asked them about some guys, who I should choose and pretty much went from there."
Morris' research seemed to pay off. Prato was pleasantly surprised at Morris' Penn State knowledge, and his defense is among the best.
Can we get a mulligan?
When you're picking players without a fancy draft board and you're racing against the clock, sometimes panic and confusion set in -- and it basically happened to all of us.
Prato regretted not taking Gregg Garrity; Morris likely would've taken Brandon Noble over Devon Still if he had another chance; McDuffie would've drafted himself sooner. And Team Moyer? Why, oh why, couldn't Lydell Mitchell hold out for one more round? Michael Mauti also likely would've replaced Ed O'Neil upon closer inspection.
Looking back on the draft:
The most difficult part wasn't necessarily creating your own "cheat sheet" and ranking the best players at each position. It was trying to weigh whether someone like Michael Robinson had more value than someone like Engram.
There was no blueprint to this, since it had never really been done before. We all knew what players we wanted -- but we weren't so sure just who we could wait for and who we needed to grab right away.
Morris agreed that you kind of had to adopt a reactive strategy with the draft. With no mock drafts, it was definitely unique. But, looking ahead, at least future drafters will have some idea of what to expect.
It was definitely a lot of fun. The NittanyNation staff will probably continue trash-talking about this throughout the season. And McDuffie, Morris and Prato were all great sports.
"If I'd know the level of participation McDuffie and Morris would have I'd have picked them 1 and 2," McClellan said. "Great guys and tremendously patient during the whole process, too."
October, 9, 2012
10/09/12
3:30
PM ET
Linebacker
Dwight Williams
(Gardena, Calif./Junipero Serra) realized Penn State was known as "Linebacker U" -- but he didn't think he'd get recruited from the university more than 2,500 miles away.
That changed Sunday when the junior received a Facebook message from Nittany Lions assistant Charles London.
[+] Enlarge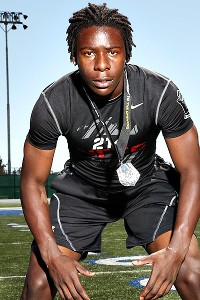 Tom Hauck for ESPN.comGardena, Calif., Class of 2014 linebacker Dwight Williams likes Penn State's tradition of legendary linebackers.
"He said they've been watching me lately and that they'll keep an eye out," the ESPN Watch List prospect said. "Now that he knows I'm interested, he said they'll come a little harder. They didn't before because they had limited scholarships."
October, 3, 2012
10/03/12
10:00
AM ET
Cornerback
Jordan Smith
(Washington, D.C./Howard D. Woodson) became the first 2013 recruit to commit after the sanctions -- before he ever watched a game in person.
[+] Enlarge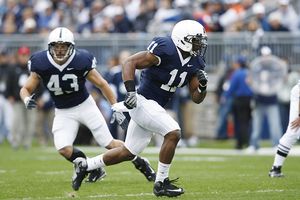 Joe Robbins/Getty ImagesWatching his older brother's high school teammate Navorro Bowman star at Penn State made PSU cornerback commit Jordan Smith a Nittany Lions fan.
He called Penn State his dream school and plans to enroll in January. He attended the opener, plans to be in the stands for Northwestern and hopes to drive to every home game from now until he's a student.
NittanyNation recently caught up with Smith to discuss his whirlwind commitment and the kind of player the coaching staff is getting.
To continue reading this article you must be an Insider
August, 23, 2012
8/23/12
9:00
AM ET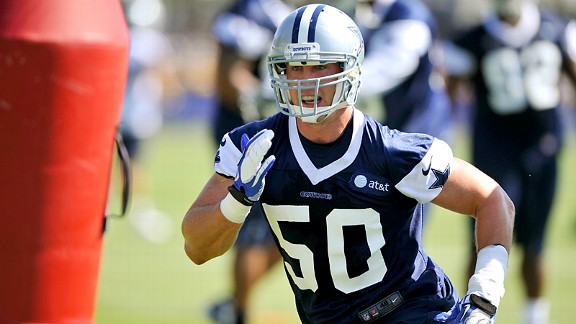 AP Photo/Gus RuelasSean Lee has taken long to become one of the most exciting linebackers in the NFL, as he has been a impact player for the Dallas Cowboys.
NittanyNation takes a look at every Penn State player currently playing in the NFL -- where they are, what their role is and what their careers have looked like.
NittanyNation will look at linebackers and punters this morning and defensive linemen and defensive backs this afternoon.
Navorro Bowman, LB,
San Francisco 49ers
Height/weight/age:
6-0/242/24
Role:
Starter
PSU career:
All-Big Ten in 2008 and two-time conference player of the week. Led the team in tackles as a sophomore with 106 (16.5 tackles for loss) and finished second in tackles the next season with 93, along with a team-high 17 TFL. Bowman left school after his junior season.
NFL career:
Drafted in the third round in 2010. Played in every game as a rookie and started every game last season. He finished with 143 tackles last year, 111 of which were solo tackles. Named to the Associated Press' first-team All-Pro.
BIG TEN SCOREBOARD
Thursday, 9/3
Friday, 9/4
Saturday, 9/5
Sunday, 9/6
Monday, 9/7