Penn State Nittany Lions:

Nate Cadogan
March, 18, 2013
3/18/13
7:37
PM ET
STATE COLLEGE, Pa. -- While Bill O'Brien's voice carried over the field Monday afternoon, quarterbacks coach Charlie Fisher directed his players in a calmer manner.
[+] Enlarge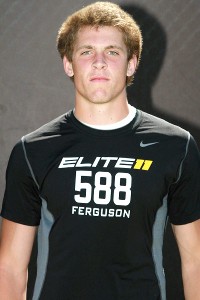 Tom Hauck for ESPNTyler Ferguson showed off his big arm at practice Monday.
During position drills at Penn State's first spring practice, Fisher stood about five yards in front of his four quarterbacks as they took turns taking three- and five-step drops. The quartet of red jerseys would look at Fisher, quickly scan the field and then throw to a stationary receiver.
"Eyes here," Fisher told sophomore
Steven Bench
in a conversational tone, pointing to his his right. "Work through it, work through it."
Bench or
Tyler Ferguson
could wind up as the starting quarterback come Aug. 31, and Monday offered a glimpse of the two signal-callers. Media were invited to attend 20 minutes of open practice, and O'Brien began by calling together a competition: A defensive back would line up against a wideout or tight end in press coverage, while Bench and Ferguson would alternate snaps.
The first team -- offense or defense -- to win three battles would be declared the winner. The losers would be forced to perform five hit-its. It was more for honor than anything and only four passes were thrown while the quarterbacks tried to shake off the rust.
Bench began by just overthrowing
Allen Robinson
on a roughly 35-yard pass, and Ferguson then hit
Jesse James
in stride downfield on an over-the-shoulder grab. Bench followed that up by throwing behind his target on cross route, and Ferguson barely overthrew
Matt Lehman
for two straight incompletions.
The offense, along with Ferguson and Bench, then hit the turf for their hit-its while the defense cheered.
"They're both athletic, they both can throw the football," O'Brien said during a Monday news conference. "Now it's going to depend on how well they make decisions and how accurately they throw the ball.
"They sit in the front row, they pay attention, they take a lot of notes. It's a fun group to be around."
February, 28, 2013
2/28/13
11:00
AM ET
STATE COLLEGE, Pa. -- With spring drills just a few weeks away, NittanyNation decided to break down several of the brewing position battles.


February, 8, 2013
2/08/13
12:00
PM ET
STATE COLLEGE, Pa. -- Players' tweets start up a little after 4:30 a.m., that strange time when it's not quite day and not quite night. Traffic lights blink yellow along College Avenue, and -- outside of a whirring Herr's potato chip truck -- the roads are silent.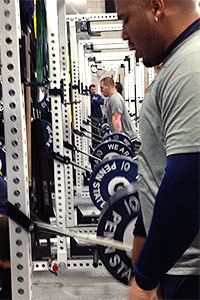 Josh Moyer/ESPNPenn State's players participated in an early workout Friday.
On this starless night ... or morning (take your pick) ... players pry their heads off their pillows and descend on the nearby Lasch Football Building. Streetlights around town still shine, and not a single student is spotted walking on a campus that holds more than 40,000.
But
Garry Gilliam
, a tight end turned offensive tackle, is up. He tweeted, at 4:39 a.m, "They sleep, we grind. They dream, we shine."
On this Friday, Penn State football players' days have already started. In about 30 minutes, their morning workouts will begin.
5:12 a.m.
Bill O'Brien walks onto the field with a whistle draped around his neck. The players are still inside the building, throwing on their gray T-shirts and blue shorts, and Penn State's dimple-chinned coach awaits them in the 31-degree weather.
Four bright stadium lights for the practice field are flipped on, and snow covers the perimeter of the turf. O'Brien chats with the staff and grad assistants, who constantly shift their weight from one leg to another to stay warm. He's cracking jokes, smiling and seems to be acting as if it's 3 p.m. He's ready.
"We should've had this at 3," he says with a nod.
About five minutes later, players burst from the weight room doors. Some hold their hands in the air, almost as if they're running through the south tunnel of Beaver Stadium. They yell, they chatter, they run.
The nearby stereo starts blaring LMFAO's "Party Rock Anthem," and the drills begin.
5:28 a.m.
Strength and conditioning coach Craig Fitzgerald, an eccentric-but-beloved guy who's been known to lick the weight room floor and do the worm in pregames, is dressed in his trademark shorts, backward hat and T-shirt.
Players break into six groups. Some flip tires, others weave through cones, and others stretch. Fitzgerald guides about a dozen to the northwest corner of the field. If he pumps his arms left, they go left. Right, they go right. Down? Their stomachs kiss the turf.
But O'Brien isn't liking what he's seeing. He cuts the music, and the entire field falls silent like a third-grade classroom that's ticked off the schoolteacher for the last time.
"I don't see the intensity I'm expecting!" O'Brien barks. "Let's do it!"
The pace noticeably picks up.
October, 3, 2012
10/03/12
6:36
PM ET
STATE COLLEGE, Pa. -- Stan Hixon stood near the sideline with shorts, short sleeves and a wide smile during a warm afternoon practice.
"Nice weather," said a visitor. "Wish it were Saturday."
"Me too," a grinning Hixon said, before jogging off to coach the receivers.
Hixon later had reason to smile -- his wideouts caught everything in preparation of Saturday's Northwestern game. The assistant head coach stood 12 yards in front of the quarterbacks and didn't raise his voice once during the open session of Wednesday's practice.
He glanced down a few times at a folded piece of paper, directed his players in a soft tone and sometimes pulled a player aside. He'd pump his arms to mimic route-running and send the player off with a pat.
Matt McGloin
completed seven straight passes to Hixon's wideouts, mostly on intermediate routes, before a large digital clock showed all zeroes to indicate the drill was over. No wideout dropped a pass, and the only incompletion -- from
Steven Bench
-- came on a miscommunication with
Matt Zanellato
.
Trevor Williams
caught two balls for 36 yards,
Allen Robinson
grabbed two receptions for 28 yards, and
Brandon Moseby-Felder
had two grabs for 21 yards.
Alex Kenney
also caught a 16-yard pass.
August, 28, 2012
8/28/12
7:23
PM ET
STATE COLLEGE, Pa. --
Matt McGloin
dropped back and rehearsed some draws early Tuesday evening while quarterbacks coach Charlie Fisher barked some encouragement.
"Bam!" Fisher yelled when the football hit
Bill Belton
's stomach. "C'mon! Good!"
Bill O'Brien asked the media to leave soon after those positional drills, but NittanyNation still found some highlights to the short-lived open practice:
To continue reading this article you must be an Insider
BIG TEN SCOREBOARD
Thursday, 9/3
Friday, 9/4
Saturday, 9/5
Sunday, 9/6
Monday, 9/7