Penn State Nittany Lions:

Mike Munchak
January, 7, 2014
1/07/14
3:00
PM ET
STATE COLLEGE, Pa. -- Penn State's coaching search news is starting to
heat up around Vanderbilt coach James Franklin
, but nothing definitive has surfaced.
Al Golden appeared to be a favorite over the weekend -- several outlets
reported he had taken the job
-- before that news turned out to be false. Some still haven't counted him out of the race.
So, all that being said, it's not 100 percent clear what Penn State's next move might be. But ESPN.com confirmed it's looking at at least four candidates, so here's a closer look at each:
James Franklin, Vanderbilt head coach
[+] Enlarge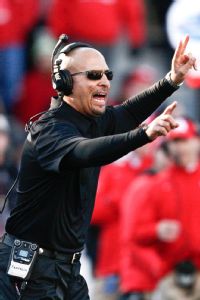 Marvin Gentry/USA TODAY SportsJames Franklin has guided Vanderbilt to consecutive nine-win seasons.
Pros:
In a lot of ways, he seems like the most qualified coach here. He guided Vanderbilt to back-to-back nine-win seasons, all the while building up a strong reputation for recruiting and doing so with strong academic standards. The last time the Commodores had a nine-win season? Try 1915. He's an offensive-minded coach from Pennsylvania, and he was a quarterback himself at East Stroudsburg.
Cons:
Franklin is a hot commodity this offseason, as he already interviewed for the Houston Texans' head coaching job and has fielded requests to speak with both Cleveland and Washington. That might not sound like a con, but the Nittany Lions are in need of stability now -- and it'll be hard to get that from a coach who'll have the option to the jump to the NFL. Also, some accusations still hang over Franklin's head involving the Vanderbilt rape case. PSU might not be able to risk another hit to its image.
Mike Munchak, former Tennessee Titans head coach
Pros:
He has NFL head coaching experience, and his loyalty has been well-documented. Since 1982, he has only ever played/coached for one franchise (Houston Oilers/Tennessee Titans) and was fired when he refused to fire his assistants -- even with a raise on the table. He brings stability, and Penn State's offensive line would almost certainly grow leaps and bounds if he were the head coach. If he brings a member or two of his NFL staff, that would be even better.
Cons:
He has no previous college coaching experience. The game is obviously different from the NFL, and it could take some time for him to adjust. Recruiting could be a gamble in his hands. His businesslike approach --
no hats in the building, no headphones while working out, etc.
-- might not be a big hit with players either.
Al Golden, Miami (Fla.) head coach
Pros:
He has Penn State ties, and he definitely has shown he can guide a team through hard times. He took an awful Temple team and made it respectable. With the specter of sanctions hanging over the Hurricanes' heads, he also made sure they never suffered a losing season. He's a strong recruiter, someone whom fans see as made in the mold of Joe Paterno, and Penn State is widely believed to be his dream job. It'd be difficult to see him leave his alma mater.
Cons:
He has been knocked for his inability to win against elite competition. Golden has never finished a season with a winning record against teams above .500. In this past year, in which Miami finished 9-4, his team was 3-4 against teams with winning records. And it was winless against teams that finished with more than seven victories. His defensive coordinator, Mark D'Onofrio, has long been seen as a liability -- and PSU fans could be in for John Butler: Part Deux if Golden hops on board.
Larry Johnson, Penn State interim head coach/DL coach
Pros:
He's the player favorite, and many current and former players have
tweeted their support for him
. He has been on the staff since 1996 and is the only remaining coach from the Joe Paterno tenure. As a result, he's already familiar with commits and future recruits, and he's also known as a hard-nosed recruiter. He brings the most stability out of any of the candidates, and he'd likely coach at Penn State for as long as the school would have him.
Cons:
Despite his popularity, he never has held a permanent title above position coach. He has no head coaching experience outside of high school. He's not as big of a name as the others on this list and, with his lack of experience, he's a bit of a wild card. Like with Munchak, there'd likely be a transition period needed to learn the nuances of being a college football head coach.
January, 6, 2014
1/06/14
12:00
PM ET
Sure, it'd be fun to actually cover a national title game, but it's not every year you get a day like this in Chicago. Yeah, I know you're jealous.
To the links ...
January, 5, 2014
1/05/14
4:35
PM ET
Al Golden won't be returning to Penn State after all.

Golden on Sunday
reaffirmed his commitment to Miami
a day after meeting with Penn State's search committee, a source told ESPN's Brett McMurphy. Several media outlets reported that Golden, a former Penn State tight end and assistant coach, had or soon would accept the Penn State job, but it's not happening.
"There has been much speculation concerning my future at the University of Miami," Golden said in a prepared statement. "While I am flattered that our progress at The U during an extremely difficult period of time is recognized, I am also appreciative of just what we have here at UM and I am not a candidate for another position. We are eager to welcome our student athletes back to campus next week and visit with prospective student-athletes and their families beginning January 15."
Golden appeared to be a good fit for Penn State's vacancy, as he is a current college head coach with strong ties to the school who had done well at Temple and handled a difficult situation at Miami.
ESPN's Chris Mortensen reports that
Penn State on Sunday interviewed Mike Munchak
, who was fired Saturday as Tennessee Titans coach. Munchak is a former offensive linemen at Penn State. Vanderbilt coach James Franklin also is on Penn State's radar. The Commodores completed their season Saturday.
Penn State defensive line coach Larry Johnson, also serving as the school's interim head coach, will interview with the search committee at some point. Athletic director Dave Joyner said Thursday that the search will take days not weeks.
January, 3, 2014
1/03/14
2:34
PM ET
Penn State interim head coach Larry Johnson wants to remove the "interim" from his title. The school's longtime defensive line coach confirmed Friday that he'll apply for the permanent job following Bill O'Brien's departure to the Houston Texans.
"Why not Larry Johnson? I've been here 18 years," he said on a conference call with reporters. "I know the lay of the land very well."
Johnson also applied for the job in 2011, when it went to O'Brien. He has support from many current and former players such a sophomore defensive end
Deion Barnes
, who
tweeted Thursday
, "He's a great leader and will be a great head coach." Johnson said he was "very humbled" by the support.
[+] Enlarge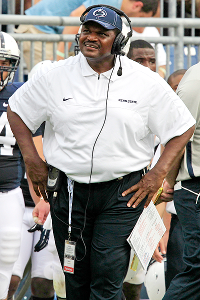 AP Photo/Gene J. PuskarLarry Johnson is interested in replacing Bill O'Brien as the permanent Penn State head coach.
Athletic director Dave Joyner said Thursday
that the search committee would interview Johnson if he had interest in the permanent job. Johnson, who joined Penn State's staff for the 1996 season and has been the defensive line coach since 2000, isn't going to put on a glitzy sales pitch.
"I'll let my work stand for itself," he said. "I'm not going to change who I am to get this job."
Whether or not he's the choice, Johnson will continue to oversee the staff and Penn State's recruiting efforts until a permanent head coach is named.
Some notes from Johnson:
All of O'Brien's assistants -- other than Charlie Fisher and Ron Vanderlinden, who resigned following the season -- remain in State College, and Johnson expects them to be in the office Monday. O'Brien said earlier Friday that he'll interview the Texans' leftover assistants before making any decisions on his staff.
Johnson has been talking with 2014 recruits and planning official visits to campus between Jan. 16-19. He declined to discuss specifics of those conversations.
Johnson said O'Brien reached out to every Penn State player after taking the Texans job to explain his reasoning. Johnson also is talking to current players. He made contact with quarterback Christian Hackenberg and Hackenberg's father, and he expects Christian back for the start of classes Jan. 13.
Johnson hasn't given much thought to remaining at Penn State if he doesn't get the permanent job. Asked about bringing back Vanderlinden, the school's popular longtime linebackers coach, Johnson said, "That's a great question, but I'm not there yet."
ESPN's Brett McMurphy reports
that Vanderbilt coach
James Franklin
, Miami coach Al Golden and Tennessee Titans coach Mike Munchak are the top candidates for the Penn State job. Both Golden and Munchak played at Penn State, and Franklin is a native of Langhorne, Pa., who played at East Stroudsburg.
All three are sitting head coaches. Johnson's last head-coaching experience came at the high school level in the Washington D.C. area.
Is Johnson a realistic candidate? The committee should listen to what he has to say, but he likely wouldn't be their first choice.
December, 27, 2013
12/27/13
4:30
PM ET
A few questions and answers before Big Ten bowl season kicks off!
Remember, follow us
on Twitter
.
Jeff from San Diego writes:
As I begin to think about potential future bowl situations, I'm not sure how I feel about the B1G taking over selection. Mainly, my fear is that the traditional "mid-tier" teams (namely my Hawkeyes) could suffer the most. It feels a tad more likely that a team like Iowa will drop a rung or two to "spread the wealth" to teams like Northwestern or Minnesota more often than a team like Ohio State drops a rung to make room for the Hawks. Using this year as an example, how do YOU think the B1G would place the bowls?
Adam Rittenberg:
Jeff, remember that the Big Ten taking greater control of the bowl selections is designed to produce fresher matchups and avoid repeat sites or opponents. Those are good objectives and fans should celebrate that. Iowa fans might disagree, but I don't think bowl selections should be based primarily on how well a certain fan base travels, especially at the expense of good pairings.
If the Big Ten had control of the selections this year, I think after the Rose/Orange picks, it would go like this: Wisconsin to Capital One, Iowa to Outback, Nebraska to Buffalo Wild Wings, Minnesota to TaxSlayer.com Gator and Michigan to Texas. There's no way the Big Ten would want Nebraska facing the same bowl opponent it did a year ago, or Minnesota returning to the Texas Bowl.
---
Jay from Milwaukee writes:
Do you think the BWW Bowl would have opted for Nebraska if they knew Gardner wouldn't be playing, or were they set on not having an "old Big 12" matchup?
Adam Rittenberg:
Good question, Jay. It certainly could have impacted the selection process. I was told that Michigan's final regular season performance, especially compared to Nebraska's, played a role in the Wings Bowl choosing the Wolverines. It was more important than Nebraska's head-to-head win at Michigan Stadium. Gardner obviously played a huge role in Michigan's strong offensive showing against Ohio State, and his absence creates more uncertainty for the Wolverines offense. I heard there was more interest in Michigan-Texas than Nebraska-Texas, but once K-State fell to the Wings Bowl, Nebraska seemed to make more sense.
---
Bill from Marshall, Mich., writes:
Michigan State football has generally been ranked from 25 to 40 in recruiting over the past several years. Yet they have been successful three of the past four years and are currently ranked number four in the polls. Is there something about the recruiting ratings that is incorrect?
Adam Rittenberg:
Bill, recruiting evaluation is an inexact science, which bears out in rankings that can turn out to be off base. Recruiting rankings are based on what players show at the high school level. A lot of players mature after they get to college and work with coaches that can develop their full potential. Michigan State's staff has become one of the nation's best in identifying players who fit the system and then developing them while in East Lansing.
As Big Ten Network analyst Glen Mason recently told me: "They might not have a lot of four- or five-[star] recruits in their program but they play like four- and five-star." That's a tribute to head coach Mark Dantonio and his assistants. I do think the Spartans' success will attract higher-level recruits, especially on the defensive side.
---
Travis from Austin/Minnesota writes:
To what or whom do you attribute the turnaround in Iowa's program in the past year?
Adam Rittenberg:
Strong grammar skills there, Travis. I think Iowa got back to what it does best, especially along both lines. Kirk Ferentz's best teams have been solid up front, and Iowa had gotten away from that a bit, especially on defense after losing a bunch of players to the NFL. The defensive line was Iowa's most improved unit this season, thanks to the emergence of players like
Drew Ott
and
Carl Davis
. Iowa also improved along the offensive line, anchored by tackle
Brandon Scherff
, and established a nice power run game with a group of backs who amazingly managed to stay healthy. The offense found its identity and Iowa's seniors stepped up, especially at linebacker, which is always key.
---
Ethan from Abbottstown, Pa., writes:
With Bill O'Brien reportedly interviewing with the Texans, PSU fans are once again assessing a list of candidates, especially since BOB hasn't replaced any departing coaches yet. I think
James Franklin
should be a guy to take a run at. Who'd be on your list at PSU if there is an opening?
Adam Rittenberg:
I've been more lukewarm on Franklin than many in the media, but I'm definitely warming up to him as a good fit at Penn State. The guy can flat-out recruit and has ties to the region. He would clean up in the fertile Washington D.C./Maryland/Northern Virginia area, especially if Larry Johnson remains on staff, and bolster the talent level in State College. Mike Munchak could be another intriguing name, but I think you start with Franklin, who seems eager to make a move after several good years at Vanderbilt.
---
Mike from Hiawatha, Iowa, writes:
Adam: Every year we hear how the Big Ten underachieves in bowl season. In order to know if this is really true, can your top-notch researchers at ESPN go back 5 or 10 years and compare the Big Ten's record versus how many games they were actually favored to win? Is the conference underachieving or just perennially matched up against better teams due to their bowl contracts?
Adam Rittenberg:
Mike, as I've written for years, a lot of it has to do with the matchups, which are annually tougher than any other leagues. The current bowl lineup, while ambitious, sets the Big Ten up for failure, especially with the league's track record of sending two teams to BCS games each year. The Big Ten basically plays road games and often has its lower-rated teams against higher-rated teams from the SEC and Big 12. The future lineup is much more navigable, especially with the Big Ten taking greater control of which teams go where. Ultimately, the league is underachieving to a degree in the postseason, but the lineup certainly doesn't help.
July, 10, 2013
7/10/13
1:00
PM ET
So, what teams had the best and worst
all-time PSU fantasy drafts
on Tuesday?
There's a lot of opinion out there, but NittanyNation tried to find two knowledgable judges to offer their takes on each team's draft. Both Steve Jones and Mike Poorman agreed to grade each team and include a brief analysis.
Jones is the play-by-play voice of Penn State football and hosts a daily radio show that can be heard on ESPN 1450 in State College. Poorman is a columnist and senior lecturer at Penn State who taught the class, "Joe Paterno, Communications & The Media." Both are PSU graduates.
Here's what they had to say:
Team Lou Prato
(Top five picks: RB Lenny Moore, LB Jack Ham, DT Mike Reid, DE Courtney Brown, C Glenn Ressler)
Jones says:
A. Outstanding defense, especially at linebacker, and a solid kicking game. Offensively, Moore could do it all, and people forget Chuck Fusina was a Heisman trophy runner-up who actually had more first-place votes than Billy Sims.
Poorman says:
A. I graded the No. 1 pick at each position, and Lou was tops with eight such selections. His LB combo of Jack Ham and Shane Conlan, PSU's best two ever, and secondary pair of Harry Wilson and Michael Zordich exemplified a depth of knowledge -- and, hence, roster -- that was unmatched, top to bottom. Memo to Bob McClellan: 25 years after you had him in class, Lou is still cantankerous.
Team Bob McClellan
(Top five picks: CB Brian Miller, RB Curt Warner, OT Keith Dorney, OG Mike Munchak, DE Michael Haynes)
Jones says:
A-. Great running game and offensive line, along with the best rushers. This group has underrated receivers and an underrated quarterback who was Big Ten player of the year.
Poorman says:
A-. Seven of Bob's picks were best at their position. His OL spanned four decades and was the strongest group by far. All-time pick leader Neal Smith and punter Ralph Giacamarro showed McClellan's surprising and seasoned savvy against a field of Penn Staters. Flex selection Lydell Mitchell was inspired.
Team Stephon Morris
(Top five picks: LB Sean Lee, LB LaVar Arrington, WR Bobby Engram, DT Matt Millen, RB John Cappelletti)
Jones says:
A-. He mixes the school's only Heisman winner in Cappy with the quarterback who won the first national title. Defensively, the athletes at linebacker are impressive, and Millen is outstanding up front
Poorman says:
Pass. No way I could fail Stephon. A likeable and gutsy player, he was a media favorite with his candor. With his draft picks, he displayed confidence -- he picked Stephon Morris at CB -- and smarts, by snagging four of the giants of Penn State football: John Cappelletti, LaVar Arrington, Matt Millen and Todd Blackledge. But his O-line was of the "oh, my goodness" variety, and his biggest downfall.
Team Josh Moyer
(Top five picks: QB Kerry Collins, S Mark Robinson, OT Levi Brown, OG Sean Farrell, TE Ted Kwalick)
Jones says:
A-. Get ready for the ball to fly. Great quarterback and receivers. Everyone has quality tight ends, but Kwalick was special. Strong secondary behind that defensive line.
Poorman says:
B+. Josh has the best pitch-and-catch triad of Kerry Collins, Kenny Jackson and Ted Kwalick, with Stefen Wisniewski snapping the ball. That's four of his five position-best picks. He showed a healthy respect for -- and use of -- the past (W.T. Dunn, Joe Bedenk) that gets high marks, but his pair of kickers and one corner selection ranked a Z.
Team O.J. McDuffie
(Top five picks: RB Ki-Jana Carter, RB Larry Johnson, OG Steve Wisniewski, OG Jeff Hartings, S Darren Perry)
Jones says:
B+. Great running game along with speed at wide receiver. The defense is solid across the board.
Poorman says:
C. O.J. was in trouble as soon as did not pick O.J. McDuffie. His one old-school pick, Matt Bahr, was the best kicker selected. But O.J. relied almost totally on Nittany Lions from the past three decades and regrettably didn't include one player from the first 88 years of Penn State football. Not OK, O.J.
BIG TEN SCOREBOARD
Thursday, 9/3
Friday, 9/4
Saturday, 9/5
Sunday, 9/6
Monday, 9/7