Penn State Nittany Lions:

Michael Rocco
December, 27, 2012
12/27/12
4:00
PM ET
Former Virginia quarterback
Michael Rocco
, who was granted a release from his scholarship Nov. 30, has been in contact with Penn State -- but future scholarship restrictions have prevented any kind of transfer.
"There's been definite interest and some discussion," said his father, Frank, a PSU alum, "but my understanding is just the scholarship numbers are going to affect it. I think if that was different then we'd be very much heading down that path."
Penn State will have just 65 scholarships available in 2014, and it's set to have three scholarship quarterbacks on the roster by then.
Michael Rocco would have to sit out in 2013 due to transfer rules but could compete in 2014 as a redshirt senior if he opts to stay within the FBS. His father said he's already moved out of Charlottesville, and he'll make visits this week and next before enrolling in a new school.
The elder Rocco declined to name the schools still under consideration but said they involve the FBS and FCS. Michael last spoke with Penn State about a week ago, and his father said that no longer remains an option because of the restrictions.
"Penn State needed an additional quarterback for the spring, and Mike was ready to do that," Frank Rocco said. "Nonetheless, he's going to be somewhere in a couple weeks."
Michael Rocco threw for 2,671 yards in 2011, the most for a first-year starter in school history, and led the Cavaliers to an 8-5 record and its first bowl game since 2007. But Alabama quarterback
Phillip Sims
transferred to Virginia, and the two battled against one another for playing time throughout the 2012 season.
The Cavaliers finished a disappointing 4-8 this past season, and head coach Mike London fired four assistants.
November, 7, 2012
11/07/12
10:00
AM ET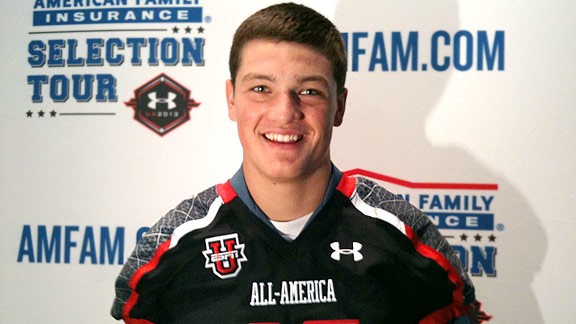 Josh Moyer/ESPN.comChristian Hackenberg has a lot to live up to as ESPN's No. 1-rated quarterback, as that position has produced its share of college stars in recent years.
Christian Hackenberg
(Fork Union, Va./Fork Union) follows a long line of successful No. 1-rated quarterbacks in the ESPN 150 -- leaving many to wonder what his future might hold.
Can he come in and be the starter? Does history say he'll succeed? Can he experience success right off the bat?
NittanyNation decided to take a closer look at every one of ESPN's top passers since 2006 to determine what history says about Hackenberg's chances -- for both his future and his success during that rookie campaign.
September, 12, 2012
9/12/12
3:39
PM ET
Before the season, assistant coach John Butler would rouse his defensive backs by rattling off negative snippets from the media.
Butler wouldn't have to read long before a theme emerged: They were the defense's weak link, too shallow and too inexperienced. Cornerbacks
Stephon Morris
and
Adrian Amos
looked upon those words as motivation.
On Tuesday and Wednesday, they stopped short of admitting those critics were right but -- motivating or not -- they knew they hadn't yet proved those snippets wrong.
"No," Amos acknowledged, "I don't think we've done enough. I think we can make a lot more plays; we just have to start capitalizing."
Penn State's passing defense isn't even ranked in the top 100, and nowhere are the secondary's struggles more apparent than on third downs. In the second half this season, Penn State's opponents have converted 18-of-21 third-down opportunities.
Defensive end
Pete Massaro
said he was "confused" over that disparity. Bill O'Brien didn't have an immediate answer either. But Morris knew.
"It's pretty much a secondary problem," Morris said, "because they're pretty much going after seam routes and going after the middle. That's the DBs' fault. It's not really the linebackers or the linemen's problem."
All but three of those third downs were converted on pass plays. Even within two yards, opponents still opted to pass two-thirds of the time.
Virginia quarterback
Michael Rocco
used the space between the hashmarks as a safety net Saturday. He converted a 3rd-and-20 play to tight end
Jake McGee
and, one quarter later, beat an out-of-place safety on a 3rd-and-16 play -- again to McGee. And the final touchdown pass, on third down? McGee.
"It's always going to be a little frustrating, not getting off the field when you know you're supposed to," Amos said, "especially the way it happened Saturday, with passes to the tight ends and things like that."
The Nittany Lions' pass defense is ranked No. 101 in the country, and its third-down defense is even worse. Only three FBS teams -- New Mexico, Navy and Southern Miss -- have allowed a higher rate of conversions.
With four new starters and virtually no bench, Penn State doesn't have many options to retool. Amos could slide over to safety, but true freshman
Da'Quan Davis
would then have to replace him at cornerback.
O'Brien said the defense will try to shore up the middle of the field this week. But if that doesn't work, PSU's secondary coach will have another sackful of newspaper clips and printouts to share with Amos and Morris.
And that can only stay motivating for so long.
September, 8, 2012
9/08/12
1:48
PM ET
Matt McGloin
jogged to the locker room late in the second quarter with an apparent elbow injury, and true freshman
Steven Bench
is now in at quarterback.
It's not yet known if McGloin will return, so Penn State might now be without all of its top skill players from the spring. Starting tailback
Silas Redd
(transfer) and backup
Bill Belton
(injury) are gone, No. 1 wideout
Justin Brown
defected for Oklahoma, McGloin is injured and kicker
Anthony Fera
transferred.


Stat of the half
: Three. The number of fourth-down conversions PSU made in the first half, two on the opening drive and one on a fake punt that resulted in a 19-yard run by middle linebacker
Glenn Carson
. Bill O'Brien's gambles have certainly paid off so far. They're 3-for-4 -- and the Lions' scored their only TD thanks to two of those conversions.
Player of the half
:
Jordan Hill
. He's wreaked havoc in the middle of Virginia's offense and also grabbed an interception that's bound to appear on some highlight tapes. He's been one of the few bright spots in this game.
What's working for Penn State
: Turnovers. Linebacker
Michael Mauti
stressed that his team had to force fumbles or make interceptions this week, and Penn State's done both so far. Mauti forced a fumble, and Hill hauled in an interception. Unfortunately for PSU, the offense couldn't capitalize.
What's not working for Penn State
: Special teams.
Sam Ficken
missed two field goals -- from 40 yards and 38 yards -- and punter
Alex Butterworth
can't seem to hit a punt longer than 40 yards.
What's working for Virginia
: Blitzing. The Cavaliers' front-seven has confused Penn State's offensive line by showing different blitzes. Penn State's having difficulty adjusting. And while that's just led to two sacks, it's forced several incompletions by McGloin.
What's not working for Virginia
: Passing game.
Michael Rocco
is missing some easy throws, and his intended targets aren't making this any easier. Tight end
Paul Freedman
fumbled in the first quarter and several players made critical drops. A strength of UVA has been looking like a weakness.
September, 7, 2012
9/07/12
12:00
PM ET
Every week, NittanyNation will pose five questions to a recruit, player, alum or coach about all things Penn State.
This week's subject is Frank Rocco, a former PSU quarterback who's also the father of current Virginia signal-caller
Michael Rocco
. Frank Rocco played the role of backup quarterback from 1978 to 1981 and was a graduate assistant on the 1982 national championship team.
He now coaches football for Liberty Christian High School (Lynchburg, Va.) and has played PSU commit
Christian Hackenberg
(Fork Union, Va./Fork Union) three times.
To continue reading this article you must be an Insider
September, 7, 2012
9/07/12
9:00
AM ET
STATE COLLEGE, Pa. --
Michael Zordich
gave a slight shrug when he was told Virginia was favored by 10.5 points earlier this week.
"Underdog pretty much means nothing to us," the fullback said. "I think we've been there for awhile now."
Michael Mauti
also deflected any talk about motivation because, well, he didn't even know the Cavaliers were favored.
To continue reading this article you must be an Insider
September, 6, 2012
9/06/12
12:00
PM ET
Every week, NittanyNation takes a look at five storylines that stand out for Penn State's opponent: What should fans keep an eye on? What's the bigger picture? What might be on display Saturday?
Here are NittanyNation's Week 2 storylines for the Cavaliers:
1. It's a family reunion for Michael Rocco.
The Virginia quarterback's father played as the backup quarterback on Penn State's 1982 national championship team, and his grandfather was an assistant under Joe Paterno. Rocco has a lot of family in Pennsylvania, and they're all coming down to watch him. Michael grew up as a Penn State fan, and that was his dream school, so it should be a surreal day for the junior. Paterno offered him a grayshirt, not a scholarship, because he had already offered
Rob Bolden
and
Paul Jones
. Rocco opted for a scholarship elsewhere.
To continue reading this article you must be an Insider
September, 5, 2012
9/05/12
11:00
AM ET
STATE COLLEGE, Pa. -- Defensive tackle
Jordan Hill
didn't hit the bars after the game. He didn't study or watch late-night TV either.
[+] Enlarge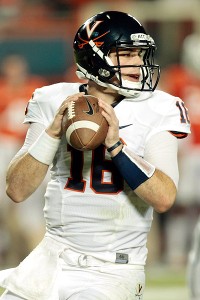 AP Photo/Alan DiazVirginia QB Michael Rocco will pose a tough test for Penn State.
After fighting against a no-huddle offense for 70-plus plays, sand bags might as well have been tied to his eyelids. He said he fell asleep by 10 p.m., early by his standards.
"We lost our energy in the second half," Hill acknowledged Tuesday. "We really have to keep that up the whole game."
Conditioning and depth won't become any easier against Virginia. Tight end
Kyle Carter
called the Cavaliers the better team over Ohio, and their passing game might push the ball upfield more efficiently -- causing another round of early bedtimes.
Quarterback
Michael Rocco
set a school record last season for passing yardage as a sophomore (2,671) , and he threw 149 more yards than Ohio's
Tyler Tettleton
over their last seven games. The running backs --
Perry Jones
and
Kevin Parks
-- are among the best in the ACC.
"We have to stay pumped and don't lose our energy," Hill added.
With a roster short on experience and long on question marks, it's clear Penn State must rely more on veteran players like Hill. The senior, who boasts 18 career starts, didn't watch many plays from the sideline -- but he wasn't the only one.
Safety
Malcolm Willis
didn't have much time to grab one of those green Gatorade bottles on defense. His teammates called him the quarterback of the unit, and his backup was listed as preferred walk-on
Ryan Keiser
, who competed in about eight snaps a game last year.
"It's just the fact that we came out with so much energy and we have to sustain that energy," said Willis, who later added he didn't feel "too" tired.
Willis and other members of the secondary are expected to remain on the field because, well, there's just no one else.
When a golf cart chauffeured an injured
Stephon Morris
to the locker room, true freshman
Da'Quan Davis
stepped into his starting cornerback role. If
Adrian Amos
would've asked for a water break or for time to catch his breath, another cornerback who never registered a career solo tackle --
Jesse Della Valle
-- would've replaced him.
"The depth is the depth," Willis said. "We have to deal with what we have."
Penn State has yet to even practice the nickel, a defense designed to better defend against the pass. Bill O'Brien insisted that had less to do with depth and more to do with faith in the linebackers but admitted the nickel hasn't moved past the discussion phase.
O'Brien plans to use a 4-3 defense to counter Virginia's pro-style offense, and Rocco said earlier this week four-receiver sets are a definite possibility.
"It's worked well against them in the past, so we'll see how we're going to attack them this week," he said.
Hill was short on answers when it came to stopping the passing game. Maybe they could get their hands up earlier for deflections, maybe they could force more turnovers. Maybe, somehow, they could keep that energy level up -- even with a lack of depth.
"We just have to make a better effort," Hill said.
September, 3, 2012
9/03/12
5:01
PM ET
A framed photo of a young
Michael Rocco
still hangs in the family room, one where he's grinning wildly while straddling the Nittany Lion statue and wearing a Penn State sweatshirt.
Because of his family's connections to the university, Rocco grew up strolling the sidelines of Beaver Stadium and donning clothes embroidered with that Lions logo. His grandfather, Frank Sr., served as an assistant under Joe Paterno. And his father, Frank Jr., played as the backup quarterback during the 1982 national championship season.
[+] Enlarge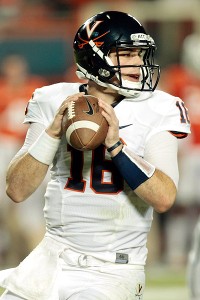 AP Photo/Alan DiazPenn State was once the dream school for Virginia quarterback Michael Rocco.
Now, Michael, Virginia's starting quarterback, is watching film to find weaknesses in the team he once rooted for.
To continue reading this article you must be an Insider
BIG TEN SCOREBOARD
Thursday, 9/3
Friday, 9/4
Saturday, 9/5
Sunday, 9/6
Monday, 9/7