Penn State Nittany Lions:

Matt Zanellato
August, 23, 2013
Aug 23
9:00
AM ET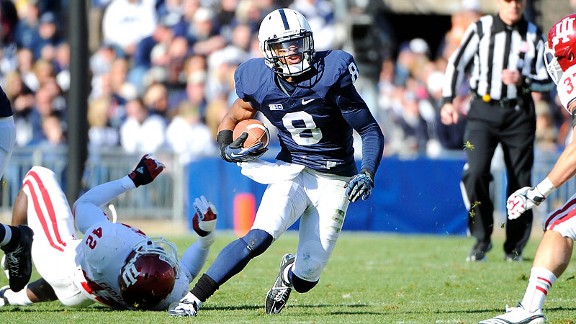 Rich Barnes/US PresswireJunior Allen Robinson returns after setting PSU's single-season record for receptions in 2012.
As part of an ongoing series, NittanyNation will preview a different position leading up to the season opener against Syracuse on Aug. 31. Up today: Wide receivers.
Projected starters:
Allen Robinson
(2012 stats: 1,013 yards, 77 catches, 11 touchdowns) and
Brandon Moseby-Felder
(437 yards, 31 catches, one touchdown)
Key losses:
None
Next in line:
Redshirt freshman
Eugene Lewis
was close to playing last year but, as a former high school quarterback, he needed an extra year to learn the receiver position. He's a fast, exciting playmaker who should add another wrinkle to this offense.
Matt Zanellato
also will see an increased workload this season and said he's been practicing at all the receiver positions. He's versatile, so Zanellato should help catch some defenses off-guard. In the slot,
Alex Kenney
is the top guy -- with true freshman
Richy Anderson
backing him up.
What to expect:
This group is clearly better than last year, and with Lewis' addition to the lineup, the quarterback here shouldn't have to just turn to A-Rob and the tight ends for targets. Moseby-Felder and Lewis have good speed, and this position is definitely in good shape. It's deeper, more experienced and more talented than in 2012.
Robinson was the best wideout in the Big Ten last season -- and he only has gotten better. That should be a scary thought for opposing defenses. Outside of Robinson last year, the Nittany Lions really didn't have a No. 2 wideout the first few games of the season -- Moseby-Felder had a lingering injury -- but that's not a problem this year.
A lot of the receivers have the ability to play at different spots, and that should keep defenses guessing. The statistics might not match last year's, but this is one of the most-improved units on the team.
Recruiting trail:
The Nittany Lions didn't need to grab three receiver commits in the 2014 class, but it's hard to say no to some of the top guys on your recruiting board. PSU received verbals from ESPN 300 wideouts in
De'Andre Thompkins
(Swansboro, N.C./Swansboro) and
Chris Godwin
(Middletown, Del./Middletown), in addition to three-star WR
Troy Apke
(Pittsburgh, Pa./Mount Lebanon).
The Lions have arguably the best group of receiver commits in the country, and it's very safe to say PSU is done at this position for this class. Looking ahead to 2015, it seems as if PSU would take either one wideout or none. It already has offered
Van Jefferson
(Brentwood, Tenn./Ravenwood).
Best-case scenario:
Robinson earns All-America honors, grabs a bunch of jump balls and breaks his own single-season record. Debates begin as to whether he is PSU's best receiver ever. Meanwhile, Lewis has a breakout season, while Moseby-Felder builds off last year and Zanellato plays well when called upon.
Worst-case scenario:
Robinson is better than last year, but it doesn't show. With a struggling quarterback, teams shadow Robinson and he is unable to make the same impact he did in 2012. Lewis gets confused on some routes, and Moseby-Felder doesn't improve enough to take some of the pressure off of Robinson. This group is good, better than last year, but it's difficult to see.
Top position question: Will Robinson declare early for the NFL draft?
Obviously, this question is a bit premature -- but it's one every Penn State fan wants to ask. He has the ability to play in the NFL, and it really wouldn't be that surprising for him to at least inquire about his draft grade.
We recently asked Robinson's father, also named Allen, about declaring early for the NFL. Here's what he had to say:
"What I would really like him to do is play his senior season," Robinson's father said. "Allen is young. I think he can get much better. I think he can put on some more weight, and I think he can get faster before he goes to the next level. But that's just my own thoughts.
"We'll see how things turn out."
August, 13, 2013
Aug 13
9:00
AM ET
STATE COLLEGE, Pa. --
Allen Robinson
crossed his arms during Penn State's media day and lingered near the end zone, a place he found plenty -- 11 times to be exact -- during last season's record-breaking run.
Despite the familiar surroundings, the stonefaced junior seemed out of place with the focus on his accolades. He routinely dismissed talk about last season's Big Ten-leading 77 catches and 1,013 yards. And on three separate occasions, he labeled his year as "decent" before deflecting praise to teammates or addressing the offseason.
[+] Enlarge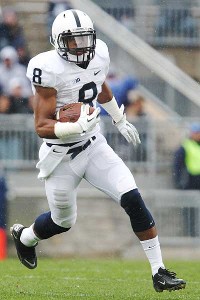 Matthew O'Haren/USA TODAY SportsAllen Robinson says he still has room for growth on the football field, despite pulling in 77 catches last season to break Penn State's single-season receptions record of 63.
"I don't know, Allen," said one reporter. "I think it was a little better than decent."
Robinson offered a slight shrug but didn't crack a smile: "I'm just trying to come open and make plays when my number's called."
The junior wideout is coming off one of the most surprising performances from one of the program's most surprising seasons -- but he's not looking back. After shattering the school's long-standing single-season receptions record (63) as a sophomore, surpassing the likes of PSU greats Bobby Engram and O.J. McDuffie, Robinson said he's focused on 2013.
So maybe it shouldn't come as a surprise he declined to talk much about that record. He didn't want to talk about it much last season either. His parents opted to use the word "relief" when describing it, and the two paused when asked just how much Robinson has brought up the fact he sent those PSU record books back to the printing press.
"I don't remember him bringing it up once since January," his mother, Tracie, said. "I really don't. He just doesn't talk about his achievements."
Added his father, also named Allen: "He hasn't brought it up, not once with me. Allen talks the most about him and
Adrian Amos
, as far as D-back and wide receiver. That's what he talks about, about making each other better."
Neither Robinson nor his family are even sure where that record-setting pigskin is. It's not resting on a desk inside his dorm, nor is it on the family's mantle. The Robinsons said they never really thought about it; a Penn State spokesman said he didn't think anyone ever pulled it aside for the museum located inside the very stadium Robinson set the record.
Not that the younger Robinson really seems to mind. He's looking ahead. Without an experienced quarterback, the wideout with the 37-inch vertical took it upon himself this summer to organize the team. He'd wake up every morning at exactly 5:05 -- just enough time to rush to the football building by 5:30 -- lift, then grab a quick breakfast before heading to class and later sending out mass texts for some 7-on-7s or extra route-running drills.
"He was the one initiating all those sessions," wideout
Matt Zanellato
said. "There were some times where we'd be doing so much that Fitz (strength coach Craig Fitzgerald) would send out a text saying, 'Take this afternoon off. You guys need to relax.'"
Robinson mostly heeded Fitzgerald's words, "but it's just me trying to be a leader. And a lot of it's how good do we really want to be this year? Do we want to be 8-4 again -- or do we want to be 12-0?"
The 6-foot-3 wideout, the recipient of last year's Richter-Howard Receiver of the Year Award, is nine pounds heavier this season. He's faster, he's become accustomed to all the receiver spots, and he's improved his route-running. Put simply, the Big Ten's best wideout is even better.
Assistant coach Stan Hixon has taught quite a few great ones, such as Buffalo Bills' leading WR Stevie Johnson and first-round draft pick Michael Clayton. Robinson reminds him a bit of Clayton -- "tough, tough, tough" -- but Hixon believed the player affectionately known as A-Rob still has a ways to go in 2013.
"He's going to be really good," Hixon said. "But he's just good right now. With the guys I've been around, he's got that ceiling. He has the potential to be better, so my expectation is higher than what a lot of people think."
Robinson, as serious a player as there is on the Nittany Lions, was relayed that message from Hixon: Good, but not yet really good. The Michigan native glanced down, trying to conceal a quick grin -- the first and only smile in 15 minutes of speaking.
"I would say he's right," Robinson said.
"There's a lot of things I can do to improve my game. Last year, I had a decent year -- so I'm just trying to improve off that. There were some catches last year I didn't come down with, so I'm just trying to improve."
That became the third, and final, time Robinson used "decent." So, clearly, those records and those accolades are in the past for the Penn State receiver. He's hoping last season isn't a highlight -- he's convinced it's just the beginning for him and these Nittany Lions.
June, 13, 2013
Jun 13
3:19
PM ET
Penn State released an updated depth chart today and, although quarterback remains a question mark, some positions certainly became clearer.
Here's a closer look at some of the notable changes:
1. Lots of movement in the secondary.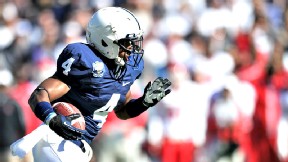 Cal Sport Media via AP ImagesA starting cornerback last season, Adrian Amos currently tops the depth chart at safety.
Adrian Amos
is the top DB for the Nittany Lions, and he shined at cornerback last season. The versatile player practiced a lot at safety this offseason, though, and the depth chart now lists him as a starting safety alongside ... well, apparently, the other starter still isn't a lock.
Stephen Obeng-Agyapong
, who started last season, is listed as Amos' backup. The other starter isn't yet decided, as Bill O'Brien put the "OR" next to
Malcolm Willis
' name, meaning a competition is still under way between him and walk-on-turned-scholarship athlete
Ryan Keiser
.
At cornerback, which saw Amos and the graduated Stephon Morris as the 2012 starters, there are two new names to watch. Sophomore
Jordan Lucas
grabbed one starting spot, while wideout-turned-corner
Trevor Williams
is listed at the other.
Da'Quan Davis
is Lucas' backup.
2. TE-turned-OT Garry Gilliam is now up to 305 pounds.
That's a huge turnaround in less than a year. He played the role of blocking TE last year and started the season at 262 pounds. So, in about 10 months, he's gained 43 pounds. That says quite a bit about PSU's strength and conditioning program. He's currently listed as Dononvan Smith's backup at left tackle.
3. Kyle Baublitz will start alongside DaQuan Jones at DT.
Redshirt freshman
Austin Johnson
received a lot of praise over the spring, and he seemed poised to grab the starting spot. But the more-experienced Baublitz is instead part of the first-string lineup.
Baublitz played in six games last year, and the most recent roster puts him at 286 pounds -- 32 pounds lighter than Jones and 11 pounds lighter than Johnson. He had two tackles and one sack last year.
4. The long-snapper is ... MLB Glenn Carson?
At least for now, it is.
Sean Corcoran
is an incoming run-on who's expected to compete for the starting snapping jobs, so Carson's name there could be short-lived.
5. Bill Belton remains the No. 2 RB, while Brandon Moseby-Felder will still start opposite WR Allen Robinson.
Neither was a big surprise, but there were questions surrounding both players.
Akeel Lynch
is the no. 3 RB, while
Eugene Lewis
-
Matt Zanellato
are the receiving backups. (Lewis should still see a considerable amount of time on the field, obviously.)
Moseby-Felder nursed a leg injury last season, which slowed him down in the early going, and he could be a nice surprise this season. Early enrollee
Richy Anderson
might have garnered his share of pats on the back, too, but he's listed as a fourth-stringer. A redshirt could be in his future.
6. Charles Idemudia is the non-scholarship LB to watch.
Yes, the starting lineup is still
Mike Hull
-Carson-
Nyeem Wartman
... but that was never really in doubt. With just five scholarship linebackers on the roster -- six once
Brandon Bell
gets on campus -- a walk-on was poised to see some time.
PSU's players threw around a couple names, such as
Adam Cole
and Matthew Baney, but Idemudia is the only non-scholarship LB listed on the depth chart.
7. Kick/punt returners listed.
PSU tried a few different players on special teams last season. But as of now Belton and
Alex Kenney
are listed as the top-two kick returners, with
Jesse Della Valle
as the top punt returner. Those three had the most kick/punt returns last season, so it's not a huge shock to see those names again. One interesting change, though? Anderson is the No. 2 PR.
April, 20, 2013
Apr 20
7:19
PM ET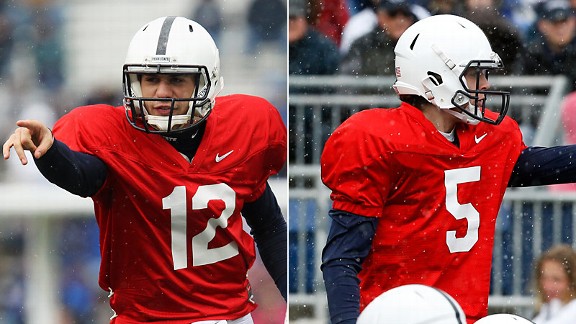 AP Photo, USA Today SportsThe quarterback battle at Penn State between Steven Bench and Tyler Ferguson will continue, and they'll be joined by top recruit Christian Hackenberg this summer.
STATE COLLEGE, Pa. -- Bill O'Brien crossed his arms and furiously chewed a piece of gum when the inevitable question was asked Saturday: Was the Penn State coach any closer to naming a starting quarterback?
He had to know the question was coming. That was the storyline of the Blue-White Game, the main topic fans discussed in the stands, and a topic that reporters have peppered him about every time O'Brien has made himself available.
"No, I'm not any closer," he said. "But I enjoy coaching both guys and, eventually, we'll have to make a decision. But I'm not ready to make that right now."
Inconsistency appeared to be theme of the day for junior college newcomer
Tyler Ferguson
and returning sophomore
Steven Bench
. O'Brien didn't use that term, but he might as well have. He said the pair obviously would've liked to have some plays back but also made some nice throws.
November, 11, 2012
11/11/12
11:44
AM ET
After
Matt Lehman
's diving touchdown was ruled a fumble Saturday night, some recruits and alumni took to Twitter to express their displeasure while players later tweeted their disappointment.

NittanyNation brings you some of those memorable tweets:
S Stephen Obeng-Agyapong
: The whole nation knows what really happened.....(
Link
)
WR Matt Zanellato
: I'm not an official but I'm pretty sure that ball is over the line. But I mean they didn't review it...Oh wait (
Link
)
TE Garry Gilliam
: Looks like a touchdown to me.. (
Link
)
CB Stephon Morris
: This hurts. Can't let em see my tears. Last time ever wearing the away uniforms. (
Link
)
OG Eric Shrive
: Unbelievable. (
Link
)
Christian Hackenberg, 2013 commit
: Looks like its us against the world! I love it. (
Link
)
Adam Breneman, 2013 commit
: PSU vs. the world. (
Link
)
Greg Miclisse, 2014 recruit
: They cheating PSU! (
Link
)
Zack Mills, former PSU QB
: That was a terrible review (
Link
)
Adam Taliaferro, former PSU CB and current Board of Trustee
: Refs...you win (
Link
)
Mike Pereira, former VP of Officiating for NFL (no PSU affiliation)
: It's a close play in PSU/NEB but if it was me I would've reversed it to a touchdown. Seems to have control when the ball broke the plane. (
Link
)
October, 3, 2012
10/03/12
6:36
PM ET
STATE COLLEGE, Pa. -- Stan Hixon stood near the sideline with shorts, short sleeves and a wide smile during a warm afternoon practice.
"Nice weather," said a visitor. "Wish it were Saturday."
"Me too," a grinning Hixon said, before jogging off to coach the receivers.
Hixon later had reason to smile -- his wideouts caught everything in preparation of Saturday's Northwestern game. The assistant head coach stood 12 yards in front of the quarterbacks and didn't raise his voice once during the open session of Wednesday's practice.
He glanced down a few times at a folded piece of paper, directed his players in a soft tone and sometimes pulled a player aside. He'd pump his arms to mimic route-running and send the player off with a pat.
Matt McGloin
completed seven straight passes to Hixon's wideouts, mostly on intermediate routes, before a large digital clock showed all zeroes to indicate the drill was over. No wideout dropped a pass, and the only incompletion -- from
Steven Bench
-- came on a miscommunication with
Matt Zanellato
.
Trevor Williams
caught two balls for 36 yards,
Allen Robinson
grabbed two receptions for 28 yards, and
Brandon Moseby-Felder
had two grabs for 21 yards.
Alex Kenney
also caught a 16-yard pass.
September, 6, 2012
9/06/12
3:00
PM ET
STATE COLLEGE, Pa. -- Bill O'Brien didn't have to pause and search for an answer when asked about this week's offensive game plan. To O'Brien, the solution to Saturday's maladies seemed obvious.
"We've got to be more balanced," the first-year head coach said. "That starts with me."
He didn't walk through the south tunnel Saturday hoping to pass nearly seven out of 10 plays. And, he said, he's not looking to do that against Virginia. He wants to return to the football basics; he wants to run more.
But there's a hitch in this week's scheme: Trainers have held
Bill Belton
out of practice, and O'Brien might be forced to start a fifth-year senior,
Derek Day
, who's carried the ball 15 times in his career.
USC transfer
Silas Redd
reached that mark eight times last season.
"For any QB to be successful, you have to run the football,"
Matt McGloin
admitted.
O'Brien called 48 passes to just 22 runs last week. Even by New England Patriots standards, that's high.
Tom Brady
surpassed the 48-attempt plateau just once last season in a 24-20 loss to the New York Giants.
New England passed about 58 percent of the time last season; Penn State passed in 68.5 percent of its plays last week. To add some perspective, even pass-happy Houston would've called about five more running plays than PSU, based on last year's numbers.
So, O'Brien appeared sincere this week when he said he'd better emphasize his stable of inexperienced running backs. He praised his offensive line and remarked about his confidence in Day and those other tailbacks. But, Virginia coach Mike London didn't appear to expect balance.
"I think they won't depart too far from what they showed last week, showing what their identity is," London said Thursday.
Short, quick pass plays defined the Nittany Lions' offense when it hustled the ball downfield in the first half. Then again, it also defined an offense that sputtered in the second half.
"We felt in the first half we were kind of showing the identity we wanted to have," offensive tackle
Mike Farrell
said, "but in the second half we faded a little bit. So it's been a priority this week for us to improve and play a full game."
Tight end
Kyle Carter
said his team hoped to add another dimension to its attack by focusing more on deep throws. McGloin didn't complete a pass longer than 25 yards, and most attempts weren't thrown farther than 15.
At practice Wednesday, quarterbacks coach Charlie Fisher stood close to McGloin while he launched a handful of 40-yard tosses.
Allen Robinson
caught a perfect ball in stride, while a slower
Matt Zanellato
found himself two steps behind another.
McGloin wouldn't say what he was expecting for Charlottesville. He refused to say whether, when he looks back on this season, Penn State might have more passes than rushes.
"Right now, it's simple," McGloin said. "We're going to do what we have to do to win. If that means we throw it 10 times, we'll throw it 10 times. If we have to run it 100 times, we'll run it 100."
September, 5, 2012
9/05/12
6:54
PM ET
STATE COLLEGE, Pa. -- Injured tailback
Bill Belton
was nowhere to be seen at Wednesday afternoon's open practice, while
Derek Day
took snaps with the first team.
Twenty minutes before practice officially started, Belton tweeted: "I trust and believe that everything happens for a reason."
Belton was believed to be in the training room while the media watched practice for 30 minutes. He sprained his left ankle Saturday against Ohio, late in the third quarter, and coach Bill O'Brien said Tuesday he remains day-to-day. If Belton doesn't practice by Friday, O'Brien said Day will get the starting nod.
To continue reading this article you must be an Insider
August, 27, 2012
8/27/12
1:37
PM ET
Penn State released its Week 1 depth chart Monday, and six starting spots remain up for grabs.
A closer look at each battle:
Right tackle
:
Mike Farrell
vs.
Adam Gress
To continue reading this article you must be an Insider
August, 21, 2012
8/21/12
5:40
PM ET
STATE COLLEGE, Pa. -- All eyes were on
Matt McGloin
as he focused on short routes and impressed on intermediate, 15- to 20-yard ones during Tuesday afternoon's practice.
He threw only one incompletion on his last six throws — a ball that sailed about a foot over freshman
Eugene Lewis
' head. He clapped his hands, let out a yell and then resumed anticipating the moves of his wideouts and receiving little criticism from the coaches.
"We feel like Matt's got a really good grasp of the operation, how it all fits together," Penn State coach Bill O'Brien said before practice.
[+] Enlarge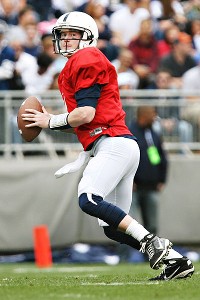 Matthew O'Haren/Icon SMIQuarterback Matt McGloin is getting a good grasp of Bill O'Brien's offense.
Evan Lewis
and
Alex Kenney
split time at the slot, and McGloin's nicest connection involved Lewis. The fifth-year quarterback tossed a tight spiral against his body and led Lewis to the sideline about 20 yards downfield.
Kenney mishandled one ball over the middle, trying to trap it with his body, but still managed to haul it in. "Hands!" one coach yelled.
Shawney Kersey
did not dress because of an ankle injury, so
Christian Kuntz
rotated in with the first team. Sophomore
Allen Robinson
appears to be the No. 1 wideout on the outside and showed consistent hands Tuesday.
"Allen Robinson's had an excellent camp," O'Brien said. "He's made a lot of good plays for us."
Freshman receiver Eugene Lewis practiced with the backups, and
Matt Zanellato
played with the third-string.
Paul Jones
remains the backup quarterback, but O'Brien said he needs to show more consistency. True freshman
Steven Bench
flashed some accuracy but struggled throwing on the run.
Injury update:
Safety
Jake Fagnano
's hamstring still hasn't fully healed, and O'Brien said the coaching staff will have to decide Monday what to do there.
"You got to let it heal," O'Brien said. "Otherwise it'll keep nagging at you."
No other injuries seem to be affecting the roster, however.
The other starting safety,
Malcolm Willis
, did not practice -- but O'Brien said he's doing much better now and should practice soon.
Tight end
Garry Gilliam
tweaked his quad Monday night and should be fine.
Pete Massaro
did not practice because he's coming off a torn ACL from last season and the staff wants to be cautious.
Gerald Hodges
earned a day off last week, too, so he could rest up.
Malik Golden
,
Derek Day
and
Mike Yancich
also did not practice.
Brad Bars
was seen heading to the locker room.
Belton's backup:
Day is ahead of
Akeel Lynch
right now for the No. 2 tailback spot behind
Bill Belton
.
O'Brien said
Curtis Dukes
played well the last two days — and that might have been the first time O'Brien mentioned Dukes all preseason.
Tallest player:
Freshman
Jesse James
, a 6-foot-7 tight end who enrolled in January, towered above the other tight ends and wideouts Tuesday. Besides reserve offensive tackle
Kevin Blanchard
, he's the tallest on the team.
O'Brien hasn't mentioned James much when discussing freshmen. But the coach smiled when asked if he's forgotten the early enrollee actually is a first-year player.
"He had a big play yesterday in practice on a pass route and broke it for about a 50-yard gain. So he's done some good things," O'Brien said. "He obviously has a future for us."
Right tackle battle:
Donovan Smith
finally returned to practice and looks good at left tackle. But, it appears as if there's a position battle heating up on the other end, at right tackle.
Adam Gress
was listed as the starter in the spring, and has mostly practiced with the first team this preseason, but O'Brien said
Mike Farrell
has come on strong and will challenge for the job.
"I feel good about the offensive line," O'Brien added.
Best camp:
One of the finalists for that honor appears to be
Michael Zordich
, who caught a few balls from McGloin early on out of the backfield.
He's also impressed on special teams, O'Brien said.
"Zordich, at fullback, has had one of the best camps out of anyone here," O'Brien added.
Punting issues:
O'Brien admitted he still didn't feel comfortable with the punting game.
Alex Butterworth
has improved over the last week, but his consistency still isn't where it needs to be.
"We don't always have to punt it," O'Brien said with a laugh. "We can go for it."
August, 20, 2012
8/20/12
12:29
PM ET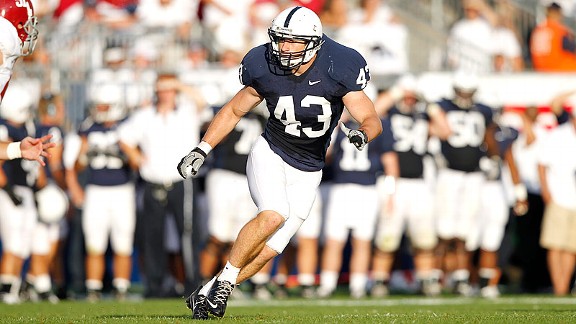 Joe Robbins/Getty ImagesLinebacker Mike Hull contributed as a freshman and should see increased playing time.
Penn State's roster might not be brimming with depth, but it still has a handful of talented backups who could contribute this season.
Defensive end
Deion Barnes
is one of those kinds of players but was already included on an earlier list of breakout underclassmen so Nittany Nation looked closer at the roster to see whom those other solid backups this season might be.
Fans might not buy their jerseys and they might not see a majority of snaps, but members of this group might be called to step up throughout the season:
To continue reading this article you must be an Insider
Penn State Hangs On To Top Wisconsin