Penn State Nittany Lions:

Mark Hollis
May, 20, 2014
5/20/14
9:00
AM ET
After taking a look at the most recent
database of revenues and expenses in college sports
, we're putting the Big Ten under the microscope. Our four-part series continues today with a look at the money Big Ten teams have paid to opponents over the years.
[+] Enlarge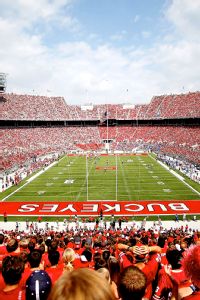 Kirk Irwin/Getty Images Ohio State is the league's largest athletic program with 36 varsity sports and a massive, often sold-out football stadium.
Michigan State athletic director Mark Hollis was scheduled to meet with reporters during the lunch break of Wednesday's Big Ten administrators' meetings, but he showed up earlier than expected.
He jokingly offered a possible reason for his escape.
"It seems like every vote we take," Hollis said, "costs us $100,000."
Expenses are rising for major-conference schools, especially with the welfare of college athletes in the national spotlight. One area that continues to get more expensive is the cost of home games, and the prices will continue to rise.
While Big Ten schools make millions from football games in their campus stadiums, they also are paying large guarantees for opponents to show up and play. According to recent analysis from "Outside the Lines," Big Ten teams paid nearly $42 million to visiting teams in all sports during the 2012-13 season (this includes Rutgers and Maryland, but not Northwestern, a private institution that doesn't report figures). The Big Ten, with its big football stadiums and broad-based athletic programs, paid more to opponents than any other conference. It's not a surprise considering many Big Ten teams make more than $3 million per football home game.
In 2012-13, Ohio State led the nation in money paid to opponents ($7,999,881), followed by Minnesota ($4,799,383) and Wisconsin ($3,987,864). Two other Big Ten teams -- Michigan State ($3,650,864) and Indiana ($3,375,562) -- finished in the top 10, and 10 schools finished in the top 25.
Ohio State has spent more on visiting teams in each of the past six years, averaging $7.4 million per year. Its total spent since 2007-08 ($44,418,002) is more than double that of the next Big Ten school, Indiana ($21,576,798). The simple explanation for the disparity: Ohio State is the league's largest athletic program with 36 varsity sports, and with a massive, often sold-out football stadium, it spends because it can.
"We'll net north of about $7 million off of each [home football] game," Ohio State athletic director Gene Smith told ESPN.com. "That's why we can afford to pay that guarantee. If you're over 100,000 seats -- you look at Michigan, us, Penn State, Tennessee -- you have to look at their average ticket price, which is typically north of $75. Then, you're probably looking at $5-7 million that those stadiums are netting individually.
"So when you take out a $1-million, $1.2-million, $1.3-million guarantee, you can handle it."
According to the Associated Press,
Ohio State will pay more than $2 million
in guarantee money to its three home nonconference opponents this season (Virginia Tech, Cincinnati and Kent State). The Buckeyes also will receive an $850,000 guarantee for playing Navy in Baltimore.
These fees aren't new to college football. Many major-conference schools with big stadiums have been
spending $800,000 or more on guarantees
since the latter part of the last decade. In 2008, both Ohio State and Michigan State paid more than $5.5 million to road teams, finishing first and second nationally, respectively.
"We're in the market, we're part of that market because we're a large stadium," Smith said. "It's just what you have to do today to get the mix."
The problem going forward is inventory, a word used by several Big Ten athletic directors at last week's meetings. Although the Big Ten moves to a nine-game league schedule in 2016, which reduces the number of nonconference games to schedule, the demand for nonleague home games remains high, if not higher. Big Ten teams will have five conference road games every other year, so to get the seven home games most need to meet budgets, all three nonleague games must be at home.
The Big Ten also has placed a moratorium on scheduling FCS opponents, a route many Big Ten teams have taken because FCS schools don't require return games and have relatively lower guarantee fees. So Big Ten teams in many cases must find FBS teams willing to play on the road without requiring a return.
"The issue with nine is inventory," Wisconsin athletic director Barry Alvarez said. "You're trying to schedule all [FBS] schools. The inventory becomes questionable. People don't want to go home-and-home. You try to stay at seven games at home, it's very difficult to do that in the year that you have four Big Ten games at home. So there are some issues."
One of them is cost.
"As the supply shrinks," Hollis said, "those that are in the window of who you want to play have the ability to ask for more."
Like many college football observers, Smith had hoped both the SEC and ACC would join the Pac-12, Big 12 and, soon, the Big Ten in adopting nine-game league schedules. But he didn't see it as a competitive balance issue.
The problem: inventory.
"If they'd gone to nine, obviously there's a lot more inventory out there because they would only schedule three [nonleague games]," Smith said. "Everyone is trying to schedule the same types of nonconference games in the same window of time, September. It's challenging."
Big Ten commissioner Jim Delany, while reiterating the need to avoid scheduling FCS opponents, says he will assist member schools with the scheduling dilemma. Some schools are exploring neutral-site games, which are lucrative and have gained greater popularity in recent years. Penn State AD Dave Joyner, who will watch the Nittany Lions open the 2014 season in Ireland, said, "It's almost like having a home game."
But Big Ten ADs also have been resistant to move games -- and the money they generate -- away from local markets.
"I don't know about the neutral-site thing," Minnesota AD Norwood Teague said. "We just built a stadium on campus, a beautiful new 50,000-seat facility. That was built for a purpose, and $150 million of that stadium was paid for by taxpayer dollars."
Hollis also has stiff-armed the neutral-site trend, but he acknowledged last week that MSU and longtime rival Notre Dame are discussing a neutral-site contest, possibly in Chicago.
"Some of us aren't traditional thinkers," he said. "You can come up with some creative ways that make sense for student-athletes, fans and … that you can meet your financial challenges."
May, 16, 2014
5/16/14
12:00
PM ET
Who else is ready to head to Natal?
May, 14, 2014
5/14/14
5:00
PM ET
ROSEMONT, Ill. -- The SEC and ACC think eight is great, but the Big Ten has no plans to go back on its move to nine league games beginning in the 2016 season.
The Big Ten isn't ignoring the upcoming college football playoff and the potential paths to the field of four, but its reasoning for the move -- namely, to play one another more often in an expanded conference -- hasn't changed.
"Fans like Big Ten games," league commissioner Jim Delany said Wednesday. "If you look at Big Ten attendance around Big Ten games, it tends to be better than the average nonconference game. Also, the commissioners have been clear about strength of schedule and winning championships in conference as the tiebreakers in the college football playoff.

"That's an additional reason for us to do that."
But the move to nine league games doesn't mitigate the challenge of nonconference scheduling. In fact, the unbalanced home-road ratio, combined with a league-wide initiative to stop scheduling FCS opponents, has created new issues to navigate.
Several Big Ten athletic directors this week talked about a smaller inventory of nonleague opponents. This drives up the cost for Big Ten teams to schedule home games that aren't returned (guarantee games). Most Big Ten teams require seven home football games per year to meet budget demands.
"Where are the guarantees going to go as far as the demand and the supply of the opponents to come in and play you?" Michigan State AD Mark Hollis said. "You only have three nonconference [games]. You can have one home-and-home situation and then have to buy two games to get to your seven.
"If the net on those games becomes a level where the visiting team's making more than the home team, then you have to start looking at other options."
Hollis has been reluctant to explore neutral-site games, and while some Big Ten teams have them scheduled -- Wisconsin opens the next three seasons against SEC opponents at neutral sites -- most want to keep games on campus. The Big Ten is working with its schools on scheduling for the 2016, 2017, 2018 seasons and beyond. Hollis thinks more scheduling agreements will happen in the short term rather than games 10-15 years in advance.
One idea discussed this week at both
ACC
and Big Ten meetings is league members scheduling one another in games that don't count in the conference standings. Michigan and Minnesota considered
scheduling a nonleague game in 2010,
a season where the longtime rivals weren't on each other's slates.
Iowa and Penn State last season scheduled a
nonleague wrestling meet
and will continue to do when the teams don't match up on the Big Ten schedule.
"We put together our own parameters in terms of the cost," Iowa AD Gary Barta said, "so I could see some of that happening potentially in other sports."
Michigan State on Tuesday announced a home-and-home series with Arizona State, which Hollis called a "blessing" because of the quality of the opponent and the location. The Spartans play longtime rival Notre Dame in 2016 and 2017, and Hollis told local reporters that MSU and Notre Dame have a
verbal agreement for a home-and-home series
in 2026-27, as well as a possible neutral-site game in Chicago in 2023.
The SEC's and ACC's schedule decisions sparked strong reaction because the five major conferences, competing for four playoff spots, won't have a standardized schedule model. But Big Ten leaders don't seem concerned about the differences.
"I could conceive of somebody playing eight conference games and four very strong nonconference games, and having a stronger strength of schedule than somebody who played nine conference games and three weak nonconference games," Delany said. "So we've tried to address it with more conference games, one major game against an opponent from a group-of-five conference, and that we're not playing [FCS] teams."
April, 24, 2014
4/24/14
12:00
PM ET
Spring games on the horizon at Michigan State, Rutgers and Iowa. Read all about it:
February, 27, 2014
2/27/14
12:00
PM ET
February, 17, 2014
2/17/14
9:00
AM ET
The Big Ten's combination of big stadiums, big fan bases and big tradition has historically made football attendance a rather small issue.
America's two largest football venues -- Michigan Stadium and Beaver Stadium -- sit on Big Ten campuses, and three of the seven football stadiums with six-figure capacities are in the league (Ohio Stadium is the other). Michigan has led the nation in college football attendance for the past 15 years, and the Big Ten occupied three of the top five spots and seven of the top 23 spots in
attendance average for the 2013 season
.
[+] Enlarge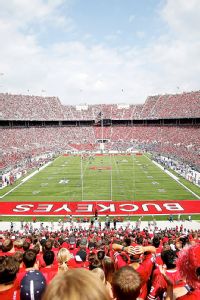 Kirk Irwin/Getty ImagesOhio State averaged 104,933 fans at its seven home games in 2013, which ranked No. 2 in that nation behind Michigan.
The Big Ten in 2013 set records for total attendance (6,127,526) and attendance for league games (3,414,448), and ranked second behind the SEC in average attendance per game (70,431), a slight increase from 2012.
So what's the B1G deal? Eight of the 12 league programs saw a decline in average attendance last season. Some have seen numbers drop for several years.
Student-section attendance
is a
growing concern
, and the Big Ten is tracking the
troubling national
attendance trends
.
"We've been blessed because we haven't been hit with the significant drop-off that many other conferences and schools have experienced," Ohio State athletic director Gene Smith told ESPN.com. "However, we've seen it in certain games, or in not necessarily ticket sales but people actually coming to games.
"So we're concerned."
The league is taking a proactive approach, starting last season with the formation of a football game-day experience subcommittee, which Smith chairs. The committee in August announced that Big Ten schools would be
allowed to show an unlimited number of replays
on video boards at any speed. Schools previously could show one replay at no less than 75 percent of real-time speed.
The move drew positive reviews from fans and no major complaints from game officials.
"If people can see the replay at home on TV, you can't give them a lesser experience in the stands," Purdue athletic director Morgan Burke said.
A "more robust" replay approach is on the way for 2014, and Big Ten leaders are looking at other ways to bolster the stadium experience, which, as Burke noted, seems to have reached a tipping point with the couch experience.
Here are some areas of focus:
Cellular and Wi-Fi Connections
In August, the subcommittee encouraged each Big Ten school to explore full Wi-Fi in stadiums as well as Distributed Antenna System (DAS) coverage to enhance cell-phone functionality. A fan base immersed in smartphones, social media and staying connected demands it.
"Everybody realizes improvements have to be made," said Kerry Kenny, the Big Ten's liaison to the game-day experience subcommittee. "People want to be updated on other games. They want to go in there and take photos or Instagram videos or tweet. They want to be able to stay in touch with family and friends that aren't there but are watching."
Penn State installed Wi-Fi throughout Beaver Stadium in 2012 but is the only Big Ten school to have complete access. Illinois athletic director Mike Thomas said he hopes to have total Wi-Fi in the school's football stadium by the fall, if not the 2015 season. Nebraska's regents last month
approved a $12.3 million Wi-Fi project
for its stadium, and Wisconsin hopes to have full stadium Wi-Fi this season.
Most schools are focused on boosting cell service, which is more feasible and widespread. Ohio State installed more than 200 antennas in Ohio Stadium to improve cell service. For complete Wi-Fi, it would need about 1,200 antennas.
"We don't know what the cost is, but we know it's somewhere north of seven figures," Smith said. "We're studying it, as are my colleagues in the Big Ten."
Student attendance
Student sections aren't nearly as full as they used to be on Saturdays, both in the Big Ten and in the nation. ADs are well aware of the downturn and have tried different approaches to boost attendance.
Michigan in 2013 implemented a
general admission policy
, hoping to get more students to show up early, but
reviews weren't favorable
. Minnesota provided a
new student tailgating area
and
better ticket packages
. Illinois held a clinic for international students, who have told Thomas they'd come to games if they knew more about football.
The technology component resonates for students. Michigan State athletic director Mark Hollis told CBSsports.com that many students didn't show up for a 2012 game against Iowa because
they couldn't send text messages in the rain
.
Even if Ohio State doesn't install complete Wi-Fi at The Shoe, it could do so for the student section.
"Our surveys show that less than 25 percent of the crowd actually uses their cellular device [during games]," Smith said, "but of that 25 percent, a supermajority are students. You want to be able to provide that access."
In-Game Entertainment
"

Everybody realizes improvements have to be made. People want to be updated on other games. They want to go in there and take photos or Instagram videos or tweet. They want to be able to stay in touch with family and friends that aren't there but are watching.

"

Kerry Kenny, the Big Ten's liaison to the game-day experience subcommittee, on Wi-Fi in stadiums.
The days of public-address announcers listing scores from other games during timeouts are over. Schools want to give fans a broader view on Saturdays, whether it's putting live feeds of other games on video boards or replaying highlights shortly after they happen.
"I was at a game at Purdue this year," Kenny said, "and they showed a highlight of a touchdown in the Wisconsin-Iowa game within a couple minutes of that touchdown being scored."
Added Thomas: "If you're watching ESPN or watching a game at home, those are the kinds of experiences you should give people in your venue."
Big Ten athletic directors and football coaches last week discussed having more locker-room video or behind-the-scenes content that can be shown only within the stadium.
"You're in an era where people want to know what's it like before the game, after the game," Burke said. "It humanizes us if people see that side, the highs and the lows."
Burke likens Purdue's sideline to a "Hollywood production," as the band director, a disc jockey and a show producer coordinate in-game music on headsets. Several schools post tweets from fans at games on video boards to create a more interactive experience.
Ticketing and timing
Last month, Penn State became the latest Big Ten school to
adopt variable ticket pricing for single games
, acknowledging, "We have been listening to our fans." Attendance has
dropped 11.2 percent from 2007 to 2012
, while
frustration has grown with the Seat Transfer and Equity Plan (STEP) program.
Big Ten schools are getting more creative with ticket plans in response to attendance concerns. Northwestern last season
implemented a modified "Dutch auction" system
where a portion of tickets were sold based on adjusted price demand rather than set prices.
Purdue last fall
introduced mobile ticket delivery
, which allows fans to download tickets directly to their devices.
Kickoff times are another attendance indicator, as Big Ten schools located in the central time zone often struggle to fill the stands for 11 a.m. games. The Big Ten gradually has increased its number of prime-time games, and while Burke considers mid-afternoon games ideal, more night kickoffs likely are on the way, including those in early November.
Ohio State is in the process of installing permanent lights at Ohio Stadium.
"I'm a big fan of evening games," Thomas said.
As attendance becomes a bigger issue, the Big Ten and its members have surveyed fans about what they want at games. Wisconsin last fall established a 25-member fan advisory council, with two students. The school has received feedback about concessions, parking and whether fans would prefer digital programs rather than the traditional magazine-style ones.
"So much of it is when somebody comes to your venue," said Justin Doherty, Wisconsin's associate athletic director for external relations, "they have an experience that makes them want to come back."
January, 27, 2014
1/27/14
9:00
AM ET
As the coach hiring season nears an end, we're examining the Big Ten coaching landscape and some recent trends. First, a closer look at the increased investments Big Ten schools are making in their football staffs to keep up with the national market.
Two days before Michigan State ended its best season in nearly a half-century with a Rose Bowl victory, Mark Hollis stood outside a Los Angeles conference room and described the dilemma he and other athletic directors face with football coaches' salaries.
"I get concerned sometimes about where we're going with coaches' salaries as an industry," Hollis said, "but at the same time, you need to ensure that continuity is in place."
[+] Enlarge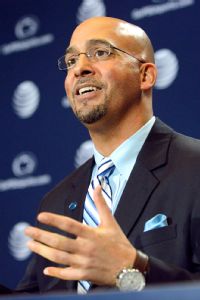 AP Photo/ John BealeNew Penn State coach James Franklin will make about $1 million more than his predecessor Bill O'Brien.
Michigan State ensured continuity by making major financial commitments for coach Mark Dantonio and his assistants. Penn State, meanwhile, is paying new coach James Franklin about $1 million more than a coach (Bill O'Brien) it lost to the NFL. Michigan used its financial resources to attract an offensive coordinator (Doug Nussmeier) from national power Alabama.
The recent moves underscore a greater willingness throughout the deep-pocketed Big Ten to invest more in the men charged to coach its flagship sport, one that has struggled for the past decade. The Big Ten didn't set the market for soaring coaches' salaries, but after some initial reluctance, the league seems more willing to join it.
"When you see an institution like Penn State and Franklin, it says we're going to attract the best talent that we can and in order to do that, we have to step up financially to procure that person's services," Ohio State athletic director Gene Smith told ESPN.com. "I think that's great for our league. ... We need to have the best coaches, we need to retain the best coaches."
Ohio State in 2011 hired Urban Meyer for a salary of $4 million per year. At the time, the Big Ten had no coaches earning more than $4 million and
only two making more than $3 million
. Purdue was one of the few major-conference programs paying its coach (Danny Hope) less than $1 million. Bret Bielema cited the difficulty of retaining top assistants at Wisconsin as one reason he left for the Arkansas job in 2012.
The landscape has changed.
Last year, both Meyer and Michigan's Brady Hoke made more than $4 million, while Iowa's Kirk Ferentz made just less ($3.985 million),
according to USA Today
. Franklin's deal at Penn State
includes an annual salary of $4.25 million
. Terms of Dantonio's new contract at Michigan State have yet to be announced, but it will put Dantonio, previously among the lowest-paid Big Ten coaches ($1.9 million),
in the top salary tier
. His staff also will receive nice pay bumps.
"I don't think we've been woefully behind," Smith said of the Big Ten. "We were not the first ones to drive the salaries up, but we weren't far behind in responding. Whenever we can attract someone who is really talented, we pay them."
They also must pay top assistants, many of whom command salaries well above those of head coaches from smaller leagues. The Big Ten, after
lagging behind nationally
in assistant coach pay, is
catching up
.
"The offensive and defensive coordinators, those decisions become critically important," Michigan AD Dave Brandon said. "You can have the greatest head coach in the world, but if you're not providing him with those leaders who can manage those smaller staffs ... it's hard to believe that the head coach is going to be successful."
There has been no Big Ten mandate to increase salaries, and athletic directors don't discuss financial specifics when they meet. These are institutional decisions, and Hollis, upon realizing Dantonio and his aides deserved an increase, first looked at what MSU could provide before surveying the Big Ten, the national college scene and the NFL.
Part of his challenge is verifying data, as some numbers, even those available through records requests, aren't always accurate.
"Every school pays individuals in different ways," Hollis said. "There can be longevity payments put in there, different bonuses."
Penn State athletic director Dave Joyner expected to make a strong financial push for O'Brien's successor but didn't know exactly where the numbers would fall. Among the metrics Joyner used was the potential attendance increase a new coach could bring.
Despite PSU's on-field success the past two years, average attendance at Beaver Stadium has
dropped by about 5,000
. An increase of 1,000 fans during the season, including parking and concessions, adds about $500,000 in revenue, Joyner said.
[+] Enlarge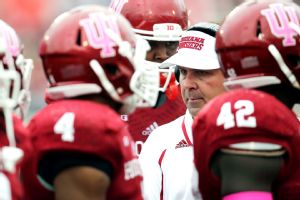 AJ Mast/Icon SMIIndiana has put more resources than ever before into coach Kevin Wilson and his staff.
"If you believe [the coach is] going to have a very positive effect on your fan base and on your program and on your ability to put bodies in the seats," he said, "it doesn't take a lot of seats to cause a return on that investment."
Indiana AD Fred Glass also wants to fill seats, but he's in a different financial ballpark from schools with massive stadiums like Penn State, despite competing in the same conference. Glass notes that while Michigan made $147.5 million in football revenue last year, Indiana made only about $4.5 million.
But it didn't stop IU from doubling its salary pool for assistant coaches when Kevin Wilson arrived, or awarding Wilson a seven-year contract worth $1.2 million annually, or increasing the number of full-time strength coaches devoted to football from two to five, the NCAA maximum.
"There's a reason IU traditionally hasn't been where we want to be in football," Glass said. "We haven't really made the investments in it. We haven't stuck with continuity. We haven't stayed with a staff over a long period of time. That's what we need.
"Kevin understands we're making resources available, but it's not a bottomless pit."
Glass' last point resonates in the Big Ten, which
generates record revenues
but also sponsors more sports, on average, than any other major conference. The league believes in broad-based programs, which makes it harder to sink money into football, despite the superior return.
"We are a college program versus just a football franchise, and I think our football coaches not only understand that but really embrace it," Hollis said. "I believe in the Big Ten, maybe more so than others -- I've had the opportunity to see East and West -- [coaches] feel that the athletic department is part of their family."
But they also have to take care of their own families, and their assistants. They know salaries are rising everywhere.
Big Ten athletic directors know this, too. To keep up, you have to pay up.
December, 17, 2013
12/17/13
11:00
AM ET
Two winters ago, the Big Ten had an
unprecedented 40 coaching changes
. Three teams replaced their head coaches, and three others replaced three or more assistants.
Last year's coaching carousel
wasn't quite as packed, although eight of the 12 teams made at least one change, and Purdue had a complete staff overhaul. There were 32 changes in all, including nine at the coordinator level.
It's still early in the so-called silly season, and a
big coaching domino just fell in Austin, Texas
, but the Big Ten coaching realm has been relatively quiet so far (operative phrase: so far). The departures of Penn State assistants Charlie Fisher and Ron Vanderlinden are the only confirmed coaching changes in the league.
[+] Enlarge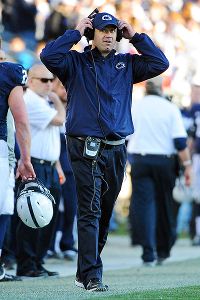 Rich Barnes/USA TODAY SportsNFL teams have their eyes on coach Bill O'Brien, but it's tough to say if he is ready or willing to leave Penn State just yet.
The Big Ten could avoid a head-coaching change for the first time since after the 2009 season. Athletic directors Mike Thomas (Illinois), Shawn Eichorst (Nebraska) and Dave Brandon (Michigan) have affirmed support for their head coaches.
Eichorst's statement released Nov. 30
didn't explicitly say coach Bo Pelini would return for the 2014 season, but it suggested as much.
Eichorst also shot down the claim from Mack Brown's attorney
that a Nebraska representative had contacted him about Brown's services.
Michigan State head coach Mark Dantonio, who is 41-12 in the past four seasons, has been mentioned as a fringe candidate for the Texas job. But Dantonio, who was born in Texas but grew up in Ohio, seems unlikely to leave a great situation at MSU, especially with a sizable raise coming his way. His boss, athletic director Mark Hollis, said Monday that he has "every reason to believe"
Dantonio and defensive coordinator Pat Narduzzi both will return
in 2014.
Potentially the only head-coaching drama in the Big Ten surrounds Penn State's Bill O'Brien, who last month completed his second winning season at the school despite heavy NCAA sanctions. O'Brien, who came to Penn State from the NFL's New England Patriots, talked with several NFL teams about coaching vacancies after the 2012 season but opted to stay put.
CBSsports.com's Jason La Canfora
reported Sunday that the Minnesota Vikings and Houston Texans are interested in O'Brien -- the Washington Redskins soon could be, too -- and that O'Brien is ready to return to the NFL.
It's the belief here and elsewhere that O'Brien will head to the NFL, but potentially not right away. He has one of the nation's top young quarterbacks at Penn State in
Christian Hackenberg
, the Big Ten freshman of the year, and likes having his family in Happy Valley. The NCAA reduced some of its scholarship sanctions against Penn State in September, and it's possible the final two years of the postseason ban will be eliminated. Wouldn't O'Brien like to compete for a Big Ten title with Hackenberg before returning to the NFL? Stay tuned.
Many assistant coach changes take place after the bowl season, but early indications are the Big Ten will remain relatively stable. After replacing two-thirds of his staff last winter, Illinois' Tim Beckman is expected to
keep the same group of assistants
for a make-or-break run in 2014. Northwestern was the Big Ten's biggest disappointment this season, but Pat Fitzgerald intends to keep his staff intact for the fourth straight year.
Indiana coach
Kevin Wilson
has yet to make any staff changes despite another horrific season on defense, although some still could be coming.
Michigan's Brady Hoke doesn't anticipate making changes
despite increased criticism for offensive coordinator Al Borges and line coach Darrell Funk. Pelini has been extremely loyal to his staff, and it's unlikely we'll see much movement at Iowa, Purdue and Wisconsin.
Even some of the Big Ten's top assistants might not be going anywhere. Narduzzi, who reportedly declined the head-coaching job at Connecticut, could remain at Michigan State for another year as more attractive jobs likely will open next year both regionally and nationally. Minnesota defensive coordinator Tracy Claeys, who masterfully led the team during Jerry Kill's health-related absence, has received interest elsewhere but
doesn't sound like he's ready to leave Kill
after two decades on his staff.
Anyone who follows the silly season knows there's a long way to go. We even saw a coaching change after spring practice began, as Jim Bridge went from Illinois to Purdue. It's naive to think more aren't coming around the Big Ten.
Several Ohio State assistants have been mentioned for other jobs, although two landing spots -- Miami (Ohio) and Florida Atlantic -- are off the board. Buckeyes offensive line coach Ed Warinner, the team's best assistant in my view, has been mentioned as a potential candidate at Army, where he spent 13 seasons.
Expect some shuffling in the coming weeks and months, but the Big Ten likely won't approach the big numbers of the past two winters. It'll be interesting to see how the relative stability impacts the on-field results in 2014.
October, 18, 2013
10/18/13
4:00
PM ET
Wishing you a great weekend of football watching. Don't forget to follow us
on Twitter
, the best way to keep track on Saturdays.
To the inbox ...
Sumeet from San Francisco writes:
Adam, what else, schedule questions. I have one, parity-based scheduling doesn't appear to be working as you may think, coming from a PSU fan. From 2014-2019 (a six-season stretch), PSU plays Nebraska once and Wisconsin once, both at Beaver Stadium. Really? This after we played both teams annually the past three years with some classic games? But we play Iowa four times in a row, and the other West teams multiple times over the six years. PSU-Nebraska especially had the makings of a budding rivalry, but now we won't see them until 2017, and Wisky in 2018. What gives?
Adam Rittenberg:
Sumeet, it's unfortunate that the Lions and Huskers will meet so infrequently during that stretch, as both fan bases love that game on the schedule. It seems like the Big Ten has prioritized certain games over others with parity-based scheduling. Nebraska and Ohio State, for example, meet every year between 2016 and 2019, but Nebraska and Michigan meet just once between 2014 and 2019. Wisconsin and Michigan also meet every year between 2016-19, but the Badgers only play Penn State once during that span. The Big Ten is trying to create appealing matchups more often while also satisfying its principle to have teams meet at least once in a four-year span.
Penn State does seem to be put in the second tier when it comes to this approach, as the Lions aren't facing the marquee West division teams as often as you'd hope. I would point out, though that, Penn State-Iowa was a significant Big Ten matchup not long ago, and could be once again in the near future. It's not the same as facing Nebraska every year, but Penn State and Iowa had a nice rivalry going for a while.
---
Jackie from New York:
It's no secret that Badger running backs have great respect for each other and pride in their performance as a unit. That said, is there any cause for concern that the unbelievable depth could hurt the Badgers in recruiting? You could argue that not just two, but all three of the Badgers' current backs are FBS starting caliber, even though the third,
Corey Clement
, is a true freshman.
Melvin Gordon
, leading candidate for B1G offensive player of the year is not even first on the depth chart. Heck, they even have J.J. Watt's little brother lining up back there at fullback! So, my question is, how do you keep convincing big-time recruits to come to Madison when they might have to spend years sharing carries?
Adam Rittenberg:
I don't think you worry about it until it becomes a problem, Jackie. The beauty of Wisconsin's running back situation is that the players all buy in to the spirit of competition and don't simply look for a place where they can be The Guy without first earning it. Running backs coach Thomas Hammock fosters this atmosphere of constant competition, and he looks for guys who want to compete and not have things just handed to them. Look at Montee Ball. He was the third-stringer for most of 2010 and had to boost his game to a point where he could be a featured back. Could Wisconsin's way lead to a transfer eventually or a highly touted player going elsewhere? Sure. But Wisconsin has built such a strong reputation for producing elite running backs that the talent will continue to come to Madison. More important, the right types of players will show up -- those ready to compete.
---
Ian from Tacoma, Wash., writes:
Adam, there was a recent question from another B1G fan in one of your chats that I found pretty absurd. Someone made a comment along the lines of "Do we want Ohio State in the championship game" with the assumption that Ohio State losing somehow damages the B1G's reputation. Correct me if I'm wrong, but Ohio State is the only B1G team to PLAY in the NC game, much less win it. Ohio State also has the most BCS wins and appearances of any school, and has more BCS wins than any other B1G teams have appearances. Big Ten fans can hate Ohio State all they want, but the Buckeyes have accomplished more in the BCS era than any other league school, and it's not even close.
Adam Rittenberg:
You're absolutely right, Ian. Ohio State has been the Big Ten's only consistently elite team during the BCS era. It underscores the Big Ten's lack of depth at the top, which is a big reason it lags behind the SEC, a conference that has multiple teams that can challenge for national titles almost every year. As I said in the chat, the only way the Big Ten boosts its perception is to win a national title, and you can't win one without reaching that game. Ohio State still unfairly gets blamed for its title-game losses more than half a decade ago. But you have to wonder whether this Buckeyes team is ready to compete with an Alabama or an Oregon on Jan. 7. We could find out.
---
Bob from Iowa writes:
My Hawkeyes are going into a very hostile environment this weekend at OSU. This team has me thinking about the Hawks' 2008 team. An improving team whose previous three years were very IOWA (mediocre). They entered the 2008 season with a bit of QB controversy (2008 Christiansen vs. Stanzi the Manzi). In 2008, they had a power running game on which they leaned on for the majority of the year. Now, that same year they beat the No. 3 team in the nation, Penn State. Understandable, it was in IC but that doesn't mean it couldn't happen again, right? They finished the year with an 8-4 record and they trounced South Carolina in the Gator Bowl (I believe). The following year they went to the Orange Bowl. Do you think these same results are possible again in our present timeline? What needs to go right?
Adam Rittenberg:
Bob, I love the optimism, and I agree that this season could springboard Iowa to bigger and better things next season, much like the 2008 season did for the 2009 team. Iowa's 2014 schedule is much, much more favorable with no overly difficult road games (Pitt, Purdue, Maryland, Minnesota and Illinois) and no Michigan, Ohio State, Michigan State or Penn State on the slate. If certain things fall right, the Hawkeyes will be in the mix for the West division title. Now can Iowa beat Ohio State on Saturday? I don't see it. This Hawkeyes team isn't as strong as the 2008 version, which lost some games it shouldn't have and ended the year playing as well as anyone in the Big Ten. There was a ton of NFL talent on that team, which I don't see with the current version. Iowa will need to control the line of scrimmage on both sides of the ball, commit no turnovers and gain a few takeaways to stay in Saturday's game. The Hawkeyes also need the edge in the kicking game. It's a tall task, but not an impossible one.
---
Alden from Chicago writes:
I wish the B1G would leave the end-of-year games alone for the Spartans. I understand that the so-called rivalry with Penn State was squandered through the 90s and 00s. But now that we're going to be in the same division again, with MSU more competitive, why not reinstate it? What does MSU have to look forward to by playing Rutgers and Maryland? I feel like it's a major disadvantage in the rankings as well, would you agree? Is it Penn State that wants to end the year playing against the east coast? I say let the Knights and Terrapins play each other to end November.
Adam Rittenberg:
Alden, it very well may work out that Michigan State plays Penn State to end the regular season in most years, but I don't see the problem with rotating that game with several opponents. Penn State has more rivalry potential with Rutgers and Maryland than Michigan State does, and the Big Ten wants to see where those games go over time. I don't understand your point about the game being a "major disadvantage" in the rankings. MSU still will play PSU every season in the division, in addition to both Michigan and Ohio State. The Spartans also typically will have a good crossover game (Nebraska, Northwestern, Wisconsin, etc.). Strength of schedule shouldn't be an issue for any team in the East division.
The plus of playing Rutgers and Maryland -- whenever it falls during the season -- is being able to showcase your product in new markets. Michigan State AD Mark Hollis has talked about the school's large alumni base on the east coast. Those folks will get to see the Spartans play in their backyard in late November. So will recruits that Michigan State targets in states like New Jersey and Maryland. I just can't get excited about the MSU-PSU series enough to make it an annual end-of-season rivalry.
---
John from San Antonio writes:
After a promising start against nonconference creampuffs, it's fair to say that the Beckman rebuild has turned into a hopeless spiral of failure and depression. A five-win season would be a miracle and the next honest shot at a 6-6 season comes in 2107 with the return of Indiana, which is coincidentally when his contract runs out. But the problem is no coach could turn it around before then. So what's a fan to do? Pray for a merciful end to yet another hiring mistake and allow someone else to do no worse? Or fake joy at the "progress" of 4-8 seasons, concluded with a lethargic 2017 campaign for a 6-6 bowl appearance allowing Beckman to go out on a not-exactly-winning note?
Adam Rittenberg:
Wow, John, tell me how you really feel. I don't think you should be doing backflips about the Illini this year, but you have to acknowledge the improvement taking place there, especially on offense. This is still a young team that could take some steps late this season into next season. The remaining schedule looks daunting, and three more wins seem unlikely, but you never know. You can't say the next "honest shot" at a 6-6 season comes only in 2017, and that no coach could turn things around before then. Illinois is going to the West division, which should be the easier side to navigate. The team is already starting to mature a bit, and quarterback transfer
Wes Lunt
becomes eligible next fall. If you don't believe Tim Beckman is the guy, that's fine. But to project that the next four years will bring no bowls or tangible progress is a defeatist approach. Let's see how the rest of this season plays out.
---
Christopher from Middleton, Wis., writes:
Big Ten football's demise is a cyclical phenomenon and not a failure to recruit. Scandal and coaching turnover, not style of play, is the biggest problem. Penn State and Ohio State, possibly the two best programs in the Big Ten were hit with big penalties. Michigan mis-hired with Rich Rod, who by the way was a spread-offense guy. Michigan players left, disgusted with Rich Rod's behavior. It takes many more years than just the years they are penalized or the years the coach is active, for a program to be rebuilt. Programs that have been consistent with coaching and offensive styles have done well, Wisconsin and Northwestern are successful without ranking high in recruiting. Michigan has always been a top recruiter, but had turnover, controversy, and a change of football philosophy that disrupts a program for years. It is not the recruiting but scandal, coaching turnover and the change of football philosophy that calls for different player personnel that goes with coaching change that has hit the Big Ten. Years ago the Big Ten basketball conference was considered weak, and now it is the top conference. My question is, how is recruiting in basketball different than football other than number of players?
Adam Rittenberg:
Some good points here, Christopher, especially about coaching continuity leading to success and the lack of it in the Big Ten in recent years. It's important for programs to build their identities around the coach and the systems they run. We saw Iowa win the Rose Bowl after the 2009 season with a coaching staff and schemes that had been the same for a long time. All that said, football recruiting is quite different from basketball recruiting. The numbers are a huge factor. One or two basketball recruits can transform a program, but a football team needs much more depth.
Also, the Midwest remains a prime spot for elite basketball recruits. Look at all of the players coming out of major cities like Chicago, Detroit, Indianapolis and other Big Ten cities. It's not the same for football, as the numbers don't lie for where the players are coming from. The Big Ten's football downturn is related to all of these factors: lack of coaching continuity, scandals and recruiting all play roles.
BIG TEN SCOREBOARD
Thursday, 9/3
Friday, 9/4
Saturday, 9/5
Sunday, 9/6
Monday, 9/7