PSU Nittany Lions:

Malik Golden
May, 3, 2013
May 3
7:00
AM ET

2012 record:
8-4
2012 conference record:
6-2 (second, Leaders Division)
Returning starters:
Offense: 8; defense: 6, kicker/punter: 2
Top returners
RB
Zach Zwinak
, WR
Allen Robinson
, TE
Kyle Carter
, OG
John Urschel
, OT
Donovan Smith
, DE
Deion Barnes
, LB
Glenn Carson
, CB
Adrian Amos
Key losses
QB
Matt McGloin
, FB
Michael Zordich
, C
Matt Stankiewitch
, DT
Jordan Hill
, LB
Michael Mauti
, LB
Gerald Hodges
, CB
Stephon Morris
2012 statistical leaders (*returners)
Rushing:
Zach Zwinak* (1,000 yards)
Receiving:
Allen Robinson* (1,013 yards)
Tackles:
Gerald Hodges (109)
Sacks:
Deion Barnes* (6)
Interceptions:
Michael Mauti (3)
Spring answers
1. "Tight End U."
If there's one position the Nittany Lions don't have to worry about, it's this one -- and that's probably why some PSU players have taken to dubbing the university "TEU." Kyle Carter's injured wrist should be just fine once the season rolls around, and there's plenty of depth here. Teammates have pointed to the offseason work of 6-foot-7 target
Jesse James
, who really came on strong in the second half of last season. He was also the receiving star in the annual spring scrimmage with five catches and 77 yards. Couple him with
Matt Lehman
,
Brent Wilkerson
and
Adam Breneman
, and it wouldn't be a surprise to see quite a few formations with multiple tight ends on the field.
2. Versatility at a premium.
Bill O'Brien doesn't mind moving players around. Wideouts
Malik Golden
and
Trevor Williams
switched over to the secondary, and Williams has especially picked up the position quickly. But those two aren't the only to play at different positions. Adrian Amos can play safety or cornerback, and a lot of Penn State's younger DBs have the ability to slide between those two. Penn State's trying to combat a lack of depth with versatile players here, so players who can play at multiple spots are especially valuable.
3. Young standouts.
Several true and redshirt freshmen could contribute heavily this season, and O'Brien has praised multiple first-year players for picking things up quickly. On defense, DT
Austin Johnson
looks to be a starter after a redshirt season, and LB
Nyeem Wartman
has a leg up on an injured
Ben Kline
. On offense, WR
Eugene Lewis
made a one-handed grab in the spring scrimmage to show he can make the tough catches, and RB
Akeel Lynch
has also made a strong case for playing time. PSU doesn't historically have many four-year starters, but this year could change that.
Fall questions
1. Quarterback question marks.
Neither option, early enrollee
Tyler Ferguson
nor incoming freshman
Christian Hackenberg
, has ever thrown a pass in the FBS -- and one of those two players will be the Penn State starter. Inexperience is a big concern, and the QB will have to learn a complicated offense in a short period of time. Hackenberg has a lot of potential and Ferguson showed glimpses, however inconsistent, in the spring game. But the offense's strength last season was the quick no-huddle offense -- and it remains to be seen whether either of these signal callers can pull the fast playing style off.
2. Withstanding lack of depth.
O'Brien has gotten this team down to about 67 scholarships in preparation for 2014 when the 65-scholarship limit kicks in, so depth is a real concern this season. If a quarterback or linebacker becomes injured, PSU could be in trouble. The Lions need to remain healthy to have a shot at repeating last year's success. And one injury could really have a ripple effect on this team. Health is one question, one uncertainty, that can't be answered anytime soon.
3. Kicking game.
Sam Ficken
was just 14-of-21 on field goals last season and didn't make a single kick over 39 yards. He did wind up converting his last 10 attempts, but his inconsistency carried over in the spring game when he missed a 37-yard field goal and an extra point. O'Brien was known for leaving the special-teams unit on the sideline a lot on fourth downs last season and, if Ficken struggles again, that would put even more pressure on the young quarterbacks. Or force O'Brien to use incoming walk-on kicker
Chris Gulla
.
April, 19, 2013
Apr 19
9:00
AM ET
STATE COLLEGE, Pa. -- Saturday's annual scrimmage, known as the Blue-White Game, will offer fans a nice reprieve as they wait more than 20 weeks for the college season to kick off.
Saturday will be the first time most of last season's freshmen will play in front of a crowd, the first time fans can size up the quarterback race and the first time the media can see the progress this team has made over the spring.
The Blue-White weekend has taken on a carnival-type atmosphere these past few years, and there's plenty to see. But on the field, NittanyNation takes a closer look on what fans should keep an especially close eye on.
QUARTERBACK RACE
[+] Enlarge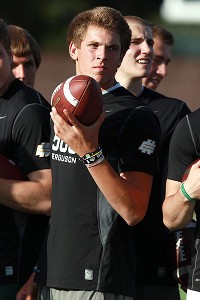 Tom Hauck for ESPNTyler Ferguson and Steven Bench are side by side in Penn State's quarterback competition this spring.
Let's get the obvious out of the way.
Steven Bench
threw just eight passes last season, and the media has seen little of
Tyler Ferguson
. Both quarterbacks have been lauded for their ability to scramble --
Stephon Morris
said he probably wouldn't even label Bench as a pocket passer -- but both are basically a mystery. Can Bench guide this offense? Will Ferguson outshine him? Saturday's scrimmage is far from the be-all, end-all, but it is a start to answering some of those questions.
Bill O'Brien said in the past no quarterback separated himself yet. Maybe, just maybe, someone will gain an edge Saturday.
BRING ON THE MAN COVERAGE
Defensive coordinator John Butler acknowledged last season that PSU couldn't play be as aggressive in the secondary because of the depth. But that is improved this season.
Jordan Smith
and
Anthony Smith
enrolled early, while wideouts
Malik Golden
and
Trevor Williams
switched to defensive back.
PSU began practicing the nickel this spring, and fans can expect finally to see that package this season. There's no telling who might start alongside
Adrian Amos
come August --
Jordan Lucas
is currently practicing with the first team -- and fans should keep an eye on the young corners here.
PROJECTED (RS) FRESHMAN STARTERS
DT
Austin Johnson
and LB
Nyeem Wartman
are just redshirt freshmen, but it already looks as if they'll crack the starting lineup this season. Both very well could wind up as the rare four-year PSU starter, and expectations are high for these two.
Johnson already is up to 302 pounds, and O'Brien has praised his ability since he was asked about his top freshmen last season. And the hard-hitting Wartman, whom PSU fans already are familiar with, blocked a punt in his PSU debut before an injury in Week 2 that sidelined him for the season (and allowed him to pick up a medical redshirt). With the departures of
Mike Mauti
and
Gerald Hodges
, Wartman will have to play well right off the bat for PSU to remain strong here. One recruit said he was especially impressed watching No. 5, because he was all over the field during one practice. Let's see what they can do in a scrimmage.
(Also,
Akeel Lynch
and
Eugene Lewis
might not be starters ... but is there anyone who doesn't plan to keep a close eye on them?)
HOW MUCH BETTER HAVE THE BEST GOTTEN?
Practice observers and teammates have pointed constantly to
Allen Robinson
when asked who has impressed so far this spring. He broke the single-season school record for receptions last season, and he has gained needed weight while maintaining his speed. Robinson was the best in the Big Ten last year, and now he's even better. That's hard to picture on the field.
Mike Hull
,
Deion Barnes
,
Zach Zwinak
, Amos, etc. all have earned a lot of praise this spring. Zwinak has improved his strength, Barnes is shoring up his run-stopping, Hull is embracing a starting role ... and Amos? Well, he's probably PSU's most versatile player. Returner, safety, cornerback -- he can do everything. And it'll be interesting to see just how much he does Saturday.
TIGHT END U?
It's pretty incredible just how much this position has evolved in about 15 months.
Kyle Carter
won't play in the Blue-White Game, but fans still will be able to look at
Matt Lehman
,
Jesse James
and
Brent Wilkerson
.
MLB
Glenn Carson
mentioned James as the player who has impressed him the most overall. He broke out during Carter's absence late in the year, and he boasts good speed for a 6-foot-7 target. James has "red-zone target" written all over him, and it'll be interesting to see how this young corps does in the scrimmage. It'll be an even bigger bonus if
Adam Breneman
is able to play.
April, 2, 2013
Apr 2
3:33
PM ET
Safeties coach Anthony Midget didn't dwell on the difficulties of becoming accustomed to another defense or meshing with his players' personalities after less than three months on the job.
No, the assistant coach who was hired Feb. 14 instead used words Tuesday like "easy" and "blessing" when talking about the transition to Penn State. He complimented the leadership of veteran safeties
Malcolm Willis
and
Stephen Obeng-Agyapong
, thanked defensive coordinator John Butler for helping him along and emphasized just how happy he was to be at "one of the storied programs in the country."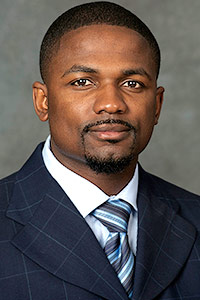 Courtesy of Georgia StateNew safeties coach Anthony Midget brough a fiery, energetic approach from Georgia State.
"It's been great and a blessing," Midget said Tuesday afternoon, the first time he addressed the media since his hire. "Everything happened so fast."
The former Virginia Tech standout, a three-year starting cornerback under Frank Beamer, initially left Georgia State for Marshall this offseason. But, about a week-and-a-half after taking that Conference USA gig, Bill O'Brien called him to gauge his interest in the Nittany Lions' opening.
Midget said the opportunity was just too good to pass up. He could stay with the Thundering Herd or head north to a school that averaged about 70,000 more fans a game. It wasn't a hard decision -- with or without sanctions.
"I was really surprised," Midget said. "And I guess Coach O'Brien had a mutual friend that recommended me. It was an opportunity. He called me and asked if there was interest, and I said yes."
The young coach with the thin goatee has become a fixture inside Holuba Hall and the football building since his hire. He directs a core group of about eight safeties and sometimes switches off with Butler, teaching the cornerbacks some fundamentals or fine-tuning their technique.
They'll coach their groups separately, but they'll watch film and hold meetings together to increase their communication. Midget called himself a fiery, energetic coach -- not unlike Butler -- and said he knows he demands a lot from his players. But, after practices, he tries to soften up some.
"When we walk off that field, our doors are open, and we can have fun together and do what we need to do," he said. "It's that relationship that you're building with the guys, and they understand us being fiery and demanding."
His old boss, former Georgia State coach Bill Curry, said shorty after his hire that's been Midget's personality since he first hired him five years ago. The young coach tries to separate his on-field and off-field demeanor.
"Off the field, he is outgoing, and he's humorous when it's the right time to be humorous," Curry
told ESPN in a Q&A
. "But he can be serious. He's tough as nails. So when he gets on the field, the humor's gone. He coaches football with great intensity; he expects everything out of everyone on every drill."
Despite that hard-nosed approach, the safeties coach pinpointed a number of defensive backs who have impressed him so far. He praised
Ryan Keiser
's offseason work, admired
Adrian Amos
' versatility as a cornerback, safety and nickelback -- and believed wideout-turned-safety
Malik Golden
had a bright future.
"He's picked up on it as far from a physical standpoint," Midget said. "He just has some natural abilities that I think's going to help us in the future. He's still learning throughout the spring, but I'm encouraged physically from what he's shown in the time of the short practices we've had."
Like Golden, this spring has been a time of transition for Midget. And both seem to be moving along pretty well.
The pace of the assistant coach's transition likely has quickened because his responsibilities are more focused. During his previous stint at Georgia State, Midget carried the burden of following recruiting and also taking charge as the secondary coach, defensive coordinator and special teams coach -- something Curry said he would have preferred to avoid.
Now, the focus is primarily on the safeties and on recruiting in the South Florida and Cleveland areas. And Midget seemed pretty thankful Tuesday for that.
"To be able to focus on just one position, it's been great," Midget said. "I think the game has changed so much; I think it's a benefit to have two secondary coaches."
March, 18, 2013
Mar 18
7:37
PM ET
STATE COLLEGE, Pa. -- While Bill O'Brien's voice carried over the field Monday afternoon, quarterbacks coach Charlie Fisher directed his players in a calmer manner.
[+] Enlarge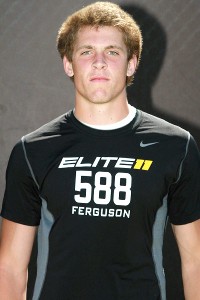 Tom Hauck for ESPNTyler Ferguson showed off his big arm at practice Monday.
During position drills at Penn State's first spring practice, Fisher stood about five yards in front of his four quarterbacks as they took turns taking three- and five-step drops. The quartet of red jerseys would look at Fisher, quickly scan the field and then throw to a stationary receiver.
"Eyes here," Fisher told sophomore
Steven Bench
in a conversational tone, pointing to his his right. "Work through it, work through it."
Bench or
Tyler Ferguson
could wind up as the starting quarterback come Aug. 31, and Monday offered a glimpse of the two signal-callers. Media were invited to attend 20 minutes of open practice, and O'Brien began by calling together a competition: A defensive back would line up against a wideout or tight end in press coverage, while Bench and Ferguson would alternate snaps.
The first team -- offense or defense -- to win three battles would be declared the winner. The losers would be forced to perform five hit-its. It was more for honor than anything and only four passes were thrown while the quarterbacks tried to shake off the rust.
Bench began by just overthrowing
Allen Robinson
on a roughly 35-yard pass, and Ferguson then hit
Jesse James
in stride downfield on an over-the-shoulder grab. Bench followed that up by throwing behind his target on cross route, and Ferguson barely overthrew
Matt Lehman
for two straight incompletions.
The offense, along with Ferguson and Bench, then hit the turf for their hit-its while the defense cheered.
"They're both athletic, they both can throw the football," O'Brien said during a Monday news conference. "Now it's going to depend on how well they make decisions and how accurately they throw the ball.
"They sit in the front row, they pay attention, they take a lot of notes. It's a fun group to be around."
September, 11, 2012
9/11/12
11:00
AM ET
The season is only two weeks old, but the redshirt picture is already becoming a little clearer.
Four true freshmen are listed on the depth chart but haven't seen any time on the field. Six freshmen have already burned their redshirts. And three are still in limbo.
NittanyNation takes a closer look at the impact the true freshmen have had so far and what to expect going forward:
To continue reading this article you must be an Insider
August, 21, 2012
8/21/12
5:40
PM ET
STATE COLLEGE, Pa. -- All eyes were on
Matt McGloin
as he focused on short routes and impressed on intermediate, 15- to 20-yard ones during Tuesday afternoon's practice.
He threw only one incompletion on his last six throws — a ball that sailed about a foot over freshman
Eugene Lewis
' head. He clapped his hands, let out a yell and then resumed anticipating the moves of his wideouts and receiving little criticism from the coaches.
"We feel like Matt's got a really good grasp of the operation, how it all fits together," Penn State coach Bill O'Brien said before practice.
[+] Enlarge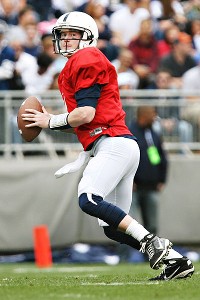 Matthew O'Haren/Icon SMIQuarterback Matt McGloin is getting a good grasp of Bill O'Brien's offense.
Evan Lewis
and
Alex Kenney
split time at the slot, and McGloin's nicest connection involved Lewis. The fifth-year quarterback tossed a tight spiral against his body and led Lewis to the sideline about 20 yards downfield.
Kenney mishandled one ball over the middle, trying to trap it with his body, but still managed to haul it in. "Hands!" one coach yelled.
Shawney Kersey
did not dress because of an ankle injury, so
Christian Kuntz
rotated in with the first team. Sophomore
Allen Robinson
appears to be the No. 1 wideout on the outside and showed consistent hands Tuesday.
"Allen Robinson's had an excellent camp," O'Brien said. "He's made a lot of good plays for us."
Freshman receiver Eugene Lewis practiced with the backups, and
Matt Zanellato
played with the third-string.
Paul Jones
remains the backup quarterback, but O'Brien said he needs to show more consistency. True freshman
Steven Bench
flashed some accuracy but struggled throwing on the run.
Injury update:
Safety
Jake Fagnano
's hamstring still hasn't fully healed, and O'Brien said the coaching staff will have to decide Monday what to do there.
"You got to let it heal," O'Brien said. "Otherwise it'll keep nagging at you."
No other injuries seem to be affecting the roster, however.
The other starting safety,
Malcolm Willis
, did not practice -- but O'Brien said he's doing much better now and should practice soon.
Tight end
Garry Gilliam
tweaked his quad Monday night and should be fine.
Pete Massaro
did not practice because he's coming off a torn ACL from last season and the staff wants to be cautious.
Gerald Hodges
earned a day off last week, too, so he could rest up.
Malik Golden
,
Derek Day
and
Mike Yancich
also did not practice.
Brad Bars
was seen heading to the locker room.
Belton's backup:
Day is ahead of
Akeel Lynch
right now for the No. 2 tailback spot behind
Bill Belton
.
O'Brien said
Curtis Dukes
played well the last two days — and that might have been the first time O'Brien mentioned Dukes all preseason.
Tallest player:
Freshman
Jesse James
, a 6-foot-7 tight end who enrolled in January, towered above the other tight ends and wideouts Tuesday. Besides reserve offensive tackle
Kevin Blanchard
, he's the tallest on the team.
O'Brien hasn't mentioned James much when discussing freshmen. But the coach smiled when asked if he's forgotten the early enrollee actually is a first-year player.
"He had a big play yesterday in practice on a pass route and broke it for about a 50-yard gain. So he's done some good things," O'Brien said. "He obviously has a future for us."
Right tackle battle:
Donovan Smith
finally returned to practice and looks good at left tackle. But, it appears as if there's a position battle heating up on the other end, at right tackle.
Adam Gress
was listed as the starter in the spring, and has mostly practiced with the first team this preseason, but O'Brien said
Mike Farrell
has come on strong and will challenge for the job.
"I feel good about the offensive line," O'Brien added.
Best camp:
One of the finalists for that honor appears to be
Michael Zordich
, who caught a few balls from McGloin early on out of the backfield.
He's also impressed on special teams, O'Brien said.
"Zordich, at fullback, has had one of the best camps out of anyone here," O'Brien added.
Punting issues:
O'Brien admitted he still didn't feel comfortable with the punting game.
Alex Butterworth
has improved over the last week, but his consistency still isn't where it needs to be.
"We don't always have to punt it," O'Brien said with a laugh. "We can go for it."
August, 15, 2012
8/15/12
12:00
PM ET
Penn State's 2012 recruiting class
didn't make ESPN's top 25 class rankings -- nor were any recruits ranked in the ESPN 150 -- but this class could graduate as one of the most memorable for other reasons. No offensive prospect (and only one defensive recruit) left in the face of unprecedented NCAA sanctions, and this year's incoming class offers Penn State some hope for the future.
The offense is primarily filled with three-star guys, and four-star wideout Eugene Lewis is slated to be the star of the class. This group is expected to see more immediate playing time than most due to the NCAA sanctions, so NittanyNation takes a closer look at each incoming offensive recruit and breaks down what ESPN's scouts had to say before each player donned the Blue and White.
Steven Bench
Position:
QB
To continue reading this article you must be an Insider