Penn State Nittany Lions:

Lou Prato
December, 31, 2013
12/31/13
9:00
AM ET
With the New Year just hours away, it might be a good idea to look back on this past year of Penn State football.

So here are some of the more memorable moments and stories to appear on this site in 2013:

November, 13, 2013
11/13/13
11:00
AM ET
STATE COLLEGE, Pa. -- The debate's been raging in Happy Valley dorm rooms, tailgates and bars for the past few weeks: Is
Allen Robinson
the greatest Penn State receiver of all-time?
[+] Enlarge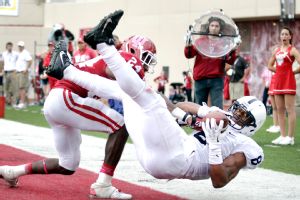 AJ Mast/Icon SMIIs Allen Robinson the greatest receiver in Penn State history? Time will tell.
One glance at the stats is all it takes to make a quick case for the junior. He broke NFL vet Bobby Engram's single-season school record for receiving yards (1,084) last week -- and he still has three games remaining. He's either at the top, or near the top, of every conceivable receiving category. And he's just the second receiver in PSU's 127-year history to clinch back-to-back 1,000-yard seasons.
Much to the chagrin of fans hoping for closure to the debate, Robinson declined to weigh in last week by saying, "Just being in the conversation with those guys is an honor."
But those former Penn State greats weren't so reserved in discussing Robinson's place in history.
"He's every bit as good as any one of us," two-time All-American Kenny Jackson told ESPN.com.
Jackson was referring to himself and two other PSU greats, Engram and O.J. McDuffie. All three earned All-America honors, all three played in the NFL, and all three are mainstays in the Penn State record books. When it comes to Penn State's best-ever wideouts, those are the three most often brought up in conversation.
And, now, it appears that there are four -- including the 6-foot-3, 210-pound Robinson.
"He's got every tool we had," McDuffie told ESPN.com, "and every physical tool we wish we had. We made the most of what we had, but he's an atypical receiver in the NFL."
But it's not quite time to place Robinson at the top of that list and end the debate. Despite that praise, neither former receiver was quite ready to anoint A-Rob as the greatest ever -- even if his numbers put him in the company of one.
Based purely on ability, both still labeled Engram as the G.O.A.T. Engram was the first-ever Biletnikoff Award winner in 1994, a human vacuum who reeled in every pass, leaving State College with about a dozen receiving records and an undefeated 1994 season.
"I put Bobby Engram at No. 1, Kenny at No. 2 -- and then I think it's hard between me and Allen," said McDuffie, who finished his PSU career in 1992 with 125 catches for 1,988 yards and 16 touchdowns. "Bobby is one of those guys who could mix it up; he could block downfield and make big catches. Kenny, well, I didn't get to see much from what he did on the football field, but what really draws me to him is that he's a two-time All-American receiver at Penn State -- and that's not easy to do at Penn State."
Historian/author Lou Prato,
who literally wrote the encyclopedia on Nittany Lions football
, borrowed a line from a Magic-8 ball: "Ask again later." He wasn't ready to rank Robinson, a junior who could declare early for the NFL, because his career wasn't yet over.
Prato said he'd have to consult his notes and reflect upon the question before offering an educated opinion. He graduated from Penn State in 1959, six years before Joe Paterno took over as head coach, and he wouldn't go further than acknowledging Robinson belongs in the top 10 and that Engram was PSU's "greatest clutch receiver."
But both he and the two wideouts cautioned not to base the "best-ever" title on numbers alone. Robinson's stats this season -- 73 catches; 1,106 yards; six TDs -- are more a product of the times as opposed to a simple reflection of talent, they said.
Jackson, a track star, lined up with his hand in the dirt in the early 1980s when JoePa's hair still matched his jet-black shoes. He earned All-America honors in 1983 when he caught just 28 balls.
Neither Jackson nor McDuffie competed on a team that completed more than 180 passes. Former walk-on Matt McGloin completed 270 passes just last season when Robinson set a school record with 77 receptions.
"I don't care how he broke Bobby's 1,000 yards. That is not impressive; any one of us could've done that if the coach wanted to target us," Jackson said. "Allen Robinson is impressive to me not because of the numbers because it's so easy to get ridiculous numbers now. What's impressive to me is Allen Robinson, every Saturday, shows up with nothing to play for. He's got talent; I'm very impressed without looking at the numbers."
Added Prato: "Because of those different eras, it all becomes subjective. There were a couple great receivers in the '30s and '40s, but they didn't pass as much. So who knows?"
Robinson may not be the most talented -- according to Jackson and McDuffie, that's Engram -- but he certainly appears to be the most valuable of the four. So far in 2013, Robinson has accounted for 39 percent of the team's receptions (73 of 188) and 47 percent of its passing yards (1,106 of 2,342).
Compare that to past greats, and Robinson is still on top. (Engram's best season, 1995, comes close as he hauled in 32 percent of his team's catches and 46.5 percent of the passing yards.) A-Rob accounted for more of the passing offense than any PSU receiver since 1971.
Plus, Jackson and McDuffie argued, Robinson is doing more with less. Kerry Collins -- who threw for more than 40,000 yards in the NFL -- launched balls to Engram. Should Robinson get a few bonus points since he's catching balls from a true freshman, on a team with 24 fewer scholarships than the opposition?
It all depends on what criteria one wants to use to determine the best-ever. But, looking ahead, both all-time greats believe Robinson is destined for a path on which few Penn State receivers have traveled.
"Allen Robinson has more upside and did more with what he had at Penn State than I did," Jackson said. "And if you asked me, 'Who would I draft -- me or Allen Robinson?' I'd say, 'Draft Allen.' I don't know if even Bobby or O.J. had as much upside as this kid because of his size."
At the very least, Robinson has already earned the respect from the very best.
So, for now, let the debate rage on.
July, 8, 2013
7/08/13
12:29
PM ET
Imagine creating a team consisting solely of Penn State greats. Which All-American tailback would you choose? Which defensive tackle? Better yet, what about those linebackers?
These aren't easy questions to answer -- but you won't have to imagine for much longer. NittanyNation organized a 24-round Nittany Lions fantasy draft to see whom five experts would choose head to head. We'll publish the results and analysis on Tuesday.

The mission: Draft players forming a 4-3 defense, take a starting offensive lineup -- including one RB, two wideouts, a tight end and a "flex" position -- along with a kicker and punter. NittanyNation's Josh Moyer organized the draft and participated, along with:
O.J. McDuffie. If this name doesn't ring a bell, your Penn State fan card is revoked. McDuffie is one of PSU's greatest wideouts and sits fifth in the school record books for career receptions (125). He and Bobby Engram also held the single-season receptions record (63) until Allen Robinson broke it last season. McDuffie was a first-round NFL draft pick who hauled in 415 catches over eight seasons with the Miami Dolphins.
Lou Prato. He literally wrote the encyclopedia on Penn State football, and one would be hard-pressed to find a person who knows more about the Nittany Lions than him. He's the director of the Penn State All-Sports Museum and is a noted author and historian.
Stephon Morris. The speedy cornerback was the most experienced player in the secondary last season and is currently a DB for the New England Patriots. He was one of PSU's senior leaders who helped keep the team together during the sanctions and, boy, did Morris take this draft seriously. He called up several former players, pored over player bios, consulted with his father, etc. His competitive nature on the field carried over to the fantasy draft.
Bob McClellan. He is te editor of ESPN.com's NittanyNation, BuckeyeNation and WolverineNation and a Big Ten grad. Bob has been a sports editor and sports writer in newspapers and online for 25-plus years. Prato was a professor of his in graduate school at Northwestern.
This isn't supposed to be the be-all, end-all of the greatest PSU players. But it's definitely a great starting point to the conversation. Each participant came in with a different strategy -- somewhat unsurprisingly, for example, Morris focused on defense early to control field position -- and each drafter brought something new to the table.
The best players weren't always picked first -- especially if drafters thought they could get away with waiting to snag the better, possibly lesser-known players later on. (Who's better: Greg Buttle or 1906 captain W.T. Dunn?) That didn't always work out and led to some lighthearted name-calling during the draft, along with some continued ribbing a few days later.
Every participant left the draft feeling as if he had pieced together the best team. Would you have done anything differently? Did one of us drop the ball? Were more recent players overvalued?
Take a look on Tuesday, and let us know. We'll roll out the full team results, the position-by-position breakdown and an analysis from every participant. We can't exactly offer a sneak peek just yet, but here was our draft order (and, yes, it followed a snake draft where the last to draft in the first round was the first to draft in the next):
1. Prato
2. McClellan
3. Morris
4. Moyer
5. McDuffie
Which PSU player went No. 1 overall? Which 15 linebackers were taken, and in what order? See you on Tuesday.
PSU's 46-Hour Dance Marathon Raises $13 Million
BIG TEN SCOREBOARD
Thursday, 9/3
Friday, 9/4
Saturday, 9/5
Sunday, 9/6
Monday, 9/7