Penn State Nittany Lions:

Lions-Orange-083113
August, 31, 2013
8/31/13
9:50
PM ET
EAST RUTHERFORD, N.J. -- Before making his college football debut, Penn State true freshman quarterback
Christian Hackenberg
made a request for teammate
Garry Gilliam
.
"If I get spaced out or anything, give me a smack," Hackenberg told his right tackle.
Gilliam noted that Hackenberg was grinning when he made the request, so he knew the kid was going to be OK. All things considered, he was a lot better than that.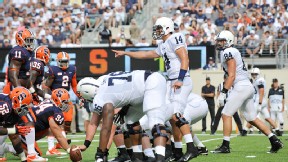 Cal Sport Media/AP ImagesFreshman Christian Hackenberg had some big mistakes but showed poise in Penn State's win.
Hackenberg completed 22 of 31 passes for 278 yards and two touchdowns while leading the Nittany Lions to a 23-17 win over Syracuse at MetLife Stadium. He made some crucial mistakes, including a pair of interceptions. But the guy who finished his high school baseball season earlier this summer faced down an ACC defense on an NFL field. He also played the entire first half without Penn State's top receiver,
Allen Robinson
, who was serving a suspension for undisclosed reasons, and much of the game without injured star tight end
Kyle Carter
.
That's a lot to ask of any first-time starting quarterback, much less an 18-year old. But Bill O'Brien is all in this season with Hackenberg, handing the keys to the Nittany Lions' season over to the talented rookie.
"We're Penn State," O'Brien said. "We can't dip our toe into the water. We've got to come out ready to go. We've got to take our shots."
So O'Brien didn't hold back when Penn State stared at third-and-11 on its own 30, nursing a 23-10 lead with under eight minutes to go. Rather than run, punt and turn it over to a defense that smothered Syracuse all day, O'Brien called for Hackenberg to throw the ball. Defensive end
Robert Welsh
slipped underneath the route and picked off the pass, returning it to the 1-yard line to set up a touchdown and put the Orange right back into the game.
O'Brien blamed himself for the call, but youth also played a part. O'Brien said he doubted that Hackenberg had ever seen that type of coverage from a defensive lineman in high school.
"They threw a lot of blitzes at us today, and I had a little bit of a tough time finding a couple of them and recognizing them," Hackenberg told ESPN.com after the game. "That will definitely be a big emphasis for me this week."
The encouraging part was that Hackenberg kept his cool despite his mistakes, which also included a first-half interception and a near pick-six later in the game. Teammates said they saw no difference in his demeanor throughout the game.
"He's just a confident kid," tight end
Jesse James
said. "He knows what he's doing. He's always been the same [in the huddle]."
Hackenberg's father, Erick, who attended the game and talked to his son before kickoff said his son showed the same calm attitude he usually displays.
"It's something I've had to get used to over the years," Erick Hackenberg said. "My emotions change, but he's always so focused."
Hackenberg also showed at times why he was the No. 1 pro-style quarterback recruit in last year's class, especially on his 54-yard touchdown pass to Eugene Lewis in the fourth quarter. O'Brien wanted only to talk about the job Lewis did on his route and how
Zach Zwinak
picked up the blitz on that play, saying Hackenberg had the easiest job of anyone. But Hackenberg also fired a laser downfield that his predecessor, Matt McGloin, might not have been able to match.
O'Brien walked a fine line in his postgame news conference, predictably dominated by Hackenberg questions. He loves the freshman's potential but doesn't want to heap too much praise on someone with still so much to learn.
"He's a young guy who's got a tremendous future," O'Brien said. "But we're not ready to waltz him into the College Football Hall of Fame."
O'Brien and the Nittany Lions will have to live with some freshman mistakes along with the natural playmaking ability of their quarterback. And as Saturday's game indicated, the team might be in for a bumpy ride all season.
Hardly anyone would call last year a smooth one for Penn State, but at least the program benefited from relative health. The Lions went into the opener with only about 65 scholarship players, and 16 true freshman, including walk-ons, made the trip. Before it was over, starting linebacker
Mike Hull
and tight ends Carter and
Matt Lehman
had to leave the game with injuries. That put even more pressure on the team's depth and ability to adapt, the latter of which it handled beautifully.
Stephen Obeng-Agyapong
, who started the game at safety, played linebacker for long stretches and came up with an interception and a forced fumble. Cornerback
Trevor Williams
, who switched from receiver in the middle of spring practice, secured the clinching interception. The 300-pound Gilliam, a converted tight end playing tackle, made a touchdown-saving tackle when he ran down Syracuse cornerback
Brandon Reddish
following a Robinson fumble.
"It's next guy up," defensive end
Deion Barnes
said. "We're all willing to do whatever it takes to win."
O'Brien downplayed the depth issues, but it clearly will remain a concern all season long. As will the youth under center. Counting
Tyler Ferguson
, who played one series, Penn State's quarterbacks committed three turnovers Saturday. Last year's starter, McGloin, had five interceptions all year long.
Expect some dizzying highs and some head-smacking lows with Hackenberg.
"It depends on how he handles it," Gilliam said. "But he's very mature, very poised."
By the looks of things, the kid is going to be OK.
August, 31, 2013
8/31/13
7:27
PM ET
EAST RUTHERFORD, N.J. -- A pair of new starting quarterbacks in an opening game led to a predictably choppy afternoon at MetLife Stadium on Saturday. It was only a 6-3 game at halftime, but both teams made some big plays in the second half and created some fourth quarter excitement.
In the end, Penn State's defense was a little too good, and the Nittany Lions held on in the final minutes for a 23-17 win.
Here's a brief recap:


It was over when:
Penn State's
Trevor Williams
intercepted Syracuse quarterback
Drew Allen
at his own 28 with 1:53 left. Syracuse had cut the lead to 23-17 with just under seven minutes remaining but couldn't manage any points on its final two possessions as the Nittany Lions defense held.
Game ball goes to:
Penn State's
Christian Hackenberg
. He wasn't perfect, but as an 18-year-old playing in an NFL stadium in his first game out of high school, he was pretty darn impressive. Hackenberg finished 22-of-31 for 273 yards and two touchdowns, though he also threw two interceptions and barely avoided another that could have been returned for a score. He also didn't have his best weapon for the first half, as star receiver
Allen Robinson
served a two-quarter suspension for undisclosed reasons. His perfect 54-yard strike to Eugene Lewis for a touchdown with 11:39 left gave Penn State a 23-10 lead and showed why he was the No. 1 quarterback recruit in the country a year ago. He fared better than new Syracuse starter and former Oklahoma transfer Drew Allen, who started off strong but completed just 17-of-38 passes for 193 yards and two picks of his own.
Stat of the game:
Penn State was just 1-of-16 on third downs and had only 57 rushing yards on 38 attempts. Those aren't normally winning numbers. But the Nittany Lions' defense held Syracuse to just 259 total yards.
Unsung hero of the game:
Garry Gilliam
. Moved from tight end to offensive line this preseason, Gilliam came up with a massive play from a defensive standpoint. Syracuse's
Brandon Reddish
had stripped the ball from Penn State receiver Allen Robinson, scooped it up and ran the other way. Gilliam was all that stood between Reddish and a go-ahead touchdown, but Gilliam made the tackle at the Penn State 27. The Orange would go on to miss a field goal.
Best call:
In the first half, Penn State was lined up for a 47-yard field goal on fourth-and-two. Though Syracuse probably should have been ready for some trickery, Bill O'Brien pulled it off anyway by calling for holder
Ryan Keiser
to run the ball. Keiser barreled up the right side for five yards. That eventually resulted in a much more manageable 36-yarder for
Sam Ficken
, who drilled it. Ficken later made a career-long 46-yarder as one of his three made field goals, so maybe the fake wasn't even necessary. Ficken's improvement is a huge difference for this team over this time a year ago.
What Penn State learned:
It has a future star in Hackenberg, but the ride isn't always going to be a smooth one as he will be prone to freshman mistakes. His interception late in the fourth quarter allowed Syracuse to get back into the game. The running game must improve so as not to put too much pressure on the youngster. Having Allen Robinson around for a whole game should help, too.
What Syracuse learned:
The Orange miss
Ryan Nassib
and Doug Marrone as much as feared. While Allen had some moments and showed off a nice arm, the offense as a whole lacked much punch or creativity. They'll likely need some of that next week against Northwestern.
August, 31, 2013
8/31/13
2:00
PM ET
EAST RUTHERFORD, N.J. -- Greetings from MetLife Stadium, home of the 2014 Super Bowl. But more importantly for our purposes, home of New York's College Classic.


That's the official billing for today's game between Syracuse and Penn State. The Orange are technically the home team here, but the real battle for New York City might commence next year when the Big Ten tries to elbow into the market with Rutgers. Today could be a good trial run for that, and I saw plenty of Penn State tailgaters in the parking lots this morning. (I think I saw Jimmy Hoffa out there, too, but that is unconfirmed.)
That's all off-the-field stuff, however. This should be an excellent opening game that answers some questions we've had all offseason for both teams. The Nittany Lions debut a new quarterback -- reportedly
Christian Hackenberg
, but we might not get an official announcement before kickoff -- and open Year 2 of the Bill O'Brien era, minus some of the iconic senior leaders from last season. Syracuse has a new head coach in Scott Shafer -- known to Big Ten fans as a former Michigan defensive coordinator in one ugly year under Rich Rodriguez -- plus a new league (the ACC) and its own new starting quarterback, the identity of whom also is being kept under wraps.
What should we expect of Hackenberg today? Don't forget he is an 18-year-old true freshman, though a wildly talented one. With most coaches, I'd say that the game plan would be conservative with a first time starter in there. But O'Brien is so aggressive and fearless that I wouldn't be surprised to see Hackenberg throw it 20-to-25 times and take some deep shots. When you've got
Allen Robinson
and those tight ends, why not?
The heat wave that is gripping much of Big Ten country today has mostly spared us, as temperatures are expected to be about 83 degrees. It will still be muggy, but compared to some other places, it's not too bad. Of course, you worry about Penn State's depth as it goes full speed in the humid conditions, but I don't expect it to be too big of an issue. Both teams have to deal with it, after all.
I'm more interested in seeing how Penn State's defense looks, especially in the secondary, and how Syracuse rebuilds its offense in the post-Doug Marrone, post-Ryan Nassib era. A lot of questions will begin to be answered today.
BIG TEN SCOREBOARD
Thursday, 9/3
Friday, 9/4
Saturday, 9/5
Sunday, 9/6
Monday, 9/7